Warm weather is here and summer is around the corner, which means "swimsuit season" is almost upon us. Who else hates the term "swimsuit season"? It has always made me feel like my body isn't swimsuit ready until I sweat off my " bikini belly pooch " or slim down my thighs. As a body positive blogger, I'm always trying to help encourage my lovely readers to conquer The Fear Of The Swimsuit and feel confident at the pool or beach.
I'm a size 12 woman and someone who spent most of my high school days absolutely terrified of wearing swimsuits in public. While I've come a long way with my body love journey, and you can sometimes find me posting photos of myself in swimsuits on Instagram, it's important for you to know I don't always feel confident in a swimsuit! I've gained weight this past year, especailly some belly fat, and it has taken a lot of work within myself to think about my tummy bulge with endearment and positivity, rather than something centered in shame. This trip has especailly challenged that. I've been wearing mostly shorts over swimsuits here. As you know, I don't have the best relationship with shorts and here, my belly spills over the top of my shorts, but I've been working really hard on accepting it and moving on with my day! It's not ruining my vacation and a little belly pooch does NOT make me less of a person! It doesn't make you less either!
I wear mostly one-piece bathing suits or high waisted tummy control swimsuits because they make me feel secure and thus confident.
But here's the thing – not everyone on a body love journey is ready to go to the beach in a tiny bikini. Heck, I'm not. I wear mostly one-piece bathing suits or high waisted tummy control swimsuits because they make me feel secure and thus confident. I have noticed in the past that the times I wear a full-blown bikini to the pool, I have to actively spend more time dealing with an anxious voice in my head rather than focusing on just having fun. So, to just prevent that from happening entirely, I stick to what makes me feel confident from the start, and right now, swimsuits that hide my belly pooch are the ones I enjoy wearing the most. That doesn't make me un-body positive, just realistic and honest! Being body positive doesn't mean you HAVE to want to wear tiny bikinis. It means you know what makes you feel confident and you focus on that.
 I stick to what makes me feel confident from the start, and right now, swimsuits that cover my middle are the ones I enjoy wearing the most. 
With that in mind, these are some of my favorite swimsuits to hide belly pooch / tummy bulge of the 2019 season. When it comes to swimwear, the tummy control bathing suits are the ones that make me feel my best while at the beach. And here's the thing, tummy control swimwear is still really really cute – you don't need to resort to some frumpy outdated one piece!
16 Swimsuits to Hide Belly Pooch
I LOVE this company. I own about 10+ of their swimsuits and I think their products look good on all types of women and all body types. I especially love their one piece swimsuits and halters, which are colorful and flirty but fit my curves perfectly. LIKE, PERFECTLY! They're like swimsuits with unofficial tummy control panels built in and some flair for fun. Magic. You have to try one.
Shop my favorites:

TARGET
Target is my other go-to store for affordable, cute tummy slimming bathing suits. I love a good one piece, but Target actually makes some great tankini tops and two-pieces with high waisted bikini bottoms to hide my tummy. They have so many different styles of bathing suits and are constantly having sales!!
Shop my favorites:


Swimsuits For All is the authority when it comes to plus size swimsuits. They have every style you can imagine, but always with a focus on curvy women. If you are looking for swimwear to hide tummy and thighs, they'll probably have something. Though, I personally really adore their slightly more revealing Ashley Graham line of suits which have tons of personality. If she can rock them on the beach, so I can I!
Shop my favorites:

Surprisingly Forever 21 has a pretty extensive plus size swimwear line. Usually when it comes to fast fashion companies, their plus size swimwear line is like, 5 swimsuits and they're all black or leopard print. Snoozefest! Forever 21 has a lot of one piece swimsuits that are unique, fun and/or flirty. Best part? They usually run under $30, so you can stock up on a lot of different styles! That means you can get a few you know you'll feel confident in, like a one piece, and also a couple that you are nervous to try but want to challenge yourself with (like a bikini!)
Shop my favorites: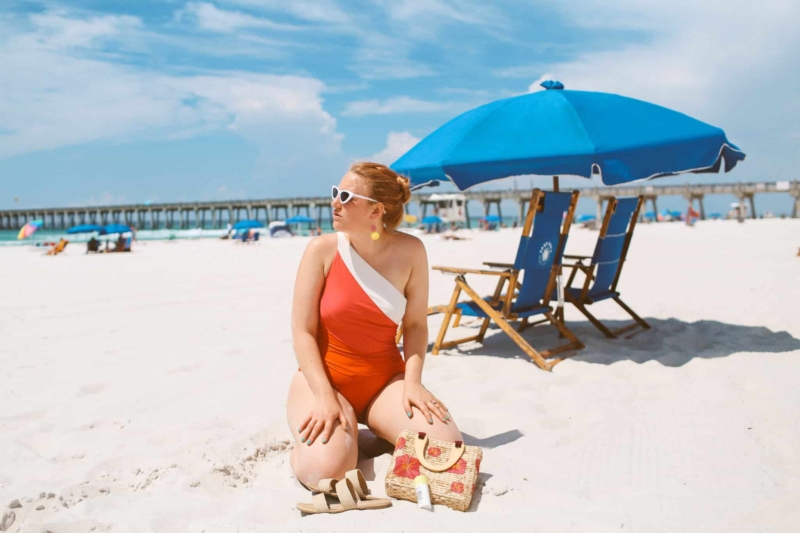 How To Feel Confident In Swimsuits
Trying to figure out how to hide your tummy in a swimsuit? I get it – my middle region is the part of my body I feel the most insecure about. I constantly have to train my brain to not say things like "I look pregnant in this" to myself and instead "I'm so thankful to have an able, healthy body and I'm not going to try to change it."
When it comes to feeling confident in a swimsuit, my major piece of advice is this… nobody is looking at you. Seriously, nobody is paying attention to you, they are all absorbed with themselves and may even be worried about how THEY look in a suit. Whether you are on vacation or at your local beach, it's hard to ignore the voice in your head that makes you feel anxious, but once I understood that nobody is giving me a second glance, I was able to make huge strides in my body journey.
There's a story I like to tell around this. Last summer, I was in the South Bay hanging out with friends. That afternoon, I took the Caltrain back home to San Francisco. While walking up the train stairs, I stumbled and somehow sliced open my foot. I'm talking a chunk of my toe was gone and blood was gushing EVERYWHERE. I called my husband to come pick me up (wasn't about to leave a literal trail of blood on the train) and sat myself down on the steps to wait for him.
I spent the next 45 minutes nursery my foot and trying to wipe up the blood (it was really messy you guys.) Do you know what didn't happen? Not once did someone stop and ask me if I were ok. Not once did someone even take a second glance at me. It was in that moment that I really proved this concept to myself that…
if nobody is paying attention to a woman bleeding out at a train stop, nobody is going to be paying attention to what I look like in a bikini.
I'm slowly working my way to feeling 100000% in a bikini and I hope to get there one day! Until then, I'll be hiding my belly pooch inside a cute one piece and rocking that beach anyway, flaunting my bad jiggly self.
Make sure to tag me in our swimsuit photos! I want to see you SLAY the beach or pool!