I love the town of Joshua Tree California. I love the spiritual, wacky vibes, the desert landscape, the art scene and of course, Joshua Tree National Park. Plus, the vintage shopping here is on a whole other level!
Yucca Valley and Joshua Tree do have a few hotels but here, Airbnbs are king. In a city of art, I think vacation rentals are the way to go anyways as so many people build amazing Joshua Tree rentals that defy what a normal Airbnb is. Skip the plain motel room and opt instead for a tiny house, or a pad with eclectic decor, or an airstream (just to name a few of the funky houses for rent in Joshua Tree.)
These are the top 5 Most Amazing Joshua Tree Airbnbs to Rent

Pro Tip: Use THIS LINK to get $40 off your Airbnb booking!
5 Joshua Tree Airbnbs So Beautiful You'll Want To Move In
I love Joshua Tree. It's fun to visit year-round, but especailly during the springtime when the park may be undergoing a super bloom (we lucked out last year and arrived to catch the tail end of this stunning super bloom where the whole floor of the park was just covered in yellows and purples!) Read my weekend guide to Joshua Tree here!
I also love visiting here in the spring because it's about a 45-minute drive to Palm Springs and Desert X happens each February-Coachella and I'm now totally obsessed with hunting down the art installations in the desert.
Anyways, There are a lot of places to stay in Joshua Tree. These are my favorite Airbnbs to rent!
Location: South Joshua Tree
Price: $120/night (book here)
Guests: Up to 4
Attributes: This is the Airbnb we stayed at for four days earlier this year and it was the perfect place for our vacation! It's so beautifully decorated I honestly wanted to move in, call it home sweet home and never leave. This bungalow is within walking distance to all the good restaurants in Joshua Tree and also close to one of the national park entrances.
But what really made this place stand out to me was the fun orange bathtub in the backyard! A lot of people search for a Joshua Tree Airbnb with an outdoor shower, but I fell in love with this tub. Morning soak with coffee was seriously the best slow way to start the day.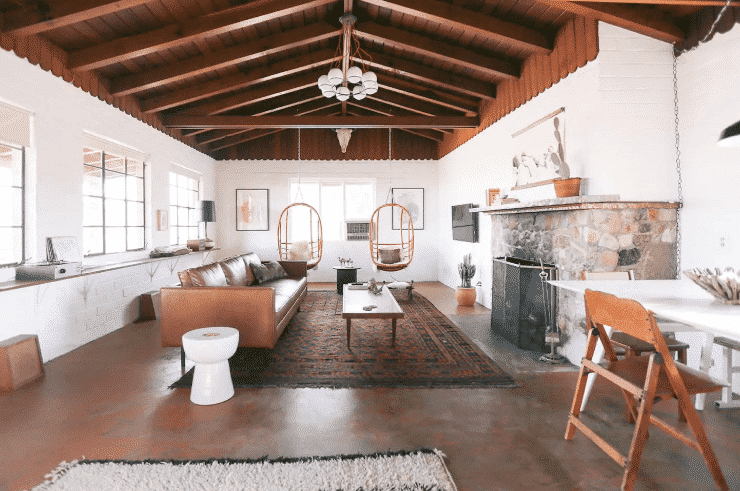 Location: West Joshua Tree
Price: $285/night (book here)
Guests: Up to 6
Attributes: This is probably one of the most famous Joshua Tree vacation rentals, as influencers the past few years flock to the house. And for good reason! There are over 100 Joshua Trees (like, the actual trees!) on the property alone.
If you're looking for a Joshua Tree outdoor tub house (group tub, not single person tub like at Cabin Cabin Cabin) this spot has a Jacizzui AND a pool, so you soak under the night sky with all your friends. This spot also apparently has really awesome sunrises if you want to catch one.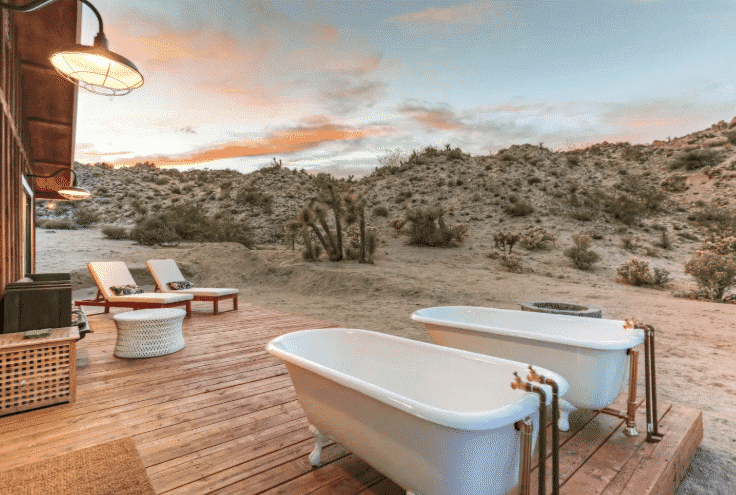 Location: Yucca Valley
Price: $239 / night (book here)
Guests: Up to 5
Attributes: I want to stay at La Luna next time we visit just so my husband and I can soak in those tubs side by side under the stars. This house is on about 5 acres of desert property and feels remote while actually just being a 10-minute drive from all the shops and eats. It's also known to attract a lot of tortoises (yes, you read that correctly) and is decorated well on the inside.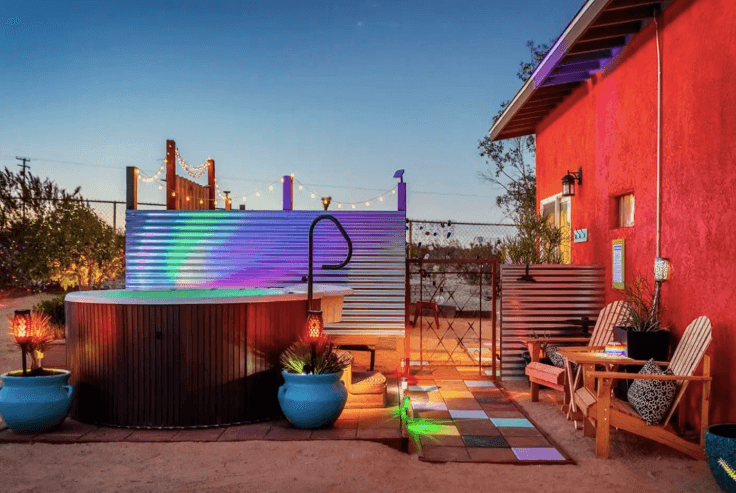 Location: Hidden River / Joshua Tree
Price: $128/night (book here)
Guests: Up to 6 guests
Attributes: So many Joshua Tree cabins are decorated in a chic, but sort of similar way. Not La Bonetto Casita! This living room area is full of creative amenities and art with panoramic views of the desert. It also has an outdoor tub with colorful lights! If you want an artist's take on the desert, this is your spot.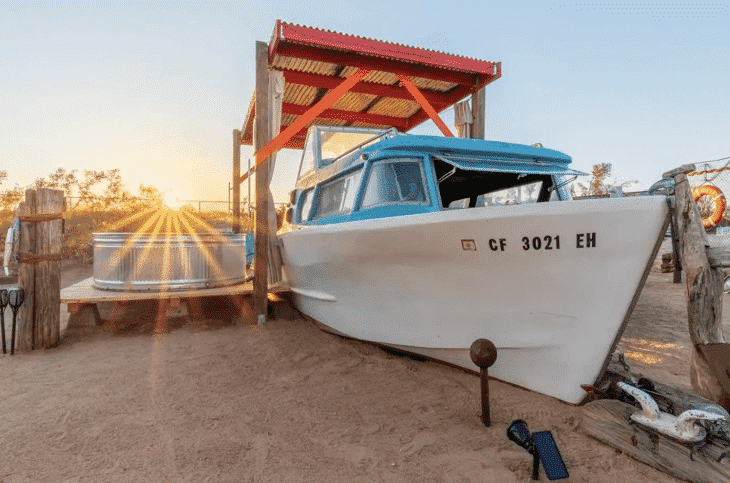 Location: Hidden Valley / Joshua Tree
Price: $89/night (book here)
Guests: Up to 2 guests
Attributes: Skip a Joshua Tree airstream Airbnb and sleep in a land yacht instead! Owned by the same couple who makes La Bonetto Casita, this boat may have a smaller living area but still has all that charm you look for. There's a tiki lounge with sofa, record player, and an outdoor tub AND outdoor shower as well.
You know what, I think I'll have to plan multiple trips back to Joshua Tree because I want to stay at all of these rentals!!! I think Joshua Tree as a whole does Airbnbs best. So many people simply clear out an extra bedroom and slap up a listing, but the folks here make their vacation rentals an experience. Which is how it should be!
Other Fun Things To Do In Joshua Tree
Have you heard of Airbnb Experiences? You can easily book fun, unique activities with locals everywhere you travel. From ocean fishing to bike tours to pottery classes to noodle making and more, these are some extra special things to consider doing during your trip to Portland!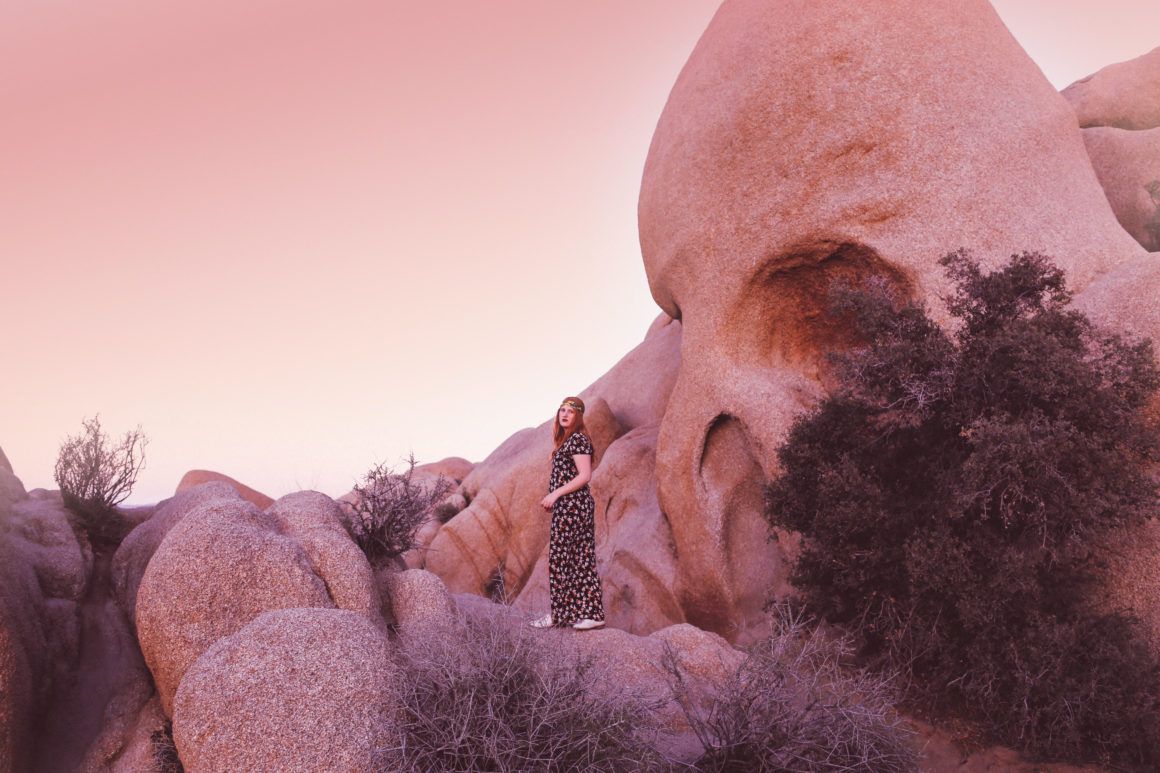 I hope this helps you figure out where to stay in Joshua tree and find the top Joshua tree Airbnbs or you and your group. If you have any questions, leave a comment below or DM me on Instagram @thewhimsysoul and I'll be happy to help!