And there I was, standing on the rooftop of this California castle winery twirling around in a glitter dress, sipping on a fantastic pinot noir wine and low-key hoping I'd spot a Stark sibling hiding behind a corner.
Tooth and Nail Winery is the coolest castle winery in Paso Robles (well, the only castle winery in Paso Robles) and needs to be on your wine tasting bucket list. Put on a pretty dress, channel your inner Queen and let me show you why you need to visit this special hidden gem winery.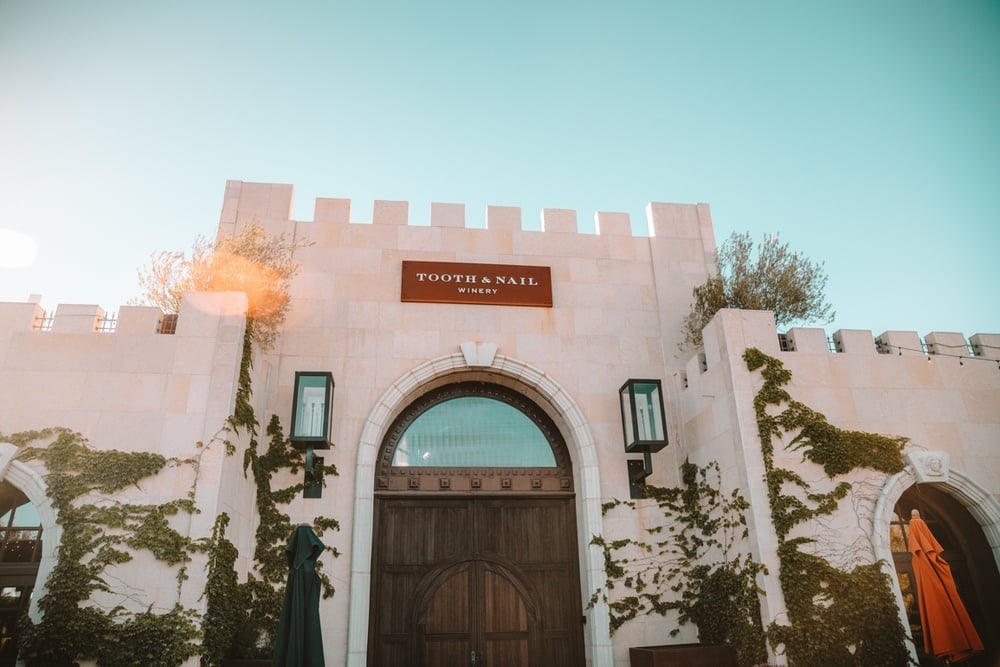 You're probably reading this and thinking: hey Kara, isn't there a castle winery in Napa Valley? Castello Amorosa is indeed a winery built after a 13th-century Tuscan castle style and I totally thought it was the only castle winery in California. Turns out there's a few, but I think Tooth and Nail in Paso Robles wine country is the best one for a few reasons.
Tooth And Nail Castle Has All The Cool Dark Academia Vibes I Love
First off — it's simply so dang cool. I mean, it's a castle winery after all!! You don't see that every day. I loved all the cool dark academia decor inside the tasting rooms, which was a pleasant surprise. Most wineries go with an Italian or farmhouse decor style, so finding a winery that went so the other way is so unique and delightful.
The rooftop has sweeping views of the region and overlooks miles of vineyards. It's simply stunning at golden hour with warm hazy light, and sunset from this rooftop is *chef kiss* one of the best in the county.
But perhaps the coolest feature of this building is the moat. YES THEY HAVE A MOAT HERE with water and everything!!
Tooth And Nail Has A Bangin' Food Menu
Secondly – it's not just a winery. Tooth and Nail also offers dinner service and holy moly, I can't express how freaking GOOD this menu is!! I'm still drooling over their Duck Bao Buns, house-made tater tots and beet hummus. I was down from San Francisco wine tasting with a blogger girlfriend and Tooth and Nail winery was kind enough to host us on the rooftop and we were able to sample almost all of their menu. And honestly, you can't go wrong with anything.
Next time I travel down to Paso Robles I'm totally taking my husband here for a dinner experience one day. When you come, I suggest ordering either a bottle of Tooth and Nail wine for the table or sample a few different glasses to pair alongside food. And go crazy with the menu here. Do it family style so you can taste a little bit of everything!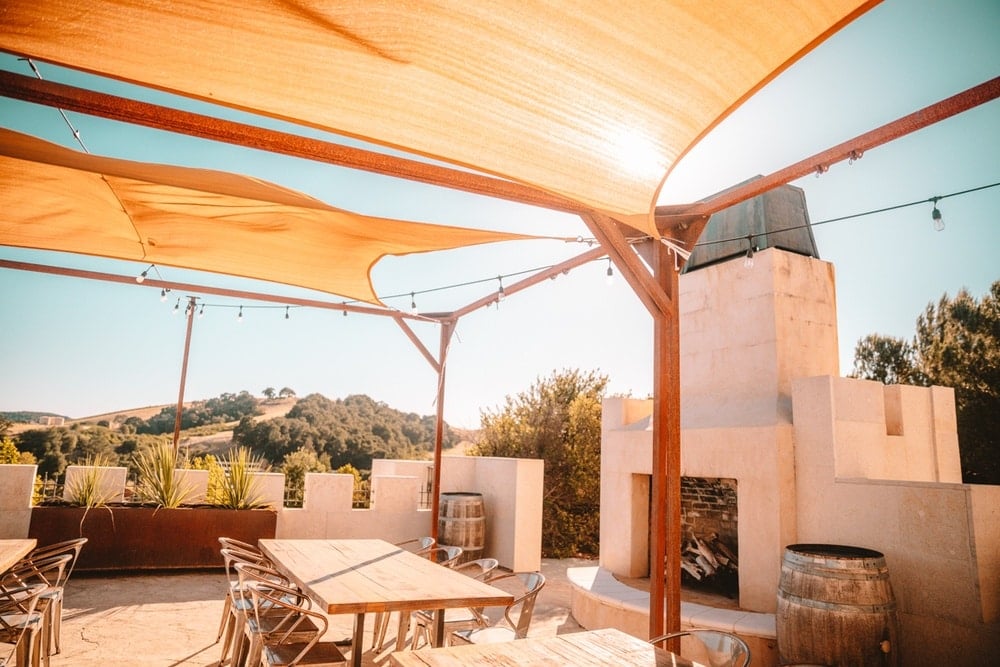 Tooth and Nail Wines Are Delicious
And of course, the wines at Tooth and Nail are fantastic. I find that sometimes wineries or restaurants with a really cool building don't also have a great menu. Not the case here! Tooth and Nail has sauvignon blancs, pinots, red blends, chardonays, and more. I personally loved loved loved the Amor Fati Pinor Noir, so make sure to try that one when you visit.
Make sure to also pay attention to the wine bottle labels, which are works of art within themselves.
They have a really great wine club where members get free tastings and discounts starting at only $99, so if you live nearby Paso Robles or come visit and wine taste a lot, it's absolutely worth it to become a member.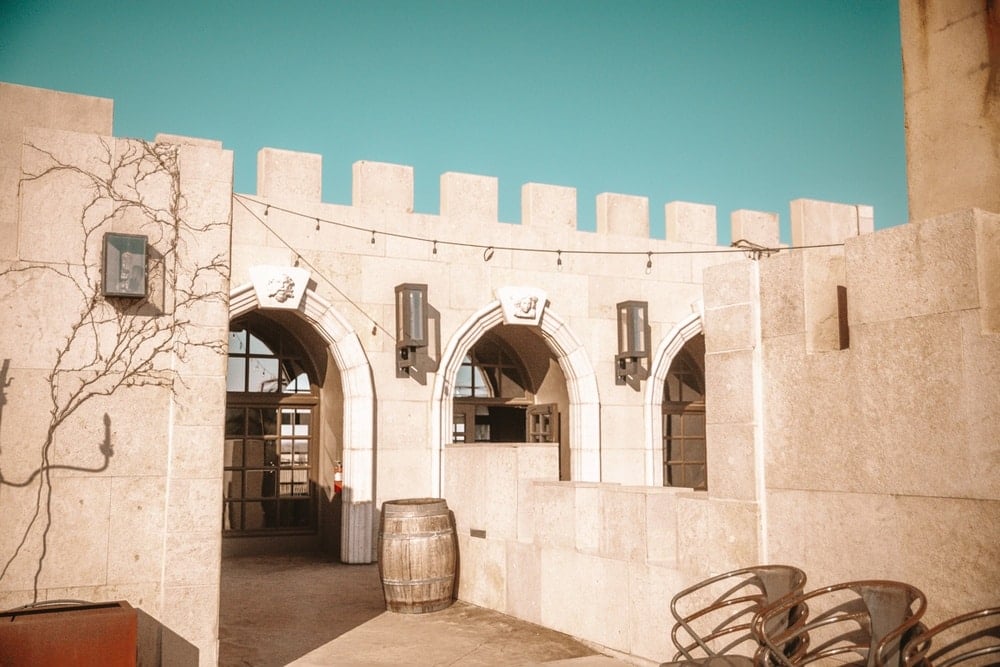 Tooth And Nail Has Live Music & Events, Too!
Once the panny is over, events and live music will take up again here!! How cool would it be to dance with your boo under the castle towers and starry skies of Paso? So many locals told me they love to come to this place for concerts and romantic dates. I found the staff to be very friendly and I love to hear that locals adore this winery, too! I certainly think it's a special hidden gem in California that needs to be on everyone's wine tasting bucket list.
Stay tuned for my list of all the coolest Paso Robles wineries to visit! I'll update this post when it goes live.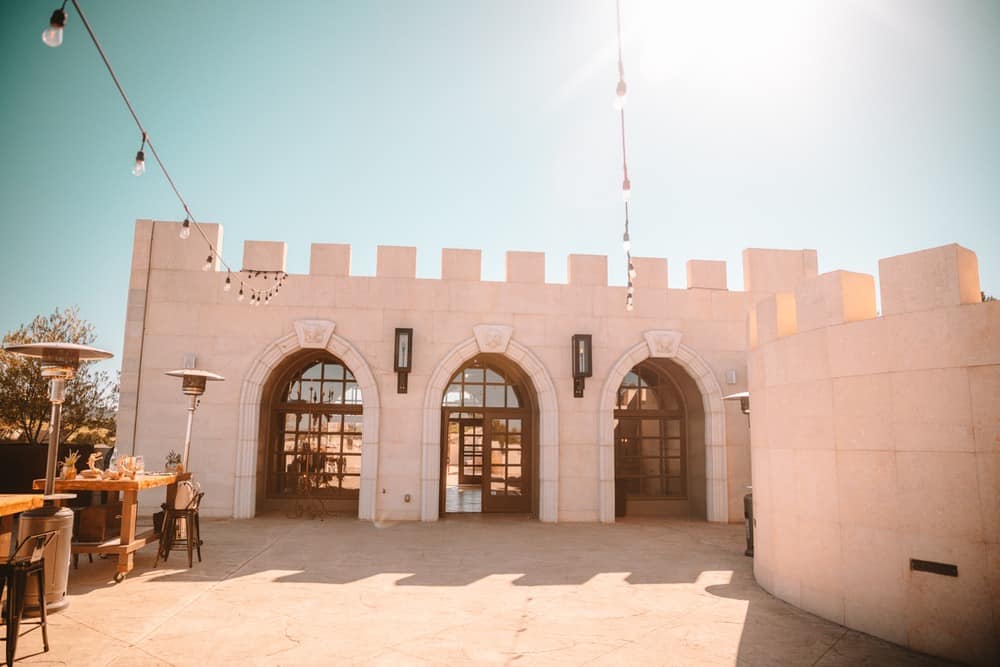 I hope you get yourself down to Paso Robles and can check out Tooth and Nail Winery. And go big with your outfit — wear that sequin gown or fancy jacket. It's the perfect winery to play dress-up at.