Wyoming is home to some of the most beautiful national parks in the United States. From Yellowstone National Park to Grand Teton National Park, it's safe to say that Wyoming gets a ton of travelers every year.
And while there's no shortage of things to see in Wyoming, most Wyoming tourism focuses on Yellowstone and the Grand Tetons—and they are incredibly beautiful—there are plenty of locations and activities in Wyoming that shouldn't be overlooked.
Southwestern Wyoming—Sweetwater County in particular—has a ton to offer. Not only does it have natural beauty, but it's an easy stop for travelers and road trippers making the drive between Denver or Salt Lake City and Wyoming's more well known destinations.
There are so many things to see in Wyoming. Whether you're looking to soak in the natural beauty of Wyoming's mountains and high desert, learn about the history of the Wild West, or experience the local culture, Southwest Wyoming is sure to have something for you.
And while a lot of what makes Sweetwater County unique is its wide open spaces, Wyoming state parks, and wildlife, you can't forget about the thriving art and food scene in the area's two largest cities: Rock Springs and Green River.
The History Of Rock Springs And Green River, Wyoming
Rock Springs and Green River are two of the best towns to explore in Sweetwater County, Wyoming. Originally the land of the Eastern Shoshone and the Northern Arapaho tribes, Rock Springs was officially established in 1888 as a major player in the railroad and coal mining industry.
At one point, Rock Springs was home to some of the largest coal mines in the country. Nowadays, trona mining is the big industry in Sweetwater County (although there are still a handful of active coal mines in and around Rock Springs).
For those of you unfamiliar, trona is the mineral that makes sodium bicarbonate, a.k.a. baking soda! If you've bought baking soda in the US, it's almost guaranteed to have come from Southwestern Wyoming.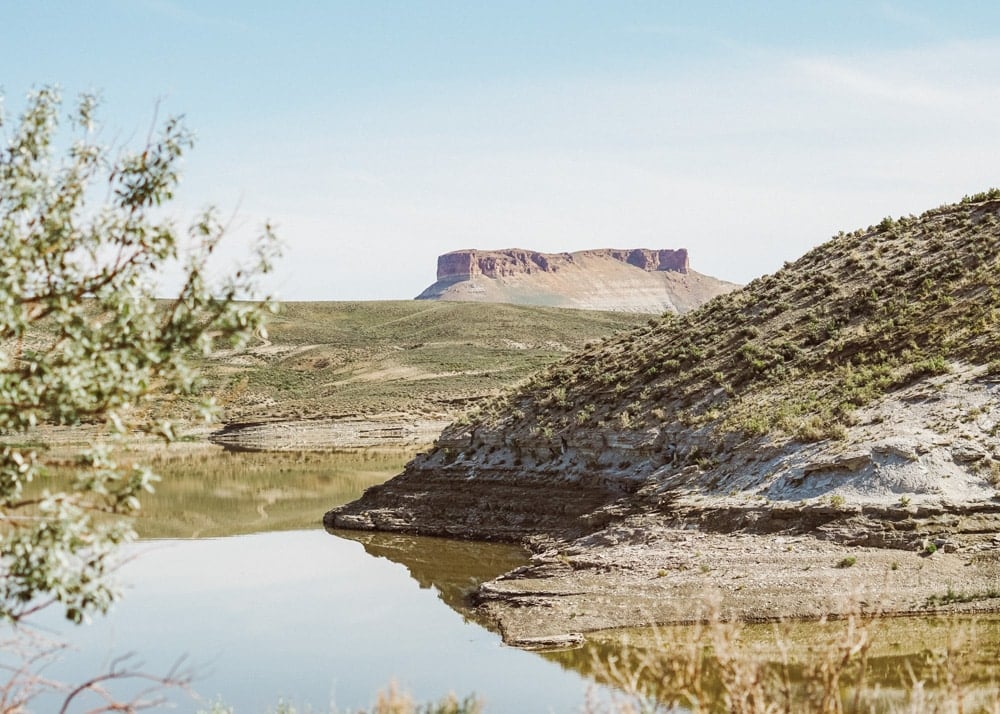 Because Rock Springs was home to two incredibly profitable industries in the 19th and 20th centuries, it also attracted some unsavory characters, which gave the town the Wild West reputation it's often known for.
In fact, famed outlaw Butch Cassidy got the nickname "Butch" while working as a butcher in Rock Springs, before going on to rob a bunch of banks and railroads.
Just a couple of miles west from Rock Springs, you'll find Green River, Wyoming, which is best known for being the spot from which famed explorer John Wesley Powell began his voyage to the Grand Canyon in 1869.
Today, the town of Green River is known for its prime location on the Green River and being a hub for any and all outdoor action, like tubing, rafting, and more.
In addition to the adventurous activities, there are plenty of things to do in Green River, Wyoming. I'd highly recommend scoping out some of the old school bars and the Sweetwater County History Museum if you find yourself downtown.
But before we get to all of the recommended road trip stops and stuff to do in Wyoming, I wanted to share some of my recommendations for where to stay, eat, and drink in Sweetwater County.
Where To Eat, Drink, and Stay In Rock Springs and Green River Wyoming
Let's face it, if you're embarking on a road trip, especially one that spans more than a couple hours, you are going to need to get out and stretch your legs—not to mention enjoy a meal that isn't fast food (although I have nothing against some Taco Bell).
If you find yourself in Rock Springs or Green River and are looking for somewhere interesting to eat, drink, or stay, don't worry, we've got you covered.
Best Restaurants In Rock Springs, Wyoming
Best Restaurants & Bars In Green River, Wyoming
Hitching Post Restaurant & Saloon – Hitching Post is a staple in Green River. Known for its affordable menu and salad bar (blast from the past!), it's an easy stop for a casual lunch or dinner. They also have a full bar, so do with that information what you will.
Penny's Diner – Great for breakfast, Penny's Diner is a nice little retro spot right next to the Green River. Treat yourself to a giant stack of pancakes or a breakfast burrito to fuel up for a day exploring Sweetwater County.
Green Gander Bar & Drive-In – This is one of the oldest bars in Green River. It's actually been operating since Prohibition when it was a "candy store." Don't expect a fancy experience, but if you're looking to get a cold beer in a historical spot, Green Gander is the place to go.
The Brewery – Arguably the most historic bar in Green River is "The Brewery," which really stands out from the street, as the building looks like a castle. It was the first brewery in Wyoming when it was founded in 1872, and the iconic building that still stands today was built in 1900. It feels like you're stepping back in time when walking into this bar, as they still allow indoor smoking. But definitely worth a stop for the history alone.
Badass Brews – Badass Brews is a brand new microbrewery in Green River. They don't offer food, but you can try their various brews, which the locals describe as "damn good."
Where To Stay In Rock Springs & Green River, Wyoming
To be honest, there's not much of a boutique hotel scene in Rock Springs, but there are plenty of hotel chains that will keep you close to the action and make it easy for you to swing in and out if you're on a road trip.
However, if you're looking for beautiful places to camp in Sweetwater County, you're in luck. If you explore the Flaming Gorge Recreation Area, you'll find tons of gorgeous (and remote) campgrounds throughout Southwest Wyoming and Northeastern Utah that are worth a stay.
Campgrounds near Rock Springs, Wyoming
Firehole Canyon Campground
Buckboard Crossing Campground
Dripping Springs Campground
Cedar Springs Campground
If you've ever found yourself wondering what to do in Wyoming, we hope that this list will give you some ideas beyond the classic tourist spots near Wyoming's national parks. So without further ado, here's our full travel guide and list of things to do in Sweetwater County, Wyoming.
14 Unique Road Trip Stops In Sweetwater County, Wyoming
1. Visit The White Mountain Petroglyphs
If you are driving through Sweetwater County and can only do one sightseeing activity, this is the one I'd recommend. The White Mountain Petroglyphs are an archaeological site showcasing rock carvings made by the Indigenous tribes who call Sweetwater County home.
The petroglyphs feature a variety of animal and human motifs that were carved as recently as 200 years ago, but it's important to remember that tribal representatives don't like to assign meanings to the carvings, as each tribe interprets them differently.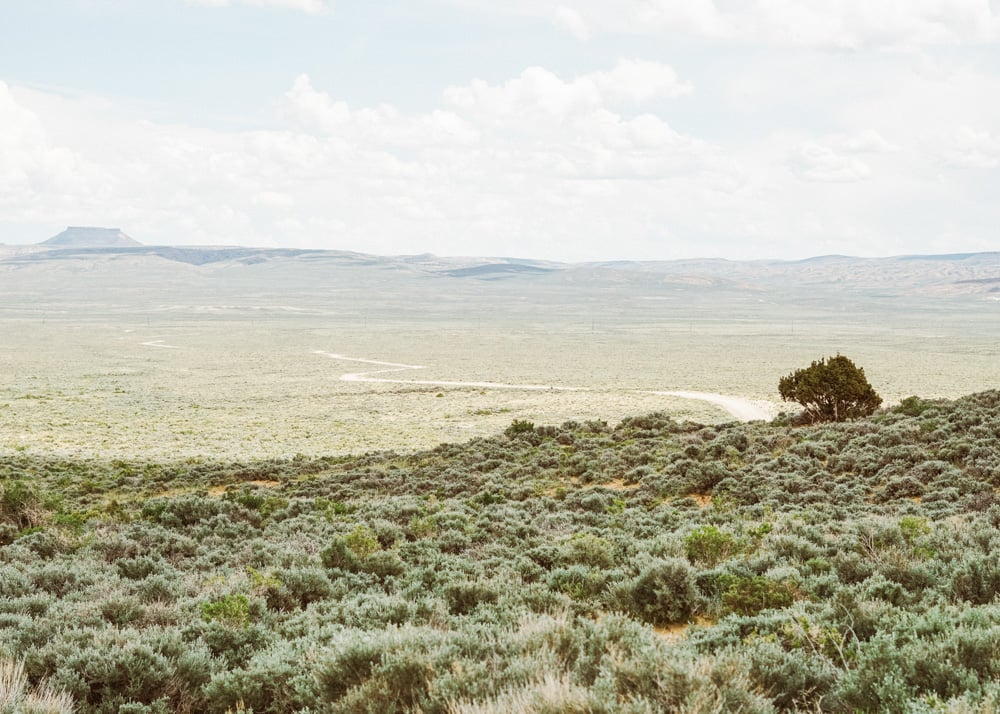 There are over 44 different tribes recognized in Southwest Wyoming, although it's hard to assign the region to any particular tribe, as many of them were nomadic. However, the two largest tribes in the area are the Eastern Shoshone and the Northern Arapaho.
Many Indigenous people still visit the petroglyphs and leave offerings, often wrapped in ribbon or twine—so if you see any while on your trek to the petroglyphs, please be respectful and do not disturb them!
In addition to the carvings, you will also find a rock with hand grips that were used by Native women while giving birth, which is truly a sight to behold. Just please do not touch any of the rocks or carvings!
As far as logistics go, visiting the White Mountain Petroglyphs is free and all in all fairly easy, assuming you have some time and a 4-wheel drive vehicle, as you'll be taking dirt roads most of the way.
There is a parking lot where you can leave your car (there are also vault toilets at the parking area) and then you'll have to make a short hike to the site.
It isn't strenuous though, in my opinion, but you will want to make sure you have sunscreen and bug spray with you—There were plenty of biting gnats and fire ants around when I visited—but that shouldn't deter you from checking out this important site.
2. Try Sand Boarding At Killpecker Sand Dunes
If you're looking for a little adventure, you should trek over to Killpecker Sand Dunes after visiting the White Mountain Petroglyphs. The largest active dunes in the United States, Killpecker Sand Dunes are an open play area—meaning visitors are free to enjoy the land how they please!
You can do all kinds of active sports, like ATV-ing, dirt biking, and more. There are some rules regarding off-roading with motor vehicles at the dunes (details here) but otherwise, you're free to roam the gigantic dunes.
When I was there, we went sandboarding and sand sledding down the dunes. I'm not gonna lie, it's pretty hard—I would definitely recommend sand sledding over sandboarding, unless you're a pro snowboarder, because when I was "sandboarding," (and I use that term loosely) I fell… a lot.
The Tour Wyoming office in Rock Springs has sandboards and sand sleds for sale, but if you're just passing through and don't think you'll need your own sand dune surfing apparatus, you can rent one from several different stores in Rock Springs, like Rockin Rollin Rentals.
While you drive to or from Killpecker Sand Dunes or the White Mountain Petroglyphs, be on the lookout for Boars Tusk. Similar to Devils Tower in Northeastern Wyoming, Boars Tusk is a 400 foot tall dormant volcano structure that juts out from the middle of the plains.
In addition to being incredibly old (the lamproite it's made from are over 2.5 million years old) it is also a site of great religious significance to many of the Indigenous tribes who inhabit this part of Southwestern Wyoming.
I wouldn't necessarily go out of your way to see this formation, but if you're already in the area, it's worth swinging by and snapping a few pics.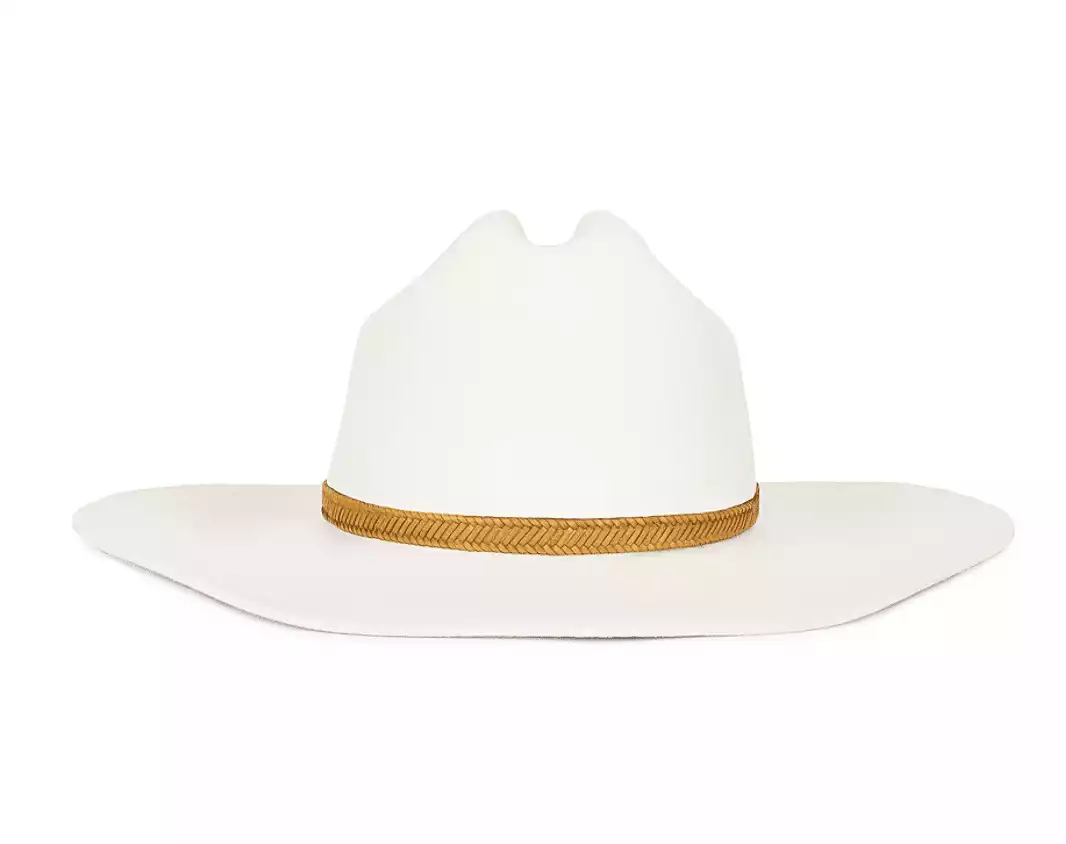 White Cowboy Hat
I invested in a good white cowboy hat on a trip to Arizona and it's my favorite thing to wear in the Southwest and Mountains.
Buy Now
3. Attend The Rodeo
Nothing screams "wild west" quite like attending a rodeo. There's just something so fun about watching people compete in various rodeo events, even though I sometimes find myself flinching as they wrangle calves to the ground.
At the Sweetwater Events Complex in Rock Springs, you'll often find some sort of rodeo on the schedule, although there is no consistent showing.
Even if they don't have a rodeo on the books, plenty of events in Rock Springs take place at the Sweetwater Events Complex, so odds are good you'll be able to find something entertaining on the docket while you're in town.
When I was in Rock Springs, we were able to watch the high school rodeo competition, and it was honestly so impressive to watch those kids ride the broncos. They are braver than me!
At the rodeo, the dress code is definitely "Western," so if you have been looking for an opportunity to rock your cowboy hat or cowboy boots, this would be a great place to do it.
4. Check Out The Community Fine Arts Center
There are a plethora of museums in downtown Rock Springs, but if you're an art enthusiast, you would be remiss not to check out the Community Fine Arts Center.
The Community Fine Arts Center was unofficially started in the 1930s, when a local science teacher, passionate about the arts, would buy art using funds raised during the school year to display in Rock Springs High School.
In 1966, the Community Fine Arts Center was officially established as a home for most of the high school's art collection. Today, it is still a joint venture between the school district and the city, as well as Sweetwater County.
In addition to having permanent exhibitions, including a Norman Rockwell, on display, the CFAC has a series of rotating exhibits featuring local, regional, and national artists—including work from local Rock Springs art teachers!
It's a really charming museum, so if you find yourself in downtown Rock Springs, you should make the time to visit. You can easily see everything on display in about 30 minutes.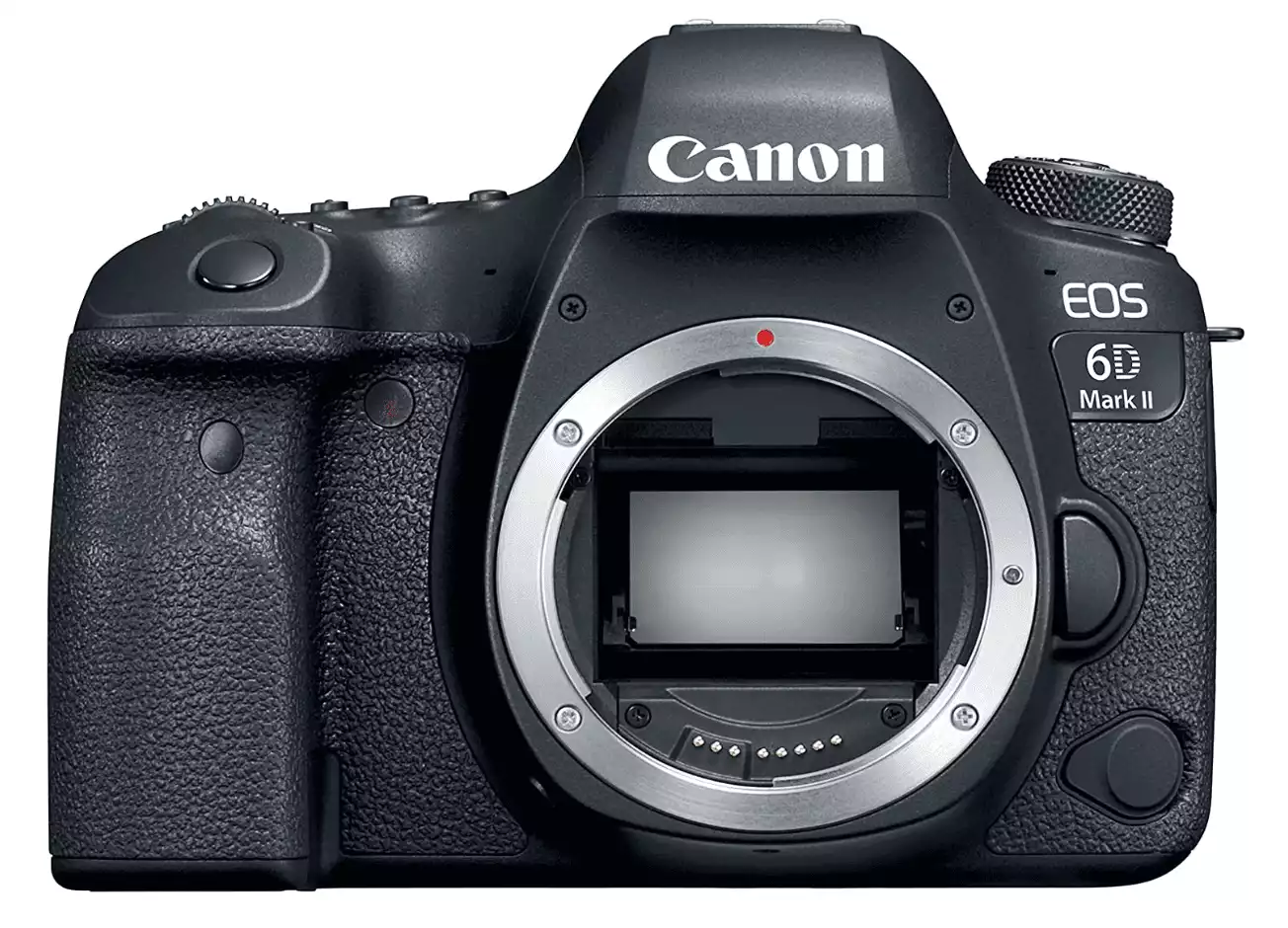 5. Observe The Area's Wild Horses
One of the most amazing parts about exploring the American West is having the opportunity to see horses in the wild, being free to enjoy their lives. Sweetwater County is lucky enough to have many wild horse herds roam around the area.
If you're looking to have a guaranteed wild horse sighting, your best bet is to go to the Rock Springs Wild Horse Holding Facility. Now, you may be thinking "how are they wild if they are at a holding facility?"
Well, you see, there are so many herds of wild horses around the Western US and not enough food, so if herds become too concentrated in one area, the Bureau of Land Management will round them up and take them to the Wild Horse Holding Facility, where they will be provided medical care, food, and shelter before being relocated or adopted.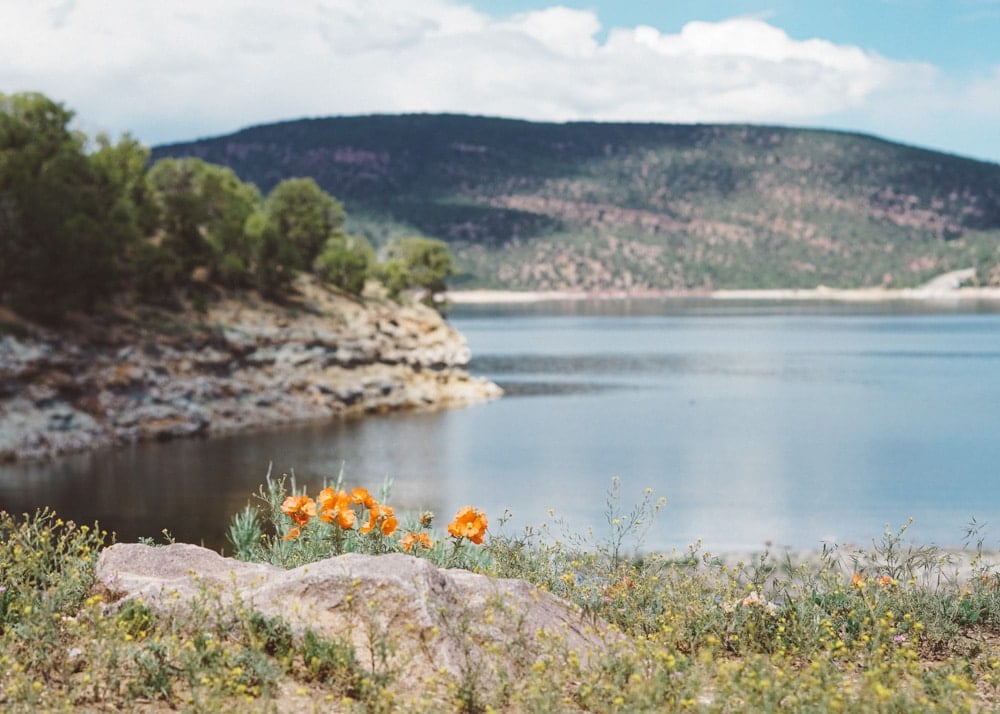 There is an overlook at the Rock Springs Wild Horse Holding Facility from which you can view the horses from afar, but they also offer tours.
If you want to try to see horses out in the wild, I'd recommend getting your high clearance vehicle and heading to the Pilot Butte Wild Horse Scenic Loop.
Odds are good you'll see wild horses, antelope, desert elk, and more wildlife while on this 24-mile gravel road. Just be sure to take the appropriate precautions.
There's limited cell service and the roads can be rough, so be prepared for anything and have water, a full tank of gas, and let someone know when you expect to be back (the loop typically takes 1.5 hours to complete, probably more if you're snapping a lot of photos!)
6. Learn The Region's History With A Museum Stop
The county has a rather interesting—and sometimes sordid—past. Millions and millions of years ago, the area was home to dinosaurs, before becoming the land of the Shoshone and Ute people.
By the 19th century it became a key location for both the railroad and the coal mining industry, which brought some interesting characters with it.
Both the Rock Springs Historical Museum and the Sweetwater County Historical Museum dive deep into the area's history and have a ton of historical artifacts on display, many of which were donated by locals.
Plus, both museums are free to enter, so it's an easy activity to get the lay of the land at the beginning of your trip to know all about the region (otherwise, I'd recommend picking up a Sweetwater County joint travel guide to get your bearings!)
The Sweetwater County Museum is in Green River and the Rock Springs Historical Museum is in Rock Springs (obviously), so I would recommend going to whichever museum is on your route—No need to visit both, as a lot of the contents are similar.
Kara's Fave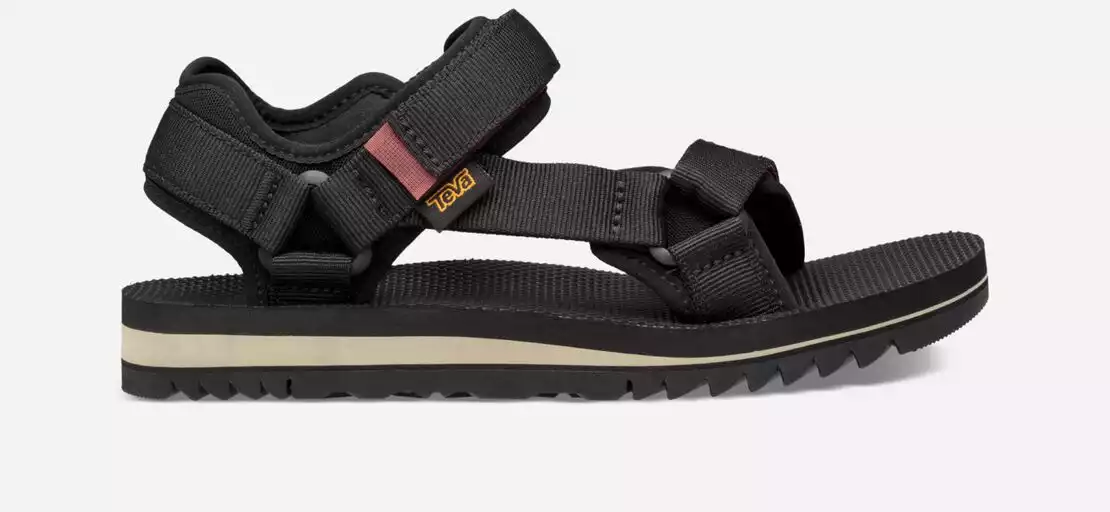 Teva Universal Trail Sandal
I adore my Teva Universal Trail sandals and wear them everywhere (from trails to cities to waterfalls since they're waterproof!) They're sturdy, comfy, non-slip and the perfect outdoor travel sandal on the market. Tip: size down when ordering.
Shop Now
My Review
7. Take A Walk To Expedition Island
When traveling through Southwest Wyoming, you'll probably hear the term "Expedition Island" thrown around a lot. Expedition Island is an island in the center of the Green River from which explorer John Wesley Powell began his journey to the Grand Canyon.
It has now been turned into a delightful little park known as Expedition Island Park, where you can take a nice stroll, bring your kids to the playground, or just sit and relax while enjoying views of Castle Rock.
Much like John Wesley Powell launched his trip down the Green River from Expedition Island, you can also kick off your tube, kayak, or raft from this spot.
The water was moving pretty fast when I was there, but it looked so refreshing—It took every ounce of willpower I had to not go for a swim.
8. Go Shopping In Rock Springs, Wyoming
Rock Springs has a small, pleasant downtown area, and the more you explore, the more delightful little shops and boutiques you'll find. Whether you're looking to thrift some vintage fits or pick up Wyoming souvenirs for your friends and family, there are a ton of good spots in Rock Springs.
Where To Shop In Rock Springs:
Sidekicks Book Bar – This adorable shop right in the heart of downtown Rock Springs has a great selection of books, souvenirs from local vendors, and most importantly, they also serve coffee, charcuterie, and wine!
Mack & Co – This cute little shop offers handcrafted gifts, local products, accessories and more.
Wyoming Freight Company – Owned by the Mack & Co owners, Wyoming Freight Company is a great spot for picking up Wyoming-themed souvenirs.
Lola B Boutique – Right next to Wyoming Freight Company, Lola B is an adorable boutique offering modern women's fashion and accessories. They also have a hat bar in the back where you can design your own (affordable) cowboy hat à la Kemo Sabe in Aspen. If I had more time, I definitely would have gotten a cowboy hat here before going to the rodeo!
Bi-Rite (Wyoming Cowboy Apparel) – Bi-Rite Medical is a unique shop that has a bit of everything. They offer medical supplies, much like an old school drug store, but they also have a huge selection of Wyoming themed apparel. In addition to the merch, they also have a retro soda shop called Remedies Grill, where you can get burgers, root beer floats, and more with a 50s diner flare.
The Stellar Cellar – Stellar Cellar is a cool thrift store in downtown Rock Springs, with a bit of an edge. In addition to thrifted clothing and accessories, they also have books, cassette tapes, and even a whole section dedicated to witchcraft.
9. Take A Bus Tour Around The Flaming Gorge Recreation Area
One of the most popular spots is the Flaming Gorge Recreation Area, which covers over 200,000 acres of land in Southwest Wyoming and Northeastern Utah. There are plenty of ways to explore the Flaming Gorge National Recreation Area yourself, but the best way to do it is by bus.
Tour Wyoming offers an excellent all day bus tour that takes you from Rock Springs to Utah and back through the Flaming Gorge Recreation Area. Now, some of you are probably rolling your eyes at the suggestion of a bus tour, but let me tell you, this is one of the best bus tours I've ever been on.
The guide was informative, but wasn't talking at all times—Everything she said added value to the journey. You stopped enough, but you didn't have to constantly get on and off the bus.
And the food was really good. Like so good I actually left full, which almost never happens when a tour comes with food, usually I end up disappointed, but not on this tour (and it wasn't just me raving about the food, it was the consensus of everyone on board).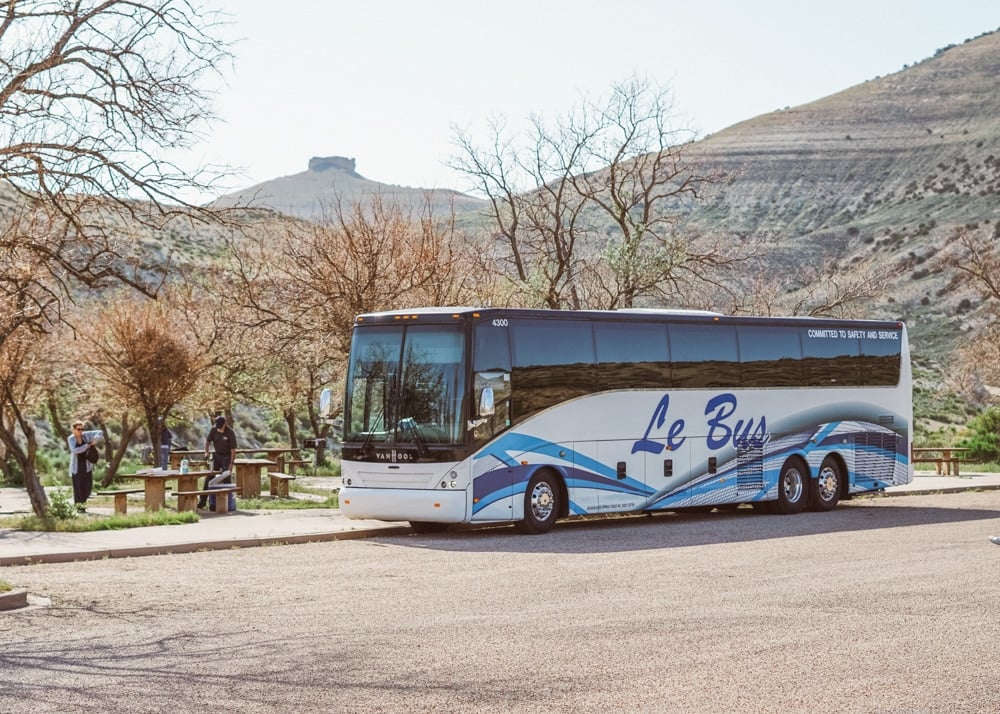 The tour begins in Rock Springs, leaving from the Tour Wyoming office (where you can also pick up a free travel guide for the area!) and then you venture onto Firehole Canyon, making a stop or two at scenic overlooks along the way.
Once you get to Firehole Canyon, you'll enjoy a nice breakfast of Cowboy Donuts, which are a local Food Network-featured delicacy.
From there, you'll continue driving through the Flaming Gorge Recreation Area and Ashley National Forest, curving along the Flaming Gorge Reservoir on scenic byways, making stops at the Flaming Gorge Dam, the Red Canyon Visitor Center, where you can see the gorge way up high, Sheep Creek, and more, with a nice lunch break along the way.
The entire drive is incredibly picturesque, and it's nice being a passenger so you don't have to constantly pay attention to the windy roads—You can just soak in the beautiful views and be on the lookout for wildlife. We saw elk, antelope, and even a hawk carrying a snake in its talons while driving throughout the Gorge.
On the way back to Rock Springs, you'll even stop for ice cream in Lucerne, Wyoming and if time allows, you'll drive to Expedition Island in Green River to see where John Wesley Powell began his trek to the Grand Canyon.
The all-day bus tour is available on Tuesdays, Thursdays, and Saturdays throughout the summer. It picks up at the Tour Wyoming office in Rock Springs and takes about eight hours total. Tickets are $68 and you can book them online through Viator via Tour Wyoming's website.
You won't need to bring water or any snacks—trust me, they have plenty, but if you get motion sickness, it would be wise to have some Dramamine with you in case the windy roads make you feel sick.
10. Go Kayaking Or Rafting
While on the bus tour through the Flaming Gorge Recreation Area, we made a stop at the Flaming Gorge Dam, where you could see them letting water from the reservoir into the Green River.
Just a little bit down the river, you could see people hopping into rafts and the water looked so incredibly refreshing that I decided right then and there that the next time I'm in the area, I am going rafting.
There are options for every skill/adventure level. If you're looking for a casual couple of hours on the river, you can rent a raft or kayak in Dutch John and float a few miles down the river from the Dam to Little Hole, stopping for a picnic along the way (just be sure to check the conditions and confirm the boating and safety requirements before you trek out on your own).
If you are looking for a hardcore rafting and camping trip, there are several whitewater rafting outfitters who will lead multi-day excursions through the Gates of Lodore and the aptly named "Disaster Falls." This area has some of the best whitewater rafting in the area, but be sure to proceed with caution and go with a competent guide!
For those of you who may not have the time to drive into the gorge, you can still get out on the water by launching from the Green River Whitewater Park And Tubing Channel right in the center of downtown Green River.
There are two different paths you can take—The Northern path is more mellow and better suited for people who want to casually float on the river and stop for a swim here and there.
If you're looking for a more intense adventure, the Southern channel is best suited for experienced kayakers, as it'll take you through whitewater, as well as a nice plunge at Castle Falls.
11. Visit Fossil Butte National Monument
Millions of years ago, Southwestern Wyoming was covered by a giant freshwater lake, filled with prehistoric fish, reptiles, insects, and plants. Now, the Southwestern Wyoming desert is home to some of the best preserved fossils in the world.
While you can see small fossils and photos on display at the Sweetwater County Museum, for a more in depth look at the area's ancient aquatic life, you'll want to make a trip to Fossil Butte National Monument in Kemmerer, Wyoming, where they have an impressive exhibit of over 400 fossils on display, in addition to a slew of hiking trails.
While not quite in Sweetwater County, Fossil Butte is a worthwhile stop on any road trip, whether your final destination is Green River or Rock Springs, or if you're just making a few fun stops on your way to Yellowstone or Salt Lake City.
12. See Tons Of Animals At Seedskadee National Wildlife Refuge
If you're an animal lover looking to spot some local wildlife in their natural habitat, a trip to Seedskadee National Wildlife Refuge should be on your list.
This wildlife refuge in the desert is home to tons of different species of birds, including the elusive bald eagle, small animals, and even some big game, like moose, American antelope, and deer.
There are plenty of ways to roam around the wildlife refuge, the easiest being by car, but you can also go hiking, canoeing, or even horseback riding through Seedskadee, depending on your vibe.
If you're into photography, this would be a great place to try your hand at wildlife photography. I would recommend going at dawn or dusk so you have good lighting and a better chance at spotting some animal friends!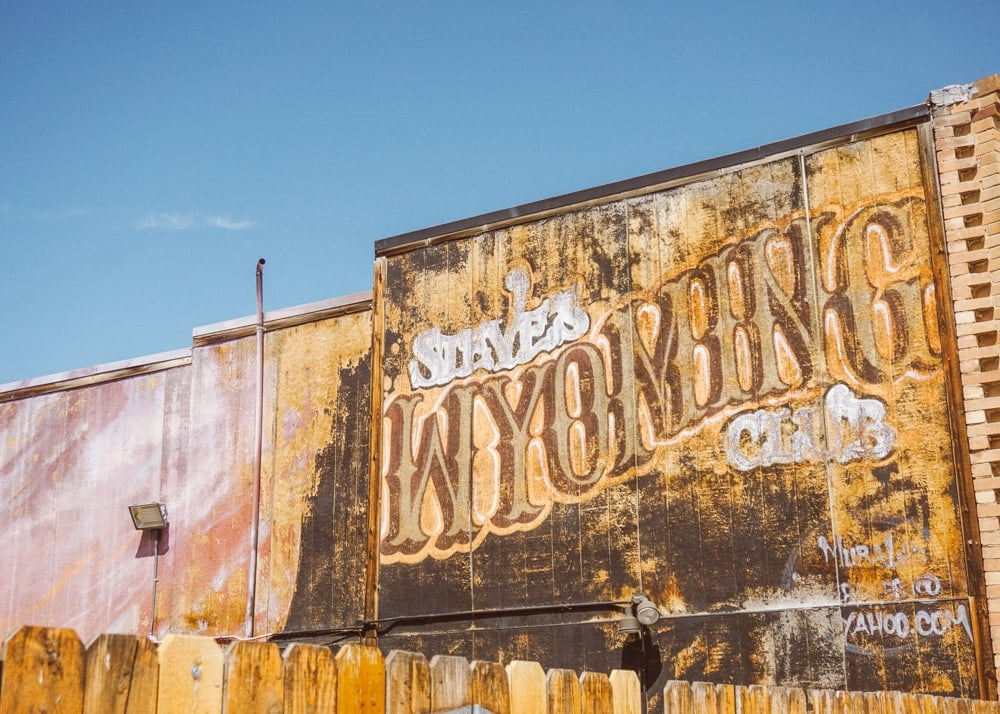 13. Check Out Dinosaurs At The WWCC Natural History Museum
I've been a big fan of dinosaurs since I first saw Jurassic Park, but let's face it, as an adult you don't exactly think about dinosaurs often, so it's easy forget about the fact that thousands of dinosaur fossils were found in the Western United States—and many of those were found in Southwest Wyoming.
At the Western Wyoming Community College Natural History Museum in Rock Springs, you'll find five different life size dinosaur skeletons on display, in addition to an art gallery and other rotating exhibits.
While tons of dinosaurs were discovered all over Wyoming, many of those fossils were sent to museums in the Eastern United States, so in the late 1980s, local Wyoming residents started fund raising in order to get Wyoming-found skeletons back in Wyoming.
Luckily they were successful and now five skeletons, including a T-Rex, are now on display in the WWCC Natural History Museum.
So show your support for this local museum by checking out their hard earned dinosaur display!
14. Get Ice Cream At Farson Mercantile
No road trip is complete without ice cream (at least that's what I always say) and Sweetwater County is home to an iconic ice cream shop called Farson Mercantile, which is known for its "big cone."
In case you were wondering, a big cone consists of four giant scoops of ice cream—almost a half gallon—in a waffle cone, and surprisingly only costs $10.
Farson Mercantile was established in 1908 in Farson, Wyoming, which is about 45 miles north of Rock Springs.
Back in the day, Farson was right near a point on the Oregon Trail known as the "Parting-Of-The-Ways," where pioneers and other travelers would have to choose between going straight west to the Sublette Cutoff, which cut off 46 miles but required going through a waterless desert, or taking the main route and going Southwest towards Fort Bridger State Historic Site and Salt Lake City.
Today, there is a plaque in Farson that showcases the splitting of the trail, so I'd recommend getting a giant ice cream cone and then visiting the Oregon Trail marking, to remind you how nice it is to be able to travel via car and eat ice cream.
I hope this post gave you some inspiration for your next road trip or helped you find some unique spots and things to do while visiting Wyoming. I truly enjoyed my time exploring Sweetwater County, and I'm sure you will too!
If you have any questions, need help planning your trip, or think we missed some must-see spots in Sweetwater County, leave a comment below or send me a DM at @mkrichtmancreative!