Looking for a beach day in Los Angeles? Plan a quick weekend trip to Santa Monica for a fantastic beach, a fun pier, great shopping, unique dining and sightseeing activities for a relaxing vacation in 36 hours.
I'm a big fan of quick, power vacations to blow off steam and get some exploring in. I live in San Francisco and flew down to LA for a weekend to spend time relaxing on the beach, biking the boardwalk, eating fancy LA vegan food and people watching.
Here are my tips and advice for things to do in Santa Monica and Venice Beach, especially if you only have 36 hours to explore like we did! Get ready for a fun trip to Santa Monica beach, my favorite city in Los Angeles!
First, who am I and why should you take travel advice from me? My name is Kara, I'm the gal behind Whimsy Soul (follow me on Instagram @thewhimsysoul. I find the prettiest hotels, the best eats, the coolest things to see in a destination and round up all that advice with other helpful tips like how to navigate local transportation and have put it into one Santa Monica travel guide. Read on to find my list of fun things do in Santa Monica and Venice! If you have any questions, pop them in the comments below or DM me on Instagram,
We stayed at cute
Airbnb's
since there are so many great affordable ones in the area. Use
THIS
link to get $35 off your first Airbnb stay! I would also recommend staying at
Hotel Georgian
right on the beach in Santa Monica!
1. Santa Monica Pier: The Santa Monica Pier is, of course, that main attraction to Santa Monica. I suggest getting there earlier than later to explore it without being overcrowded by other tourists. Most of the rides start at 11am. We got there around 10am and loved the amount of room we had. It was basically empty on the pier, so if you want to come to take photos of Santa Monica Pier, I suggest arriving before it opens in the morning! Read more here.
Pro tip: make sure to ride the Ferris Wheel! It costs $8.25 per person but the views of Santa Monica Beach, downtown Santa Monica, the Santa Monica mountains and Venice Beach are so worth it!
2. The Beach: Nothing like SoCal beaches! Santa Monica beach has an endless beach filled with volleyball courts and views. Bring an umbrella, drinks and snacks and even a volleyball if that's your thing! Northern California beaches are cold and dirty, so it was a refreshing change from what I'm used to in San Francisco. Don't forget the sunscreen!
3. Bike the Boardwalk: Want something more active? Bike the boardwalk! I suggest renting your bike from Ride Venice, which had the cheapest rentals on the boardwalk. It's right next to muscle beach, which is on the South end of Venice Beach, so you can ride all the way up to Santa Monica and back down again. Book online in advance here!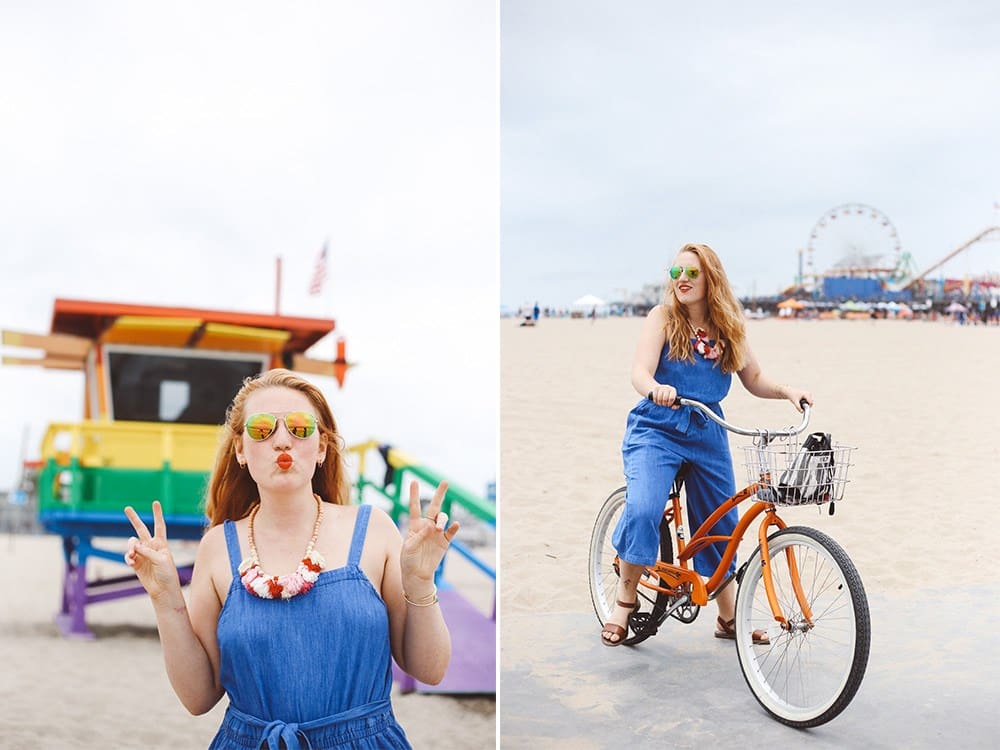 4. Visit Venice Beach: Like I mentioned above, Venice Beach is connected to Santa Monica beach and is just a little down the beach It has a totally different vibe and is really fun to explore. Bring cash and make sure to hit up some of the unique shops or grab fresh fish tacos!
5. Have Beers On A Patio: San Francisco doesn't have many outdoor drinking areas. The locals think it's "too cold". After living in Minneapolis which is littered with outdoor patios and rooftops, I grew to love a long, casual afternoon or evening with a good drink, good friends and a view (read more about that here). Santa Monica has tons of patios and rooftops to choose from. During the day, I suggest stopping at Dean's Ocean Front Cafe on the beach. For the sunset, make your way to Suite 700, a rooftop bar with great views of the ocean and city below. If you are in Venice Beach area, hit up Hotel Erwin's rooftop bar (this place gives you blankets if you get chilly!)
6. Grab Lunch at Blue Daisy Cafe: I loved this cute little spot for brunch or lunch. They have a side patio that's covered with flowers and cute decor. They're known for their unusual menu items like Pancake Benedict with Bacon (I had this – so savory and tasty!)
7. Shop Abbot Kenny or the Third Street Promenade: Downtown Santa Monica has the Third Street Promenade for shopping – think big name stores like Forever 21, Nasty Gal, etc. Venice has a street called Abbot Kenny which has smaller boutiques and stores. I personally liked Abbot Kenny better because it was more under the radar and quaint.
8. Brunch at The Butcher's Daughter: Plant-based eating has never tasted so good at this restaurant on Abbot Kenny. Be warned – the wait for brunch can get long but their food is worth the wait. Plus, their decor is very free-spirited woman's dream (think marble, plants, skylights, etc). Afterward, head across the street to Blue Star Donuts to pick up a tasty treat!
9. Go Bar Hoping: Santa Monica's nightlife is great. Everyone gathers near the pier and on the main shopping strip. We started off at Suite 700 for the sunset, went to the promenade to Cabo Cantina for giant margaritas and then to the Craftsmen's Bar and Kitchen to people watch on their sidewalk patio. We had a blast in the warm air and happy crowds.
10. Venture Into West Hollywood: Use Santa Monica or Venice Beach as your home base to venture into other parts of LA. If it's your first time to LA, I'd suggest hitting up West Hollywood, Beverly Hills and the Hollywood sign, which is something everyone should see once in their lifetime.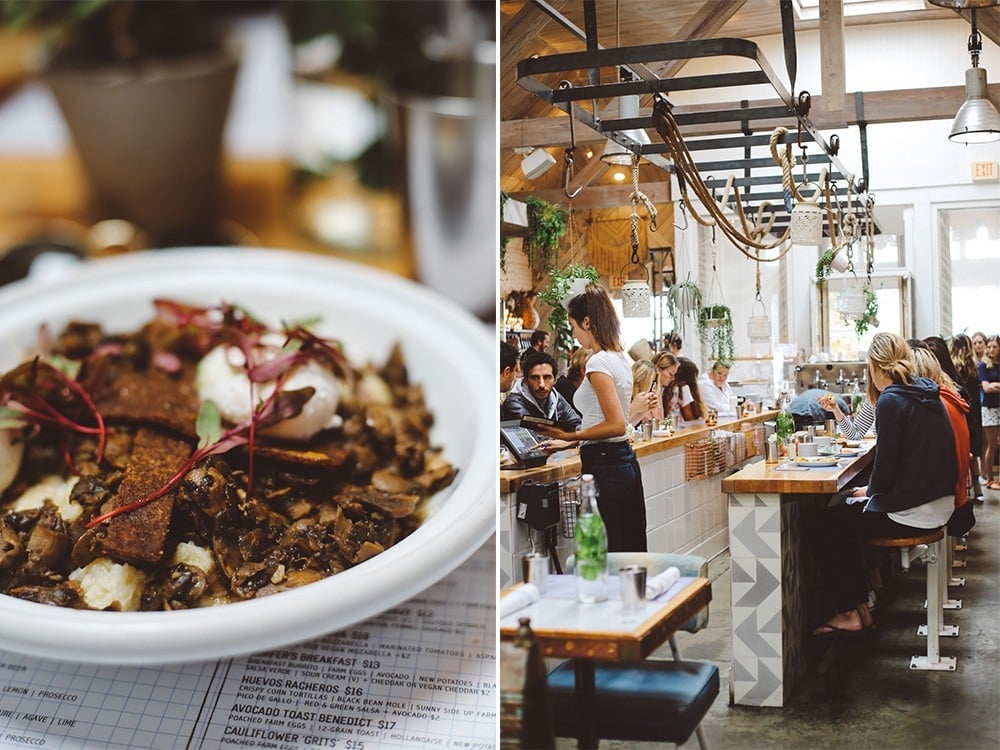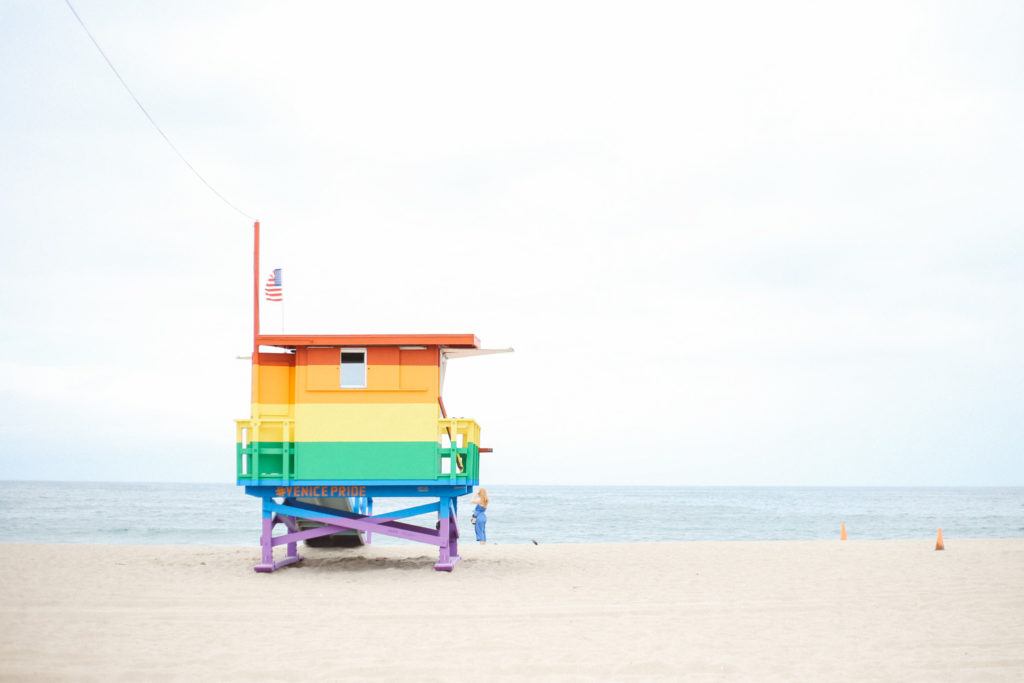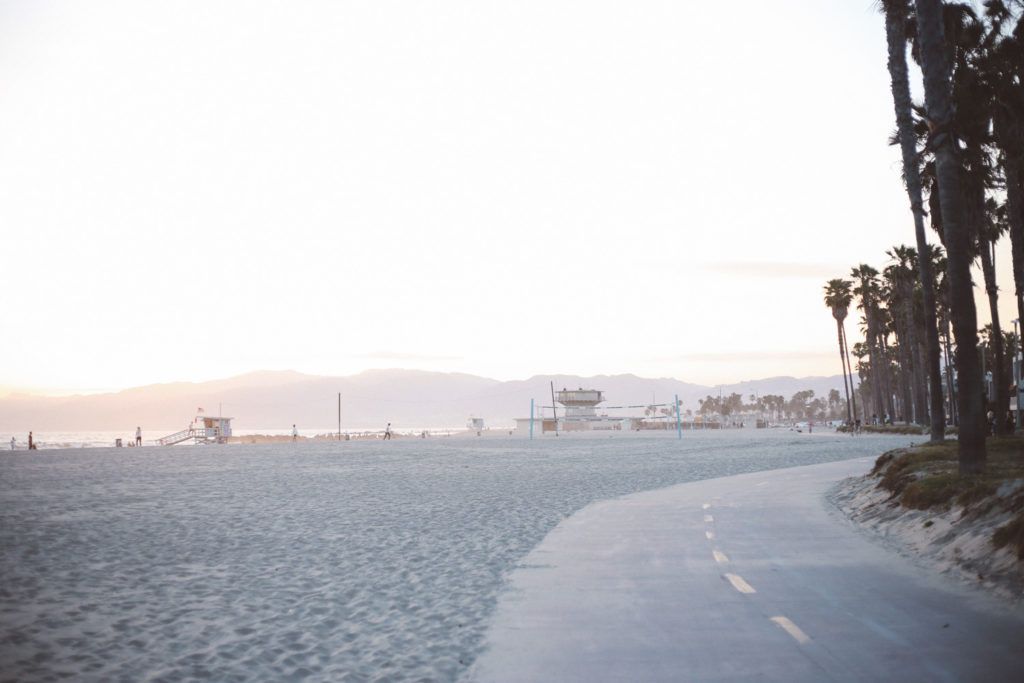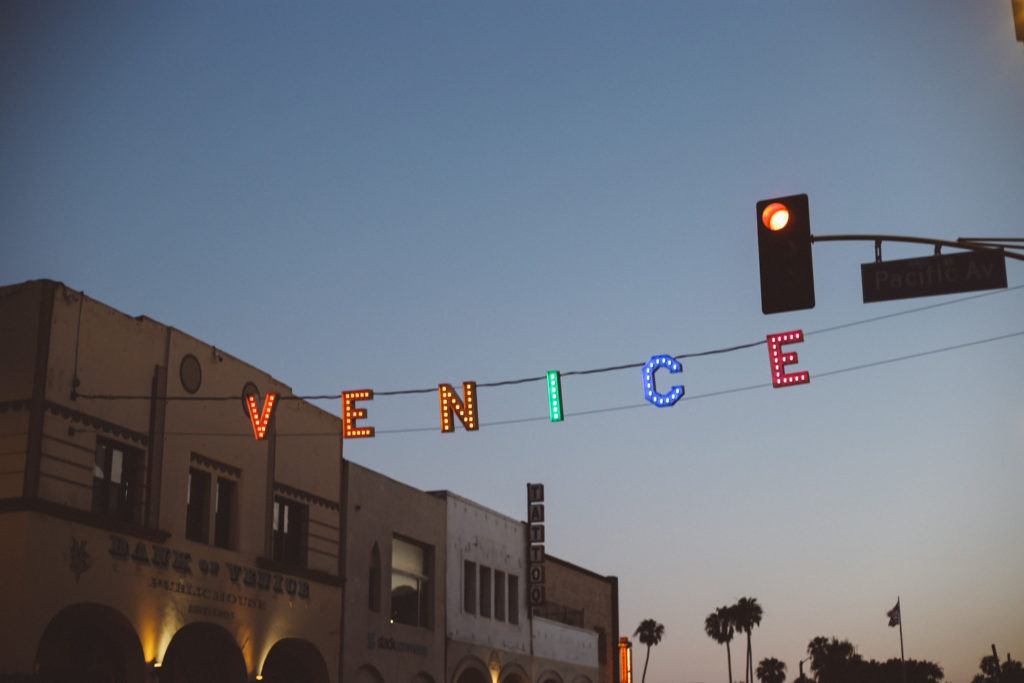 If we had more time, I would have liked to make Santa Monica our "home base" and go explore Hollywood and parts of downtown LA. But I loved our short and sweet weekend vacation to Santa Monica. Got more SoCal tips to add on to here? Leave a comment below!
Follow me on Instagram for daily adventures!