So, you took up the challenge of hosting a baby shower? From balloons to decorations to overall baby shower themes to games to food OMG there is a lot to plan!
My friend Caitlin is currently pregnant with her first baby, a baby boy (and despite my efforts, she is not telling me the name they picked out umpf!) We threw her a cute baby shower party to celebrate with friends and were faced with the questions like…
WTF should I decorate a boy baby shower with?
Should I go gender neutral? We do in live San Francisco after all…
Do I need party favors?
What should the color scheme be?!
We're in a helium shortage, can I even have balloons?
Where do I even shop for this stuff?!
AHHH
Baby boy shower ideas and decorations look fancy AF on Pinterest but it's actually hard making all those fantastic elements come together on your own. So many little details to remember! I didn't want a Pinterest fail situation on my hands. Luckily, I discovered Coterie Party, a company that specializes in party decoration sets. It's the one-stop online source for anything party decorations related.
That's right, I was able to easily buy everything I needed for adorable (yet chic) themed baby showers. They also have sets for bridal showers, birthday parties, graduation and pretty much any celebration you'd want pretty decorations for.
Our original plan was to have this party on our friend's apartment rooftop. She has this stunning rooftop with tons of chic furniture and a sweet outdoor grilling space. It's smack in the middle of San Francisco so it has sweeping views of the city. It's a fun place for guests to hang out, grill out and party.
And of course, it was POURING rain on the day of her baby shower. Whomp Whomp. No outdoor party for us.
I was a little disappointed (I've always said that drinking on tall places with good views is a personal hobby) but thankfully, our Coterie Party set made it really easy to spruce up our backup indoor space. Without these decorations and cute balloons, it would have been a pretty basic setup.
After a lot of debating, because there are just so many cute party set on Coterie, we went with the Amalfi Blues shower decorations. They were just the pop of color this indoor space needed!
When it comes to parties, it's all about the details.
I loved the baby blue color and also the gold details of this set, which matched the "Oh Baby" balloons they also sell perfectly. (This color palette is so pretty, it can be used for a variety of party types!) You can't just get cups and plates. To really make your baby shower decorations pop, you need fund things for the table, balloons and extra decorations like themed things to stick into the cake top (how cute are these stars?!)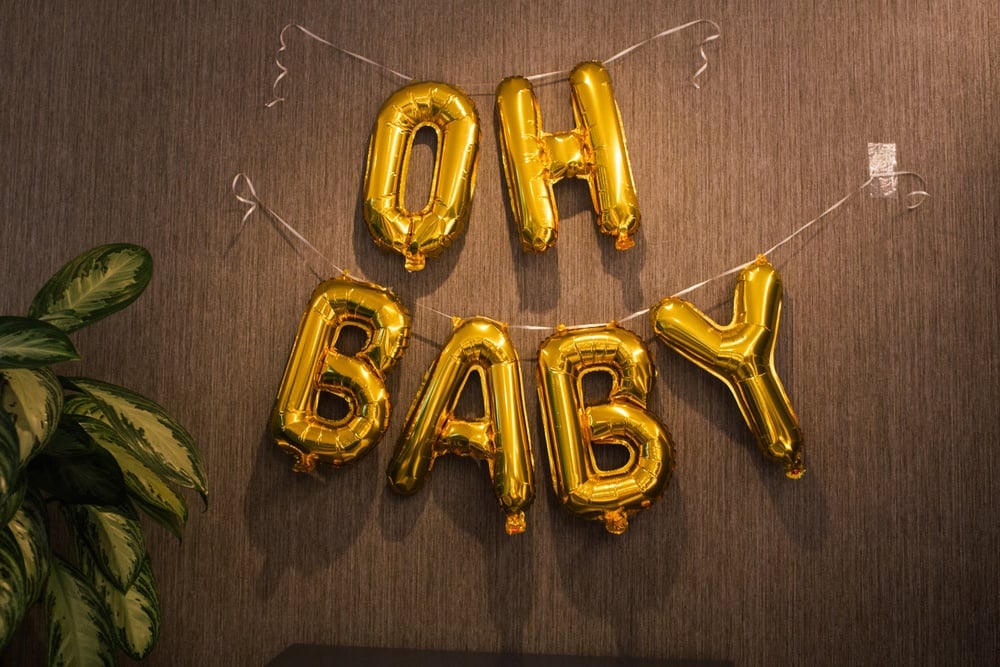 Setting up was pretty easy. I came over to my friend Amy's apartment about an hour early. Robin blew up the balloons (no helium required!) and within the hour everything was up and ready to roll! Amy made this cute baby shower game that was to play and – low key brag – I won.
Here's a tip: instead of asking for traditional gifts, ask guests to bring baby books! It's a fun way for the new parents to quickly stock up on awesome books. I picked out my favorite childhood book, Can't You Sleep Little Bear.
Also, instead of only offering La Croix as the only non-alcoholic drink, pick up a few bottles of Welch's Sparkling Rosé!
If you're hunting for baby shower ideas (or any party ideas) head to Coterie. They have so many sets and decorations to make any gathering extra special!
PS, to Caitlin + Mike: I'm so happy for you! Can't wait to meet your son!