Queer fashion labels and fashion designers have been touching runways more and more. With names like Christopher John Rogers, MI Leggett from Official Rebrand, and Kirrin Finch's Kelly Sanders Moffat. But an even bigger runway is rolling out next month: Pride Parades!
As pride month comes up and we celebrate love all around! From Finland, France and Germany, to here at home in the United States, outfit planning has begun! Everyone is looking for the best and cutest pride outfit ideas to march the streets and party through the night in.
Here's a list of the best pride merch, queer owned businesses and gay clothing brands to support!
Note: While we included a large amount of queer-owned small businesses, there are some products included from large corporations who partake in rainbow capitalism, and we wanted to acknowledge that. We wanted to ensure to include items within all price ranges and sizes.
Pride Outfit Ideas & Picks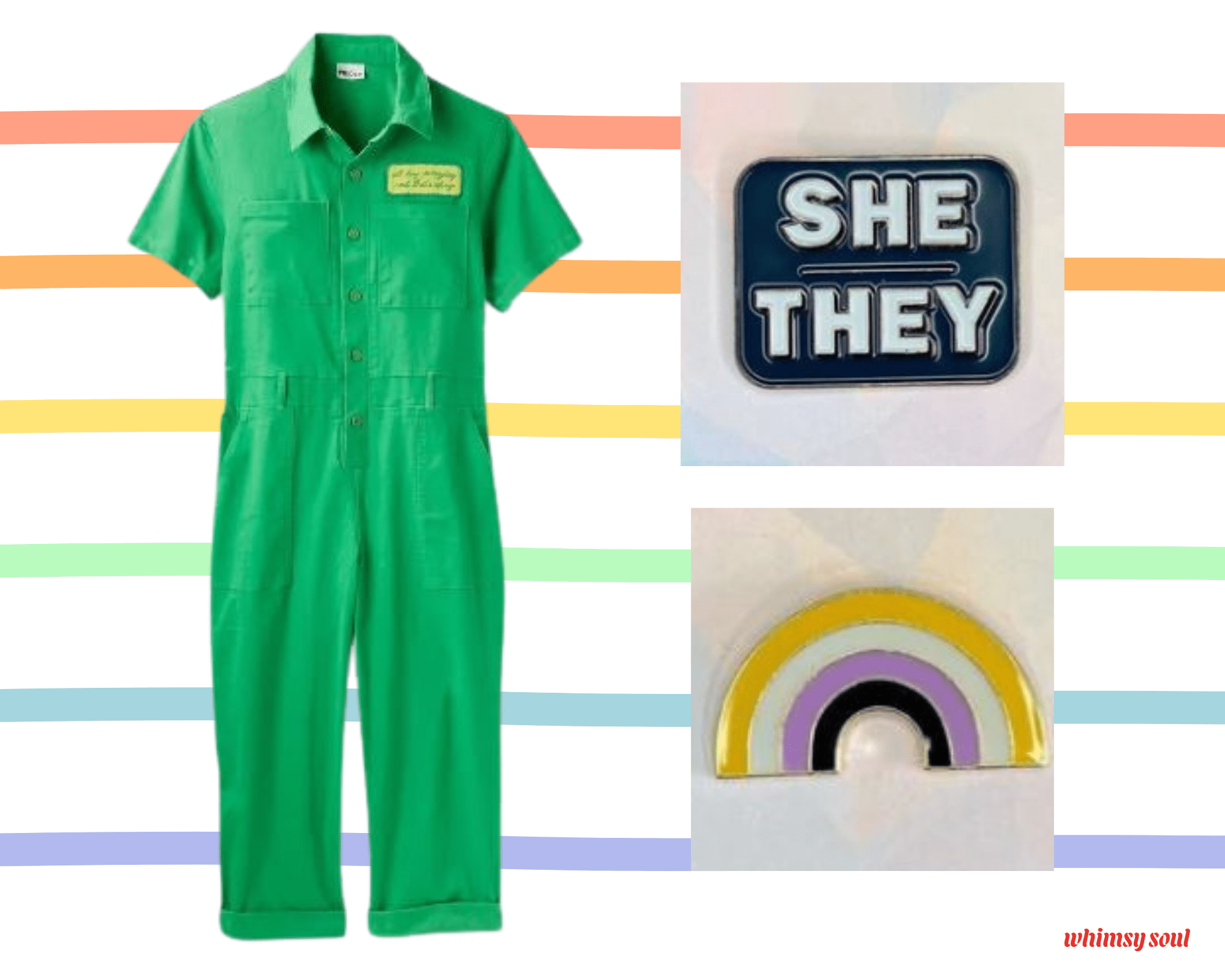 I am completely obsessed with this cute pride jumpsuit! This item SCREAMS gay (literally, with the design on the back) and the style of cropped coveralls is just so queer in and of itself that I just am so in love with it.
It's such a fun piece to style because of its bold colors, which also makes it a great gay pride parade outfit.
Adding some pins and badges can really personalize this green fit. The queer owned brand Our Apparel has a great collection of enamel pins that are totally pride ready including this cute pride flag pin and pronouns pin (the best combo for pride)!
Adding them to the front or the back of the jumpsuit is definitely the way to go!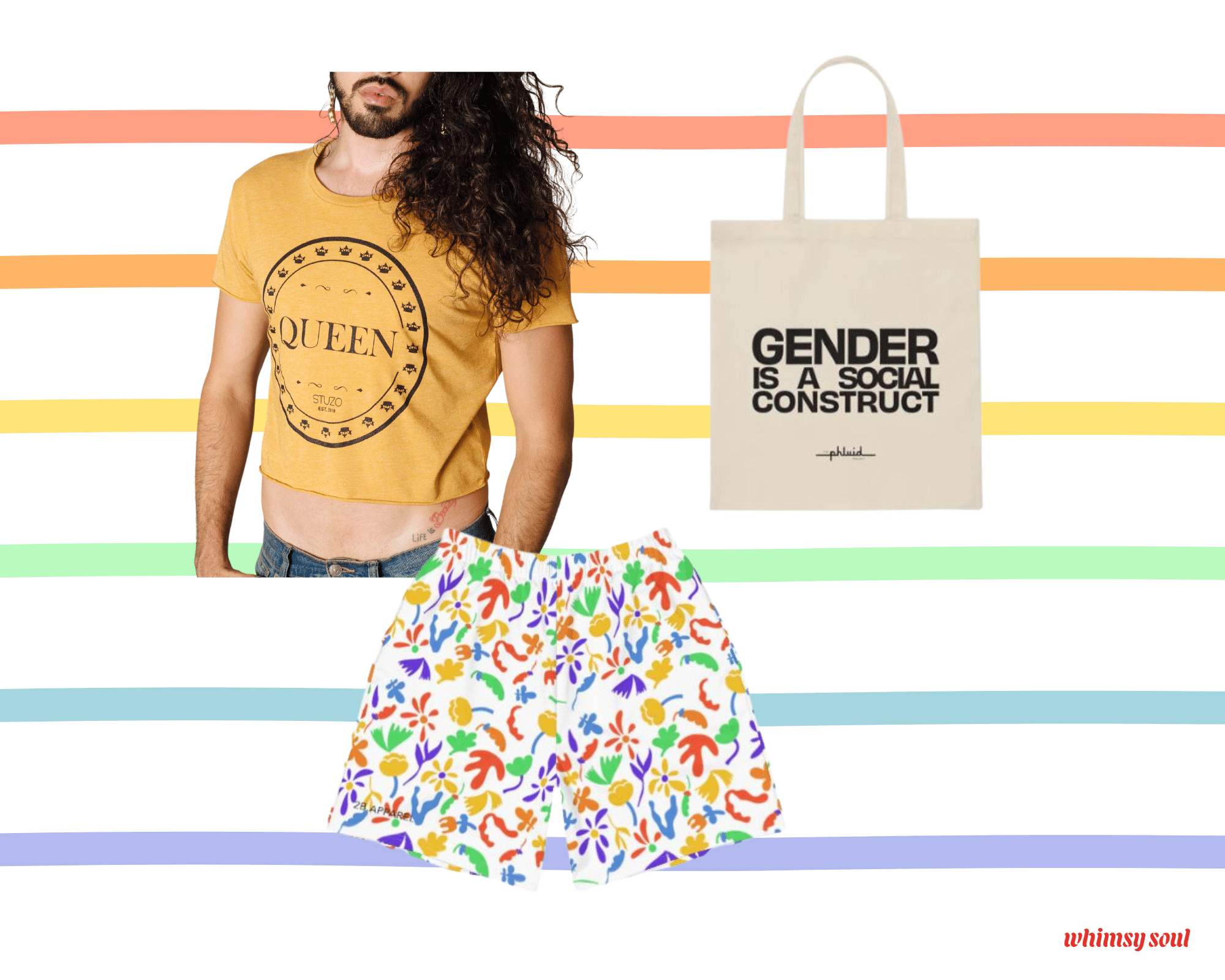 These floral pride shorts are another fun find! Searching for pride bottoms can be a little difficult, but gc2b makes it an easy search with their pride collection of shorts.
These white based rainbow floral patterned shorts are the best for that hot June weather and so comfortable! Great for a march!
To compliment the fun colors of the shorts, this queen shirt is an awesome pair. This incredible crop top comes from one of the black queer owned brands that don't get enough love: Stuzo's Clothing.
For people looking for unique designs and products that go beyond just rainbow colors, this company comes from a New York City designer. And all their clothes are gender-neutral! Also, designs are always changing, so if you can't find something you like now you can get a gift card for later.
I love this design on this bag, especially with the times we are living in. The bag is cute and makes a great (and true) statement on gender norms, which pairs great with Stuzo's crop top.
It comes from the Phluid Project, which is an amazing organization (it's an indigenous founded brand!) with the goal to design gender free pride clothing. This tote bag is one of their queer designs.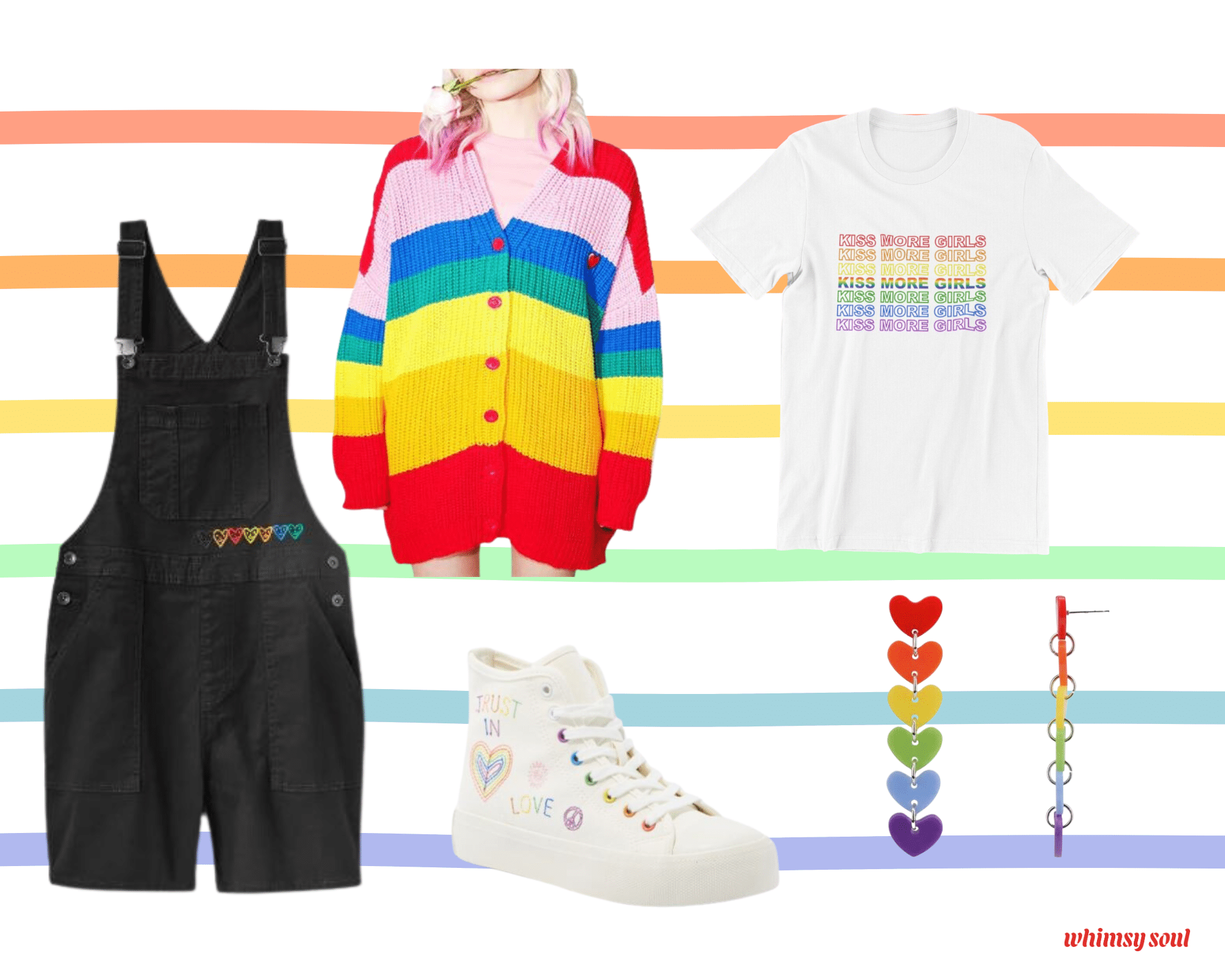 These black shortalls are really minimalistic in their design, but the small rainbow hearts pop so well on the black denim that it's really a sleek piece. The shoes are great for the hot pride month weather, and the deep pockets are *chef's kiss* gorgeous!
I love this sweater as a layering piece. This sweater comes from the black queer owned shop Rose Gold Co. Its loose fit and bright colors make this one of the most comfortable pieces on this list! Perfect for pairing with shorts, skirts, or shortalls.
Queerly designs is a queer owned etsy shop that has some of the gayest graphic tees ever! This design celebrates lesbian identities, but there are so many to choose from this site and finding your identity in their designs is so easy!
These high-tops have such a young and sweet touch with the stitches writing that looks handwritten, which go well with the sweethearts of the shortalls.
And the soles have a gorgeous pop of rainbow color! These sneakers are a really chill balance of bold vibrant colors and subtle touches that make these pride worthy and easy to style year round.
For those looking for a little louder jewelry pieces, these heart drop earrings are so cute. The mini hearts in rainbow design are so bold that they make really good compliments to pride outfits.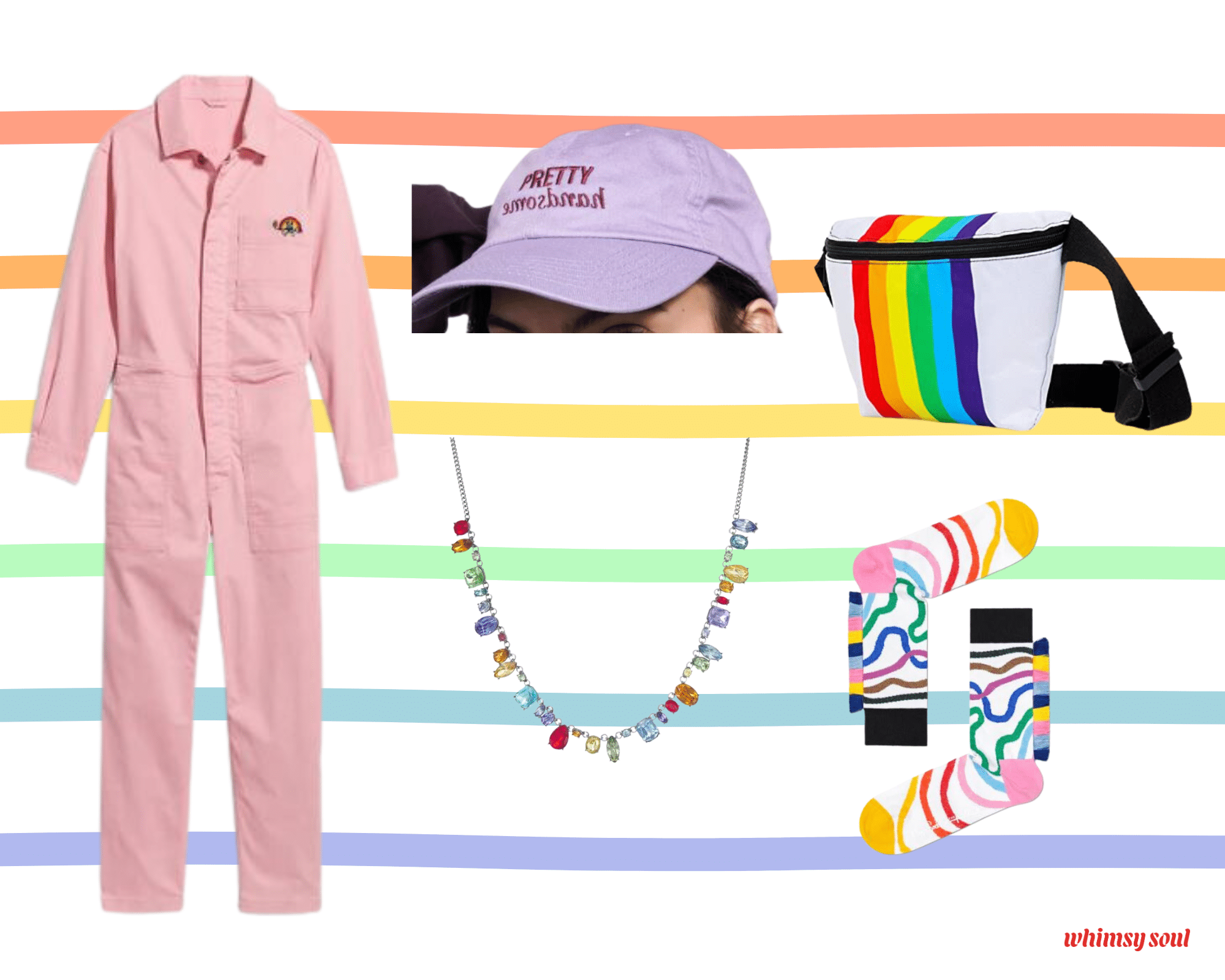 Old Navy has a gender neutral collection year round, and now it's celebrating pride! This coverall comes in two different colors and comes in many sizes (going up to 4X and XXXL for all the plus sized baddies).
The patch of the rainbow on the chest pocket is such a cute detail- and matches the rainbow detailed fanny pack from Amazon.
Bags, fanny packs are great when walking the parade or checking out pride festivals since they can easily be clipped on, and you won't have to worry about carrying it. Plus the deep pocket is super handy when it comes to carrying all your belongings.
I'm a sucker for pride merch that isn't exclusively pride like this hat from Wildfang. The genderless mix of the words is so fun to me and pride hats are so rare that this gay clothing brand's accessory is totally a stand out piece.
Queer pride socks! The Phluid project has a wide range of designs for their pride socks that are all extremely unique and fun. They also don't run on the 'one size fits all' fad, but rather offer sizing options for their socks (these ones have tassels!)
I love pride jewelry, and Kohl's has some great affordable pieces to shop for like this rainbow gemmed necklace. Not only is the rainbow coloring totally beautiful, but the wide variety of glass jewels really makes this item a statement.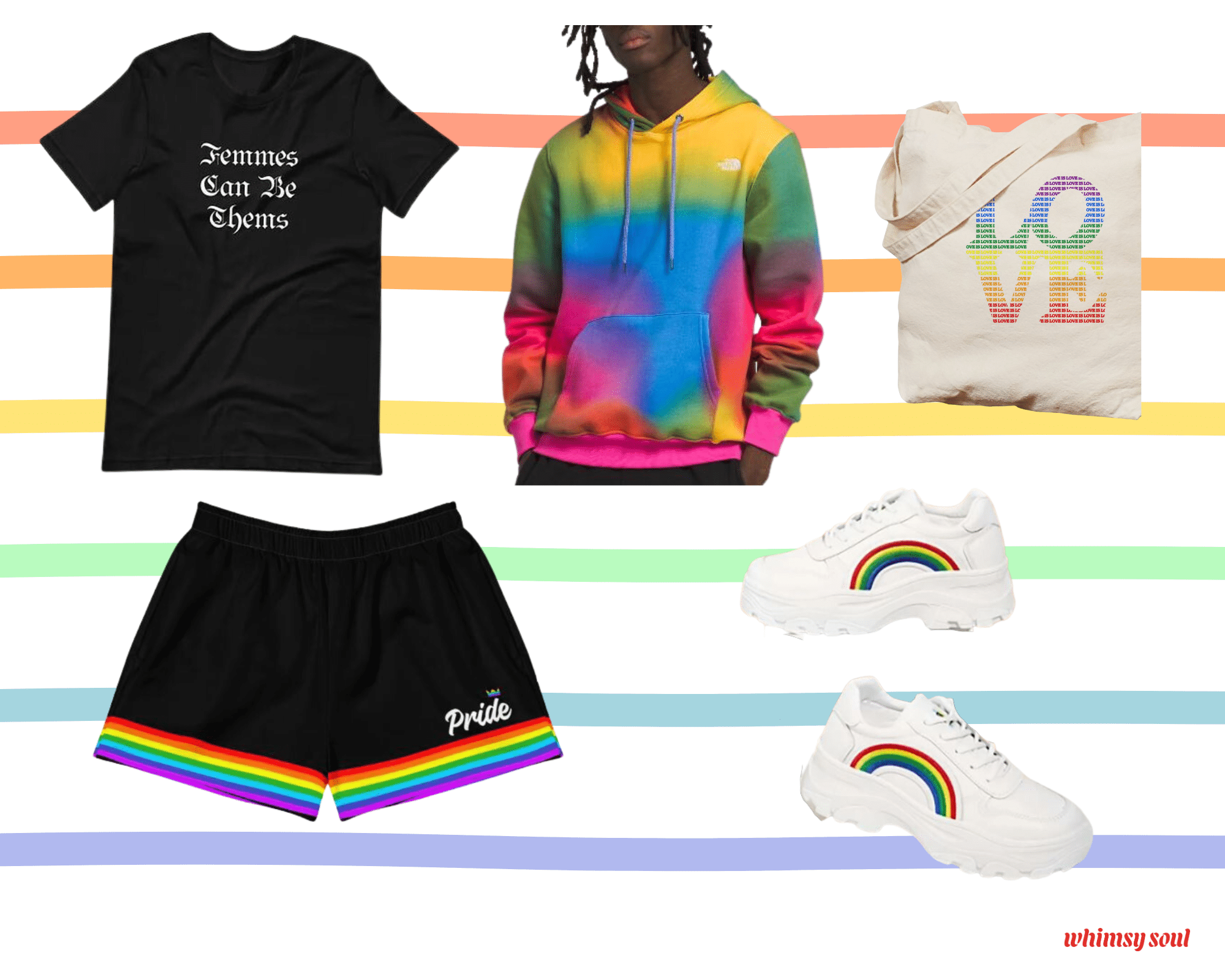 This outfit is a more chill fit for a pride celebration that'll require a lot of walking and movement. Nothing is comfier than a graphic teel from A Tribe Called Queer, another great and queer friendly brand to give extra love to this month.
Their designs range from classic rainbow clothing pride to designs such as the one here for year round wear.
Rose Gold Co. has lots of cute pride shorts. The touch of the rainbow on the hem is fun and the shorts are great for walking marches or celebrating pride parades. They also have pockets with a mesh lining for airy and breathable material.
To complement the laid back look for pride, The North Face offers amazing pride activewear. Like this hoodie from their 2023 pride collection. A truly unique gradient rainbow design that stands out. I really think there is something beautiful about the muted yet bold pattern of this piece.
I love a good platform shoe, and these sneakers are my new favorite. Coming in both black and white designs, these rainbow platform sneakers are so stylish and the patch rainbow brings a whole new dimension to them.
This tote bag from Walmart's pride collection is an essential when shopping for pride accessories.
The Love Sign design filled with "love is love" in rainbow is both so queer and yet so subtle in its design. It also comes into sizes, if you're looking for a smaller bag for longer pride days! (It's also made of recycled materials!)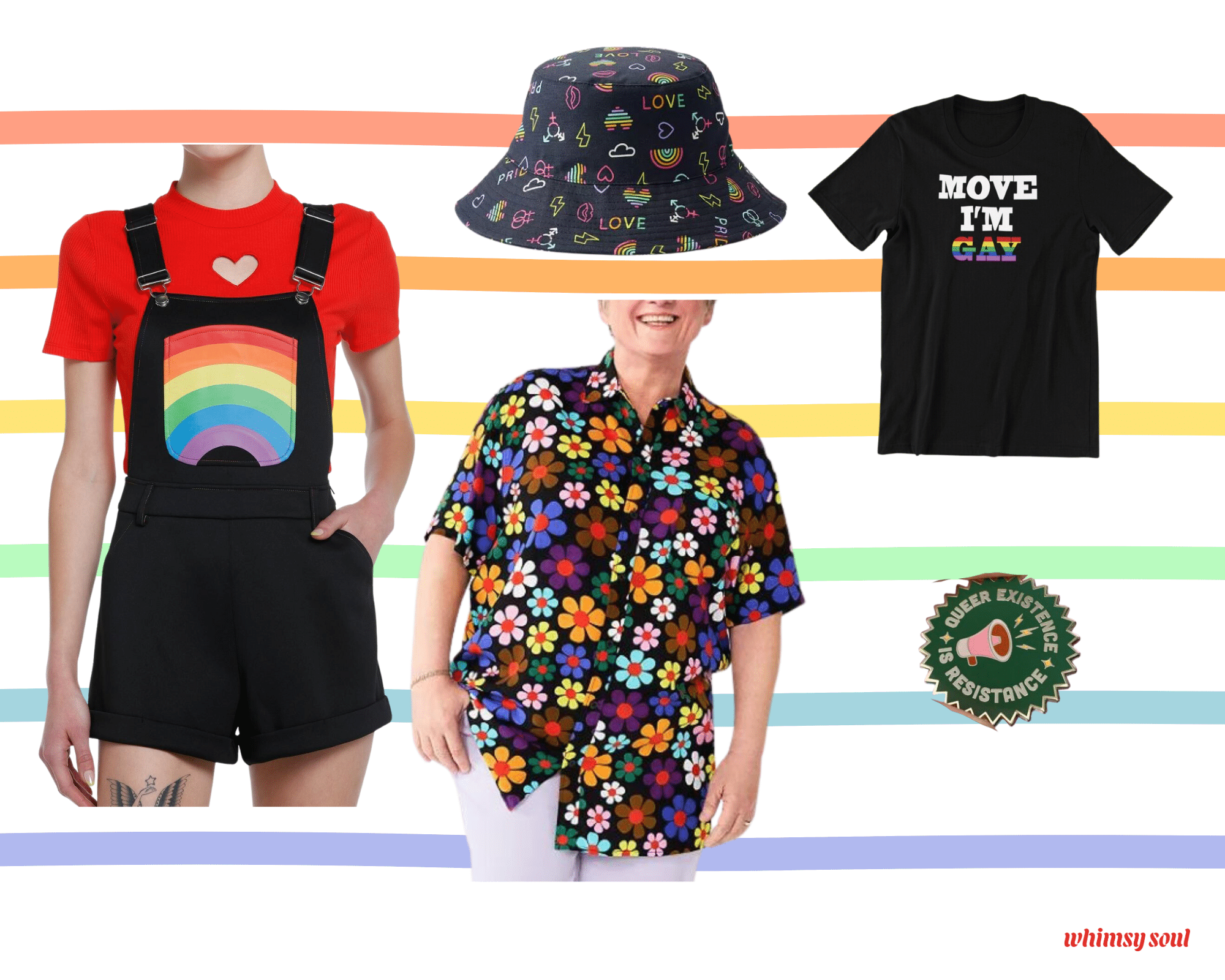 These especially cute shortalls come from the Hot Topic collection. The huge front pocket isn't just cute with its rainbow design, but provides a deep easily accessible pocket for your phone. I also love the open back.
Searching for pride merch that uses pride colors in details over just rainbows is always a great find. This button up from Kohl's pride collection brings the thought of rainbow colors into a new light with its floral design. The bright and bold pattern contrasted with the black background is such a nice complimentary balance of this piece.
*adds to cart immediately* Another fantastic and funny design from Queerly designs. This pride rainbow shirt's funny text (and gay mantra) is a must must must for pride this year! This pride shirt is so fun and sassy and supports a member of the queer community, need I say more?!
Who knew Kohl's had such a great pride collection? Seriously, I've been shopping for hours now! Bucket Hats are one of the queerest things in the world, there, I said it!
And this pride bucket hat is just so fun. The design is a really simple pattern, but also really adds such a great detail to any pride outfit ideas. Kohl's also donates money earned from its pride collection to the Trevor Project (an organization aiding mental health in the LGBTQ community).
And don't forget to accessorize with some pins and such from Rainbow and Co. This is a proudly queer and autistic owned company with AMAZING original designs.
I personally love this 'Queer existence is resistance pin' (buy quick they sell out fast)! But I also love that this brand helps customers search by identity/orientation when searching for products. With all its designs, it's a great place to find pride day gifts!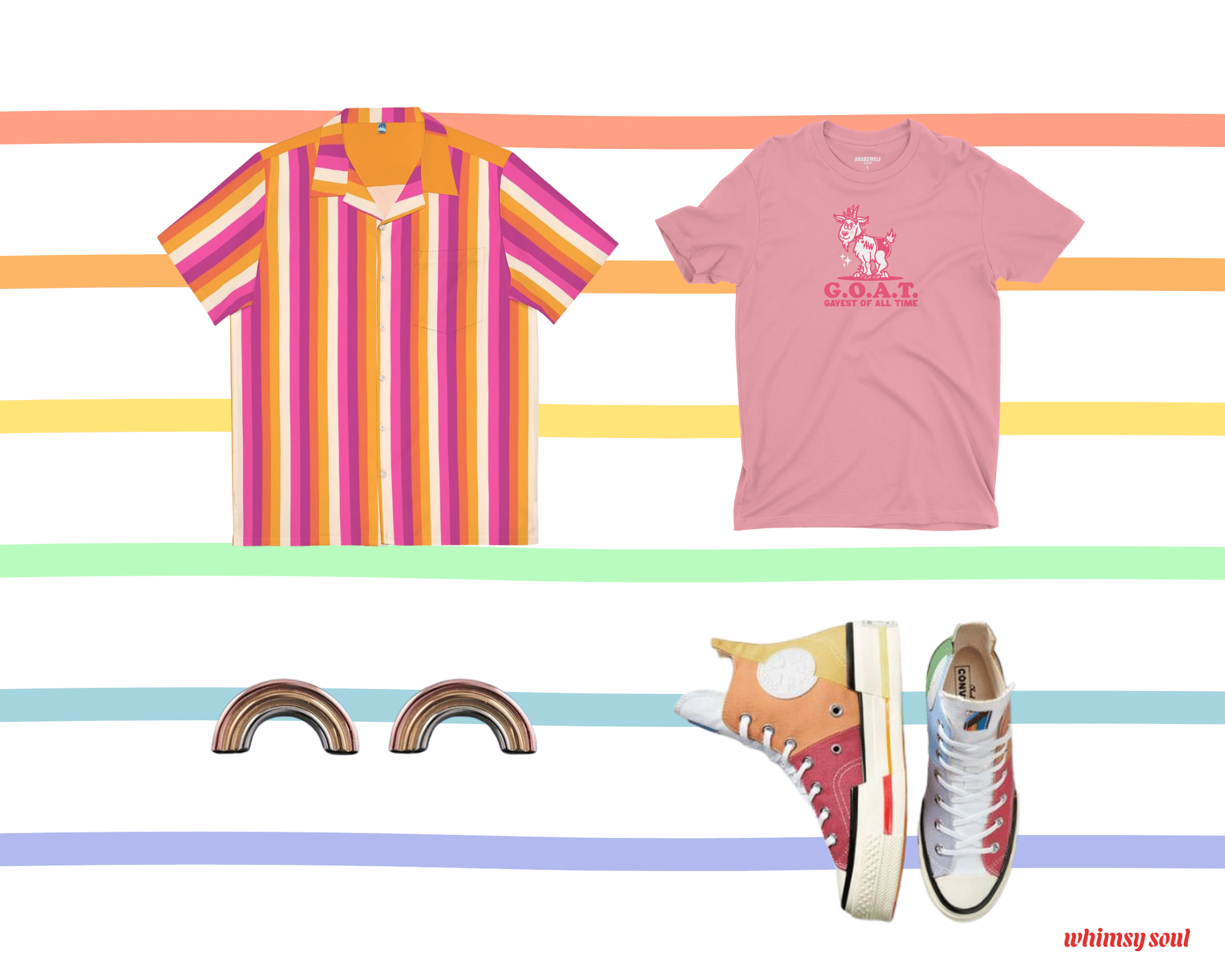 Awarewolf is an LGBTQ+ owned and operated brand with some of the cutest and funniest queer tees. I love this pink G.O.A.T. tee! The play on the phrase is exactly the kind of fun that pride is all about!
Sabor a Libertad is an incredible queer fashion brand. This company offers a huge collection of pride and queer friendly clothes including tees, sweatshirts, and swim trunks.
My favorite pieces from this brand have to be their vintage collection of button ups. The vibes are immaculate.
The vintage takes on the colors of the many pride flags, takes something familiar and makes it new. And with material super lightweight, it's great for long pride celebrations in the sun! I also appreciate a piece that dresses up or down.
These small sweet rainbow earrings are a cute detail to this outfit and they come from the queer owned brand Automic Gold, which have some really great queer designs (and are great gift ideas for partners)
Converse always has a fun pride collection! It features more than just sneakers, slides, heels and platform shoes too. These vintage inspired chucks are by far my top pick.
Their asymmetrical design mixed with their collage of colors brings about cool rainbow vibes. I also love that the color goes onto the sole of the shoe.
Gender Affirming Under Clothes
For those who need it, here are a wide variety of gender affirming products to help outfits *fit* your body a little better! Inclusive clothing is necessary clothing.
gc2b is mainly an underwear/ under clothes brand focusing on binders, but they also have their own pride merch! Some of my favorites are these incredible (and bold) binder pride tank tops.
Their bright patterns come in the colors of the trans flag, gay pride, and nonbinary pride flag.
Origami Customs is another one of the queer owned fashion brands that offer a huge range of underwear garments. This brand had a wide collection of tucking garments and gaff underwear, with detailed information and sizing chart guides.
They also provide binders with a variety of straps and backs that allow for better pairing with thin strapped tops and so on.
Tomboyx is another proudly queer brand that offers gender identity affirming underwear. This brand has a color pack of tucking underwear, period underwear for all, and compression/ binder tops. Their products are offered in their pride collection in a gorgeous array of fun and bold patterns.
Whether you're looking for some pride outfit inspiration or some queer brands to support this June (and all year round), I hope this list was helpful!
Let us know in the comments for any brands we might have missed!