Only got one day in Vancouver Canada? Whether you're using the city as a lunch pad to trip to Whistler or a ferry ride to Victoria, you can visit Vancouver in one day and see a ton of cool things… but only if you plan your day right.
That's where I come in. Since I'm a fan of short but mighty day trips I put together the ultimate Vancouver 1 day itinerary for anyone visiting this British Columbia city on a time crunch. I share exactly what to do, how to get there, where to eat and more tips for making the most of your day. Keep on reading for…
One day in Vancouver itinerary: exactly what to see, eat and do when you're short on time.
>> Got a question about Vancouver that you need answered quickly? DM me on Instagram @thewhimsysoul and I'll be happy to help!
As a little disclaimer before we get started, this itinerary has a LOT packed into it. Short one day trips have to have a lot! Get ready to start the day early and end it late if you want to follow this one day in Vancouver itinerary step by step.
ALSO, don't forget to pack along the essentials that you'll need for a whole day exploring. I'm talking: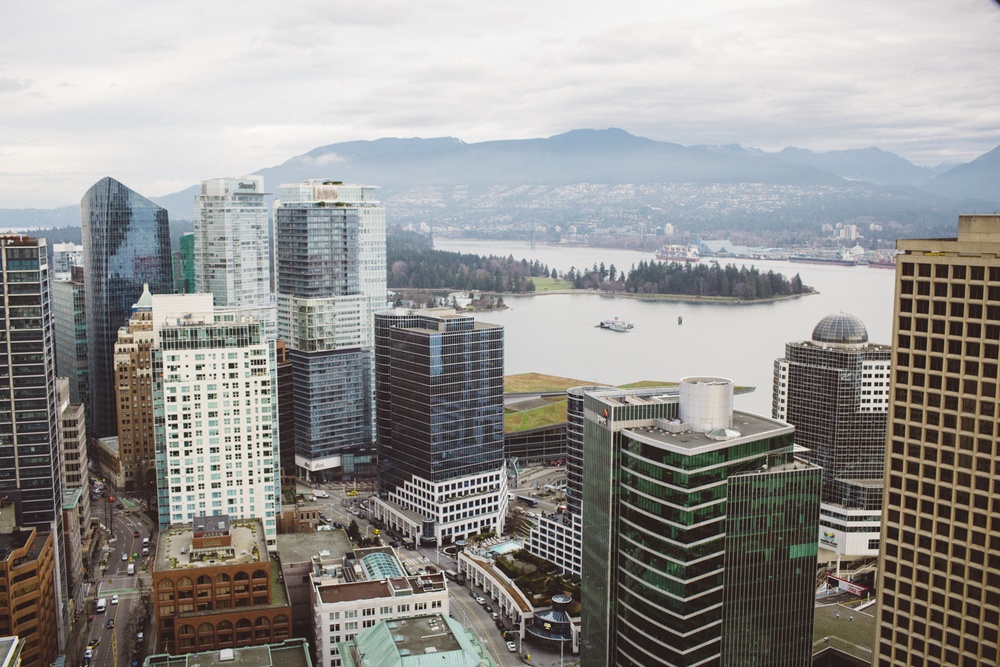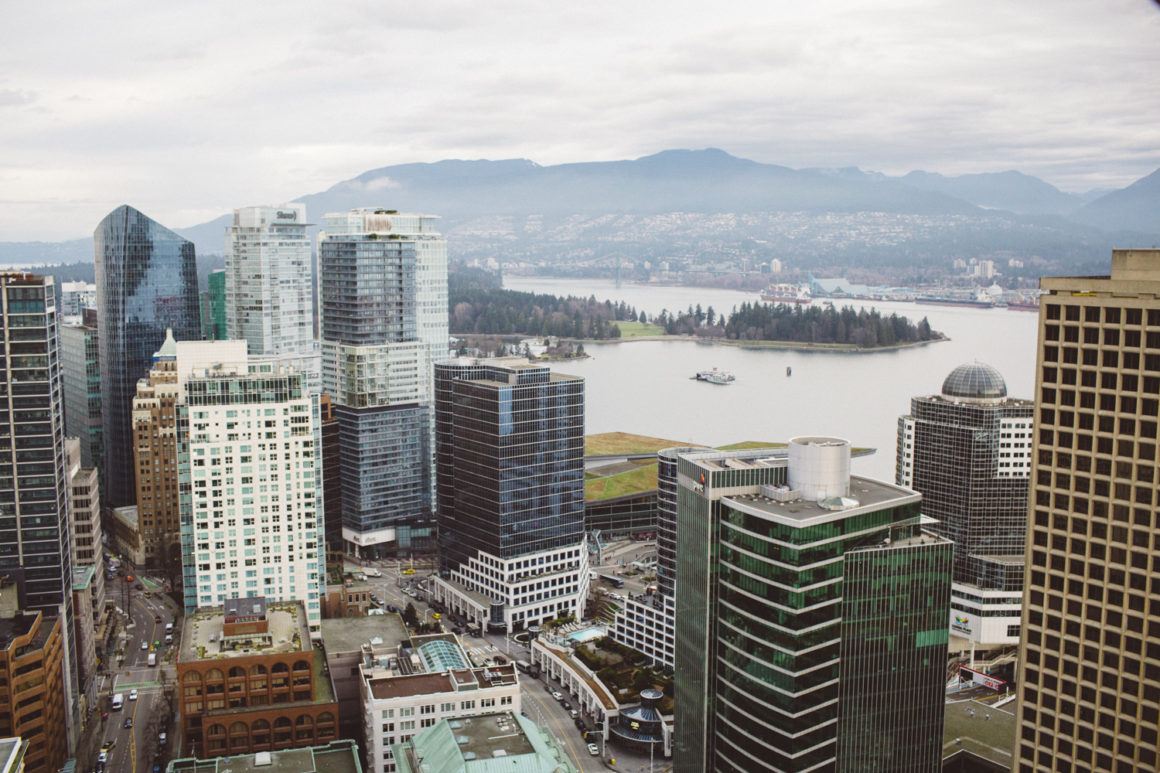 Things To Know About Vancouver Before You Go
They take CANADIAN DOLLARS here. I feel like I need to stress this a few times for my fellow Americans. Canada feels so much like America it's easy to forget they don't use the same currency here!
Cell service is going to be hit or miss in Vancouver

. I would go from full bars to no service within a block or two. SO, make sure you load this blog post up in a tab on your phone and don't close it, so you can reference it all day. Also, load up Google maps offline for the same reasons.

It's in a rainforest

(that's what the Pacific Northwest is, it's technically a temperate rainforest!) Hence, you'll probably encounter rain at some point. But what's different about PNW rain is it *usually* isn't harsh on a day-to-day basis. It's more of a mist or light rain. Aka totally manageable to still explore in, but in case it's really pouring these are all the best

things to do in Vancouver in the rain.
Do I Need A Car in Vancouver?
A car will help a bunch as the city is spread out a bit. There are ride shares traditional taxis you can use, and of course public transportation but I personally found that public transportation wasn't the most convenient option for getting to some of the must-see things. Plus, when you're short on time you don't want to waste it waiting for a bus transfer!
Set on trying to do one day in Vancouver without a car? You can do this itinerary, just be prepared to use a taxi, shuttles and some public transportation. I'll note when you'll need what as we go along.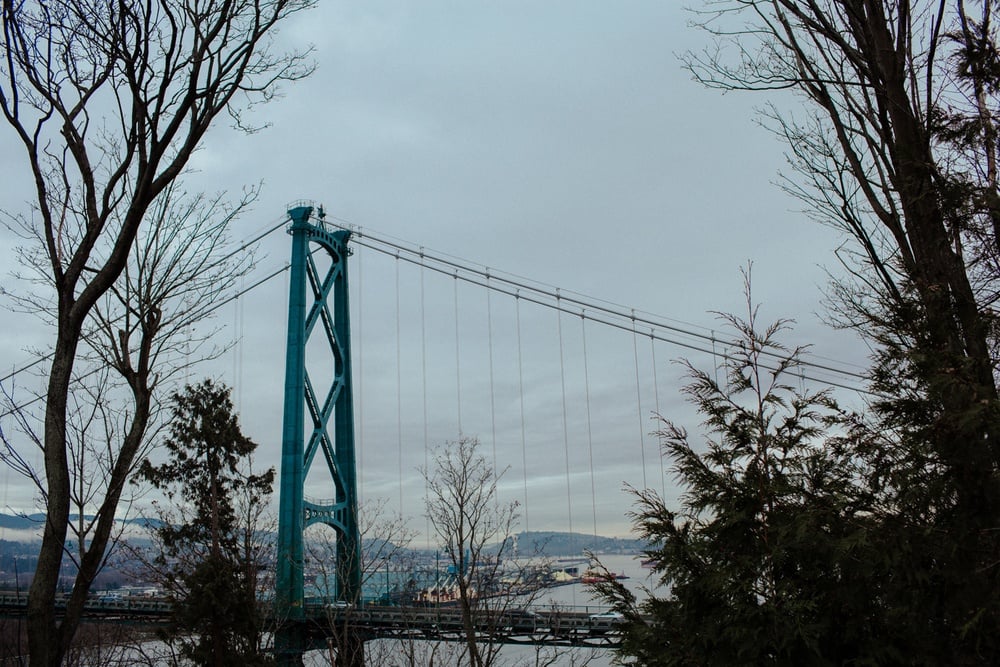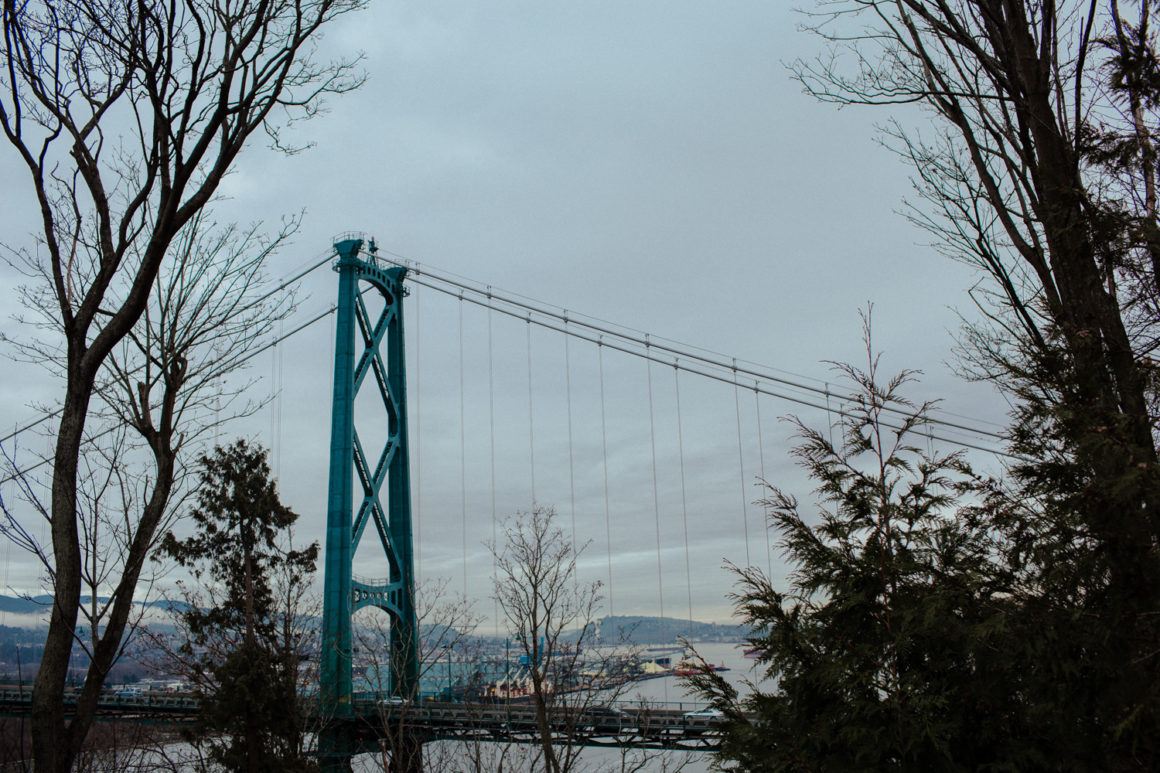 Your Ultimate One Day Vancouver Itinerary: Exactly How To Spend One Day In Vancouver
There are a LOT of fun things to do in Vancouver in a day. Robin and I spent a few days in Vancouver, and also a few days in Victoria on Vancouver Island.
While we spent a few days in the city, you can TOTALLY fit all the highlights into one day if needed. And now, let's get this itinerary started. We're going to start at 8am and take you all the way to 9pm. I guess ideally you are spending the night before at one of the hotels in Vancouver or flying in early and touching down before 8m like we did on our visit to follow this guide perfectly.
Oh, also keep in mind that in summer the sun will set MUCH later, around 9am, and in the winter it sets around 4:30pm.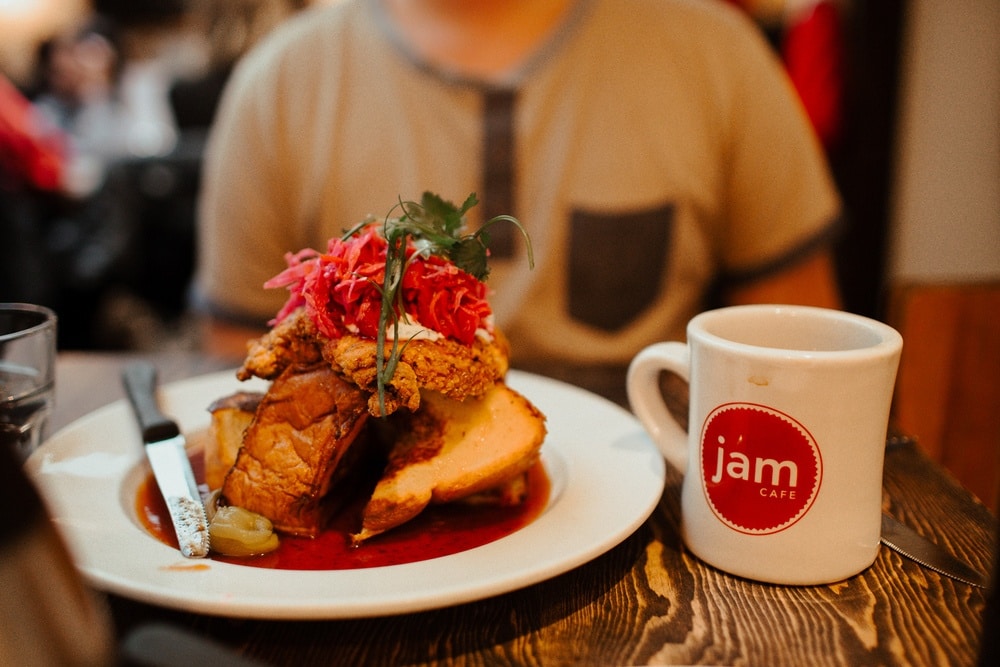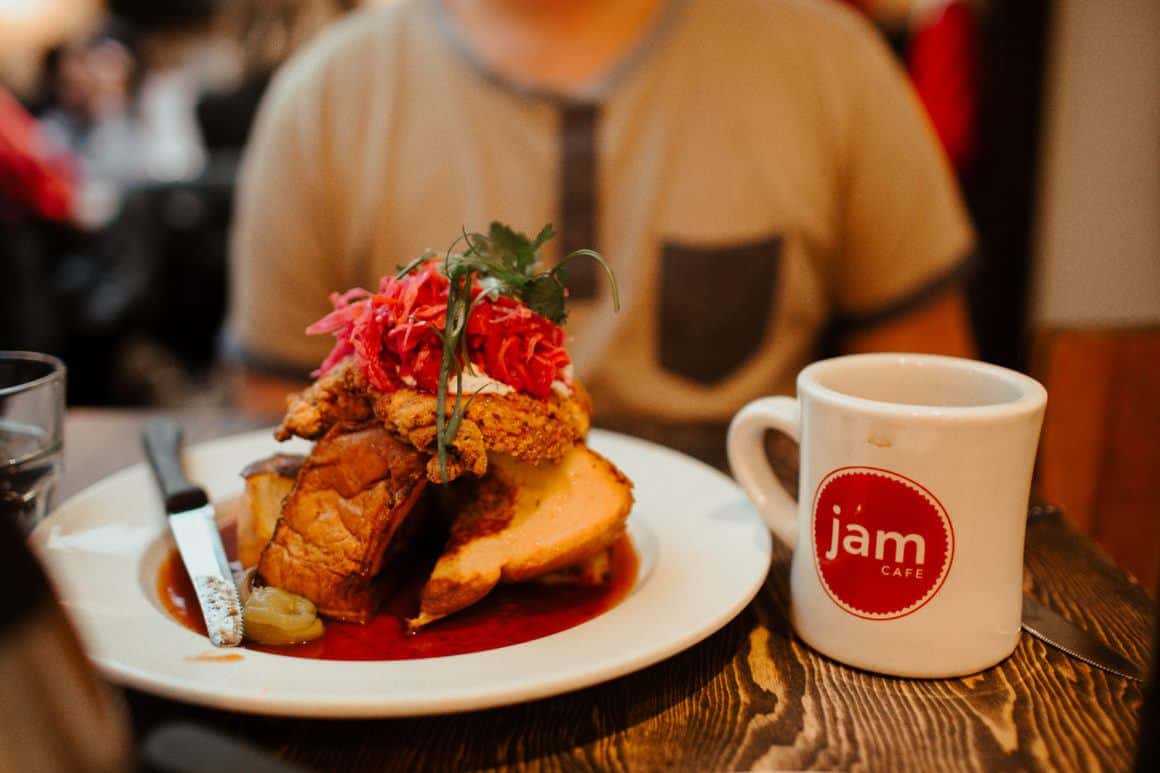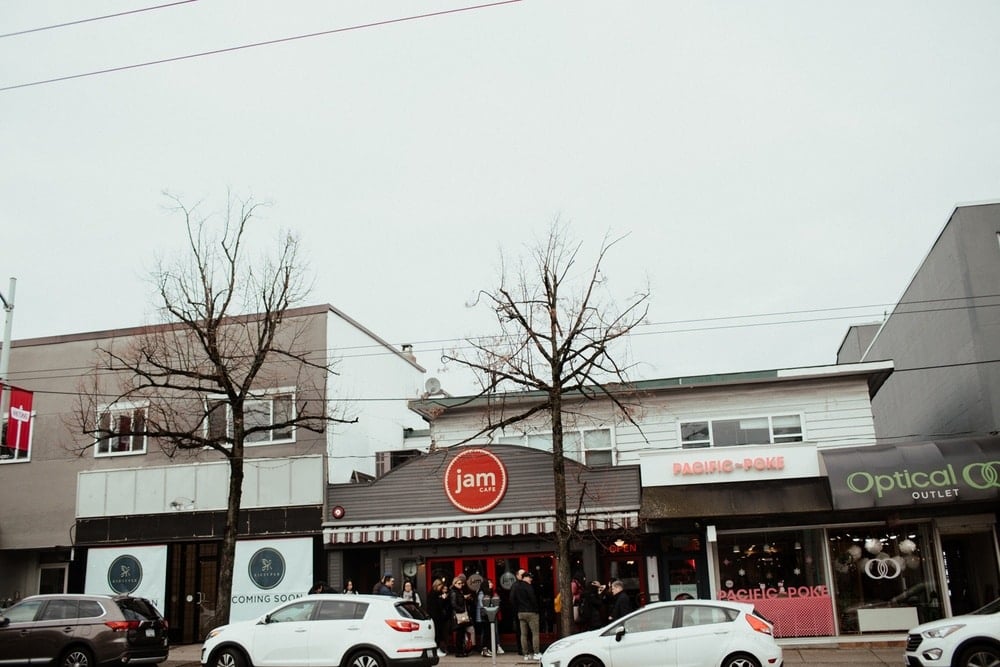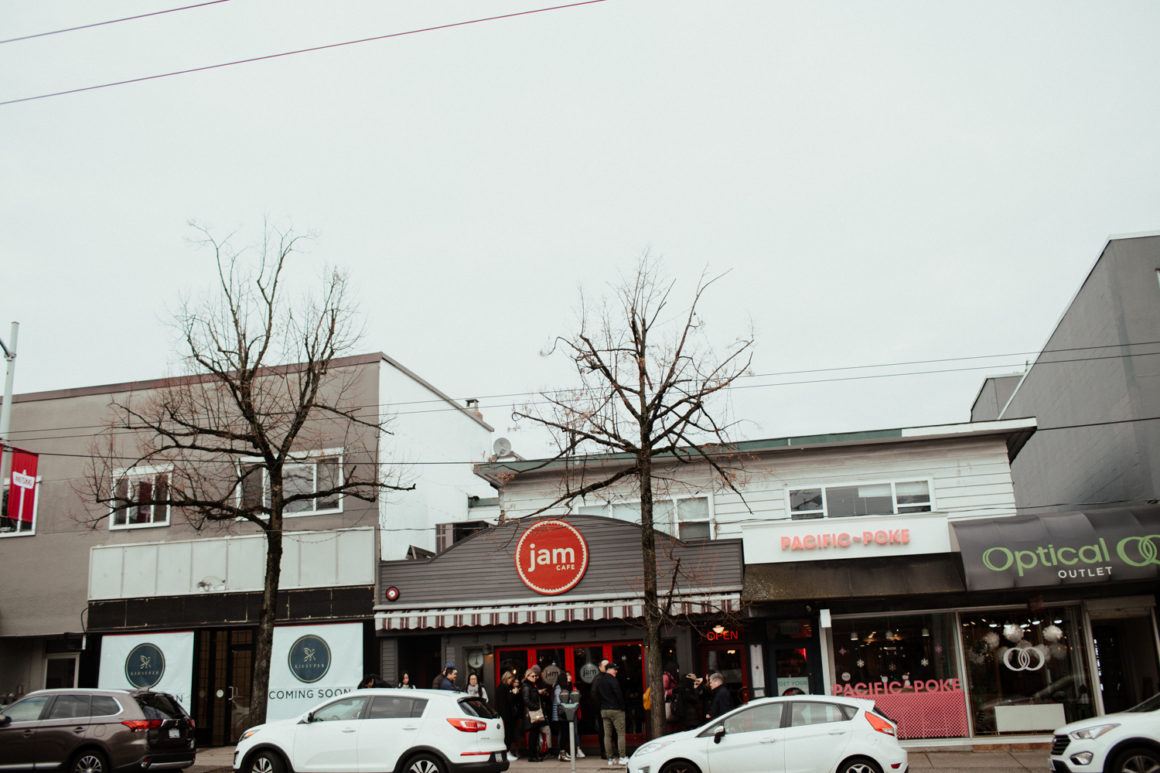 8am: Breakfast at Jam Cafe
When I asked my followers on Instagram for food recommendations in Vancouver, SO people said we had to have breakfast at Jam Cafe. It has a sort of cult following, in the way that In & Out has a cult following in California.
Jam is a brunch spot serving classic like pancakes, waffles, etc but with a big twist. For instance, I ordered the Pulled Pork Pancake which was the perfect balance of savory and sweet. Robin had the fried chicken which was cooked perfectly. But there are other fun menu items to try… like a waffle board or sausages deep-fried in pancake batter. Wow, I'm drooling just thinking about our breakfast!!
We heard the line gets long at Jam and luckily we didn't have any issues grabbing a table during our visit, but by the time we left there was a long line out the door. But you should be hitting this place up right away around 8am when they open so you shouldn't have an issue with lines.
There's a few locations around British Columbia. We went to the one in Kitsilano since we had a car and parking was easier over there. There's also a location in Downtown Vancouver if you need to walk over. Your 24 hours in Vancouver will be long, so this is the best place to fuel up.
9:30am Stanley Park Vancouver stroll
After you fuel up on a hearty breakfast at Jam, head over to Stanley Park for a stroll to work off that food coma! Again, we drove since we rented a car. There's plenty of parking lots in the park to choose from (just remember to pay for your parking at the meter before you start to wander!) You can also taxi over or take the number 279 bus to the park.
The park is pretty large so don't expect to tackle it all on your short visit. I think the best part is on the waterfront along the Stanley Park sea wall. Park near the Horse Drawn Tours area, which also has a visitor's center booth. This area is next to the yacht club on the harbor and right across the water from downtown Vancouver. Aka, it has really stunning views of the city!
Hop on the seawall and take a stroll along the waterfront towards Brockton Point Lighthouse. Along the way you'll pass the Totem Poles – make sure to stop by and learn about the First Citizens and the history of totems.
I thought the Brockton Point Lighthouse was really cute. It's a bright red and white which pops against the grey waters. You can' go inside, but you can walk under it which is neat! Once you reach this spot, turn around and head back to your car. Or, from here call a taxi because we're onto the Capilano Suspension Bridge next!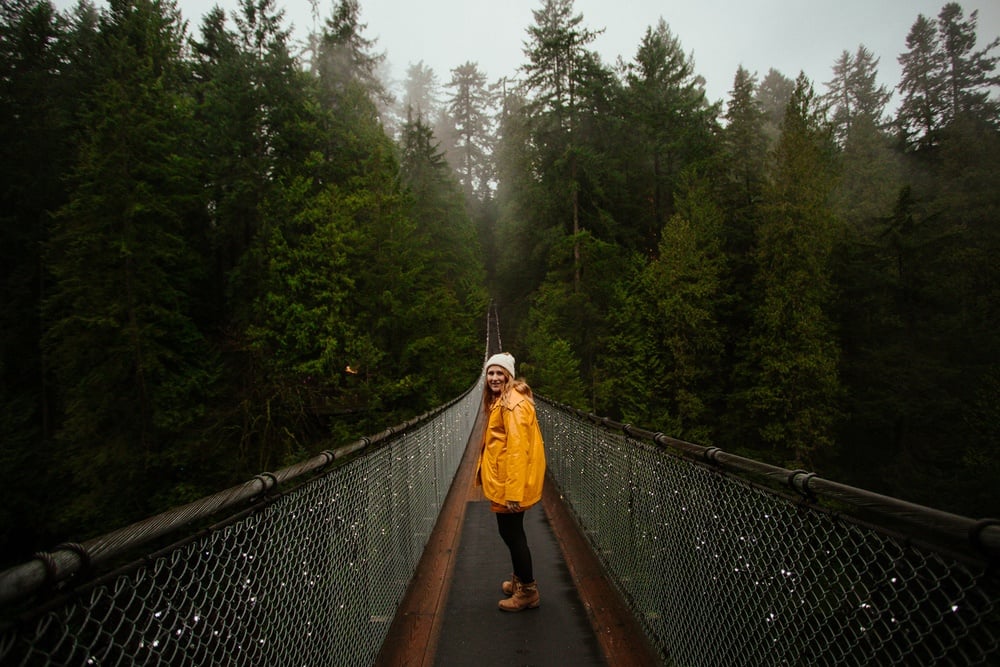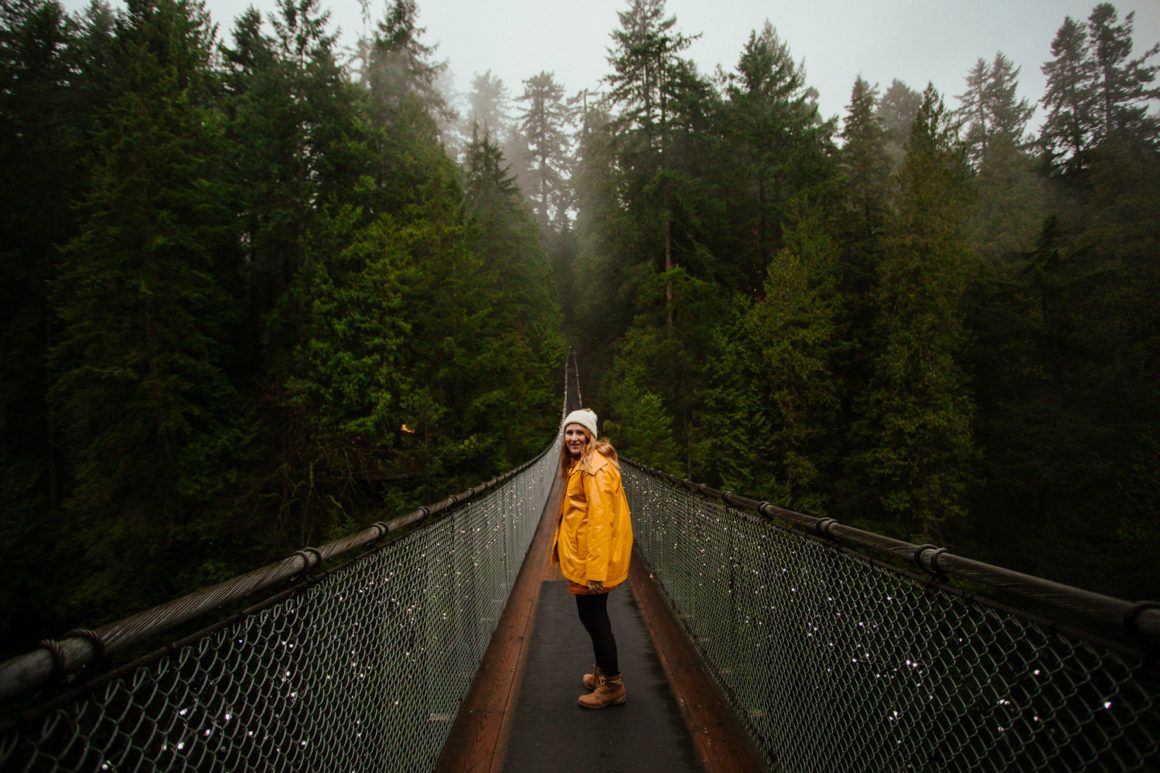 11am: Capilano Suspension Bridge
If you take anything away from my guide, it's this: the Capilano Suspension Bridge is pure magic and you need to make sure you visit. This is a must see in Vancouver!
Located in North Vancouver, it's a quick 15-minute drive from Downtown Vancouver but feels like you were magically transported to the middle of nowhere. This suspension bridge park is probably the most famous in British Columbia and I totally understand why: the views are stunning, there's multiple bridges to explore and come Christmas time, they deck it out with millions of lights.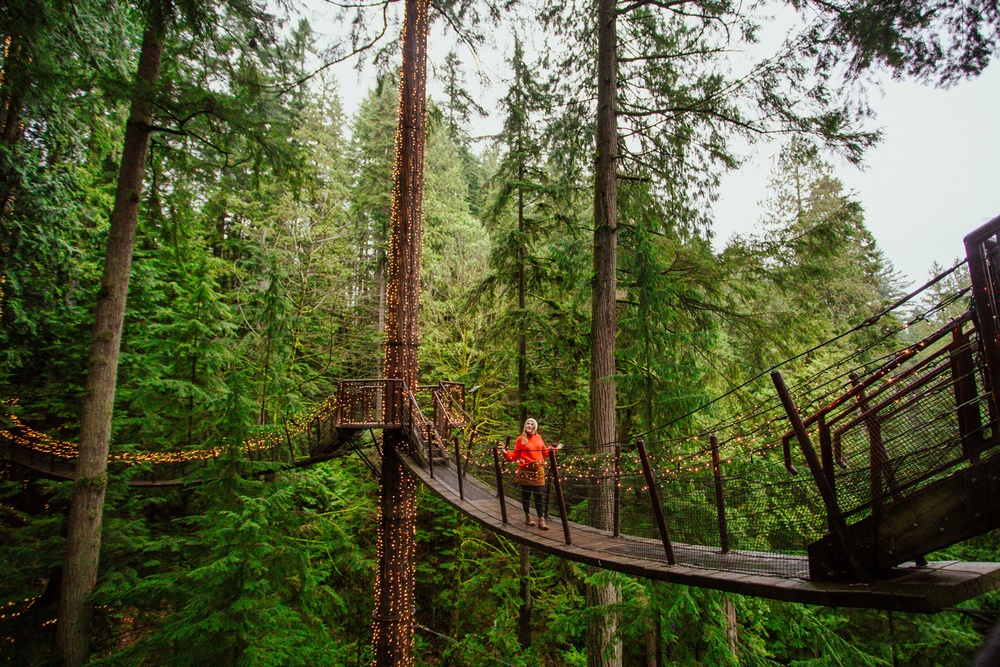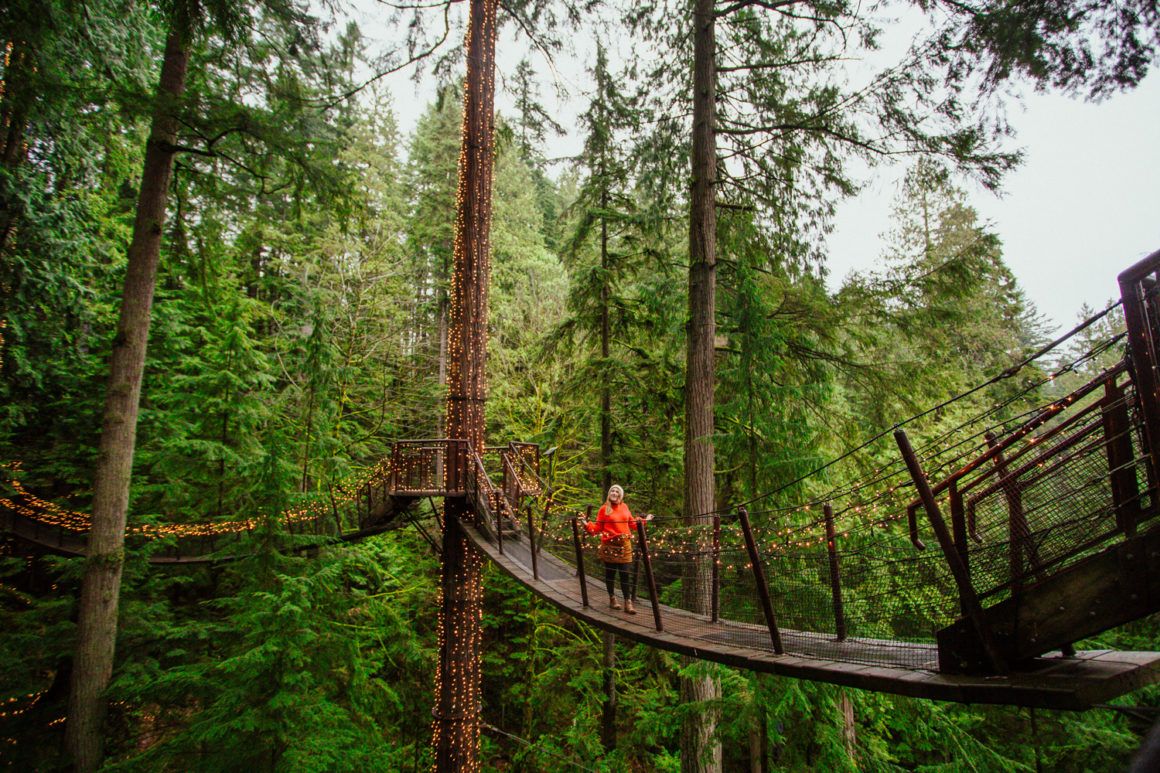 They open up at 11am and it's best to get there early before all the crowds hit so you have the most enjoyable visit. Don't be detered if it's raining – most of the park is under the cover of trees so you can stay pretty dry. It's one of the best outdoor things to do in Vancouver when it rains! Honestly, you could spend a whole half-day running around this park, which is why I'm giving you a couple of hours in this itinerary.
Are you visiting Vancouver in December? If so, swap a few of the things in this itinerary so you can visit the suspension bridge around dusk (3pm) so you can see all the Christmas lights in action! Read all my tips for visiting during the holidays here.
After your visit, if you didn't drive, just take the free shuttle back to downtown Vancouver! Stops listed here. Or, if you drove, head to Granville Island…
Note: there is also Lynn Canyon Park in North Vancouver which has a suspension bridge and it's free to visit. But you only have one day in Vancouver, so Capilano is way better for your limited time.
1:30 pm: Granville Island Public Market for Late Lunch
Granville Island Public Market is like Pike Place Market in Seattle.. but 10x bigger and on an island. I fell in love instantly with this charming, unique spot. Robin and I walked over from our downtown hotel but don't recommend that – it ended up being a 3.5-mile trek, oops!
Instead, drive or take a water taxi! They're so dang cute, cheap and quick.
Granville Island is home to a lot of restaurants, artisan shops, ice cream shops and a brewery ON TOP of a large covered market full of stalls. You can find all types of food here – everything from fresh bagels to Asian fruits to French cheese. It's a foodie paradise.
So, take your pick on lunch! Walk around, see what stricks your fancy and try it. We bought a few things from different stalls and brought our haul out back on the dock in the outdoor seating area. We found a bench looking at downtown Vancouver to enjoy our lunch on and it was PERFECT! Just make sure to watch out for those seagulls who will literally steal food from your hands.
Whatever you do, though, save room for dessert at Lee's Donuts. This is another local/cult favorite spot in the city. I wish we bought more donuts than just one each, they were so flaky, soft and absolutely need to be in every perfect day in Vancouver's food list.
3:30pm: Ferry to Chinese Gardens for a Quick Tour
After filling up at Granville, hop back into a False Creek Ferry and ask them to drop you off at the Plaza of Nations. (Or, drive over if you have a car!) From here, it's a short walk to Dr. Sun Yat Sen Classical Chinese Garden in Chinatown.
Vancouver's Chinatown is the largest in Canada and this garden is a tranquil spot to learn about the cultural heritage in a Ming Dynasty-style garden. They even give you free tea at the end!! They close at 4:30pm so make sure you don't daddle too much on your way over.
It's small and can be toured in about 30 minutes, but it's super beautiful on the inside. We visited during a hard rain spell and was thankful for the covered walkways. Come springtime, I think the entire garden would be covered in cherry blossoms.
4:30pm: Steam Clock in Gastown
After your quick tour of the gardens, walk through Chinatown and over to the Gastown district (should take about 20 minutes.) I personally loved Gastown, it's my favorite neighborhood in Vancouver. It feels like a mix of Europe and Soho in New York City.
Gastown is known for trendy shops, hipster restaurants and the Gastown Steam Clock, which really does produce steam! It's most noticeable on chilly days. From one side, you can view the Steam Clock and the Vancouver Lookout in one go which makes for a great photo-op during the daytime!
Need a pick-me up? Grab a coffee at Revolver, the cutest little coffee shop in Vancouver! Try their Esspresso Flights for a unique tasting experience.
5:30pm: Vancouver Lookout Tower
After you're done exploring Gastown, head a few blocks over to the Vancouver Lookout Tower (you know the tall thing that looks like the Space Needle's twin?)
It has a 360-degree aerial view of the city and BOY can you see everything! You can easily spot the Lions Gate Bridge in Stanley Park and *almost* see the Capilano Suspension Bridge somewhere in the trees. You can see all of Downtown and for miles beyond and even to the Grouse Mountain and the North Shore Mountains.
When you buy a ticket, you can enter the tower twice to see it in the day and nighttime. If you are following this itinerary during the summer, hold onto your ticket and come back after dinner to see the city at night, too!
I've always loved towers. I spent hours at the John Hancock Tower in Chicago, too many laps around the Space Needle taking in views of the sound. There's a bar at the top of the CNN tower in Toronto that I enjoyed a few drinks on. I always think lookout towers are super fun to visit. It's a time to take it slow during a busy day!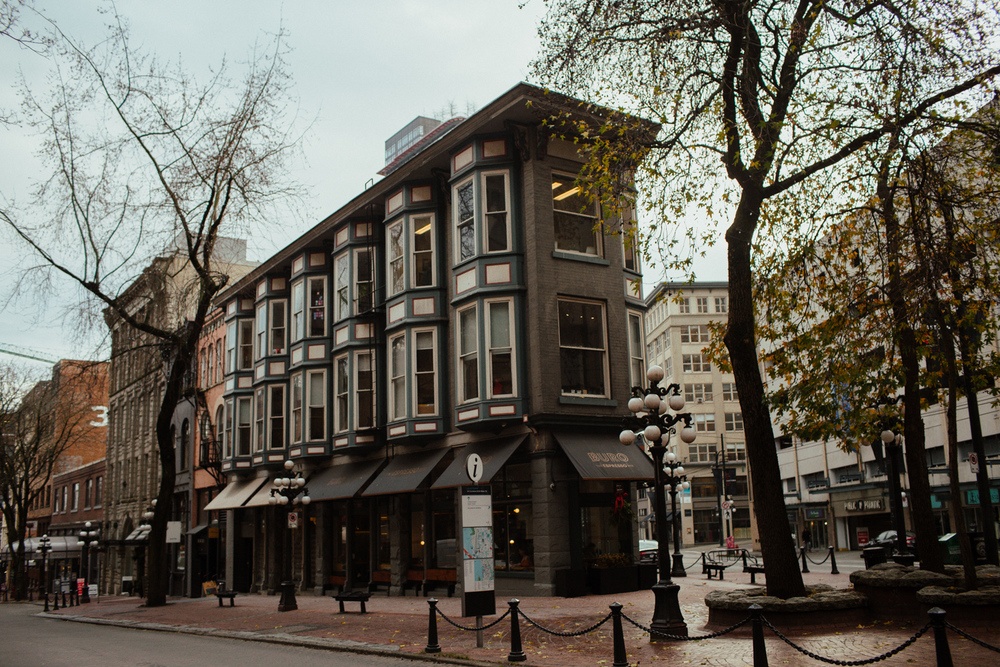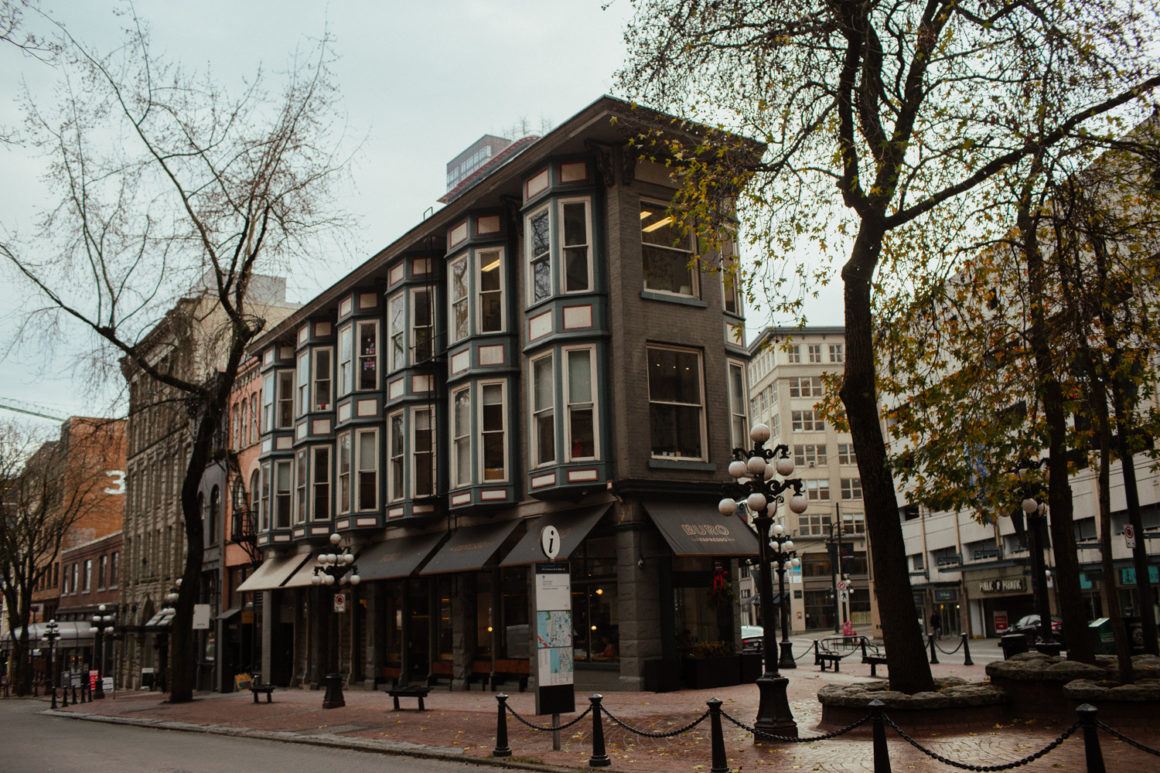 7pm: Dinner + Drinks in Gastown!
Now, it's finally time for dinner! There's actually a restaurant at the top of the tower, but we didn't' visit and I can't say how good the food is (I have a feeling you'd be paying for the view more than the food.) But, if you wanted to spend more time at the tower, head up there!
Or, walk back to Gastown to Tacofino for some affordable yet tasty Mexican! There's vegetarian options (like eggplant or squash) along with savory pulled pork or lamb. After a long day of exploring, I always crave tacos, gauc and a cold Mexican beer.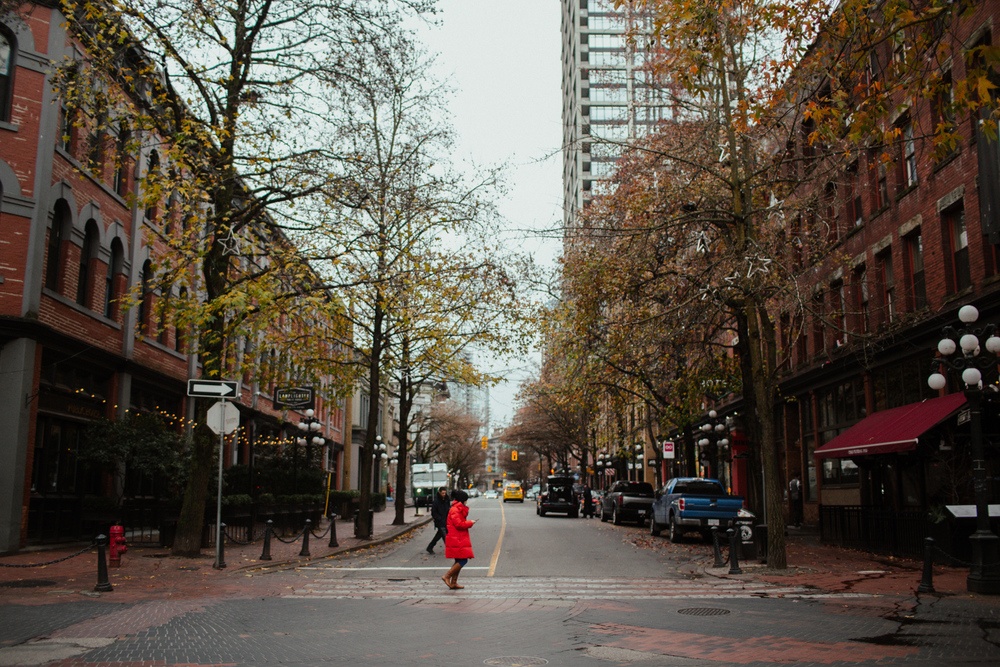 After you fill up on chips, head over to Salt Tasting Room, an upscale bar and restaurant (you can also have dinner here, I hear the food is amazing!!) The concept of Salt revolves around curated tasting experiences tailored to what you like to eat or drink.
Salt is known for serving up artisan cheese, small-batch cured meats and wines, and they're totally unique to the Vancouver food scene. You can do a wine and food plate here for dinner, or just come for a glass of red or a craft cocktail.
Visiting in December for Christmas?
If you're visiting in December, make sure to check out the German Christmas Market after dinner! It's located next to Canada Place downtown. Running around this market was my favorite night of our trip. We drank so much gluhwein and had a blast pretending like we flew all the way to Munich.
Looking for more places to visit in Vancouver area or perhaps a one day trip from Vancouver? Hop on a ferry and go to Vancouver Island. Stay in the historical Fairmont Empress Hotel, check out the Fisgard Lighthouse and explore Victoria! It's especially fun in December for all the Christmas lights and holiday High Teas.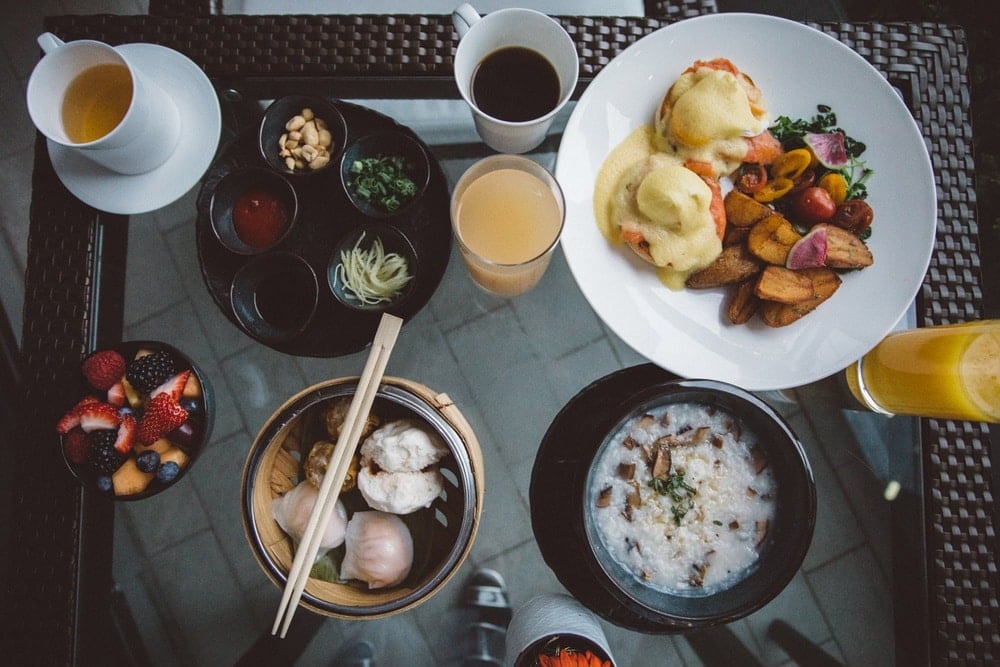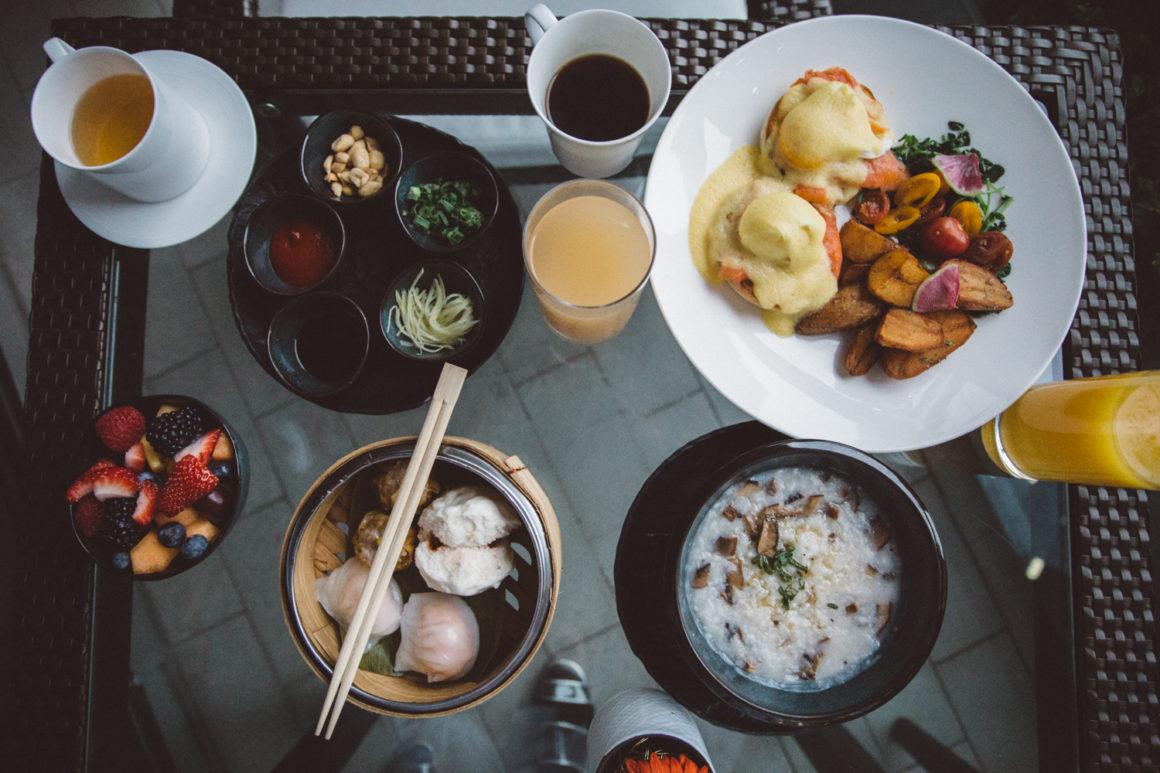 Got More Time In British Columbia?
BC is HUGE and has so many wonderful gems to explore. As I mentioned earlier, it's super easy to hop on a ferry and ride over to Victoria, BC on Vancouver Island.
From there you can explore the city but also rent a car and road trip around Vancouver Island. It's especially stunning in the summertime when all the beaches, trails and waterfalls are open.
We didn't get a chance to explore it well since we visited for just a couple of days in December but I keep meaning to get back up there in the summer.
Something else high on my bucket list for British Columbia is glacier kayaking! This Canadian kayaking adventure is utterly unique. I mean how many places offer glacier kayaking that isn't way up in the artic?!
This company will helicopter you up the Coast Mountains into the glaciers where you then paddle around. Apparently June is best for more wintery conditions but August spring flowers are blooming alongside the glacier ice, which sounds utterly magical.
I missed out on ice canoeing while in Quebec City this past winter (not enough snow during my December vist -booo) but since Vancouver is a lot closer to me on the West Coast, I think I may be able to get that glacier kayaking to happen this year… if you go, let me know how it is!
So, that's your guide to Vancouver in a day! You'll probably walk over 10 miles as you explore Robson Street, the parks and all hidden gems, but you'll see all the highlights (and eat all the highlights, too!)
I hope this helps you plan a great, fun-packed Vancouver in a day trip! If you have any tips to add, leave a comment below so everyone can see. If you have questions, leave a comment or DM me on Instagram @thewhimsysoul and I'll be happy to help!
We're passionate about helping our readers discover hidden gems in North America. Since we're based in the United States, we have a LOT of travel guides and itineraries to help you! PLAN A TRIP HERE.
Other posts you may like:
Pin this for later!