November 2022, my husband and I closed on our Whimsy Homes cabin in the mountains. I loved the tall ceilings with wood panels and exposed beams. He adored the fireplace and we both were excited to transform the backyard into an oasis.
What we didn't love? The dated carpet everywhere. One of the first tasks we had after getting keys was finding the best dang luxury vinyl plank flooring brand out there to use, ideally one that didn't break the bank and was really easy to install. Hey, we were new homeowners after all.
Enter: Flooret. In this post I'm sharing my honest Flooret review after installing their Catura planks in 3 of the cabin's rooms + stairs and basically here to convince you that you should use their vinyl flooring for your project, too.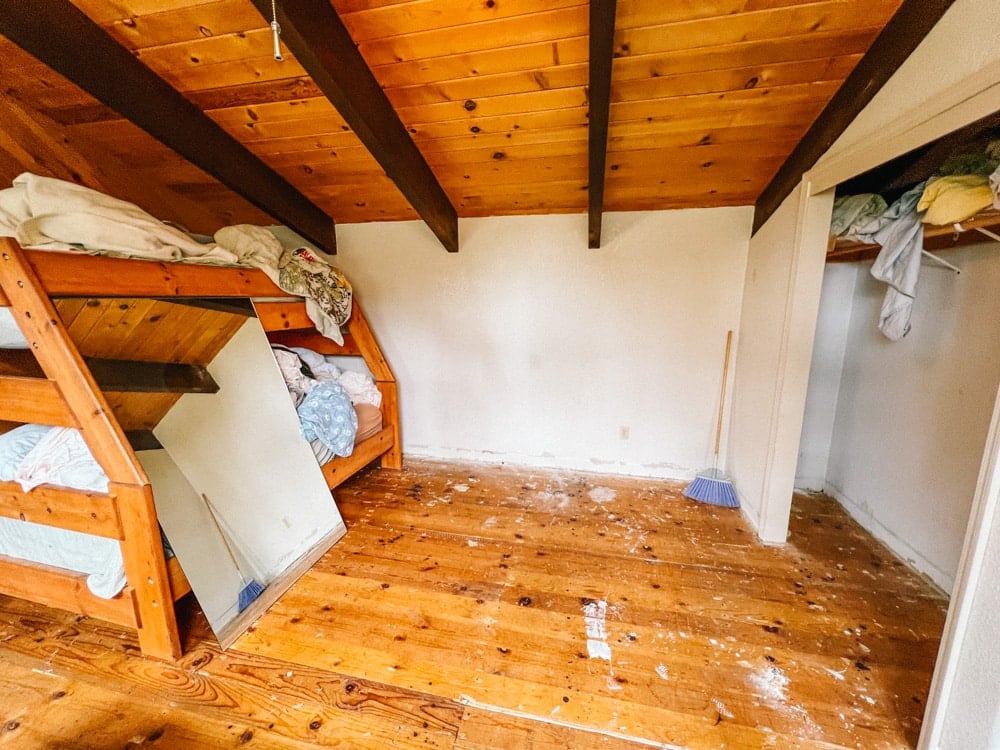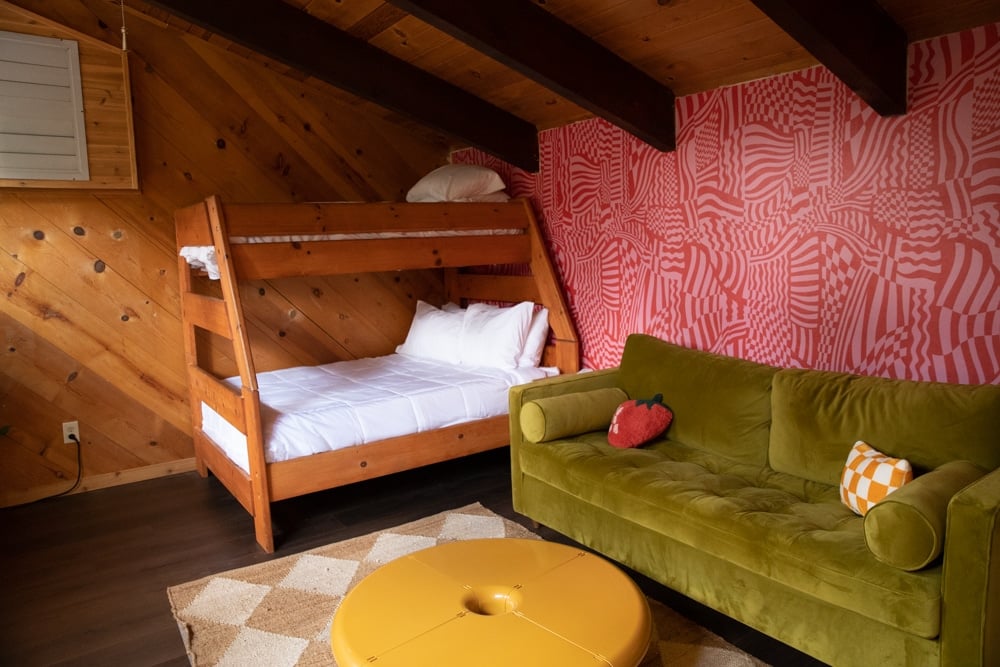 I read a TON of luxury vinyl flooring reviews and landed on Flooret for a lot of reasons, mostly the ease of installation.
Use code WHIMSYSOUL33 for 33% off Flooret sample orders.
Flooret At A Glance
Flooret was started with consumers in mind. Up until recently, the flooring industry was pretty monopolized. You had just a few flooring options to choose from with limited choices on style, installation technique or even sustainability.
Flooret believes in providing really great planks at different sizes and styles that are quality products and dang easy to install. All at a fair price.
Easy Install!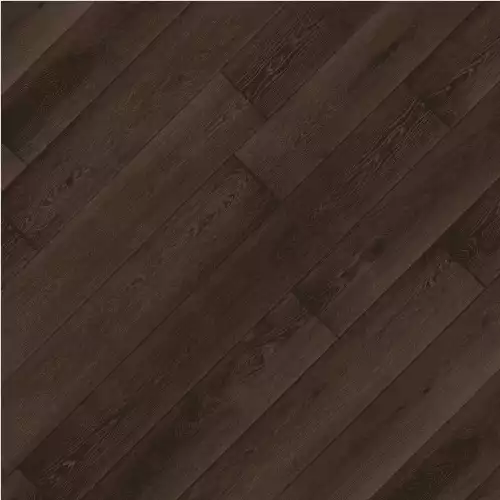 Catura Signature Floors
We used these Flooret planks in the main bedroom and entire upstairs. They are seriously so easy to install and are the best affordable LVP floors for your home. PS use code WHIMSYSOUL33 for 33% off sample orders.
Buy Now
What Makes Flooret Different
They have a very thick mil wear layer (40 Mil) and come with a water barrier built in. There's no glue or nailing down required. And they are 100% waterproof.
Wait, read that again. NO NAILS. NO GLUE. NO WATER BARRIER NEEDED.
You just cut those babies to size and click them in.
Also, the planks have zero or negligible formaldehyde and VOC emissions and are audited by reputable third parties so you can make sure your home is a safe place to live. Not all flooring companies are made with this in mind.
Why We Picked Catura Modin LVP For Our Floors
I ordered a lot of flooring samples from the Flooret Modin line, and other companies, too (hey, I do like options!) Flooret makes a lot of style so I ordered a few in different sizes and shades from them.
Ultimately, after seeing everything in person it was clear very quickly that the Catura Modin Signature vinyl floors were the clear winner for the cabin. The deep brown color almost matched the exposed wood beams of our ceilings perfectly.
I also love how the Catura boards are wide at 9″ which also mirrored the size of the wood beams. It was like these planks were made for our Whimsy Homes cabin!
I just love how the darker floors mirror the beams and bring the eye upwards to make the space feel bigger. A night and day transformation from the old grey carpet before.
Use code WHIMSYSOUL33 for 33% off sample orders.
Catura Stair Planks
I didn't just put Catura Signature planks on floors, I also put them on the stairs! This is probably the project in the cabin I am most proud of since I did like 90% of it myself.
I ripped that old carpet out. I discovered incredibly janky stairframes below and doctored them up to be as straight as I could get them. I measured all the risers and, with the help of my husband holding boards, cut every since step and riser piece.
And then I glued them all down.
Game Changer!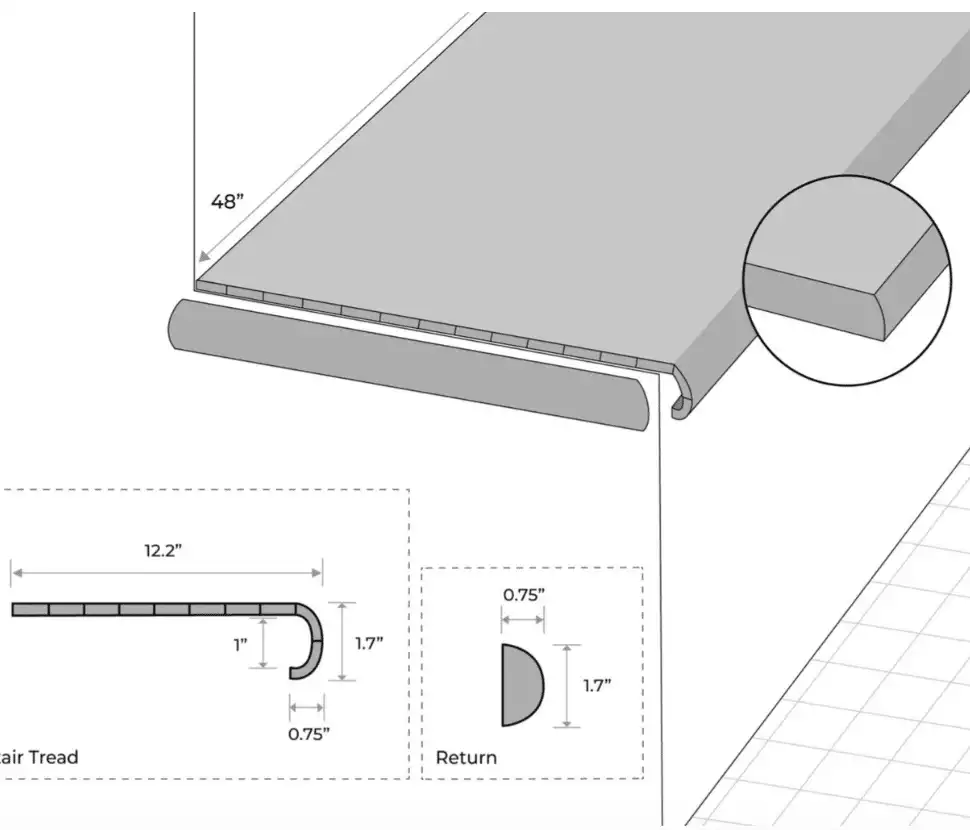 Figuring out a solution for our stairs was one of the biggest headaches I had. Flooret offers stair nosing that works with the normal planks but I'll be honest – I was incredibly intimidated about going that route as I had zero experience laying down stair flooring.
And then, magically, they dropped their new Stair Tread line! It's a top plank with a curved nose already built in so all you have to do is cut it to size and glue it down. I never bought something so quickly.
The stairs were still hard for me, since our steps were so uneven but the Floor Stair Tread is very thick and sturdy and now you can't even tell that it's a mess underneath.
If you are also redoing your stairs, I highly recommend you invest in the Stair Treads – just, word of advice, grab 2 extra planks than you think you need. I found them a little harder to cut since they are curved and I absolutely messed up my first tread.
My Flooret Review After Installing In My Cabin
If you wanted to stop reading here, I'm a huge fan of Flooret and will totally buy them again on our next housing project. But, below are the more nitty gritty pros and cons of Flooret. Please note we used the Modin LVP, not the Silvan Hardwood so I cannot report on what using that material is like.
What We Loved About Flooret Flooring
Look, I can paint walls and restain cabinets but this was my first time doing a flooring project. My dad actually flew out from Wisconsin to teach us how to do it (thanks Dad!) and within 2 days we laid down new plank flooring for the downstairs bedroom. Score!
Working with the material was just as easy as everyone made it seem online. The planks were easy to cut with a little Makita circular handheld saw. It took some practice to get the technique right, but they were easy to snap in place, too.
We needed to buy our own flooring kit with wedges and hammers (a game changer!) so just keep that in mind when it's time for your project. I also recommend you grab a pair of kneepads.
Flooret Pros
Ships fast
Click plank install
Water barrier included
Easy to cut with small handheld saw
40 mil wear layer
Durable top layer
Looks like real wood
Great customer service
Affordable price
Now offers stair treads to match!
What We Didn't Love About Flooret Flooring
For transparency, I always include things we didn't love about a brand or product within these reviews. I'm happy to report I don't really have that many complaints here.
The only issue we had was that a few of our boxes were damaged a little during delivery – the corners of the planks were dented or cracked from getting bumped in the truck. We were able to use many of the planks, still, since most of them had to be cut down to use anyways. But we needed a replacement on some of the planks.
Their customer service is super helpful so I was also to report damages during shipping and get new products sent out to me quickly. I personally would love to see planks shipped with little protector wedges on the edges, just to minimize this in the future since we had more than one box with dented corners.
But that's literally my only complaint. Everything else was perfect – the product is great, it's easy to install and it looks fantastic down.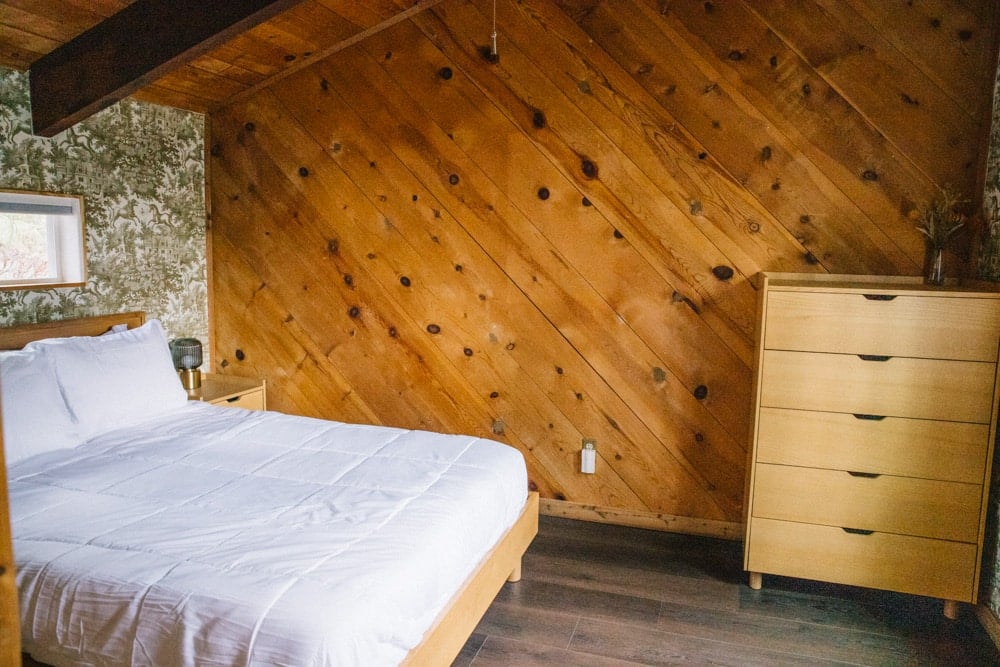 Helpful Products For Installing Flooret
Other than ordering the planks, there's some items I recommend you invest in to help make your job easier!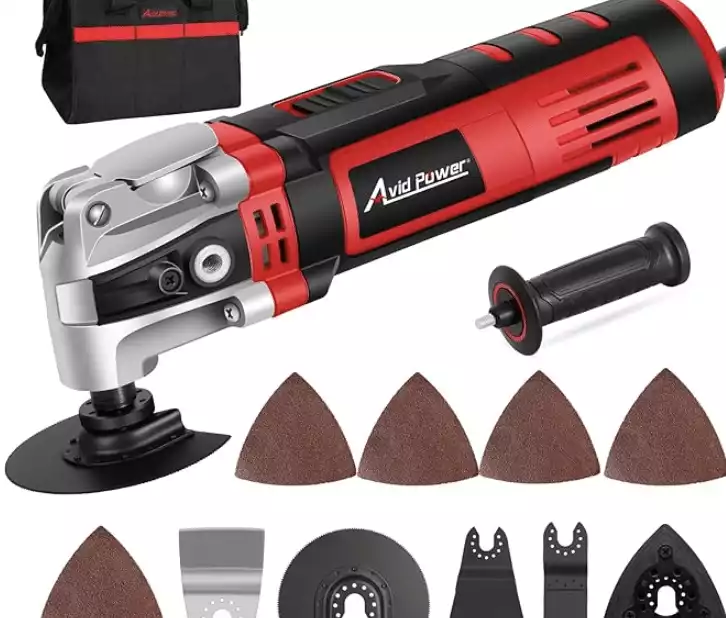 Oscillating Tool
An extremely handy tool to cut planks or boards around door frames, shave off nails and a million other little renovation things. You need this!
Buy Now
Contractor Fave!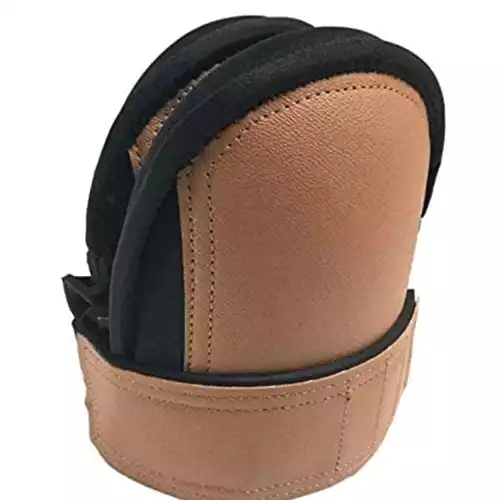 Frequently Asked Questions About Flooret
Where is Flooret manufactured?
China, Vietnam and the United States. Their headquarters is in San Diego, California.
Where To Buy Flooret Flooring?
Directly from their website. I recommend you order samples first, to make sure you love the planks
What Is Flooret's BBB Review?
Flooret reviews on BBB (aka Better Business Bureau) are limited. They are not accredited (not all businesses are) and there are only 2 complaints which is a very good complaint rate.
If you are looking for Flooret verified buyer customer reviews, you can find those on the website.
What Is Flooret Returns Like?
If returned within 6 months, you will receive a complete refund on your flooring, minus the full cost to ship the product back. They have full details here to read but yes – they do have a refund policy.
That being said, it makes the most sense to not over-order planks since there is a cost to return them. It's recommended to order about 10% more than you think you need to account for mistakes. I ended up ordering what I thought we needed, plus 10% more and then one whole extra box and I'm happy we did.
We ended up with 4 extra planks and are storing those in our basement, just in case. Flooret LVP reviews are great, people say they last years and years but our cabin is a vacation rental and I like having a few extras on hand just in case a guest does something wonky to the floors.
How Long Does Flooret Take To Ship
I found them very fast! If your planks are in stock you should expect just a couple weeks of delivery time, though each product listing will inform you at checkout when something is due.
For us, since we were in the mountains, the trucks would only deliver every Tuesday so we had to wait a few extra days for a truck to come up. They called to arrange the window of delivery time and dropped everything off quickly.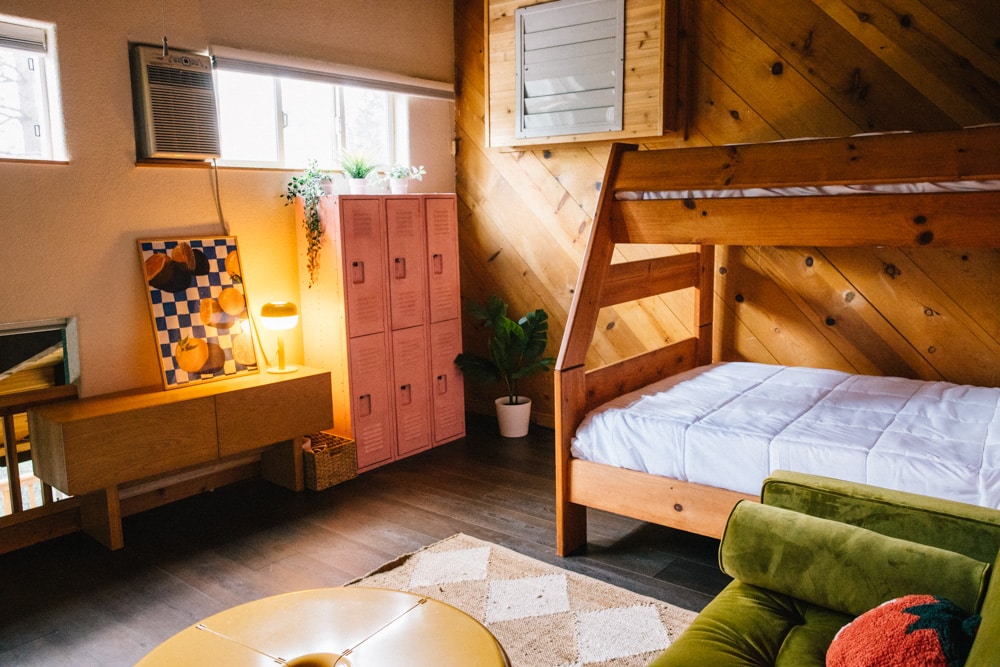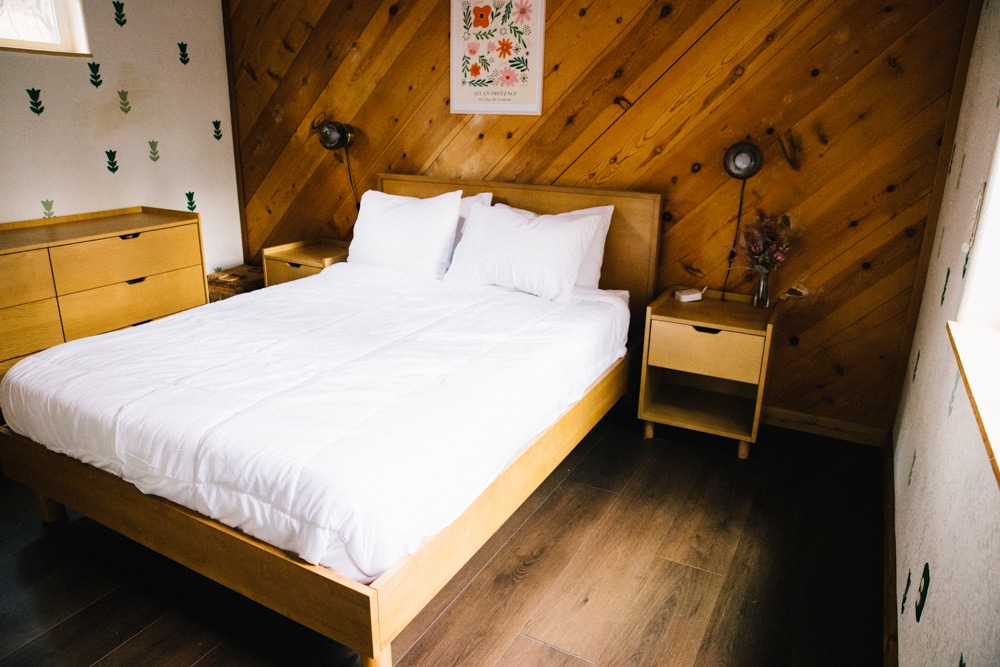 I hope this helps you on your home renovation project! Flooring is always the most labor-intensive bit. It took us a couple of months to finish the flooring in the cabin (not all rooms used Flooret – I painted the living room floors green and put luxury vinyl tile down in the bathrooms).
I'm not eager to do another flooring project any time soon — an entire house was enough for me right now but in the future, when the time comes to transform another space, I will 100% be shopping from Flooret again.