Welcome to my Oktoberfest guide for first-time visitors! Oktoberfest rules, culture and general "do's and don'ts" can be a learning curve, so I wanted to share with you all my tips for navigating Oktoberfest in Munich for the first time! Continue reading to learn everything you may be confused about or should know ahead of time to have a great visit. Oktoberfest Beginners Guide – From How to Order Beer To The Best Tents… let's go! 
First, a bit about me. If you follow me on Instagram, you know that I'm from the Midwest and ran away to San Francisco a few years ago with my 18-year-old cat and my now husband, Robin. We love to travel and share detailed guides for like-minded readers. We visited Munich as part of our honeymoon (got married the week before!) so we went just the two of us. If you have any questions at all, leave a comment below or DM on Instagram @thewhimsysoul!
---
Heading to the Neuschwanstein during your trip to Munich? Read this post which details step-by-step on how to get there!
---
Oktoberfest Beginners Guide
Reservations
You don't need tickets to get into the grounds, but you do need a seat to be served a beer. Tables are open for reservations starting in December and are snapped up quickly. If you know that early that you are going to Munich for Oktoberfest, then reserve a table or two. We didn't, so don't worry, you can still find a table and enjoy the party, it will just be a bit more challenging. Read on!
Day vs. Night
Day and night Oktoberfest is a bit like a state fair vs. a frat party at 2am. The day is calmer in the morning, and it picks up as the day goes on and more and more people get drunk. The nights are pretty rowdy, but also a lot of fun if you are with a big group and have a table. We suggest swinging by at night for a couple hours one evening, but plan on making your official "Oktoberfest" visit during the day starting in the morning. This way, you can easily get a table and food, and it's more fun to walk around, go on rides, play games, etc during the day. Click here for hours.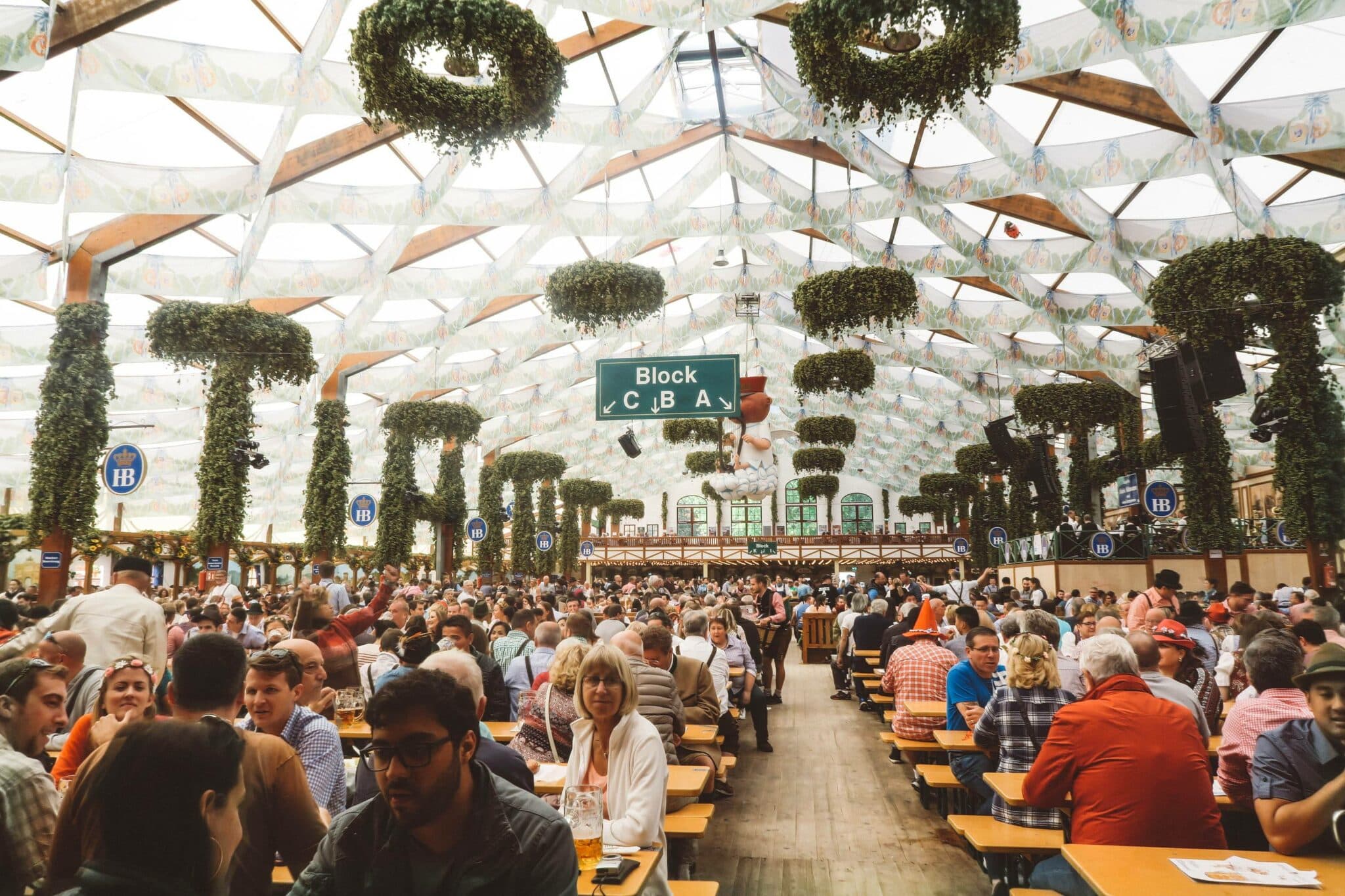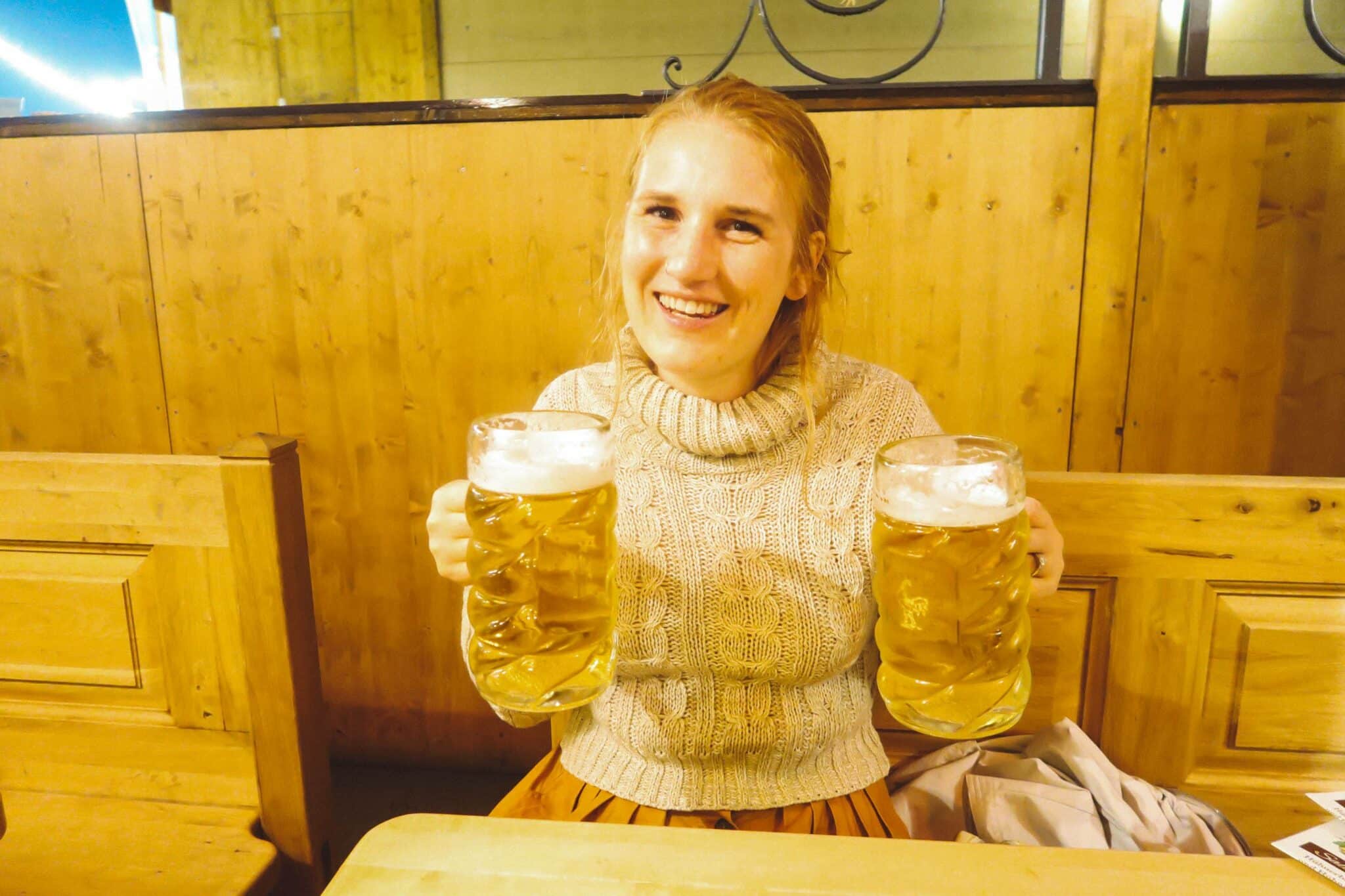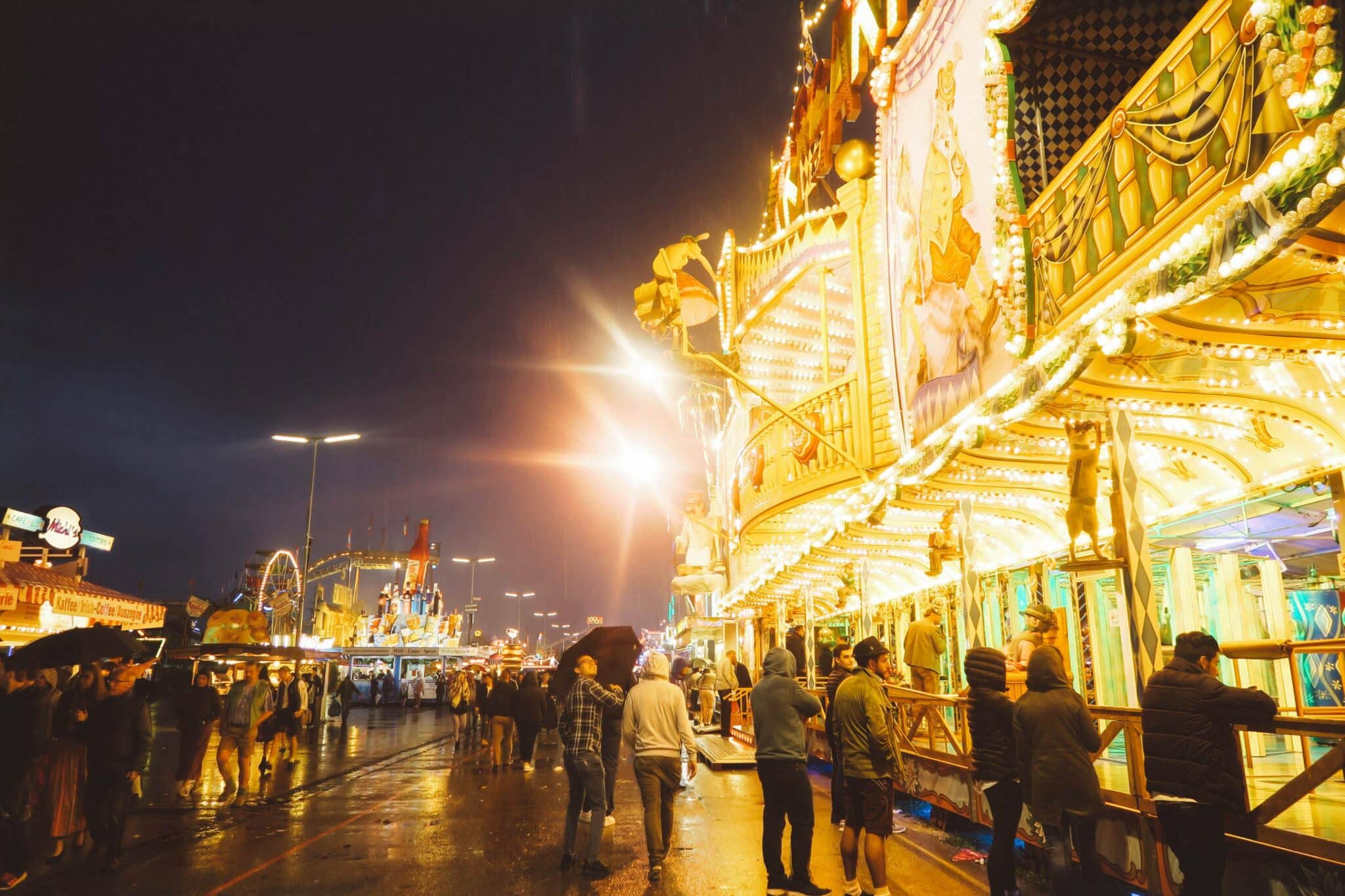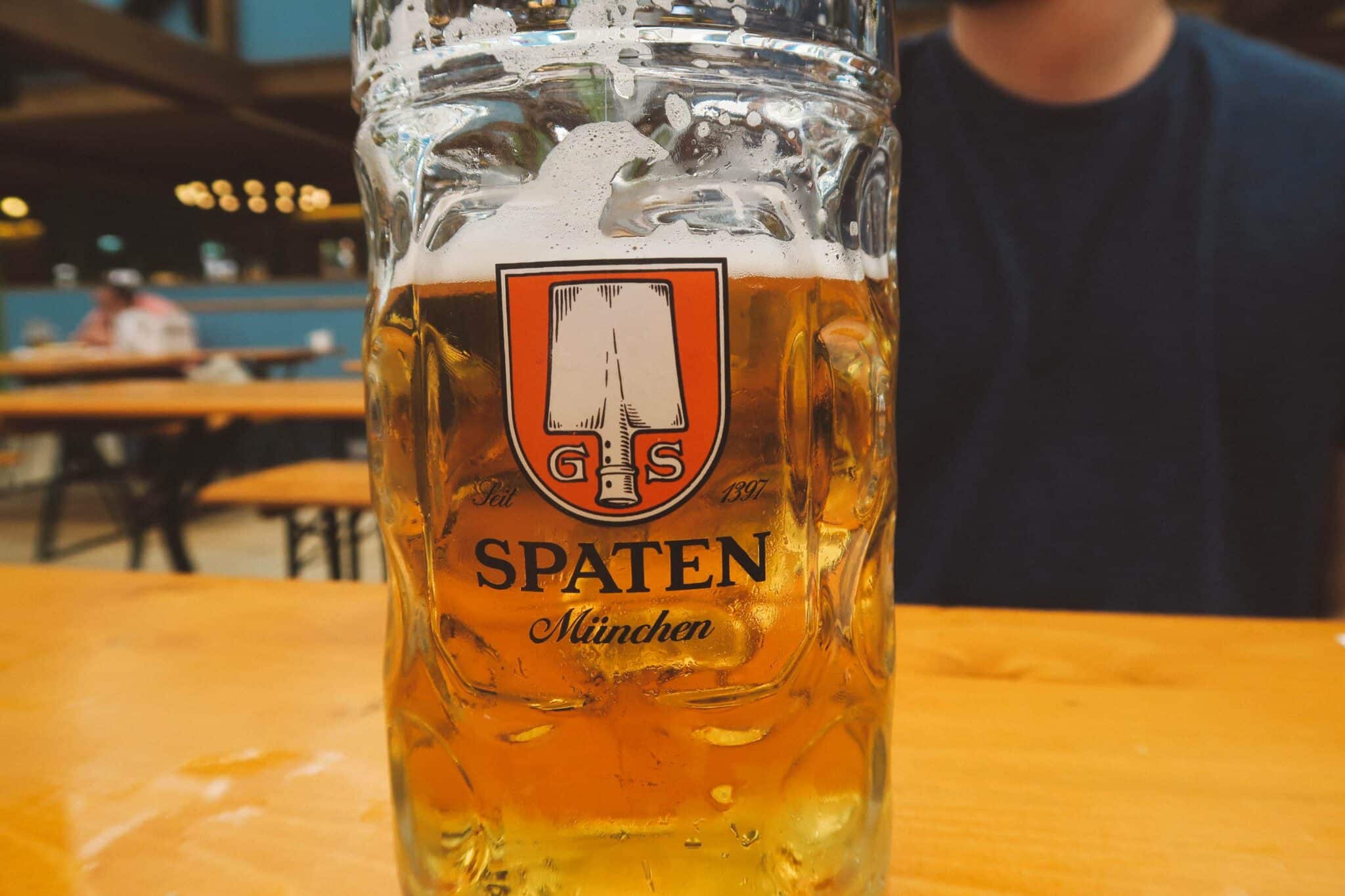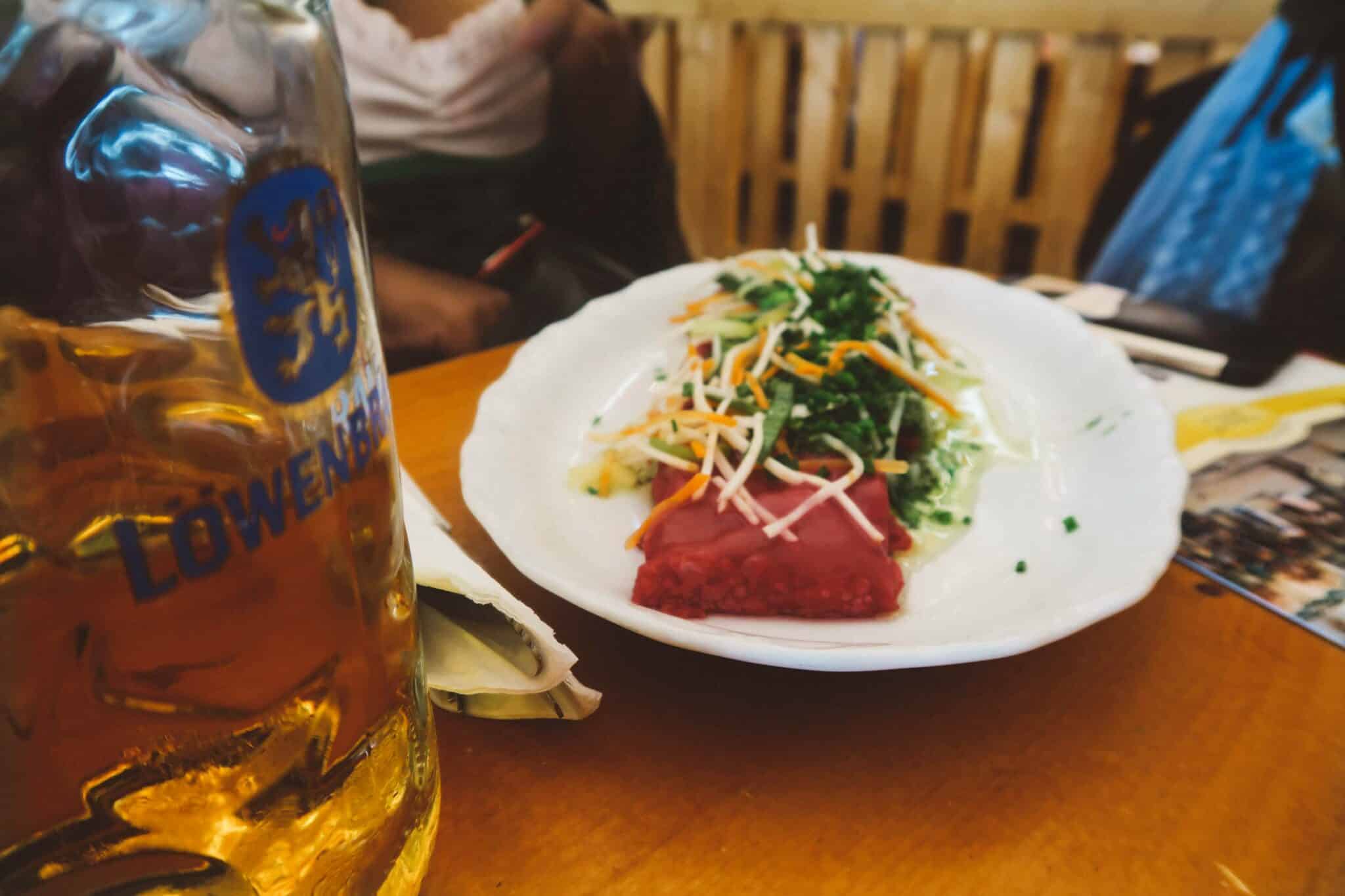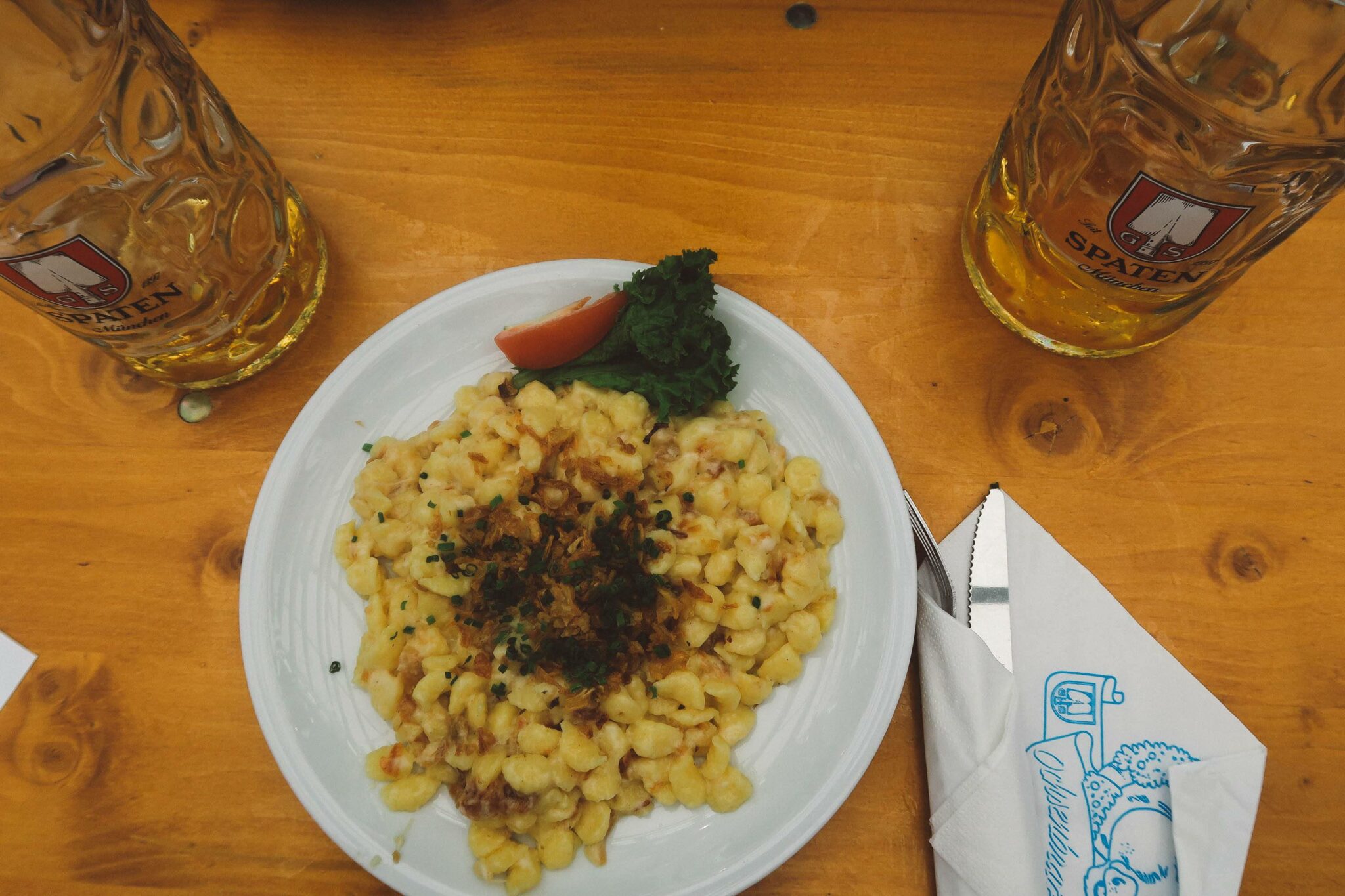 Best Time To Visit
Plan on getting to Oktoberfest grounds before 11am on a weekday if you don't have a reservation. By 2-3pm, more tents are full and it's really hard to just plain impossible to tent hop after 3pm. Some tents allow reservations all day, some start past 5pm for just night reservations. Because of this, we arrived at 10am which allowed us enough time to hop to 4 different tents before it got too busy.
How To Order A Beer At Oktoberfest
As mentioned above, you need a seat to be served a beer. If you do not have a seat at a table, you cannot be served a beer. This is why you get to the grounds early. If you are visiting at night, I recommend walking through the big tents as it's fun, but they will all be very crowded and unless you encounter a rare bit of luck, you will not be able to find a table. Instead, head to a Biergarten which will usually have a few open tables. We grabbed seats outside at the Golden Hend'l next to the HB tent.
" Eins Mass, Bitta" which means "one beer, please"
Beers are usually around 10,70-10,90 per liter, which holds about 3 pints. So, a great price! To order a beer at Oktoberfest, simply tell your waiter " Eins Mass, Bitta" which means "one beer, please" and they will bring you the Oktoberfest brew on tap at your tent. Sometimes they offer shandy, which is called "Radler" or other options. You have to ask for those specifically or you will get the Oktoberfest beer.
Types Of Beer & Best Food To Try
As mentioned above, all tents and gardens will have an Oktoberfest brew available. Some tents are brewery tents, like Spaten, Paulaner and Lowen Brau. Here you will find beer only from that brewery and usually a few kinds from that brewery (an Oktoberfest, a shandy and one other.) Others are general tents will usually serve large brands like Augstiner or Lowne Brau on tap. If they don't have Radler on the menu, you can ask for it and they may be actually serving it.
If for some reason you come to Oktoberfest and you don't want to drink beer, most tents will also offer champagne, cocktails and wine. But, don't be that guy, ok?
Most tents also serve food, though Spaten, where we ate, has some of the best food. Some food highlights include:
Käsespätzle: this is basically German Mac 'n' cheese on steroids. So. Good.
Pretzels: Waiters will walk around with pretzels for about 5 euros, and those are wonderful when you need a quick beer-soaking snack.
Brats: They are about 6 euros and you have to try one at Oktoberfest!
Some tents have complex meat dishes, so don't fret, there is plenty of food here, and no reason to leave the grounds all day! If you don't have a seat at a table, there are plenty of food stands around the grounds to pick up hand food. We grabbed a brat for about 6 euros each.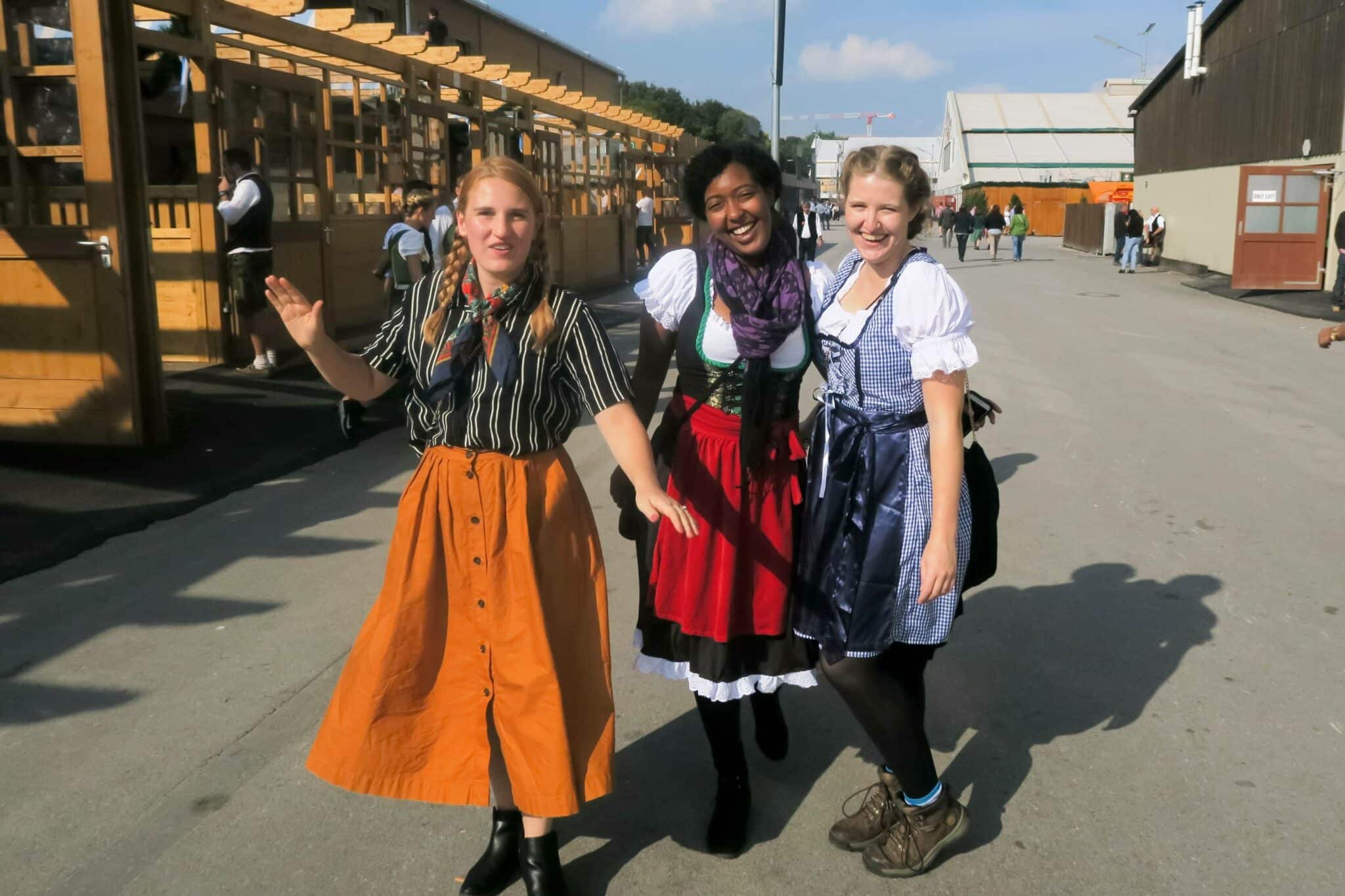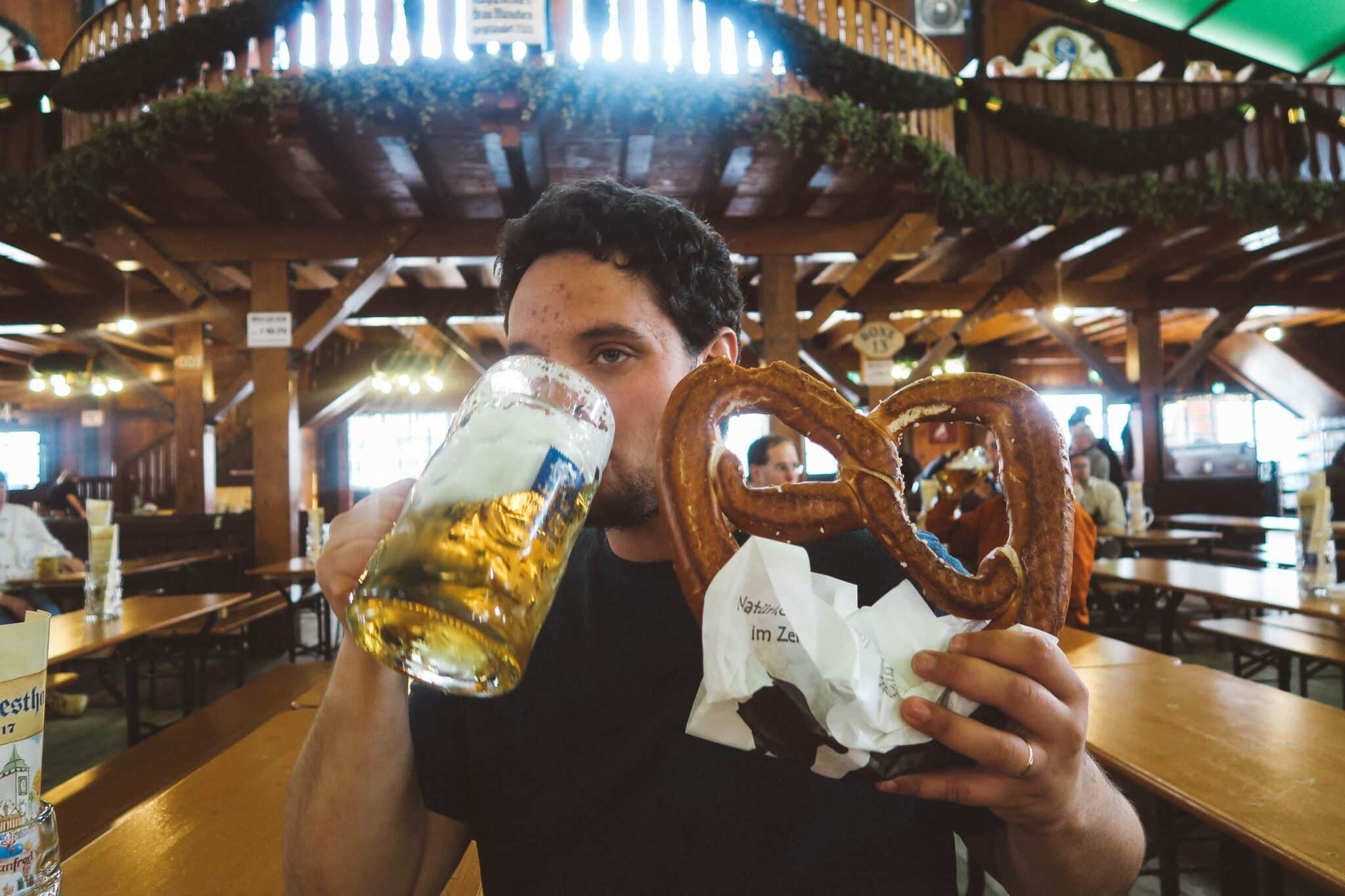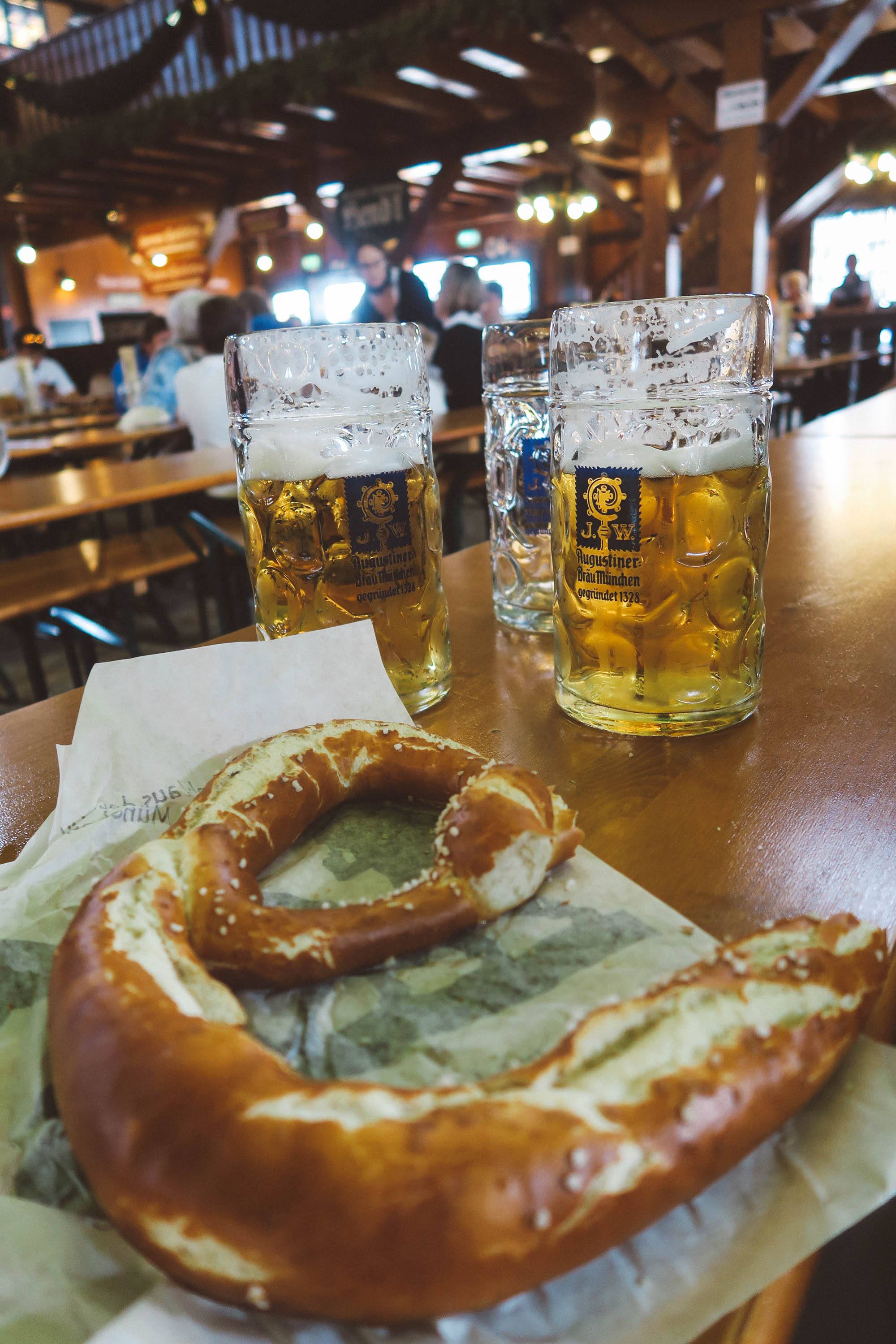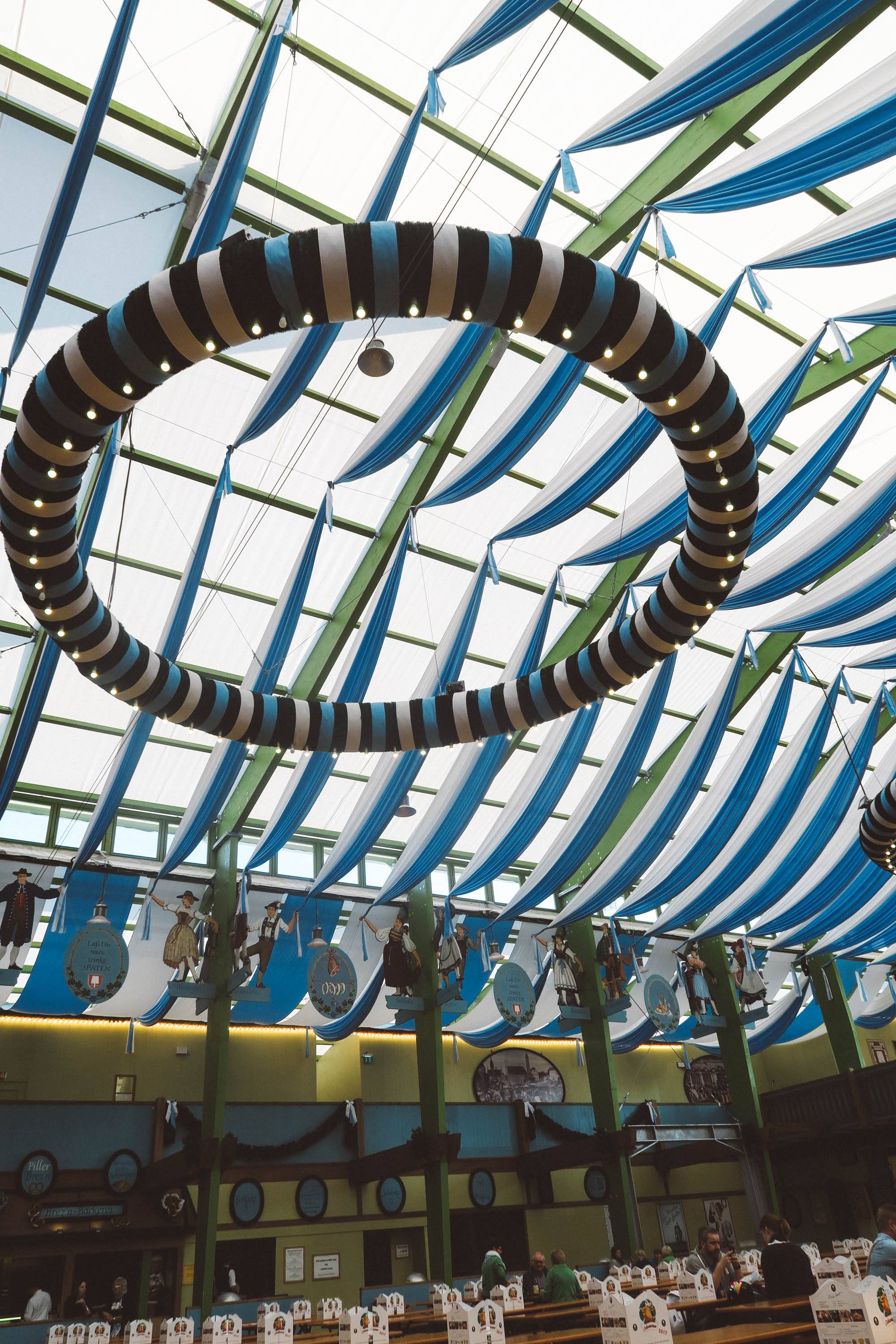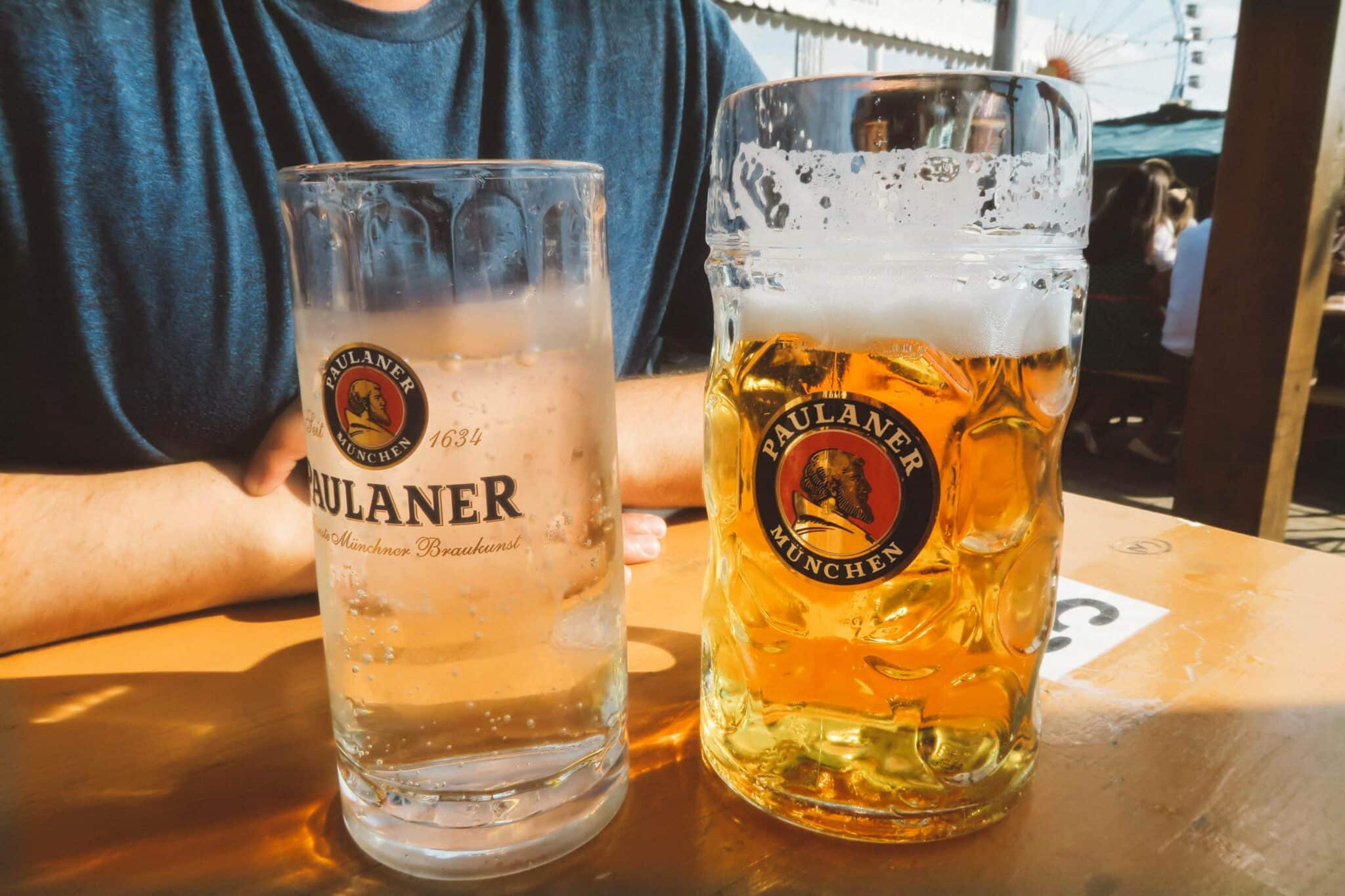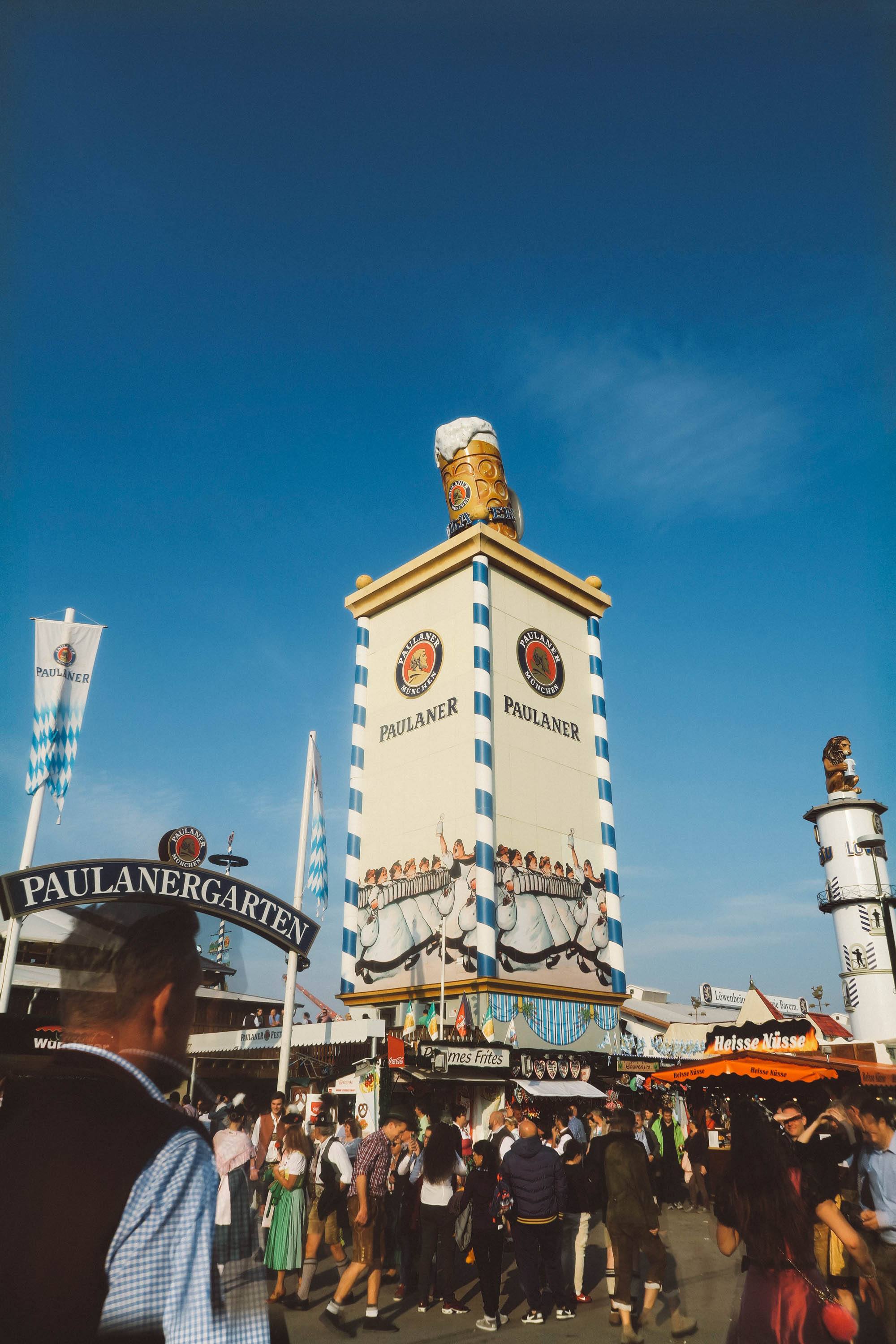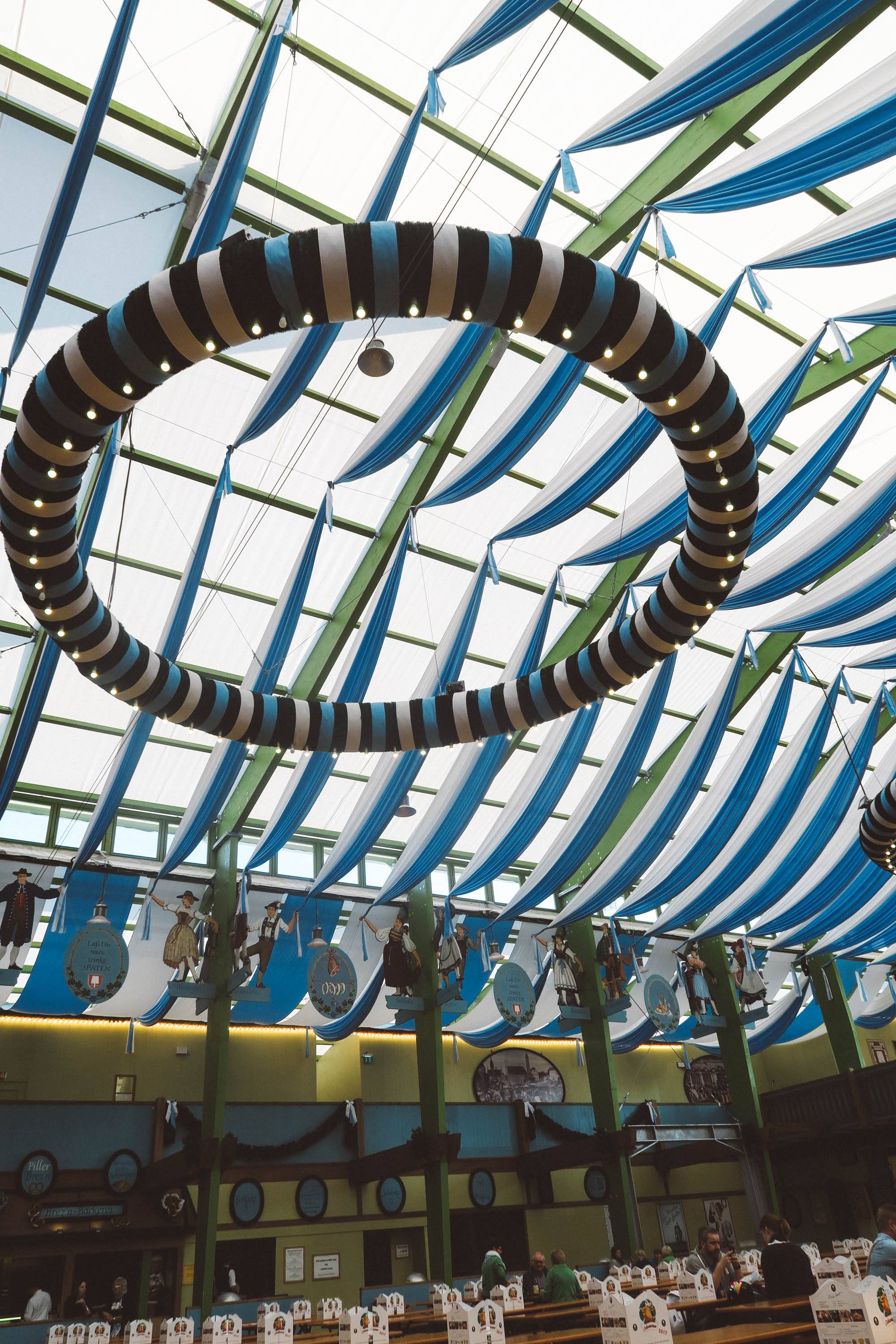 Cash or Credit Cards?
Make sure to bring a LOT of cash with you as everything is done in cash at Oktoberfest. You can find ATM's inside, so bring your card in case you run out of cash. You'll end up spending more than you think you will as things add up quickly.
Tipping Culture
If you plan on ordering more than one drink at your tent, it's polite to leave a small tip for your waiter. Most people "round up", so if your beer is 10.20 – round up to 11 Euros. If you are also ordering food and multiple beers, add 1-2 more Euros. This makes a big difference in the level of service you will receive. Waiters are simply overwhelmed with their tables, so buttering your waiter up a bit will ensure speedy service for your time at the tent.
How To Order Water At Oktoberfest
Ordering water is important to stay hydrated and help you drink all day. To order, tell your waiter "Eins Wasser" and they will bring you a half liter of sparkling water for about 4.50 euro. If you want still, you have to ask specially for still.
Go With A Group
For the best time! Robin and I went as a couple and while we had a blast, I couldn't help but feel like hanging out with more people would have been more fun. That's the point of drinking culture, right? Then, the universe magically gave us friends! I ran into two gals that I went to high school and college with… the world is crazy small! We had a great time drinking, chatting, dancing and tent-hopping together. It was a very surreal moment to run into someone in my graduating class for 180 kids halfway around the world. But I guess that's the magic of Oktoberfest for you!

What To Wear/Bring with you
Most of the people in Oktoberfest will lederhosen or dirndls.  We didn't dress up, and you won't be shunned or anything if you don't dress up. It's just more fun that way!
Euros: As mentioned earlier, do bring your credit card just in case, but you'll be dealing in cash all day. You'll want at least 100 Euros per-person.
Lederhosen (men) or Dirndls (women): You can buy them on the grounds or easily find them in the shops surrounding the grounds/ downtown Munich. You can get a dirndl for about 50 Euros. Or, get them on Amazon ahead of time here.
Flat shoes: I would recommend wearing flats so you can easily dance on benches and walk around after 5 huge beers.
Small purse: You cannot enter with a backpack. They have security here and they will turn you away. Think of Oktoberfest as a concert – small purse only! (This is a great anti-theft purse!)
Deck of cards: Everyone around the world knows how to play card games. Make new friends or keep yourself occupied with cards!
Sunscreen: This pale gal really wished she wore or brought sunscreen. I left the outdoor Biergartens sunburnt!
Sunglasses: Again, the outdoor Biergarten can be sunny!
Hand sanitizer: This entire festival is like one big bar. Bring the hand sanitizer.
External phone charger: You'll be there all freaking day. Make sure to bring extra power for yourself!
Best Neighboord For Your Hotel
I recommend staying within walking distance from Oktoberfest so you don't have to worry about taking the train. It can be very crowded at night! Headsup — all hotels in the city are EXPENSIVE during Oktoberfest. Just get over that sticker shock early, ok?
*Hotel Amba: We stayed right across the street from Munich HBF at Hotel Amba and loved the location as it took about 10 minutes to walk to the grounds. They had a pretty decent free breakfast and while the rooms were small, they were clean and the front desk is 24/7.
 King's Hotel: This one is on the other side of the main train station and a bit closer to the grounds. Guests like the bigger rooms and nice front desk staff.
Bayerischer Hof Hotel: Centrally located luxury hotel with a rooftop bar! Guest raves about the views from the place and also love the pool.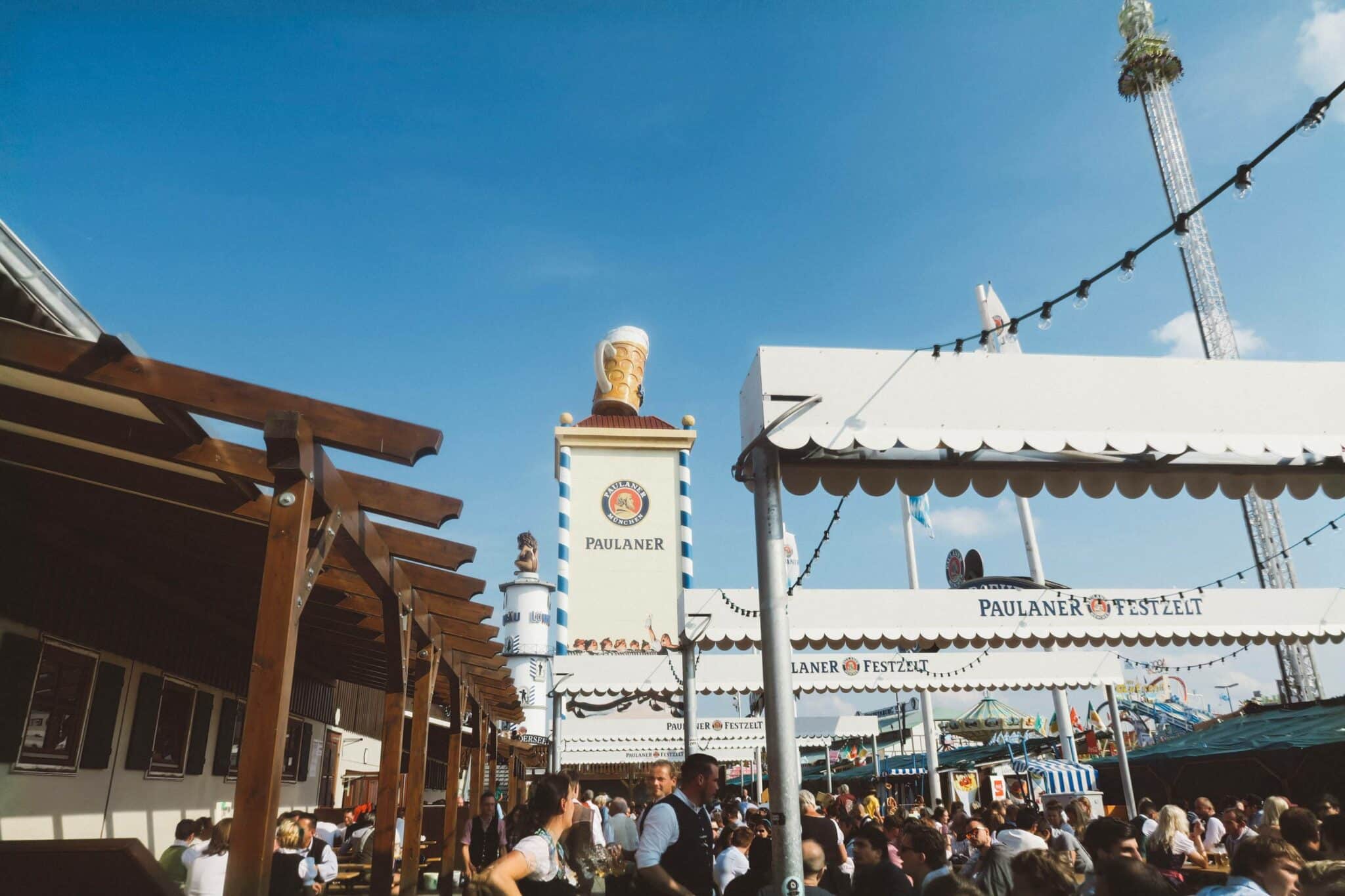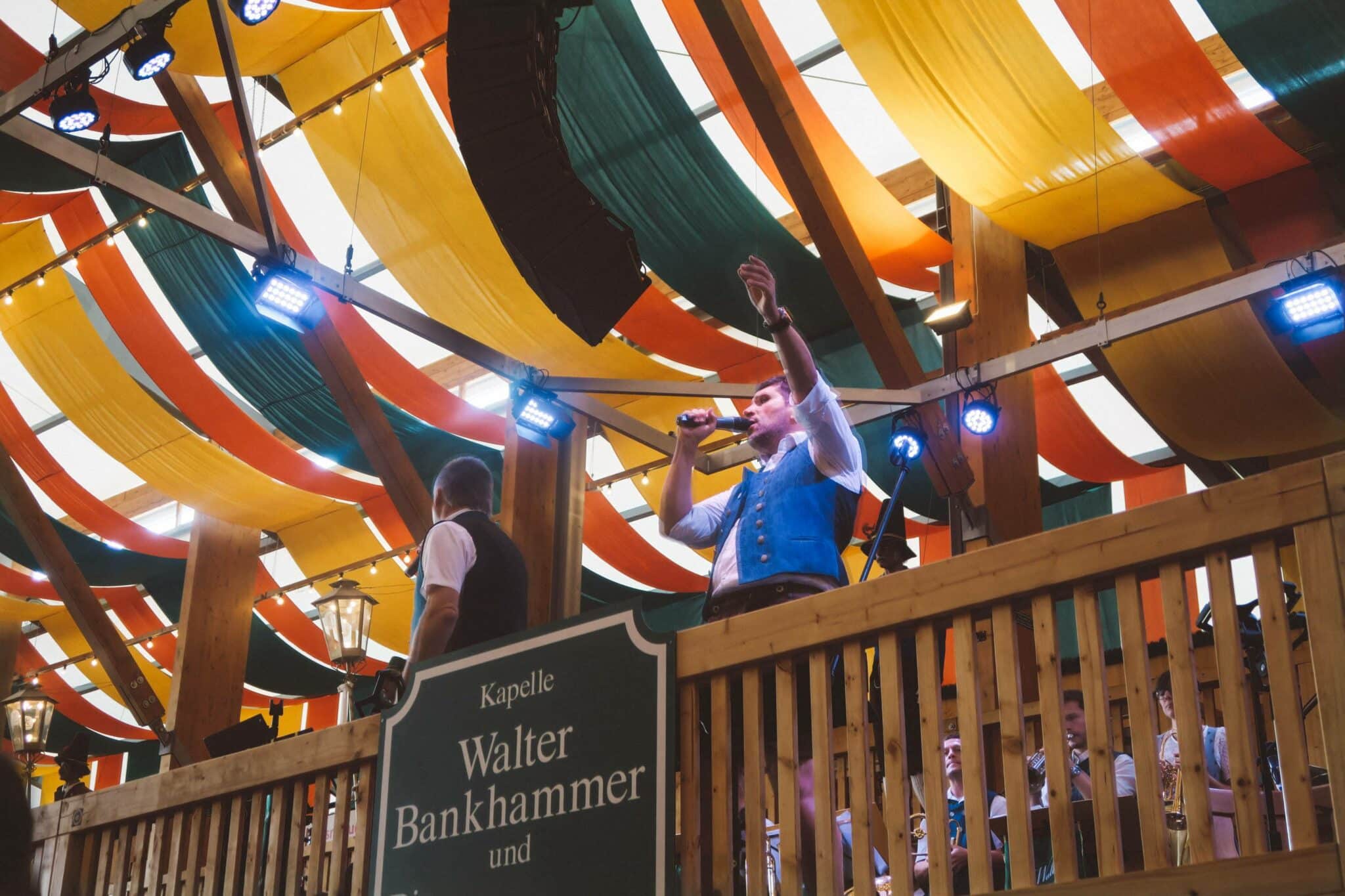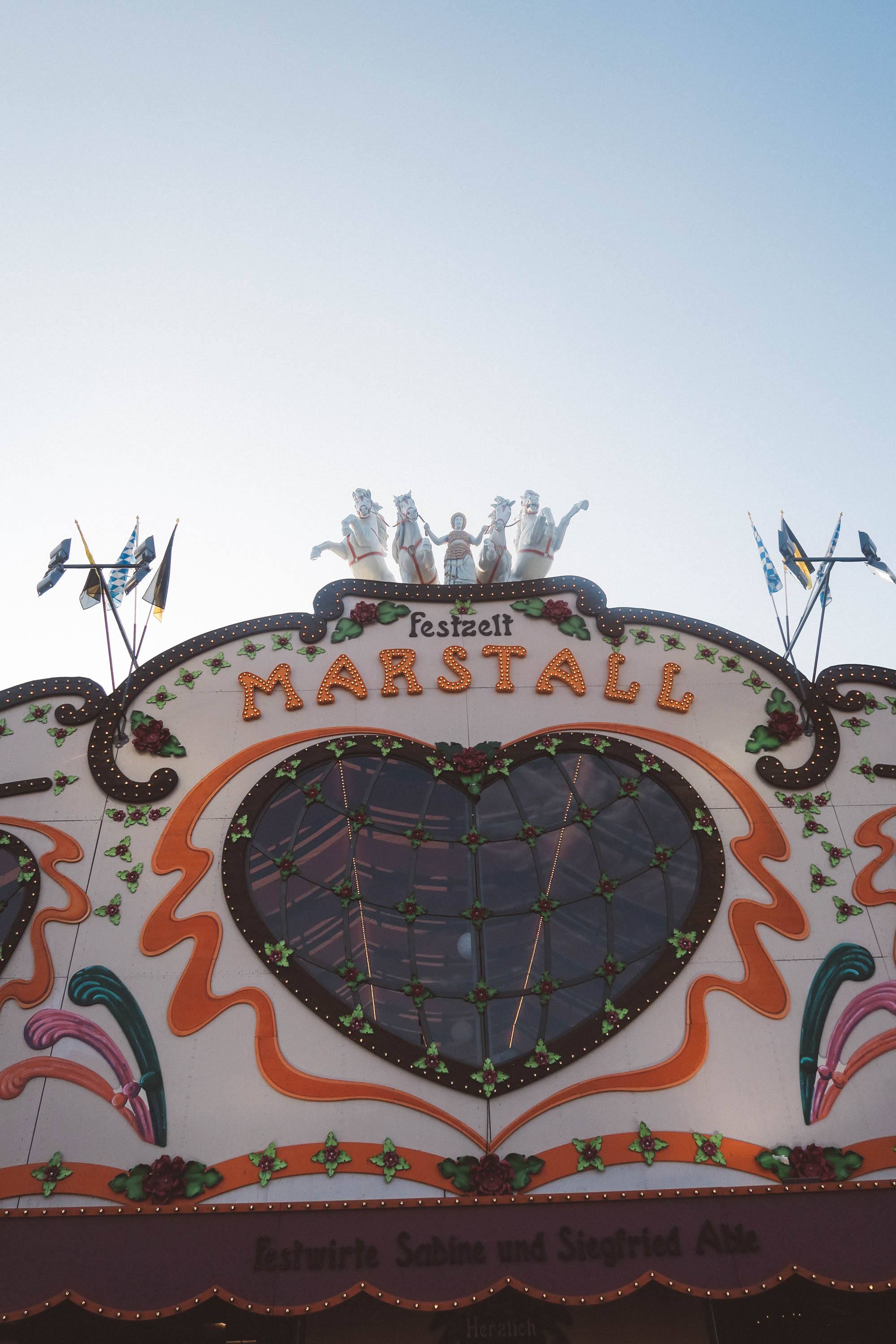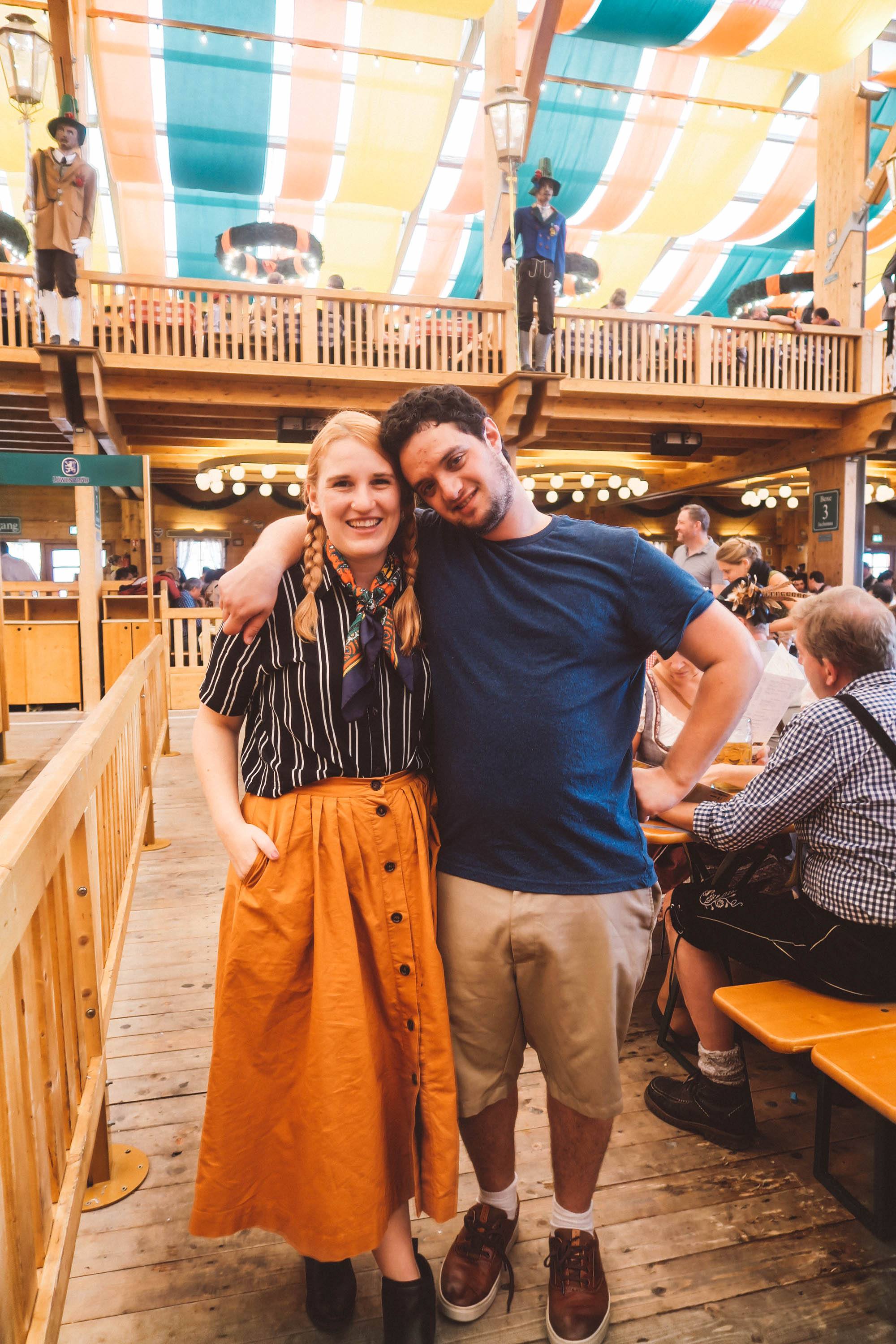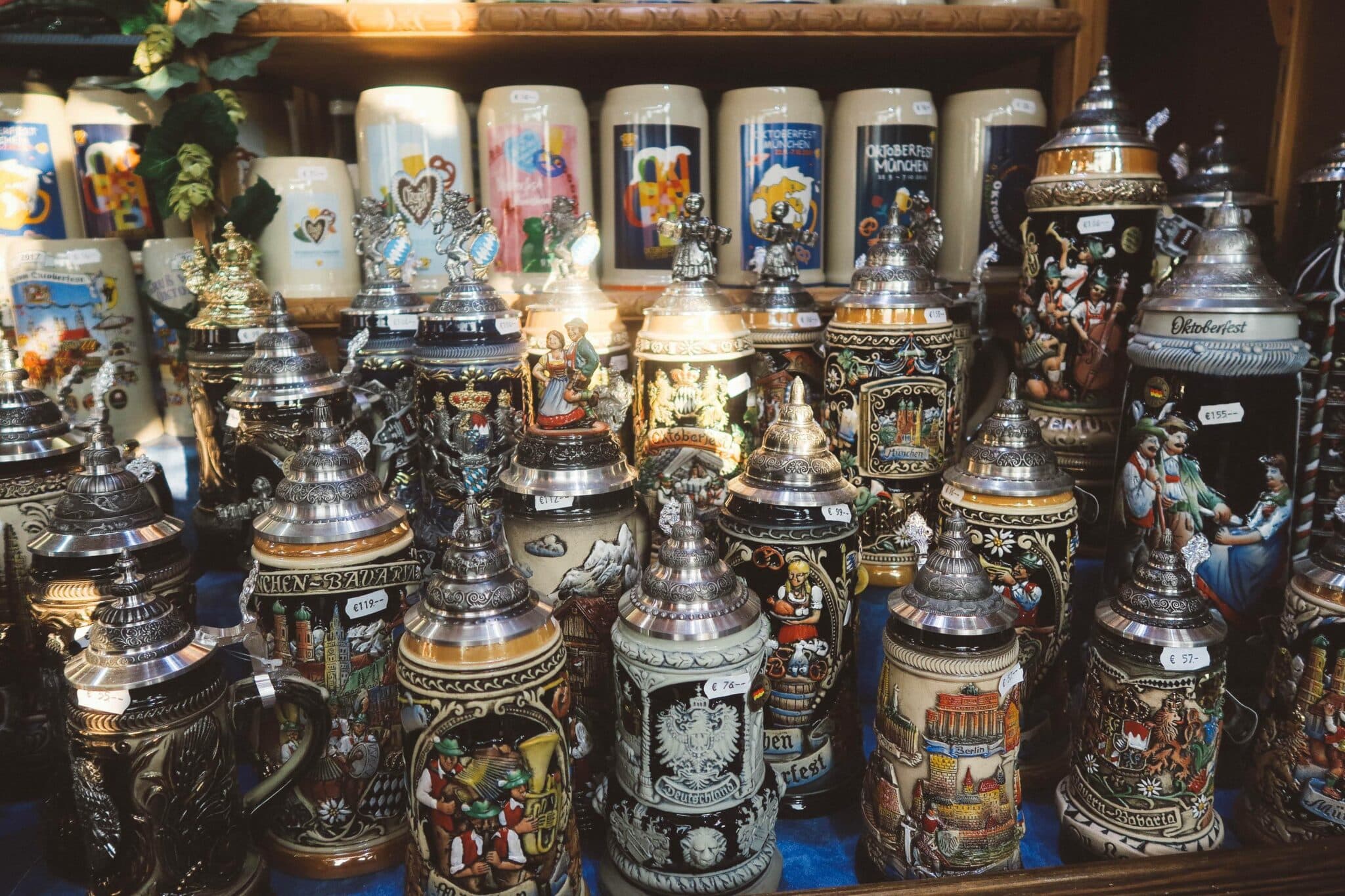 I hope this helps you plan your trip to Oktoberfest and help you have an amazing day there! I loved all the culture presents – locals clearly are very into the Bavarian lifestyle this festival celebrates. It seems like most locals wear their traditional costumes to work so they can roll into drinking afterward. If you have any helpful tips to add or any questions, please leave a tip below!
Again….
BRING
Lots of cash (at least 100 euro per-person), camera, small purse, playing cards.
DON'T BRING
A backpack, credit card only, jacket (it gets hot in the tents, so skip this)
---
Heading to the Neuschwanstein during your trip to Munich? Read this post which details step-by-step on how to get there!
---