Neuschwanstein: The castle that inspired Disney. When I learned it's just a 2-hour train ride from Munich, I immediately booked us tickets to go.
While in reality, it's a whole day trip (a good 9+ hours roundtrip) it's worth every. single. Second. When researching how to get to Neuschwanstein Castle from Munich, I found it confusing to find very clear instructions, and nobody had documented the process in photos. It took a lot of trial and error to figure out.
SO – that's what this guide is all about! I took photos of the whole process and at the bottom, you can copy and paste text instructions for you to print out and bring with you for your Munich to Neuschwanstein Castle trip. Happy travels!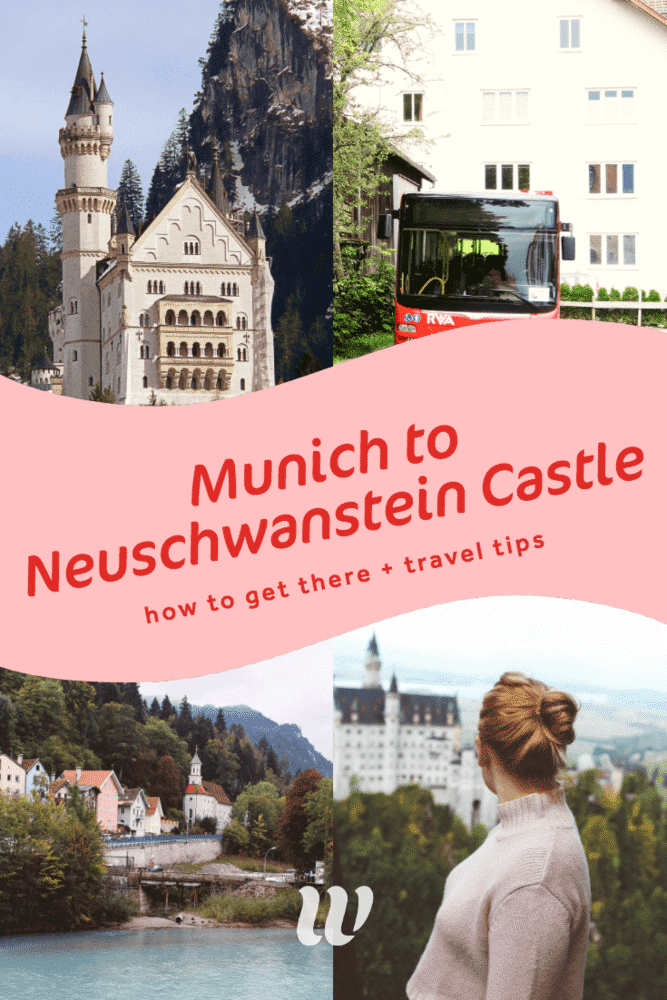 Visiting Neuschwanstein Castle should be on everyone's Germany bucket list. (Not to be confused with the Hohenschwangau castle) It's a long day trip, the but sites along the way are fun and I think it makes the perfect day tour from Munich.
No need to book a pricey tour bus to drive you to the castle, you can totally do the trek yourself! It's easy once you know all the steps, and there are a lot of steps. Here are my travel tips and step by step guide to visit the Neuschwanstein Castle.
(If you have any questions, DM me on Instagram @thewhimysoul!)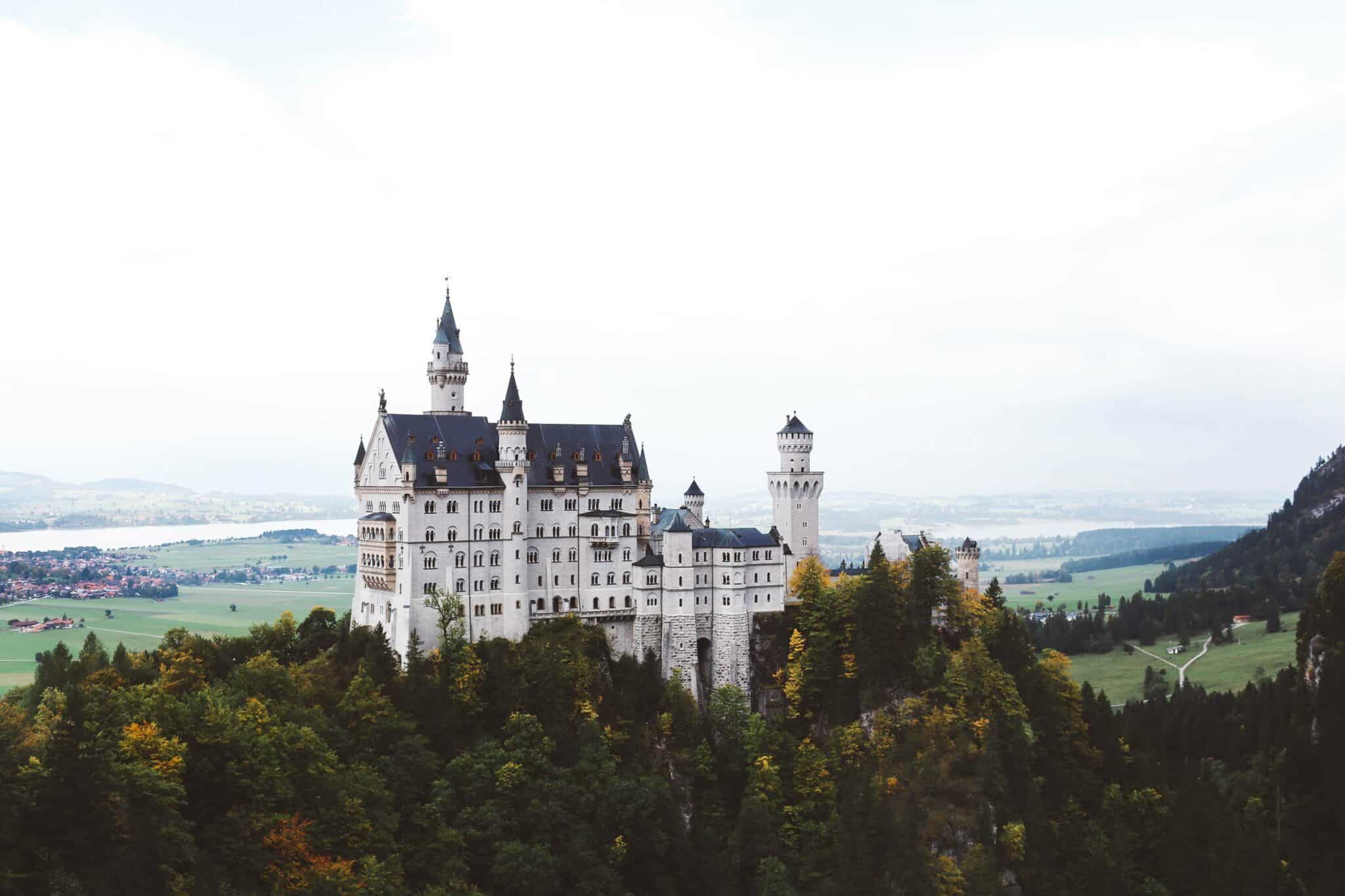 How To Do a Neuschwanstein Castle Visit From Munich – Step By Step Guide
2 Days Ahead – Buy Neuschwanstein Castle Tickets
You have to buy your tickets for the castle at least 2 days in advance of your tour date. We bought ours months ahead as we were planning our honeymoon. You can buy them at the ticket office at the castle, but the line is crazy long and you may not get a tour, which would suck because it's a trek to get to Fussen. If you want to follow our itinerary exactly, buy the 1:55pm tour. Book tickets at the website here.
Booking tickets online means you'll be getting the Neuschwanstein Castle skip the line tickets in a sense. You'll still have to wait for your designated tour time but you won't have to wait in line to buy the tickets and then wait even longer for your tour time. If you time your travel out to the castle, you shouldn't have to wait long at all!
Note: Neuschwanstein Castle hours are 8am-5pm. Some tourists make the mistake of booking a tour right at opening hours, which you should only do if you are spending a night in Fussen, otherwise, you won't be able to get there in time.
Buying Train Tickets From Munich To Neuschwanstein Castle
Head to the Munich HBF train station. Our hotel was right across the street, so we walked. If you are staying in other parts of Munich, take an U-Banh or S-Banh train to the central station. Exit and find the pink building with big DB letters on it. Walk in and find a ticket machine. Do yourself a favor and click the English button for translation. Click the "Bayern" Ticket option on the right side. Then click Füssen as your destination. Follow the rest of the steps to check out.
Train tickets are 25 Euro per person, but only 5 Euro for additional people, so if you are going with another person or a large group, make sure to buy all your train tickets in one go. The machines take credit cards.
*Note: Your Bayern ticket will cover your roundtrip train fare and also will cover the bus from Fussen to the ticket gate at the castle. Hold on to it! A conductor will come around and give you a pen to write your names on the ticket.
PS – this guide if for taking public transportation! I have no idea how to get from Munich to Neuschwanstein castle by car. You're on the own!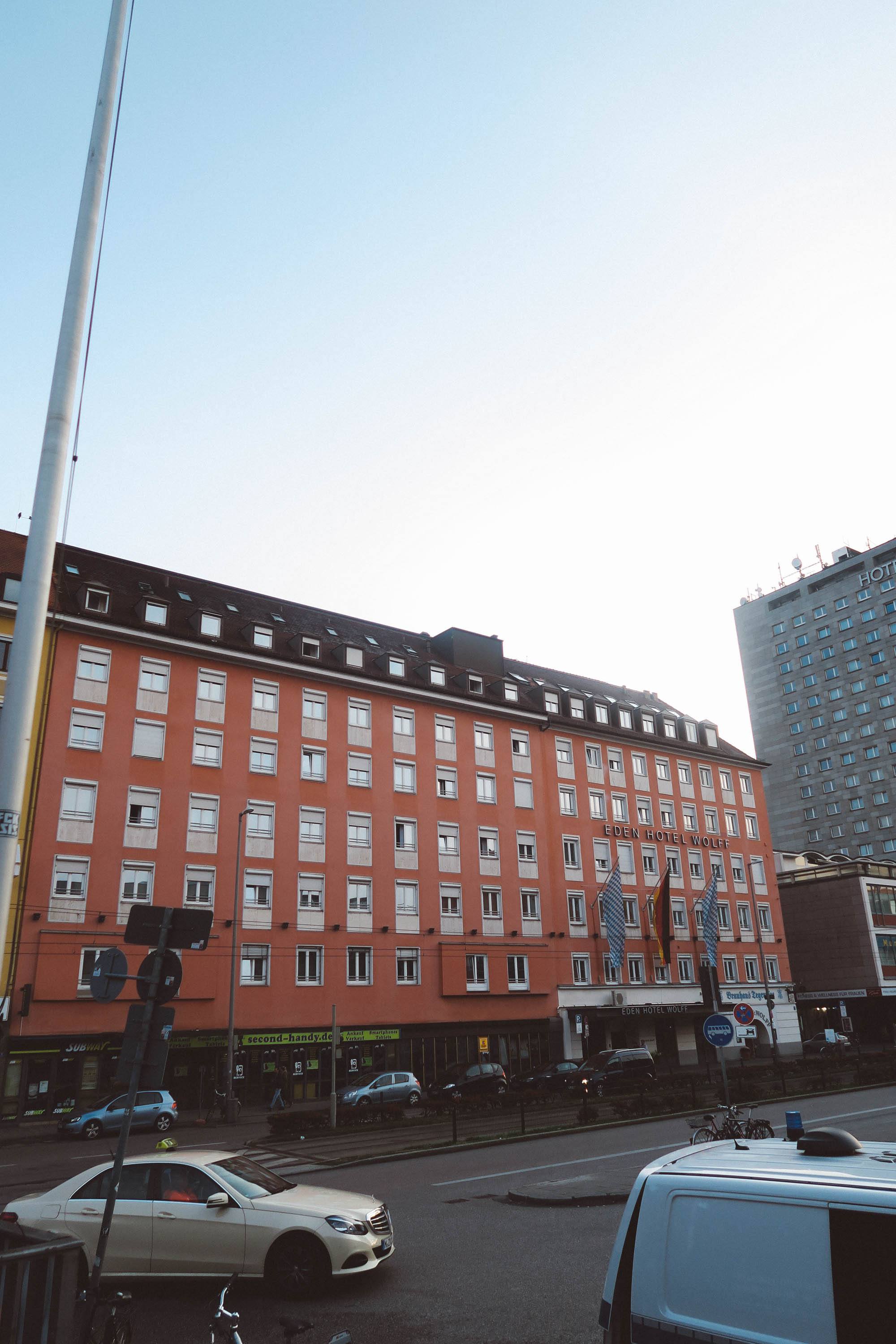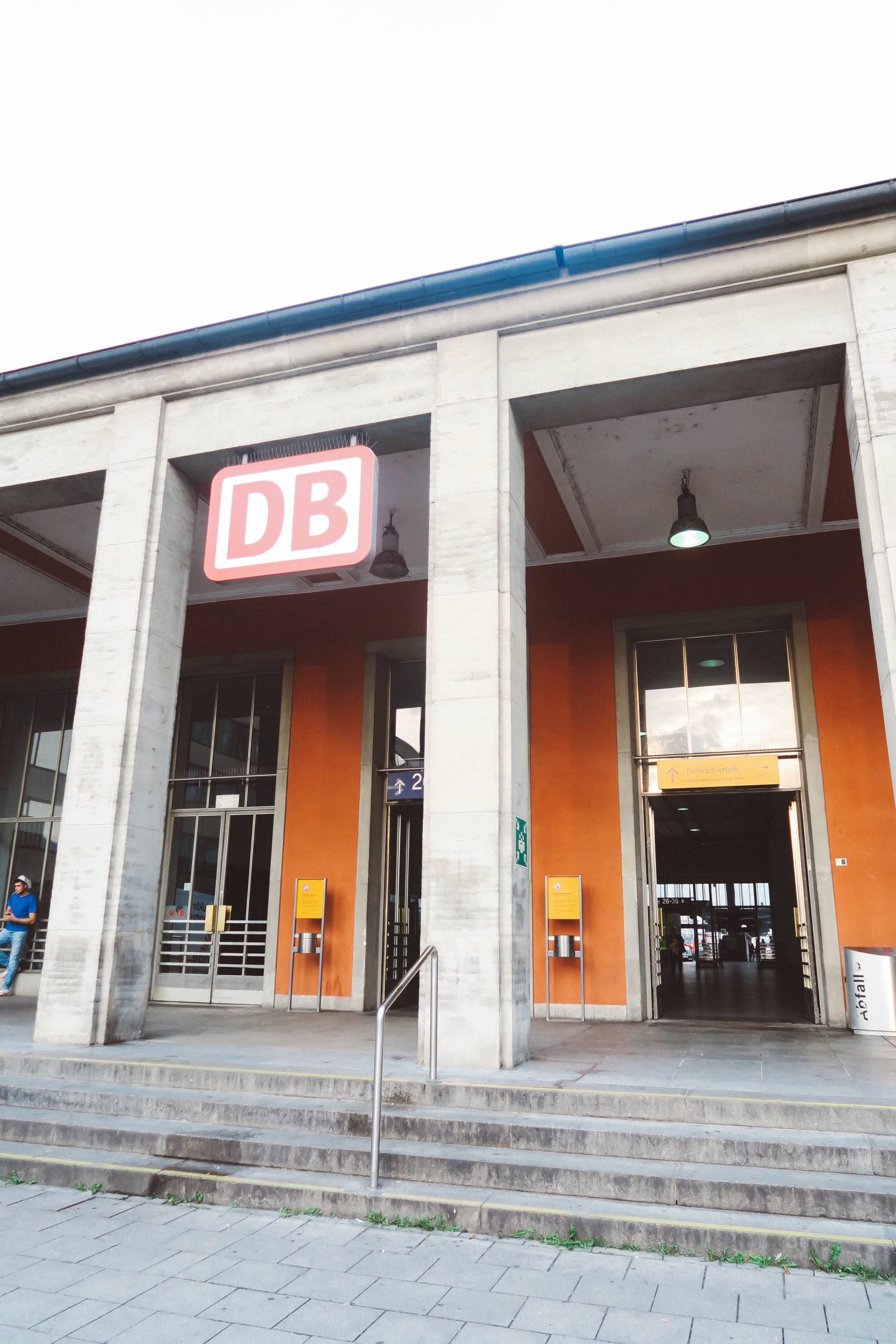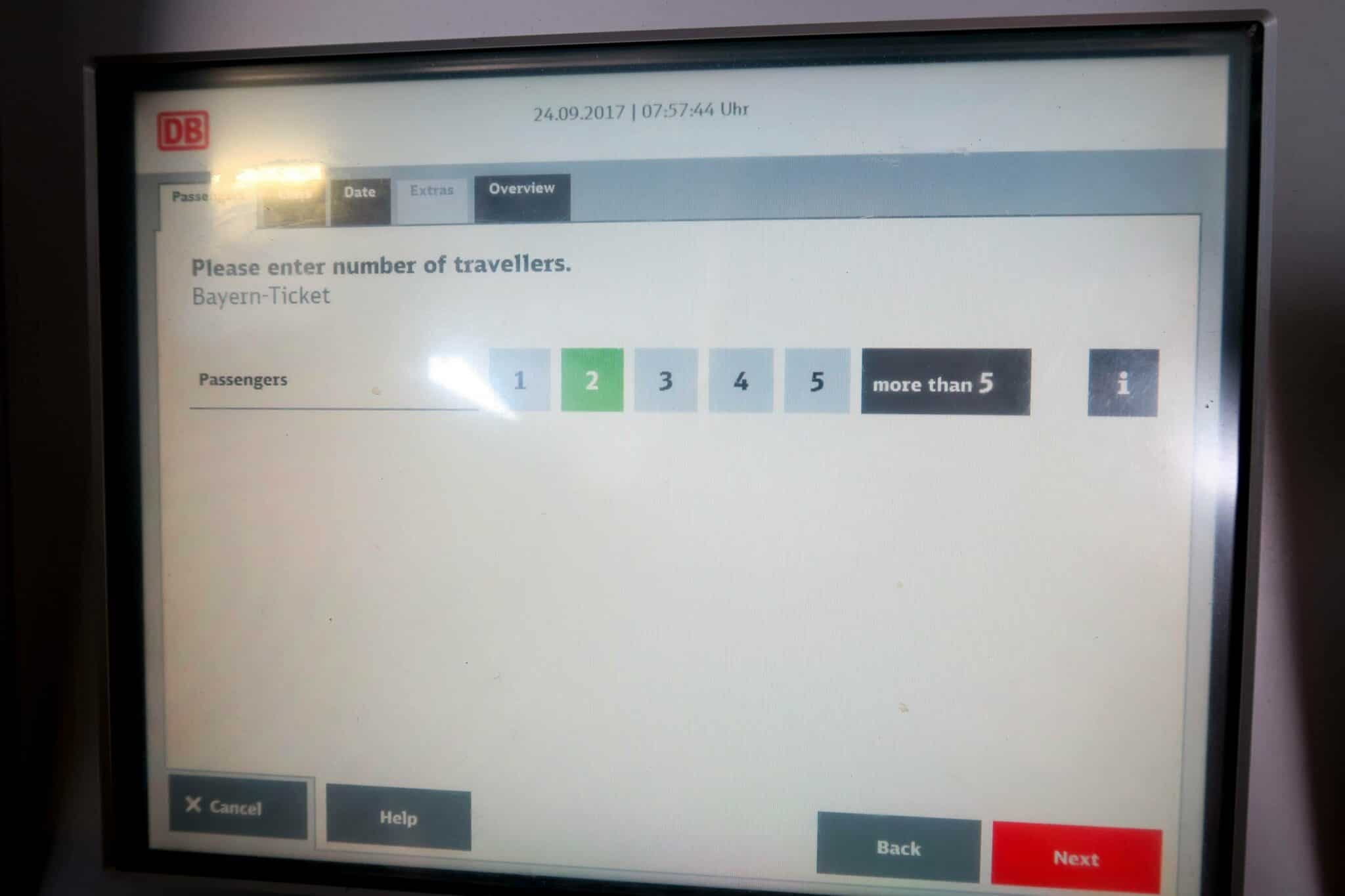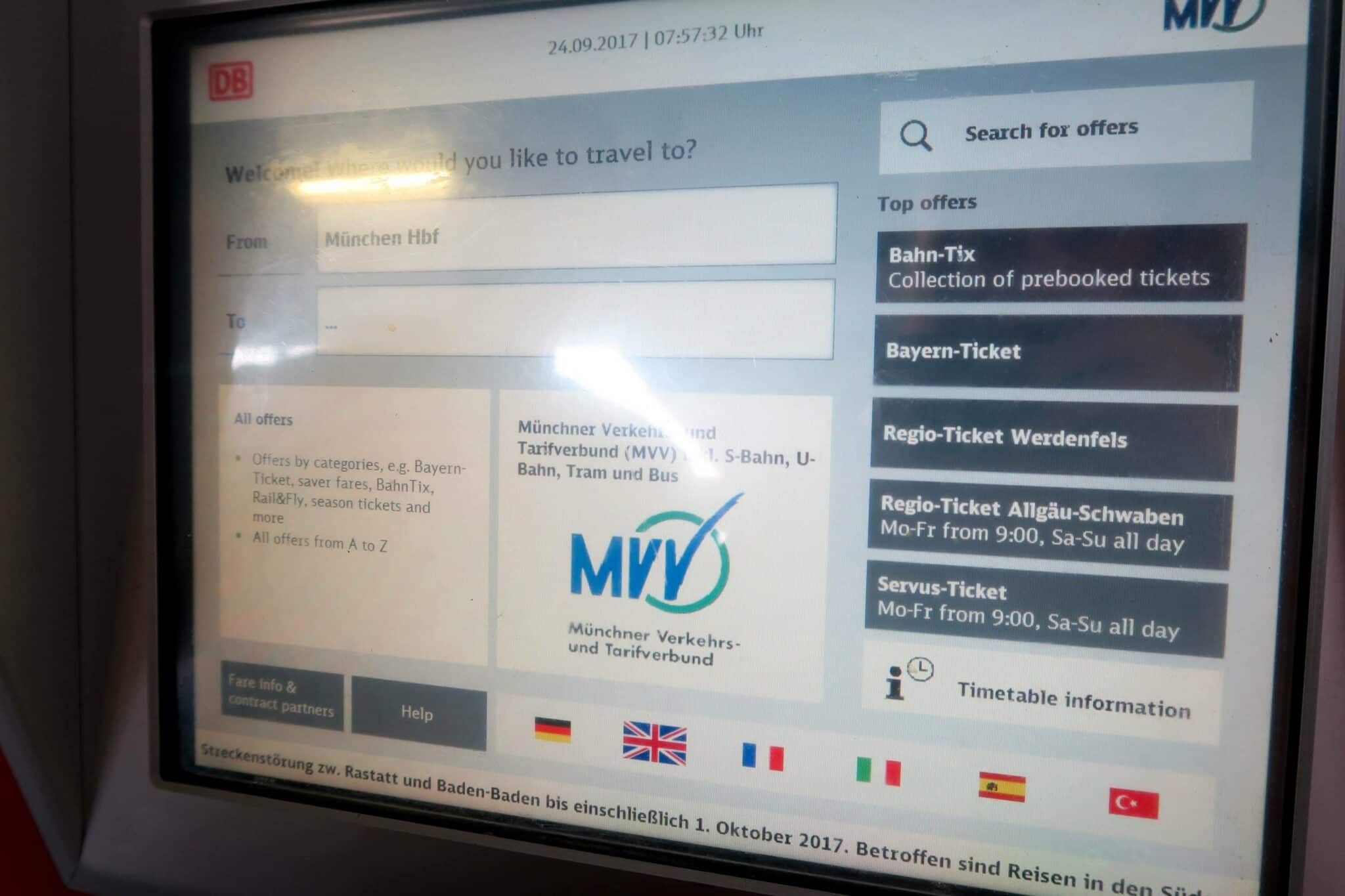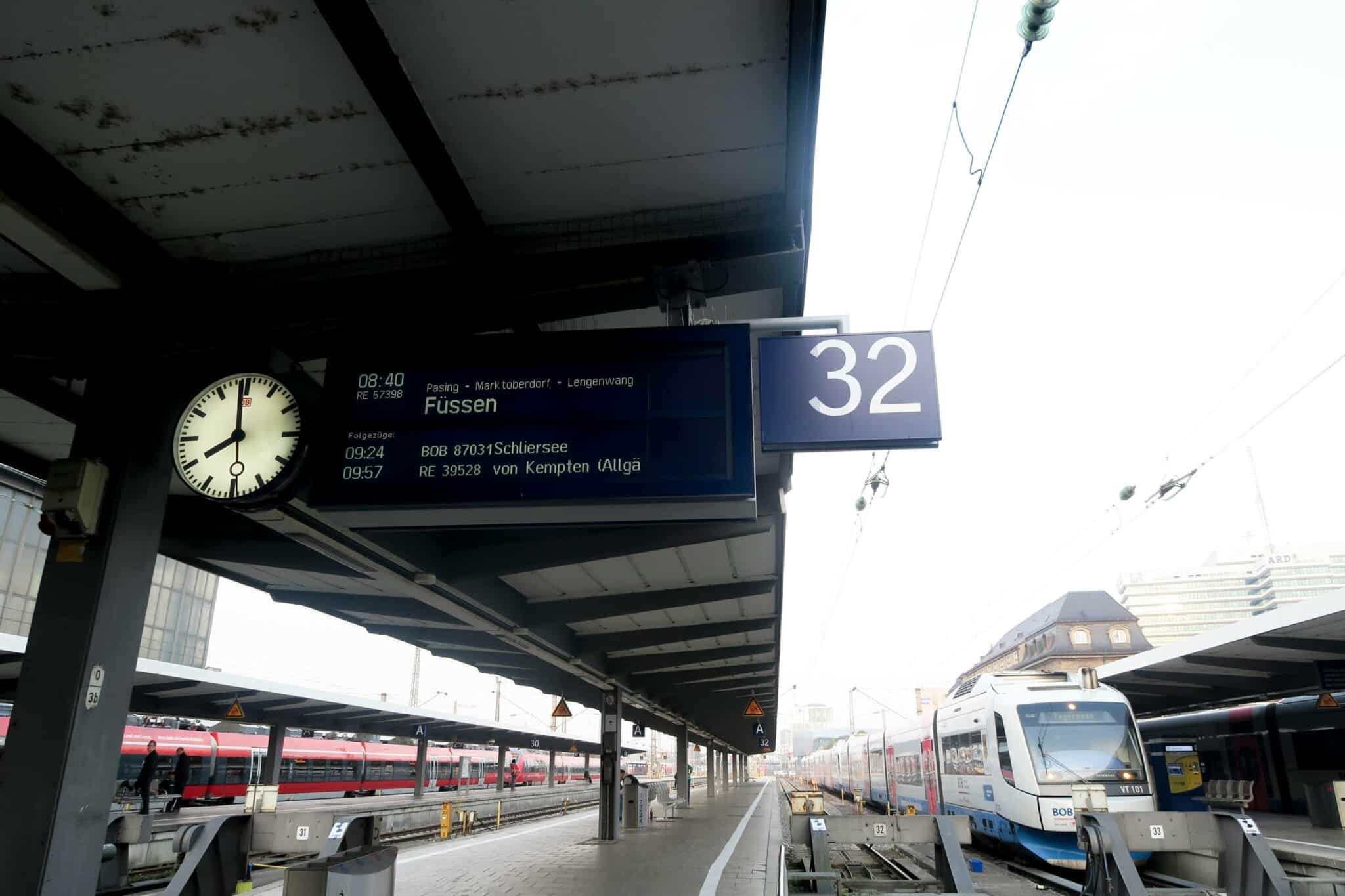 Bayern Train Schedule
I found it really hard to find a timetable online, but eventually, we used Google Maps to show us the times and main information about the train to Neuschwanstein Castle.
It seems like the Bayern train to Fussen leaves once an hour from Munich. It takes about 2 hours to get to Fussen, so make sure to catch the right train or you will miss your tour. We rode the 8:40am train and it left on platform 30. There are more trains inside if yours isn't outside.
Bayern Train Tips
There are bathrooms on the train, so make sure to use them before getting off as it's harder to use bathrooms once you are touring. Bring your own water and snacks though, as those are not available for purchase. It's a long train ride if you didn't have breakfast! You also have to sign your ticket to make it valid. The conductor will give you a pen if you did not bring one.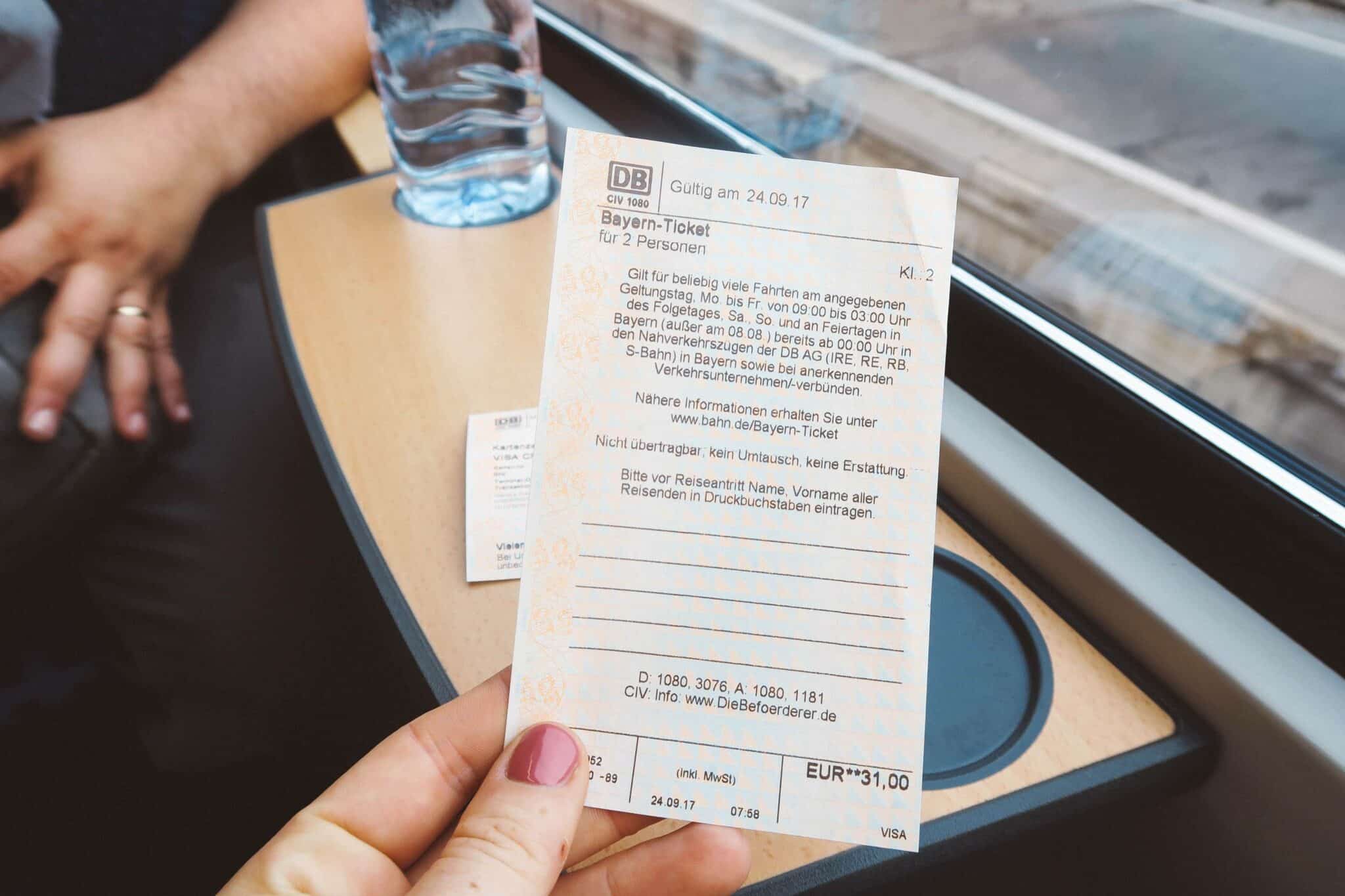 Fussen
Upon arriving in Fussen, spend one hour walking around the small town. You can read my quick guide on Fussen HERE. Before you wander, follow the crowd to the side of the building and look for the bus schedule for the 78 Bus. This shuttle bus will take you to the ticket gate.
There is a bus that leaves around Noon and its about a 10 minute ride, so catch this one. Show the driver your Bayern ticket. If you instead want to walk to the ticket gate, it's about a mile away.
There are some hotels in this tiny town if you wanted to spend the night here, but I personally think it's easier to just make it a day trip.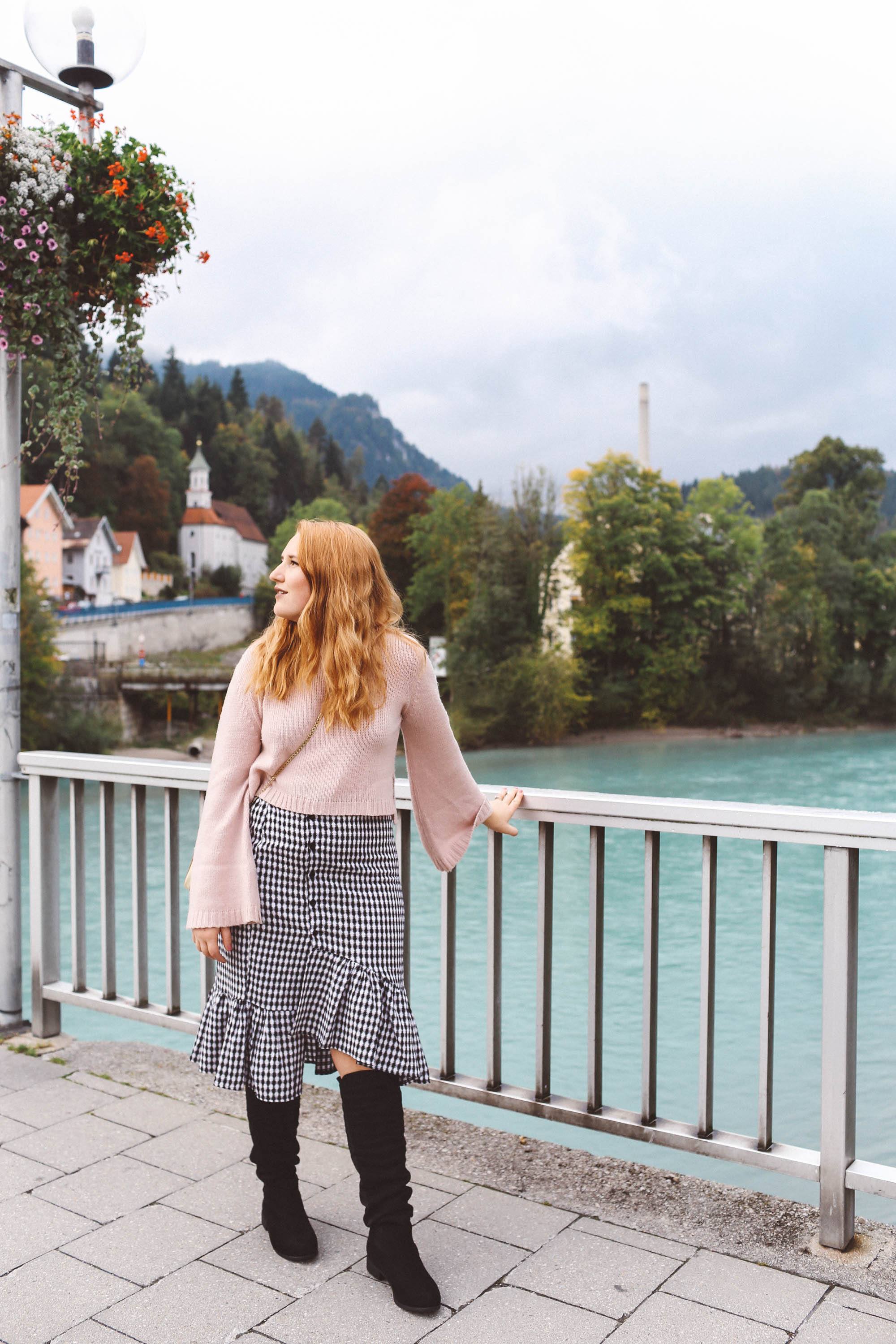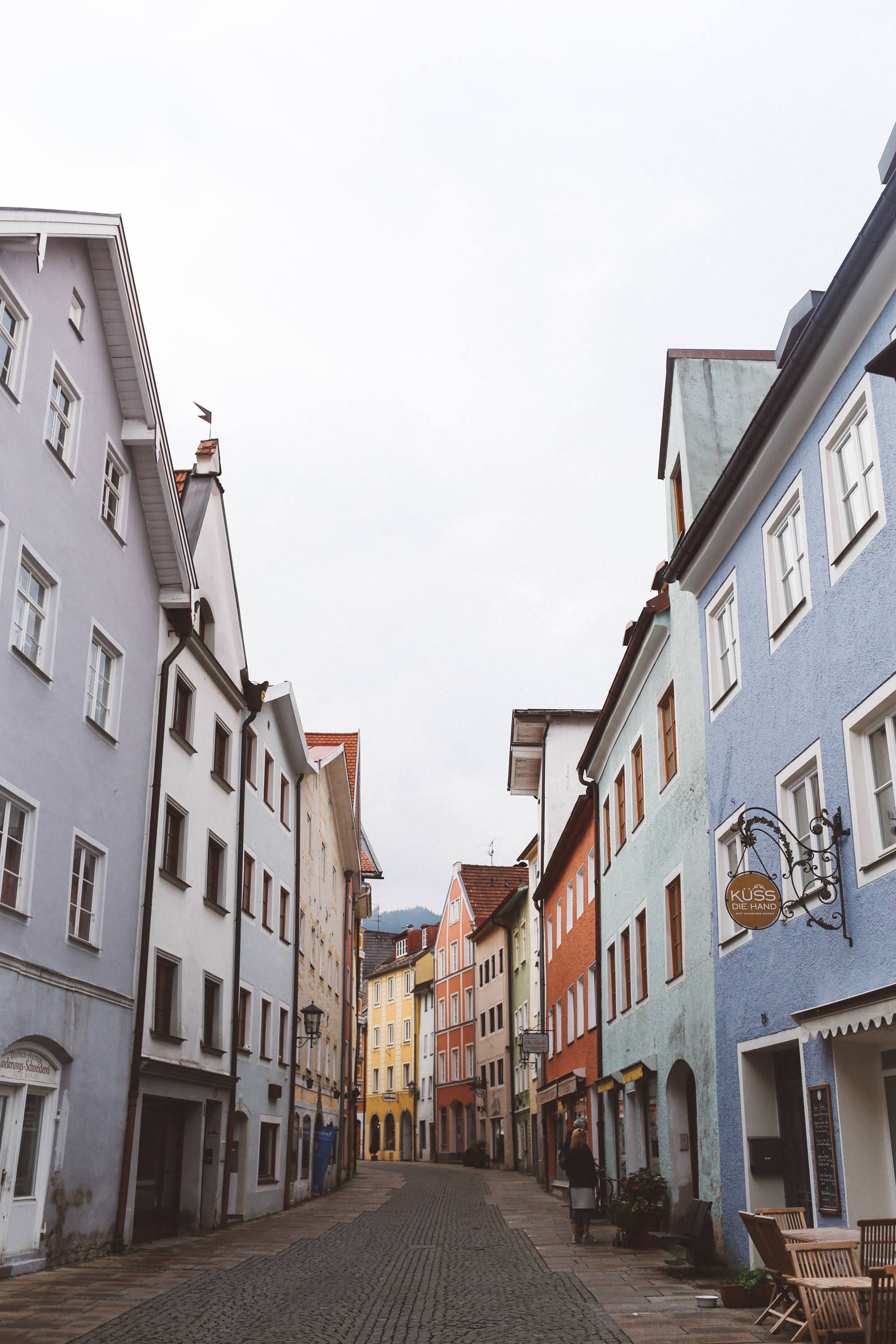 Getting To The Castle
Make sure to get your tickets before the time it says on your sheet. We had to pick our tour tickets up by 12:55pm and arrive at the ticket counter around 12:40pm. If you miss your window, you have to buy a new ticket. There are three options for getting to the top of the hill to the castle:
Walk, though it's all uphill and takes 40-60 minutes.
Ride the bus for 5.60 roundtrip for two people.
Horse carriage for 6 euro per person.
We took the bus as the line for the carriage was very long. Buses come every 10-15 minutes so it's a quick option.
The Bridge/ The Money Shot
Upon arriving at the top of the hill, take the path on the right-hand side to go to the bridge. This is the view of the "money shot" of the castle. It can get very crowded and the bridge is a bit wobbly, so don't spend too much time on it if you are afraid of heights. It's also really narrow and crowded.
Instead, continue on the path across the bridge and do a quick hike to the overlook point above the bridge. It is much less crowded here so you'll have time to take as many photos as you want!
Note: this is a trail, so wear comfy shoes or be prepared to wash them after. Our shoes got muddy! Spend about 20 minutes here.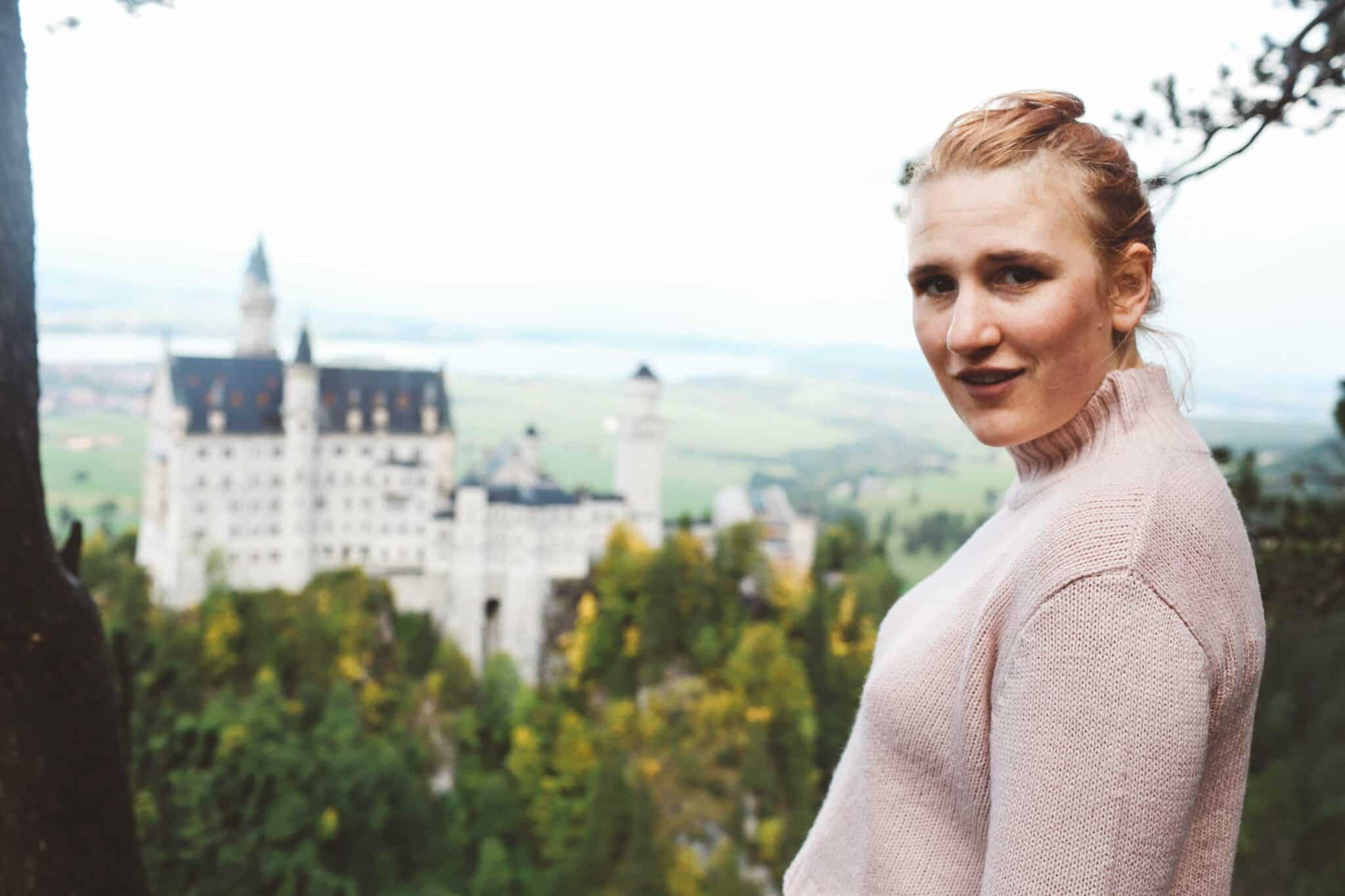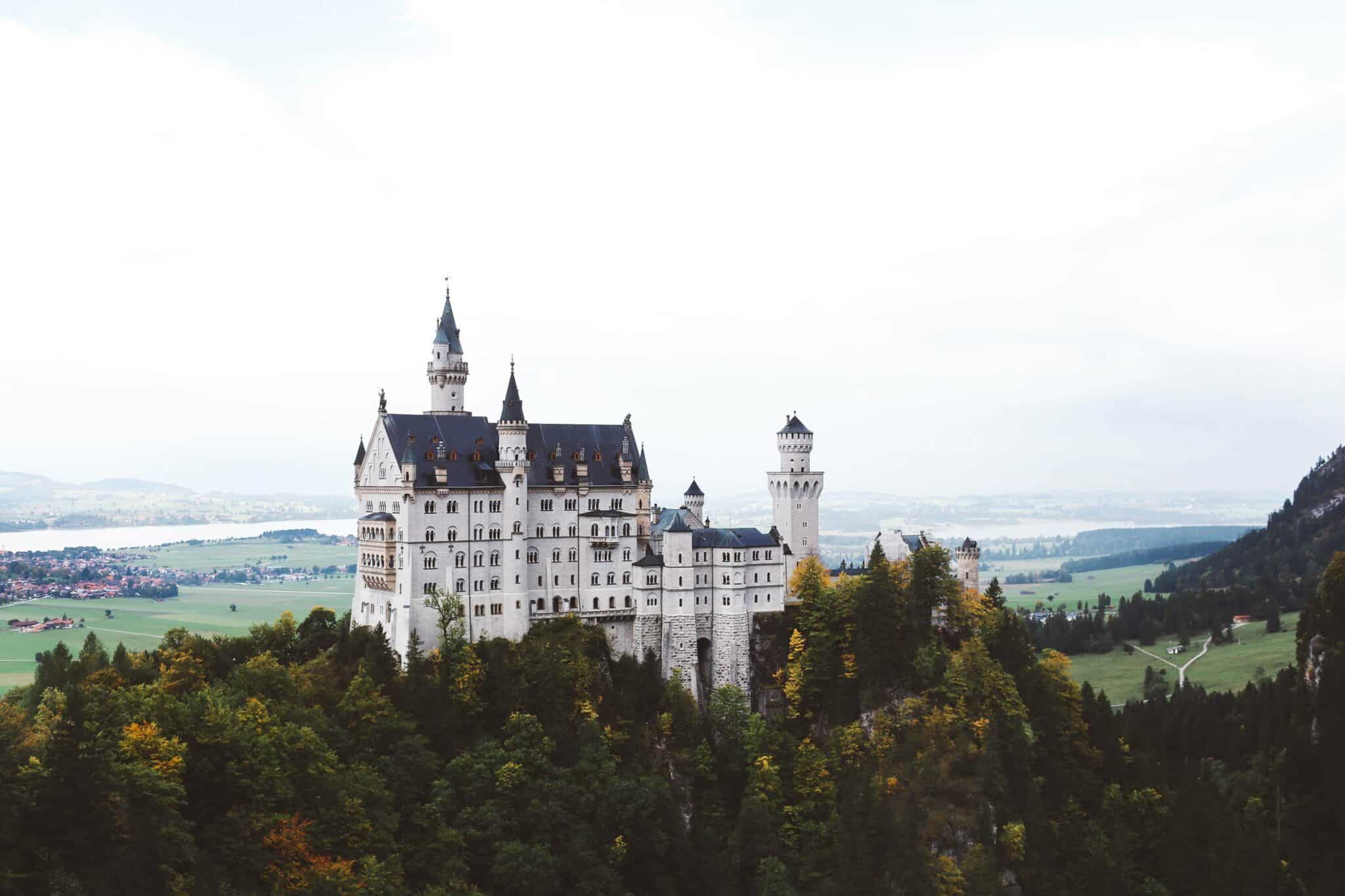 Entering the Castle
Walk down the hill (about 5-10 minutes) to the castle to the guided tours section! The views along the way are wonderful. Here, round the corner of the castle and wait in line for your group time to be allowed in. Groups enter every 5 minutes and again, if you miss your group time you will not be allowed in a later group.
Walk in with your Neuschwanstein tour group and grab a handheld listening device You will have an in-person tour guide but this device allows you to wander in each room as your guide tells you about the history of the castle. At this point, cameras aren't allowed in the castle, so I don't have any photos of the tour to show you. Tours last about 30 minutes. See you on the other side!
*Quick castle history. King Ludwig II was the man behind this castle. He was totally a book nerd and art lover. There are tons of beautiful paintings in the castle and hundreds of small swan motifs. He sadly was overthrown from his castle before it got to be completed and he died at age 40. That's why you won't be able to see all the rooms in the caste, as it's not actually complete. But the parts that are done are simply stunning. I won't tell you all the details as you'll learn them on the tour!
Before Leaving
Make sure to step out onto the balcony for a great view of a lake and the little village below. There is a cafe and gift shop here as well. We bought a stein with the Neuschwanstein swan and Bavaria flag on it. They take cards.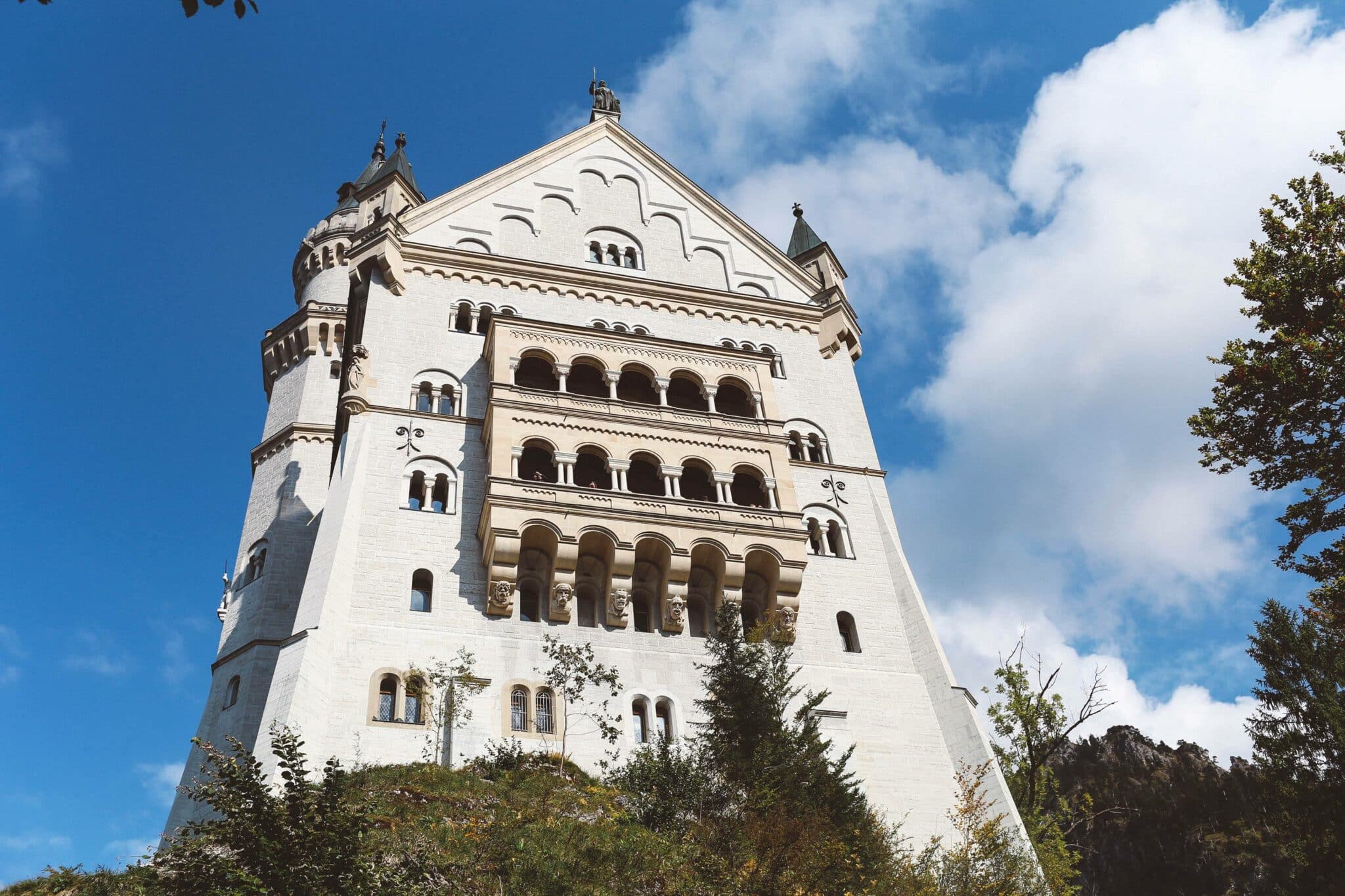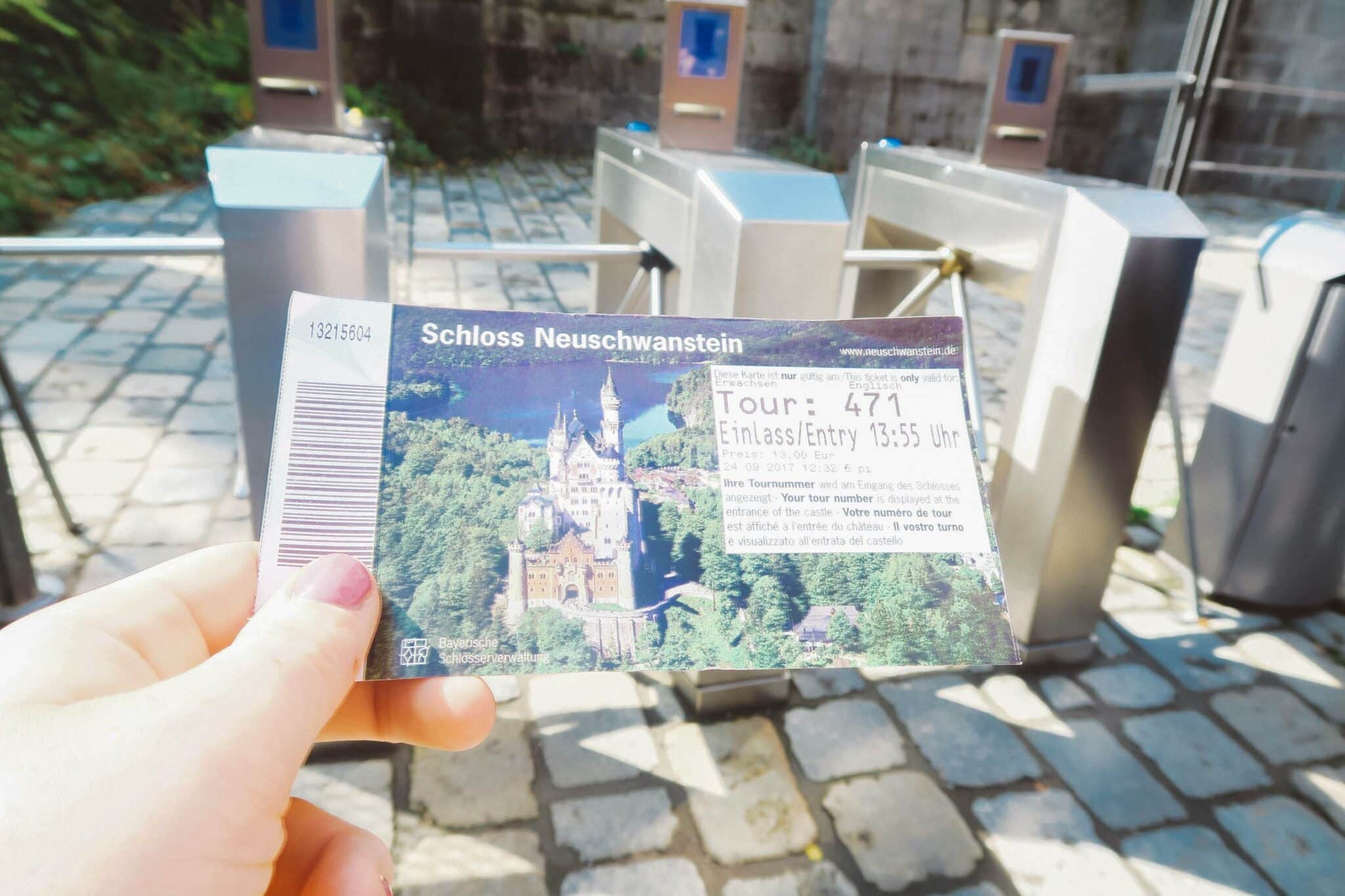 Getting Back To Fussen
Walk back up the hill and catch the next bus down or alternatively, walk down the path. From here, head back to the bus stop you were left off at. Check the timetable to see when the next bus comes. We caught the 3:45pm bus back to Fussen. If a bus isn't coming for a while, consider walking back.
Train To Munich
Make sure to check the timetables of the trains back to Munich before leaving. We made the 4pm one with 2 minutes to spare. If you miss the 4pm train, I believe another one leaves at 4:35pm. Don't forget to grab water on the way back, you'll want it after a day of walking! This train ride also takes about 2 hours back to Munich and your Bayern ticket is still valid for this ride.
You did it! Congrats on successfully navigating to the Neuschwanstein castle. I hope your visit was as amazing as ours was. If I lived in Germany I would visit in all four seasons. Photos of Neuschwanstein Castle in winter look stunning. So does fall, with all the trees in different colors! No matter what time of year you visit, your Neuschwanstein castle tour will be so much fun!
How To Get To The Neuschwanstein Castle
Copy And Paste Instructions To Print & Carry
(send this to your email address so you can reference it on the go!)
Buy tickets for the Neuschwanstein castle online at least 2 days before your trip. Book the 1:55pm tour to follow this itinerary. Print out your purchase confirmation.
8am arrive at the Munich HBF train station. Look for a ticket machine and buy a Bayern ticket for 2 people from Munich to Fussen. Hold onto the ticket all day.
8:20 grab seats on your train. I recommend getting one on the top level for great views. The train leaves at 8:40pm and takes about 2 hours.
Arrive in Fussen around 10:30am and walk around Fussen until 11:45am, then head to back to the train station and look for the number 78 bus on the side of the building. It'll have a line. Take the 12:05pm bus to the castle. Your Bayern ticket will cover this ride.
At the castle base, walk up the hill to the Neuschwanstein tickets center. Make sure to get your tickets before the time listed on your confirmation. Ours was 12:55pm. If you miss this time, you will not be able to tour.
After, walk up the hill and look for the small brown building next to the parking lot. Buy roundtrip bus tickets to the top of the hill (5.60ish for two people). Busses come every 10-15 minutes. Ride to the top of the hill.
Head to the bridge via the righthand side path. Spend about 20 minutes here enjoying the view and taking photos. Around 1:30pm walk down the hill to the castle.
Look for the castle entrance and wait until your group is called at 1:55pm via the screen. You have 5 minutes to enter otherwise you will have missed your tour, so don't wander off. The tour lasts about 30 minutes and they have a cafe and bathroom on the other end. Cameras are not allowed, so unplug and enjoy your tour!
At the end, make sure to step out on the balcony for a good view!
To get back to Fussen, walk back up the hill and catch a bus back down. From here, look for the number 78 bus stop you were left off at and take that back to Fussen. We took a 3:45pm bus to the Fussen train station.
To get to Munich, catch the 4pm train. I believe a train in the afternoon leaves every 60 minutes*.

Hold onto your Bayern ticket still. This train will take about 2 hours.

Make sure to bring: printed confirmation of castle tickets, Bayern tickets, credit card, about 20 Euros cash, water.
Wear: comfy shoes and a jacket. Umbrella if it looks like rain.
I hope this helps you have a fun castle day! As a reminder, if you have any questions leave a comment below, or DM on Instagram @thewhimsysoul if you need a fast answer!