We're here in Hawaii this week and made sure to pick up a bottle of eco-friendly sunscreen to wear on our trip before we left San Francisco. While the Hawaii Sunscreen Ban isn't going into effect until 2021, we still wanted to make sure we wore safe sunscreen while visiting the islands so we could do our part in protecting the world's coral reefs! These are my top 5 favorite eco-friendly sunscreens without oxybenzone and harmful ingredients to wear on any Hawaii or tropical vacation!
First, Why Do You Need Eco-Friendly Sunscreen?
In case you didn't hear, the toxic chemicals in sunscreens are killing off our coral reefs. (Crazy how nature doesn't survive well when faced with harsh, non-natural sunscreen ingredients in the water!) Hawaii signed a bill to ban all products with oxybenzone and octinoxate as they "have significant harmful impacts on Hawaii's marine environment and residing ecosystems, including coral reefs that protect Hawaii's shoreline." Coral bleaching is real people – when coral is stressed out, it turns white and is at risk of dying. Non-organic chemicals can trigger this! Sunscreen killing coral isn't something to be taken lightly.
The official ban isn't going into effect until 2021, but we wanted to pick up reef friendly sunscreens to travel with for our Maui trip as the protection our the environment is close to our hearts. Also, it's not that hard to switch out our go-to brand, there is eco-friendly and biodegradable sunscreen at Target, it's not like you have to track down some hippie store to find reef safe sunscreen.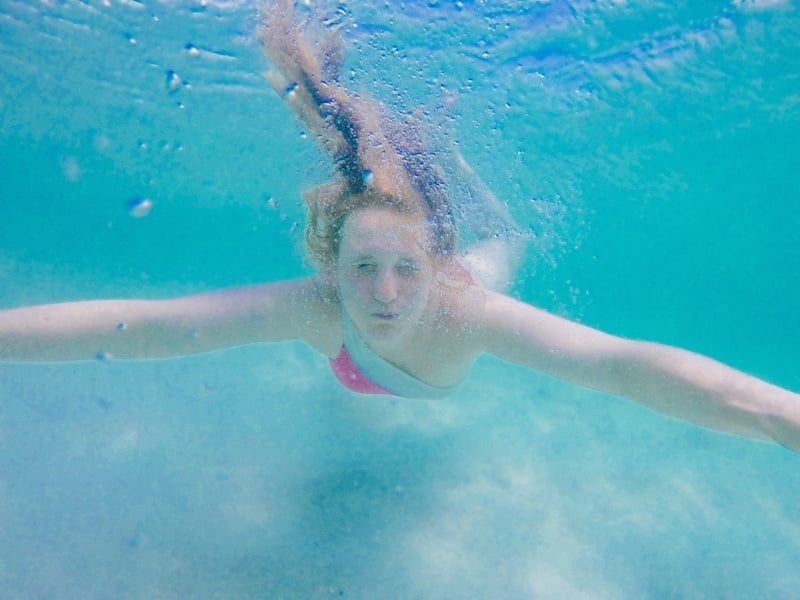 5 favorite Eco-friendly Sunscreens Without Oxybenzone
There are a lot of sunscreen brands out there and while some claim to be reef safe, they aren't always exactly reef safe. It can be confusing, as we'll highlight below. What are nano titanium dioxide exactly? Is octocrylene reef safe?WTF is zinc oxide?
The most important things to look for on a label is oxybenzone and octinoxate, and make sure not to wear sunscreens with those ingredients in ocean water. Also avoid sunscreens with petrolatum, aka known as mineral oil, which takes years to biodegrade & harms marine life. Titanium Dioxide is another active ingredient to avoid, as it can form hydrogen peroxide in warm water which is B-A-D!
You can shop many eco-friendly sunscreens HERE on Amazon, or buy at a local store in Hawaii!
Ok, now that we got that science lesson over, here are my brand picks for the best organic sunscreen + natural sunscreen to wear in Hawaii!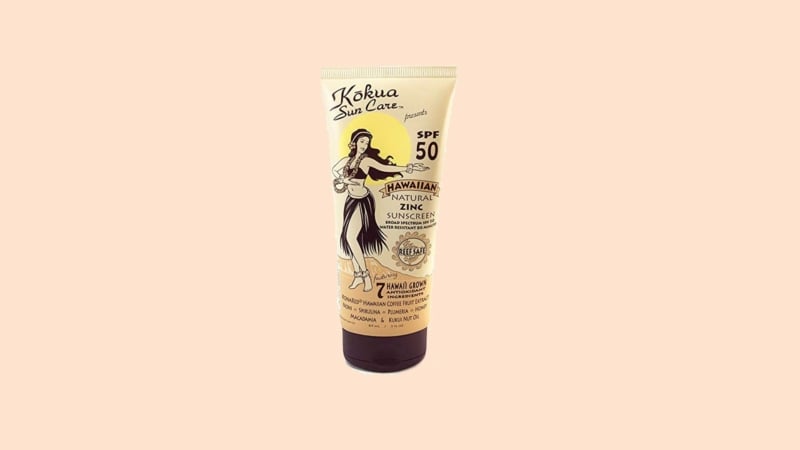 Price: $29
Kokua sunscreen is a go-to brand for environmentally safe sunscreen. It's actually rated number one for ocean-friendly sunscreen by EWG! The complaints about this brand is that it does tend to make your skin look white, but it holds up extremely well in the water, which is kind of the point of Hawaii sunscreen, right?
It's an SPF 50 with 25% non-nano zinc oxide, UVA/UVB broad spectrum, physical mineral sunscreen offers maximum protection, 80 minutes water resistant, sweat resistant, waterproof, rubs in clear like a moisturizing lotion, not greasy, not sticky.
Shop Now


Price: $21
A made in Hawaii brand, this is considered another best natural sunscreen to wear while visiting the islands. Customers love how creamy it is to apply, though they note they have to re-apply it more often than with traditional sunscreen brands. It's made without the toxins that cause coral bleaching. No Oxybenzone, Butylparaben, Octinoxate or 4-methylbenzylidene camphor used. Comes in a 2 oz biodegradable container that disintegrates in a landfill after two months, which is extra cool! You can find this brand is most stores in Maui.
Shop Now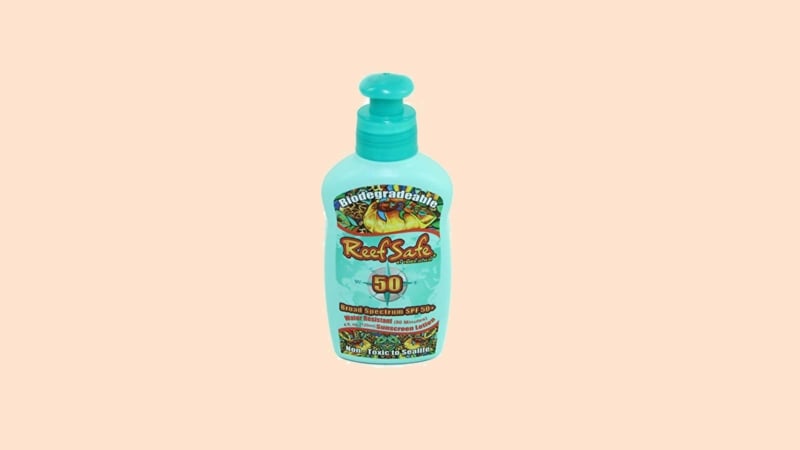 Price: $10
I mean, the name really says it all, doesn't it? This brand has to make any reef safe sunscreen list – it's literally called "reef safe!" It comes in a kid-friendly packaging, is fragrance-free, water resistant up to 80 minutes and customers say it makes a great daily moisturizer, not just a sunscreen.
Shop Now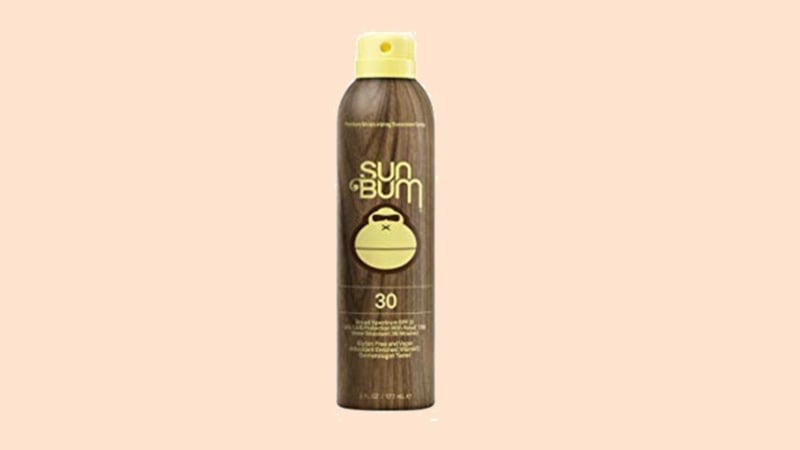 Price $18
Is Sun Bum reef safe? I found this to be the most confusing and *think it is* so I'm putting it on this list. It doesn't contain oxybenzone and octinoxate, but it does contain octocrylene which some random google searches claim is also bad, but the state isn't banning octocrylene, so I decided it was safe to use. (The state seemed like a better trusted source than online forums!) You can buy Sun Bum sunscreen at Target, which made it easy to pick up before our trip, or on Amazon. I loved how this is an eco-friendly sunscreen spray, not a lotion, as I find it easier to use sprays and prefer to stock up on those.
Shop Now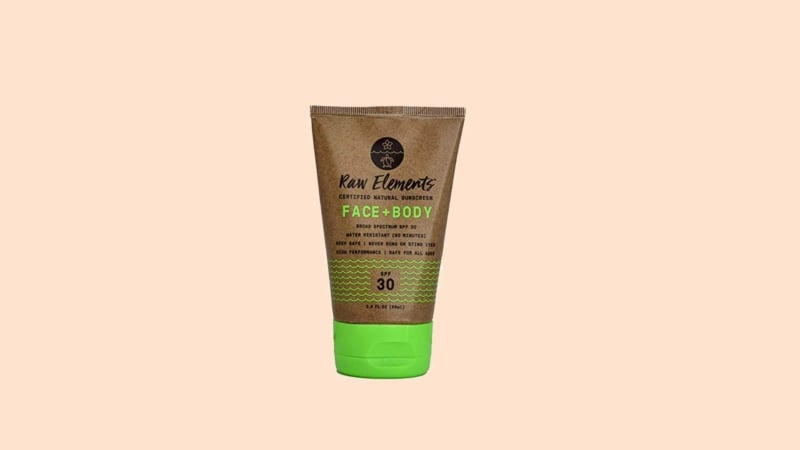 Raw Elements SPF 30 Certified Natural Sunscreen
Price: $17
This zinc oxide sunscreen is popular because it rubs on really well. (Some of these natural sunscreens are harder to rub into your skin.) It does apparently have a really strong sunscreen smell, which you may or may not love. It's another EWG top rated sunscreen as it's reef-safe, Leaping Bunny certified cruelty-free, non-GMO and has biodegradable in recyclable packaging.
Shop Now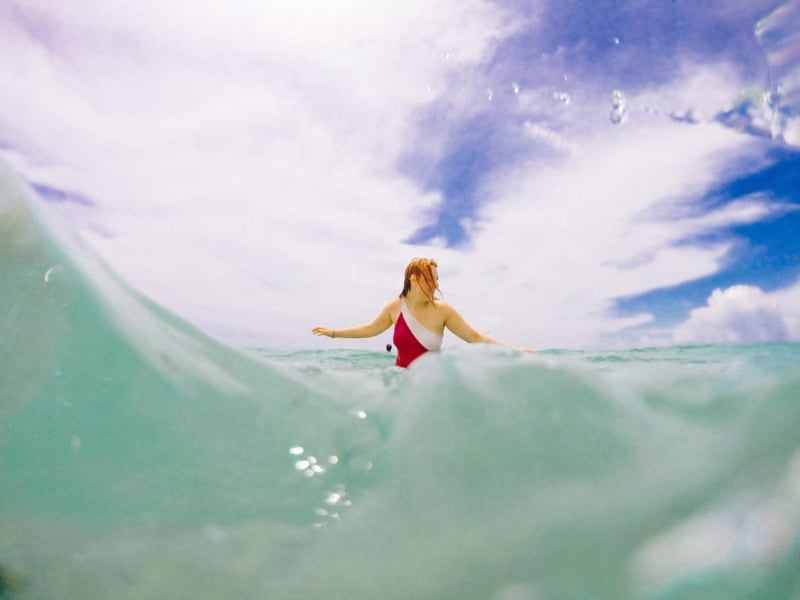 Make Sure It's Actually An Eco-Friendly Sunscreen
Trying to nail down if a brand makes coral safe sunscreen is actually harder than you may think. Many times, sunscreen brands will use the words "organic" but they still haven't harmful chemicals in them. Or, they carry some reef safe sunscreens, but some that aren't.
Wondering if blue lizard sunscreen reef safe? Some of their sunscreens don't contain oxybenzone, but some do, which is why you have to read the bottle. Is Babyganics sunscreen reef safe? Not really – it contains Titanium Dioxide, which the state of Hawaii recommends staying clear of, as we mentioned before. It is rated as one of the best sunscreens for kids as it does contain a lot of organic ingredients, just maybe use it on land-based trips?
When in doubt, check this list from Hawaii itself, though there are new brands popping up each day. Hawaii safe sunscreen isn't cheap, it'll be 2x or 3x the price of your standard sunscreen, but it's really important that you don't visit the island and wear products that will harm the beautiful place you are visiting!
Have you tried any of these brands? Would love to hear your thoughts, leave a comment below!