We stepped out onto the banks of Folsom Lake and I literally squealed with joy. As far as my eye could see was a super bloom of wild California Lupine, transforming the entire lake into a beautiful shade of blue.
After hiking earlier that day to find California poppies, the girls and I were starving. We found a spot in between the Lupine to set up a picnic and here we enjoyed a leisurely evening amongst the flowers.
In this post I'll be sharing exactly where to find California lupine and important tips to know before you go (like where to park, when they blooms, etc) along with my go-to picnic packing list.
I Found The Most Magical California Lupine Wildflowers For A Picnic!
Location: Folsom Lake (Near Sacramento)
Bloom Season: Apri-May (varies each year)
Fee: $12 (cash or card accepted)
We didn't know it then, but this year ( Spring 2021) was a rare super bloom of Lupine. Catching a wild super bloom is like, the gold medal among plant communities and nature lovers. I've been to flower fields all around California but haven't yet caught a super bloom, so this was extra special.
Why Was There A Lupine Super Bloom?
Here's the stitch: Folsom Lake has been drying up, which has been disappointing but there's a silver lining. Because the fertile soil on the shores of the lake is exposed this spring due to lower water levels, it was the perfect spot for the lupine flowers to thrive under the full sun.
The purple stretched as far as my eye could see and the air was insane here — it smelled sweet and floral to the sheer amount of flowers. I was also thankful there was so many flowers which meant we weren't crowded next to other people (I still have a week left to go before I'm fully vaxed up) and that also made it easy to find a peaceful corner of the fields to set up a picnic.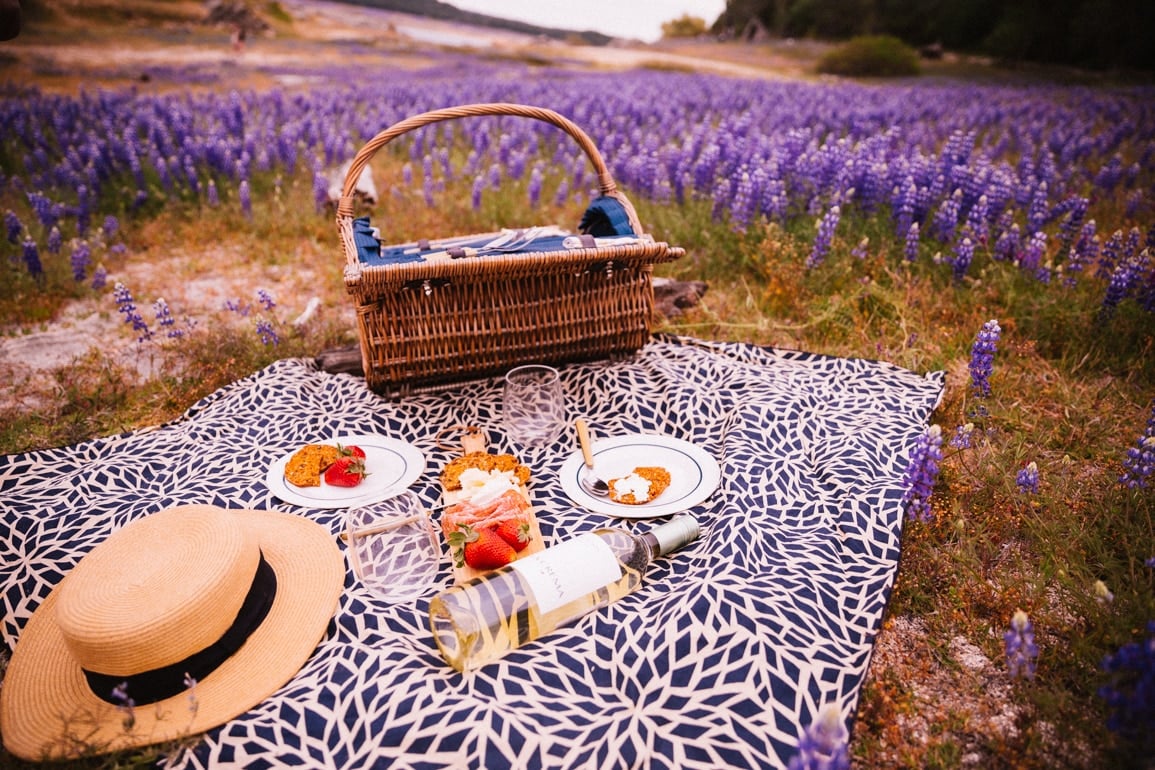 Wait, Aren't Those Bluebonnets?
So from what I can tell online, Lupine and Bluebonnets are the same plant species but there's different varieties of the plant. Lupine is a California native plant, you can find it growing all over (here in San Francisco where I live, random hills on the side of the highway throughout the state, etc.) But nothing like this super bloom of flowers.
They also grow Texas, where they're called bluebonnets, plus Wisconsin, Oregon, Washington and near Vancouver (amongst other states I'm sure.)
How To Safely Visit Flower Fields
Keep in mind that flowers are living things just like you and me, so if you step on them or pick them, you're hurting the flowers! I'm not sure about lupines, but I know for poppies that stepping on them means they can't grow back the next year, so it's always good to assume that will happen with any flower field.
Watch where you step and be careful not to step on flowers. Luckily in this field, there's tons of footpaths and large empty patches to make it easy to walk around the fields safely. If you are coming for a picnic, bring trash bags so you can pack all your trash out. I also encourage you to scan the area of the field you are in for trash others may have brought and take that with you! (I found a hair tie and a beer bottle cap.)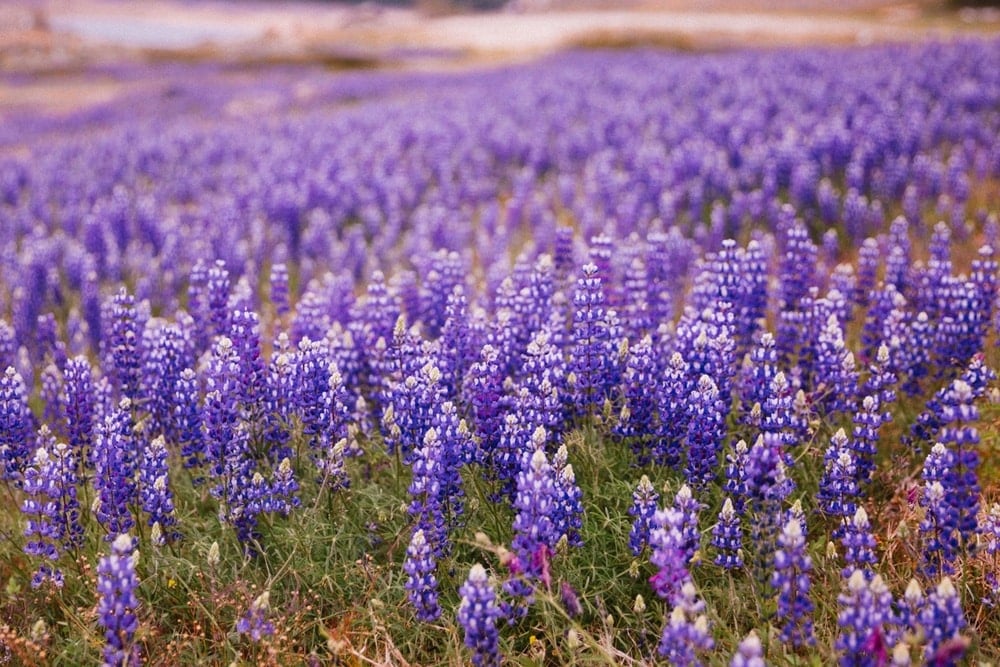 How To Find The California Lupine: Where To Park, Best Time To Visit, ETC
OK! So, as I mentioned above, lupine blooms all over California in the springtime but I've never seen a concentrated field like this before. I've only seen small bushes in random parks (as seen in this post.)
This super bloom of Lupine is located at Folsom Lake outside Granite Bay, which is basically a suburb of Sacramento. It's located in the state park, so there is a $12 entrance fee. You can pay in cash or card, just make sure to tape the receipt to your windshield to avoid tickets (we saw a car get one by a ranger since they didn't have their receipt in their dash!)
You're going to want to head towards Beeks Bight parking lot in the park. Depending on when you are visiting, it may or may not be full. If it's full, the attendant at the gate will tell you to park at Dotons Point, which is about a mile away from Beeks Bight. Don't park there.
INSTEAD, drive towards Doton's Point and look for small gravel parking lots on the side of the road. There's a few of them. Grab a parking spot in one of these lots and walk through the trees towards the lake. You'll pop out right in the middle of the lupine flower fields! No hiking needed.
I think the best time to visit is for golden hour – sunset, as this area of the state can get pretty hot during the spring (easily up to 90 degrees.) Plus, if you luck out on a clear night you'll get to see a colorful sunset over the (shrinking) lake and the flowers. It was cloudy on the right we visited, but it was still a dang good evening!
We brought some cheese and nom noms for a little picnic in the flowers. If you follow me on Instagram you know that I'm always finding myself on picnic somewhere and I've nailed down the perfect picnic packing list.
Flower Field Picnic Essentials
Justina and I accidentally matched with white dresses. Not planned! I'm wearing this white dress from Target in an XL. It looks so cute for summer days and can be worn very minimally (ie no special jewelry, etc).
Shop The Perfect Picnic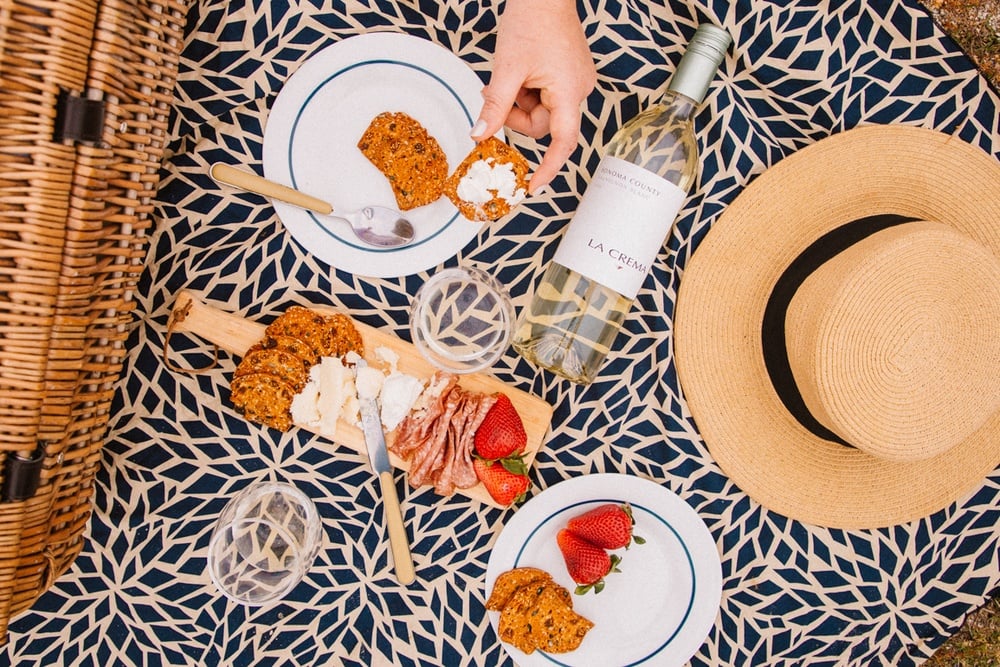 I hope this helps you feel inspired to grab your besties and head to the super bloom to soak up all the flower magic! Their season won't last forever, so run, don't walk. If you miss the lupines this spring, mark your calenders try again next year!
Got questions about the lupines at Folsom Lake? Drop a comment below or DM me on Instagram @thewhimsysoul and I'll be happy to help!