The first thing you'll notice when you check into Hotel Ketchum is their stunning views of Bald Mountain from the lobby windows, and many of the rooms. The second thing? All the sheep & ewe decor. On murals, in paintings, even as little statues marking the door for each guest room.
Hey, Ketchum is a ski town built on sheepherding after all. My husband and I just got back from a 4-night marvelous winter trip to Sun Valley, and Hotel Ketchum was the perfect home base for exploring the mountains. Let me show you exactly why you need to book a stay here on your next Sun Valley, Idaho trip.
Hotel Ketchum Review 2022
We don't ski or snowboard, and I know, you're probably like: why visit a town literally famous for the world's first ski lift if you don't ski? Well, Sun Valley has so many epic things to do in the winter off the slopes. From snowshoeing to ice skating to hot springs and of course tons of local beer, there's a lot to do here.
And Hotel Ketchum is in the heart of it all. Right on one of the main streets through town, we found it super easy to walk to any location in Ketchum that we wanted. Free parking with plenty of spots was always open after we came back from adventures further from town.
Inside, well, you're in for a treat. The lobby of this Ketchum Hotel nails that modern bohemian mountain style perfectly. You'll find walls decorated floor to ceiling with mirrors, paintings and faux animal skulls all sitting behind a see-through fireplace. The large windows overlook Bald Mountain or Baldy as the locals call it.
Book The Baldy King Suite Room
This is the type of room we stayed in and holy cow, I'm still not over the mountain views right from our room's window! It also has a large balcony that overlooks the Baldy. While it was a little too snowy to lounge on during our stay, I could totally see myself having morning coffee each day from this spot.
If that room is booked, I recommend one that has a mountain view, even if it doesn't have a balcony. There's something extra magical about waking up to that view each day, it really set the tone for your time exploring the area.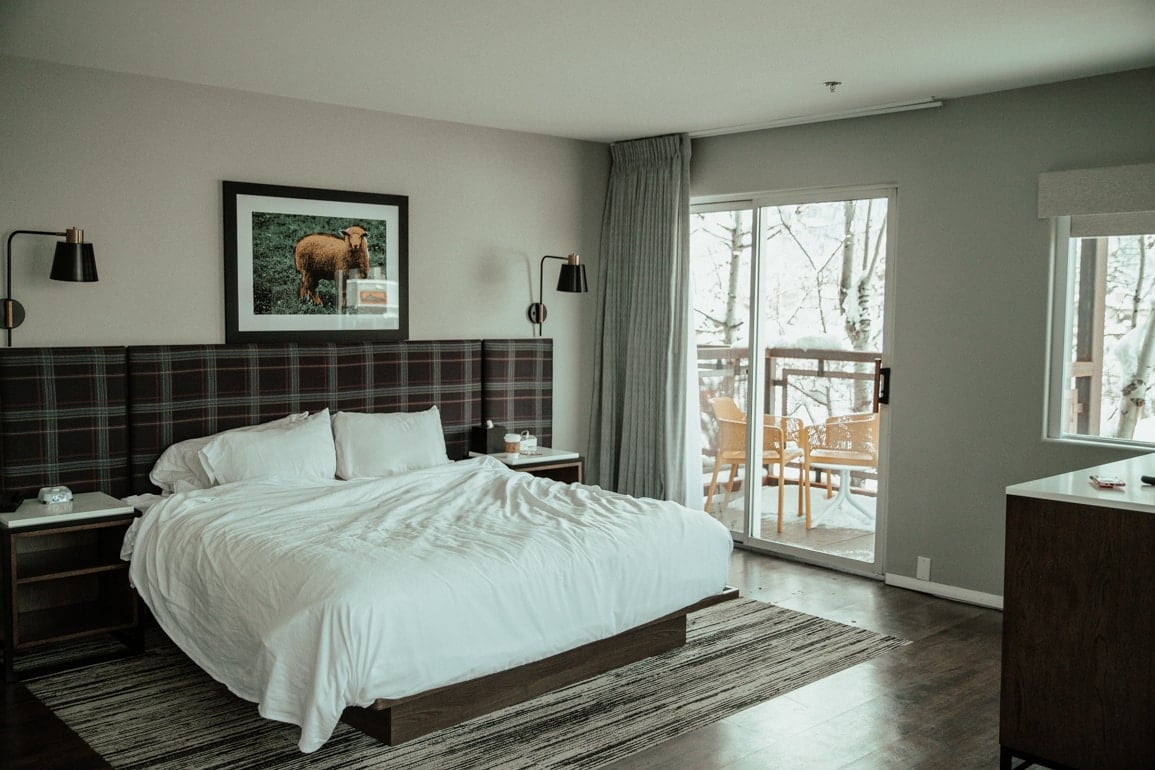 Set Aside Time For The Hot Tub
The Hotel Ketchum hot tub and heated pool are on the next level. They heat the pool to a temperature super similar to the hot tub, just slightly cooler, so in the wintertime, everything is available to soak in. We visited on a weekday, but I imagine on a poppin' winter ski weekend, this place is a fun hot tub party.
We had tried to visit local hot springs one morning, only to find the roads weren't plowed yet so we had to turn back. Instead, we hit up the hot tub at Hotel Ketchum which was equally rewarding (and no hiking required!)
Free Hotel Ketchum Breakfast For All Guests
Probably my favorite guest perk for is the free breakfast for all guests. Most lodging in Sun Valley doesn't offer this amenity, or if they do they opt for just a basic continental. Hotel Ketchum knows starting your day off with things like hashbrowns, fresh bacon, eggs, sausage and fresh fruit make all the difference.
Breakfast is cooked at The Hangout fresh each morning and served buffet style, along with hot water for tea, coffee and juice. Especially during the cold mornings, I was thankful we didn't have to brave the unsolved sidewalks for a hot breakfast but instead just down to the lobby.
Hotel Ketchum Amenities
Free parking
Free wifi
Outdoor Heated Pool & Hot Tub
Complimentary Daily Breakfast in The Hangout
Complimentary E-Bike Rentals
Gear Garage (snowshoes for winter!)
TVs in room
Fridge in room
Microwave in The Hangout
Rooms with views
Rooms with balconies
Firepit
Outdoor lounge areas
Cookies at check-in
Fitness Center
Coin Operated Guest Laundry
Pet friendly
Booking Tip
: Book
HERE
to earn free rewards nights on any hotel, or
HERE
directly to get seasonal special offers on rates.
Borrow Bikes or Snowshoes
Another really cool perk the hotel offers is free e-bikes for the summer and snowshoes in the winter. Ketchum is small enough that you can walk, but there are some nice bike paths with sweeping mountain views.
Or, come winter tip, hit up the literal hundreds of miles of trails in the Sun Valley area. If you need a place to start, head over to the Sun Valley Nordic Ski Center, where you can gain access to their trails for just $10 if you bring Hotel Ketchum snowshoes.
Have Dinner At Barrio 75, Hotel Ketchum's Restaurant
For dinner one night, head next door to the hotel is Barrio 75, a Mexican restaurant that was one of ou favorite meals during our stay. During the winter they put up dome tents around outdoor tables, making an extra magical winter dining experience.
Pro tip: order the Tequila flight. Yes, I know, why order tequila in Ketchum Idaho of all places? They just do it RIGHT! Paired with a few tacos and guac, this is such a tasty dinner and literally steps from your room.
We loved our stay at this cute Ketchum Idaho hotel and I know you will, too. When you come to Sun Valley, book a stay here.
Got your own Hotel Ketchum reviews to add? Drop a comment below so everyone can see. And while you're here, learn about some of our favorite other cool hotels around America.
More United States Hotel Stays You'll Love