Everyone wants to live in the Practical Magic house, right? The classic 1998 film, starring Sandra Bullock and Nicole Kidman, based on the book by Alice Hoffman, frequently tops lists of favorite witchy movies for many reasons.
Real witches love it because it's one of the more accurate representations of magick and witchcraft to come out of Hollywood.
Spooky babes love it because it's the ultimate girls night pick for Halloween.
Practical Magic has long been my own personal favorite movie and, in fact, we have a watch party in October and make apple cider margaritas at my house every year! (IYKYK).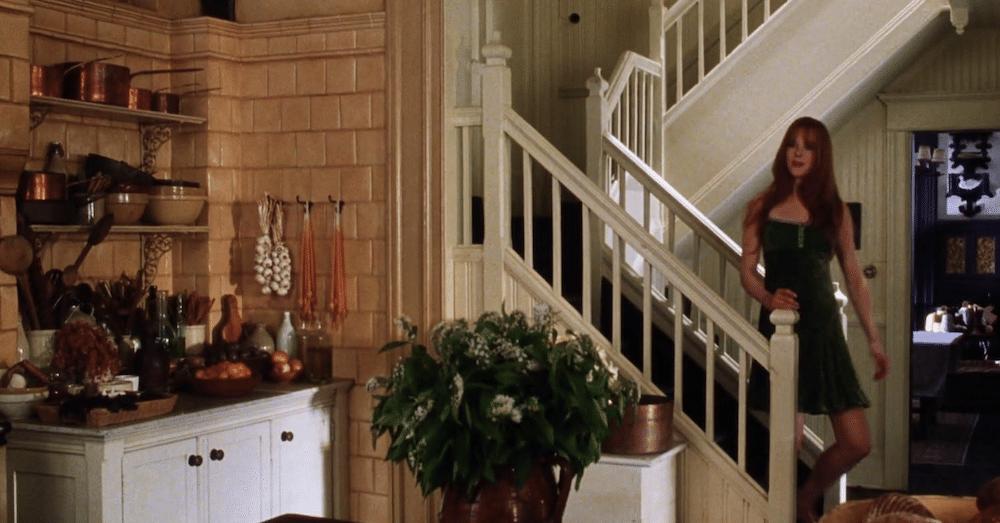 But the big question is always: is the Practical Magic house real?
Sadly, no, the exterior shell of the real house was built temporarily as a film set and the interior shots were filmed in the studio (like most movie houses). The husk of the house was torn down when filming concluded.
However, you can visit some Practical Magic filming locations, including San Juan Island, WA. In fact, you can still see the white buildings where Sally's shop is, Verbena Botanicals, if you visit Whidbey Island where the exterior town shots were filmed – even 25 years later!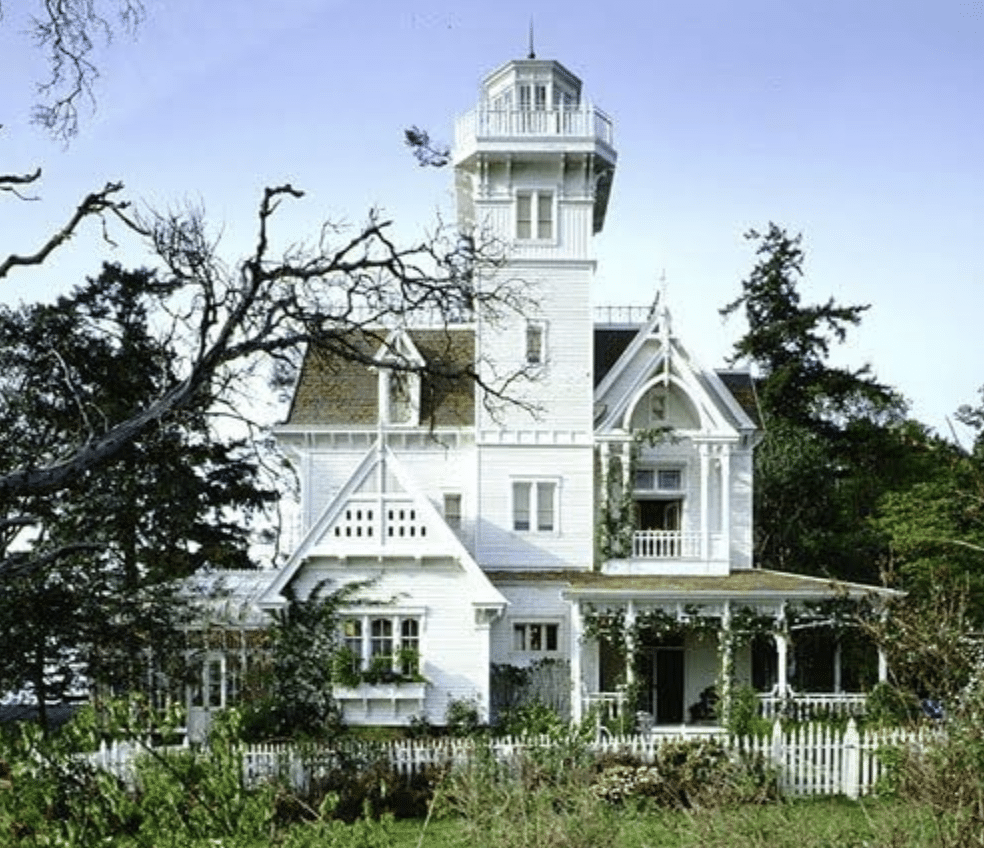 Yep, the movie is set in New England, but most of the filming was done in the state of Washington, known for its moody weather.
The house was an instant draw for many people as soon as the movie came out, with its romantic, overgrown garden, conservatory, tower, and chic, boho vibe.
This is due in large part to the work of production designer Robin Standefer (who was hired by the movie's director, Griffin Dunne). It was so instantly popular that the fake real estate was featured in a 10-page article in Victoria magazine in October 1998.
Practical Magic Author Alice Hoffman was awed too! She says, "When I visited the stage set for Practical Magic in Los Angeles, I realized that the set designers had created a complete physical world out of their imagination, just as I had. It was as if we were both novelists."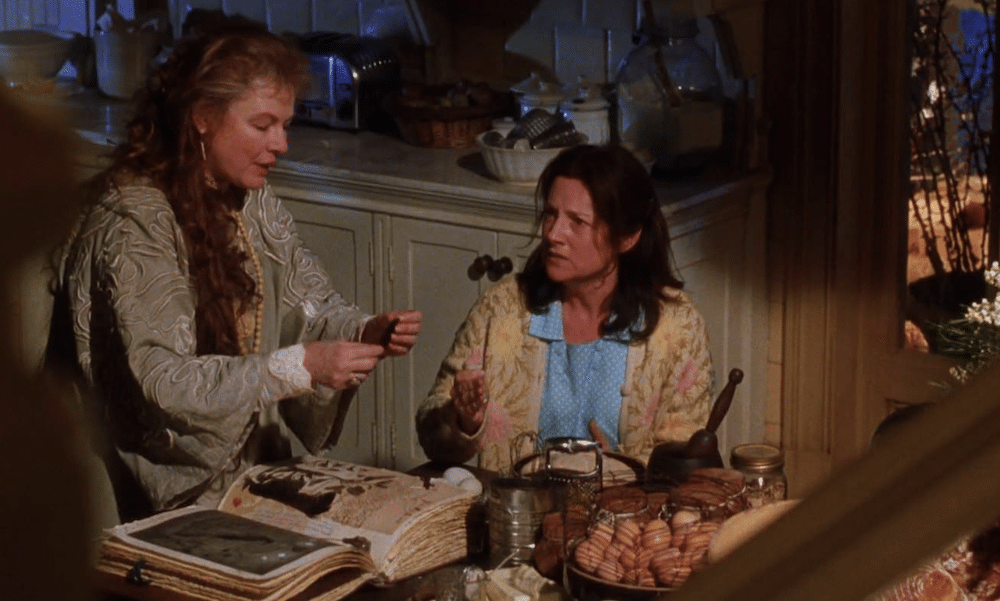 So, no, you can't visit the Victorian home we all love…
But never fear! With a little bit of practical magic of your own, you can turn your own home into the house on the movie Practical Magic!
Practical Magic Home Decor
The key to magical house decor is layers of modern and vintage pieces to make it feel realistically lived in, but still romantic, as well as lots of plants, jars, and mystical items! You don't need to literally live in Victorian houses or moody coastal homes to achieve a witchy, whimsical vibe that channels the Owens women.
The Kitchen
The kitchen is where a lot of the action in the movie takes place, from resurrecting Jimmy Angelov to midnight margaritas to Aidan Quinn's legendary pancake flip. More importantly, it's where the women of the town gather to finally set aside their differences and recognize that there's a little witch in all of us.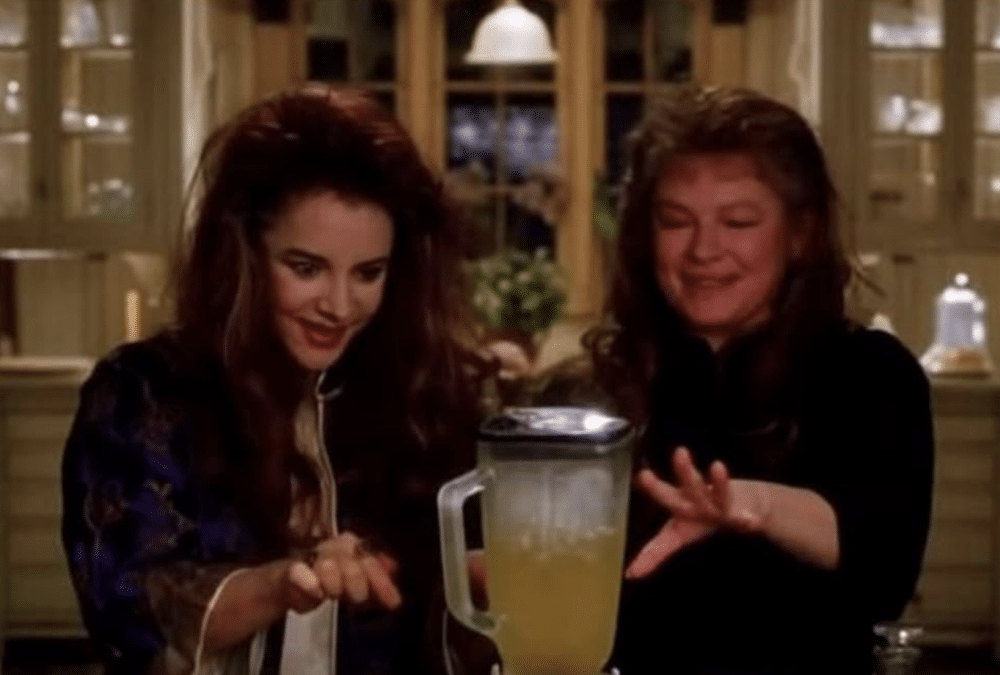 This is also where Sally and Gillian first witness the aunts perform magic on behalf of the heartbroken and lovelorn women of the town. The kitchen is a functional space, but still beautiful and inherently witchy.
Fun fact: the produce shown in the move aren't props! It was from local farmers and the seafood donated by Penn Cove Shellfish.
Copper Pots
One thing I noticed in the Owens sisters' kitchen is beautiful copper pots on the shelves. This is one of those things that can really elevate your cooking experience and the aesthetic of your kitchen at the same time.
Magickally, copper is associated with love and harmony, due to its connection with the goddess, Venus, so it's perfect for infusing everything you cook with love.
Cast Iron Pans
In addition to copper pots, you'll want some cast iron pans as well. (After all, what if you need to hit your sister's undead boyfriend over the head with one?) Er, they're great for all sorts of cooking purposes too!
Iron is associated with protection and luck which is why it's common to nail an iron horseshoe over doorways. The upside down shoe keeps good luck in, while the iron keeps negative energy out.
Blender
Of course, you need a blender for whipping up midnight margaritas in! This Kitchenaid blender is chic and functional, whether you're letting the cauldron bubble with tequila or blending up fresh fruit smoothies for breakfast. It comes in lots of different colors to suit your personal aesthetic.
Cauldron
For those occasions when a typical pot or pan, (or blender), just won't do… don't forget your cauldron! Yes, witches really do brew up potions and spells in cauldrons like the aunts do at the end of the movie.
Cauldrons represent creative energy and are often associated with the goddess and the womb space. They're typically made of cast iron and can be used for brewing potions, burning incense, burning images or incantations of things that no longer serve you, and more.
The Conservatory
The conservatory is one of the favorite spaces in the movie. It's a beautiful glass-enclosed room, filled with plants, glass cloche jars, and other mysterious objects, with a view of the rose-covered arbor outside and the sea beyond. I think it's really one of the most aesthetic parts of the movie and of the already-stunning house.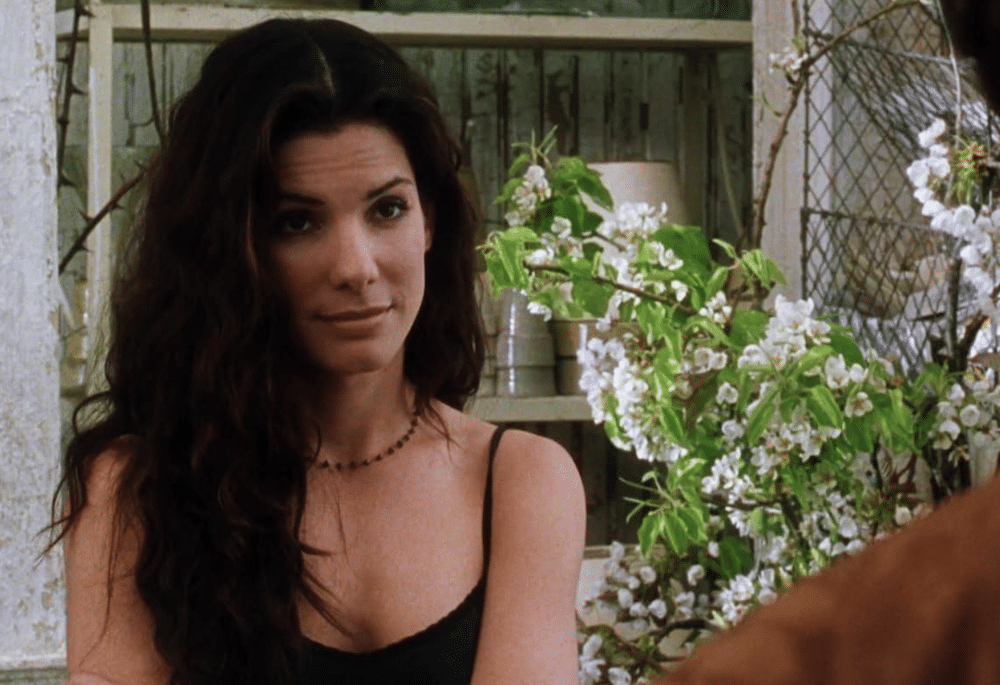 If you happen to have a greenhouse or sunroom, you can make a full conservatory of your own, but you can achieve this aesthetic in any room of the house.
Bell Jars
The most important feature, I think, of this look is lots of glass jars, bell jars, and cloches. This mismatched look brings to mind an antique apothecary shop – you can see where Sally found the inspiration for her own shop in the movie, Verbena Botanicals.
Whether you create little terrariums with living plants in your jars, store dried herbs and flowers in them, or keep them empty for a clean look, a collection of glass jars on a shelf, mantel, or tabletop is oh so romantic. Believe me – every witch has a collection of jars they just can't part with so we might as well make them pretty!
Apothecary Containers
In addition to jars that you can fill with items of your own choosing, you can also complement this look with apothecary containers of candles and other goods. These Apothecary candles from Anthropologie really bring the romance and the magick, especially this delectable Night Gardenia scent.
Tiffany Lamps
One often-overlooked element of the conservatory is the beautiful glass, Tiffany-style lamp that hangs overhead. I think the stained glass component here adds some lovely layers of complexity to the glass windows and glass jars in the room. You can find lamps like this that hang from the ceiling or that stand on a tabletop to complement your own conservatory space.
Live Plants
Of course your conservatory needs some living plants as well! Etsy has a wonderful selection of live plants that you can order, depending on your location, although I recommend checking out your local nursery as well.
Stone and Terracotta Pots
You'll also need something to put your new plants in! In the movie, most of the plants in the conservatory are actually in very simple, mismatched terracotta pots. (I feel so validated because this is the same thing we did recently in our living room – Practical Magic is subliminally inspiring me apparently.) I also think stone and concrete pots would really work well this aesthetic too though!
The Living Room
The living room is one area of the house where we don't spend a lot of time in the movie, but it is where the women gather in a sacred circle of sisterhood to free Gillian from Jimmy's possession. It has a different feel from much of the house, with darker tones and more wood, befitting the darker tone of the scenes that take place there.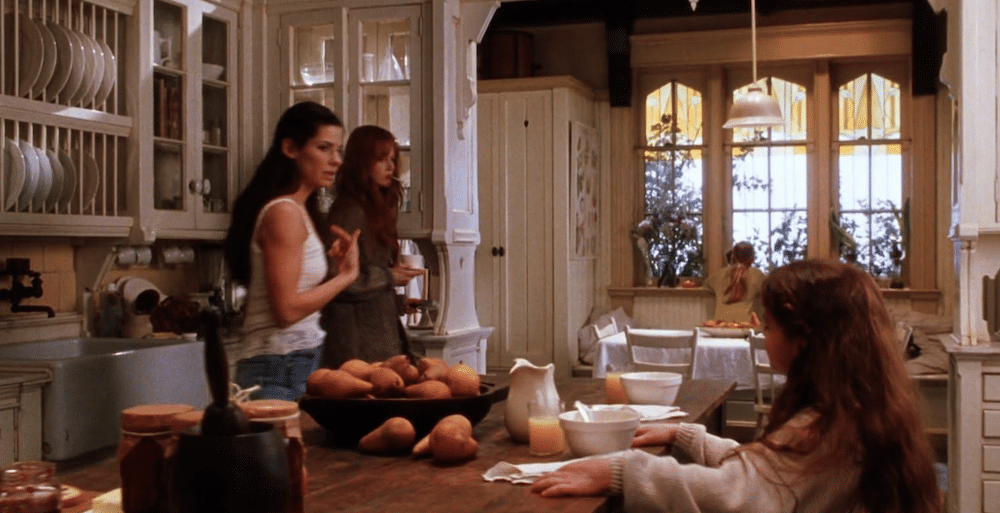 Faded Rug
To start, you'll want a lovely faded rug that looks like it's stood the test of time… luckily there are amazing brands out there creating rugs that look old but with modern perks. Although most of the living room is darker in tone, a lighter-colored rug helps ground the space and keeping it from feeling to dark.
Candles
One of the things that makes the living room so vibey in the movie is that they've filled it with dozens of candles of all shapes and sizes. While you may have to use an actual match or a lighter to light your candles, (unless you have Sally's talent for magic), a mix of pillar candles and taper candles in shades of white, cream, and beeswax will bring the Practical Magic vibes in a second.
Candle Holders
You'll need something to put all of those candles in, too! Collect lots of different types of candle holders in metals, clay, and glass for a layered and romantic look. Here are a few favorites:
Antique Art
There are paintings on the walls throughout the house, especially in the living room. Botanical prints, antique-style portraits, and landscapes are all perfect for achieving this look and creating a really soft, romantic, and elevated aesthetic throughout your home.
Other Witchy Decor Ideas
In addition to channeling the magic decor of the Owens' family home, I wanted to share a few more suggestions for ways to witch-ify your house for October… (or all year long!)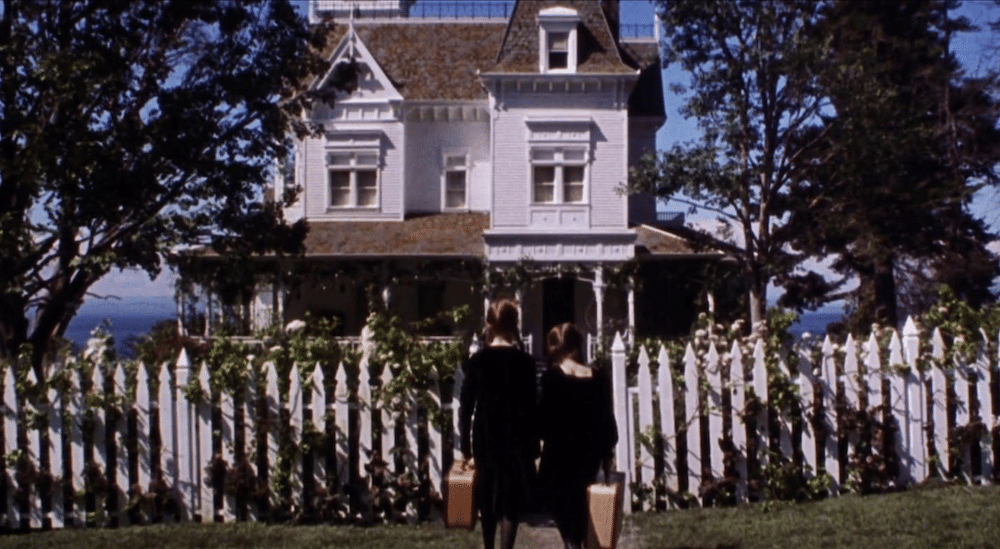 Witch Balls
Witch balls are round glass ornaments that you hang in the windows of your home to repel negative energy and evil spirits. The idea is that these entities are drawn to the beautiful glass baubles and then get sucked inside! They're fun and pretty, whatever function you believe they have.
Sometimes witch balls are made with simple glass ornaments filled with herbs and crystals, but my favorite kind are these stunning hand blown glass ones.
Tarot Card Tapestry
Tapestries printed with tarot cards and other mystical imagery have become popular witchy decor in recent years! Although I don't believe we see any tapestries in the Practical Magic house itself, they do feel like they lend themselves well to the boho chic aesthetic of the movie. I like that this one relies on neutral colors for a clean look.
Crystal Ball
Although the women of the Owens family seem to prefer palm reading for divining the future, a crystal ball is a beautiful item that can serve both a mystical function and as decor.
That's right, many witches do actually use a crystal ball for "telling the future"! Or, more accurately, for what we call scrying. Basically you place the ball on a stand, preferably on a dark surface, and gaze into it, allowing your eyes to become gently unfocused.
You can really think of this as a meditation aid as gazing into the crystal helps you to clear your mind and to receive visions or intuitive hits about what you need to do!
If you use a crystal ball as decor, just be sure to place it somewhere safely away from any sunlight as it will act like a mirror in the sun and can actually cause fires!
Whether you're decorating for fall or embracing the witchy vibes all year long, we hope this post gives you some practical and magical inspiration. If you use our tips, be sure to tag @thewhimsysoul on Instagram so we can see it!