You can't come to Oslo, Norway and not take part in a floating sauna ritual. Off various marinas, in the Oslo Fjord you'll spot little floating saunas with locals jumping off them into the cold water and climbing back inside the warm hut (only to repeat and repeat and repeat!)
We just got back from a weekend trip to Oslo and got a chance to visit an Oslo fjord sauna and it was hands-down of the most magical travel activities I've done in years. I can't stop talking to everyone about this experience!
The History Of the Floating Sauna Ritual
Sauna culture is actually borrowed from Finland, a Scandinavian adjacent country, and has really taken hold in the city of Oslo over the past decade (I think the trend of wellness and self-care has fueled that!) You've probably seen a photo of this ritual before, mosty likely in the winter where people are in bikinis and dipping themselves into ice cold water.
This arts ritual is a daily experience, not a special pricey treatment like spas are in the united states. The act of heating your body up to 190+ degrees and then plunging it into cold water (colder the better!) has tons of health benefits including better blood circulation and a stronger immune system.
Don't worry – you don't have to only do this in the winter to have fun and reap the health benefits. We did our sauna ritual in June on the evening of the summer solstice when the Fjord water was about 60 degrees. It felt refreshing instead of shocking.
Though, I personally want to come back to Norway in the winter one day and do a polar plunge at one of the harbour saunas. It looks crazy and I like it's a little crazy (hey you know me – I'm the gal who will go swimming in alpine lakes and waterfalls at sunrise!)
Health Benefits Of Sauna And Cold Plunges
Improved blood flow circulation
Gives you energy
Reduced muscle soreness and joint pain
Improves your immune systems
Closes skin pores
Relaxing and social!
Plus, it's a bit of an adrenaline kick which I think is good for the soul.
What To Bring To The Sauna
2 towels (one to sit on, one to dry off)
A water bottle (most have stations to fill up on water but you need a bottle to stay hydrated!)
A swimsuit
Change of clothes
Hairbrush
Many of the saunas have changing rooms, but not all of them do so if that's important to you, look for one that does.
You Can Rent A Sauna Or Go In A Public Drop-In
Robin and I ended up booking our own sauna. This is half because we looked into it the day before and by then, all the times we wanted to go swimming, all the public tickets were booked out. But also because we're travel bloggers and knew we wanted to take photos and make tons of content around the sauna, and it's just easier to do that when you aren't working around other folks.
Our sauna could fit up to 14 people and cost $250 to rent out, so it was a splurge! You don't have to do that. Next time, I'll be looking for the sauna drop in tickets online. You usually have to reserve these online in advance. There were tickets available last minute, just not at the times that fit my tourist schedule, so don't feel like you need to book out months in advance.
The tickets costs around 100 NK (about $10 USD) and start as early as 7am. That's because it's one of those things where locals will pop by before work to take a dip and then head into the office!
Whether you book a private sauna with you and your friends, or do a public drop in, you'll have a blast. These are the best saunas in Oslo to visit.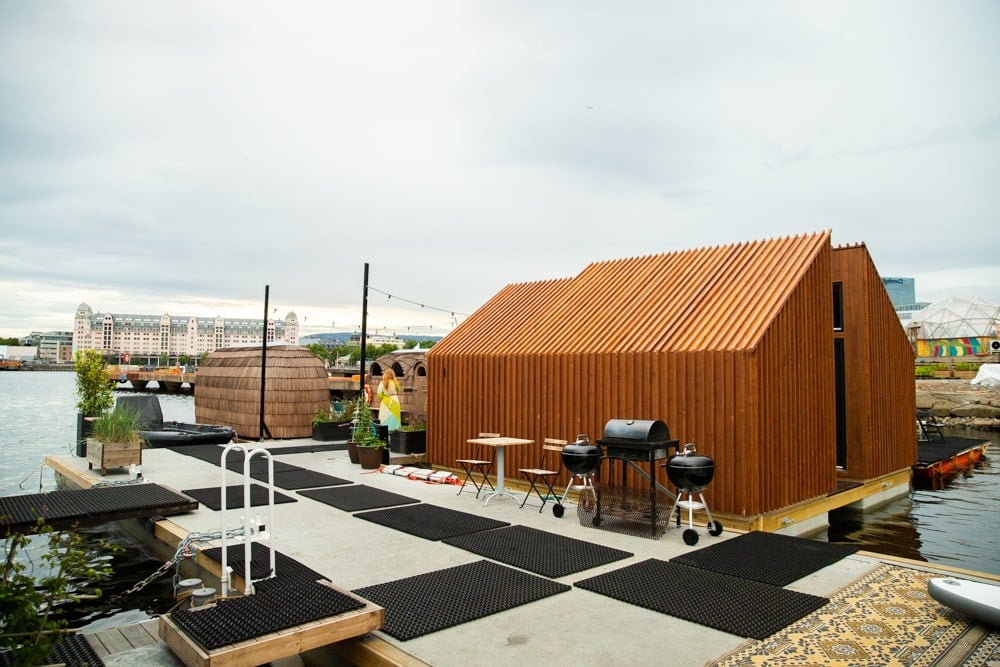 The Best 5 Oslo Sauna Fjord Spots To Visit & Relax In
1. Oslo Badstuforening
This is the company we booked with! They actually have a few saunas around the city. We rented out a large sauna at the Oslo Badstuforening Sukkerbiten dock right next to the Opera House and Munch Museum. I loved it here. They have about 9 floating saunas available that are all powered by a wood-burning stoves so the air smells amazing.
They have showers, water and nearby bathrooms along with a sauna attendant on hand at all times. Like most sauna spots in the city, this one is public in the day for drop-ins and then switches to private bookings in the evenings.
We rented the Skarven sauna which has a rooftop diving board which I did jump off a couple of times!! The first time I jumped with no problem but I chickened myself out on the second and had to do psych myself up to jump as it's pretty high. Most of the time, I just used the lower dock to jump into the water and that was super fun.
My FAVORITE part of our night though was right at sunset. We swam on the summer solstice night and especially after reading our witchy writer's post on celebrating the summer solstice, I had all these big dreams of swimming in the fjord at 10pm with sunshine. But it was raining all day and super cloudy when we started our dip…
…But then, the clouds cleared a tiny bit and we got not only some beautiful golden light but a double rainbow!! On the night of the solstice as we were partaking in an ancient sauna ritual — it felt beyond magical and something I'll remember for the rest of my life.
PS – this company is the photo of a floating sauna in Oslo that I see the most in news and media (I think it's because of the name on the top, it's very iconic!!)
2. Kongen Marina Sauna
Kongen Marina Sauna is a new floating sauna that has a huge dome and thus, 360 views of the fjord as you sit in the sauna! Oh, and the dome glows purple at night for extra cool vibes!
It's located in the Skarpsno neighborhood a bit futher away from the other saunas which is convient if your hotel is closer to here. They only take private bookings so book ahead online.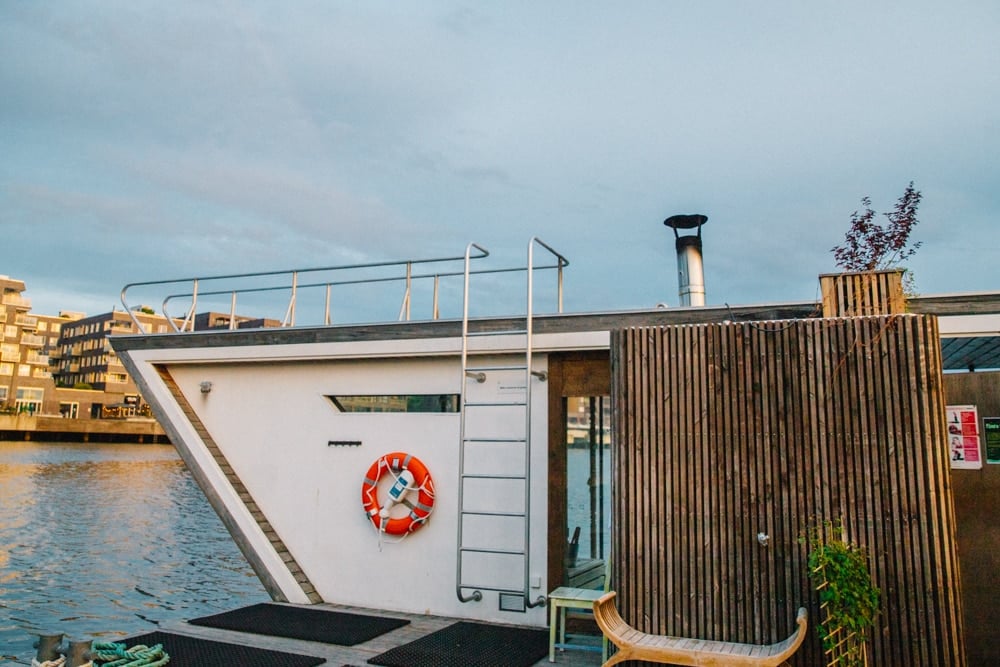 3. KOK Oslo
Floating saunas on a dock are cool, but what's even more unique is a floating boat sauna! We saw one of KOK Oslo's boats trolling around while we doing our fjord swim and it looked really fun. A driver takes you and your group out into the middle of the fjord so you have great views of the water and city skyline.
You can jump into the water and get back into the sauna hut to warm up, and repeat! It also has a rooftop to lounge on or jump off of, and the driver will take you back at the end of the booking so it's super hands-off as a guest.
4. SALT
SALT is a bit different than other Oslo saunas. They have private bookings in large barrel-looking saunas you can rent out, but are mostly known for their sauna events and public drop ins. It started as a nomadic art project but has evolved into a place with food trucks, music, firepits and sometimes even cool things like poetry readings inside the sauna.
5. Green Boats (CURRENTLY CLOSED)
Lastly is Green Boats, which was a popular electric sauna located at Aker Brygge and overlooks the Akershus Fortress and Opera House. At the time of writing this article, they are closed down due to a permit lease issue with the city, but hope to re-open again soon (perhaps at another spot in Oslo!) So, keep an eye on their updates.
I really do hope you find your way to a Sauna in Oslo!! It seems like more and more spots are constantly opening up so I'll try and keep this post updated with any cool new soaks to check out, but if you know of one that's not listed here please do drop a comment with info so everyone can see! Share the fjord love.
Thank With Google
I'm so excited you're here! Being able to help YOU find everyday magic, resources and advice fills my cup to the brim. You may have noticed a new feature on my site called Thank with Google. We were selected to be one of Google's paid early testers for their Thank With Google pilot program. It's a neat experimental feature where you can support Whimsy Soul in a couple of ways.
Either a free virtual sticker on content you liked (it's like a little high five that gets sent right to our inbox for our team to see!) or an option to purchase a sticker to show support. Paid stickers come with the ability to attach a personal note, and I read each and every one of them. All funding goes directly to paying our Whimsy Writers so we can keep giving you tons of new content. You can find the Thank with Google feature in multiple places on my site. If you try it out, let me know what you think! Thank you for any and all support!