This isn't an exaggeration: I get compliments from random strangers on my hair color almost every time I leave the house. What comes as a huge surprise to most people is I'm not a natural redhead!
That's right, I dye my hair! And I use $10 box dye to do it. My natural hair color is a dark dirty blonde. After graduating college I wanted to change things up. I spent a couple of months dying my hair a lighter blonde, then randomly decided to try a rich strawberry blonde/red color and the rest is history.
Since I've been dying my hair at home with box dye for over 5 years, I thought it was finally time I share that process with you! So, here's my exact step-by-step routine for amazing color with tons of tips & tricks that I've learned along the way (aka, learn from my mistakes with box dye so you don't have to!)
How I Use Box Hair Dye To Color My Hair (Step By Step)
My hair color is L'oreal Paris Excellence Creme 8RB. I've been using her for 5 years now. I'm totally open to other brands of hair dye but I just love this shade so dang much so I'm not jumping to change right now.
I work from home and usually pick a non-shoot day to dye my hair. It is a bit of a time suck to do it right, so I recommend you dye your hair on a lazy Sunday. If this is your first time using box dye, make sure to read the intro packet that comes with as well. Alright, here's the steps!
PHASE ONE: PREPPING
Wash your hair and let it TOTALLY dry. It's very important to start with totally clean hair with no grease, oil or products so the dye can stick to your hair better! (I always wash my hair first thing in the morning on Dye Days and by mid-day, it'll be dry enough to start dying. This is why it can be an all-day process.)
Clear your sink and counter oh anything you don't want dye on. This stuck can splash easily, especially if you are new to dying your hair, and I've ruined plenty of hand towels by mistake before!
On that note, wear clothing you don't mind hair dye on (or go naked, I'm serious!)
Grab a hair tye and put it on your wrist for later.
Grab a paper towel or some TP and set near your dye station (this will come in handy if you need to wipe any dye from your face away.)
Unpack the box and read the manual if you are new. Put the #3 bottle in the shower as you'll use this after rising the dye out.
Mix #1 and #2 together to activate the hair dye! Make sure to shake the bottle while it's fully closed so dye doesn't fly everywhere.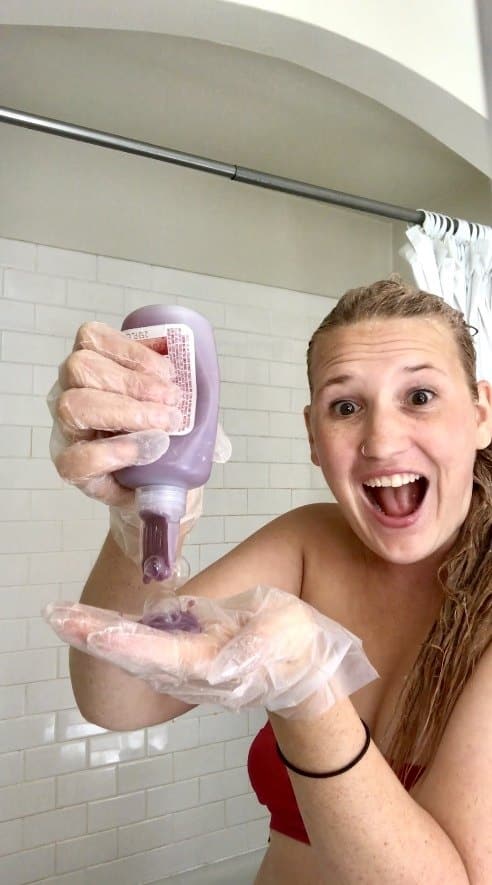 PHASE TWO: DYING YOUR HAIR
Start by putting on the plastic gloves, as these protect your hands from the dye.
Use the "primer" (that tiny bottle) on your ends, including the ends of your layers. This stuff helps dye stick to the extra dry parts of your hair, like the ends!
When it comes time to apply the color, start with your crown and roots. I like to work front to back on my scalp, slowly working the dye in (don't forget your baby hairs by your ears!)
Once your entire scalp/roots – including your back neckline – is fully covered, move onto the rest of your hair.
Break your hair into parts and slowly work the dye in, making sure to work it through to your ends.
Keep this process until every bit of your hair is covered in dye. In the end, look for any parts that need more dye and spot treat.
Put your hair into a high bun (higher the better to avoid bumping against anything in your house!) This is where it comes in handy to have that hair tie already on your wrist.
Set a timer for 30 minutes. Use this time to clean up the bathroom or do some self-care like a facemask or painting your nails!
PHASE THREE: WASH & POST CARE
After your 30 minutes is up, wash your hair! Remember to NOT use shampoo, you are simply rinsing the dye out.
Pay attention to the water coming out of your hair and wait until it turns clear.
Use a hefty amount of the #3 bottle on your whole head. This helps to condition and preserve the color. It also makes your hair super soft!
Use this #3 one or twice a week to help keep your color lasting longer.
After dying, DON'T WASH YOUR HAIR FOR AT LEAST 48 HOURS! This is another trick I learned to make sure the dye really sets. If you wash it earlier, the color will leave faster.
And, that's it! That is how to use box hair dye at home and give yourself a stunning color without the price tag of a salon. If you have any questions at all, or your own tips to add, leave a comment below. You can also DM me on Instagram @thewhimsysoul and I'll be happy to help!