My hair used to be greasy by the end of the day that I washed it. For the life of me, I could never successfully get good looking Day 3 hair until I started doing this one thing….
People are staring at my face via video calls all day recently and I feel the pressure to always have my top half looking presentable. The problem is I don't wash my hair every day. But that's ok, I know how to refresh it! If you're hunting for a major hack to refresh Day 3 Hair (or, day 2, 4, etc!) this post is for you! Keep reading as I'm sharing my secret hair tips to refresh unwashed hair.
My Day 3 Hair Refresh Hack & How I Trick People Into Thinking It's Freshly Washed!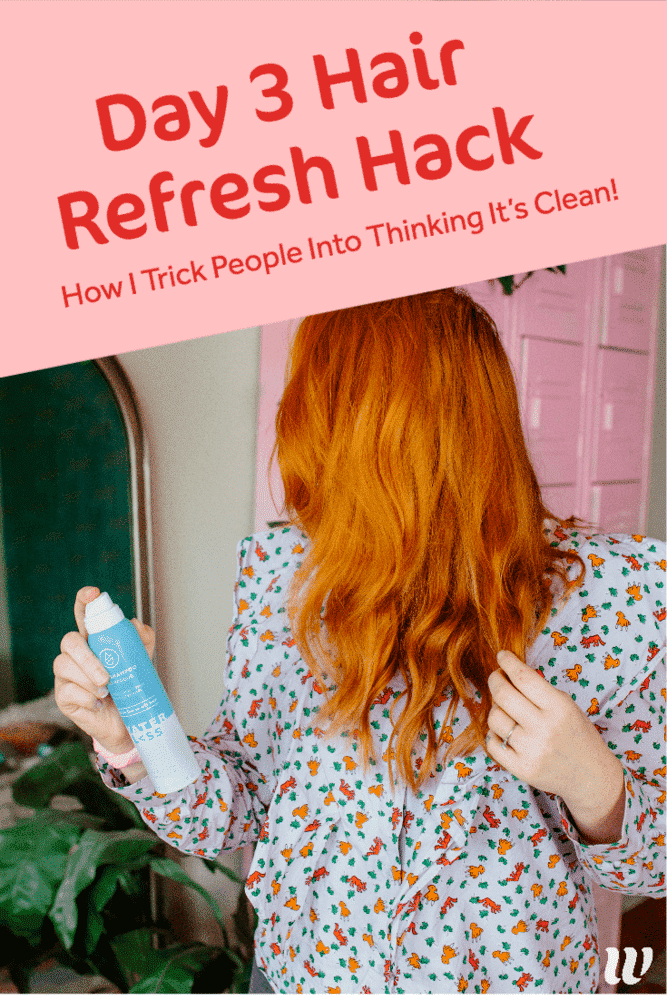 >> Got a question about my hair hacks that you need answered quickly? DM me on Instagram @thewhimsysoul and I'll be happy to help!
Ok so here's a super big secret: in these photos, I'm actually on day 7 hair!! That's right – I went a whole week between wash days in this post, not just 3!
I wanted to wait to shoot this blog post until my hair was actually at least 3 days but I got to Day 3 and my hair was still looking AMAZING. So I waited until Day 4… and then Day 5… and then Day 6… and now here we are a week later and my hair is still going strong thanks to my Waterl<ss Dry Shampoo.
I don't expect you to wait that long between wash days (though you totally could with No Residue dry shampoo). Instead, I'm sharing my refresh method for Day 3 Hair, the day my hair is usually not looking too hot.
Before I started using Waterl<ss I would cover my Day 3 Hair with scarves or style it in a way that covers it up (a bun, braid, etc.) Now, I'm able to easily last 3 days, if not longer. I share more info on why I think it's important to not wash your hair every day at the bottom of this post but first, my hair tips!
Why Waterless Is The Best Dry Shampoo
For starters, I've never used other dry shampoo hair products that worked SO well. I mean, I'm writing this with 7-day hair and it looks like 3rd-day hair. *party time*
Waterl<ss was founded in 2018 in Cape Town in response to the Day Zero water crisis (a 3+ year drought that caused extreme water shortages.) People needed solutions for achieving clean day without water, so thus this powerful waterless shampoo brand was born.
Because of their brand roots, Waterl<ss was made to work on tons of different hair types and curl types. If you have straight to wavy hair as I do, their No Residue dry shampoo spray is simply the best. Waterless also has a dry foam shampoo in a spray bottle which is better for thick curly hair or natural hair with tighter curls as you can more easily work a foam product into your hair.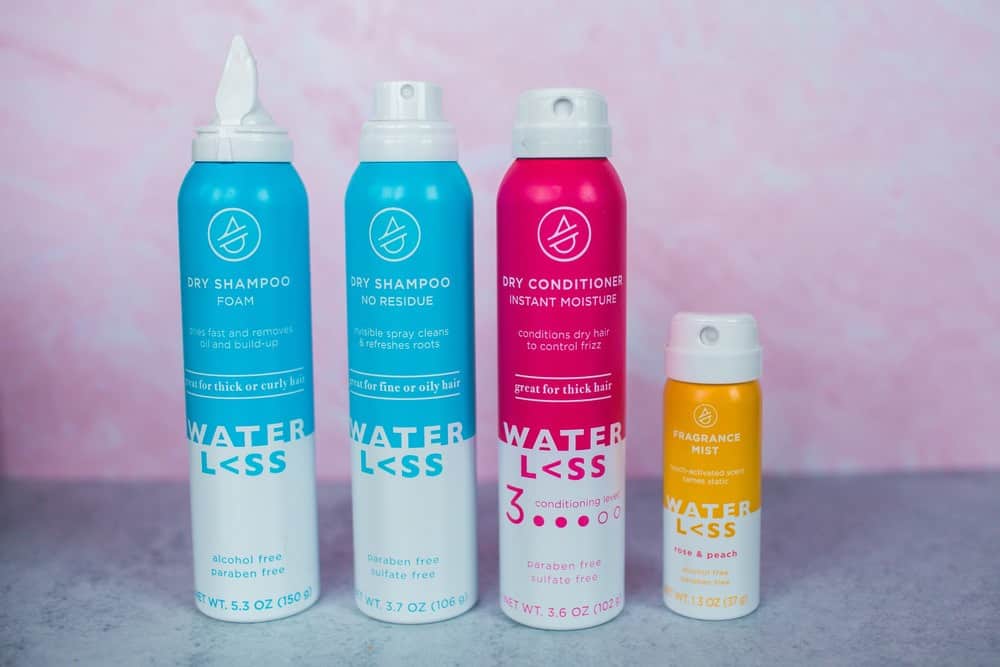 How To Refresh 3 Day Hair: My Step By Step Process For Beautiful Hair!
Aka, how to refresh your 3-day hair to make it look like 1st day hair! It's not exactly as easy as just spraying on some dry shampoo and calling it a day. It's a pretty simple process but there are some key steps to be mindful of.
Step One: Use Dry Shampoo On Clean, Day 1 Hair
Contrary to popular belief, dry shampoo should be used on your clean hair. It's a lot like deodorant and functions best when it's used as a preventative product, not a correction.
I air dry my hair and wait until it's dry that same day to apply the Waterl<ss No Residue Dry Shampoo product to my roots. The key is to spray it all around your roots (front and back of your head!) and then let it sit for about 5 minutes. Then you brush out your hair.
Using it on Day 1 hair helps to absorb any oils that build up over the course of the day. My dry shampoo leaves no residue and doesn't make my hair sticky, so you can't even tell that my clean hair technically has product in it.
Step Two: Use A Leave-In Conditioner
After I apply my dry shampoo, on Day 1 hair I also use some leave-in dry conditioner. I have long hair that is prone to frizz, so Waterl<ss' Instant Moisture Dry Conditioner helps fit frizz right off the bat and keeps it looking fresh for the days to come.
It also works well as a faux-texture spray on Day 2 or 3 if I'm in need of more volume and texture!
Step Three: Avoid The Bun At Night
It's hard to remember some nights when I'm super sleepy, but I try not to sleep in a bun anymore. I felt like I kept waking up to Day 2 hair with tons of oil build-up around my scalp.
Plus, my hair ties would, without fail, leave some sort of strange kink in my hair that just can't be removed without washing it. This doesn't support my goal of only washing my hair a few times a week! Now I try to sleep with my hair down or in braids.
Step Four: Use Dry Shampoo Each Day
The 4th step is to use dry shampoo each day. You can't just use it once on Day 1 and call it quits. Each morning during my makeup routine I make sure to set aside 5 minutes to refresh my hair with more Waterl<ss Dry Shampoo, brush it through and primp it up.
Don't worry – this stuff is super sneaky, as in it doesn't build up much on my scalp at all. I have another dry shampoo product that I could NEVER get away with using twice in a row as it just builds too much product up on my scalp. (That's one of the reasons I love Waterl<ss. You can actually use it again and again!)
Step Five: Use A Sulfate-Free Shampoo & Conditioner
Lastly, when it comes time to wash your hair, I find it's better to use shampoos and conditioners that are paraben-free and sulfate-free. Shampoo and conditioners that do contain things like sulfates and parabens tend to quickly build up on your hair.
This could be a major reason why your hair always looks and feels greasy!
I think Waterl<ss is super powerful but it can only do so much if you aren't setting your hair up for success. Which brings me to the reason why I'm trying to only wash my hair a couple times a week…
Why It's Important To Not Wash Hair Everyday
In short, it's better for your hair and your scalp!
Over-washing your hair, which most Americans do via daily showers, can trigger your scalp into "overproduction mode" where it thinks it's too dry and thus makes more oil than normal. (It can also lead to your skin drying out and being itchy if you are someone with skin issues like eczema.)
Plus, your hair really isn't supposed to be washed every day and doing so can dry it out too much. So, if your hair is always greasy on Day 1 of washing, or is constantly frizzy and dry even though you try all the hair masks and serums, it's probably time to reduce your washes to 2-4 a week instead of 7 days a week.
That's where Waterl<ss Haircare comes into play. As I chatted about above, they make what I think is one of the best dry shampoos on the market and make it easy to start the process of decreasing washes. It'll take some time to train your hair but it's so worth it once you get there.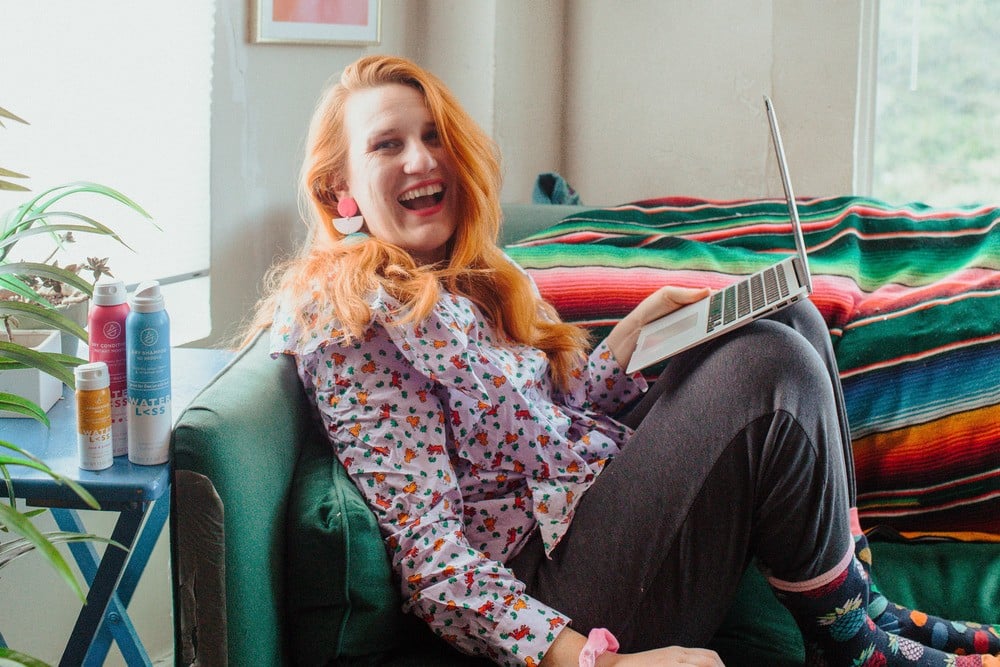 If there's one thing every gal needs on her beauty counter, it's a bottle of Waterl<ss Dry Shampoo. Seriously – I still can't get over the fact that I haven't washed my hair for a week, but it looks great!!!
I love that the hardest decision I have to make when getting ready in the morning is what top to wear, not if my hair will look presentable.
If you have any hair tips to add, leave a comment below so everyone can see! If you have questions about training your hair to only be washed a few times a week, or about Waterless, leave a comment below or shoot me a DM on Instagram @thewhimsysoul and I'll be happy to help!
Stay fabulous.