I'm writing this post in seat 21A on my way home to San Francisco after just spending 4 lovely days at the Paradisus Los Cabos all-inclusive resort. My bestie Amy, who is a Leo, and myself, who is a Virgo, flew down to Mexico for a little birthday celebration and we love to indulge in all inclusive while we vacation.
I got a LOT of questions from you guys on Instagram about Paradisus so I'm here to answer all those and break down the pros and cons of this Baja California resort (including service, room types, food, tips for visiting, etc). Let's get into it!
Amy and I went on a girls trip to Pueblo Bonito Blanco a few years ago, another all inclusive resort but that one was in Cabo San Lucas. On this go around, we decided to try a new spot (though we did love Pueblo Blanco!) We wanted to find something closer to the San Jose Del Cabo airport and downtown so we could do a day trip off property easier, plus we love trying new spots out.
Amy is a great deal hunter and found a flash deal on Booking where our 3 night stay was just $1400 in total (which is insanely affordable for 5 star all inclusive resorts like Paradisus – usually this resort is $600 a night and would have been over $2000 for our stay after taxes and fees!)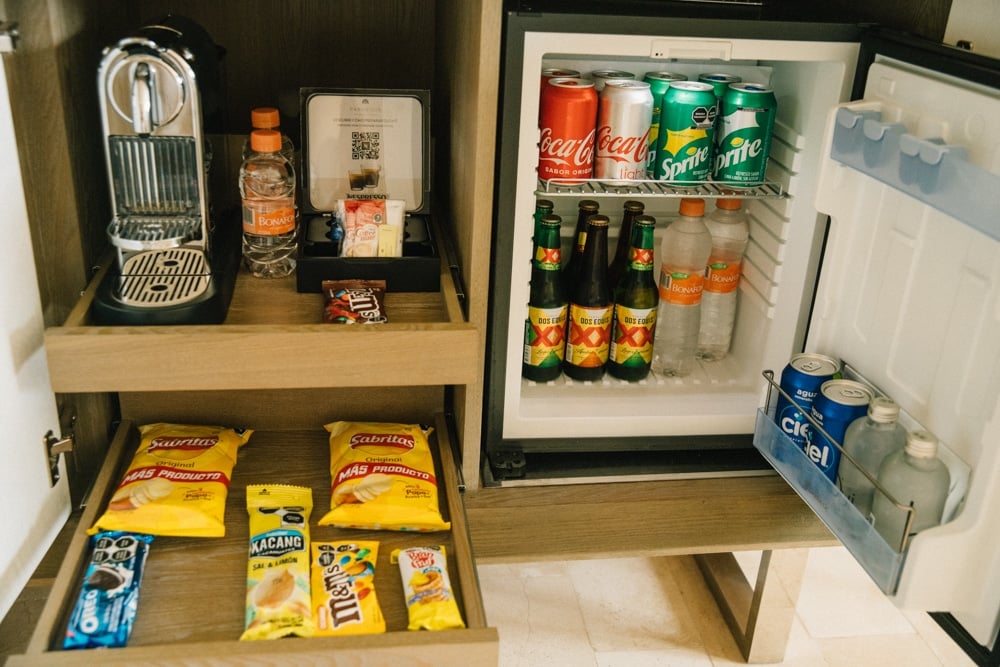 Garden View Suites Were Really Nice
We opted to stay in a garden view suite, the cheapest room option, instead of upgrading to the ocean view or the reserve rooms. The reserve is a special adults-only section of the hotel that costs additional fees (more on that later). I was super pleased with our room. It faced out from the hotel overlooking the lot next to it, so our view was palm trees and a tiny bit of the ocean!
It was super large and had an awesome patio. The mini bar came stocked with tons of beer and like, 4 different water options along with candy, teas, coffee and snacks. And they refilled this 1-2 times a day, so it was never empty (score!)
Some of the garden rooms faced inward overlooking the hotel and other rooms. These were pretty private-feeling from the outside, but I would note there are some rooms that are really close to the Ginger Bar and Italian restaurant which I know are not as private. And, I'm sure very loud as they play nightly live music. When checking in, make sure you don't get the rooms.
I loved out, and really loved how close it was from the restaurants so it was easy to pop over for food. Thankfully, this resort isn't super sprawling but It does take a beat to walk from the ocean rooms to the lobby.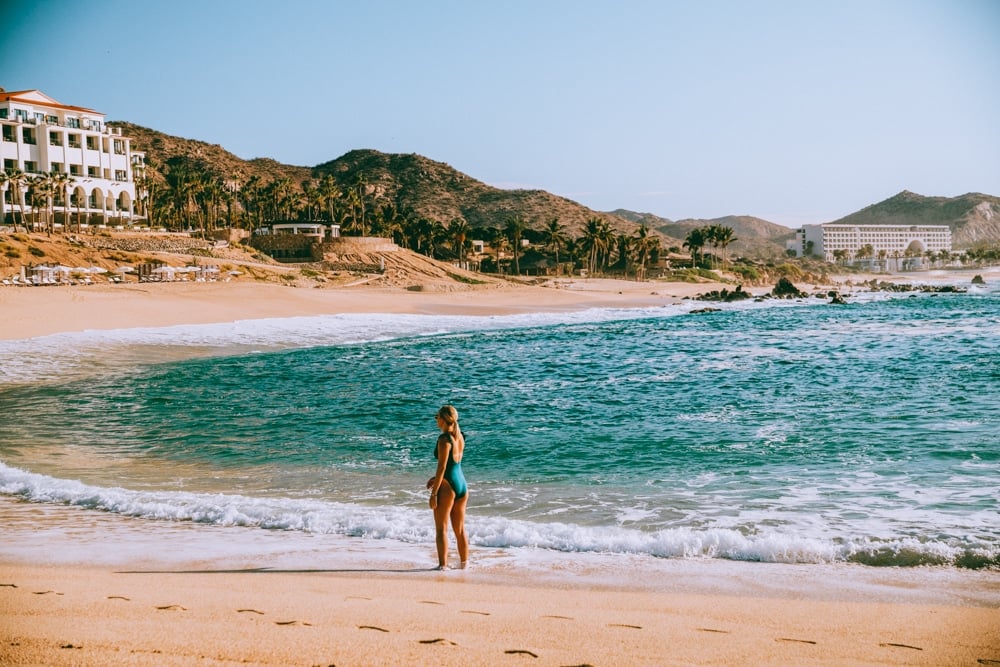 Paradisus Has A Swimmable Beach
As you guys know, I adore swimming in natural bodies of water so finding a resort that had a swimmable beach was a major priority for me. That was the main reason we choose the Melia Cabo San Lucas Paradisus property in the first place! They have a safe, swimmable beach!!!
In case you have never traveled to Cabo San Lucas, the waves are very strong here. It's not safe to swim in the water at most beaches. Most hotels and resorts aren't on a swimmable beach so finding one that is literally steps away from a safe cove to jump into was a gold mine!
I went swimming at least 2-3 times a day. It was so nice to not have to uber or walk a far way to a safe beach. This was a major highlight for me.
Large Pool With Many Chairs & Cabanas
When we weren't on the beach, we were holed up by the pool. It's large, which tons of chairs and cabanas. We never had trouble finding places to sit and were always able to get our favorite chairs.
I've been at resorts before where chairs were claimed at 7am but we didn't have that issue here. The staff also seems to do a nice job at clearing out chairs once someone leaves.
It's An Easy To Day Trip From Paradisus Los Cabos
Speaking of Ubers, there's tons of fun things to do around Baja California Sur, especially in the Cabo area. One of the cons of staying at a resort close to Cabo San Lucas / The Arch is that it's a far drive (50+ mins) from many of the cool activities, like Acre Farms or Flora Farms. It's also a far drive from the airport.
But, the Paradisus is just about 15 minutes from downtown San Jose Del Cabo so it was super easy (and cheap!) to grab a taxi and explore this area. And, if you wanted to head to Cabo San Lucas or the Arch, that is nearby as the resort sits in the middle of both towns.
There's Many Food Options
There are so many restaurants here! 7 in total including the Gastro bar, a sushi spot, Mexican spot, breakfast buffet, poolside service, espresso bar, ice cream shop, and 24 hour room service. I loved having to never whip out my credit card and really indulge.
But, I do wish they had more breakfast and lunch options. Unless you got the Reserve, you have the same breakfast buffet each day. And, only one restaurant is open daily for lunch.
The resort does do some sort of tacos bar near the pool, which we took advantage of, but it would be nice to see more lunch and breakie options at a place like this. But the food was great and covers a lot of Mexican cuisine, along with other cuisines.
If you're trying to figure out what to eat in Mexico that you can't find anywhere else – start with the hotel's weekly Mezcal tasting.
Dinner Reservations Were Tricky
Speaking of let downs, probably the biggest negative part of staying here is that all guests must reserve tables for dinner. This was frustrating since we had to pre-plan and couldn't easily switch our tables around if we decided we wanted to eat earlier to later that day.
It was also annoying since we made friends with another couple on the trip and weren't allowed to have dinner together since their table was reserved for 6pm and ours was at 7pm. I'm not sure if this is a c0v!d protocol (limiting the number of full tables per restaurant) or what, but it's not my favorite policy.
And, it's the same thing with nightly activities. We attended each one (wine tasting, mezcal tasting, etc) but we had to sign up in advance but there's only 12 spots available each day… for a huge resort. I loved the tastings, they were so much fun and my trip wouldn't have felt as complete without them so I'm really happy we got to go. When you arrive, 100% put your name down for the events when you check in!
Our Service Was Fantastic
Overall, we had wonderful service here. Everyone is just so dang nice and helpful! Amy and I spent every afternoon at the main pool lounging under palm trees. On the first day we made friends with our pool attendant, Omar, who quickly learned our go-to drink orders and then for the rest of the trip would have them ready for us when we rolled into the pool each day. Totally made us feel like we had the royal service treatment!
Oh, and when we checked in, we were surprised with a bottle of champagne and chocolate-covered strawberries waiting for us in our room with a little "happy birthday" message on them!! How cute! And, at dinner on the first night, the staff sang happy birthday to us (though my plate read "happy honeymoon" in chocolate which gave us a huge laugh). tok
If you have kids, there's a family concierge and a kids zone dedicated to helping your little ones have fun. And there's staff on call 24/7 if you need room service or have a question.
The Spa Was Just Ok
Since this was a birthday trip, I decided to treat myself to a massage at the YHI Spa and it was nice, but not the best massage I've had in the world, especially at the price point of $160. The spa has a small sauna and separate pool area, the latter which was very beautiful. But they didn't have anything like spa waters, teas or fruit bites out like I'm used to seeing at luxury hotel spas.
And my massage was just ok. I left feeling like I still had a lot of knots in my back to work out. It was a nice little treat and absolutely helped me relax (and like, it felt nice, massages do feel nice after all!) but if you're on the fence about a treatment, I would say maybe not here.
But, if you do choose to have a treatment, make sure to book it prior to arrival to get a discounted rate!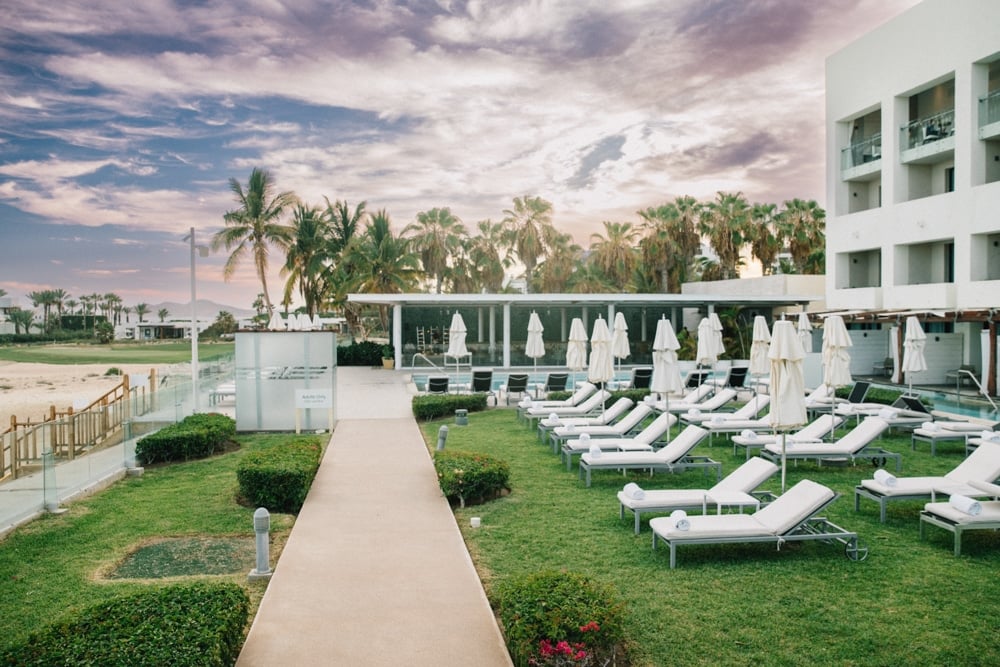 Paradisus Los Cabos Reserve Seems Lacking
We didn't do the Reserve rooms but after poking the area and talking to a few people staying there, the reserve rooms don't feel all too different from the regular rooms. The major highlight is access to the adults-only restaurant, which is open for all 3 meals so this gives you more breakfast and lunch options.
There's also a smaller pool area with more chairs. We never ever had trouble finding chairs to sit on at the main pool but I'm sure there are busier seasons, so if you think you may be traveling at a busy time, having more chair options will help you. But the Reserve area is small here (we hear through the grapevine that the Reserve at other properties is much bigger and has more perks!)
Paradisus Los Cabos Review: 14 Pros & Cons Of This All-Inclusive San Jose Del Cabo Resort
We had a lovely time despite the few cons and I was sad to leave (though I do miss my hubby and cat!) Here's a quick list of pros and cons.
PROS
Fantastic service
Swimmable beach access
Rooms with large patios
Many food options
Close to airport
Staff is very good about asking about allergies
Beautiful property
Private pool for adults only in Reserve Area
Staff wear masks all the time
Masks are required for breakfast Buffett
CONS
Have to make dinner reservations
Activities have limits and fill up fast
Limited breakfast and lunch restaurant options
Spa left something to be desired
All in all, we loved this resort and would absolutely be back. I adored not having to whip out my credit card all the time or worry about not treating myself (another mango marg? Why not, it's free!) I hope this helps you decide if the Paradisus Resort Cabo San Lucas if for you!
Got your own reviews of the resorts to include? I would love to hear your thoughts below in the comments so everyone can see. And, if you have questions drop a comment below or DM me on Instagram @thewhimsysoul and I'll try and help.