I just got back from Cabo San Lucas, Mexico for my second girls trip! I know a lot of you get anxious around planning and packing, so I wanted to share with you exactly what you should be packing for Cabo, along with tons of cute Cabo outfit ideas, travel tips and packing lists to help you have the best trip to Mexico possible!
What To Pack For Cabo San Lucas 2021: Cute Cabo Vacation Outfits Ideas
There's nothing more fun that wearing a cute swimsuit and coverup at your Cabo resort. But, there's so many more details to think about!
What time of year are you visiting the Baja California Penisula?? It gets pretty sticky in the summer, so extra light layers, extra pairs of things you may sweat through (like undies) and pant sets are a must so you don't get chub rub when exploring the towns.
Even if you are staying on the resort you'll need comfortable walking shoes and slides to wander the property (trust me: walking all around a large resort in 90-degree heat in heels is not fun!)
>> Got a question about Cabo San Lucas that you need answered quickly? DM me on Instagram @thewhimsysoul and I'll be happy to help!
This recent trip was my second time in an all-inclusive resort so I was pumped to see what that scene is all about at this new resort. I first stayed at the Pueblob Bonito Blanco all inclusive and this more recent weekend in Cabo we stayed at the Paradisus Los Cabo 5 Star Resort.
It's also been a good few years since I've properly been to Mexico (I say properly because we hopped over to Mexico from the Arizona border for about 2 hours earlier this year, but that doesn't *really* count.)
On that first trip, was a little unsure about dress attire for Cabo. I've been to Central America and South America before and found I didn't like the attention that some outfits bring to me, so I was hesitant to pack swimsuits and short dresses (even though it was 90+ degrees for our trip!) I didn't want to be followed or harassed based on my outfit.
I spent a lot of time trying to figure out how to dress in Cabo San Lucas and ended up going with my gut and packing mostly swimsuits, coverups and matching pant sets (what I prefer to wear on warm trips.) And I'm happy I did! Minus one afternoon on a busy pier, I never felt like I was drawing too much negative attention with my outfit choices.
At the resort, I felt really comfortable just walking around in a tiny bikini. Some restaurants had a dress code but I never felt like I was shammed. There are some countries I've traveled to that I felt like I needed more clothes for. Not Cabo! Basically, wear what you want!
Packing List For Cabo: Things to Bring To Cabo No Matter The Season
That being said, there are some things you'll totally want. Baja California Penisula has tons of recreation options, many on the water so you'll wants tons of sunscreen and a waterproof phone case. If you're hiking Fox Canyon, bring proper shoes and an active set (I adore Girlfriend Collective).
But, if you're going whale watching you may want a light jacket since it can get windy and chilly out here on the open water. Whatever kind of Cabo excursions you have planned, don't be afraid to ask your travel guide if there's anything you need to bring. They usually know best, when there's so many outfit combos to think of!
What To Wear In Los Cabos During The Day
I'm an ocean gal. Our resort had a few pools but I prefer to hang out on the beach all day, soaking in views of the water and swimming in the waves. I would wear a simple dress or romper to breakfast, but then spent more of the day in a swimsuit on the beach.
I did carry a cover-up with me in case I wanted food from a restaurant (our hotel had a dress code policy to dine), but mostly just wore swimsuits.
Shop my favorite swimsuits

Shop my favorite cover-ups & day dresses

Doing any Cabo San Lucas activities? You can dress casual as well! We went sailing one day, and just wore swimsuits with a simple coverup for the trip. We also brought along sunglasses and sunscreen, but that's it! On our first day we walked into town and wore just swimsuits and coverups as well. It's a very casual vibe here.
What To Wear In Cabo At Night
We were at an all-inclusive hotel so we didn't need to go out to dinner in Cabo at all. We always dressed up a bit for dinner (think actually putting makeup on, a maxi dress, heels, earrings.) I love doing that while traveling: dressing up for dinner at night. It makes it feel extra special!
If you are heading into town at night, either for dinner or bar hopping, I would wear comfy shoes as you may be walking a lot. I would also make sure to bring an anti-theft purse! Overall, I felt that Cabo was really safe, especially compared to some of the Mexican cities I have been to in the past. BUT, in the dark after some drinks, I think you'll want a secure purse to make sure nothing is stolen.
Shop my favorite night dresses

shop my fave accessories


Best Time to Visit Cabo: How Hot Does Cabo Get?
Thankfully, Cabo has fairly warm weather year round. I've now gone in the late summer and fall, and it stayed within the 90s or above! I don't know if there's a best time to go to Cabo because there's literally 350 days of sunshine a year. Just be wary of the storm season!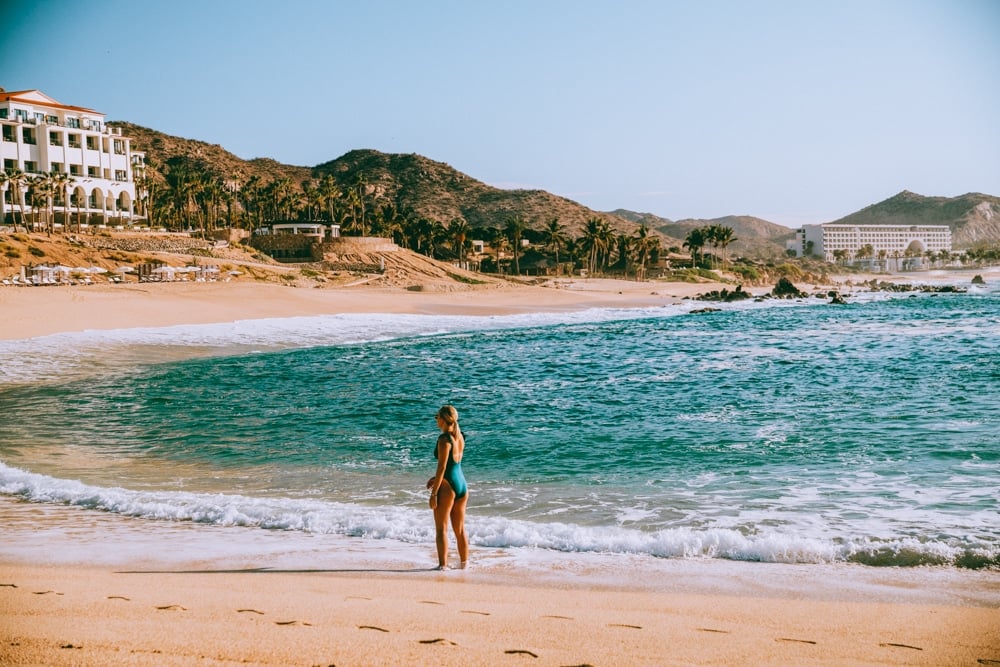 It was still warm when we visited in October but not as busy as I think the summer can get! I hear Cabo weather in November is pretty similar, but a tad cooler if you don't like intense heat.
The only time I would probably avoid Cabo San Lucas is during spring break. That's just a little too hardcore for me!
Cabo Packing List
Maybe you read the whole post so far, or maybe you just scrolled down to the bottom to grab an easy Cabo San Lucas Packing List / Cabo travel checklist. No shame girl! This is everything I brought to Cabo (along with a few things I forgot but totally wish I brought) in an easy list for you.
It's worth nothing that I chose (most often do) to check a bag so I can bring a few extra outfits (I love options!), but I also like having room for big bottles. If you're taking a short trip to Cabo you can probably just use a carry-on bag, but I always recommend packing cubes to keep everything organized! Of course, bag size doesn't matter if you're taking a road trip!
1 dress per day (for dinner!)
2-3 swimsuits (bikinis and one-pieces)
1-3 swimsuit cover-ups
1-3 pairs of shorts
flip flops for around the pool or beach
sandals for exploring downtown
heels for dinner
1 light jacket, sweater or cardigan
high waisted skirts (to pair with tank tops or swimsuits)
external charger (my favorite from amazon here)
Beach bag
Anti-theft purse
camera
aloe vera
reef safe sunscreen
Mascara
BB cream
lipstick
fun earrings
head scarf
phone charger
phone power bank
waterproof phone case
first aid kit (just in case)
hand sanitizer
1-2 books
sunglasses
straw sun hat
Pesos + US $1 bills (plus your Mexican tourist card if needed – I always try to keep cash and travel resources handy just in case)
PJs
toiletries

So, that's what I packed for Cabo! If you have any questions about my packing list for Cabo San Lucas or any questions about the all-inclusive resort we stayed at, leave a comment below or DM me on Instagram @thewhimsysoul and I'll be happy to help!
Other Posts You May Like