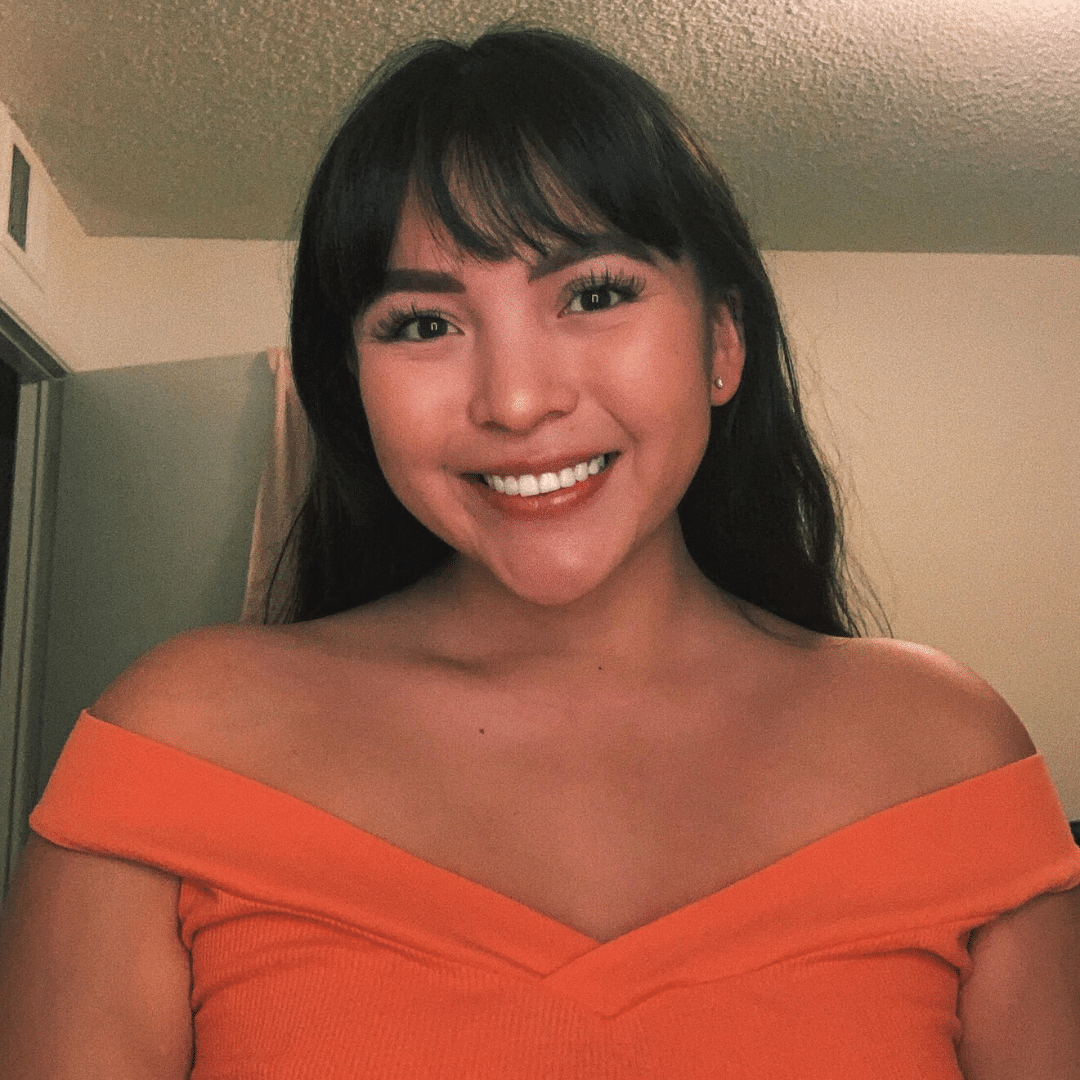 Chael Moore
If you haven't been to the Navajo Nation once in your life, I can honestly say that you are missing out. If you are not super familiar with the Navajo Nation, it is home to some of the best national parks, is rich with Native culture, and has some of the sweetest people (myself included).
It stretches across four states: Arizona, New Mexico, Utah, and Colorado, and has much to offer if you look close enough. (Stretching over 27,000 square miles, the Navajo Nation alone is approximately the same size as West Virginia!)
Yá'át'ééh (hello), my name is Chael Moore and I am Diné (Navajo). I grew up in the Navajo Nation until I moved to college (those are my quick "being a local" credentials), but I've always been someone who liked to be on the go: traveling across the southwest, nationwide, and even internationally for a quick moment in my younger years.
I graduated from Arizona State University in 2022 with a B.A. in Creative Writing and am an intern for Whimsy Soul where I contribute as a lifestyle writer/blogger. Nice to meet you!
Being a local and having grown up in the Arizona and New Mexico parts of the Navajo Nation, I'm here to share the places you should see that I adore, some helpful tips to have before or during your visit, and some fun facts here and there while visiting the Navajo reservation.
The southwest is probably my favorite part of the country because of the people, but also the culture.
Okay, let's get started!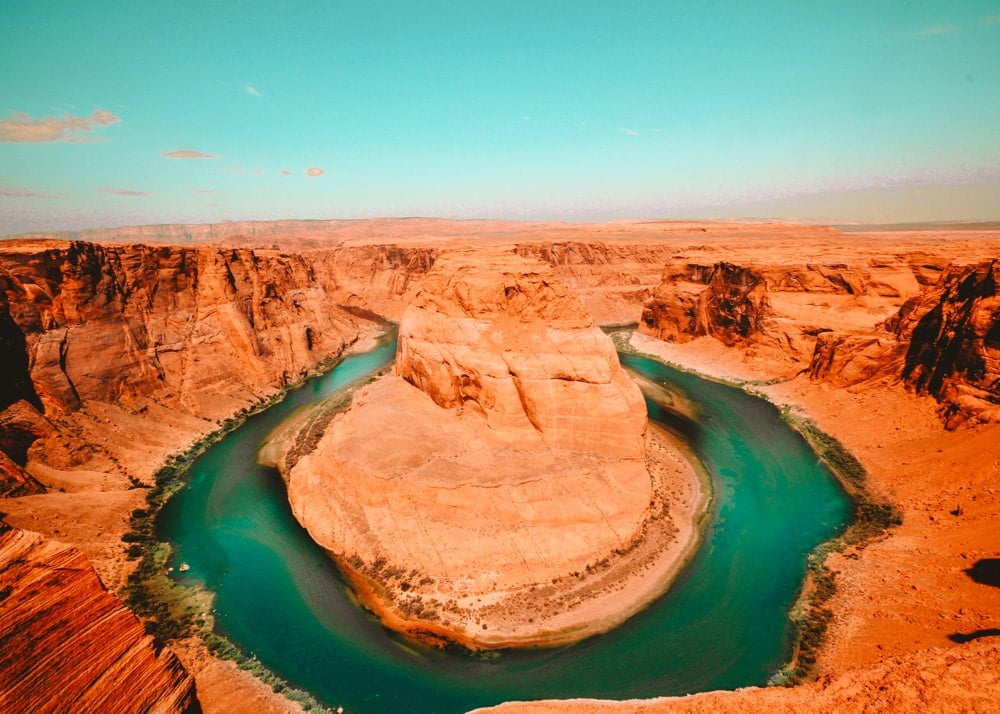 10 Places You Must Visit On The Navajo Nation
If you are into the outdoors and doing activities like river rafting, hiking, sightseeing, and fishing, the Navajo Nation parks are an AMAZING destination to do that.
I will be honest and say that there are not a lot of places to find a refreshing cocktail or like "city" based activities (i.e. paint & sip, nightlife, etc.), but the Navajo Nation has tons more to offer.
Note: If you are looking to add a glamping or fine dining experience(s) to your list, it's totally possible, but you're most likely going to have to travel to a nearby town such as Flagstaff, Albuquerque, or Durango.
I do want to add that places on this list will either be native-owned or run by the Navajo Nation government or businesses. I wanted this post to have places that will benefit the community I come from and gives back to it versus supporting businesses that may exploit and profit from my people (which can be a lot nearby).
Without further ado, here are some of my favorite places to go whenever I visit home!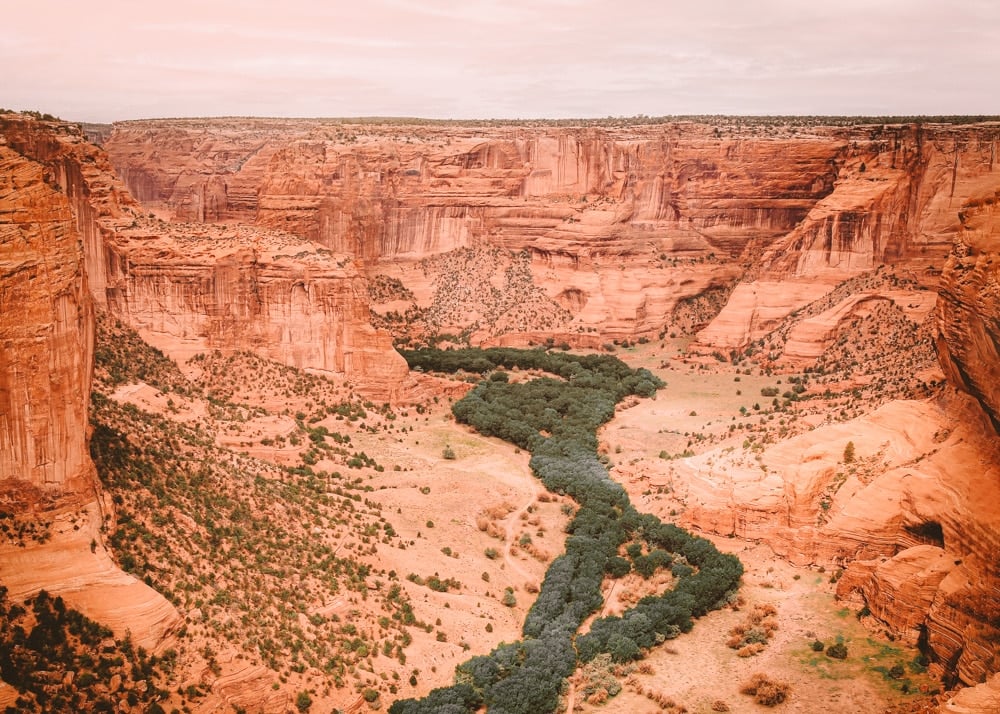 1. Canyon De Chelly National Monument
You've most definitely heard of the famous Grand Canyon, BUT you can find so many amazing canyons nearby in the Navajo Nation if you just drive a little farther north.
In my opinion, Canyon De Chelly (pronounced "Canyon de Shay") is one of the best-underrated canyons on the reservation. It is located in Chinle, Arizona, and stretches across 26 miles with cliffs ranging from 30 ft-1,000 ft in height.
It has natural attractions such as Spider Rock, Canyon Del Muerto, or the White House Ruins (which you can visit with a short hike to the base of the canyon).
Canyon De Chelly is rich in history and has been home to many Navajo and Hopi families and is also known for its Anasazi ruins. If you wish to learn more about the history of this area, the visitor center is a great place to start or you can also ask your local guide.
If you wish to enter deeper into the canyon, you will need a permit or book a guided tour. You can choose from multiple tour options here, such as horseback riding or jeep tour with local guides. Most of the tours will drive by the iconic White House Ruins, but I do recommend at least taking the short 2-mile hike down.
During the summer months, you can find local vendors selling handmade jewelry and art at the base. I highly encourage purchasing from them if you're looking for authentic souvenirs or jewelry made with locally sourced turquoise and other stones. Profits also directly support these artists and their businesses, but also their families.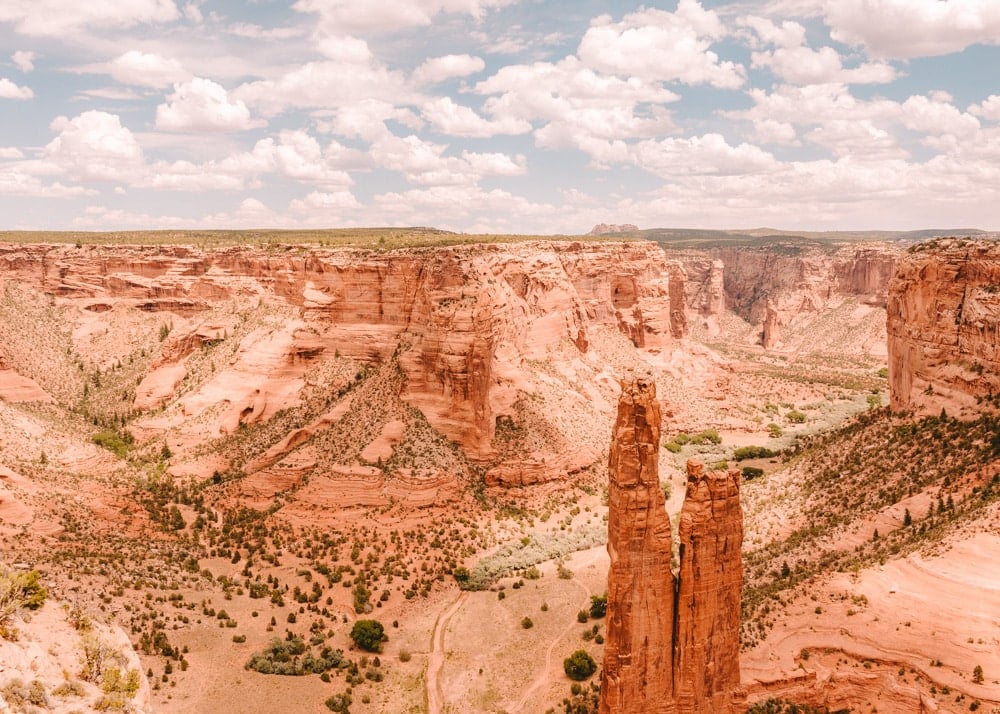 In case you don't want to hike and get sweaty, there are tons of lookouts that you can drive to and see the canyon from above. Depending on if you have 2 hours or 2 days, you can browse here to see how you can best spend your time in Chinle.
Chinle is the perfect place to venture off toward Monument Valley, Window Rock, or Page, but if you are exhausted after your hike, they do have some hotel options such as Holiday Inn, Best Western, and the Thunderbird Lodge nearby.
Some restaurant options include chain restaurants like Denny's, Church's, Burger King, Starbucks, and more. If you're looking for something with local cuisine, you can check the side of the road (I'm dead serious about this) for local vendors who typically sell Navajo Tacos, mutton sandwiches, frybread, and more.
Tip: When visiting these places, stay on all marked roads or use commonly used routes, especially if you are not familiar with the area.
There are tons of "dirt roads" and it can be easy to get lost as phone service can be scarce in some parts of the "rez" making Google or apple maps not available. (Trust me, my dad has had to personally rescue some tourists because they went off-road or followed an uncommon road to get to their destination–oops)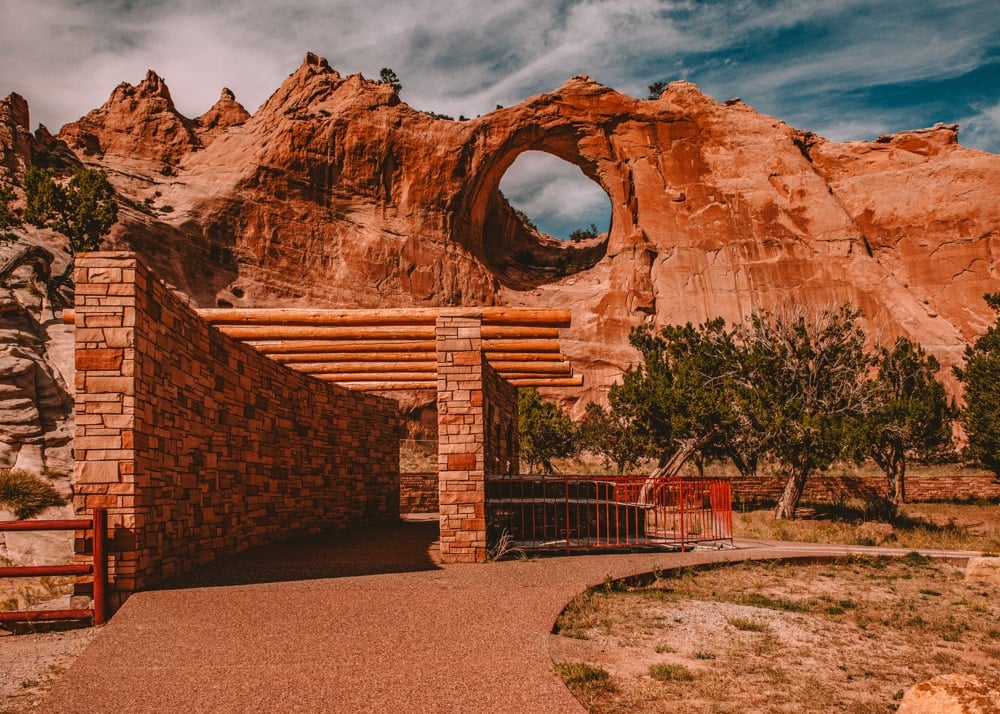 2. Window Rock, Arizona
Known as the "Capital" of the Navajo Nation, Window Rock is considered the hub of the Navajo Nation as it is home to the Navajo Nation government, the famous Council Chambers, the Window Rock Navajo Tribal Parks, Navajo Nation Museum, and more!
It is closer to "civilization" (if you will) compared to Chinle, AZ (which can be considered more rural). Window Rock (WR) is a short drive from Gallup, NM where I-40 passes through and has more food options or shopping places. However, here are some places you can visit in Window Rock so that you don't have to travel to Gallup (FYI, Gallup is NOT on the reservation).
Navajo Nation Zoo

This zoo is the ONLY zoo and botanical park in the U.S. that is managed by an Indigenous tribe. (This was one of my favorite places to visit as a child!) It is known for housing animals and plants that are native to the four corners area, but also has reptile, amphibian, insect, and bird species. It is completely FREE to visit and in the summer months, they host their annual Zoofest. It is also the new home to the Golden Eagle Sanctuary (fyi: eagles are an integral part of Navajo culture and our traditional stories and ceremonies) and is the perfect place to learn about what species call the Southwest home.

Navajo Nation Museum & Library

Located across from the Navajo Zoo, the museum is the perfect place to learn more about Navajo culture and art. They often have rotating art exhibits showcasing local artists' work and have been home to the historical Navajo Treaty of 1868 exhibit. Located inside is also the library where you can relax and read some books or browse their gift shop.

Ch'ihootso Marketplace & Flea Market (for food and goods)

When I talk of "local cuisine" in the Navajo Nation, I'm most likely talking about mutton stew, steamed corn stew, dumpling stew, mutton sandwiches, frybread, spam burritos, blue corn mush, kneel-down bread, Navajo tea, and more! These dishes barely scratch the surface, but if you're wanting to try any of these, you'll NEED to visit the flea market to get your fix! On the weekends (sometimes weekdays), you'll find vendors selling these dishes or you can always visit the iconic Scott's Food Stand (which has been around since I was a baby) at the market. You can also find more locally made jewelry and goods here as well!
Local Tip: local food vendors can also be located in open parking lots and on the side of the road nearby. Don't be scared to stop at any of these places! Most will be cash only.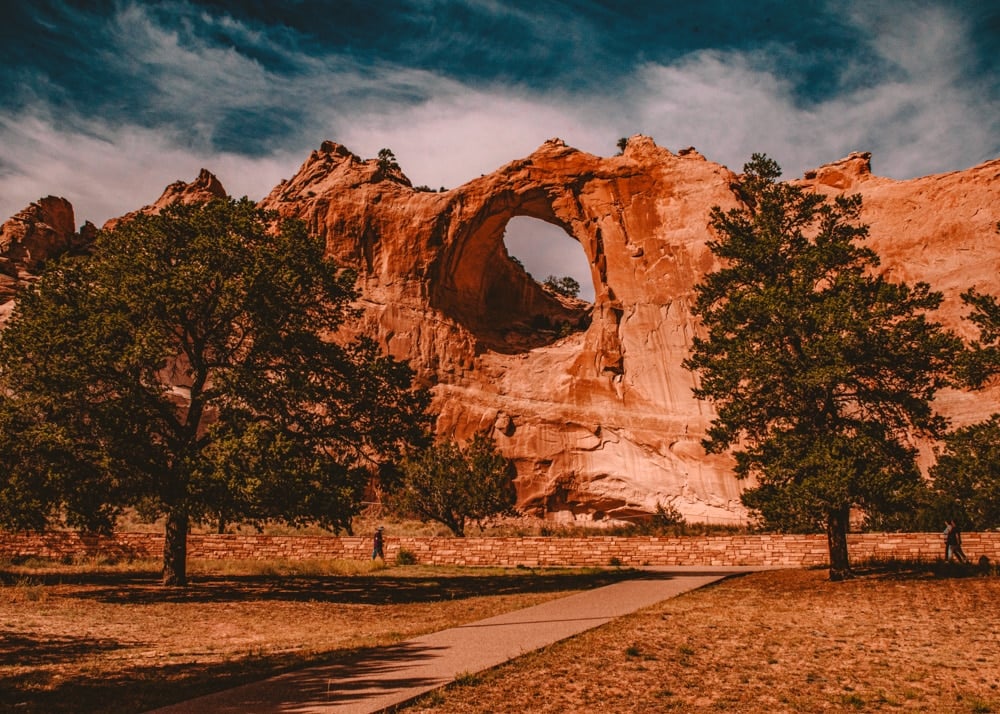 Window Rock Tribal Park

Home to the famous Window Rock formation, the tribal park is also home to the Veteran's Memorial (which honors military veterans but also the Navajo code talkers who served in WWII). You can take a hike on a short trail to see the "window rock" up close or view it from afar. It is said to be a "pothole-type natural arch" that was naturally formed by wind, freezing, and thawing over the years. This was the spot to visit after school when I was in high school and is truly a wonder to look at, I highly recommend visiting to see it for yourself.
3. Monument Valley "Tsé Bii' Ndzisgaii"
Remember when Forrest Gump turned around after he had been running for weeks because Jenny broke his heart (again)?
Well, you can visit that exact spot in person nearby Monument Valley Navajo Tribal Park! If you look up "Forrest Gump Point" in your Apple/Google maps, you can find the perfect photo opp.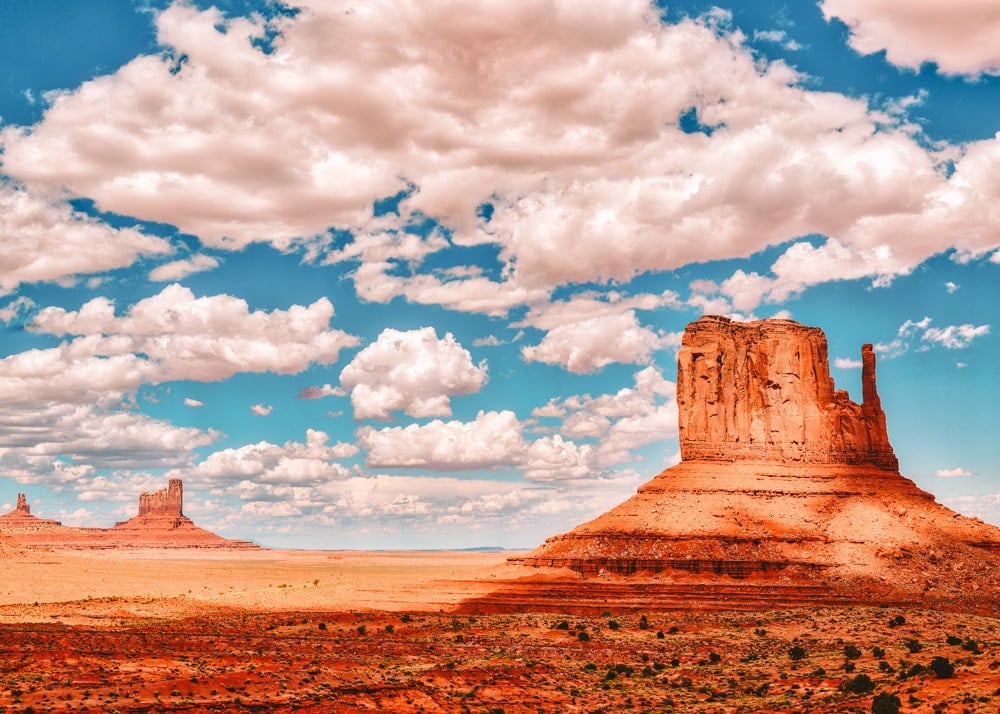 BUT before you drive to that spot, you NEED to see Monument Valley first! I feel like when most people think of the Southwest and its terrain, these red and orange-colored rocks and their natural formations are usually what come to mind.
Located approximately 30 miles North of Kayenta, AZ, you can take a short drive to visit this tribal park. With red sandstone rocks (400 to 1,000 ft tall) that are capable of kissing the sky, there's a reason it is one of the most photographed places in the U.S.
The park itself is open Monday-Friday from 6:30 AM to 7:30 PM (with the last entry at 6 PM) and is $8 per person to enter. If you wish to camp or hike beyond the regular park entrance, you'll need a "backcountry permit" of course.
If you click here, you can find some local guided Monument Valley tours that you can book (I highly recommend picking a Navajo guide!)
If you're looking to stay overnight, The View is located in the park and has views of the beautiful rocks (perfect at sunset and for star gazing), but you also ha ve options located in Kayenta, AZ here.
There are also some AirBNB options where local Navajo families rent out their traditional "hooghans" (the Navajo word for home). These traditional homes will be known as "hogans."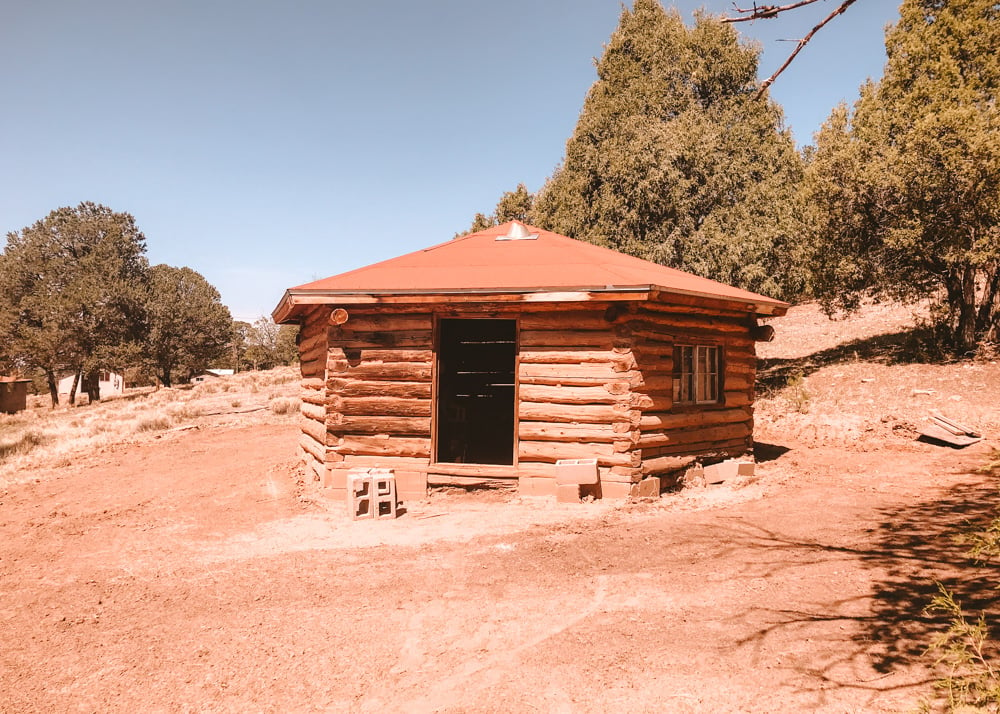 If you want to know what it's like to stay in a traditional Navajo home, check out some of these places owned by Navajo hosts:
If you are looking for another canyon to hike through or see from above, located West of Kayenta, Navajo National Monument is another amazing canyon to visit!
Note: a hogan is the traditional home of the Navajo people. You will most likely see these everywhere you go in the Navajo Nation (my family has 3 and are currently building another), all facing the East direction.
Most modern homes will be seen as well, but if you look closely, you'll notice most of them will also be facing the east, but there will almost always be a hogan not too far away.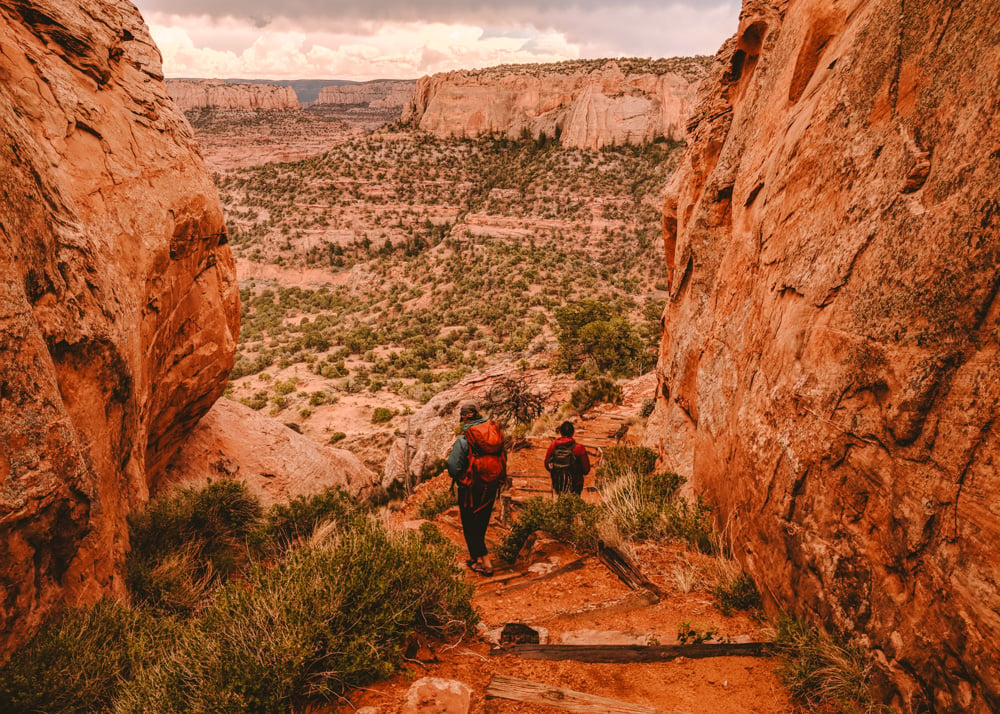 4. Antelope Canyon, Horseshoe Bend, & Lake Powell
Of course, I couldn't forget to mention the famous Antelope Canyon. Located near Page, AZ (note: Page itself is not located on the reservation, but parts of Antelope Canyon are), Antelope Canyon is known for its gorgeous rock formations, sloping angles, and narrow passageways.
It's been featured in numerous publications and movies across the world and is one place you need to visit at least once in your life.
Tip: November through March are the best times to visit if you're looking for fewer tourists.
Because it is so famous, it can be flooded with tourists year-round, but especially during the summer months. Because Page, AZ is not considered to be part of the Navajo Nation, there are many tourist businesses that are not native-owned.
However, due to the fact that parts of the canyon itself are on Native land, I highly highly suggest booking with a locally Native-owned business such as Ken's Tours, Taadidiin Tours (I've personally booked this one before with my family), or Waterhole Canyon Experience.
Note: Flashfloods can occur at any time while in these canyons, so be aware when on your tour and look out for signs and get to high ground if you can.
If you travel south of Page, AZ, you will stumble upon Horseshoe Bend where you'll see the famous "horseshoe" of the Southwest and is the perfect place for rafting or just visiting the overlook.
Page, AZ is also home to Lake Powell (part of the Little Colorado River) and luckily after years of concerning low water levels, the lake has seen some increasing levels this year.
Lake Powell is the perfect place to catch some sun, go on a boat tour, water ski, or just relax with friends and family. You can either bring your own boat (if you have one) or rent a boat for the day. Check out their different water experiences here! Antelope Point Marina is another area nearby to have fun in the water.
5. Navajo Nation Fair Season (July-October)
I'm not going to lie, if you want to get a dose of the people, the culture, the different food(s), and have fun all in one place, you have to visit the Navajo Nation during their "fair" seasons.
This season takes place from the late summer to fall months, beginning on July 4th in Window Rock, AZ. Fair season is essentially like the "county fair" or "state fair" wherever you may be from.
Because the Navajo Nation is so massive, it's split up into 5 "agencies" and in 3 of them (the ones with the biggest), a designated city hosts their annual fair, with the most popular being located in Window Rock, AZ. These locations that host an annual fair include: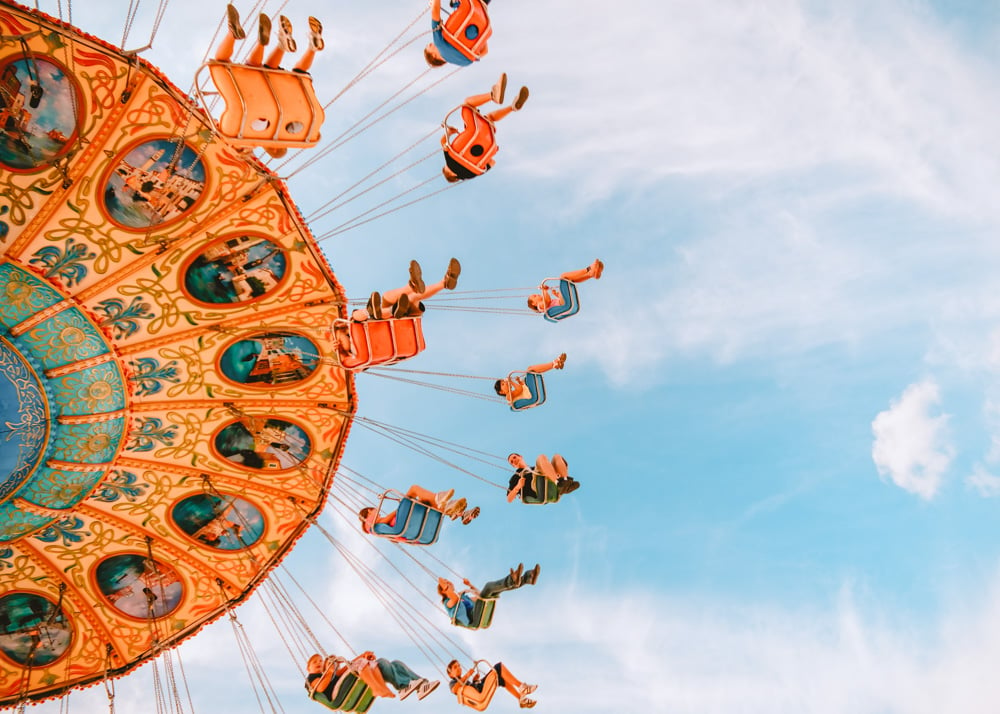 Navajo Nation Fair in Window Rock, AZ (Fort Defiance, Agency)

September
Consists of the annual Miss Navajo Pageant, rodeos (some professional riders come out), powwows, arts and crafts expos (they have contests for this too!), vegetable contests, animal expos, frybread contests, fashion shows, prades, carnival rides and food, concerts (last year T.I came to the Fair), and way more!

Northern Navajo Nation Fair Shiprock, NM (Shiprock/Northern Agency)

Sept/Oct
Similar attractions, best place for produce and farm grown veggies because it is near some of the best places to farm. It is one of the more windy and dusty locations though.
Western Navajo Nation Fair in Tuba City, AZ (Western Agency)

October
Some locals will argue this is the best fair out of all of them, and though I agree because it's smaller and more intimate, it doesn't have all of what the fair in WR has to offer. They typically have better concerts though.
Note: the best way to think about this is that the fair that takes place in the capital of the Navajo Nation (WR) will always be the biggest and is where important events such as the crowning of the next Miss Navajo pageant takes place, where rodeos happen versus the other locations have similar attractions, but are typically on a smaller scale.
The season is kicked off with a celebration of Fourth of July (don't ask me why) which has a small carnival appearance and rodeo events and then the other fairs trickle into the later summer and fall months.
It is the highlight of many peoples' years because people get to come together and enjoy the different events that happen.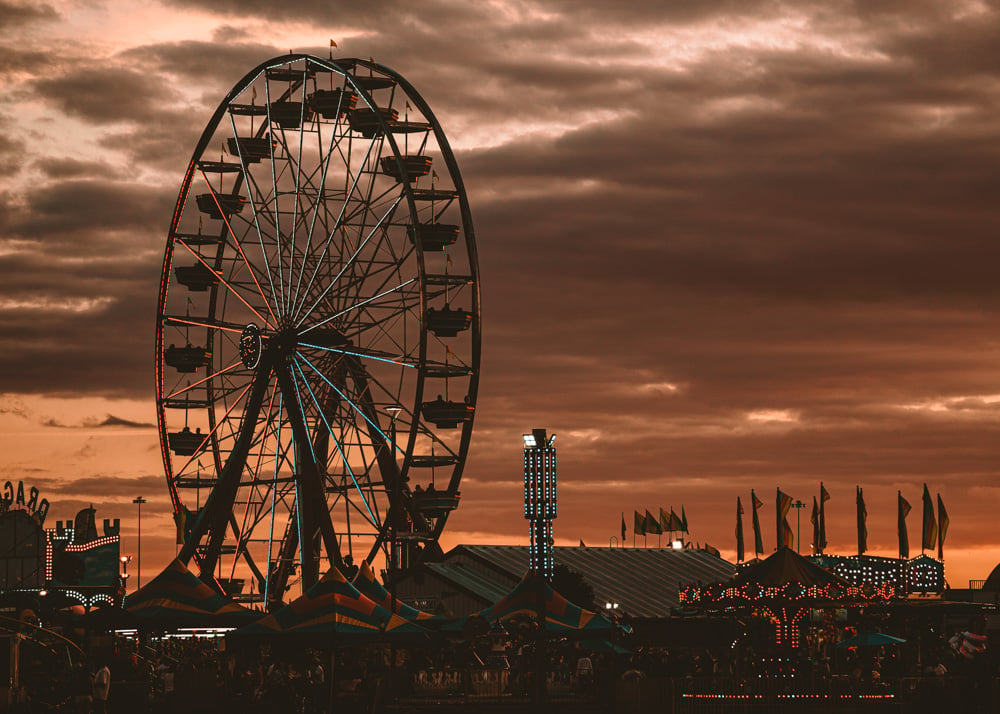 If you're to go to any place on this list, visiting the Navajo Nation Fair in Window Rock, AZ might be my number one suggestion. Then Western Navajo Fair second.
It's been a annual occurrence since 1938 and although its purpose for existing has evolved over the years, it's no doubt the best community gathering on the rez.
6. Shiprock "Tsébit'ahí" AKA The Rock With Wings
Speaking of Shiprock, if you are in the Northern part of New Mexico, you need to see the Shiprock rock formation. It is 15 miles southwest of Shiprock, NM and is truly another wonder to look at and even has an extremely important part in our Navajo stories.
It stands at 7,178 feet above sea level and is at the center of some two old volcanic ridges that pushed it to the surface. You may see some dirt roads leading you closer to the rock, but please stay on all main roads and admire them from afar.
A fun fact is the rock itself has been featured in many films over the years (of course with appropriate permits obtained from the Navajo Nation government) such as Transformers, Natural Born Killers, The Lone Ranger, Jumanji: The Next Level, and more.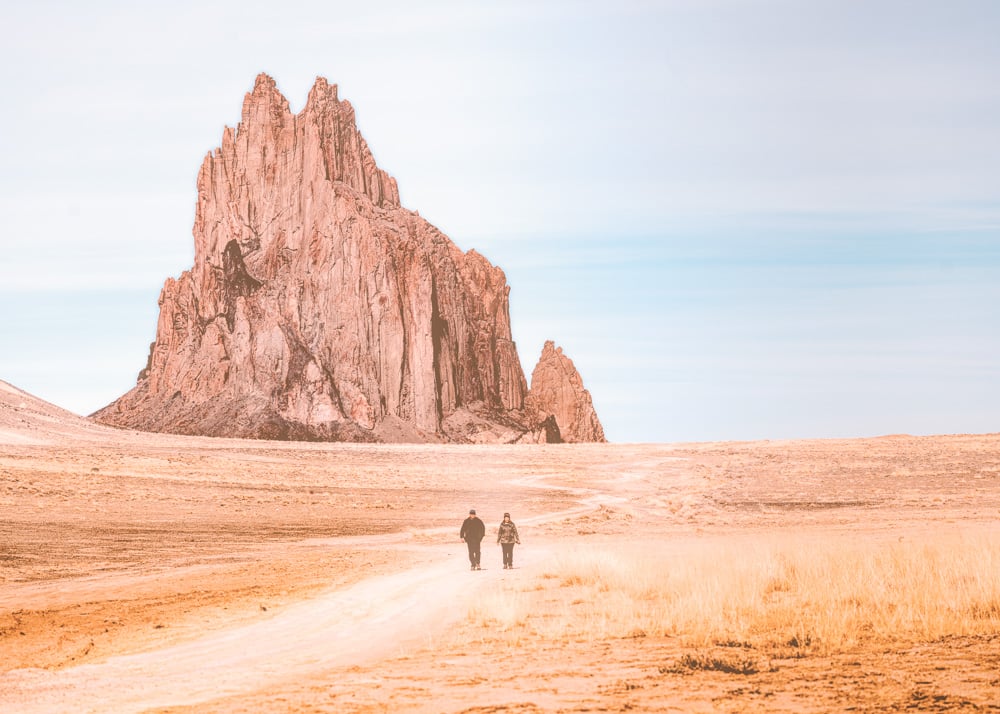 Note: because this rock is extremely sacred to my people, hiking on the rock itself or even nearby is HIGHLY forbidden. Many places on the reservation will almost always have a historical context associated with it, so please do some research on the places you are visiting to avoid the "native glare" lol.
Tip: If you enter "Toadlena Trading Post" in your maps once you're in the area, you can take a drive to one of the oldest trading posts on the Navajo Nation (it's been around since the 1870s).
They sell authentic Navajo rugs woven by master weavers and other goodies. It's the perfect spot to look at more history, but also grab a quick snack. Another good option is the Hubell Trading Post Post National Historic Site located in Ganado, AZ.
7. Four Corners Monument
Have you ever wanted to be in four places at once? Well you can when you visit the Four Corners National Navajo Tribal Monument. It is the only place that the four states: Arizona, New Mexico, Utah, and Colorado all meet. The monument is located in a pretty rural area, so please pack accordingly and make sure you have enough water and fuel.
Services and cell phone service can be scarce, so it's always nice to be prepared. It is $8 to enter and they do not accept National Park passes, as it is a tribally owned park.
Although it's location isn't always ideal, it is the perfect spot for a photo opp so that you can brag to all of your friends that you've been to four places at once. I mean, not many people can say that.
This is the area where you can make your adventure extend to the Durango area which is in close proximity to the Ute Reservations.
Durango is similar in vibe to Flagstaff being that it is a mountain town and there are tons of outdoors things to do. It'll be about a two hour journey Northeast, but is the perfect little town to experience Colorado. They have tasty restaurant options to grab a bite or enjoy a crisp beer or cocktail after being in the heat parts of the day.
A walk down their downtown district is a must and the river is a great option if you're looking to cool off or do a quick picnic as well.
Note: In the summer months, the weather will vary depending on which states you go to in the Southwest. Many parts of southern Arizona will be a little toasty with Northern Arizona giving you a breath of mountain fresh air.
New Mexico is a wild card, sometimes it'll be sunny and the next minute it will be cloudy. Colorado will most likely be chilly and Utah..not going to lie, I don't know much about Utah weather, but you can always count on the weather app.
Most places in the Southwest will have dry heat or air. You can count on it not being humid and the heat from the sun will almost always hit your skin directly, so slather that SPF on.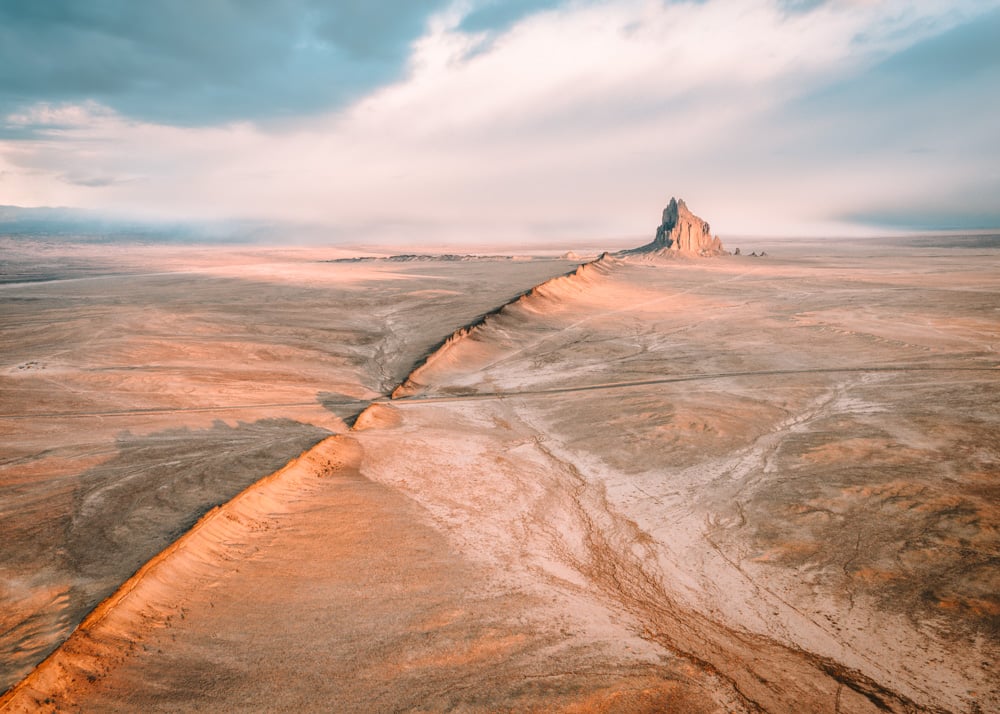 8. Chaco Canyon
I know you are probably wondering omg there are so many places to see and you are absolutely right. I'm not saying you need to go to every place, but if you're looking to make a road trip out of your vacation, these are some of the best places to visit in the Navajo Nation.
Another outdoorsy place on my list is the famous Chaco Canyon. You might have heard of it from "Ancient Aliens" (LOL), but I will say that the first time that I came here, I was in awe of the structures that I saw. It's amazing to see what some of my ancestors built themselves and to see it still standing is jaw dropping.
I highly recommend this place if you want to see these ruins for yourself and envision what these cities used to look like in the hot desert.
You will see a welcome center before you enter so you can learn more about the people who used to live here and some theories on where they went.
It is a common tourist attraction (not to mention a national historic site) and with that, there are some people who stray away from trails, grafitti the walls, leave their trash, and more.
You will see that no doubt on your hike or outting, so I will just say to be respectful, look but don't touch, and pack in and out always. If you think about it, you wouldn't trash or desecrate your besties or family members' old or current home, so why would you do it here?
Please look here for directions on how to get to the canyon from whichever direction you're coming from and to remember to pack accordingly and there will be spotty reception as well. But nonetheless, it is another wonder to look at.
Note: I wouldn't recommend taking anything from the area as well (i.e. rocks, pottery, etc.). I don't have a legitimate reason for you other than: think about the hundreds of people who take petrified wood/rocks from that park and then end up returning it. There's a reason why, just don't do it 🙂
9. Dinosaur Tracks Near Cameron/Tuba City, AZ
If you're like me, you have had a fascination with dinosaurs since you were little. I don't know what it is, but they were always so fascinating to me.
It was even more fun to find out that some dinosaurs from the Jurassic period were even excavated on the Navajo Nation. When you visit these parts of the rez, you can quickly see how that's possibly just based on the terrain.
Near Cameron, AZ and Tuba City, AZ, there are dinosaur tracks or fossils that you can stop and visit. There is no official park entrance or admission fees, but if you're lucky you can find a local guide to take on a quick tour (tips are appreciated) or you can explore on your own.
You'll also see local vendors nearby from the Navajo Nation or Hopi tribe. Perfect for jewelry or arts and crafts.
The area is easiest to get to if you're traveling from Flagstaff, Arizona, but if you enter the name into the maps, it shouldn't be too hard to find (it is near paved, commonly traveled roads).
After visiting the tracks, I recommend heading back to Cameron where you can stop at the famous trading post and sit down to enjoy a Navajo Taco. (I hear it's one of the best, but you didn't hear it from me).
After you fill up on a tasty taco, you can always travel back to Flagstaff to stay for the night and explore the town, visit the Grand Canyon, or even travel to Sedona, AZ to visit the iconic red rocks.
10. Visit the Navajo Nation casinos
"Fun" fact: The Navajo Nation can be considered a "dry" reservation. Absolutely no alcohol sales are permitted on the reservation nor possession of alcohol is permitted, with the exception of our local Navajo-owned casinos.
I have a confession, I don't mind going to the casino to gamble every now and then. I think it stems from my grandma taking me to bingo nights at my local chapter house or when she'd take my sister and I to the casino buffets on crab leg night. Regardless, the Navajo Nation has their very own gaming department and has a total of 4 casinos that operate in different parts of the nation. They include:
Fire Rock Casino (near Gallup, NM)
Twin Arrows Casino (near Flagstaff, AZ)
Flowing Water Casino (near Shiprock)
Northern Edge Casino (near Farmington, NM)
Maybe gambling isn't your jam and I totally understand, but I only suggest these places because the properties are unique and are the only places on your journey to grab a drink (if you want) or enjoy some sort of fine dining (I recommend Zenith Steakhouse at Twin Arrows)
Note: The people of my tribe don't get money from our casinos (like a monthly check or whatever). This can be/is a common misconception amongst Natives, but a good thing to remember is that we're not homogenous.
Every tribe is different and has their own governments, gaming laws, customs, traditions, and more.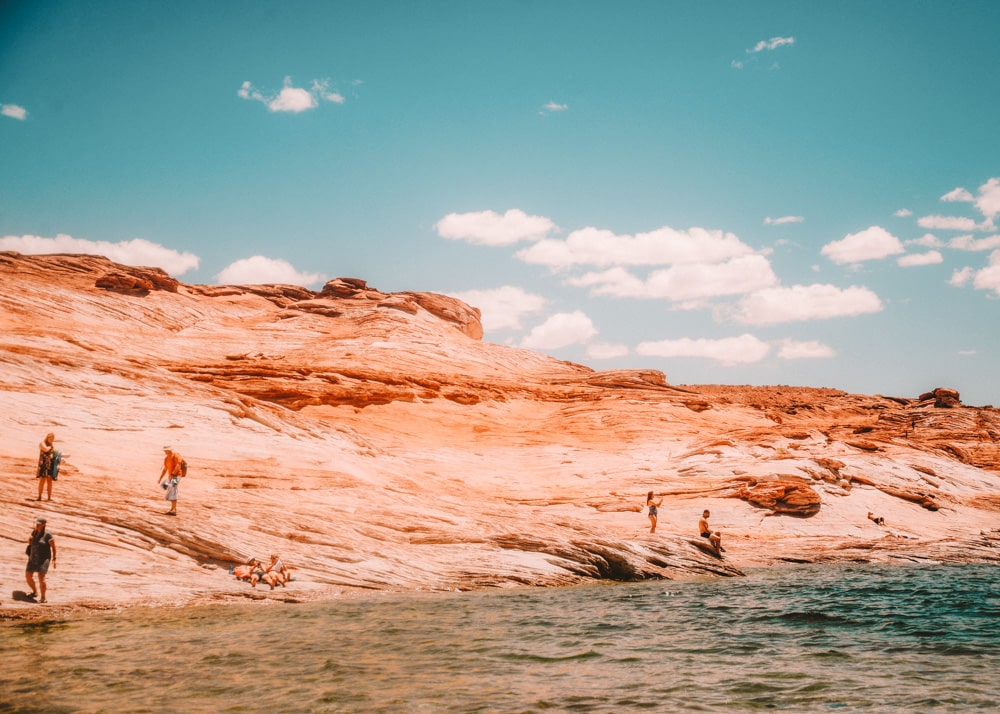 Tips On How To Visit Navajo Nation Like A Pro
Well that is all I have for you, there are definitely more places that you can add to your trip, but these are some pretty solid options to choose from and are some of my faves. I understand that this list is very outdoorsy, but as I mentioned it is totally possible to add a visit to a more populated city such as Durango, Albuquerque, Flagstaff, Sedona, to your itinerary <3
Before I end, I want to add a couple of helpful things to keep in mind:
First and foremost, I do want to quickly mention that the Navajo Nation, as with many reservations across the United States, were severely affected by the COVID-19 pandemic.
As a nation, we were often the last ones to receive PPE from the U.S. government and were in situations where we were unable to mitigate the spread due to lack of running water or electricity (which 40% of the families do not have access to) compared to many other Americans who were able to do fairly easily.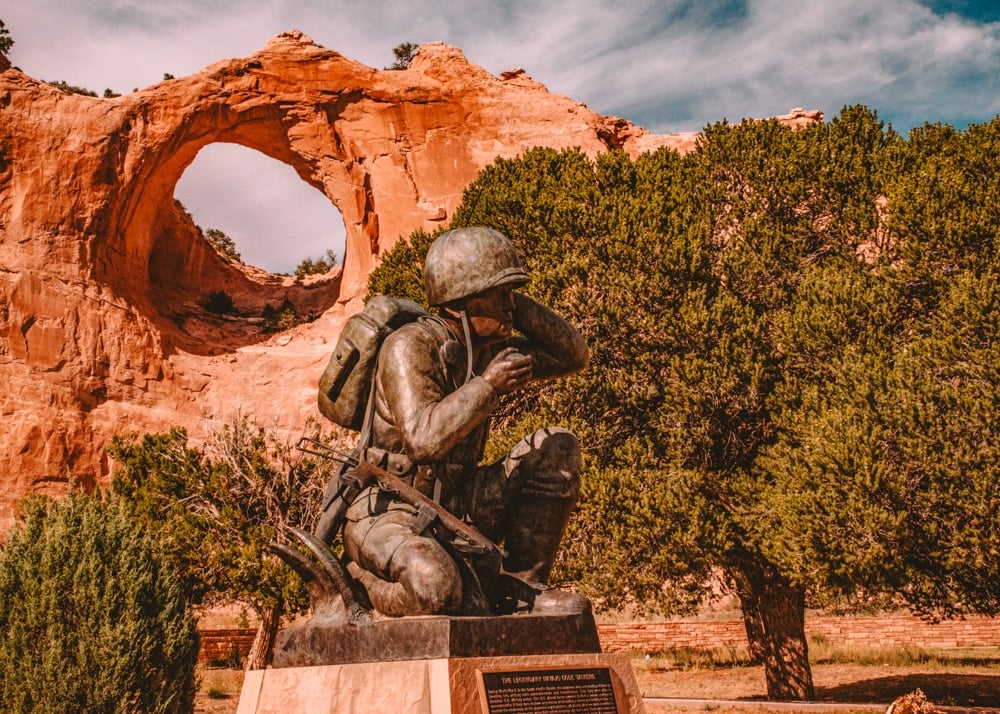 Due to this, many people may continue to social distance and might be wearing masks as a precaution despite COVID restrictions being lifted by our own government recently.
Summer months are super touristy, so just a heads up that many families might be taking these precautions still as we tend to live in multigenerational households. Or there may still be some Navajo Nation travel restrictions (ie. Grand Falls) might kindly ask you to do the same.
Being from these areas, you also hear too many stories of tourists not being respectful simply because they are not aware, so I wanted to do my best to prepare you when and if you decide to visit.
I hope my tips and notes were helpful, but of course if you want to learn more, please click here for more tourism protocols created by the Navajo tourism department.
The Navajo Nation, the place I call home, is no doubt beautiful, however, I do want to preface that many reservations also do not come with a pretty history.
Tourists can comment and judge the socio-economic conditions, but I do want to ask that when and if you visit, please do so with an open mind.
If anything, do your research on why some places may be in the condition that they are (here's a quick hint: attempted genocide and assimilation) and ask yourself, how you can help.
One small way you can help is to support the Native-owned businesses that exist in these tourist destinations if you do choose to visit and be mindful of the places you're visiting and the people you are interacting with.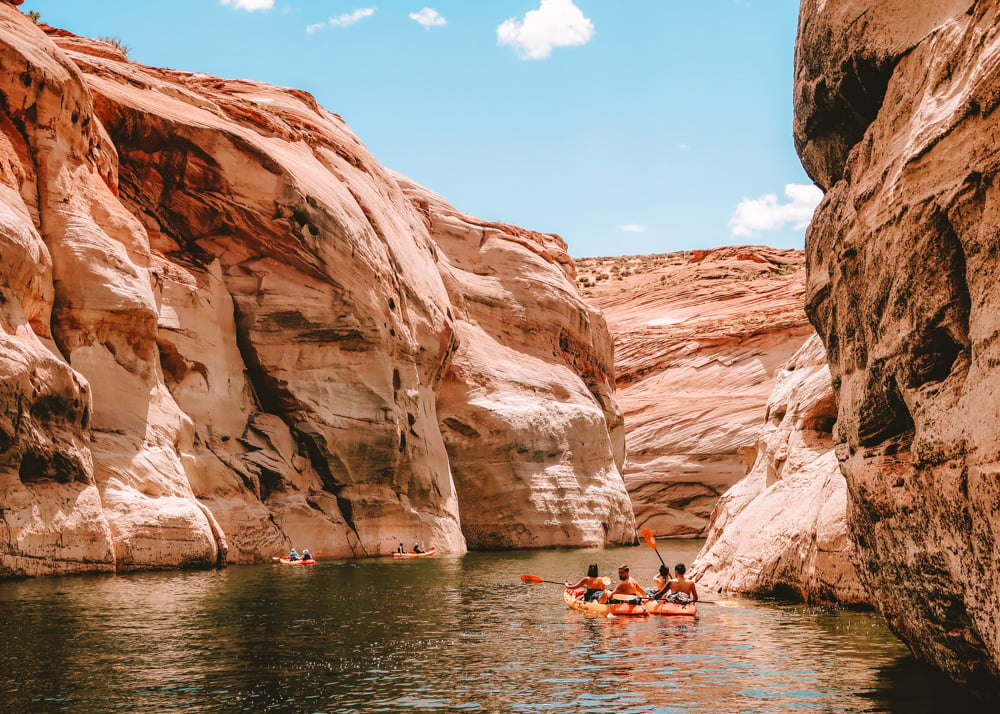 Don't get me wrong, we LOVE tourists and we do rely on tourism money for a lot of things, but that doesn't mean we can't all learn something new about the places we visit.
I also want to say that my people and community are very self-sustaining people, we ARE resilient, and despite many of the challenges we faced historically and continue to face, we are still here and are thriving.