Rolling hills covered in bluebonnets, vineyards, delicious restaurants, German heritage and like, really cool vacation rentals… Fredericksburg, Texas is a truly unique weekend getaway in Texas. Especially if you're a wine lover like myself!
While visiting a friend in Austin last month, we jetted off to the Texas Hill Country for a weekend of wine tasting, eating schnitzel and sporting cowboy hats. This culture mashup is one of a kind and the perfect destination for a weekend getaway from Austin or anywhere in Texas.
Keep reading for my ultimate Fredericksburg Weekend Getaway itinerary, complete with recommendations for the best Texas Hill Country wineries, tasty food spots, cool hotels and other activities for the best trip possible. Let's get started!
How To Get To Fredericksburg, TX
Fredericksburg is a small town located about an hour and a half drive from both Austin and San Antonio. It's in the middle of Texas Hill Country, a wider region that encompasses many small towns and wineries, making it the perfect place for a wine-focused weekend getaway.
You'll be spending the night in or around the Main Street Fredericksburg area and using it as a base to taste your way through wine country!
Austin to Fredericksburg: 1.5 hours (78m miles)
San Antonio to Fredericksburg: 1 hour (69 miles)
If you're coming from out of town, the best way to get to Fredericksburg is driving. This will give you the flexibility to explore Fredericksburg and the surrounding Texas wine country area at your own pace. You can do a guided wine tour, but when hitting up wine countries (whether it's Napa Valley or Wisconsin) I prefer having my own car and control over what wineries I visit. Usually, I am the DD and I'll spit so I can still enjoy the wine!
Looking for a tour? There is the
290 Wine Shuttle
you can take advantage of for $39 per person (though they are limited on the winery stops).
Why Is Fredericksburg Texas A German Town?
Why is there a thriving German town in the middle of Texas? Being able to eat tacos for lunch and brats for dinner all while wearing my cowboy hat, sipping local wine and listening to Sweet Caroline (the classic Oktoberfest song) totally threw me for a loop.
Fredericksburg was founded on May 8, 1846 by German immigrants under the Society for the Protection of German Immigrants in Texas. Fredericksburg was named after Prince Frederick of Prussia. These German immigrants were fleeing religious persecution in their homeland and looking for a place to practice their Lutheran faith freely.
Over time, the town became known for its peach trees (yum!) and remained a small farming community until the 1970s when the Texas wine industry began to take off. Now Fredericksburg and the surrounding area are really making a name for themselves as a top-notch wine country, but you can still see that farm influence. (Aka, get ready for like, a LOT of homemade jams, pecans and farm goodies to sample!)
Best Places To Stay In Fredericksburg: Unique Hotels & Lodging Ideas
You can do Fredericksburg in a day, but it'll be a whirlwind and you'll miss a lot. It's best to spend the night and holy moly, there are some insanely unique places to stay in Fredericksburg. I may have to write a whole blog post rounding up all cool cabins and rentals. But for now, these are the hotels, rentals, and cabins that are truly special.
1. Hoffman Haus Fredericksburg
If you're coming to town for a Fredericksburg romantic getaway, Hoffman Haus is a stunning Texas Bed and Breakfast. It gives charming upscale log cabin vibes in all the best ways. They offer variety of accommodations, including suites, rooms, and cottages plus a full breakfast each morning and complimentary wine and cheese each evening (yum!) It's one of the most romantic places to stay in Fredericksburg but is also good for a bougie friends trip.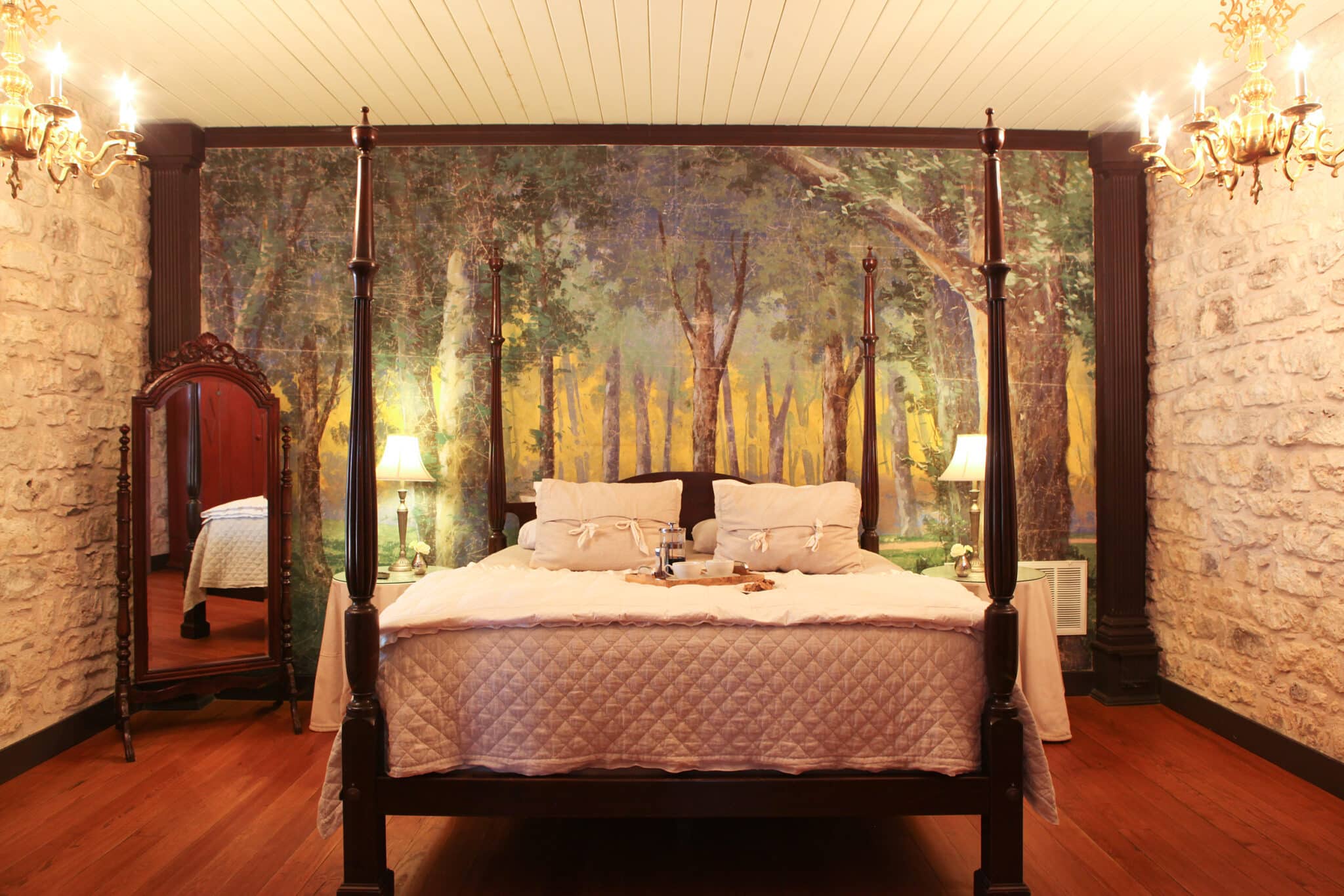 2. Big Skies Resort Glamping Trailers
These camper trailers at Big Skies Resort are such a cute idea for a Fredericksburg girlfriends getaway! These colorful Shasta trailers are the perfect glamping spot with private yards, a resort pool, Casper mattresses, and other perks (like an outdoor wood-burning fireplace!) This Fredericksburg resort offers glamping trailers that are perfect for romantic getaways in Texas or just a really cool friend weekend. Book it now (they sell out dates fast!)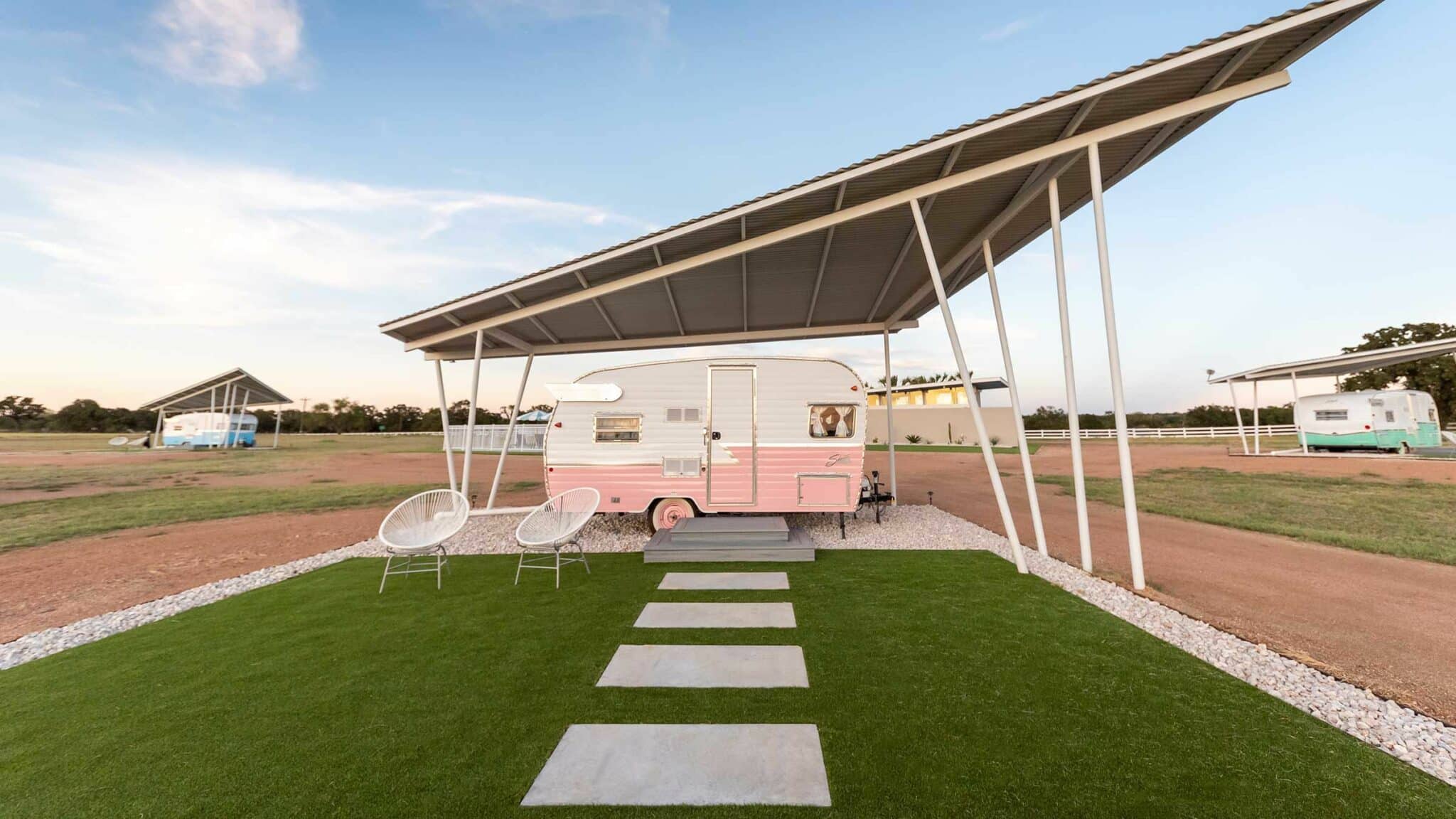 3. Pullman Car
Want to experience what it was like to ride in a Pullman car? This antique train car was built in 1894 and has been converted into a really cool vacation rental complete with a TV, wifi and shower. Apparently, Theodore Roosevelt used this car on one of his trips to the 6666 Ranch in North Texas and it still has tons of old world charm. It makes for one hell of a unique weekend in Fredericksburg Texas.
You're probably asking: which one did you guys stay at? Shannon and I planned our weekend trip to Fredericksburg Texas super last minute and on one of the nicest spring days all year. So, almost everything was booked up and we had to book an average motel that isn't worth mentioning. Learn from me and book your lodging early!
Your Perfect Fredericksburg Weekend Getaway Itinerary
Let's get your Fredericksburg weekend itinerary going! This is for a Saturday and Sunday (or any two days, really!) I have more suggestions at the bottom of this post if you are doing a 3-day trip and want to extend your weekend travel plans.
Day One in Fredericksburg
This is written as if you are coming from the Austin area, drinking your way to town.
William Chris Vineyards
Appointment time: 10:30am
Location: Hye on 290
First stop of the day is at William Chris Vineyards, one of the bigger wine names on 290. Here, you can enjoy a leisurely picnic and bottle surrounded by beautiful oak trees or do a tasting of their 100% Texas-grown wine in their tasting room that features huge floor-to-ceiling windows overlooking the property.
These grounds are seriously beautiful and capture what Texas wine country is all about. It was the perfect first stop for Shannon and I, especially since they give out little maps of Texas wine regions at the tastings so we could get a visual.
While I'm used to seeing Chardonnay on the menus at Napa Valley wineries, William Chris has a nice Roussanne instead. You'll also find a lot of Grenache, Syrah, and Mourvedre used here, but my favorite was their Tannat. We also got to do a few barrel samples here which are always a treat!
Lunch At Hye Market
Estimated Time: 11:30-12:30pm
For lunch, you can pop across the street to the Hye Market, a local deli & bistro that makes super tasty sandwiches, burgers and salads to refuel with before heading to wine stop #2. The most popular is their smash burger, which hits the spot in between wine tasting.
It's right next to a historical post office and the whole building just oozes old-world charm. It does have slightly odd hours though, so check those before heading over, and it can get really slammed during the rush hour. If you can, I recommend ordering online ahead about an hour before you think you'll be there so you can pick up your lunch asap.
There is limited dining in this area, so if Hye Market is closed I would instead recommend you bring your own cheese, bread and meat for a little charcuterie (or a car-cuterie as me and my friends call it). We always bring a car-cuterie to wine tasting trips to stay sober and quench the munchies.
Pedernales Cellars
Appointment time: 1pm
Location: Stonewall
Pedernales Cellars was our favorite winery stop during our whole wine trip. The tasting room sits on a hill with nice views of the Hill Country and a patio with beautiful oak trees providing shade. (The patio is dog friendly if you want to bring your pup!)
But the real magic is in their wine and wine-making process. It's a family-owned and operated winery with a female winemaker. I was surprised on our wine tour to see one of the owners unassumingly on the bottling line in the back room. Some of their vineyards are still picked by hand and they're big on blending, so everything feels very thoughtful and intentional here.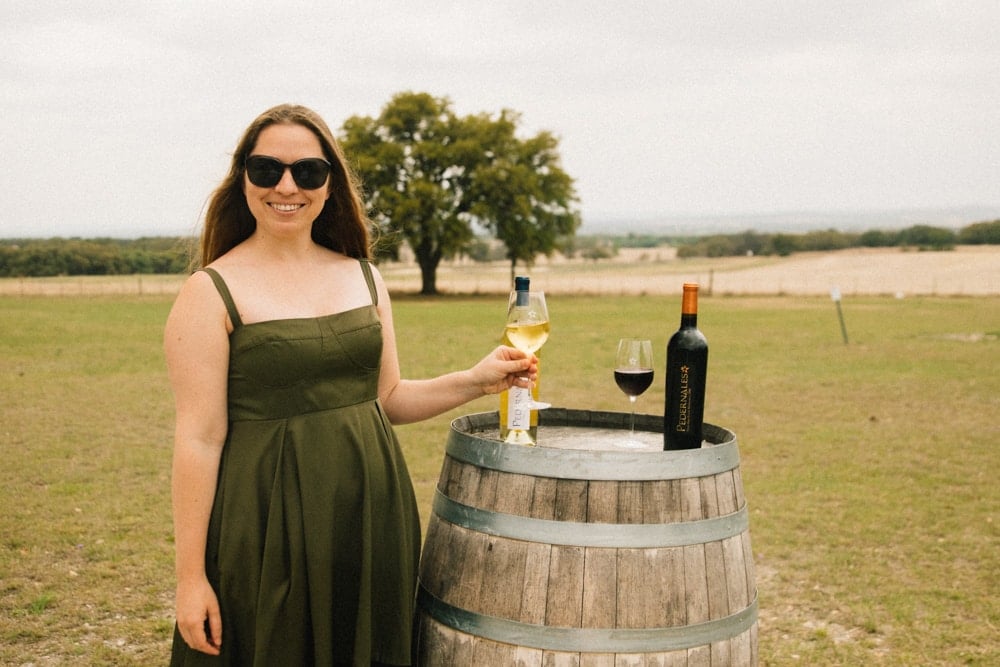 Pedernales specializes in Spanish and Rhone-style wines and we loved a bottle of the High Plains Tempranillo so much we took some home. If it's hot during your visit, make sure to try their Pet Nat Rosé and Viognier. Even if it's not hot, try their Pet Nat Rosé and Viognier. You'll thank me later.
Pedernales does a fantastic job at listing out tasting notes on their wine menu, so it's a great stop to help practice your nose and palette when it comes to wine!
Check Into Hotel or Vacation Rental
Estimated Time: 3pm
After Pedernales, head to your hotel or lodging of choice and check-in. Use this time to quickly freshen up if you need it (that summer Texas heat always makes me want a quick body rinse!) But don't get too comfy because there's more to taste and see in town.
Lost Draw Cellars
Appointment time: 4pm
Location: Fredericksburg
Lost Draw Cellars is in Fredericksburg proper and is such a fun last winery stop of the day to use as happy hour. Whenever I go on wine tasting trips with friends, we always try to find cool tasting rooms in town for our 3rd stop of the day so we can park the car and walk the rest of the way.
And boy does Lost Draw have such a cool vibe. Their tasting room features a patio and also an indoor area (with A/C for super hot days!) They're also dog friendly and I'm pretty sure the dogs outnumbered people during our visits, I got to give lots of good boys head rubs.
We especially loved their 2019 Tempranillo (i'm thinking 2019 must have been a really good year!), along with their GSM and Picpoul Blanc which really hit the spot on a hot afternoon. If you love Mourvèdres, they do a lot of them here. And, they offer some food pairings and bites if you're in need of a little snack before hitting up the main street of Downtown Fredericksburg.
Explore Downtown Fredericksburg
Estimated time: 5pm
Next up on your weekend in Fredericksburg TX is exploring the cute Historic Main Street area! This was bigger and more bustling than I pictured in my head, and still totally has that Old West vibe (of course, with random German influences added in to really make it a unique spot.)
I suggest starting at one end near Marktplatz von Fredericksburg and strolling down to take time popping into the boutiques, German antique shops, Amish stores and markets that catch your eye. You can find everything from clothing to farm goodies to cowboy hats to handmade chairs here. There's also a few wine tasting rooms here if you really wanted to try a winery but don't have time to get out to their vineyard location.
Of course, there's more than just wine here. Sometimes I get burnt out on wine after 3 vineyard stops, and look for breweries or distilleries to try. Some notable spots are the Fredericksburg Brewing Company and Elk Store Winery & Distillery, both on Main.

Drinks & Dinner in Fredericksburg
Estimated time: 7pm
After soaking up all the German charm, it's dinner time!!
Stargazing Enchanted Rock State Natural Area (Optional)
Estimated time: 9pm (park closes at 10pm)
If here for a romantic getaway in Fredericksburg TX, or just up for an adventure, had to the Enchanted Rock State Natural Area for stargazing! This park is part of the International Dark Sky Community so you can soak up the sky like it was before light pollution. It's an utterly beautiful, and super cool spot to celebrate a special anniversary or even to pop the question. Bring a blanket, sweaters, wine and flashlights! And wear sturdy shoes like Tevas for your walk back down.
If you want to hike this in the daytime, which you totally also should since it's a cool park with a massive pink granite dome, know it's on a reservation system for weekends and holidays.
Day Two in Fredericksburg Texas Hill Country
Breakfast At Emma & Ollie
Estimated time: 8am
Location: Fredericksburg
Emma & Ollie is THE place to have breakfast in Fredericksburg. It's as if a Southern brunch spot had a baby with a taco truck and somehow also a German restaurant. You can get breakfast tacos, but also things like biscuits with tomato gravy and Zanzenberg sausage patty is one of the things you can order here (drool) or fluffy pancakes with bacon. Head here early to avoid the long lines and fuel up before a big day out!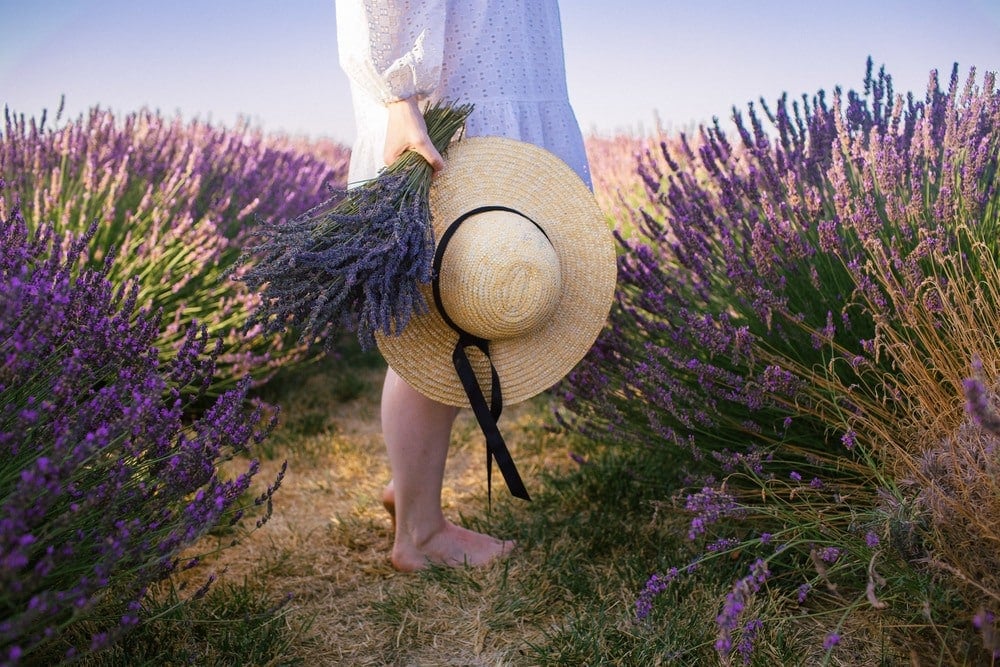 Hike At Johnson State Park or Flower Fields
Estimated time: 9:30am
We'll pick up wine tasting again later in the day, but there are so many other cool things to do in Fredericksburg other than wine. Texas Hill Country is super beautiful. If you're up for a small hike, the Lyndon B. Johnson State Park & Historic Site has easy nature trails, cabins and, surprisingly, bison roaming about. It's a nice place to take coffee and ease into the day after brunch. And it's totally free to visit!
Or, if it's springtime, you'll want to hit up a flower field. I'm a HUGE flower field lover. Each spring I hunt down all the best flower fields in California but Texas is packing some neat spots. On top of driving by endless rows of bluebonnets each spring, there's also lavender fields and a working flower farm nearby.
Wildseed Farms: They're the nation's largest working wildflower farm with over 200 acres of different types of flowers! (It's so pretty!!) They feature walking trails around the flowers, gardens, a farm shop and even have a winery if you wanted to do a tasting here!
Becker Vineyards: Wine tasting AND lavender fields? Yes please! Each May during lavender season, this Fredericksburg winery is blooming with purple. They also have a huge lavender festival with events, cooking classes, live music, tastings and more.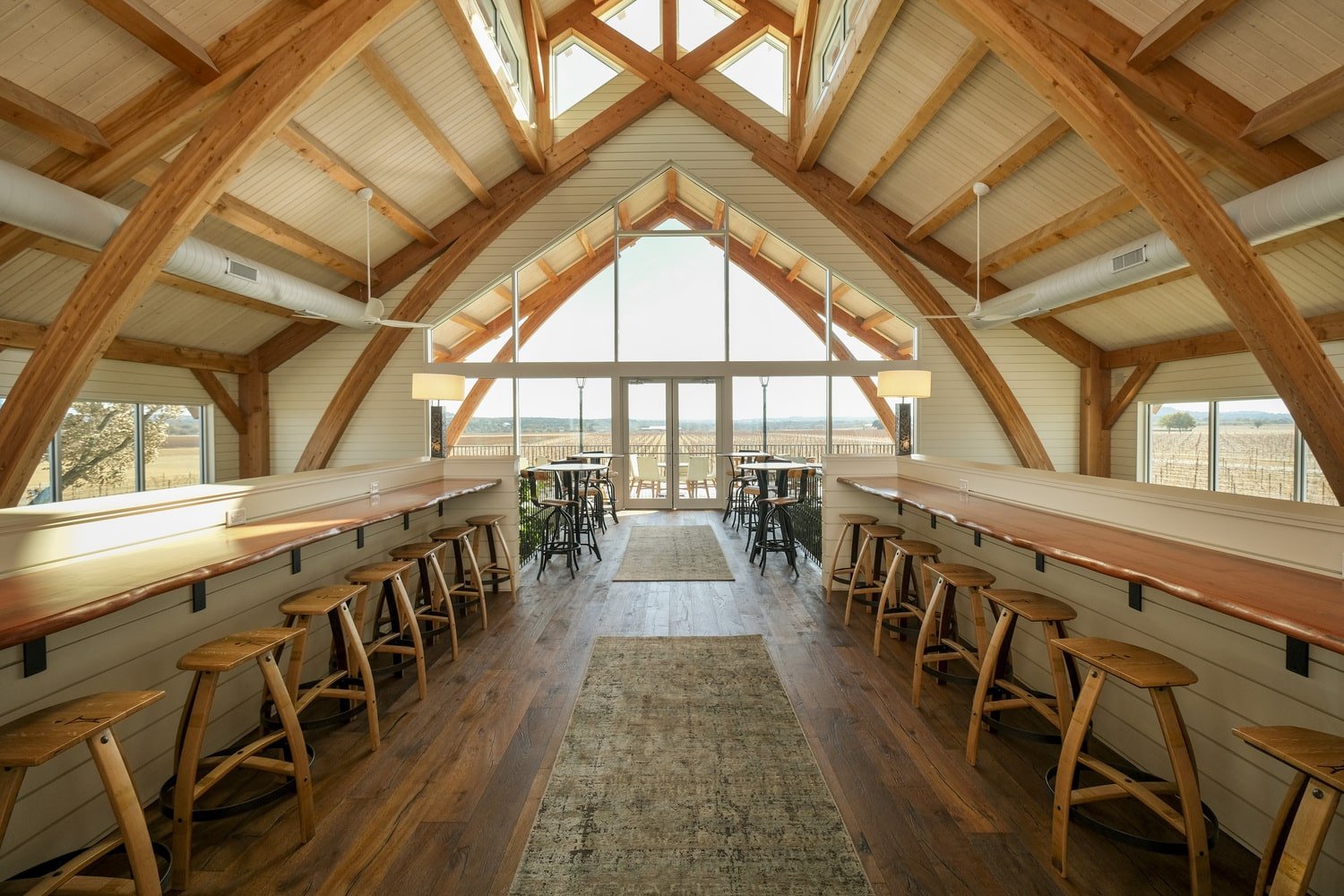 Augusta Vin
Estimated time: 11:30am
For your morning tasting head to Augusta Vin to sip wine in their 2-story timber-framed tasting room overlooking vineyards. What a fun way to start the day! You can find some Rhone Region-style wines here but also an Aglianico which I didn't see on any other tasting menus while in Texas.
They've been awarded numerous medals from the Texas Internal Wine Competitiotional and also have a food menu if you're craving some mid-morning snacks or cheese pairing.
Grape Creek Vineyards Or Heath Sparkling
Estimated time: 1pm
Next, head over to Grape Creek Vineyards or Heath Sparkling. They're under the same ownership and are across the street from each other. Heath Sparkling is obviously, a sparkling wine house which is a super fun stop to learn more about sparkling wine and switch things up in tastings. It's actually the first winery in Texas dedicated to sparkling!
If bubbles aren't your thing, head over to Grape Creek. This is another one of the Big Names in Texas Hill Country and the winery is always buzzing with life. Hearth or Grape Creek is the perfect stop for your mid-day tasting since there's an onsite restaurant and both wineries also offer small bites, so plan on this for your lunch unless you bring another charcuterie.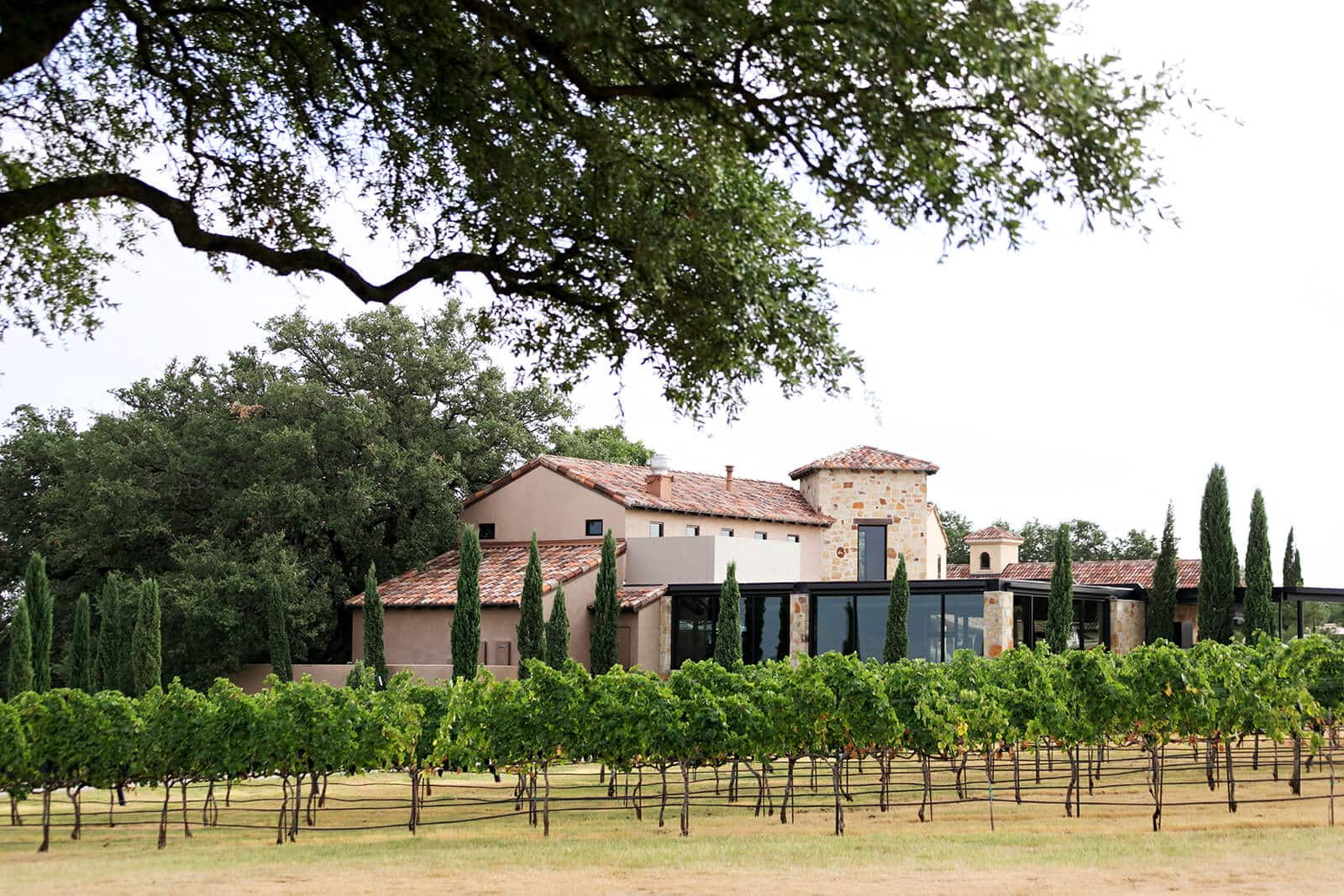 Becker Vineyard
Estimated time: 3pm
This is the winery our Texas-grown editor Taylor recommended! She loves the vibe here and says the tastings are always laid back, friendly, and fun. Becker is that winery with all the lavender fields, so again, make sure to stop by in the spring. But it's beautiful year-round.
Opt for the general tasting ($25 pp) where you get to sample 6 wines. Whatever you do, make sure to try Becker's Jolie 2019 Rosé, which got the gold medal in the 2021 San Francisco Chronicle Wine Competition. (I live in San Francisco and this award is a big deal!) The Jolie is made using the saignée method that creates a delicate taste of watermelon and cherries. It really hits the spot on a hot day!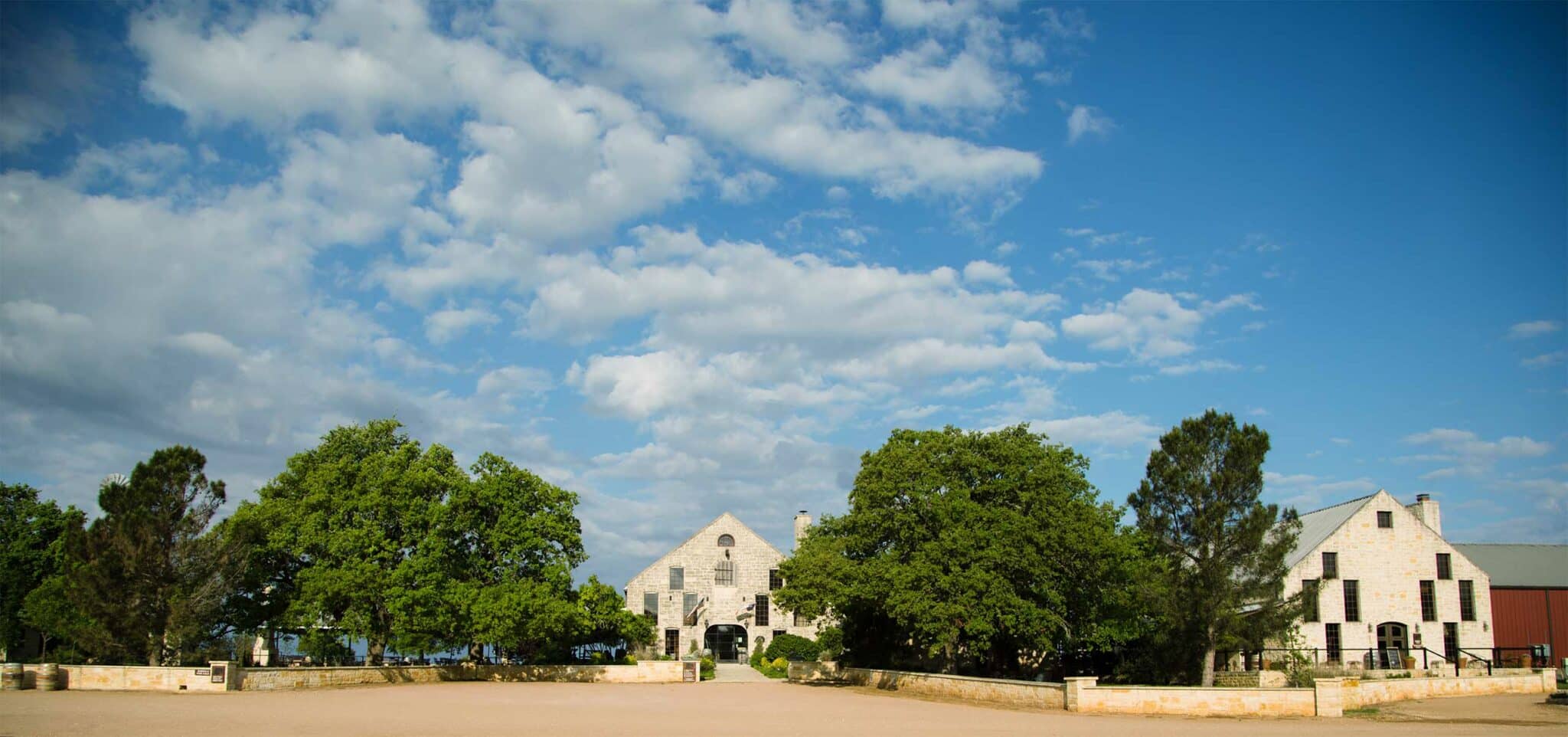 Just For Fun: 290 Wine Castle
Estimated time: 5:00pm
As a 30-year-old, I personally can't stop at 4 wineries in a day anymore, but if you're up for more tastings and something unique, swing by the 290 Wine Castle. I mean, it's a freaking castle!!!! I'm a sucker for castle wineries (my personal favorite is Tooth and Nail in Paso Robles, a must if you're ever on the central coast!)
When wine tasting, I love to find a mix of small vineyards doing really creative things with wines, local big names, and then also 1-2 wineries that are unique more so for the property vs the wine. 290 Wine Castle is a medieval-style castle complete with a dungeon that goes all out for Halloween. It's full of medieval decor and sits on a hill overlooking the landscape.
While they do make and serve some of their own Texas-grown wine, you'll also find outside wine labels from all over the world served here. Again, to set expectations: this is a stop to pretend to be a princess as your last hurrah in Texas Hill Country (yay!) not the place to be sampling the state's next 100-point wine.
6pm: End In Austin
Around 6-7pm you'll find yourself back in Austin. What a perfect Texas Hill Country wine tasting weekend!!

Other Cool Fredericksburg Wineries To Visit
I wasn't able to visit all the wineries myself in one weekend so I reached out to trusted local friends to gather up some other wineries you may want to visit instead of my suggested ones.
Bending Branch: Located down in Comfort, they're doing some really dang good Tennants and other Texas High Plains wines.
CALAIS Winery: 100% Texas-grown grapes but making French-style wines. Tastings are intimate out of a cave.
Narrow Path Winery and Vineyard: They have a main street tasting room but also a vineyard one that's simply beautiful.
Six Shoot Cellars: They don't just make wine here, they also make mead!!! Plus sparkling and port.
Wine Garage: If you love cars, you need to come here to sip a flight of 5 curated Texas wines alongside vintage collectible cars.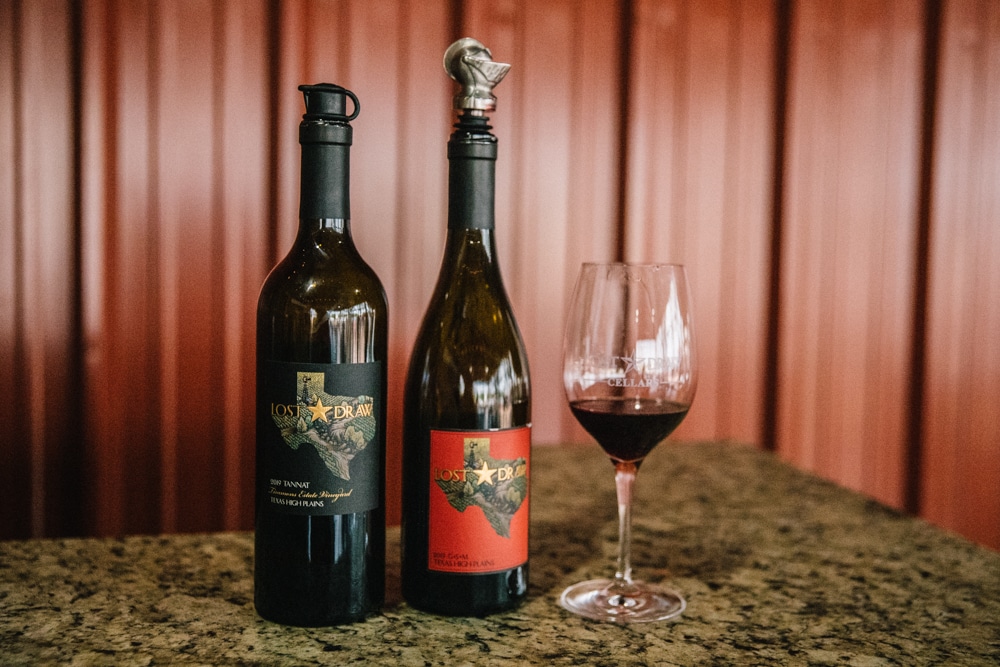 Best Fredericksburg Restaurants
I sprinkled restaurant recommendations all across this post so I wanted to gather them all (plus additional recs) in one spot for you! Here are the best places to eat in Fredericksburg!
Hye Market & Deli: Bistro deli on Wine Road 290 that serves up dang tasty lunches for in-between wine tastings.
Hondo's on Main: Laid back burger & Tex-Mex spot with live music on weekends.
Cabernet Grill at Cotton Gin Village: This is THE fancy date night spot in down featuring a menu of American steak, seafood and local wines. It's great for a Fredericksburg couples getaway diner spot.
West End Pizza: After wine tasting I'm pizza. They do brick oven pizza with handmade dough and is a local favorite! They have a large restaurant in Downtown and it looks like they expanded into the building next door, too.
The Ausländer: THE best German-Bavarian spot in town! If you've never had Schnitzel, this is the spot to pop your Schnitzel cherry. They even have a Texas-style Schnitzel!
Ottos Bistro: Another German bistro, this one a little more modern vs themed Bavarian but still just as tasty. They're open for dinners and weekend brunch.
Vaudeville: New American cuisine with a menu that's constantly changing based on seasonal fare. Oh, and they have a supper club in the winter that's to die for!
Emma & Ollie: Simply the best place to grab breakfast or brunch in town.
Clear River Ice Cream: I'm lactose intolerant but it's worth the tummy pain for a place like Clear River which makes all their ice cream in-house in small batches. YUM.
More Fun Things to Do In Fredericksburg
There's more to do than just wine tasting (though as a wine lover, that's my favorite part.) If you're looking for even more things to do in Fredericksburg that's not wine tasting outside of my recommended activities, here's some more ideas.
Lyndon B Johnson National Historical Museum: This national museum is open every day and has a free visitors self-guided tour to learn more about LBJ's life.
Horseback riding: I've been REALLY into horseback riding on trips lately. Especially in areas where it can get too hot to hike (like Arizona)so instead you can hop on a horse for
Live Music: Because Fredericksburg is so close to Austin, it attracts a great live music scene. This is a list of all the venues with live music, concerts and events. Some are even dance halls!
Up for a swim? There are tons of natural swimming holes all around Texas, a few within a close drive to town. Use our guide to find our favorite secret swimming spots in Texas!
I hope this helps you plan your perfect Fredericksburg Weekend Getaway!! If you have more tips to add, please leave a comment below so everyone can see it.
I had such a fun introduction to Texas wine during my Fredericksburg Texas getaway with Shannon. I totally want to come back again for longer to visit even more wineries (and leave some proper suitcase room so I can bring bottles home with me!) Texas is doing something good down there. Watch out California.