A snorkel Maui day is something I put on the top of our "to-do" list when visiting Hawaii. It ended up being my personal favorite Maui tour we did on our trip! It was our first time on the island, and we didn't come with any snorkel gear. It's also April and the tail end of whale watching season, so my husband and I decided to book a snorkel Maui cruise around the ocean! A half day of sailing, snorkeling, sunshine, whale watching, pulled pork and beer was just what we were looking for.
Make sure to book a morning snorkel tour as afternoons tend to get more trade winds!
We booked this snorkel Maui cruise to Molokini from West Maui. We're only two days into our Maui trip, but I already know this tour was probably going to be my highlight of the trip (and I was right!) I personally love sailing – I fell in love while in Nicaragua and since have been making a point to go sailing as much as possible while traveling. This tour promised great Maui snorkeling, coral reefs to see marine life up close and personal, an open bar and great reviews.
Keep reading for my personal review on this Maui snorkeling tour!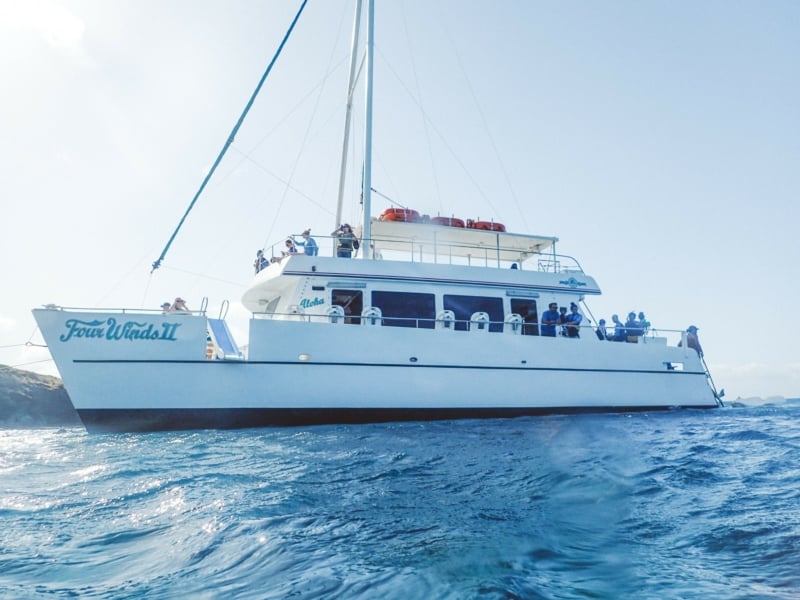 We woke up a 6am to catch a 7am snorkel Maui cruise from Maalaea, about 25 minutes north of our hotel in Kihei. We were still on Mainland time so it wasn't hard for us to wake up early and set out. Note – the parking lot at the Harbor gets PACKED in the mornings. We arrived about 20 minutes before our cruise check-in and were confronted with a crazy crowd of visitors trying to snag a spot. Lesson: get there a little earlier than you think you need to, just in case. The line to the pay meter can get LONG.
Pro tip: if you are booking the same west Maui snorkeling tour that we did, drive ALL the way down the jetty! WTF is a jetty (what I was asking myself at 6am) it's the thing that jets out into the water that boats dock on. In most harbors, I've only seen these have walking paths, but this harbor has a large parking lot on their jetty. There will be more spots available over here as people don't know they can drive over, and the line for the pay meter will be shorter! Park close to the brown terminal building, this cruise is next to Calypso, which you'll probably see labeled clearly from the other side as it's a LARGE boat.
Our snorkel Maui cruise on Four Winds II was set for Molokini Crater, one of the best Maui snorkeling spots, but sadly it was really windy that day which put a dent in those plans. I'm taking whipping winds on the deck – hats were flying, Robin's sandals flew off! So, instead of subjecting us to crazy waves at Molokini, we cruised to a cove off of the Maui island for a small coral reef. I didn't mind too much – I wasn't keen on battle waves while snorkeling, though I would love to do some Molokini snorkeling one day.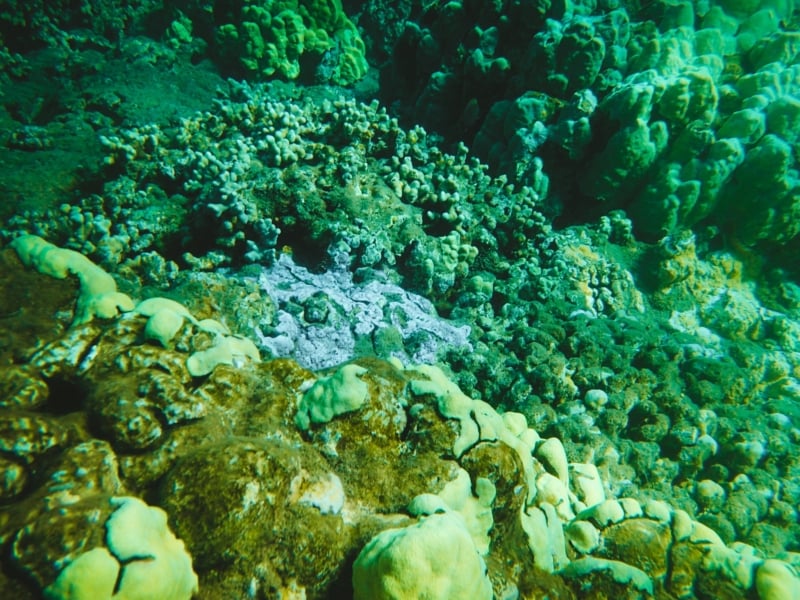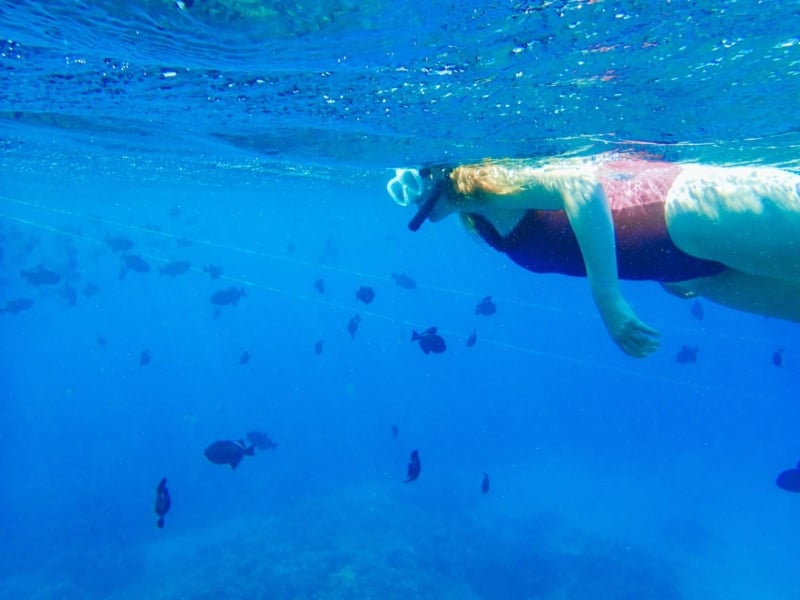 That being said, you didn't get any prior warning that our tour course was changed. I read on some Trip Advisor reviews of this tour – and other Maui snorkeling tours – that this happens a lot and it doesn't always make people happy. One guy had his heart set on some Turtle Town snorkeling on a different company, but his tour didn't end up going there and he was really disappointed. Just a warning that weather may affect if you can make it to Molokini or Turtle Town!
Some cruises, like this one, offer two visits – one to Molokini and one to Turtle Town, which I assume is a place that sea turtles like to hang out in! Ours was just one stop, which I really loved. We ended up snorkeling in the water for a good 1.5+ hours and by the time we got back on the boat and ate lunch, it was almost time to leave. I think I would have been too rushed if we had to go to two snorkeling spots! Also, we saw tons of turtles just right off the beach of the Hyatt Maui as they loved to hang out next to the rocks and eat the seaweed. There's no need to pay extra for a Turtle Town visit, some of the best snorkeling in Maui Hawaii to sea turtles can be the beaches near resorts! But if you want to really make sure you see some turtles, it may not be a bad idea to book a snorkel Maui tour that heads to Turtle Town. You never see too many turtles!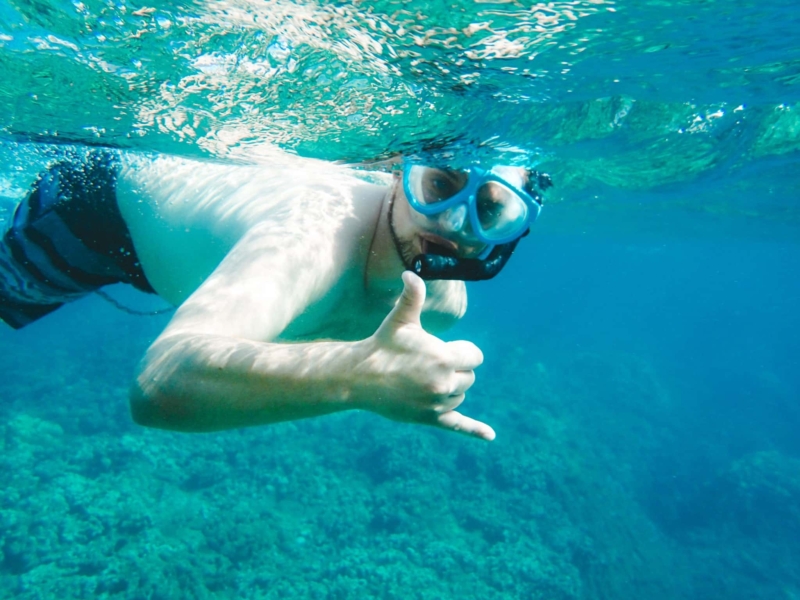 I personally loved chasing all the tropical fish and trying to take a photo of them. We forgot to bring a GoPro to Hawaii, so we rented a professional-grade underwater camera on our Snorkel Maui Cruise for $50 and that was hands-down the better choice! They come fully charged and take much better photos than a GoPro in my opinion. The guy on the boat will also transfer all the photos and videos from the camera to your phone or a flash drive so you can post to Instagram right away. All the photos in this blog post were taken on that underwater camera! Next time, I'll keep our nice DSLR at home and instead just rent a camera on the boat (if I don't break down and buy this exact model first — not like its fun to swim in San Francisco Bay waters, though!! HA!)
This tour is great for anyone looking for Maui snorkeling spots for beginners as the crew is really helpful & teaches you how to snorkel if you don't know how! My husband, Robin, isn't the biggest fan of swimming longer than 10+ minutes (weirdo, I know) and he gets overheated really easy, which is why we opted for this snorkel Maui tour on a boat instead of trying to find some of the best snorkeling spots in Maui by ourselves. I knew he would end up sitting in the shade at the beach park wishing he was in A/C instead of out in the water snorkeling.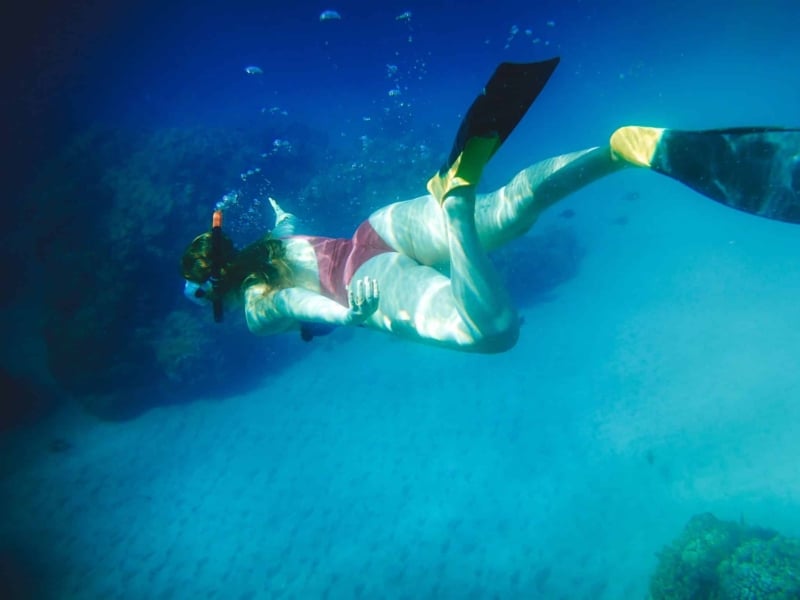 This is why I loved having a boat! Lots of wind on the ocean and shade to cool him off, along with cold water and snacks. It was just easier for us both to experience our first Hawaii snorkel! I think I got him hooked, though, as he spent the whole time in the water with me. I was thinking that if he got tired or overheated, I could still easily snorkel and he could rest without either of us feeling like we are compromising. Next time we visit the islands, we'll be doing more hunting out the best places to snorkel on our own and probably bringing our own gear (though you can rent snorkel gear for as little as $1.50 in some shops on the island!)
I wore this swimsuit by Summersalt, which makes great swimsuits for all body types. It has built-in compression so it held the girls in as I dove to get a close look at the tropical fish! They have two pieces and one piece, I highly recommend getting a few swimsuits from here for your Maui trip – they'll last for years and years, plus the designs are really cute!!!

Don't forget to also pack some reef safe sunscreen (list here)! This cruise will provide coral safe sunscreen for you to wear if you want to skip your usual sunscreen in the morning and instead apply on the boat. Also bring a towel, as they won't give those to you, shoes that can get wet, sunglasses and a hair tie, as it will be windy out there on the water! You may want to bring a light sweater as the mornings can be chilly on the water. They'll provide water, beer, juice and food.
SNORKEL MAUI CRUISE PACKING LIST
Swimsuit (I love this one)
Reef safe sunscreen
Sunglasses
Hair Tie
Towel
Cover-up
Sweater for the morning
Sandles that can get wet
Underwater camera / GoPro (you can rent one on board)
Your credit card + ID
WHAT THE SNORKEL MAUI CRUISE PROVIDES
 Breakfast (fruit, muffins, coffee, juice)
Lunch (sandwich, chips)
Drinks (water, beer, juice)
Snorkel mask
Fins
Lessons on how to use snorkel mask
Underwater camera for $50
Snuba excursions for $60/pp
On-boat bathroom
Reef safe sunscreen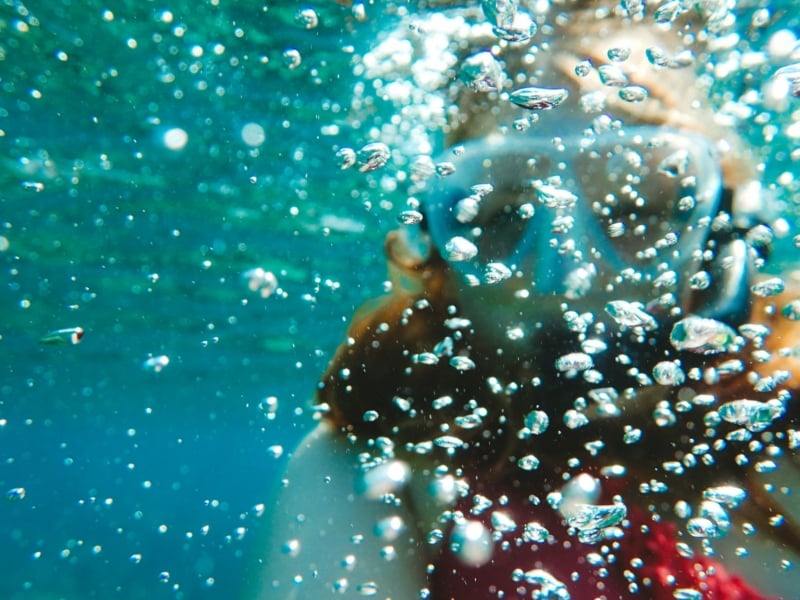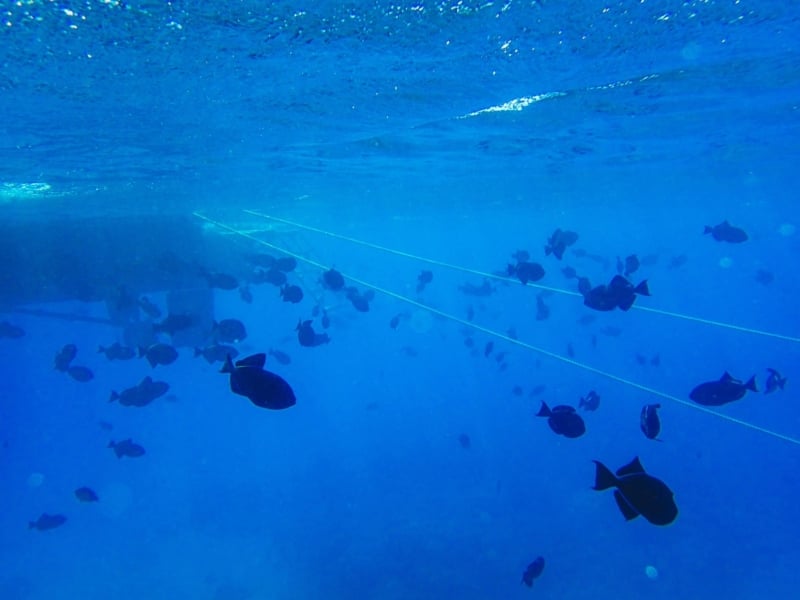 We didn't end up seeing any whales on our tour as migration season was basically over at this point, but if you visit in March, I'm sure you'll be able to watch whale breach from the boat!! Then, you can save money on a Maui whale watching tour as you'll be getting a two in one sail! I think Whale Watching Tours are about $40 per person, so you can save a lot of money if you time it right. We also didn't see any turtles or dolphins, but I'm thinking that's because we were snorkeling on a cove off of Maui instead of Molokini.
We booked pretty last minute and while I did some quick research on TripAdvisor for the best snorkeling Maui tours that were having a sale on their tickets that weekend, I did want to mention some of the other tours that caught my eye on the water or that I'm told from friends are fun! We really enjoyed our tour and would 100% book on the Four Winds II again, but here are some other ones that may be good options:
Paragon: A smaller boat for those who don't like crowds
Malolo: Turtle Town + Molokini cruise
Olowalu: A Kayak snorkel tour
Looking to snorkel without paying for tours? I hear Black Rock Beach, Napili Bay, Kapalua Bay and Honolua Bay are great for snorkeling in Maui! Honolua Bay has a nice sandy beach from what I'm told and is a good spot to tan, read, snorkel, repeat! Also, the beach right outside Hyatt Maui in Kaanapali attracted a lot of sea turtles if you are looking to spot those! But honestly, there so so many best beaches in Maui for snorkeling, I really don't think you can go wrong with any beach, but the list above should help!
I hope this helps you plan a snorkel Maui cruise or self-guided tour! I can't wait to go snorkeling in Maui again soon, hopefully, this time I'll spot some dolphins! I still haven't seen any dolphins IRL. I'll be heading to the Cook Islands this summer, so maybe I'll spot them there! Fingers crossed.
Planning a trip to Maui? Check out my other Maui, Hawaii blog posts!