Listen, I've lived a good life. I'm blessed with a nice family, good friends, and good health… but life kicked me in the gut in one regard: acne. So my hunt for the best Ordinary products for acne has been a long one.
I've had back acne (aka bacne) and acne for a large part of my life from age 12 until about 23. I'm not talking about a few bumps here and there.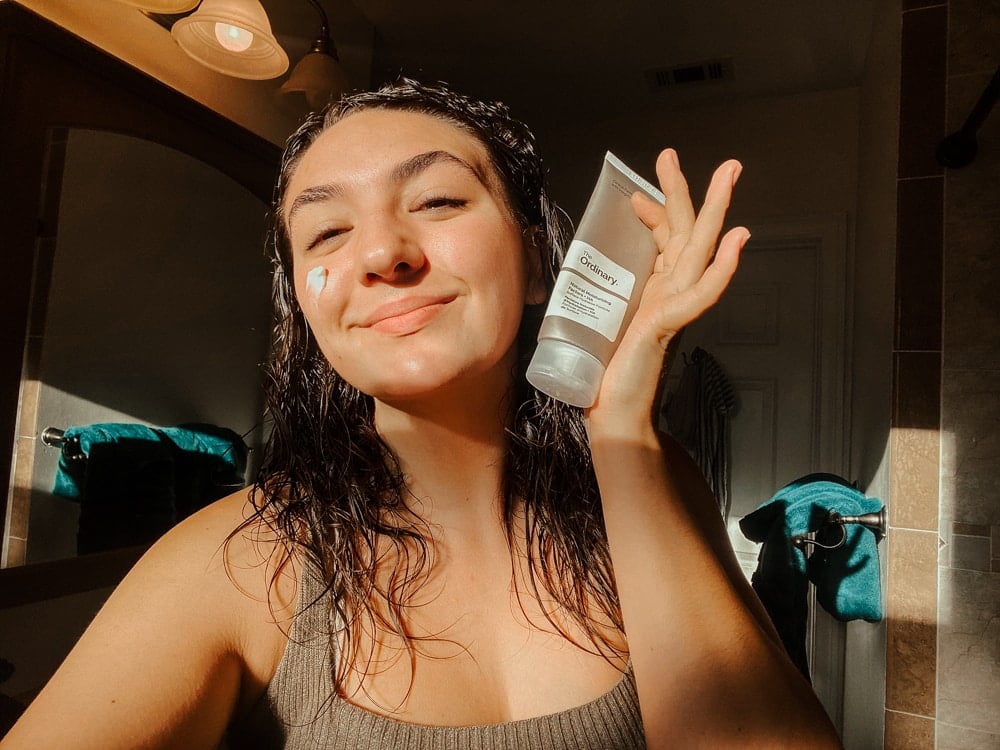 My Acne Journey
Full-on cystic acne covering my shoulders, upper back and face. As a teenager in the 2000's (before skin care experts were flooding TikTok or Instagram), I relied heavily on drugstore products. I couldn't even pronounce "dermatologist."
When I was 23, I realized I couldn't do it alone and sought out help from a doctor. I was immediately prescribed Isotretinoin, or as you might know it, Accutane. It took three months and several pills, but I finally have clear skin… well as clear as it could get.
There's still acne scarring, dark spots, and the occasional acne/chest acne (aka chestne). It's not completely gone which is why I'm experimenting with The Ordinary products for acne and scarring (after using the brand for years).
So, What Are The Best Ordinary Products for Acne?
I'm curious how well these products will help fade acne scars on my back (because I have a lot), and how it helps my smaller breakouts. Come along as I take a deep dive into their acne-focused line and find out which The Ordinary products are worth your dime. (Hey, that rhymed!)
Quick Glance – Shop My Favorite Ordinary Acne Products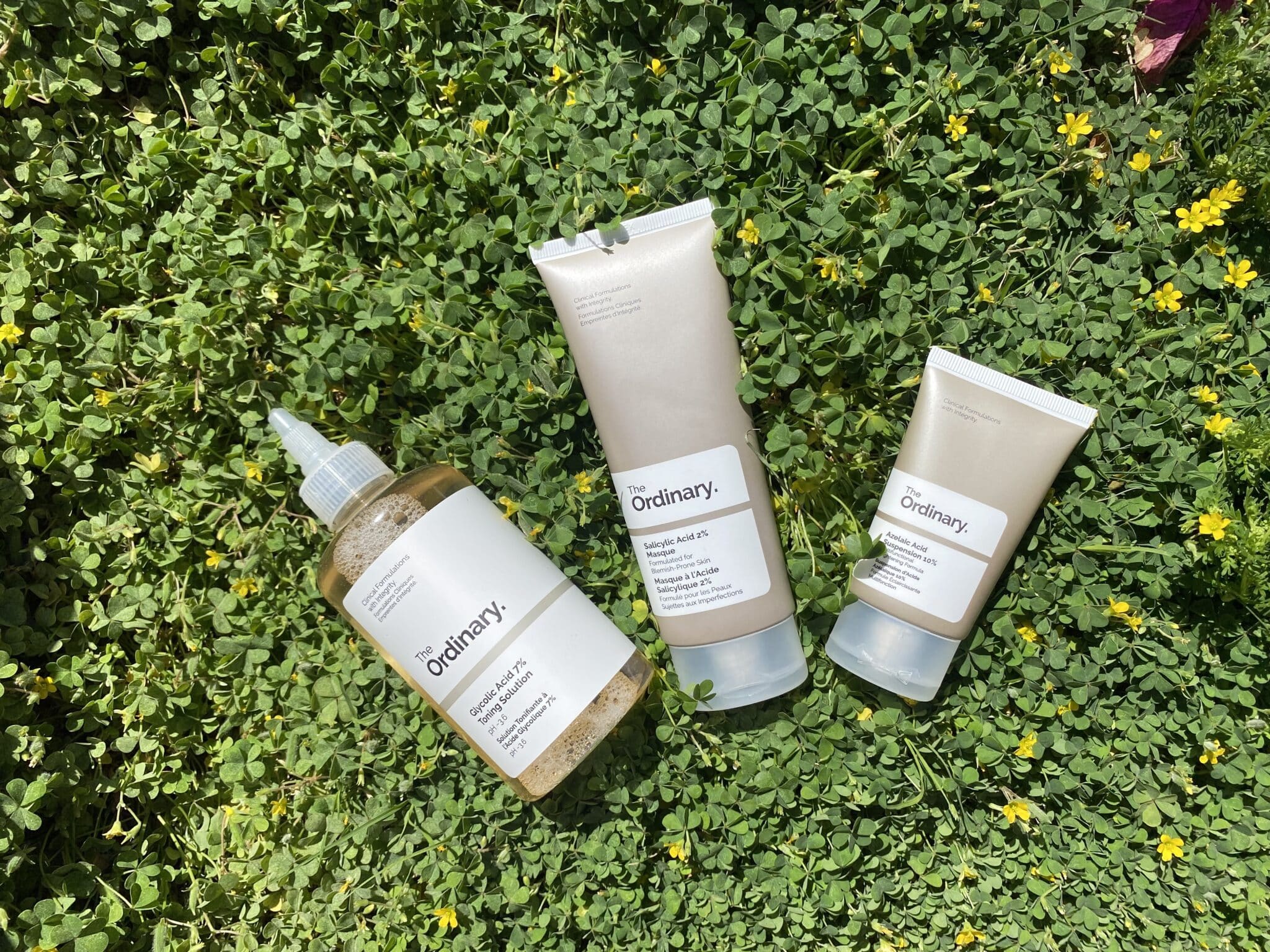 The Ordinary Acne Review: Best Ordinary Products for Acne Prone Skin Types
Acne prone skin types are often very delicate and damaged. I know this from experience, but I have to say The Ordinary has a lot of great stuff that's gentle and effective for acne prone skin.
1. The Ordinary Basics You Should Have
The Ordinary Salicylic Acid 2% Solution is a great addition to your skincare routine if you suffer from acne. It helps to remove dead skin cells and clear up clogged pores.
You've probably seen items at Walgreens or Target with salicylic acid in their formulas. It's a common ingredient to help active acne, but you have to be careful with the acid percentage and other ingredients added.
Stay away from anything scented. Scented is never your friend.
I won't say other brands don't offer great alternatives, but The Ordinary salicylic acid solution is only $5.90. It also feels great on the skin, and doesn't dry me out like some others I've tried.
The Ordinary Salicylic Acid 2% Anhydrous Solution has a squalane base for application which is great for hydrating the skin, but has no water properties like the original solution.
If you're looking for even more hydration, I love using The Ordinary Squalane Cleanser before any serums or creams. This cleanser is one of the best The Ordinary products for oily acne prone skin because it cleans gently while leaving your skin feeling even; not too dry and not too greasy.
For similar results to the salicylic acid, try The Ordinary Salicylic Acid 2% Masque. This salicylic acid masque is meant to be used once or twice a week on dry skin and just like the serum, it helps remove dead skin cells.
It's also great for blackheads. The mask contains charcoal and clays to help really clean up your skin and pores. Since it's not a direct acid, you don't have to worry about it causing damage to your skin when used incorrectly.
Something to note: serums and acids like this are really great for acne that requires average to easy management. It will not cure you of cysts and large areas of acne. While it could help manage severely congested skin, you probably won't see a huge change.
2. Ordinary Niacinamide 10% + Zinc 1%
As part of The Ordinary acne set, this serum is helpful for pimples and oily, acne prone skin.
Niacinamide is a form of vitamin B3 that helps with reducing inflammation and pores which helps to reduce acne and pimples at the very start! Zinc is another anti-inflammatory that helps with signs of aging by protecting the skin from harmful UV rays. Together, they make a powerful team and I really like this product.
After using it on my face and body for the last week, I've noticed my acne minimizing overnight as well as reduced redness around larger pimples. It's a good addition for those with clustering acne as it helps relieve painful inflammation.
Testing these products came at a great time too because I had just started my glorious, abundant, not-at-all-painful period! So consider this post upgraded from a regular acne review to The Ordinary Hormonal Acne review.
Alongside The Ordinary, I'm testing THINX period panties, so keep an eye out for that review too 👀
3. The Ordinary Azelaic Acid Suspension 10%
With some more of the same anti-inflammatory properties as the serum above, Azelaic Acid is great for acne prone skin and those with uneven skin tone. It helps to reduce redness that comes with inflammatory hyperpigmentation, and it's antimicrobial to keep your skin protected against germs.
The Oridinary Azelaic Acid Suspension 10% comes in a nice creamy formula that I like to put on after all my serums. The acid is highly concentrated to give the best results, but I wouldn't use it alone. All of these acne products are pretty effective when used together, but separately you might see slow progress.
If you have heavier acne and want immediate results, this brand is probably not what you're looking for.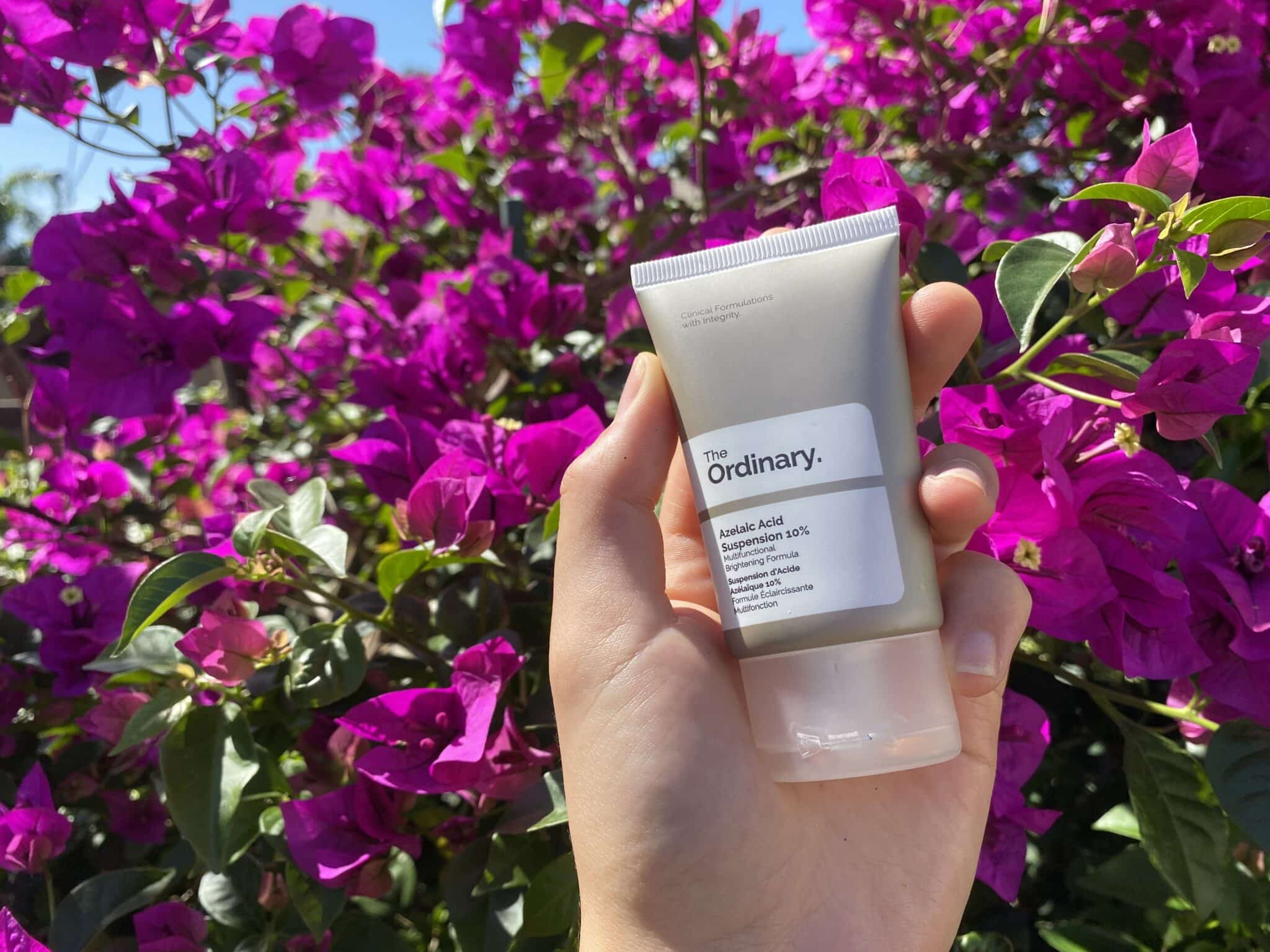 The Ordinary Acne Routine – Step By Step
To make it easy, The Ordinary put together an acne kit called "The Balance Set," and it includes all the goodies you need to start your acne recovery journey!
I like The Ordinary's website because it tells you exactly how to their products, but it usually follows the pattern of:
Cleanse your face
Apply serums
Apply creams
Finish with a moisturizer
The routine recommends: the Squalane Cleanser, Salicylic Acid 2% masque, Niacinamide 10% + Zinc 1% serum, and the Natural Moisturizing Factors + HA lotion. All of these are great to kick off your skin care routine, and build up with extra serums later.
I've mentioned pretty much every product above, except for one. The moisturizer. One of the most vital steps of any acne routine is moisture. The Ordinary Natural Moisturizing Factors + HA is a really great skin hydrator and a nice finishing touch to your The Ordinary skincare routine. It's one of the best The Ordinary products for oily skin that keeps you nice and hydrated (without feeling greasy).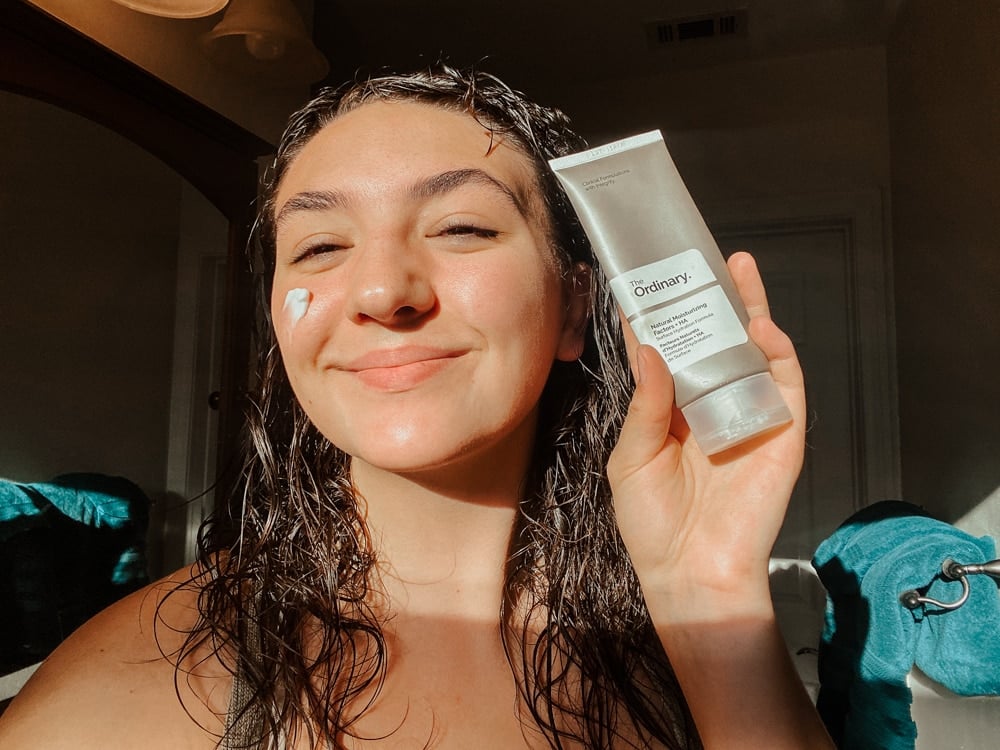 The lotion uses Natural Moisturizing Factors (NMF) to seal in moisture and protect the skin. Some of those factors or ingredients include hyaluronic acid, amino acids, fatty acids, and more. These compounds are found naturally in the skin so it shouldn't cause any harsh reactions, but it's always a good call to patch test.
I've been using this lotion for a while, and I really like how lightweight it is on my skin. It's a great step to add to both your morning and night routines.
I have combination skin so I don't need too much help keeping my skin plump, but if you're someone who suffers from dry skin, I recommend trying The Ordinary Hyaluronic Acid 2% + B5 serum.
The serum is perfect for keeping in extra moisture. Be sure to apply it before any lotion or heavier creams. Hyaluronic acid has many other benefits like helping with soft tissue growth, and preventing tightness of the skin. The vitamin B5 used in the serum is another hydrator. It's a hydrator party!
If you're not a fan of Hyaluronic acid, then there's yet another serum with similar benefits. The Ordinary has such an abundance of products, I love it!
Hydrate with the 100% Plant-Derived Squalane
Just like the squalane cleanser, The Ordinary 100% Plant-Derived serum uses a naturally occurring substance called squalane (aka it's found naturally in your skin).
The Ordinary was able to extract it directly from plants. While they don't specify which, it can be pulled from plants such as wheat germ, amaranth seed, and sugar cane.
It's another great skin hydrator (I think I reached my quota on the word "hydrator") and even more direct of an application than the cleanser. I would pick either the hyaluronic acid or this serum, but you don't need both.
Bonus: This serum can also be used in your hair! The Ordinary 100% Organic Cold-Pressed Moroccan Argan Oil can also be used in the same manner. Both help moisturize and strengthen!
You're Acne's Gone, But It Left A Mark On The Way Out?
What are the Best Ordinary Products for Acne Scars?
Scarring is the my biggest concern after taking Accutane. Cystic acne doesn't disappear without leaving a mark and I want to win this battle once and for all. To help, I tried some of The Ordinary's products that target scarring.
Starting off with an exfoliator that's been taking TikTok by storm: The Ordinary Glycolic Acid 7% Toning Solution. This product helps with skin texture and scarring, so it's a great help to those healing from acne.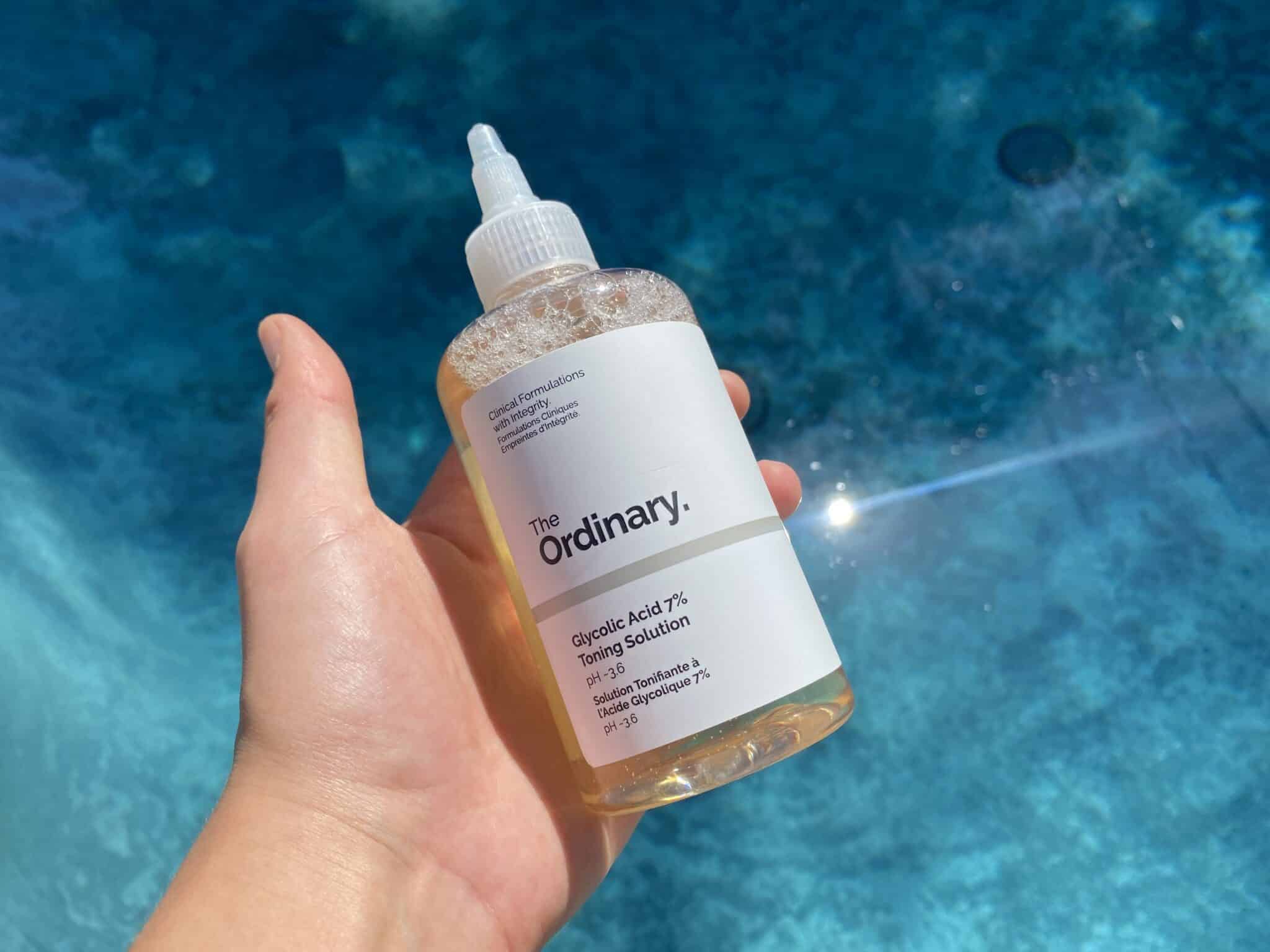 The acid toning solution is a chemical exfoliator. I always caution people to use it because it can be a lot for sensitive skin types. That said, I've been applying it nightly and it's been doing great. It can also be used on the body.
It will sting a little around areas that are highly sensitive like the nostrils and the lips, so I suggest avoiding these areas at first and building up slow exposure.
For body acne, this product is great. The skin on my back and chest is much tougher than my face, so this product does its job with no after-effects. After using for some time, I've seen it fade acne scars and help with my overall skin tone.
I've been waking up with glass skin and really even texture! In my opinion, it's one of the best acne scar products on the market.This formula contains Tasmanian Pepperberry to help with inflammation and help protect sensitive skin.
It also has aloe vera to combat the harsh effects that comes with any chemical exfoliators you might use. To reiterate, I really think it is one of the best ordinary skincare products and it's worth every penny.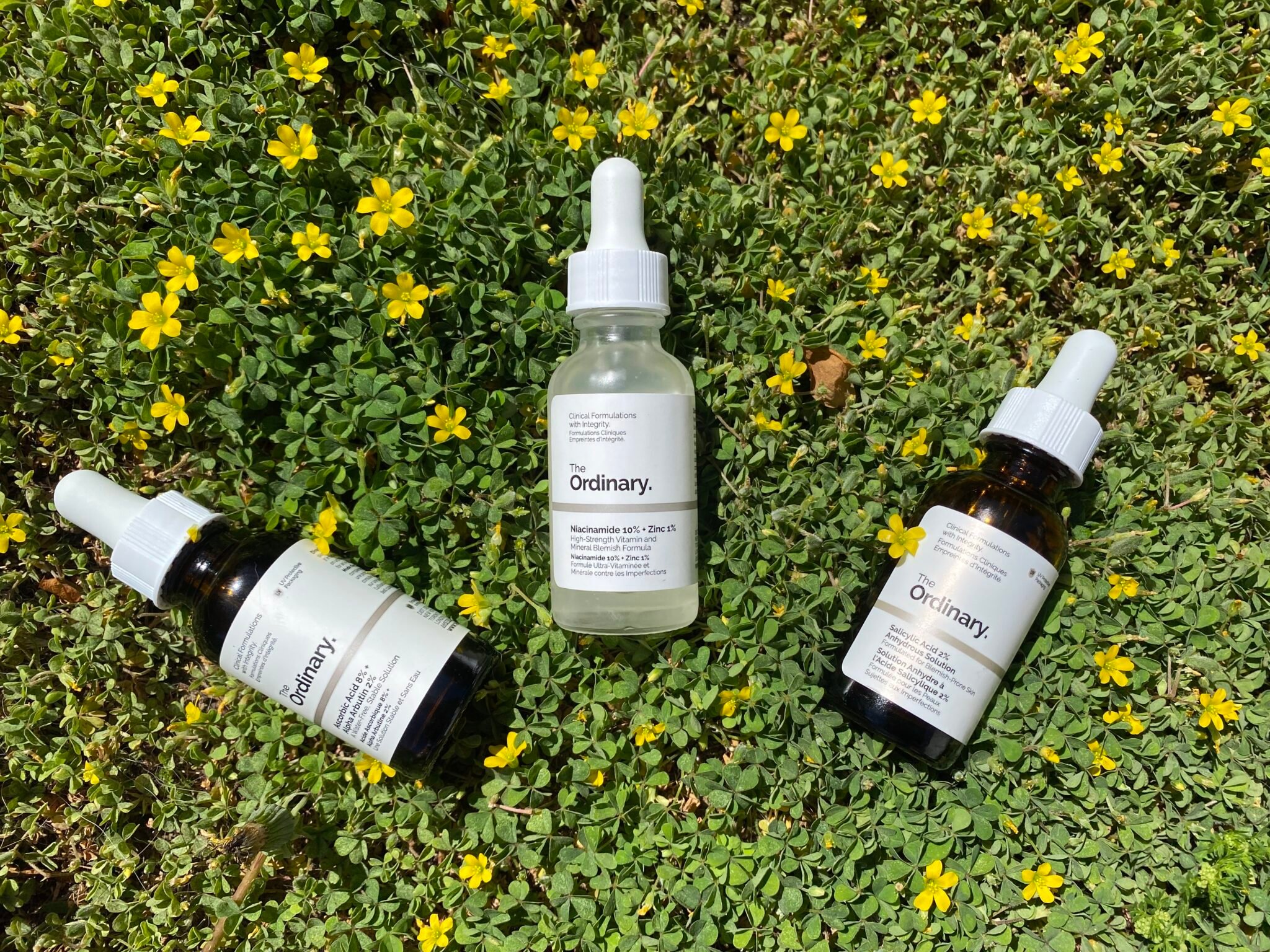 BUT, if you're ready for something more intense, it might be time to invest in the AHA 30% + BHA 2% Peeling Solution. This formula uses beta hydroxy acids to penetrate further into the skin and clear pore congestion. The solution also uses Alpha Hydroxy acids to exfoliate the skin.
The Ordinary peeling solution can be dangerous. The first time I used it, I chemically burned the skin around my mouth! I went into more detail in my other review: The Ordinary Skincare Guide: Honest Review After 3 Years Of Use + Best Products.
The solution (when used correctly) helps with skin texture and fine lines. The key is to use it consistently – about once every week or every other week – and it could slightly help with indented acne scars (but those are usually a beast to get rid of, so don't expect life-changing results).
For a lighter peeling solution, you can try The Ordinary Lactic Acid 5% + HA. It's a much safer choice, but you might not get the same WOW results.
Let's Brighten That Skin With Ordinary Beauty Ascorbic Acid!
With my acne under control (and pretty much a thing of the past ✌️), I've been able to focus on other aspects of my skin that I want to improve. One of those improvements being my skin tone and overall brightness.
So I gave The Ordinary Ascorbic Acid 8% + Alpha Arbutin 2% a shot. The serum contains an Ascorbic Acid (a vitamin C derivative) in a non-water solution. For those that don't know, Vitamin C is way more effective in a silicone base or waterless solution.
The benefits of vitamin C are remarkable. It helps with brightening skin, and it fights against signs of aging by helping your skin produce collagen. Collagen has the potential to make your skin firmer and more youthful.
Alpha Arbutin pinpoints skin tone by the evening overall and targeting darker spots. It also helps with the appearance of scars, but not by a lot. If you already use a vitamin C product, but still want the skin toning benefits of alpha arbutin, pick up The Ordinary Alpha Arbutin 2% + HA. It uses a standard 1% of hyaluronic acid to give you an extra hydration boost, but its main star is alpha arbutin.
Looking for more products to target aging? Try The Ordinary Granactive Retinoid 5% in Squalane!
When It's Time To Consult A Skincare Professional
For severe acne, the first step is to see a professional (if possible). I've been through the cycle myself, and it just led me down rabbit holes of trying different products that never work.
Even The Ordinary recommends talking to a professional if you have relentless acne, and I share the same sentiments. Over-the-counter ointments can only do so much.
If you have mild acne, start with the serums mentioned in this article, or explore the aisles of your favorite beauty store (like Ulta or Sephora) with one of the staff.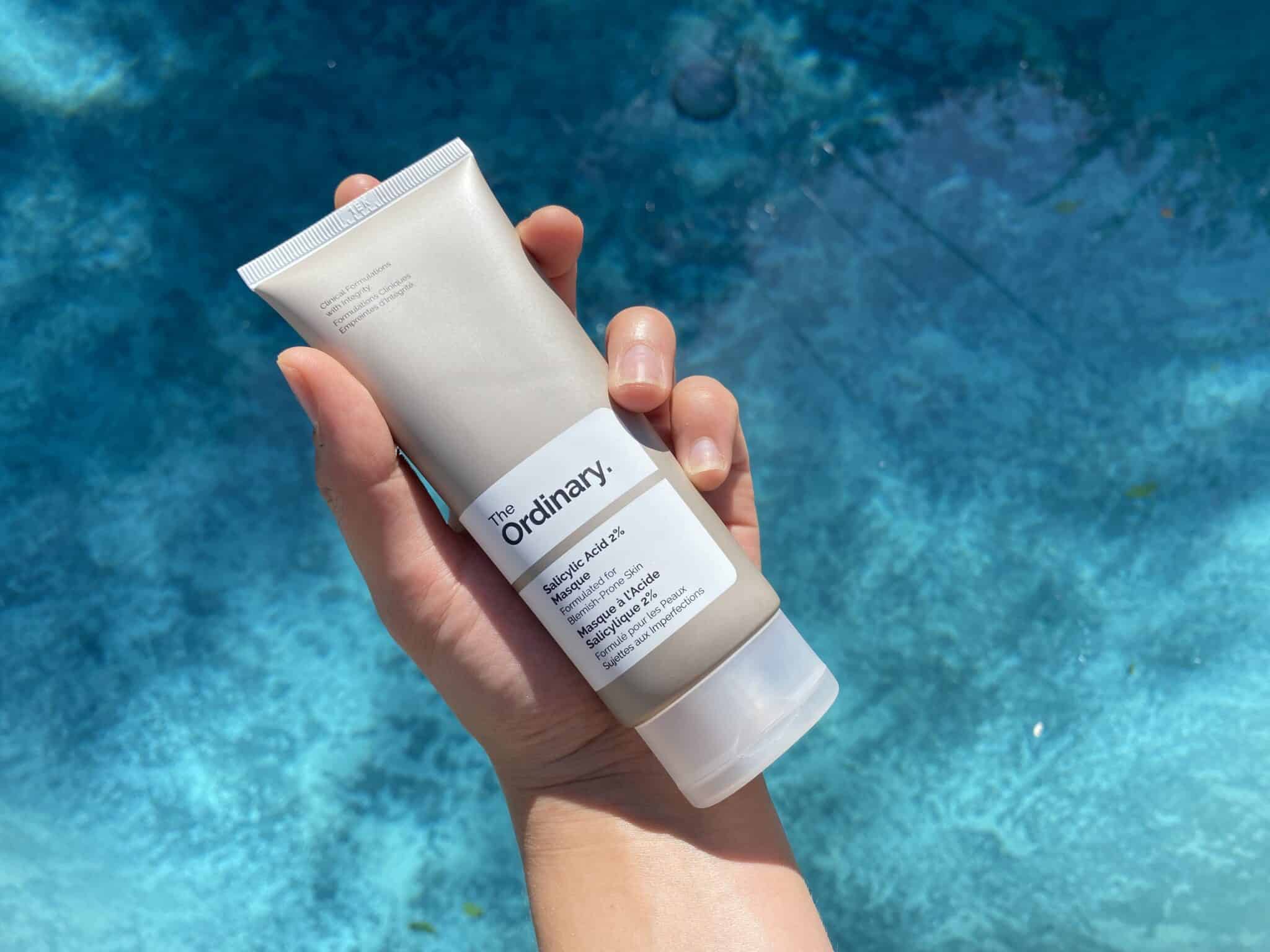 Get some goodies and try out a few at a time. Use them together and separately to see which ones are actually doing what you need them to do. Keep in mind most of these products are meant to be used over an extended period of time (3-6 months) before you start to see final results.
If you are recovering from acne, like me, check out The Ordinary's website. I really like the results I'm seeing from using their products, and it's the perfect fix for my smaller breakouts. You can't go wrong starting with the Glycolic Acid 7% Toning Solution, it's my favorite.
And I know it's really really hard, but remember your beauty is not measured by your skin. Don't let it hold that power over you because I did and now I'm playing a lot of catch-up to find my confidence.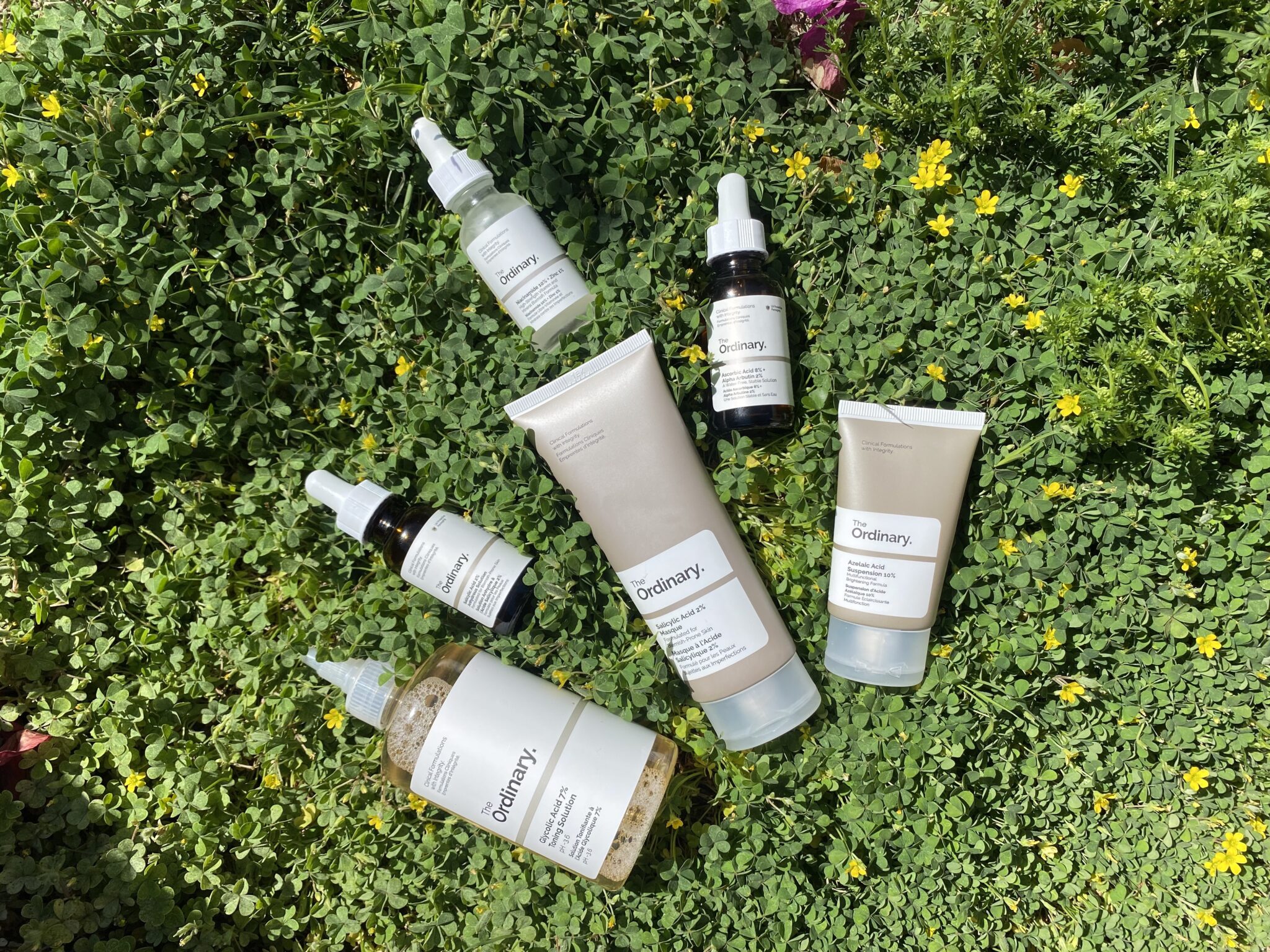 We've all had acne, some worse than others, and we all have our own relationship with it. What's yours? Comment below with your acne journey and any tips you have!