I first heard about The Ordinary back in 2018 when I was a spring chicken with very sensitive skin and acne everywhere. I tried a plethora of drug-store brands and they hadn't done much for me.
As a college student, I couldn't really break the bank on higher-end brands with better ingredients, so I felt stuck. And then came a little light at the end of the tunnel in the form of a friend who introduced me to Deciem (aka the umbrella company to The Ordinary).
The Ordinary had all sorts of serums, lotions, potions, and powders to try out! It was like the candy store of skincare products. The best part? Almost everything was under ten bucks.
The Ordinary Beauty Review: Is it worth it?
Since that day I've been using some of The Ordinary products pretty regularly and here's why: they're affordable, they're honest, and they're easy to use.
In this article, we'll review The Ordinary best products – what's worth it and what's not, and talk about the best Ordinary Products to use on the daily.

Does The Ordinary Squalane Cleanser work?
Staring off this Ordinary Review on a winner: The Squalane Cleanser.
Not a day goes by that I don't wear some sort of mascara or eye-liner, and I hate the oily texture of makeup remover which is why I opt for the Squalane Cleanser by The Ordinary.
I use this cleanser every night, and I don't hold back on how much I use. I like to get every bit of my eye makeup off so I go ham with rubbing it around my eyes. It's so gentle I never worry about irritation or stinging.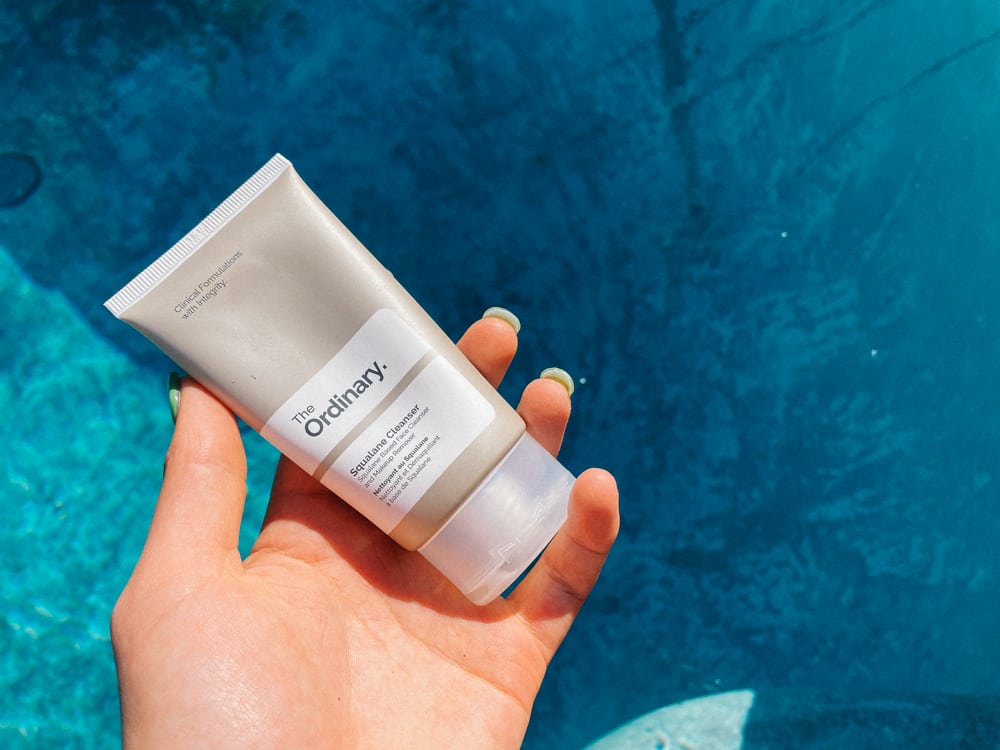 The cleanser is "non-comedogenic and soap-free" which means it won't clog your pores and won't dry you up. Along with getting your makeup off, it breaks down all the dirt and sweat you've accumulated throughout the day.
For sensitive skin types, this cleanser is your best friend. It retails at just $7.90 for 50ml which is a great deal considering it lasts me about a month and a half with regular use.
However, it's not the only cleanser I use. If you have acne-prone skin, it might be wise to pair this product with a Cera-Ve facial cleanser in the morning. I like to use both so I don't overdo (or underdo) it on my skin.
And Now, Serum: The Hyaluronic Acid 2% + B5
If you live in a dry environment, have dry skin, or feel like your needs a little plump-ness, then let me introduce you to The Ordinary Hyaluronic Acid Serum.
Listen, there are a lot of hyaluronic acid serums on the market, but The Ordinary doesn't play games. Which brings me to what I really love about the company: they take pride in their science.
They made a serum that uses "low-, medium- and high-molecular-weight HA." This is to ensure the serum does its job, but don't worry, I also had no idea what this means.
Basically, hyaluronic acids on their own are too large of molecules to penetrate the surface of the skin. It does make your skin feel moisturized, but only for a little while.
The Ordinary combines different weights of the acid (i.e. three different forms of the acid mixed up) with an HA polymer (an agent that makes the acids easier to mix with water). This helps seal in moisture to your skin.
If you're not a biochemist like the scientists at Deciem, this can all be a little intimidating and confusing. All you really need to know is that this serum keeps you moisturized before you even put any moisturizer on.
When my skin was constantly breaking out, I used hyaluronic acid serum every morning and evening. If you use any type of topical ointment for acne with salicylic acids it can cause dry skin.
I found the best way to combat this was with the Hyaluronic Acid 2% + B5 serum and a good moisturizer. Speaking of moisturizer, let's dig into my faves next!
The Ordinary Natural Moisturizing Factors + HA
It's nothing fancy, but The Ordinary Natural Moisturizing Factors + HA has a great price, great feel, and has significantly improved the texture of my skin.
The Ordinary created a moisturizer using the same compounds found naturally on our skin, or as they like to call it "natural moisturizing factors." It's lightweight and you only need a small dollop to cover your entire face.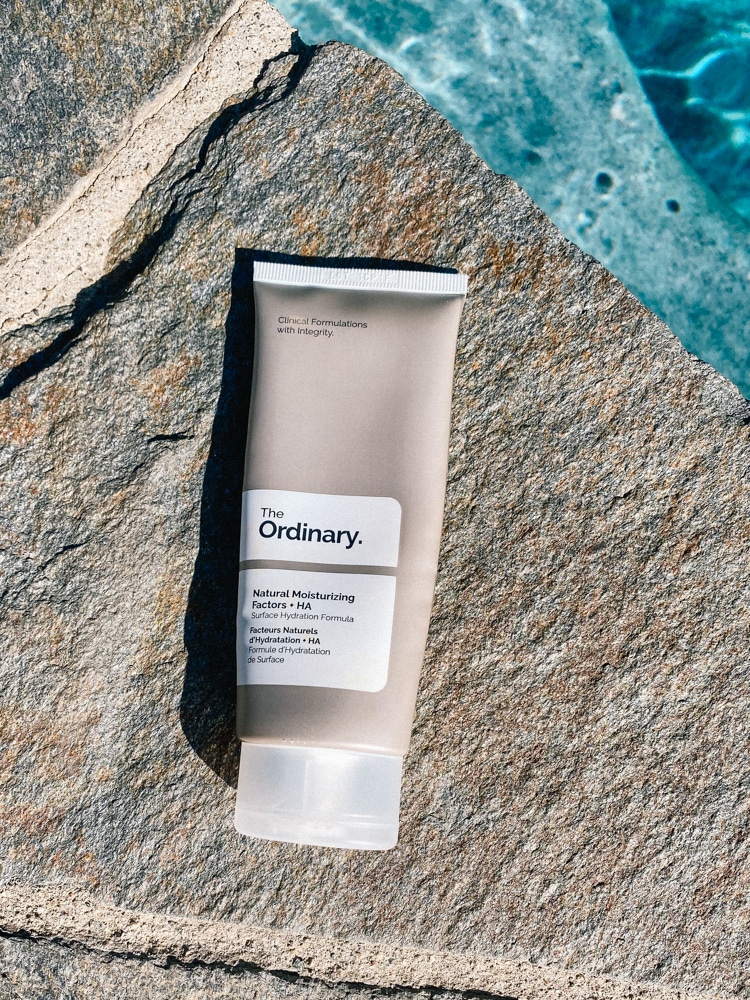 I use it every morning before my SPF and every night after my serums. I've noticed a significant change in my skin's softness and clarity. Oh, and it's only $10.50 for a 100ml bottle which is a steal in my opinion.
Another great thing to mention about The Ordinary is all of their products are vegan and cruelty-free! Clean skin and a clean conscience!
Should I get The Ordinary Mineral UV Filters SPF 30 with Antioxidants?
The Mineral UV Filters SPF 30 with Antioxidants has a bunch of crazy science stuff going on which is very on brand and hard to pick apart. The eye-catcher here is mineral sunscreen which is my sunscreen of choice.
With key ingredients like zinc oxide and titanium dioxide to actively block UV rays, mineral sunscreens are healthier and easier on my skin in comparison to other sunscreens that use harsh chemicals.
I'll be honest here. I haven't tried this particular sunscreen (yet), but I'm using the internet to decipher if it's worth my dime… and honestly? Reviews are not looking so hot.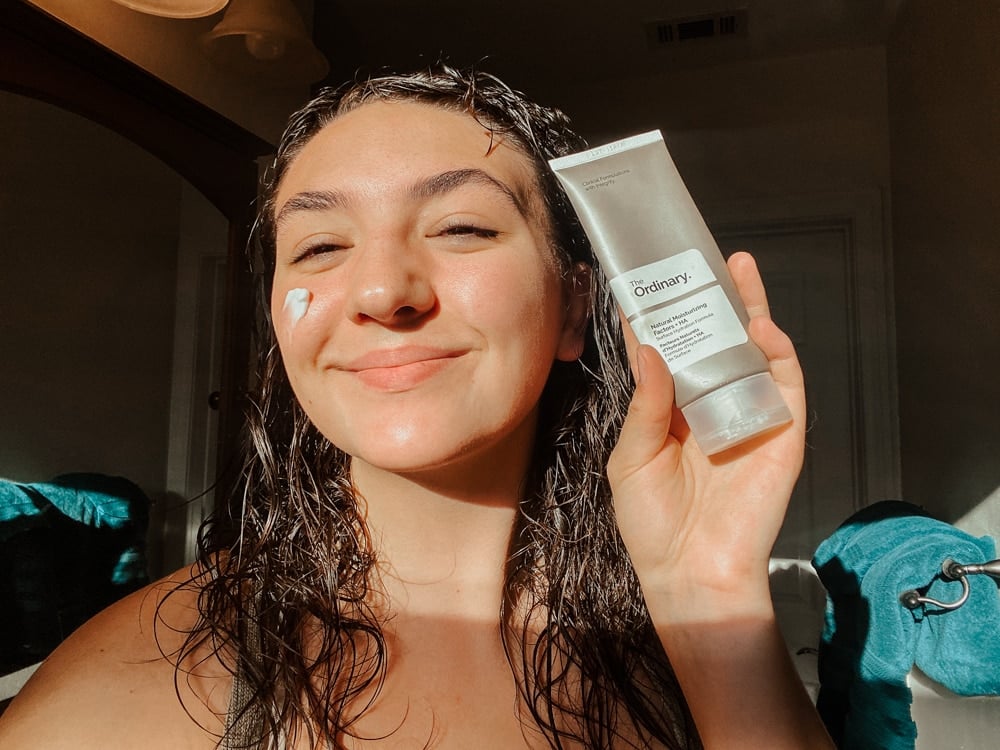 The deciding factor for sunscreen is the white-cast test. This is a test to see if the sunscreen leaves any white residue on the skin after it's been applied. The Ordinary's seems to leave a very visible cast on the skin. Although the description looks very enticing, it doesn't seem that special.
I've been using Neutrogena's Sheer Zinc Mineral Sunscreen Stick for the last year or so and it does the job just fine with no white cast and insanely easy application.
Do You Want The Ordinary Skincare Routine for Beginners?
Follow this formula:
A serum that best fits your skin needs,

And

The Natural Moisturizing Factors + HA

moisturizer.

Layer with any mineral based SPF

in the mornings and you're all set!
There's no need to drop a bunch of money on a lot of serums and lotions. Best practice is to grow your inventory slowly. Looking for the right serum to add to The Ordinary Routine? Try The Ordinary skincare routine guide!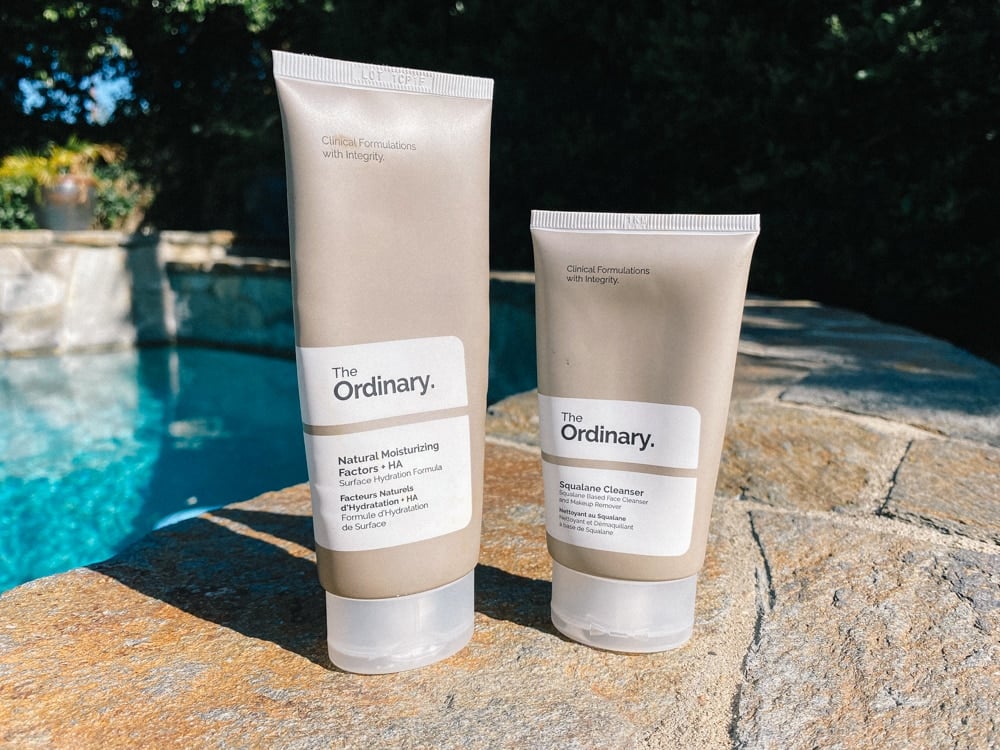 How do I Build a Skincare Routine on their Website?
For a more detailed and personalized skincare routine that addresses your skin concerns try The Ordinary skincare guide quiz. It's free, takes less than four minutes, and gives you a simple daily routine.
It starts by asking what concerns you'd like to address such as protective measures, dryness, signs of aging, and more. You can pick up to three and from there they ask a few more questions about your skin, age, and (my favorite) what kind of consistency you like in your products.
At the end, they recommend no more than four items. The suggested routine they offered me included: the Squalane cleanser, The Natural Moisturizing Factors + HA, and a serum in-between. Who would have guessed?
The main concern I named in my quiz: Uneven Skin Tone. It recommended I try the Ascorbyl Tetraisopalmitate Solution 20% in Vitamin F serum which is a derivative of Vitamin C. The derivative is less potent than actual Vitamin-C, but highly concentrated.
What does The Ordinary Ascorbyl Tetraisopalmitate Solution 20% in Vitamin F do?
In short, this serum helps brighten your skin tone and reduce signs of aging. Vitamin C is great for premature signs of aging so I would recommend this product be used before wrinkles show up and not after. It also has fatty acids (Vitamin F) which helps with inflammation and regulate healthy cell function.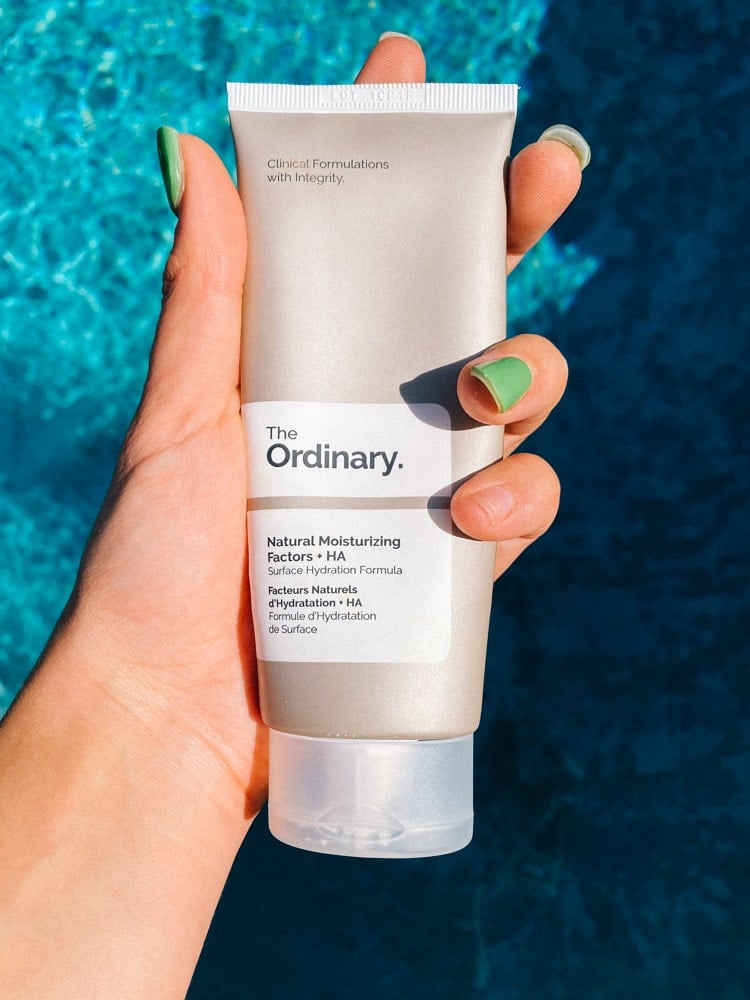 I will say the serum is a bit pricier. For 30ml it's $17.80 which isn't crazy, but it's probably one of the more expensive things from The Ordinary.
Speaking of Vitamin C…
The Ordinary takes their vitamin C line very seriously. They even have a guide to vitamin C on their website laying out their products and how they differ.
Apparently, there is a huge debate in the skincare industry about how to properly create a vitamin-C serum. On whether it needs to be done in water or oil to work on the surface of the skin, and The Ordinary doesn't shy away from the conversation.
They tell you flat out how they are trying to make a product that works. It's probably why they have so many derivatives of Vitamin C. That and the pure form is extremely unstable in a serum.
Products from their Vitamin-C line that peaked my interest were the Ascorbyl Glucoside Solution 12%. This serum is a derivative of Vitamin C in a water-soluble solution that provides a really nice application feel. I also investigated their 100% L-Ascorbic Acid Powder, which is a high concentration of the real vitamin-C in a powder form.
I tried the 100% L-Ascorbic Acid Powder way back when. It was fun mixing in the powder with my lotions, but it seemed like an unnecessary step in my skincare routine.
The Vitamin C Suspension 30% in Silicone is similar to this product, but they've put the L-Ascorbic Acid (Vitamin-C) in a light silicone to help with easier application. I have tried other products with a silicone base and I love the matte feel of it on my face.
It has this velvety texture that makes me feel like a doll, but some of the The Ordinary skincare reviews beg to differ saying it doesn't feel all that great. To each their own.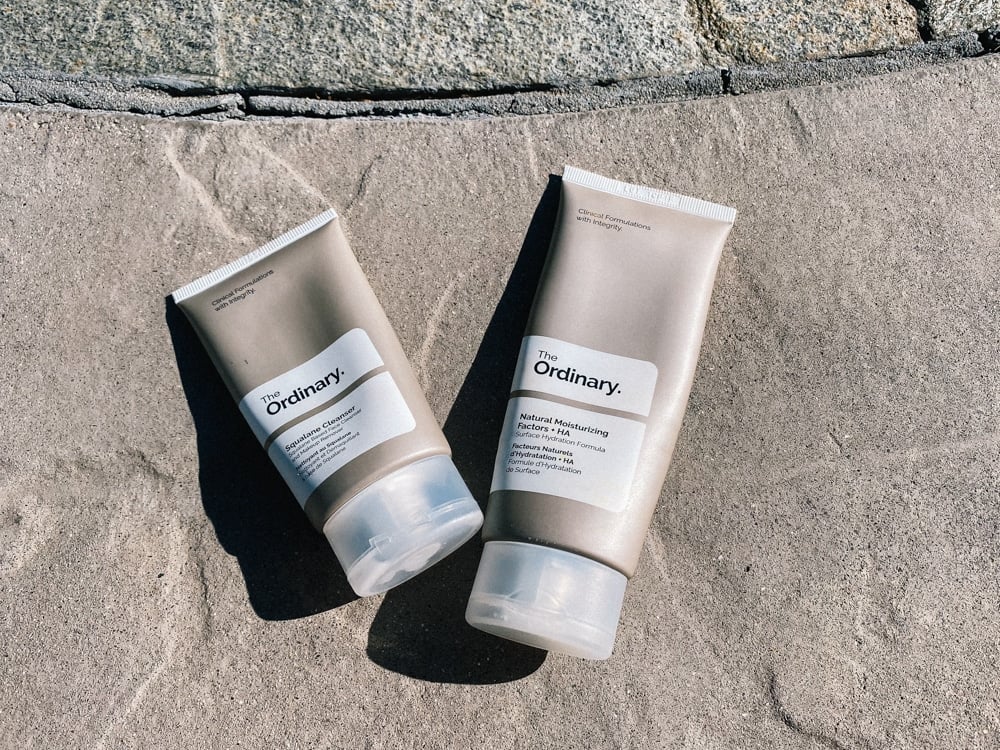 There's also the Ascorbic Acid 8% + Alpha Arbutin 2% which is a serum that combines Alpha Arbutin (an agent to help with discoloration) with Vitamin C. Or check out the Magnesium Ascorbyl Phosphate 10% cream that uses a derivative of Vitamin-C to brighten skin tone and reduce signs of aging.
There's a LOT of vitamin-C and vitamin C derivatives to try from The Ordinary and it can all be a bit paralyzing which is why the quiz is so helpful.
Learning what you need and learning how to layer The Ordinary products can be tricky, especially if you've picked up a bunch of goodies without doing much research. If you're new to skincare, I suggest not taking on too much and follow the numbering system the quiz gives you.
Keep it simple for yourself and for your skin. The website also tells you how to apply The Ordinary products in a straightforward way and lets you know when you shouldn't mix certain serums.
Looking for the best Ordinary products for acne? I have a whole separate Ordinary acne guide on the best products to zap zits!!
Interested in The Ordinary products to help with aging?
The Ordinary Granactive Retinoid is a serum that uses 2% of a concentrated Retinoid to help combat signs of aging. Retinoid and retinol are known to help with the production of collagen which helps minimize wrinkles and fine lines.
You can also take a look at The Ordinary Argireline Solution 10% which helps prevent "dynamic folds" around the eyes and forehead. You can even pair the two together for a more powerful result!
I never saw myself being the person that literally wants to throw hands before she has her morning coffee, but here we are. And no, it doesn't feel good to be able to relate to the "Don't Talk to Me Before I've Had my Coffee!!!" mugs.
It feels shameful. BUT, If you like coffee like I do and want the benefits of not only feeling more awake, but looking more awake then you might like this serum. For use under the eyes, this serum reduces the look of puffiness and dark circles using caffeine and something called Epigallocatechin Gallatyl Glucoside (aka EGCG and no I won't try to pronounce this).
We all know what caffeine is, but what is EGCG? It's a type of plant compound found in trees, fruits, and nuts! It has properties to help fight against acne and signs of aging.
If you've tried green tea then you've tried EGCG. This product may cause you to dry up under your eyes, though, so I suggest pairing it with a good eye-cream to balance it out.
To really up your game with your skin in the morning, add The Ordinary Azelaic Acid Suspension 10% after this serum to give extra brightening to your face. It uses a very high concentration of Azelaic Acid and also helps to create better skin texture.
The Botox "Buffet" + Copper Peptides 1%
Another social media favorite, the "Buffet" serum is a nice addition to fight against signs of aging. It uses many peptide complexes that can help with collagen production along with amino acids and hyaluronic acids to help with moisture.
The added copper peptides in the "Buffet" + Copper Peptides 1% serum work as an antioxidant and promotes elastin production. It's been referred to as "botox in a bottle" because so many have seen its benefit for fine lines, but you should be careful using it if you have any direct-acids like Vitamin-C in your mix.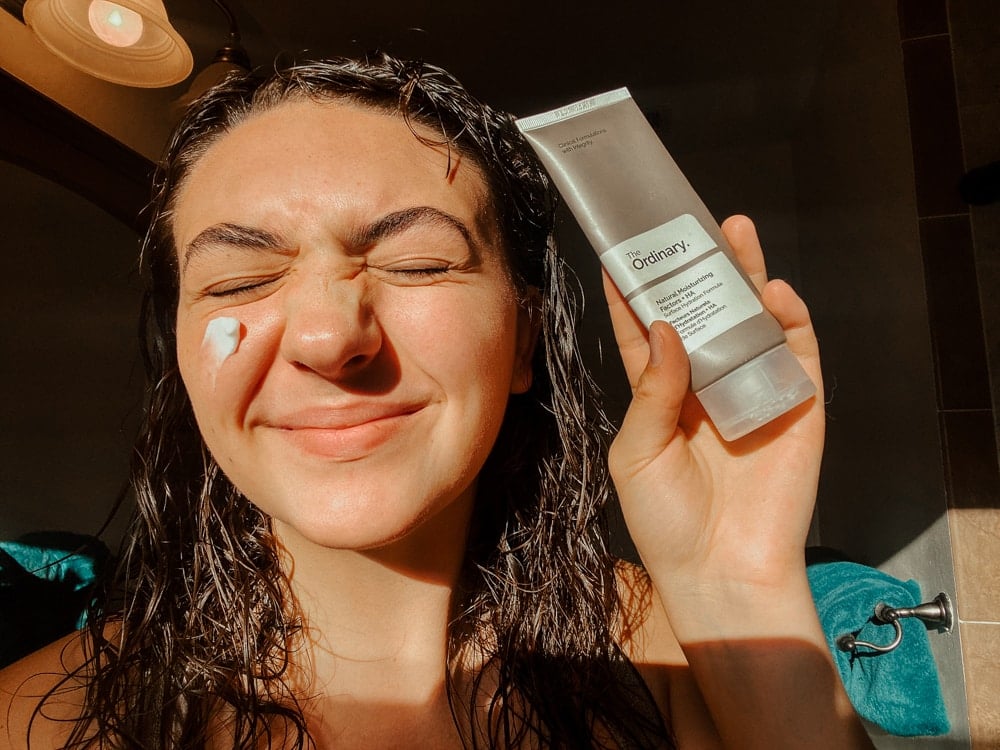 The Best The Ordinary Products For Acne
AHA 30% + BHA 2% Peeling Solution
If you're on TikTok, you might have seen this famous red bottle circulating. The AHA 30% + BHA 2% Peeling Solution is one of the company's most popular products. It's a chemical peel that you leave on for no more than 10 minutes once a week and it helps fix uneven skin tone, acne scarring, and fine lines by helping to remove dead-skin cells.
There have been horror stories about it. There have also been hopeful stories. All I can say is BE CAREFUL. This serum is not to be messed around with. I had it on for a little over 10 minutes one time and I reaped the repercussions with chemical burns all around my mouth.
After I learned my lesson, I was very cautious to only leave it on for 5-6 minutes and slowly build up the time to 10 minutes. This product is a great addition to your skin care regimen when used properly, but it's also a product you may not remember to use every week unless you set an alarm.
Personally, I forgot to include it every week so I didn't notice much of a change to my skin, but I've seen time and time again on social media how it has transformed others skin when they used it regularly.
If you don't want to spend a heaping wad of money on a professional chemical peel, this is a good replacement. But again, be cautious, this is a chemical peel and it will cause a chemical burn if you're not careful. If you have major skin-concerns I recommend talking to your dermatologist first and getting their opinion before diving into this product.
Sensitive Skin for the Win: The Ordinary Lactic Acid 10% + HA
If you don't want to jump right into a heavy acidic serum like the one mentioned above, then this might be a good choice. The Lactic Acid 10% + HA is a chemical exfoliator. I know I may have scared you earlier with how fragile they can make the skin, but this product actually combats the heavy acidity with something called Tasmanian pepperberry.
The pepperberry is known to help with irritation and it is anti-inflammatory. It can also be found in another gentle exfoliator – The Ordinary Glycolic Acid 7% Toning Solution.
The scientists at Deciem combined the active ingredients of Lactic Acid, which helps release dead skin cells and produce better cell turnover, and the Tasmanian Pepperberry to create the very soothing Lactic Acid exfoliator.
This serum is one of best The Ordinary products for acne as it's easy on sensitive skin and it helps to reduce acne scarring.
Direct acids can often be too much on people's skin. However, the Lactic Acid 10% + HA is one to test if you're looking to improve your skin's texture on a budget. And if you do have really sensitive skin, you can opt for the Lactic Acid 5% + HA which has half the amount of Lactic Acid.
You can also check out The Ordinary Mandelic Acid 10% + HA that's another gentle chemical exfoliator!
Fair Warning: DO NOT USE on broken, peeling, or compromised skin. I know sometimes we all assume we'll be fine and it's not a big deal to use products on damaged skin, but I'm telling you to take these warnings seriously. Acidic formulas will mess you up if you let them.
Got Dry Skin?
Smelly but Smooth: The Ordinary 100% Organic Cold-Pressed Borage Seed Oil
For $4.20, you can have a face that's well nourished AND smells like cooked chicken. Say goodbye to your perfume because this serum is going to overpower it entirely!
Apparently, the Borage Seed Oil serum has a very distinct odor. The Ordinary website claims the "scent is not an indication of rancidity," which is alarming, but the benefits of the serum might be worth it.
The Moisturizing factors of this serum could greatly benefit those with sensitive and dry skin. The ingredients are just what you'd think, 100% Borage Seed Oil which is a natural oil to help restore moisture and smoothness on dry skin.
One reviewer had perioral dermatitis (a red rash that circles the mouth) and claimed this was the only serum to help her with the irritation and flakiness, but she also said it smelled like a turkey leg…
The Ordinary reviews preach its power, but they also have something to say about the smell. I might give this one a try because it's so well priced, but I really don't want to be wandering around smelling like a cooked bird all day… decisions, decisions.
You could also check out the 100% Organic Cold-Pressed Moroccan Argan Oil which can be used on hair and skin to help with dryness! But it also has an odor, but it's not as distasteful as the borage seed oil.
How About the 100% Plant-Derived Squalane?
The Ordinary 100% Plant-Derived Squalane is pretty straightforward. It's the pure version of the Squalane found in my Squalane Cleanser mentioned earlier.
It's great for hydration. Your body naturally makes squalane, so it's really just an extra boost for those with dry skin or those who live in cold climates. This product might be a good addition to those that need the extra moisture. If you already have the cleanser and your skin is normal, you don't need to add it in.
One more serum to look at for dehydration is The Ordinary Amino Acids + B5. This serum helps hydrate, replenish, and protect the skin with a non-greasy feel to it.
Now you're ready to build a skincare routine from The Ordinary!
You can find out how to use The Ordinary products using direction from their website, but most of them are pretty straight forward. They always recommend patch testing first to make sure you don't have an allergic reaction to their products.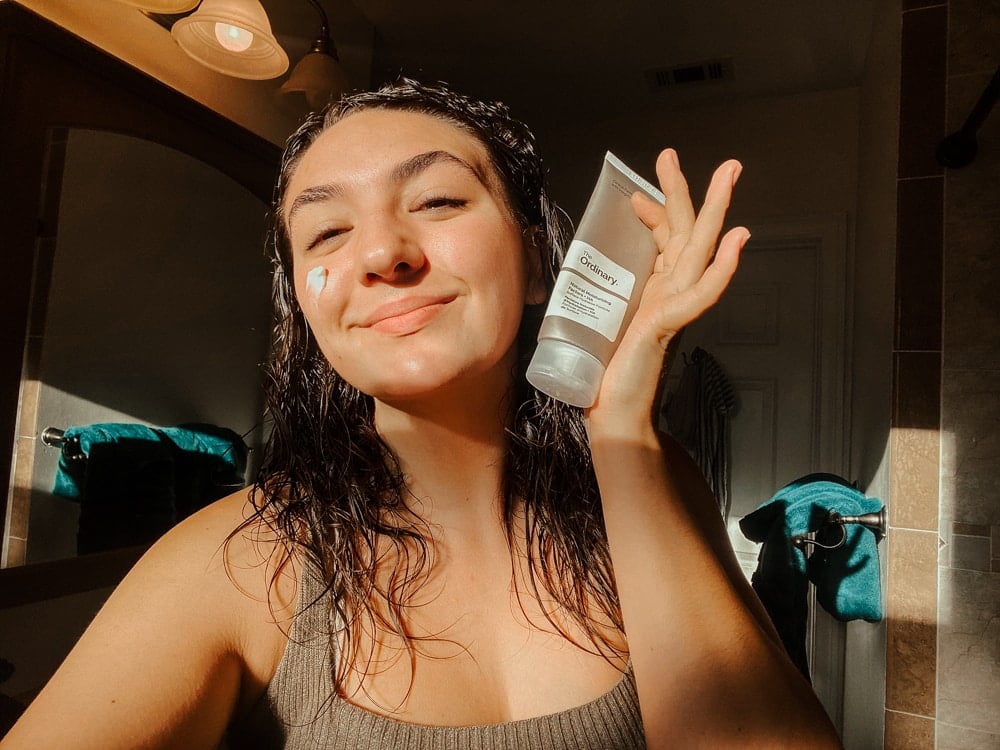 Have you tried The Ordinary? Tell us your favorite products in the comments below and let us know what you think we should review next!