"What's your drink of choice?"
"A Negroni … Sbagliato … With Prosecco in it" Cue the internet melting.
If you've been on TikTok this past week you've probably seen clip after clip of HBO Max's interview with House Of Dragon stars Emma D'Arcy and Olivia Cooke chatting about their favorite cocktails.
And if you've been like me, you've been repeating the line "A negroni sbagliato with prosecco in it" over and over again. Finally, I broke down and made it.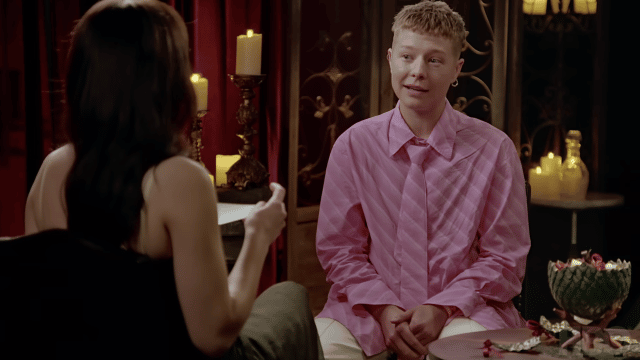 This cocktail recipe is insanely easy to make as far as drink recipes go. It's just equal parts sweet vermouth, Campari (or another Italian aperitivo) and prosecco. It's a twist on the classic Negroni which uses gin instead of prosecco.
I find it very similar to an Aperol Spritz, but stronger and with a little more flavor depth thanks to the vermouth, making this a fantastic fall drink to transition to when you're not really over the summer spritz life.
I see why Emma D'Arcy loves it so much. Robin and I made this a couple nights ago and it's easily my new favorite cocktail. It's quick, simple, feels fancy and tastes really really good.
A Negroni Sbagliato With Prosecco In It Is Actually Just A Sbagliato Recipe
Emma D'Arcy is arguable the internet's new favorite queer icon but one of the reasons their a negroni sbagliato with prosecco in it quote is making the TikTok duet rounds is because it's a little redundant.
A Sbagliato cocktail is literally a negroni with prosecco instead of gin.
It's sometimes called a broken negroni since "Sbagliato" translate to "wrong" in English. Apparently it originated when a bartender reached for prosecco instead of gin and thus was birthed the Sbagliato Negroni aka the "wrong negroni".
Lots of bartenders are pleading with the internet to just call it a Sbagliato when ordering, which I understand but, come on.
It's way more fun to say the whole thing and slowly let it drip from your mouth in a British accent. Or, in my case, a poor attempt at a British accent but the energy is there.
Negroni Sbagliato Pronunciation
On that note, it's actually pronounced more like "spal-yacht-oh" with a sharp note in the middle, even though in the TikTok video they say it "spag-lee-a-toh". So, say it the Italian way or the British way or the Emma way.
Whichever way, I encourage you to whip up this sbagliato drink this weekend. It's damn tasty. And pairs very very well with Sunday drops of House of The Dragon.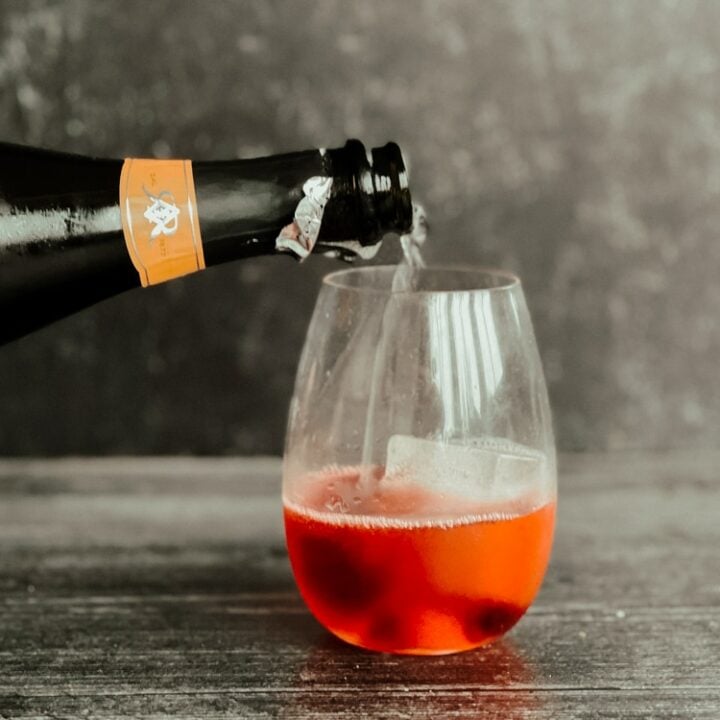 The Rhaenyra Spritz: A Negroni Sbagliato With Prosecco In It Recipe
Emma D'Arcy's favorite cocktail is now our favorite cocktail.
Ingredients
1.5 oz Campari
1.5 oz Sweet Vermouth
1.5 oz Prosecco or sparkling wine
Large ice cube
1 orange slice (optional
Instructions
Put a large ice cube in a glass
Pour the Campari and Sweet Vermouth in the glass over the ice
Stir together (do this now since stirring the sparkling wine can cause it to bubble over).
Top with prosecco or sparkling wine of choice. I usually don't measure this out and instead eyeball the right amount. You're aiming for equal parts of everything.
Add fresh slice of orange (optional)
Notes
It's best to chill the Campari and sparkling wine ahead of time.
Using a large ice cube is preferred since it doesn't melt as quickly or water your drink down, but regular ice cubes are fine in a pinch.