So, you saw Versed skincare at Target, swooned over the branding, fell even more in love with the pricepoint but wondering: is it actually good?
I've been testing out Versed for a few months now to give you a super honest overview of this new clean beauty brand. Keep reading for my thoughts + recommended beauty products from the Versed line should you choose to add it to your cart.
Versed Skincare: You Saw It At Target, But Is It Actually Good?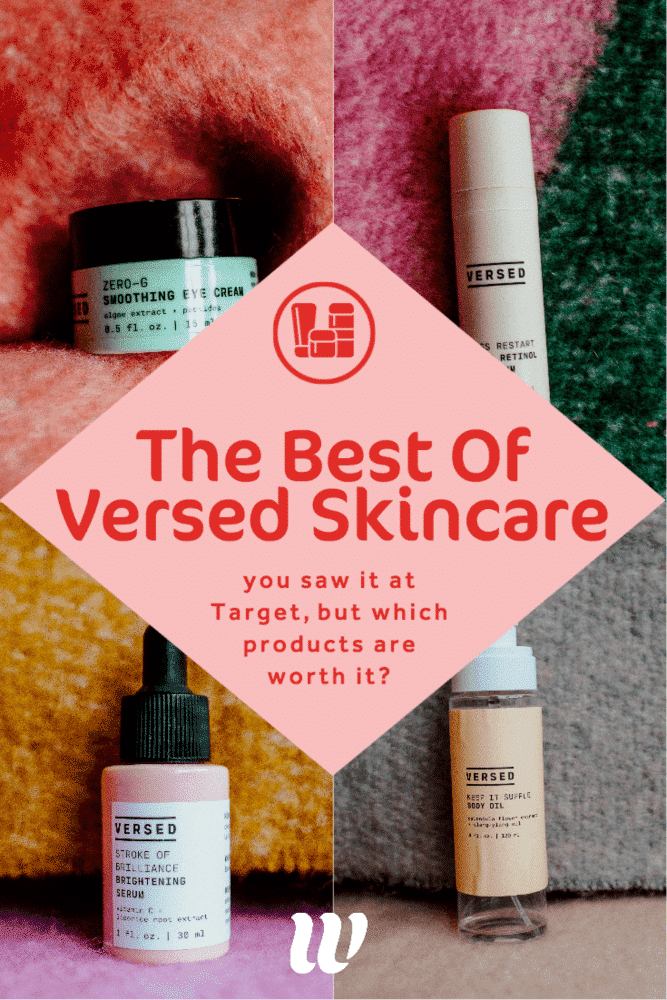 >> Got a question about Versed that you need answered quickly? DM me on Instagram @thewhimsysoul and I'll be happy to help!
I've used Versed on myself and my husband who has a different skin type than I do. I have dry skin that can be sensitive. He has oily skin that could probably be washed with dish soap and thrive.
(And yes, I create & enforce my husband's skincare routine otherwise he wouldn't do anything and we'll end up as two 80-year-olds who look 20 years apart.)
Our Versed Skincare Reviews
Or, what you came here for… is Versed skincare good? In short: YES. Overall I'm really impressed by the products I've been using from the line considering the affordable price point.
Example: I'm a HUGE fan of Drunk Elephant products, but their Vitamin C serum runs at $80 a pop, while Versed is only $20. And, that's kind of the whole point of this line. Everything is under $20 – from your clay masks to toners to serum. And it's all clean, vegan, cruelty-free.
I will say, I do think Drunk Elephant is a higher quality and does deliver a better result comparing the two BUT Versed is a pretty dang good job for a $20 serum.
WATCH MY VERSED SKINCARE VIDEO REVIEW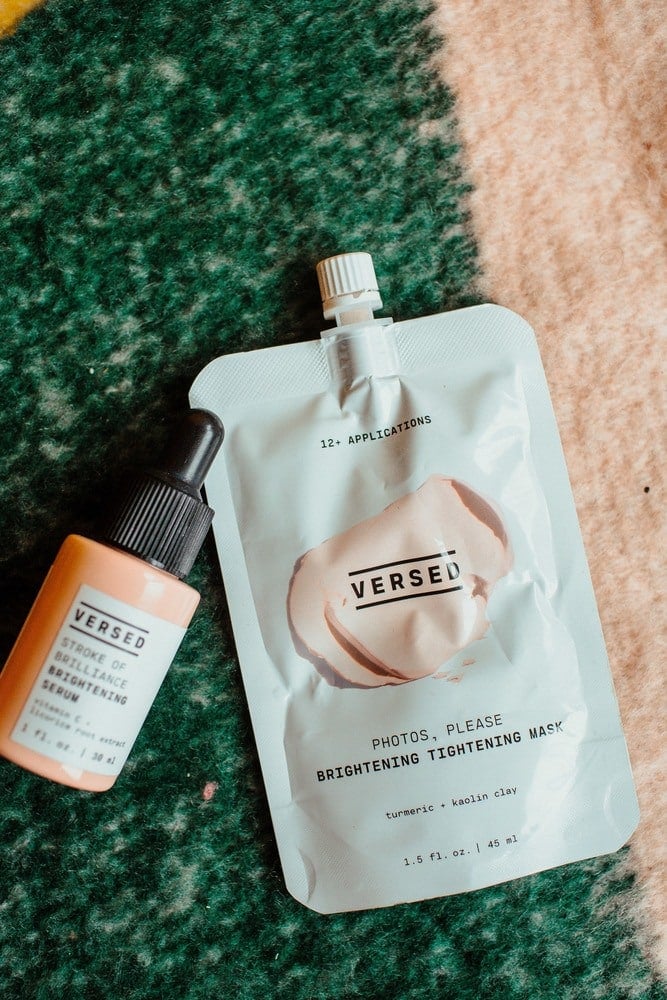 I was having dry, cranky skin recently after traveling a lot, and then switched to just using Versed and one other night cream for a week & my rash went away. It could be a lot of factors (less stress, more water, etc) but I do think a Versed skincare routine was a major help.
So, what am I using?
Disclaimer: I haven't yet been able to try all 19 products (and I'm super curious about the shortcut overnight facial peel) so it is possible I'm missing out on the best of the line, but I stan the list below as the best of Versed for your first introduction to the line.
My Favorite Versed Skincare Aka What's Worth The Purchase
So, you saw Versed skincare at Target, swooned over the branding, fell even more in love with the pricepoint but wondering: is it actually good?
I'm OBSESSED with eye creams. No need for an eye mask when you pamper your under-eye each evening with Zero-G. I'm someone who is a face toucher - I'm always rubbing my eyes or something. So, I like to pay extra attention to my face skin, especially the delicate under-eye area.
Plus, I swear when I use this on the regular my dark circles go away. SCORE. 
After a few months I FINALLY just ran out of this body oil and I'm kicking myself for not picking up another bottle today when I was at Target. I keep it by my bed and put it on my hands every night. I also use it daily on my whole body as a moisturizer to my skin. It's light and not very greasy, plus is smells amazing.
If I still lived in Wisconsin I would probably have to use a heavy body oil or cream in the winter months when my skin goes crazy dry, but this oil is PERFECT for San Francisco weather. Oh, did I mentioned yet how amazing this smells?! yYang-ylang and flowers for the win.
I'm 28 and hyper-aware that my face is about to take a nosedive in terms of elasticity and wrinkles. Which I'm fine with but if I can slow that process down with Retinol, Vitamin C and collagen, heck yeah I'm going to do that! The problem is most retinol-based products are SUPER expensive and come in SUPER tiny jars. But, remember how everything at Versed is under $20! (Well, this is actually the only product that's more coming in at $21.99)
Press Restart has retinol but also retinol alternatives making it easier on the skin. Retinol is something you have to be careful with since it irritates most people's skin so you have to use just a bit once a week and maybe work your way up to two times a week. I'm still careful with this retinol serum but did feel like I could up the dosage faster and sooner than with other brands. 
This is that $20 Vitamin C serum I was telling you about that packs a punch without the pricetag. Vitamin C is great for brightening and reducing redness. It's like Retinol where you shouldn't be using it every day, but rather 1-2 times a week since it can be jolting to your skin. 
Stroke of Brilliance Brightening Serum isn't as hydrating as other serums I've used but I have an arsenal of powerful oils and creams that I just use afterward since I have dry skin and need more moisturizer than the average person. 
Now that I've run out of my Witch Hazel & iIm too lazy to reorder from Amazon, Weekend Glow has slid into place as my daily toner. I use it in the mornings after cleansing my face, but before adding my creams and makeup. 
While it contains lactic, glycolic, azelaic, and kojic acid I find it's not too drying which is a huge issue for me as someone with dry, sensitive skin. I can use the toner and then move on with the rest of my morning skincare/makeup routine. 
Firm, bright and moisturized skin is what happens when I used this mask for the first time (yes, it actually does work right away!)
It contains turmeric which is a root that can help with inflammation. I usually opt for sheet masks (again, dry skin gal over here!) but this is one of my favorite clay masks for reaping benefits of clay without having to use a drying charcoal mask. And my husband loves it, too! 

If you're looking to shop affordable, powerful vegan skincare products , Versed it the brand for you. Pick up a couple of the products on this list next time you're at Target and be ready to get obsessed! Or, you can easily order online at Versed (they have free shipping!!)

Have you used Versed? I'd love to hear your thoughts on the line below! If you have any questions, leave a comment below or DM me on Instagram @thewhimsysoul and I'll be happy to help!

Now, stay hydrated and masked you, beauty junkie, you.

Other "Saw It On Social" reviews you may like