I've been using Drunk Elephant products on and off for about 2 years now so I figured it was high time I share my honest Drunk Elephant review and highlight all my faves and the skincare products that you can skip (because let's be honest, this isn't the cheapest skincare brand out there.)
Keep reading for my totally honest unsponsored thoughts on this trendy skincare brand that you've probably been seeing all over Instagram this year!
Drunk Elephant Review 2023: What to Buy & What to Skip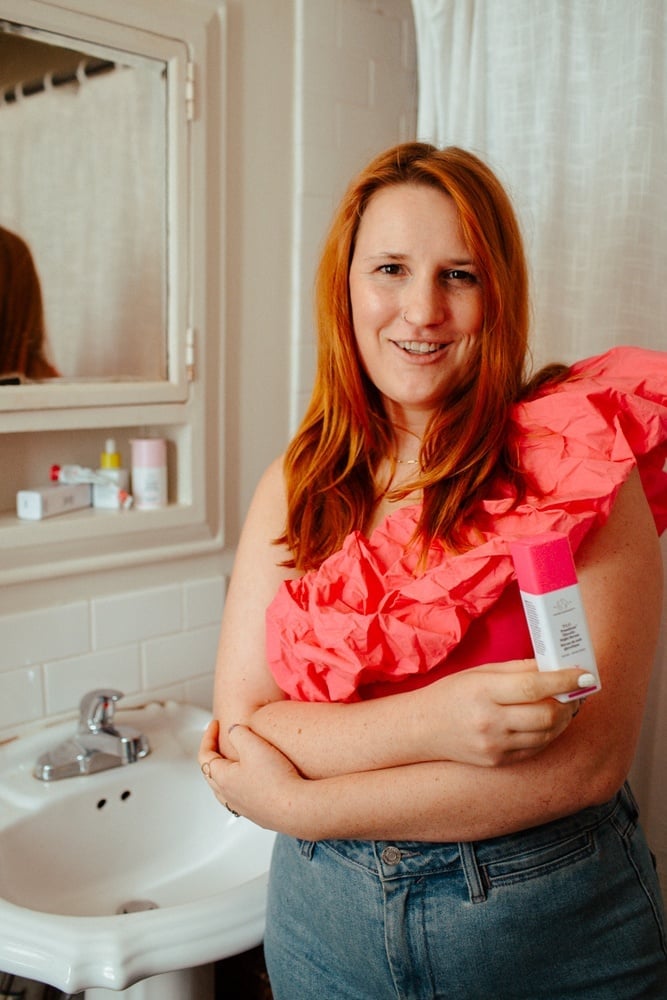 >> Got a question about Drunk Elephant that you need answered quickly? DM me on Instagram @thewhimsysoul and I'll be happy to help!
This Drunk Elephant review is part of my "Saw It On Social" series, where I test out all those Instagram famous products and brands I see. I try them out and give you the totally unsponsored tea on if they're worth the buy or not. This post is absolutely not sponsored by Drunk Elephant and I really have been using their products for a couple of years now so I could bring you a really tried and tested review.
My Skin Type
Before we get started, it's important to understand my skin type because everyone is different. I have what I would call normal to dry skin. I get acne breakouts sometimes (which I use a separate cream for) but in general, my skin isn't very oily and I do not have crazy acne-prone skin. I did have super bad eczema growing up and while I have mostly outgrown it, is has left my skin sensitive to some ingredients (like petroleum and lanolin).
What Makes Drunk Elephant Different
My sensitive skin is one of the reasons I was really drawn to Drunk Elephant in the first place. They believe that "six ubiquitous ingredients are at the root of almost every skin issue" and thus, don't use them. These six ingredients are
essential oils
drying alcohols
silicones
chemical sunscreens
fragrances/dyes
SLS
They also pride themselves on using "biocompatible" ingredients, which basically means they focus on making products that are as close to your natural skin acidic levels as possible. The average PH level in any Drunk Elephant skin care product is 5.5. To acidic (under 3) or too alkaline (over 9) will make your skin sad and can lead to breakouts, rashes. dryness and more.
My Favorite Drunk Elephant Products
Ok, chemistry lesson over. Time to chat about the stand-out products you need to be adding to your cart ASAP!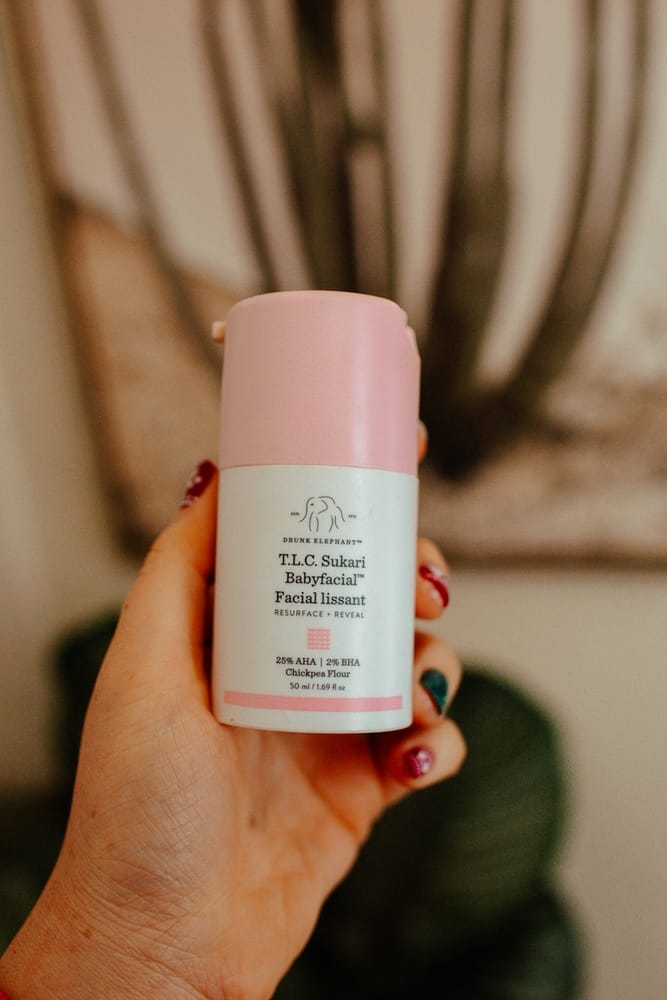 T.L.C. Sukari Babyfacial™ AHA + BHA Mask
If there's one product from the Drunk Elephant line that you buy, it absolutely needs to be their Sukari Babyfacial. I simply cannot express enough how magical this at home face peel mask is. It's so dang powerful at removing dead skin cells and giving my face that type of glowy boost I only usually get from an esthetician.
Before 2020, I would use this mask every time I came home from a trip. From sunburns sailing in Cabo to cold harsh weather chasing down Christmas lights in Vancouver or just from drinking too much beer in places like Denver — my skin NEVER is happy after a trip. But 20 minutes with the Babyfacial mask and the next morning, you would never know I just spent the previous day trapped in airports and barely getting sleep.
Even though I'm not traveling this year, I still use this mask at least once a month to help reset. Especially in the wintertime! I think the best Drunk Elephant routine is rooted in this face mask. You need it. Buy it buy itttt right now.
Drunk Elephant A-Passioni Retinol Cream
I'm convinced that nobody does retinol cream like Drunk Elephant. I've tried other brands that are just too harsh for my skin, but this one is *chef kiss* perfect. No rashes or breakouts, just clear, bright skin. It uses 1% vegan retinol and it's also cruelty-free, so bonus points for that.
A little goes a long way here. I've been nursing my A-Passioni cream for almost a year now, so you really get your money's worth with this purchase.
PSST – is a $74 out of your retinol cream budget? Try the Versed Skincare Retinol. It's not as powerful as Drunk Elephants', but it does work and it's under $30.
Drunk Elephant Virgin Marula Luxury Facial Oil
Packed with antioxidants and omegas, I love using the Drunk Elephant Marula Luxury Oil in the mornings as part of my morning makeup routine, especially in the winter when my skin is drier. I find that it absorbs really quickly and leaves my face soft and hydrated (instead of sticky and oily like some facial oils do!) This makes it easy to apply, brush my hair and then come back in 5 minutes to do my makeup.
Drunk Elephant Protini Polypeptide Moisturizer
I ADORE this Drunk Elephant moisturizer. It's hydrating but never too thick – it can feel my skin breath underneath a layer of Protini Polypeptide, unlike some other moisturizers I've used. It works a lot like the Marula Oil for me, in the sense that is absorbs pretty quickly and I've used it during my morning routine before makeup plenty of times but I mostly used it at night.
I think it noticeably improves the texture of my skin when I use this regularly. The jar lasts forever, but I did run out of my cream about 2 months ago and I can tell that since I've haven't been using this as much, my skin is less plump and (as much as I hate the word) less supple as before. I'll have to restock asap!

Drunk Elephant B- Hydra Intensive Hydration Serum
I'll be honest, I was a bit worried about adding this into my routine since it is a hyaluronic acid serum and I've had occasions in the past where I was using too much hyaluronic acid and my face FREAKED. But of course, Drunk Elephant nails it perfectly on their Intensive Hydration Serum.
I mostly only use this at night as part of my bedtime routine along with some pumps of the Protini for an extra hydration kick and to help combat fine lines and wrinkles. I don't have any issues with it but I did want to note that some people on Sephora have left reviews that this serum made them break out, so I suggest easing your way into this serum. Start by using it once a week and work up to nightly.
Drunk Elephant TLC Framboos Glycolic Night Serum
I used this Drunk Elephant night serum a few times a week (when I wasn't using the Intensive Hydration / Protini combo) and only during certain times of year when my skin seems to naturally be prone to breakouts (like summer when my skin tends to break out from clogged pores due to sunscreen.)
As an AHA/BHA based formula, the Framboos Glycolic Resurfacing Night Serum does a great job at clearing my skin and pores during the times I needed a superpowered product. It's totally something you should have on hand for those seasons in your life, too!
I think the above are the best Drunk Elephant products you should invest in if you are looking to switch your skincare routine over to one brand (which is never a bad idea!)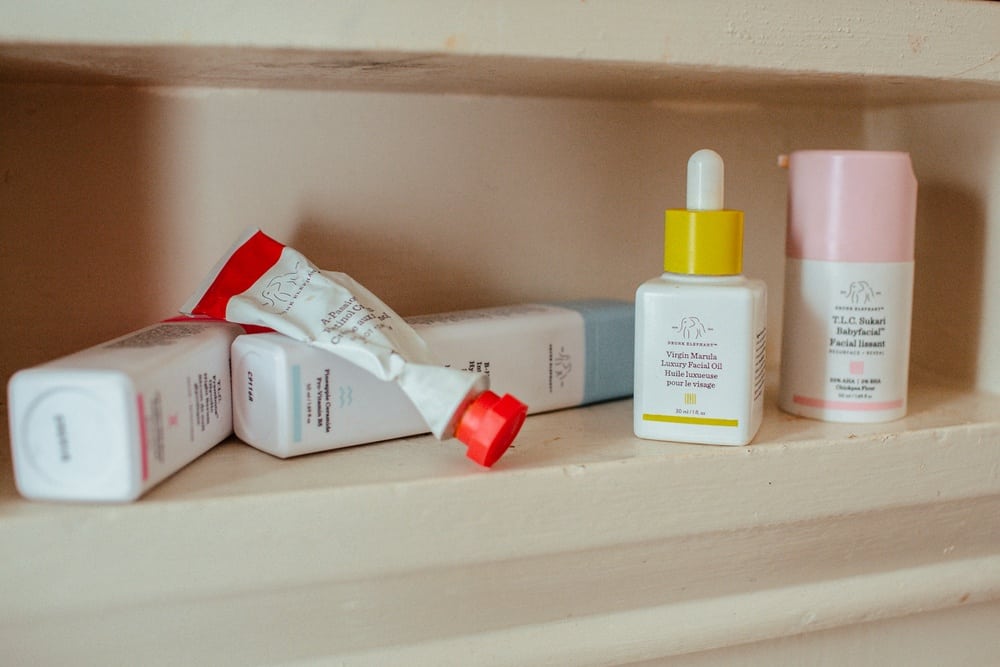 What To Skip From Drunk Elephant
To address the elephant in the room – yes, Drunk Elephant is on the pricier side of skin care. It's not like my $28 drug store Olay Regenerist Cream that I can justify freely impulse buying at Target and not feeling guilty.
Because Drunk Elephant has a high price tag, you need to know what's going to actually be worth the purchase. And while I adore the brand and believe they make every beauty product really well, there are a few that you can skip to stay within budget.
These are the products that I've tried from Drunk Elephant that I wouldn't buy again.
Drunk Elephant Beste No. 9 Jelly Cleanser
To be totally honest, I felt like this Drunk Elephant face wash jelly cleanser wasn't anything special. It's a good cleanser, does the job but it's $32 and I think there are other cleansers out there (like face washes from Cerave or Cetaphil) that are just as good and a fraction of the price. Skip this.
Drunk Elephant Slaai Makeup-Melting Butter Cleanser
It's probably just me, but I've always really struggled with melting butter cleansers. I've tried Drunk Elephant Melting Butter and a few other similar products in the past and I always get it in my eyes and all over. I prefer normal cleansers or makeup wipes. This melting butter cleanser has antioxidant-rich fruit extracts and oils but I'm going to add all the good stuff to my skin with serums and creams anyway.
Better to skip this one and use a cheaper cleanser (again, something from Cerave or Cetaphil) and then use one of Drunk Elephant's standout creams.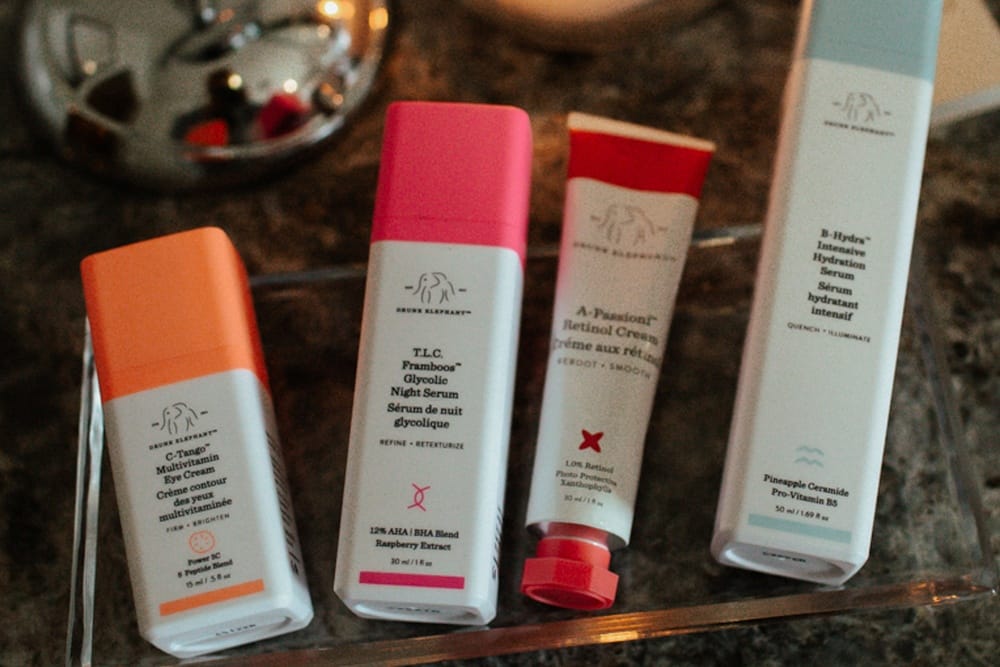 Drunk Elephant Umbra Sheer Physical Daily Defense SPF 30
I really wanted to love this Umbra Sheer sunscreen, but it never absorbed into my skin very well. It was clumpy and gave my face a white tint. Worst of all, one hot day I tired this and sweated a lot. The sunscreen sweated off my skin and into my eyes which stung like crazy. So, this is not the best sunscreen out there. I recommend one of these sunscreens instead. Skip this.
Drunk Elephant Lippie Balm
The Lippie Balm is just a very expensive chapstick in my opinion. I found I hate to reapply a few times a day to keep my lips hydrated, and thus I went through this balm super fast. And honestly, I think something like Burt's Bees chapstick or even the Sun Balm Stick from Green Goo works better and is more affordable.
Drunk Elephant C Firma Day Serum
Ok – no hate on this Vitamin C Serum. It works well, it's a great serum. BUT, I found something I love as well, that's a fraction of the price: Trilogy Vitamin C Booster Treatment. It's only $40 (compared to $80!) Save that coin sis.
Before we part, I'm sure you know this already but I have to say it anyway: remember that not all skincare items play well together. For example, you shouldn't be mixing retinol and vitamin C together. So if you buy the Drunk Elephant Retinol Cream and use their C Firma (or the Trilogy) at the same time, you WILL probably break out or get rashes or dry spots.
I was reading a lot of reviews on these products on Sephora and I could tell some people didn't like a certain product not because the product was bad, but I think because that person was using it with other products that they shouldn't have been.
Drunk Elephant will tell you what in their collection can be used together. And it's always smart to do a quick Google search to check if you are using other brand with Drunk Elephants, just to make sure you aren't walking yourself into a sad skin situation. I just don't want you coming back here yelling at me!! It totally takes some of your own research to get this right.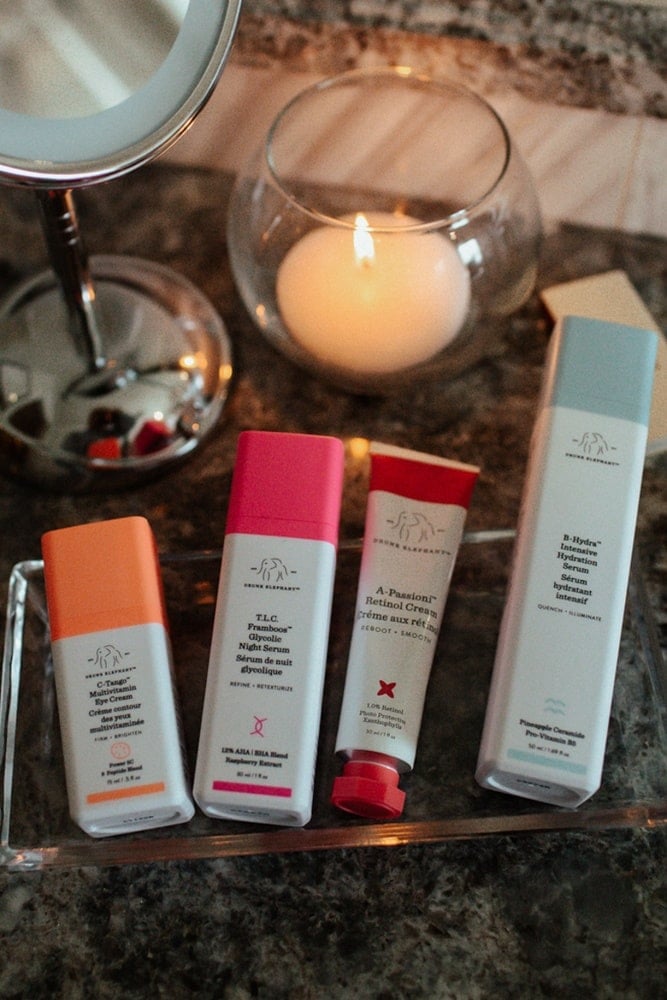 Ok, that's it! I hope my Drunk Elephant 2020 review was helpful for you! As you can tell from this post, I haven't had a chance to try everything out from their collection yet but I'll update this post if I end up trying new products.
Do you use Drunk Elephant? I'd love to hear what you think about their skincare products. Is your favorite not on this list? Leave a comment below so everyone can see it! If you have questions, drop a comment or DM me on Instagram @thewhimsysoul and I'll be happy to help.
Other Saw It On Social Reviews You'll Love