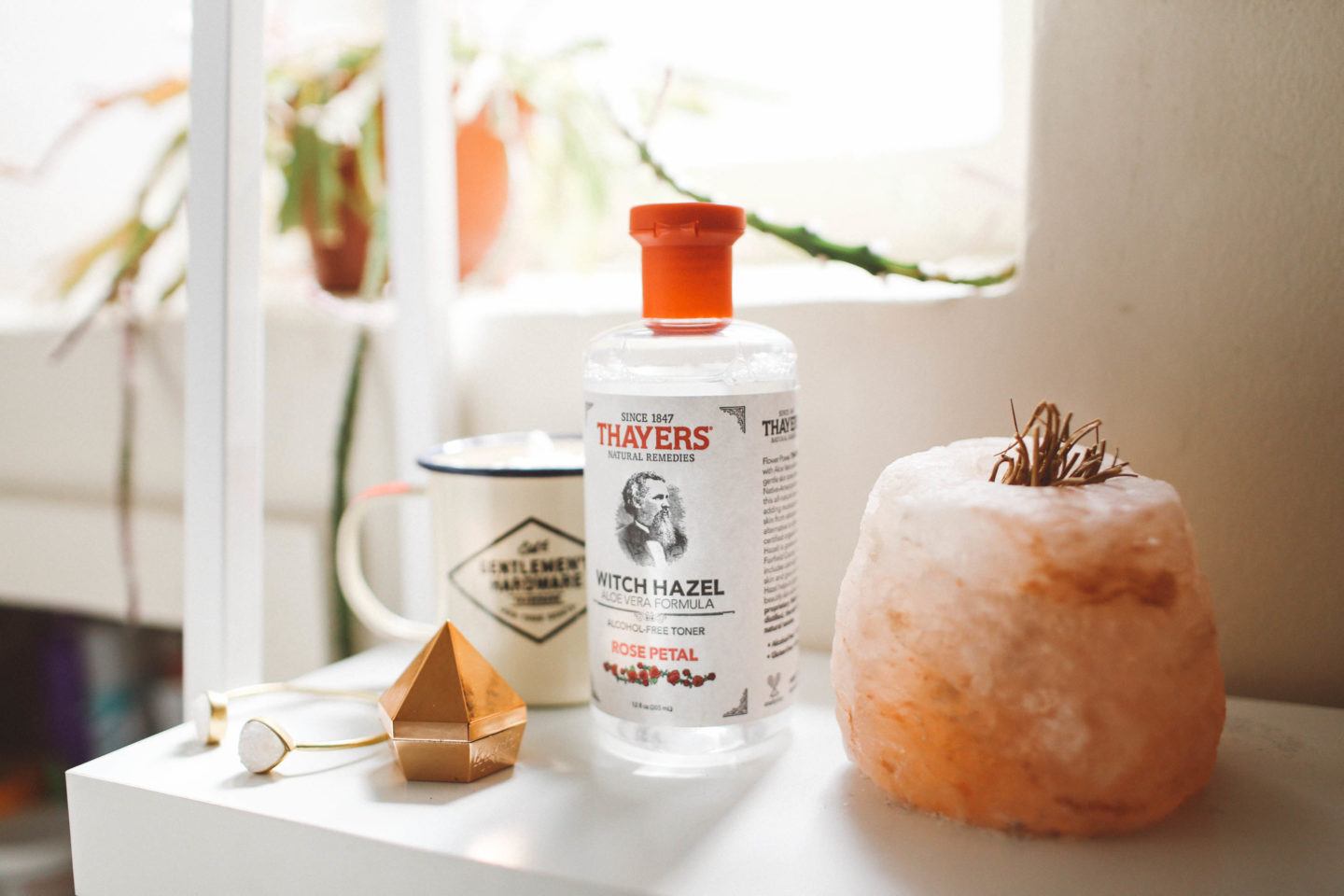 You've seen it on Buzzed, Amazon and other lifestyle sites. The internet says that this Thayers Witch Hazel toner is the best natural toner around, that it's the natural cure for acne, it'll make your skin bright and clear. A $6 price tag and thousands of reviews from Amazon is a good sign, right? But  I had to try for myself to see if this internet-famous witch hazel toner is actually any good. I tried
Thayers Witch Hazel Toner with Rose Petal
for two weeks, and this is my honest review on the cult beauty product.  
There's Thayers Witch Hazel Lavender, Thayers Witch Hazel Rose, Thayers Witch Hazel Cucumber, Thayers Witch Hazel with aloe vera and Thayers Witch Hazel Unscented.
How To Use
Store on your beauty counter as normal. You can buy the Thayers Witch Hazel Spray or the squeeze bottle. I recommend the squeeze bottle so you can use it like a regular toner.
Use once a day, I used it each morning after washing my face.
Squeeze the toner on a cotton pad (or toilet paper if you're lazy) and dab all over your face.
Wait for it to dry.
Moisturize + continue with your normal skincare routine.
What Is Witch Hazel?
What is witch hazel you ask? Thayers witch hazel ingredients are simple! Witch Hazel is a natural astringent, so it removes oil from skin, reduces redness and prevents inflammation. It's an alcohol free witch hazel toner as well. Because of this, Witch Hazel is a very popular acne treatment for those looking for a natural way to maintain healthy skin. It also kills off bad bacteria on your skin, so it can help scars heal really quickly.
Thayers decided to make a Witch Hazel toner because so many toners on the market these days are packed full of chemicals, which doesn't really make sense because nature has tons of things we can use instead. Witch Hazel is one of those magic natural resources we can use for beauty!
The downside of Dr Thayer's Witch Hazel is that it dries your skin, like any toner will. That's why I recommend using the Thayers Witch Hazel Toner with Rose Petal, because the rose petal adds back in moisture. But, you should try to see which scent you like best! The cost of witch hazel is really low.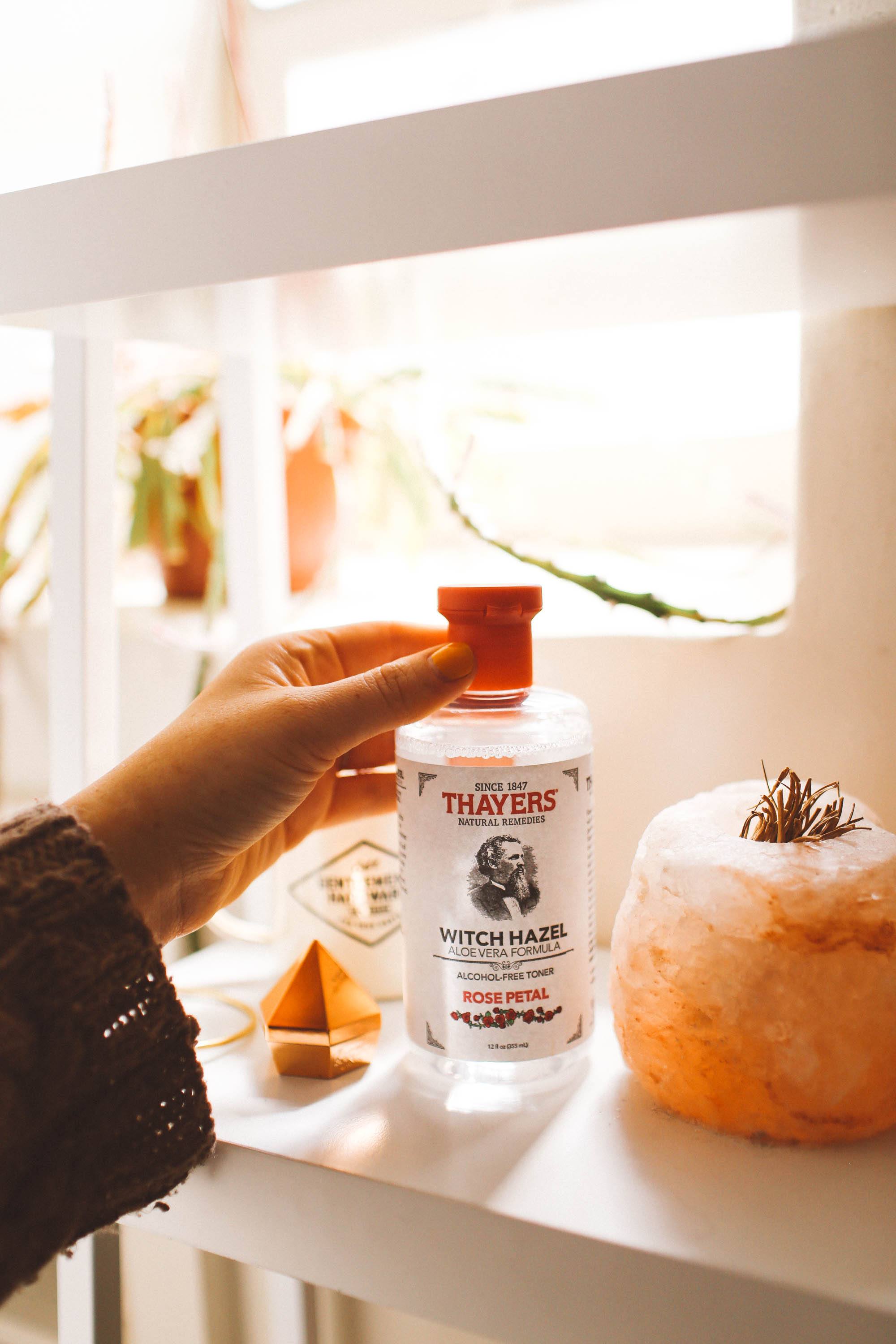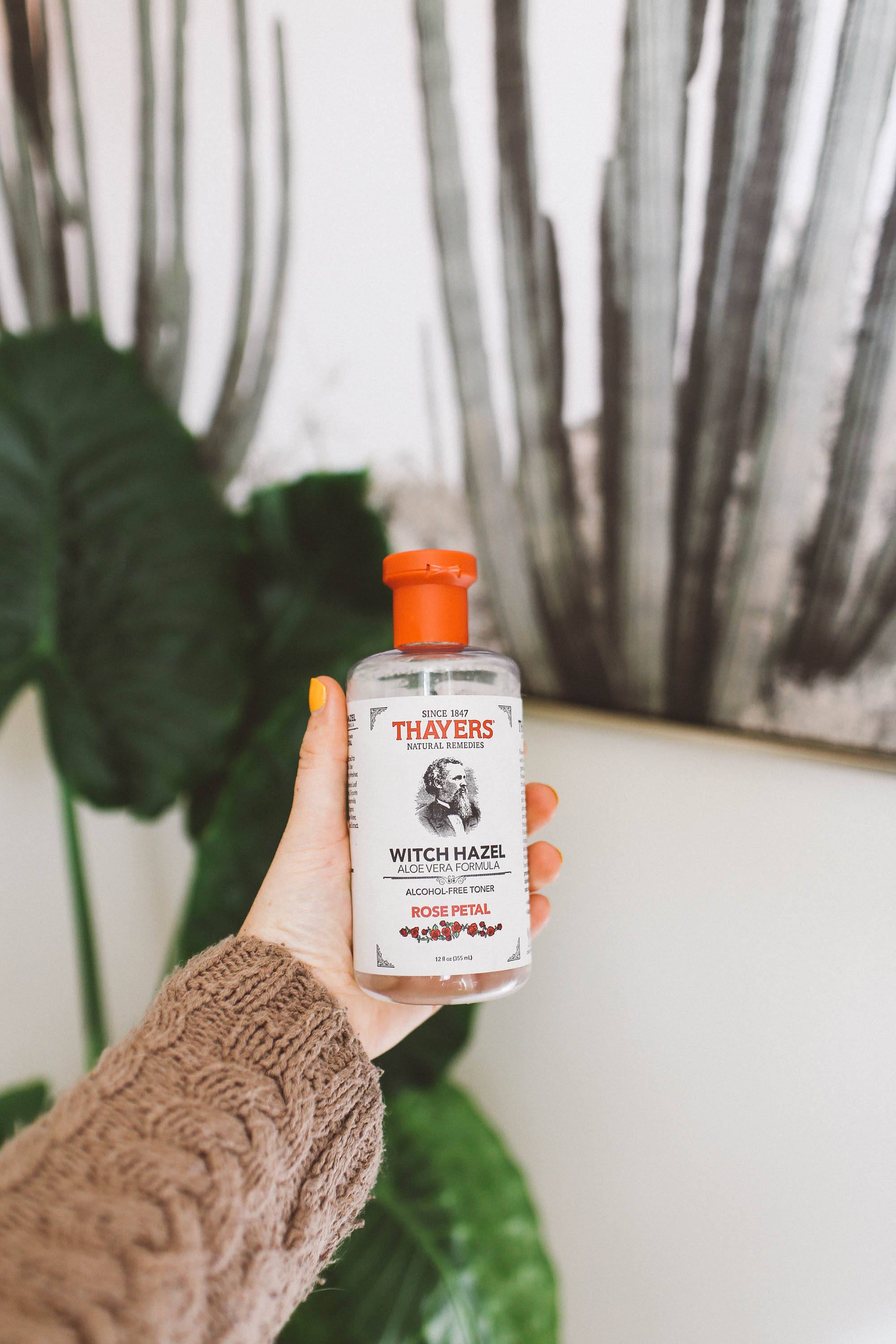 Is This Internet Famous Witch Hazel Toner Actually Any Good?
I tried this toner for 2 weeks and I I noticed an improvement in my skin health. When I get stressed, I break out. Despite having a stressful 2 weeks, I only got a few bumps on my face instead of a full break out. Good sign! I do also feel like my skin is brighter and has more of the glowy look overall. Just like with any skin care product, if you use it right and in a regular routine, it'll work its magic. Thayers Witch Hazel Toner with Rose Petal does work well as a natural toner! I'm keeping this in my daily beauty routine.
*Bonus tip: I just got a facial and my gal told me a hack for using Thayers witch hazel after hangovers or when your face is puffy! Keep your bottle in the fridge. Soak two cotton pads in cold witch hazel and put on our eyes for about 10 minutes. The coldness and the witch hazel work together to reduce puffiness and those black circles under your eyes!! MAGIC.
Where To Find Witch Hazel
Where can I buy witch hazel you ask? You can order witches hazel toner from Thayer Witch Hazel on Amazon here! That's where I always order mine (Prime shipping ya'll!) The witch hazel results for myself are outstanding so I highly recommend you try witch hazel products like Thayer's out!
Want more honest beauty reviews? Check out my other beauty posts here!