Welcome, back to another Quince review, this time we're covering: Quince Cashmere. It's funny this review didn't come first because their affordable cashmere sweaters are how they went viral in the first place. Specifically, the Mongolian Cashmere Crewneck Sweater which Quince refers to as, "the one that made us famous."
This review is a little different because we're sharing three different perspectives: mine (Taylor), Kara (our fearless leader and founder of Whimsy Soul) and Whimsy Writer Melanie! I'm excited because we all have different styles and body types so it's a really well rounded review.
Plus, we agreed NOT to share each other's opinions until after we finished writing out our thoughts after wearing and styling Quince cashmere sweaters.
What is Cashmere?
Before we jump in, what even is cashmere? For me, I've never even considered this question because I assumed it was for people that are well out of my income bracket. And maybe a bit high fashion?
That's not the case with Quince (one of the best affordable cashmere brands) so I thought it was time to do a little research. Cashmere is a type of wool obtained from GOATS!
Yes, goats – what Quince describes as "playful" cashmere goats and pashmina goats! Their wool is taken and made into cashmere fibers or yarn to create beautifully soft cashmere sweaters.
But how do you gauge cashmere quality? It's simple really. It should be SOFT, buttery, and should stretch, but still retain its shape. Some of the highest quality cashmere is from Inner Mongolia where it's super cold, and therefore the goats' wool has to sustain those conditions.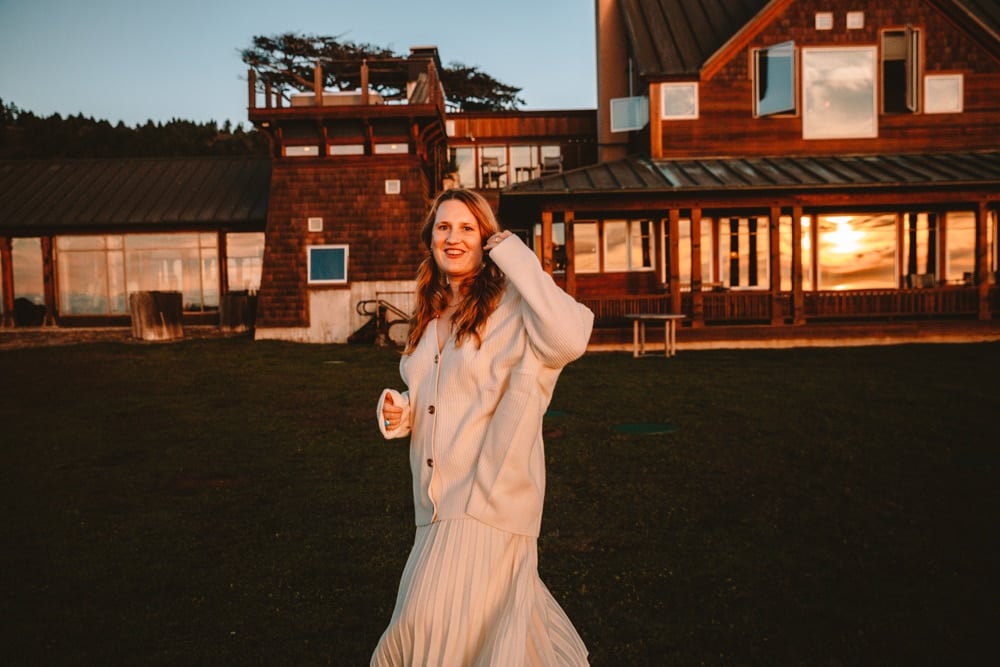 What Makes Quince Different From Other Companies?
I won't dig too deep into it since I already covered it for the most part in my original Quince review, but the key difference to keep in mind: quality without the price tag, which aligns with their values:
Quality
Sustainability
Affordability
All qualities to admire, and you can read more here: Curvy Girl's Quince Clothing Review: How It Fits & Is It Worth It?
Quince Cashmere 101
Quince's cashmere sweaters come in a variety of styles and colors that are perfect for building your winter capsule wardrobe. Our team tried and tested the original cashmere sweater: the Quince Mongolian Cashmere Crewneck Sweater plus the Oversized Boyfriend Cardigan Sweater.
What really stands out about Quince essential cashmere (like everything from the brand) are, of course, price and quality.
What grade is Quince Cashmere?
Quince Cashmere is Grade A (aka the best of the best), not something you'd think with a $50 price tag, but it all has to do with the brand's factory direct approach. The removal of the "middlemen" (i.e. sourcing agents, warehouses, brands and even stores) is why Quince is able to make their affordable cashmere sweaters.
The famous cashmere crew neck sweater and all other styles are 100% cashmere sourced from goats in Inner Mongolia, and ethically produced. Quality cashmere at a lower price point, what more can you ask for?
Quince Cashmere Review: How These Affordable Cashmere Sweaters Fit On 3 Different Body Types
Now for the fun part! We broke down our thoughts into three sections: quality, sizing and styling. Plus we ranked the sweaters we tried and which sweater we want to try next!
Kara's Thoughts
Style: Colorful, comfort first, feminine with a hint of androgynous
Body type: 5'5". Curvy pear shape. Currently wearing size 12-14 US
Items tried:
Quince Quality
Years ago I thrifted a VERY famous cashmere brand sweater and tried my hardest to style it with outfits. Alas, I always ended up profusely sweating whenever I wore that sweater and was convinced that good cashmere pieces must be just very thick in order to be that soft.
And then I tried on a Quince cashmere. Cue that meme of the women looking confused with all the mathematical equations swarming around her head. I'm still not sure how Quince managed to make a cashmere sweater that is so dang soft yet so lightweight at the same time but I'm here for it.
The lightweight fabric is really what made me swoon. You're probably wondering, if it's lightweight, is Quince cashmere warm? Yes! Is it so warm that you instantly start sweating the second you put it on? Nope! It's truly the happy mix of luxe feel without turning you into a furnace if you wear it more than 20 minutes.
And, if you were looking for a little more warmth (looking at all you who live in the Midwest) the Quince Cashmere Fisherman Turtleneck Sweater provides more coverage.
Quince Sizing
We all have been burned by brands who have wonky sizing charts, but I'm so pleased to share that Quince is not one of those brands. I ordered a size large in the crewneck, since I wanted a more snug fit, and it's perfect. Literally so true to size and fits like a dream.
My boyfriend cardigan is a size XL since I wanted that oversized look and again, it totally hit the mark on sizing. Three cheers for accurate, reliable Quince size charts on the sweaters!
Cashmere Styling
I won't lie, the second I got my Quince package I started going into 80's mall montage mode and tried on a ton of clothes with my new sweaters. They're perfect for layering, especially the crewneck sweater.
It's light enough to easily style under other sweaters, over collared button-ups, under jackets and chunkier coats, too, making it an insanely versatile piece. In these photos I paired my crewneck with white pants and boots for an autumn trip to a ranch in Mendocino, California. I was happy wearing just this layer all day out on the coast.
I'm a huge fan of layering sweaters over skirts, especially in the colder months. Here I styled my Ivory Boyfriend Cardigan with a white skirt and boots for an overall oversized look that was super comfy yet elegant for a fancy dinner at the ranch.
But, if I were styling for a holiday party, or even a fun Christmas trip like to New York City, I would swap the cashmere cardigan out for the crewneck or cashmere turtleneck sweater and layer it with a camel coat and cute beanie hat. Top is off with one of Quince's Mongolian Cashmere Scarf in red for that *chef kiss* perfect holiday outfit.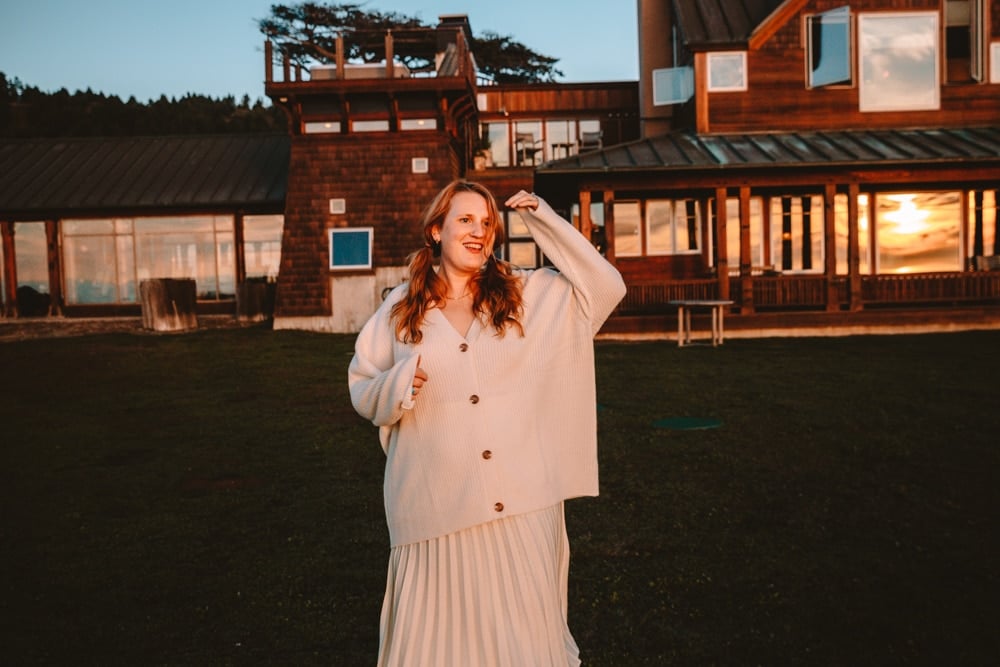 Kara's Cashmere Sweater Ranking
Mongolian Cashmere Crewneck Sweater

This cut is truly a timeless staple that I know I'll be wearing for years. I love how many colors it's offered in, too, so shoppers can curate their wardrobe with cashmere that matches their preferred color palette.

Oversized Boyfriend Cardigan Sweater

I already foresee myself throwing this on daily while working from home (my apartment is always so cold in the mornings!) It's insanely soft and snuggly, yet instantly elevates any outfit so I can still look pulled together for Zoom meetings.

Mongolian Cashmere Cropped Tank

I did not get this but this is what I would order myself next. The past few years I've been leaning into solely high waisted pants and skirts, so naturally I wear a lot of crop tops with those. A cashmere sweater crop top is so smart and unique, I've never seen a brand do this before. It's perfect for girlies like me who live in California and are dealing with ~50 degree winter weather. We just need a wee bit more warmth and luxe in the cold months, hence a Quince cashmere crop top sweater is the perfect thing to wear!
Melanie's Thoughts
Style: A little edgy, a little boho
Body type: 5'9", straight/rectangular body type (sometimes known as the "ruler"), currently wearing a size 8/10 US, but it honestly varies from brand to brand
Items tried:
Quality of Cashmere
I'll be honest, I don't have a true reference point for what cashmere is supposed to be, because I've always assumed it would be too expensive for me, so I didn't really know what to expect. But let me tell you, the second I put on the Mongolian Crewneck Cashmere Sweater, I was stunned.
My immediate thought was "I need to order more of these." The cashmere is incredibly soft and has a little bit of stretch, but still feels chic and structured.
The crewneck was lightweight, yet still feels luxurious. If you see me wearing one of these Quince cashmere crewneck sweaters every day this winter… no you didn't.
The Oversized Boyfriend Cardigan Sweater is a decent bit thicker than the crewneck, and I wouldn't say it's quite as soft, but it will definitely keep you warm and cozy throughout the winter months.
Sizing
I got a large in the Mongolian Cashmere Crewneck Sweater, which is my typical size for a top in most brands, especially if it's supposed to be fitted, as I don't want anything to be too tight. I really enjoyed how this sweater laid on my body.
Lengthwise, I have a short torso, so it fit me nicely, hitting a few inches past my waistband, but not too much that I wasn't able to do a nice little French tuck with it. The arms were a good length too, which can sometimes be hard for tall people to find.
For the Oversized Boyfriend Cardigan Sweater, I ordered a medium, as I didn't want it to be too oversized, and that was definitely the right move. It's loose and feels oversized, but I didn't feel like I was being swallowed by it.
From a length perspective, it is the perfect length to wear with leggings, but the arms were a bit short, which happens to me 99% of the time, so it wasn't a big deal. Plus, regardless of the sleeve length, my natural styling instinct was to roll the sleeves once or twice anyway, so it was all good.
Now, perhaps if I stayed true-to-size and ordered a large, the sleeves would've been a bit longer (so this may be on me), but it's definitely something to keep in mind if you have long arms and short sleeves bother you.
Styling Cashmere
The crewneck has a ton of versatility. I first wore it out to a nice dinner with straight leg jeans, black ankle boots, and a leather jacket, but I think you would really wear this sweater in a ton of different settings.
You could easily wear this sweater with some tailored trousers or with an oversized blazer for work if you have to go into an office, or you could wear it with leggings or wide leg pants and sneakers for a casual, but elevated look. I'll be wearing it on repeat with straight leg jeans and a variety of coats to change up the vibe.
For the cardigan, I can already tell you that I will be wearing this regularly over a tank top and leggings, styled with layered necklaces, and some platform ugg mini booties or slippers. I'm not much of a dress person, but I also think it could be really cute layered over a slip dress or skirt with tall boots.
Melanie's Cashmere Sweater Ranking
Mongolian Cashmere Crewneck Sweater

Honestly, the crewneck and oversized cardigan sweater were neck in neck for me, but ultimately, I have to give the classic Quince cashmere crewneck the win due to its quality, affordability, and simplicity. You know that this piece will literally never go out of style and can be dressed up or down, so it takes the cake.

Oversized Boyfriend Cardigan Sweater

Big, big fan of this cardigan. It's so cozy and comfy, and will be a staple in my winter wardrobe for a while. It's just the perfect vibe for looking put together while also being comfortable. My local coffee shop is going to get sick of seeing me in this.

Mongolian Cashmere Mock Neck Sweater Vest

Okay, so I didn't get this one (yet) but it will definitely be added to my cart when I order some more of the crewneck sweaters in different colors. This mock neck sleeveless sweater is SO CHIC. (Am I overusing the word chic?? Maybe). This is the perfect example of a top that can easily be worn in professional settings but then also styled for a night out. I can see myself sipping martinis in this thing.
Taylor's Thoughts
Style: cozy, no frills with mostly earthy, neutral tones and colors
Body type: 5'2", apple shape, size 14-16 US
Items tried: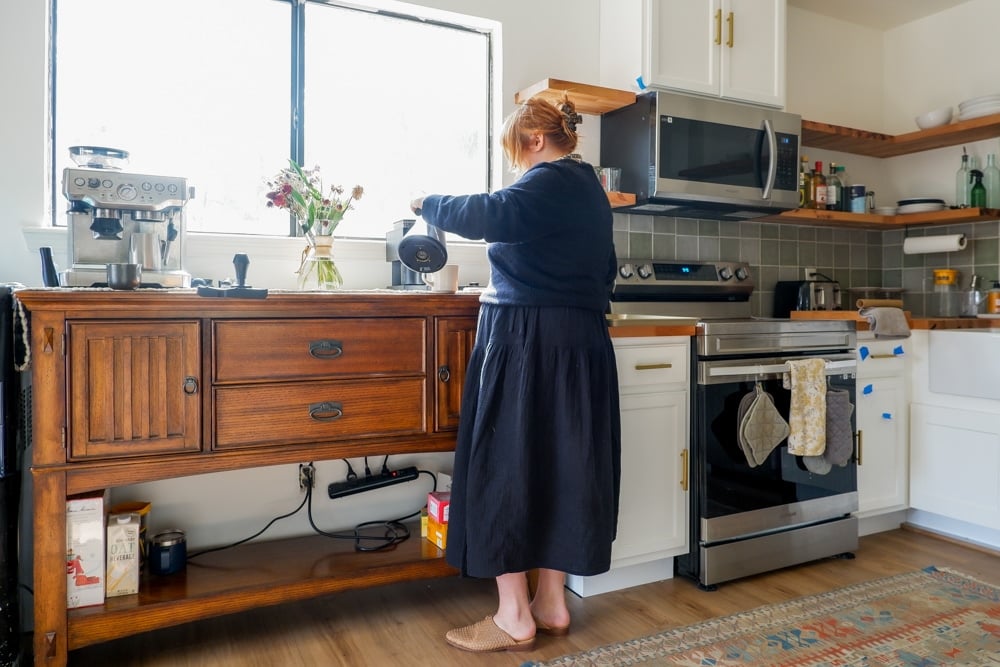 Quality Of Quince's Cashmere
Like mentioned before, I really hadn't dealt much with cashmere besides running my hands through sweaters at the mall so I wasn't sure what to expect. I don't love wool generally because I'm really sensitive to how my clothes feel on my skin. Whenever I see something cute, I always have to feel it first (which makes online shopping especially difficult), even when I spot it on a friend, I ask, "can I feel it?"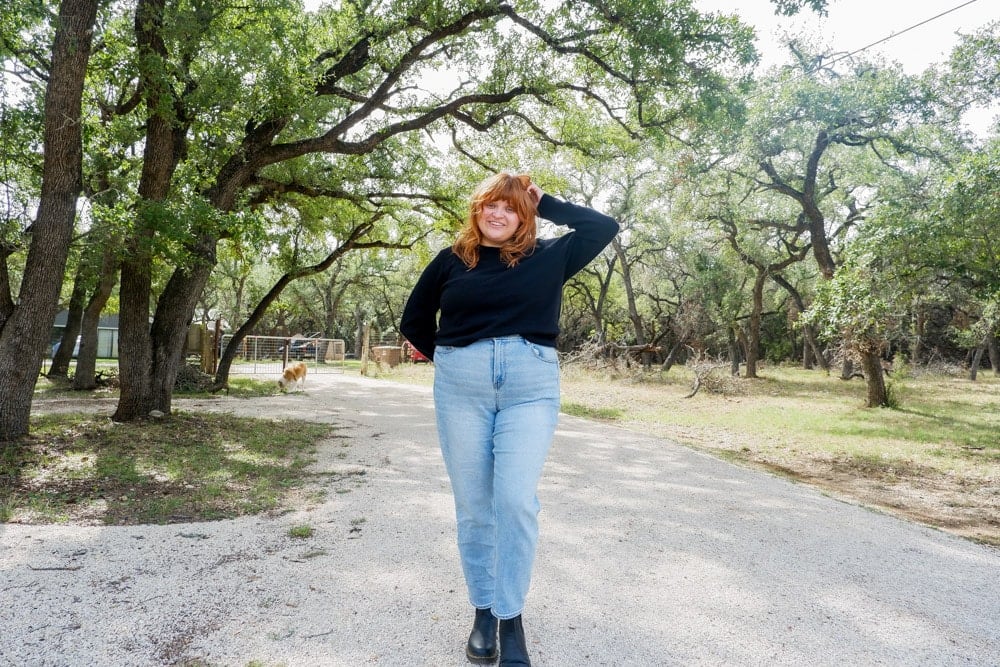 I was glad to learn that my sweaters were incredibly soft, high quality cashmere, and the best part? BREATHABLE. I'm not the best at layering (especially now that I'm back in Texas) because I get hot easily. So when I say I was able to wear both sweaters for an entire day, it's a big deal.
Luck was on my side too! I got my sweaters the day before a Texas "cold front" and got to wear them throughout the week. I really loved how versatile they are, and never felt overwhelmed by the texture or warmth.
Sizing
Similar to the sizing of Quince linen, I figured it would be fairly true to size, if not on the larger side. I sized down in the cardigan since I knew it was already oversized and didn't want it to be too oversized. I learned this lesson with my Quince 100% European Linen Long Sleeve Shirt and 100% Organic Cotton Fisherman Crew Sweater (both which I still love if you're wondering).
That said, I think these all fit as more oversized than normal because I have a short torso with long legs. I think I like the longer tops to elongate my torso as much as possible!
I sized down in the oversized boyfriend cardigan, and got my regular size in the cashmere crew neck. Both of which were spot on!
Again, I wouldn't feel right not calling out that Quince only offers up to a size XL. I love the brand, quality and values so here's hoping they expand sizing in the near future!!
Styling
Something I love about all of my Quince pieces is the versatility. This week alone, I styled my sweaters with jeans, a midi jean skirt, over dresses and more. I ordered in brown and black which made it super easy to pair with existing pieces I have in my closet which is always my goal.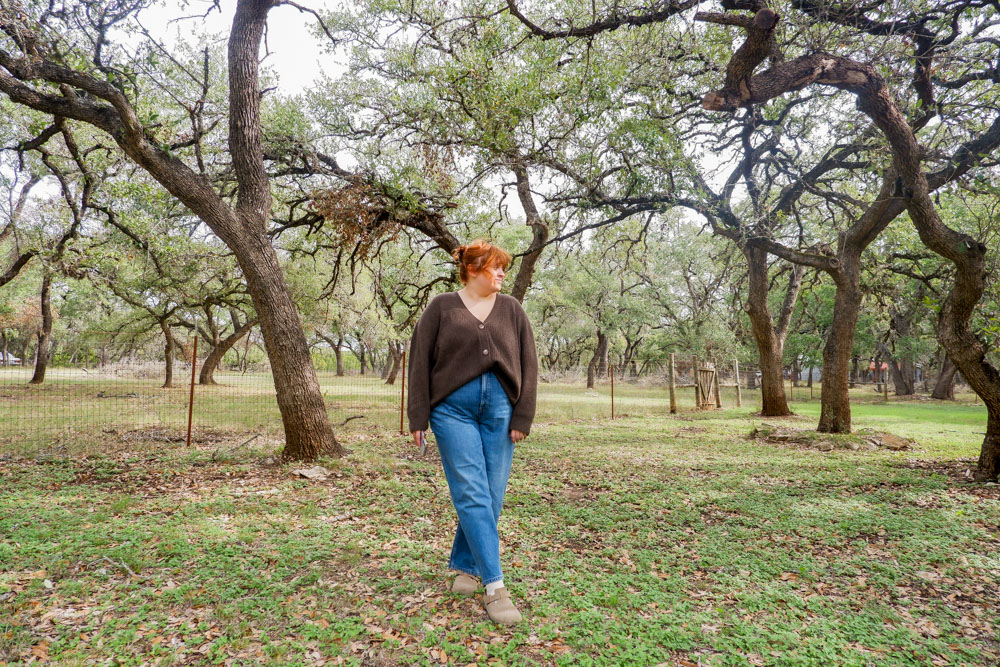 In my photos, you'll see how I styled with different pieces. I've been loving experimenting with sweaters over dresses lately, and these sweaters are perfect for just that. I tried to use the TikTok trick for cropping the oversized sweaters, but I couldn't get it right, so I kept it as is for the most part.
The crew neck can easily be dressed up and down. I think it's perfect for pairing with leggings on a travel day. Light enough so you won't get too warm in an airport, but warm enough for the flight itself.

Taylor Sweater Ranking
Cashmere Oversized Boyfriend Cardigan Sweater

For me, it's much easier to style the cardigan so it's ranked number 1! I will be wearing it all the time. As a top, sweater and coverup – the options are endless. It also might be my current obsession with the color brown.

Mongolian Cashmere Crewneck Sweater

The crew neck sweater is a classic! I'm excited to experiment with how I can style it. I love Kara's idea to pop a white button down underneath!

Mongolian Cashmere Fisherman Turtleneck Sweater

I love a turtleneck sweater! So easy to style, plus the addition of the ribbed fisherman knit is so good. This one reminds me of an oversized Free People sweater I've rented from Nuuly that I'm absolutely obsessed with, but don't want to fork over the cash. I also really love the Featherweight Cashmere Ribbed Henley Sweater!
Final Verdict Of The Viral Quince Cashmere
This post already says a lot about how we really feel about Quince cashmere, so you won't be surprised to hear we love it, and absolutely recommend it. You can't beat the quality for the price, and the beautifully soft, warm wool that's perfect for this time of year.
We will wear and style these sweaters all winter long! To round out our review, I asked the team to rate Quince products on a scale of: "fell short", "what I expected" and "exceeded expectations."
Melanie: For me, the crewneck exceeded expectations while the Quince cashmere cardigan was just what I expected!
Kara: Same as Mel!
Taylor: I came into this with pretty low expectations, so I would say both fit into the exceeded expectations category!
Shop all of women's cashmere here!
Quince FAQs
Now that you're probably hitting the shop button, we wanted to answer a few outstanding questions about Quince!
Is Quince cashmere high quality?
Absolutely! You can feel the quality of the cashmere at the first touch, but you really feel it as you wear it all day and feel just how breathable it is.
Is Quince cashmere legit?
Yes! I'll answer this in two parts: 1) one of the reasons we love Quince is their values and all clothes are made and sourced ethically including cashmere; 2) as mentioned before, the quality is top notch so definitely worth it.
Why is Quince so inexpensive?
Quince uses a factory direct model, meaning they cut out the middlemen to bring down costs.
Is it worth buying cashmere?
From Quince? Definitely! Cashmere is generally too expensive for me to even consider buying, but Quince provides quality with a price tag that doesn't have me running in the opposite direction.
How to take care of cashmere?
Quince narrows it down into three lessons: 1) no machines, please; 2) say no to fabric softener and; 3) wash a little, wear a lot. For something like a Quince cashmere scarf, we would opt for washing it once a winter season unless you drop it, etc.
So only hand wash after a few wears in cold water with a mild soap or detergent. The cashmere will get softer as it ages naturally and since it's so breathable, it remains fresh for a bit longer than other garments.
Also make sure you have a comb on hand. Pilling is inevitable with all wool and cashmere, but can be easily removed with gentle strokes of a Cashmere comb. Quince sells one for just $10.
Still have questions about Quince cashmere? Let us know in the comments, and we'll answer the best we can.