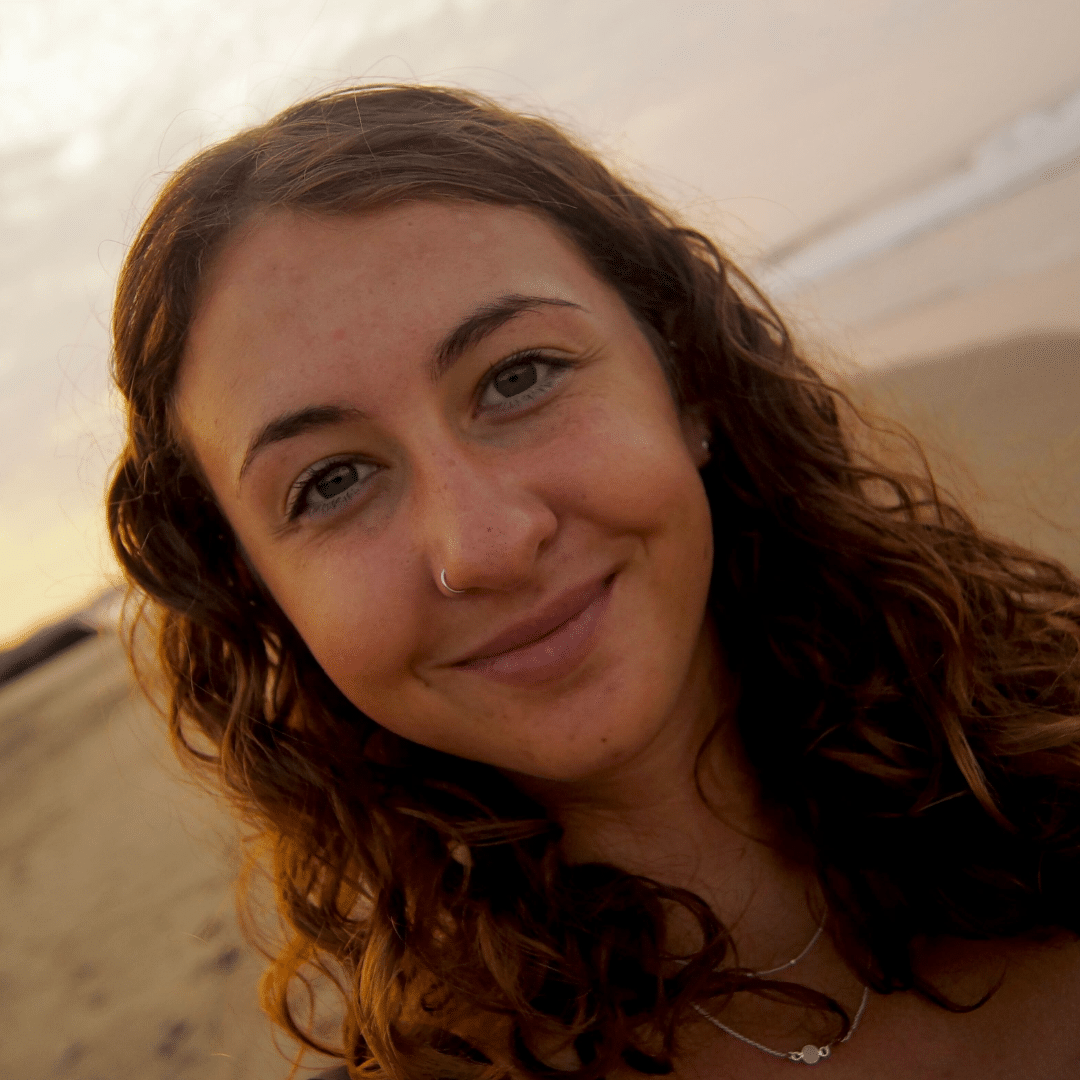 Lana Star
New Mexico is a hidden gem when it comes to places to travel. The weather is so amazing, especially in the spring, and there's a ton of outdoor stuff and cute areas in town to explore.
It is also super close to Santa Fe so you can explore both of these amazing New Mexico towns in one trip! I had driven through Albuquerque a ton of times and always found myself intrigued by the area.
Since moving here for a few months I have completely fallen in love. There are so many amazing outdoor adventures, from insane climbing spots, to hiking, and skiing. The city itself also has a lot of unique things to do and features diverse cultures from the US, Mexico and Native American groups. 
Albuquerque At A Glance
Albuquerque can basically be split into three different areas worth exploring. Nob Hill is the area by the university and has amazing vibes. I would say Downtown has less Albuquerque photo spots but is still worth checking out. It's a great area for restaurants, breweries and bars. 
Old Town definitely has my top Albuquerque Instagrammable places. It has a really quaint, colorful vibe that's really representative of New Mexico. It's also definitely one of the top touristy areas and so has so many adorable shops and spots to eat at.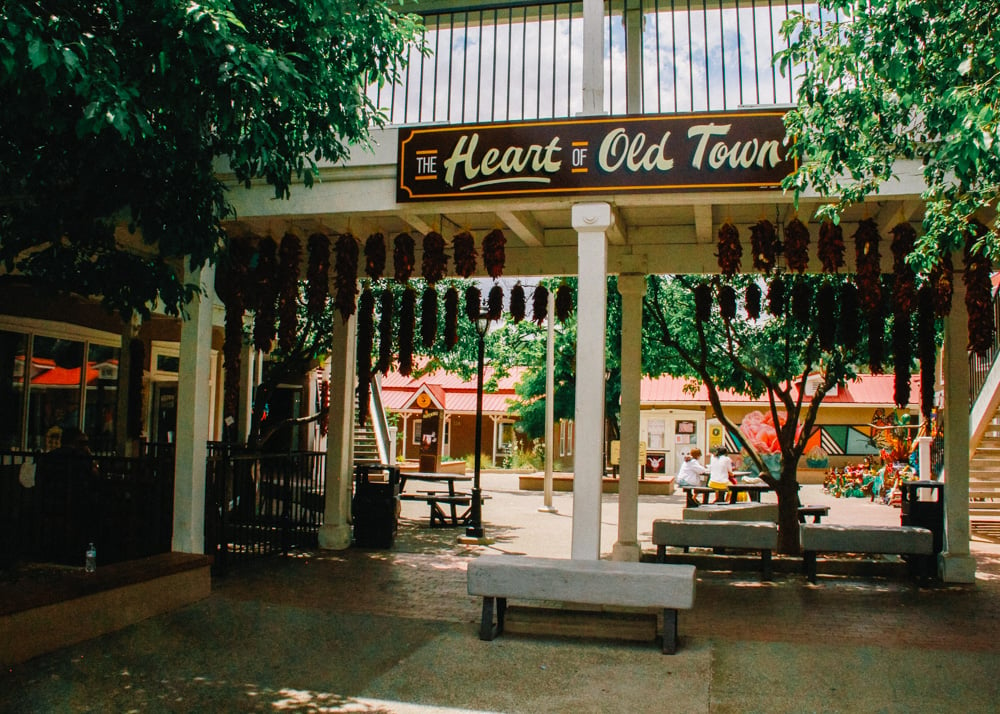 And then there's the Sandias (the mountains East of the city) that have a ton of adventure spots and are totally photo worthy. 
So, here are a ton of super instagrammable spots that I found plus some of my best tips for places to visit, things to do, and amazing stops for food throughout the city. 
Nob Hill
Nob Hill is an adorable area near the University of New Mexico. It's full of coffee shops, gift stores, restaurants, and fun activities.
If you are short on time and trying to squeeze in a lot of unique photo spots, this area is a great option since all these spots are pretty much within walking distance from each other. 
Little Bear Mural
I am actually obsessed with this mural. It's behind the Nob Hill Little Bear Coffee Shop (which is also on my list of the insanely good Albuquerque cafes!) and is a HUGE mural, like seriously it's the entire back of an old tire shop.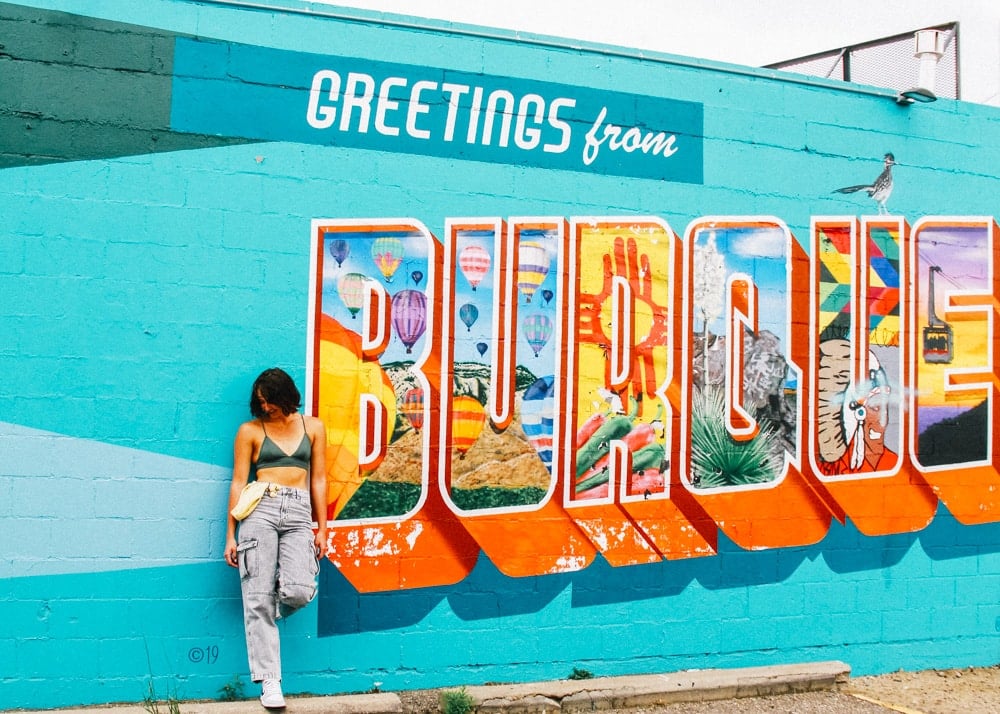 One side is the "Greetings from Burque" mural that is a must-do photo that features an adorable roadrunner (after spending a bit of time in Abq everyone becomes obsessed with these birds, including me). The other side is an amazing geometric, colorful mural. You can have so much fun taking photos in front of it in cool colorful outfits.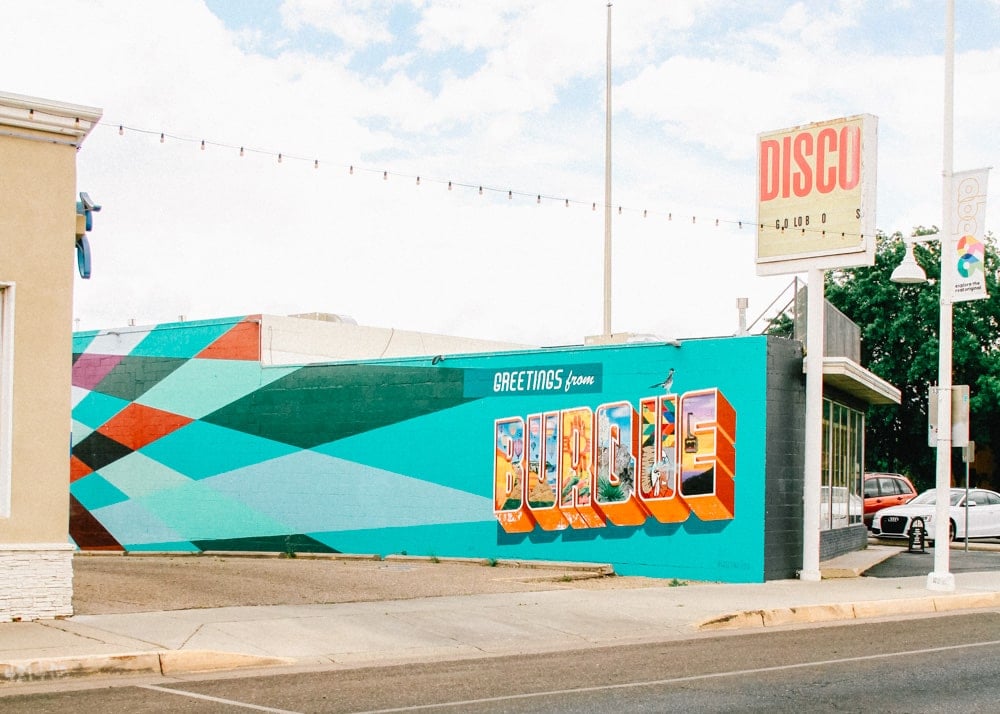 Ritual Juice Bar Mural 
Ritual Juice Bar is a juice spot inside a gym. You can grab a juice or smoothie and then get some cute pictures in front of the mural or at the cute bar. 
The mural features an image of a woman covered in beautifully exquisite flower arrangement. It's situated in a framed archway, behind a cute couch and the most beautiful light fixture. Their drinks are also totally instagrammable too! Check out the vibes on insta!  
The Yarn Store at Nob Hill Mural 
This fun mural is on the back of a super cute yarn store close to the university. It features yarn (go figure!), but it's also got futuristic, colorful vibes. 
Plus, the waffle place next door, Tia B's La Waffleria, is such a great place for breakfast! They have both sweet and savory waffles and good coffee and tea.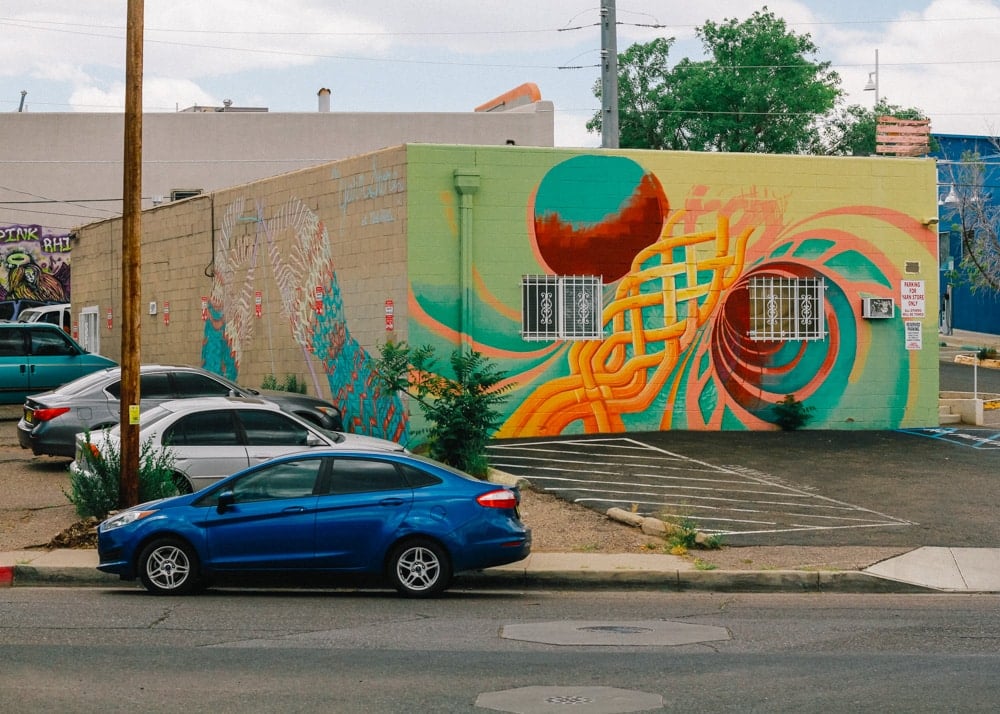 Astro Zombies Comic Book Store 
Just down the street from the Little Bear Mural, this comic book store has an amazing superhero mural on the outside. 
It's super cute, and a great photo spot for families or Marvel fans. You can even each choose a character to reenact to make it an extra fun picture. I am obsessed with how unique this spot is and how much fun it can be. 
Masks y Mas
Yet another photo spot on the same street, Masks y Mas is a gift store with tons of great finds and an amazing mural on the outside.
The calavera art (think: Day of the Dead or even Coco) is beautifully intricate and features lots of color. 
It's a perfect spot for visitors, because they have a ton of different gifts from New Mexican artists. A must stop for anyone vacationing in Albuquerque New Mexico!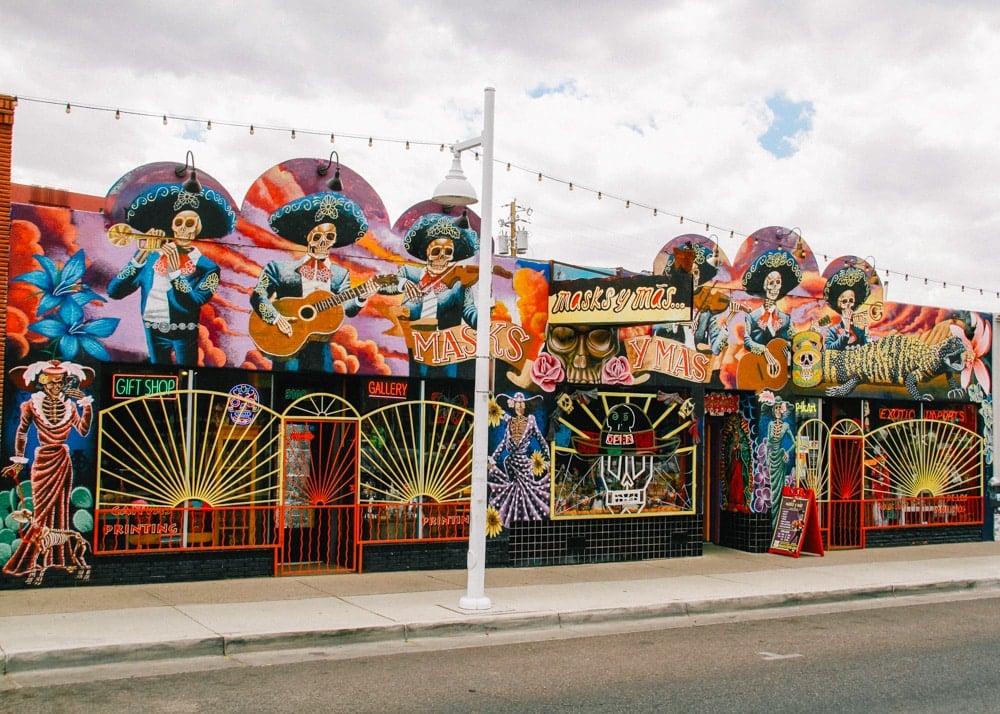 The Historic Lobo Theater
The Lobo is an amazing spot to check out! They host everything from music events to comedy nights to movies paired with dinner or brunch. It is such a fun place that is also a great backdrop for super fun photos!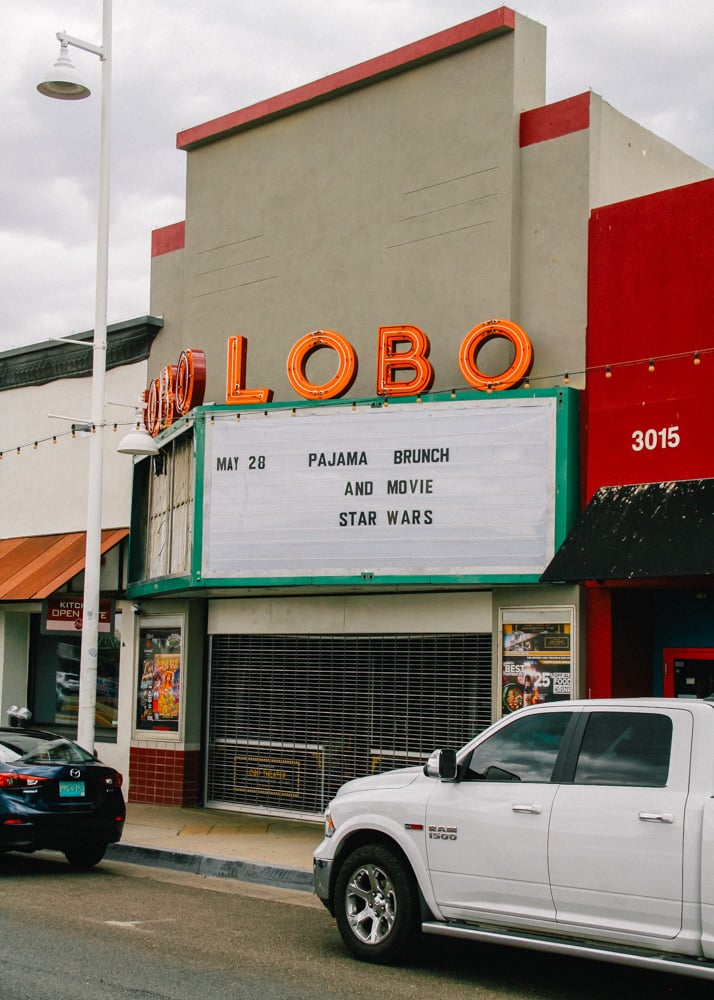 Old Town
Historic Old Town Albuquerque is FULL of the best places to take pictures in Albuquerque. It has all the New Mexico vibes with chilis hanging everywhere, lots of burnt orange stucco buildings, and a ton of plants. There are also adorable shops and coffee shops to check out on every corner. 
Poco A Poco
Another area in Old town with photo spots around every corner, Poco A Poco is a great Instagram spot. The colorful flags give total New Mexico vibes.
The patio area also has a gorgeous red and yellow color scheme with matching flowers, umbrellas and more. This area is so fun and photogenic, I couldn't help but dance through it. 
Sign Outside Patio Market
This little doorway that goes to the Old Town Patio Market (where Blackbird Coffee is located), and is so cute in and of itself. The entryway is framed with hanging chilis on the class New Mexico adobe wall plus there's this lovely greenery as you walk through. So cute!
There's also a colorful bench right by this sign that has a ton of photo potential. I LOVE the photo we got walking through the arch, it can be really fun to play with shadows in photography and this is a great spot to do just that. 
Blackbird 
I am obsessed with the patio behind the Blackbird Coffee Shop. There are a ton of gorgeous plants and even a fountain. It has quaint vibes and is full of perfect places to get pictures. 
I spent way too much time admiring the bees in the cactus flowers. All of the flowers are amazing and worth spending some time smelling and photographing. 
And then check out the coffee shop too, they have some really fun teas and coffees, including one named after the emblematic Albuquerque bird, the roadrunner. 
Allen Aragon Gallery
Also located in the patio market, the white chair and table outside of the Allen Aragon Gallery is a great spot to snap a photo. The colors, this specific gallery has amazing blue trim, and plants in this area are beyond gorgeous and make for some great content. 
Old Town Plaza
Right at the center of Old Town is a plaza with a ton of historic vibes. You can take pictures at the gazebo in the middle or even with some historic cannons or in front of the church. 
The plaza has lights hung up and so is luminous at night. This area is great for photos and also for a leisurely stroll while you admire the area and learn the history.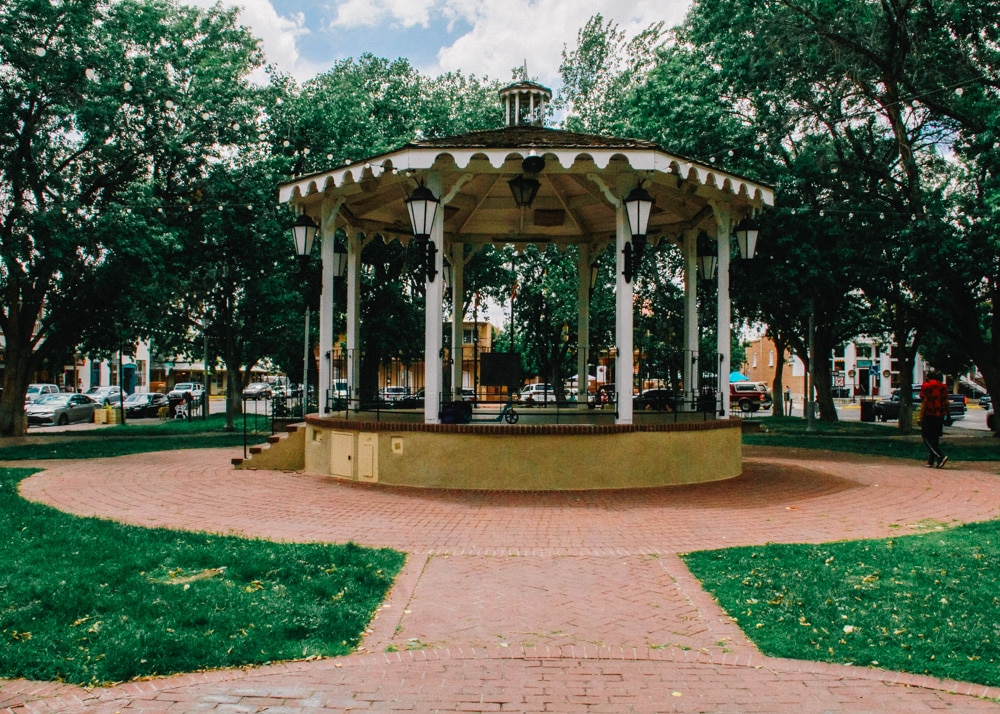 Plaza Don Luis
This plaza might be my favorite of the photo shoot locations. The fountain in the middle is soooo picturesque and gives you a perfect opportunity for a photo that is both serene and has a lot of movement.
There is also a spot with a ton of chilis hung up so you can get that classic New Mexico shot.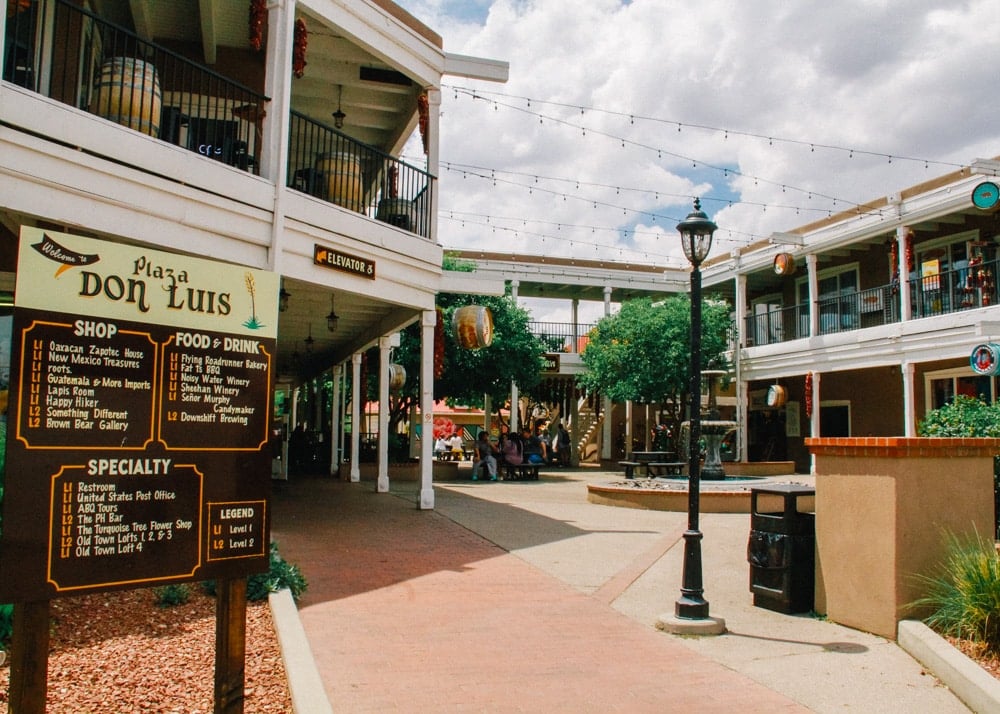 Old Town Sculpture Garden
Old Town really does seem to have everything, including a little sculpture garden. It's definitely worth walking through and grabbing some photos. The vines along the wall also have the potential to be a nice backdrop. 
Entrance to Old Town
On the east side of Old Town (by the parking lot) there is a gorgeous "Welcome to Old Town" sign and mosaic of colorful flowers and vines which makes for a perfect photo spot. There is also a cool blue door nearby that is perfect for a more understated shot. 
New Mexico Museum of Natural History 
If you're in town on the first Friday of the month, definitely go to First Friday Fractals, it is an amazing show they do in the planetarium zooming into different fractals. They also have an observatory, a patio with amazing views of the mountains (!!), and really cool lights on the ceiling that all make for great photo spot potential.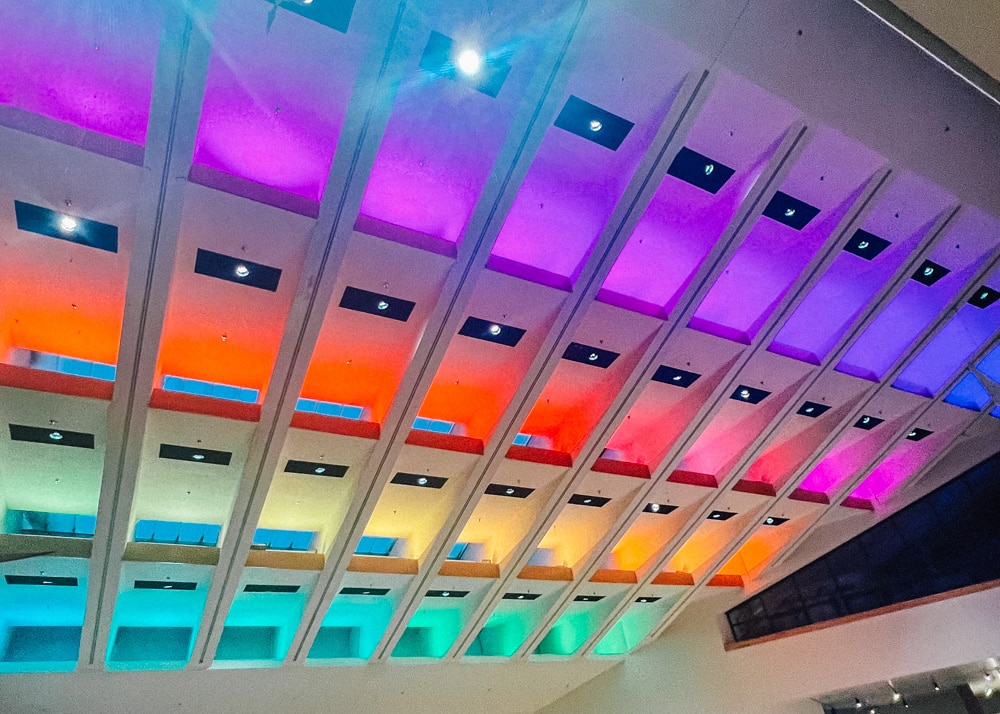 Indian Pueblo Cultural Center 
You definitely need to visit the Indian Pueblo Cultural Center when visiting Albuquerque to see an assortment of murals, arts and artifacts from local Native American tribes. It's located on land owned by the 19 Pueblos, just north of Old Town. 
Other than the beautiful art within the museum, the exterior is photo-worthy too!  
Downtown
Downtown Albuquerque has an interesting vibe for sure and is full of restaurants, bars, coffee shops, live music and more. 
Fractal Murals
The Fractal Foundation (the group based in Albuquerque responsible for the Fractal Friday show at the Natural History Museum) also has a competition for youth where they make their own fractals and some are printed and put up around town. 
They are totally worth finding, admiring, and taking pictures at. One is downtown, at the corner of Silver and Third. And then there's another at Monte Vista Elementary School. There's more too but those are the only two I found. Let me know in the comments if there's any others I should check out!
Ben Harrison Painting On Central Street 
One day while heading to one of my favorite coffee shops, Zendo, which is also a total photo spot itself, I stopped at The Bloom Stone, a gift and crystal shop. They have a ton of amazing tarot decks, gifts, and even prints from local artist Ben Harrison. 
I fell in love with the art and had to buy a print and then decided to go find where the mural was painted to grab a picture with it. The actual mural is on Central and Fifth, across from Red Door Brewing Company. I highly recommend checking out the shop, the art, and the mural and Zendo! They are all within walking distance of each other. 
Central Street
If you walk down Central Street there are a ton of other murals that make great pictures or photo ops. Downtown has more of an industrial vibe and features a lot of really cool murals and art everywhere. You really can just walk down the streets and will probably find tons more photo spots than the ones I found. 
Windows on Siver and Fourth
This is a pretty random Albuquerque photo spot, but I love it for a more simple post or to highlight an outfit. These colorful windows are super cool since they have simple colors but also really cool reflections. 
The windows are at a building on Silver Ave and Fourth street. They are red, blue and yellow and they are big enough that you can get a picture with just two of those colors to highlight whatever outfit you are wearing. 
Sandias Peak
When visiting Albuquerque, getting into the Sandia Mountains should be high on your list. They are absolutely magical. If you are into outdoorsy activities you can hike up the mountain on the La Luz trail.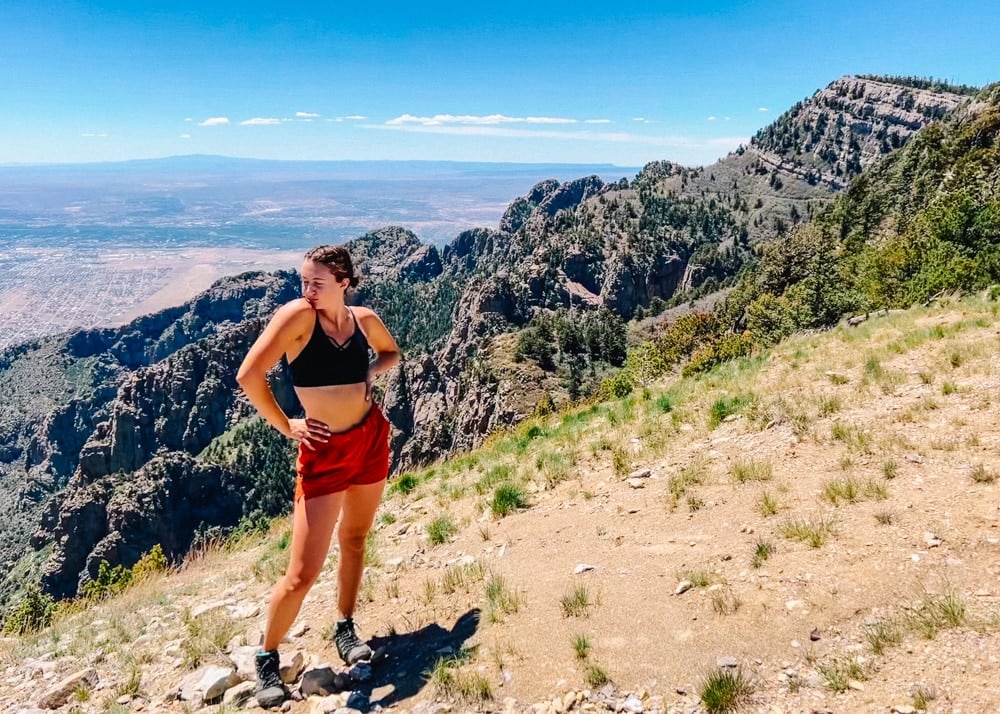 It can be quite the hike if you hike up and back (I did 16 miles and 4,000 elevation gain when I did it) or you can hike one day and take the tram the other way. 
There's also a rock house between the tram and parking lot you can hike to and take pictures from. Spending time outside on this hike is so amazing since you really get a flavor for a lot of the different ecosystems in this area and you'll probably get lots of time in the sun! 
If you are not wanting to hike but still want the stellar views you can ride the Sandia Peak Tramway up and down for around 30 dollars. If you're visiting in the winter there's also a ski resort up there worth going to, both for fun and the amazing pictures.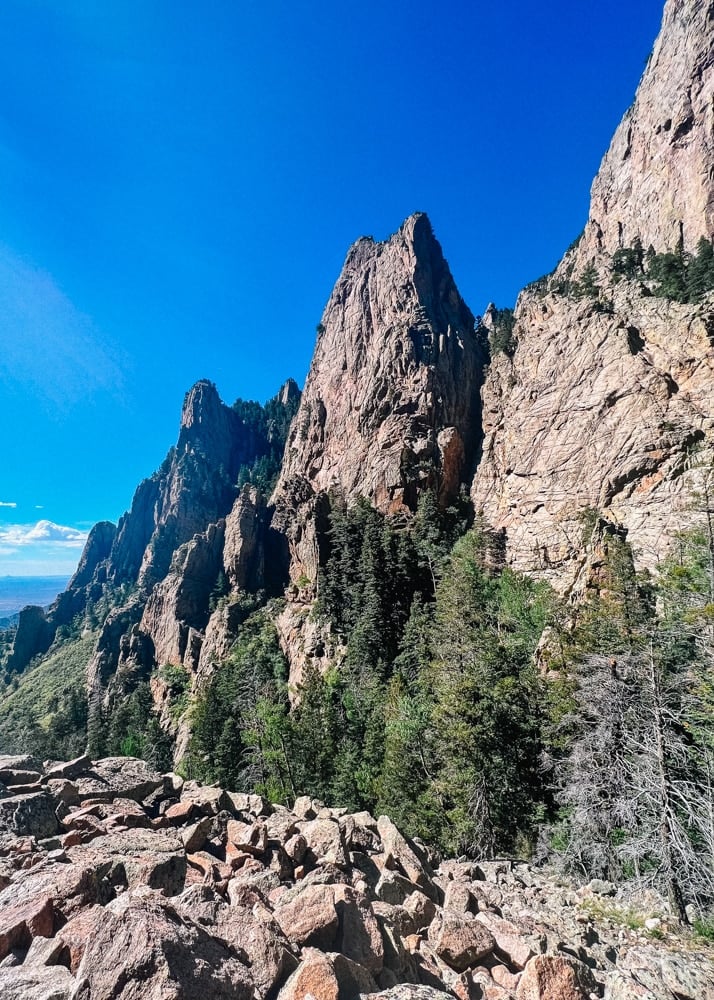 Great news, there's yet another option if you don't want to hike or pay for the tram. You can drive up and park at one of the lots and then walk out to the viewpoints. Heading up there for sunset and then some stargazing/city light gazing is such an amazing experience. 
Seeing all of the city from the mountains is so awe inspiring and then it's so cool to see the mountains from town after that knowing you were at the top. The view from the top of the Sandias is so beautiful and panoramic you'll likely get some of the most beautiful pictures of New Mexico from this spot.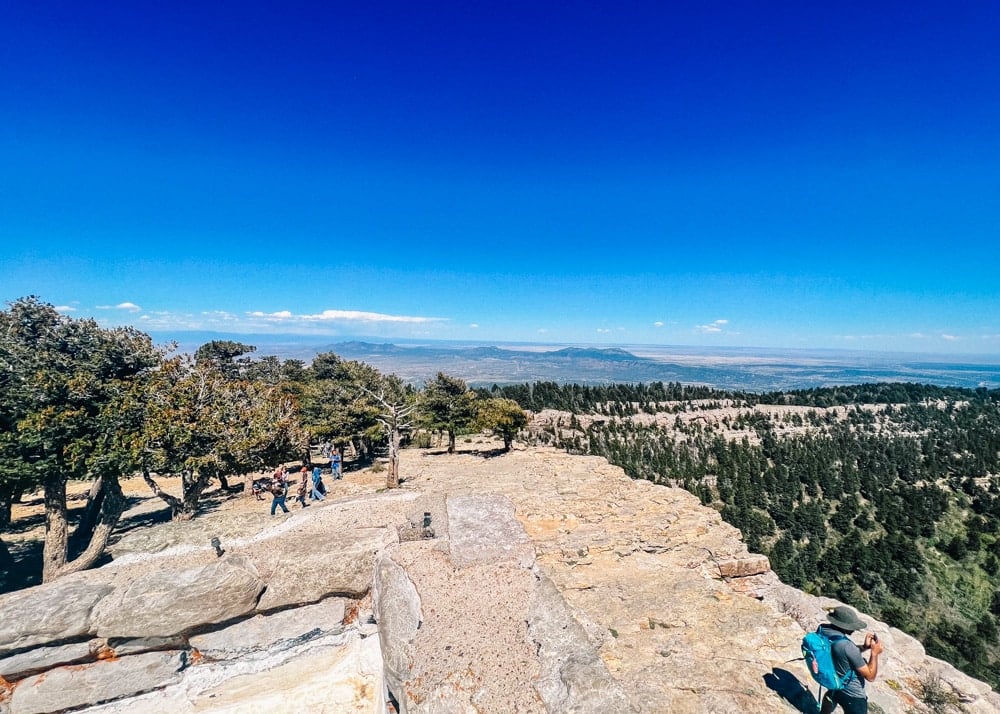 Other Albuquerque Photo Spots
There are so many amazing photo options in ABQ that I couldn't get to them all, so here are a few more great options I've read about for you to choose from. 
Coffee Shops 
All of the coffee shops in this town are so uniquely gorgeous and make great photo spots! Some, like Michael Thomas, have amazing outdoor areas. Others, like Humble Coffee, have murals and color walls that make for perfect backdrops. You can read more about my favorite Albuquerque coffee shops here. 
Albuquerque International Balloon Fiesta Park
I unfortunately was not in town when the Albuquerque Balloon Festival took place (it is in October). If you are in the area during October, the festival is amazing.
I'm definitely hoping to make it back one of these years to see it. ABQ really is known for this event where for 9 days tons of air balloons fill the sky. This is the ultimate Albuquerque photo op for sure. 
Open Space Locations
Albuquerque has a whole collection of parks and different open spaces that make for great photo spots. A couple of the most popular ones for taking photos are the Elena Gallegos Open Space and the Rio Grande Valley State Park. These areas are so popular for films that you can even follow this map of different spots used in films.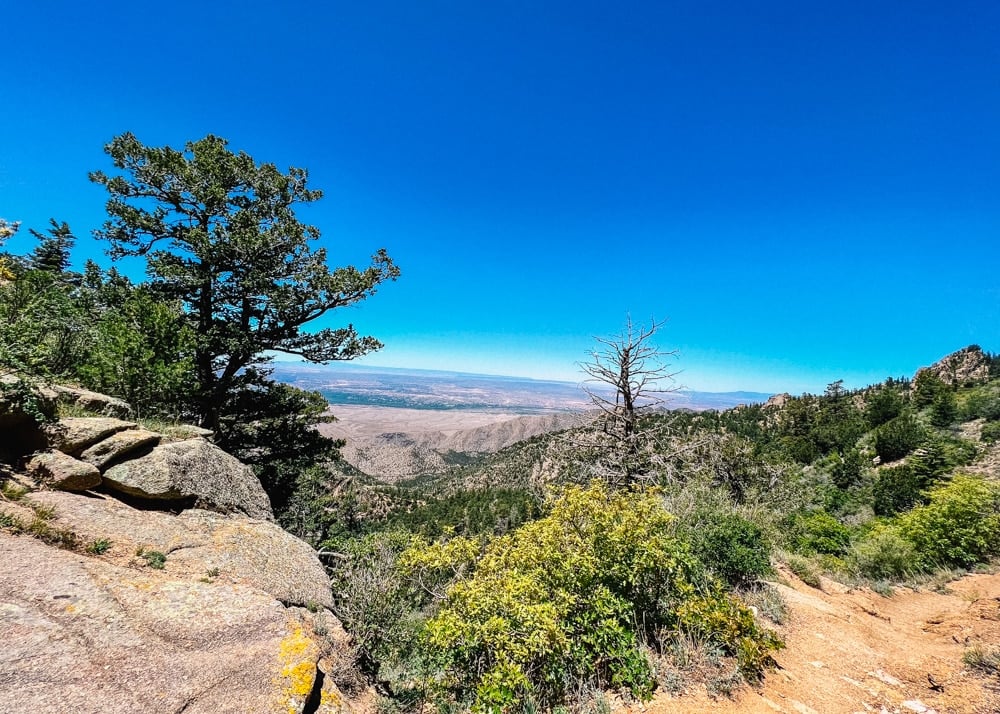 Los Poblanos Historic Inn and Organic Farm 
If you are looking for somewhere to stay during your time in Albuquerque, look no further than Los Poblanos Historic Inn and Organic Farm. 
This hotel is also an amazing photo spot so you can both stay here and get great pictures at the same time. It has a refined, modern look that makes it a perfect backdrop. 
Plus, it's nestled into 25 acres of lavender farms which is both insanely scenic and perfect for great pictures. It's also only 10 minutes from downtown and so is in a great location to explore the rest of the spots on this list!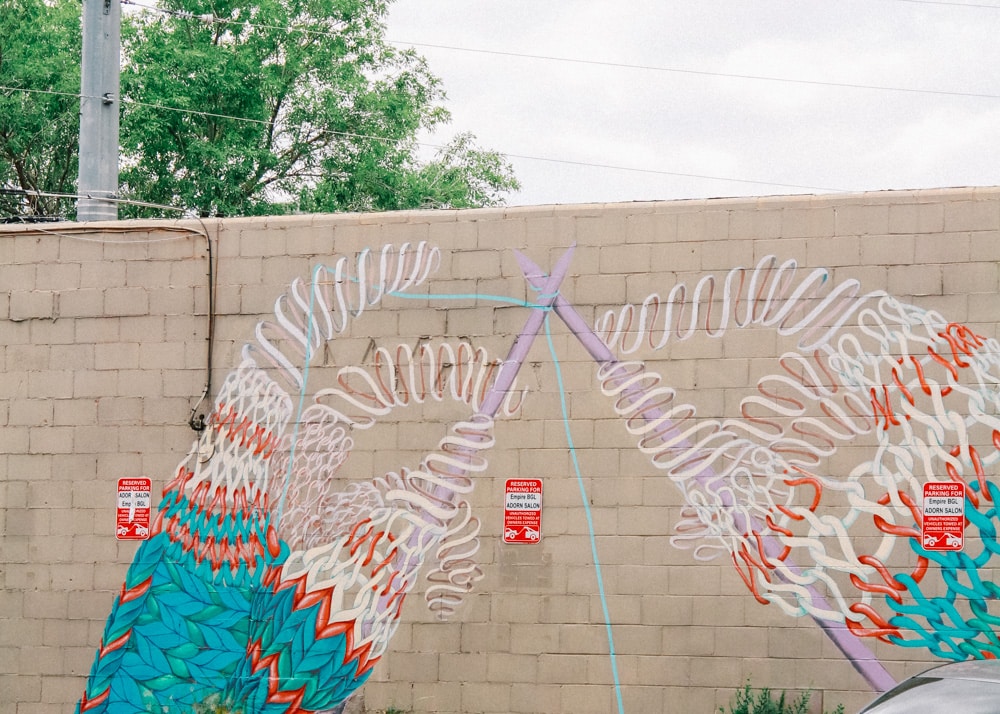 Electric Playhouse
Electric Playhouse (EP) is another great experience/photo op. They have a ton of fun games and interactive art experiences. The projected images and cool interior design makes it a great place to get unique pictures. 
EP is one of the most fun things to do in Albuquerque. New ways to experience art provides the perfect chance to get photos that blur the line between you and the art as it's projected onto you. This one is definitely worth experiencing, even if you don't want to take pictures there. 
ABQ Biopark Botanic Garden and Tingley Beach
The Albuquerque BioPark is an amazing spot for fun activities and to take photos at. They have a zoo, an aquarium, a pond area (tingley beach) and a botanic garden. While they all have a ton of amazing photo ops, the botanic gardens are probably the best for amazing pictures. 
The gardens feature different exhibits with amazing flowers and different vibes and some even have gorgeous fountains. You are guaranteed to get some amazing outside photos at this spot and have a great time doing so. 
I hope this gave you both great information to make a trip to Albuquerque amazing and inspiration to go out and take some amazing photos! ABQ really is such an underrated gem both as a place to live and travel location. 
There is so much to do and see, and as you can see from this list, so many cool places to explore with a camera.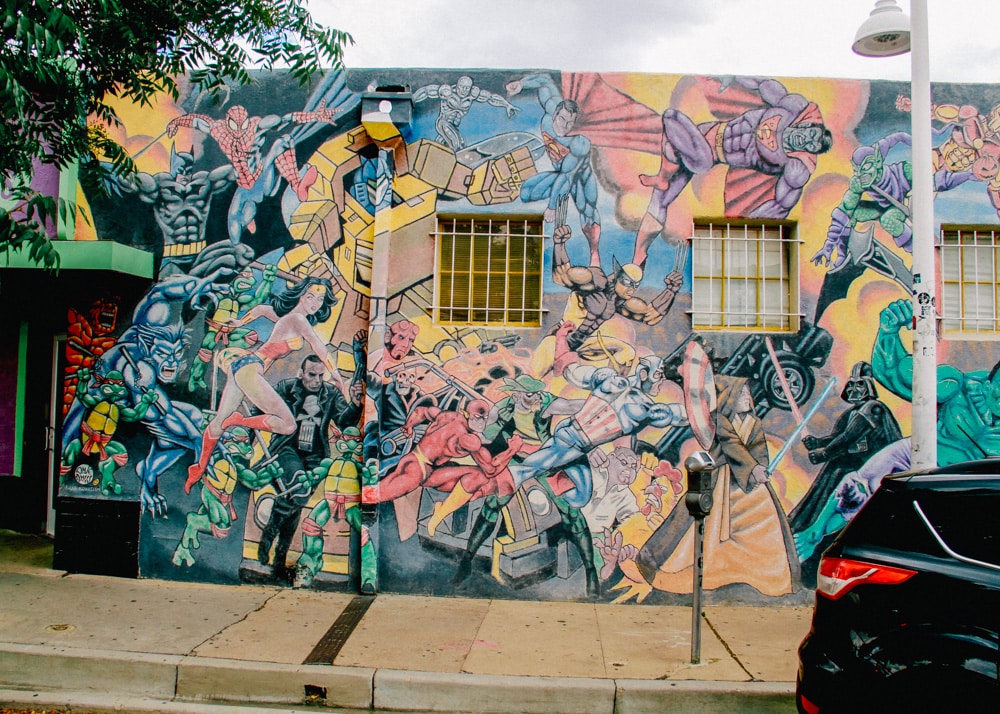 Huge shoutout to Jake Young, an extremely talented videographer based in Albuquerque and LA that took a lot of these photos! You can find these pictures and more on my instagram here! Let me know if you visited any of the spots I shared in the comments below!