At least once a week, usually around 9pm, I start CRAVING a warm, gooey chocolate brownie.
So Robin (my husband) started making these brown mug cake recipes for us to nom on. It's gooey, warm and chocolatey, and hits the spot perfectly. Oh, and it takes about 3 minutes to make. Keep reading for my recipe!
3-Minute Gooey Vegan Mug Brownie Recipe For Late Night Cravings
>> Got a question about this mug recipe that you need answered quickly? DM me on Instagram @thewhimsysoul and I'll be happy to help!
I didn't actually realize this is technically a vegan brownie until recently. So, even if you aren't on a vegan diet I PROMISE that you'll love this gooey brownie in a mug recipe!
What's really cool about this recipe is you can swap out the ingredients to fit your diet. You can use gluten-free flour whole wheat flour if that's what you have. Instead of olive oil, you can use coconut oil. You can totally use non-vegan chocolate chips or top it off with diary-based ice cream if you want.
Our basic core recipe is vegan, but it can be molded to what you need!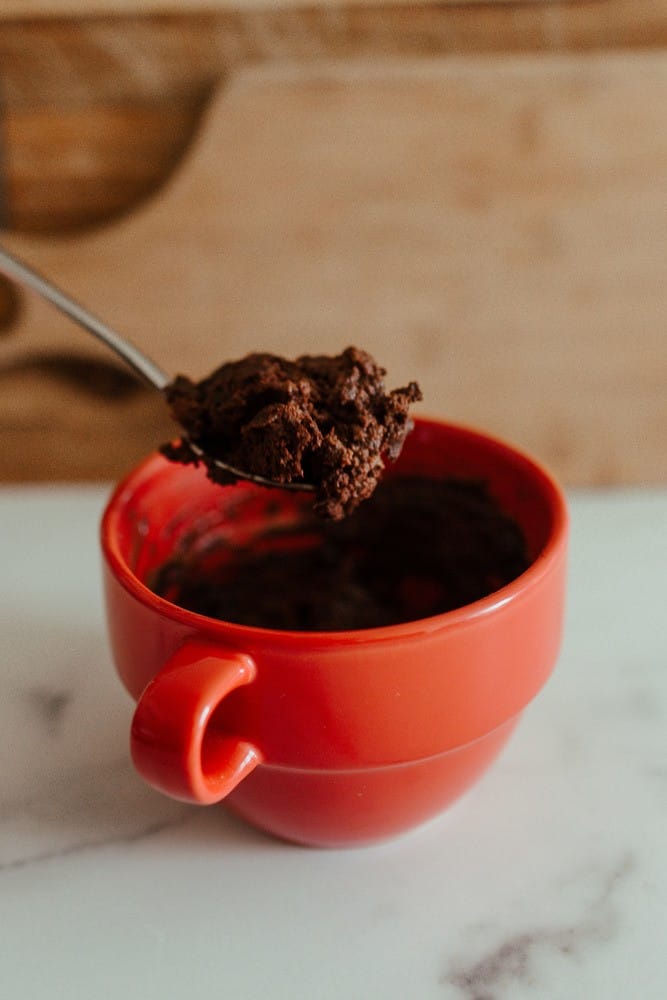 How To Make Vegan Mug Brownies
You start by taking a mug and mixing all the dry ingredients together. Then you add the wet ingredients and mix those well. Chocolate chips are optional at this point, we sometimes toss them in if we have them on hand.
Then, microwave for 90 seconds. Robin says sometimes he needs to zap it for a few more seconds, to if you vegan mug brownie looks undercooked, add on 10 more seconds.
Then, take the brownie mug out and if you want to top it off with milk, ice cream or peanut butter, now's your chance. But it's tasty AF plain as well! this makes a single serving, so just whip up a second mug if you need two (or you can share one but that's not as fun!)
It really does takes just about 3 minutes of your time to make this gooey vegan mug brownie and it's SO good!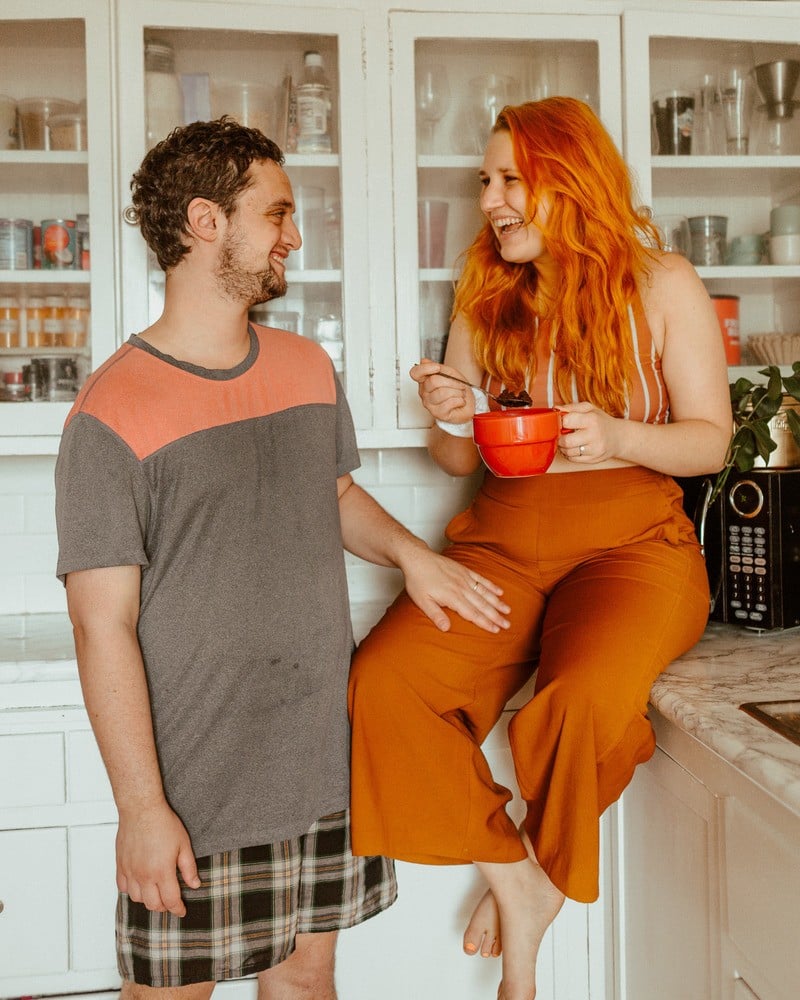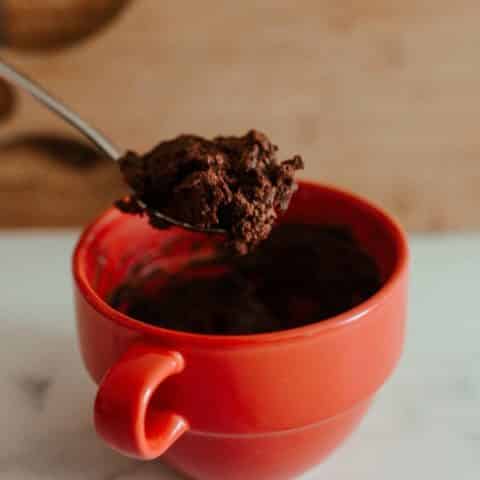 3 Minute Gooey Vegan Mug Brownie Recipe
Cook Time:
1 minute
30 seconds
Total Time:
3 minutes
30 seconds
This easy 3-minute gooey vegan mug brownie is my go-to late-night snack! It's so quick to make, tastes just like a real brownie and hits the spot.
Ingredients
1/4 cup flour
1/4 cup sugar
3 Tbsp Cocoa Powder
1/2 tsp Cinnamon
pinch of salt
2 Tbsp vegetable oil
1/4 Cup Water
Optional: vegan chocolate chips
Optional: Oat mik or almond milk
Instructions
Grab a large microwaveable mug
Mix the flour, sugar, cocoa powder, cinnamon and salt together
Then, add in the water and oil. Mix well.
Optional: add in chocolate chips
Microwave for 90 seconds. If your mug brownie looks undercooked, cook for 10 more seconds. Be careful not to overcook!
It's done!! Eat up. You can eat plain or top with ice cream, peanut butter, etc.
Notes
You can easily swap these ingredients for non-vegan items (ie make it gluten-free, etc!)