Pirates are a perennial pop culture fave, but there's never been a swashbuckling show quite like pirate comedy, Our Flag Means Death.
This new HBO Max series debuted in March and is a historical pirate romcom with contemporary sensibilities, and it's as hilarious as it is subversive.
Weigh anchor and get ready to read more about this surprisingly charming series. I'll also show you how to make an Our Flag Means Death cocktail at home. This piratey spiced rum milk punch is not your usual grog.
Avast! Spoilers ahead—ye be warned! If you haven't seen (or finished) Our Flag Means Death yet, hit "Jump to Recipe" for cocktail deets.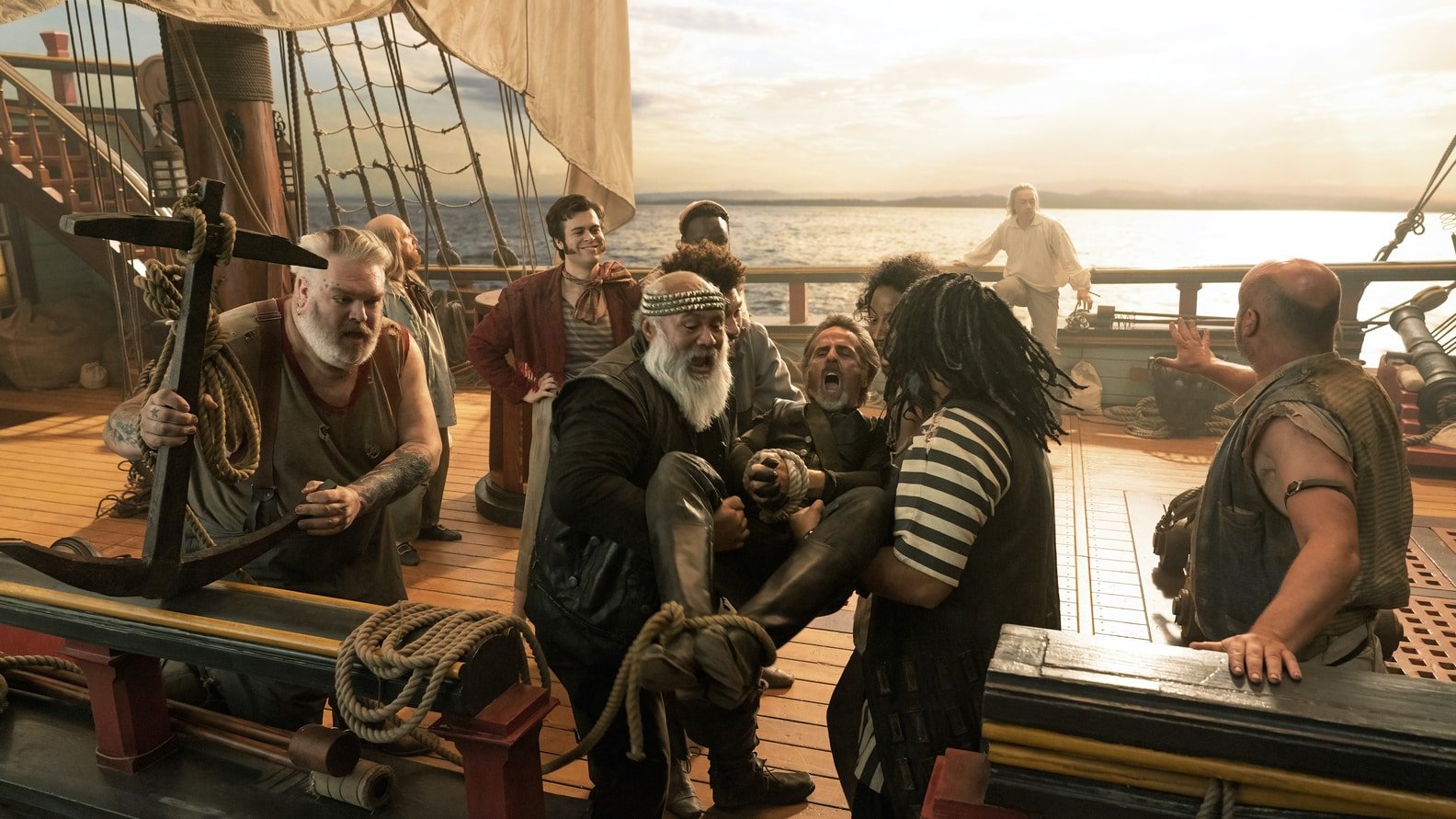 What Is Our Flag Means Death About?
Our Flag Means Death is very loosely inspired by real-life historical figures. The show chronicles the misadventures of Stede Bonnet, a wealthy aristocrat who abandons his life of luxury to fulfill his dream of becoming a pirate. But Stede's not your typical swashbuckler—he's a Gentleman Pirate.
Stede loves books, art, and fine dining. He reads bedtime stories to his ragtag band of misfits, organizes arts and crafts (kitty cat flag, anyone?), and encourages everyone aboard The Revenge to "talk it through as a crew."
But it's a run-in with the fearsome Blackbeard that makes Stede re-evaluate his unconventional approach to piracy. Stede and Blackbeard strike a bargain: Blackbeard will teach Stede how to be a proper, bloodthirsty pirate, while Stede will introduce "Ed" to the finer things in life.
Soon, Stede and Ed realize they have a lot more to learn, and love, about each other than they originally thought…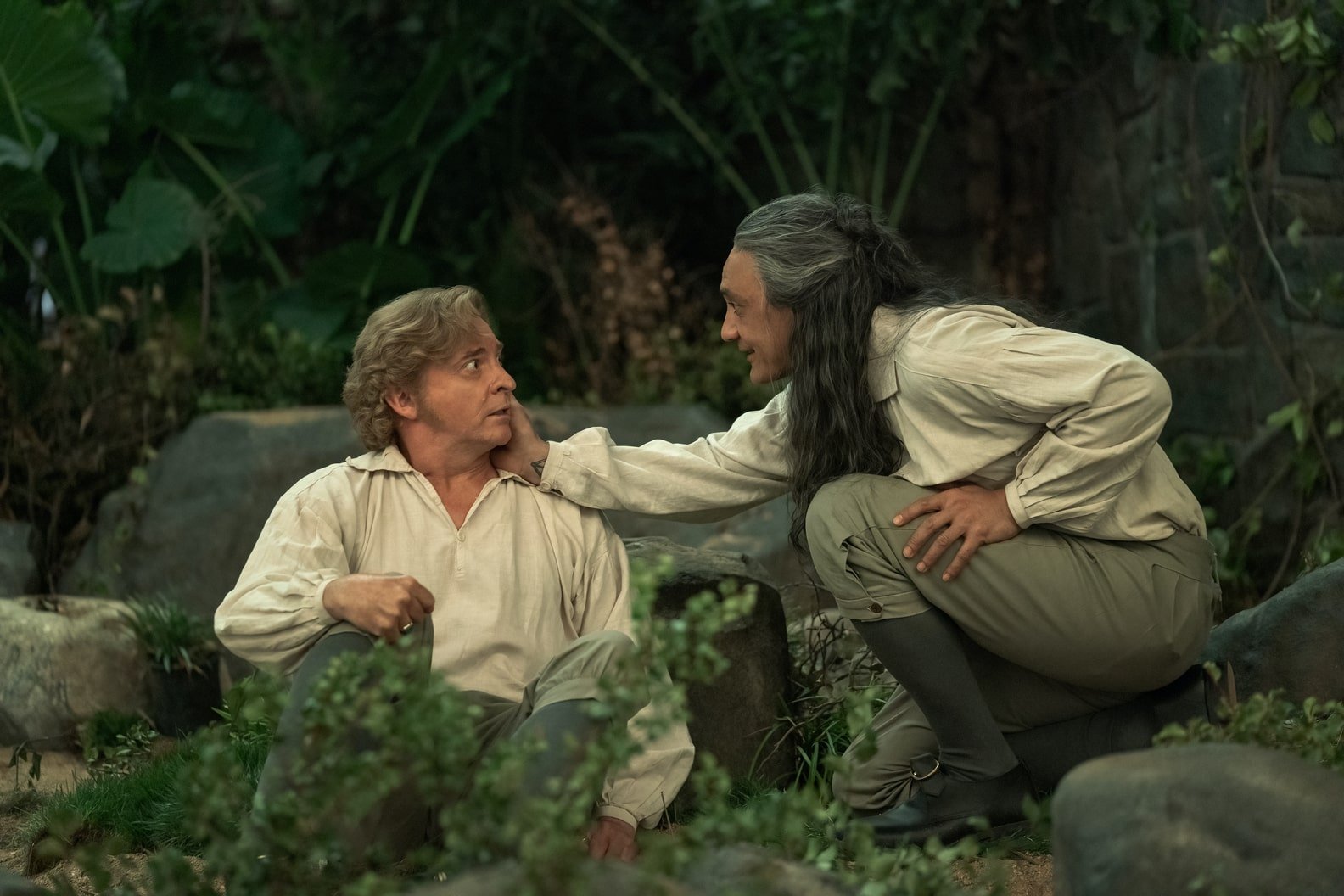 Meet the Crew
Rhys Darby and Taika Waititi, were collaborators long before they played Stede and Blackbeard.
Waititi wrote and directed several episodes of the musical comedy Flight of the Conchords, on which Darby was a series regular. They also starred as a vampire and werewolf (not swearwolf) in What We Do in the Shadows—an instant cult classic that spawned its own spinoff TV series (and inspired me to make a What We Do in the Shadows cocktail recipe).
Because Waititi achieved such wild success with not only What We Do in the Shadows but also Thor: Ragnarok, Jojo Rabbit, The Mandalorian, and other directorial projects, it's no surprise that he's the face of Our Flag Means Death. While Waititi did direct the pilot episode, newcomer David Jenkins is the real series showrunner, and he's doing a bang-up job.
Like Jenkins, the actors who make up the motley crew of The Revenge are relatively unknown, but I have no doubt that we'll be seeing a lot more of them. These delightful scallywags are joined on screen by big-name comedians in equally delightful cameo roles, like Leslie Jones as Spanish Jackie, Will Arnett, and Fred Armisen.
"The Gay Pirate Show" Fandom
Our Flag Means Death was enthusiastically embraced by audiences and became the most in-demand new show in the US during the week of its series finale. Even today, the series is still trending, as is the hashtag #RenewOurFlagMeansDeath (thanks to high ratings across the board – yes, even Rotten Tomatoes – and ardent fans who are clamoring for a season two announcement).
But why is Our Flag Means Death so popular? Creator David Jenkins has an idea: "This is what happens when a major media company invests in inclusive mainstream stories," Jenkins tweeted.
It's no wonder that Our Flag Means Death has been lovingly dubbed "The Gay Pirate Show." Stede and Ed's story is, well, a romance. No ifs, ands, or buts about it. Actually, quite a few of the characters are queer, and there's a non-binary crewmate played by non-binary actor Vico Ortiz.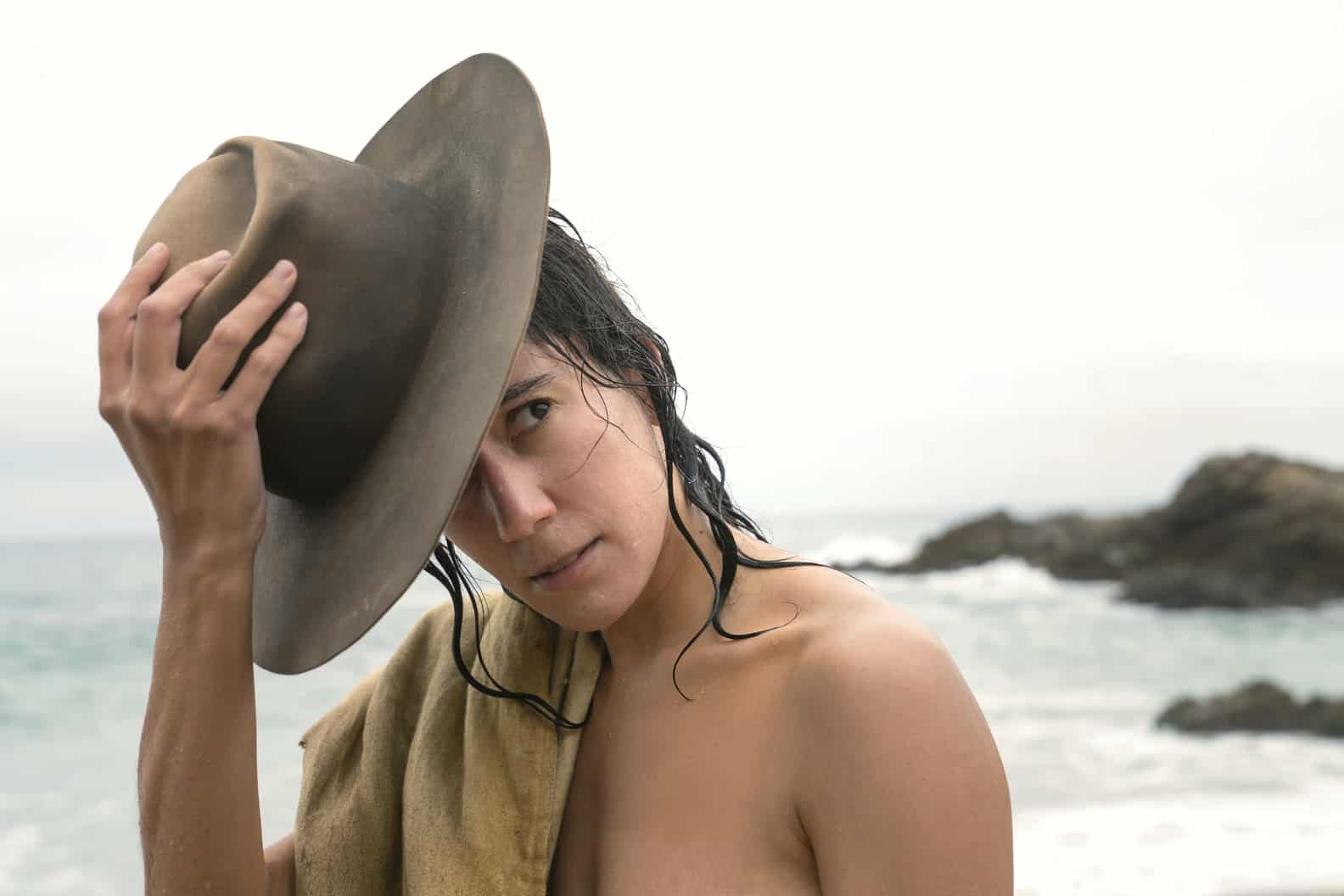 Fans have praised the series for its diverse queer representation, unlike many other shows that have come under fire for "queerbaiting."
Queerbaiting is when LGBTQ+ romance or representation is hinted at in media but never canonically depicted. It's a disingenuous technique used to attract queer viewers while at the same time trying to appeal to the broadest possible audience by keeping everything subtextual. Shows like Supernatural and BBC's Sherlock are infamous examples.
If there's an opposite of queerbaiting (queer catch-and-release?), Our Flag Means Death is it. Ed and Stede share not just longing looks but also a tender on-screen kiss, and the cliffhanger season finale is all about their breakup.
As a "Blackbonnet" shipper myself, I demand a romantic reunion in season two!
How to Make Pirate Punch
Nothing says "pirate" quite like a spiced rum cocktail. But I couldn't stop at just plain ol' rum. I had to make a drink worthy of the Gentleman Pirate. So I decided on a rum cocktail recipe that's a little more refined—literally! Or clarified, to be exact.
Clarified milk punch has been around for hundreds of years, with the oldest surviving written recipe dating back to the 18th century (which is also when the historical Stede Bonnet lived).
Every milk punch recipe is a little different, but they all have a profile of tea, fresh citrus juice, sugar, spices, rum and milk. I included pineapple juice for an extra-piratey tiki drink vibe and orange juice to ward off scurvy. Oh, and I made Roach's 40-Orange-Glaze Cake (created by the actor himself, Samba Schutte!).
Through witchcraft or science or some other means I can't quite explain, this magical drink takes dark rum and opaque milk and turns them into a clear, almost colorless cocktail. It's a fair amount of work but it's sure to impress.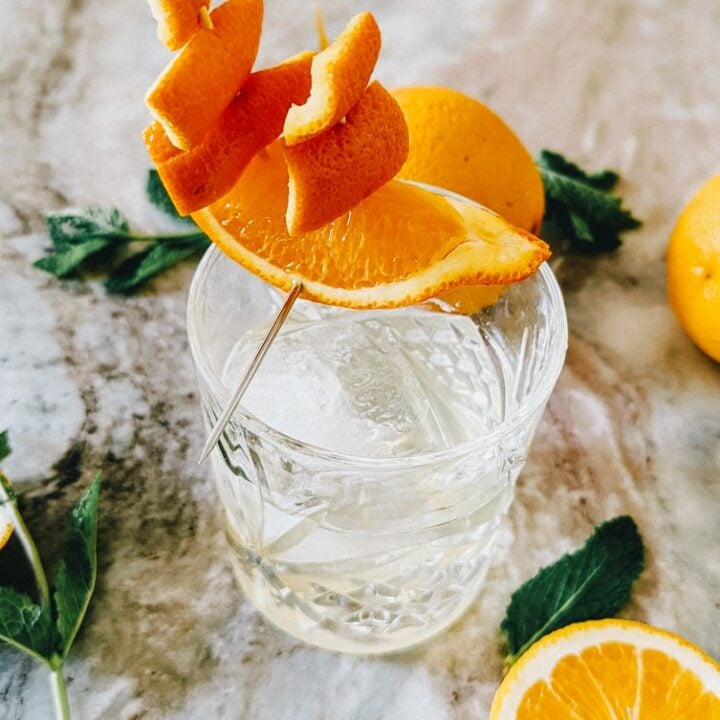 The Gentleman Pirate's Spiced Rum Milk Punch
Additional Time:
1 minute
Total Time:
2 hours
1 minute
Crystal clear and velvety smooth, this pirate punch is the buried treasure of spiced rum cocktails. It's sweet and full of spice with refreshing, fragrant fruit juices—drink up, me hearties!
Ingredients
5 cloves
1 whole star anise
1/8 tsp nutmeg (freshly grated if you have it!)
1 stick cinnamon
8 oz cognac
8 oz spiced rum (Kraken Rum, natch)
1 cup granulated sugar
8 oz pineapple juice
2.5 oz fresh lemon juice (about 2 lemons)
2.5 oz fresh orange juice (about 1 orange)
4 oz strong, brewed black tea
16 oz boiling water
16 oz whole milk
oranges for garnish
Instructions
Active Prep Time: 2 hours

Total Time: 1-2 days

Combine cloves, star anise, nutmeg, cinnamon, cognac, and spiced rum in a large container. Let the ingredients infuse at room temperature for at least 3 hours (or overnight).
Strain the infused spirits into a container large enough to accommodate the ingredients in the next step (about an additional 36 oz). Discard the strained solids.
Add sugar, pineapple juice, lemon juice, orange juice, black tea, and boiling water to the infused spirits. Stir until well-combined and sugar is fully dissolved to create an easy simple syrup.
Add milk to a saucepan and bring it to a low simmer over medium heat. When the milk just slightly begins to release small bubbles, remove from heat.
Pour the heated milk into a large glass pitcher, then add the spirits mixture. It should start to curdle right away. Yes, this is what is supposed to happen! (IMPORTANT: The rum mixture must go into the milk, not the other way around, for best curdling.)
Allow the mixture to cool at room temp for about 1 hour. Do not stir, shake, jostle, or mess with it. Then, set the mixture in the refrigerator overnight. (You can skip refrigeration, but the end result might be less flavorful.)
Line a large fine-mesh sieve with a large coffee filter and place it over a container big enough to accommodate all the mixture (a large Chemex works well), or you can strain in batches. (NOTE: You have a lot of options when it comes to strainers: coffee filters, cheesecloth, jelly strainer bags, even a clean, white cotton t-shirt. Coffee filters worked best for me.)
Carefully pour the mixture in its entirety (if possible) into your strainer, curds and all (the curds help with filtration). Allow the mixture to filter through. This may go very slowly, even up to 1 hour.
Repeat the filtration process until you achieve your desired level of clarity, 2-3 more times. (Some liquid will be absorbed by the strainer each time you filter, so keep an eye on your yield.)
Transfer the clarified milk punch to a jar or pitcher for serving and chill.
To serve, pour over ice in a rocks glass. Garnish with oranges as desired. Enjoy!
Notes
Yes, the recipe does take a while (the secret ingredient is patience). But you know what they say: a watched milk punch never clarifies.
Any leftover spiced rum milk punch will store in a tightly sealed container in the fridge.
Stede Bonnet loves fine things, so I'm sure he'd be delighted by my clarified milk punch. Also, this is a batch cocktail recipe, so there's enough to serve the whole crew.
I'll drink an Our Flag Means Death cocktail to celebrate its renewal on HBO Max—fingers crossed! And of course, this would be the perfect drink to serve at an Our Flag Means Death season two premiere party. It pairs perfectly with a 40-Orange-Glaze Cake 😉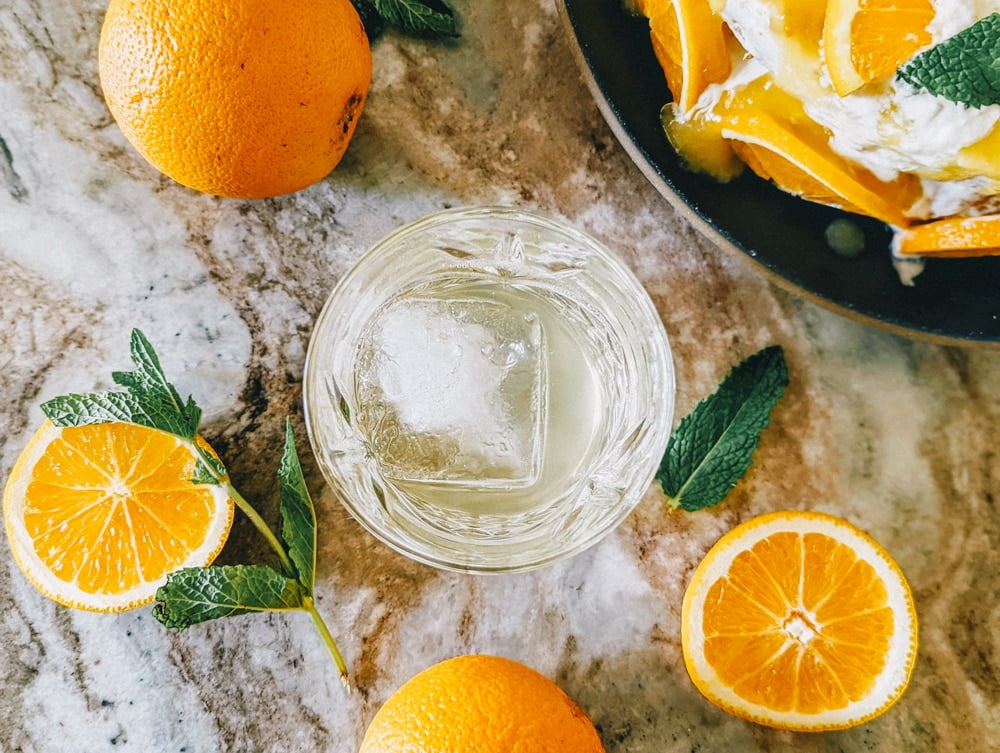 If you're looking for more fun pop culture cocktails for a themed party, check out my real potion recipes inspired by The Witcher. And if you party too hard, my Hot Toddy Mocktail makes a good hangover cure.