There's many reasons I love living in California (endless cheap avocados is absolutely one of them) but the state's sheer amount of terrain is another.
Within a few hours drive you can find ocean, desert, forest, mountains, lush wildflower fields, lakes, wine country, and even volcanoes.
17 Winter Getaways in California You'll Love
A lot of people only think of California as a sunny summer destination, but there's so many fun places to travel in California in winter (and no, they aren't all with snow if you're looking for a unique winter getaway that's still warm).
1. The Lost Coast
Located in northern California, the Lost Coast is the perfect place for those looking to get a little lost. It's called the Lost Coast since it has no major roads connecting to it, so it's still pretty wild and untouched.
Any time of year is beautiful but I love winter since you'll get even fewer fellow visitors, lush green hikes and stunning winter sunsets.
You can hike the coast's 25 mile hiking trail King Range, or travel to nearby Humboldt County to admire the beautiful redwoods at Avenue of the Giants or Fern Canyon.
Another must stop is the sweet California small town of Trinidad where you can visit a historic lighthouse, and visit the Native American cultural center. The beach is stunning, especially on a sunny day.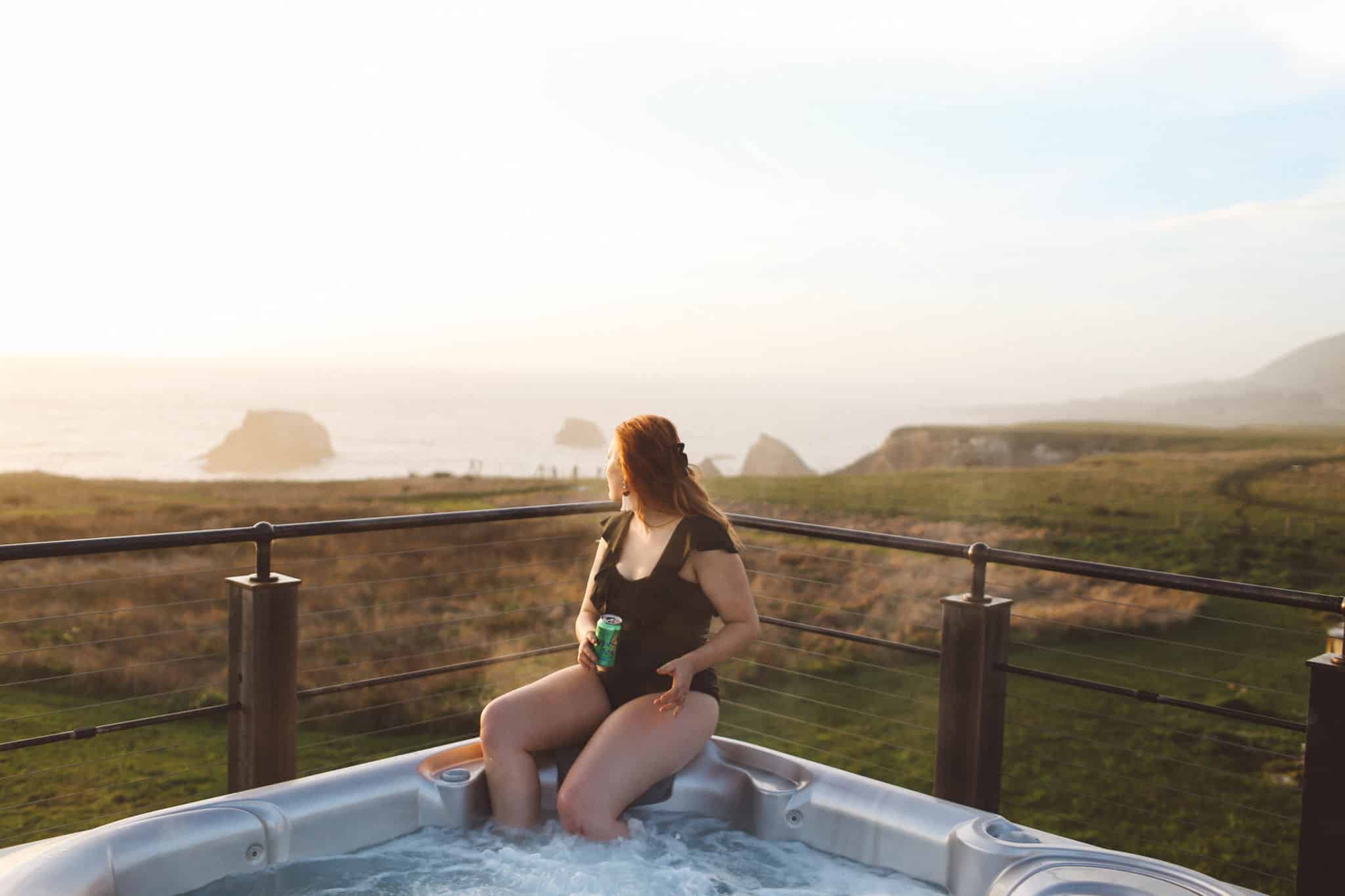 2. Inn at Newport Ranch in Mendocino
If you're looking for a more low-key getaway where you can gaze out the window from the comfort of a cozy inn and get some much needed rest after the holiday season. The Inn at Newport Ranch in Mendocino is the perfect spot for the season of hibernation.
I visited a couple years back and did a little digital detox. It was like a home away from home filled with slow mornings and insanely beautiful views.
The Inn features access to amenities like a hot tub and sauna (depending on the accommodation you choose) plus amazing opportunities in the surrounding area of Mendocino and Fort Bragg for hiking, whale watching and wine tasting. Book your stay now!
3. Sonoma Coast
The Sonoma Coast is another quiet getaway for your California winter vacation. With beautiful scenery and endless nature trails to explore, the Sonoma coast is a must see when looking for winter vacation ideas.
And, of course, if you're a curious forager (or just like the occasional mushroom foraging like myself) winter from Nov/ December through end of Jan in the Sonoma Coast is the best time to forage local mushrooms. All depending on rain!
Winter is also the low season so you just might have entire beaches and hiking trails to yourself! I highly recommend staying at Timber Cove Resort when you're there (so dreamy)!
Don't forget to stop by Jenner's Aquatic Cafe for lunch by the water, and taffy from the famous Patrick's of Bodega Bay (it's the building painted pink and white, you can't miss it!)
4. Bridgeport Hot Springs
Now onto one of my favorite things to do in winter (and year round really) – hot springs! Dipping into a hot spring in the cold Christmas-like weather is next level, and there's two worth visiting near Bridgeport.
So make Bridgeport your home base, and set off to the local swimming holes. Buckeye Hot Springs is the perfect place to get started because there's multiple tubs with different temperatures so you can find one that's just right.
Travertine Hot Springs can be a little tricky to find, but I have a whole post with directions and soaking tips. While you're in the area, take some time for a little drive to travel along the Sierra Nevada mountains for places to hike and bike ride.
Even in the colder weather, Bridgeport is a great place to enjoy the beautiful sites of winter in California.
5. South Lake Tahoe
When searching for classic California winter activities, South Lake Tahoe has it all, and I don't just mean skiing. We personally make a point to visit some of the South Lake Tahoe area breweries when we visit in the winter and love to book cozy cabins with hot tubs.
But you can't talk about visiting South Lake Tahoe in the winter without calling out the many skiing resorts that offer chances to go sledding or try out cross country skiing. Plus the area has a surprisingly vivacious nightlife with comedy shows, tap houses, and drag shows.
6. Calaveras County
Calaveras County is such a hidden gem! Nestled within both the Gold Country and Sierra Nevada regions in California, it's home to Big Trees State Park.
While this state park is a nice place to visit in California year round, the winter weather turns this park into a winter wonderland. There's also Bear Valley ski resort at the top of the pass for anyone who loves to hit the slopes.
A day trip down the hill to Murphys is an absolute must for wine tasting at one of the many wineries in Calaveras County like Frog's Tooth Winery or Black Sheep Winery.
Downtown Murphys is also a perfect place to do some shopping. Grab a new read at Books on Main to read while snuggled around the fire, and a plant to take home from Moss & Rust!
I recommend booking a cute winter cabin – you can stock up on everything you need to cook dinner at Big Trees Market, the Spice shop in Murphys and other local businesses.
7. San Diego
For winter activities in Southern California, look no further than San Diego! As one of the warmer places in California in the winter months of December and January, there are many opportunities to explore the city.
There's so many insanely cool things to do in San Diego, and most are accessible year-round due to the mild weather. Winter experiences like the annual San Diego Bay Parade of Lights is a holiday favorite, Old Town is more enjoyable in the winter with fewer crowds.
My personal favorite is Balboa Park and, right outside the city, La Jolla Cove.
While San Diego is definitely a tourist spot, traveling in the off season of winter is great to have it all to yourself for a couple hours of wandering around.
You can't go wrong with San Diego, and you'll be marking it down as one of your favorite California winter destinations!
8. Santa Cruz
If you're taking a big California road trip along the Pacific Coast Highway, the famous Santa Cruz is not only an iconic stop, but a must visit in California in winter.
So much so, I dubbed it one of the top California Coast Towns to visit before you die.
In the winter months, the Santa Cruz Beach Boardwalk gets decorated into its own Winter Wonderland. The amusement park stilted above water features rides, arcade games, and so much more.
If you're more of a nature explorer, slip on your hiking shoes to wander Año Nuevo State Park, one of the few state parks that offers Seal watching.
9. San Francisco
If you know me, you know it took a lot of self control to put my (admittedly biased) favorite home city of San Francisco at number nine on this list.
A staple of any California road trip, San Francisco is as classic as ever. With winter months bringing fewer crowds, it's the perfect time to visit Fisherman's Wharf, Golden Gate Bridge, Golden Gate Park, Lands End, and enjoy the early spring blossoms in the good weather.
If you're coming during Lunar New Year, make sure to visit Chinatown for an amazing parade and fireworks!
There's so many hidden gems in San Francisco that make you feel like you're somewhere completely new. Or if you want to live out your Princess Mia Thermopolis dreams, visit the Princess Diaries filming locations!
Make sure to spend one evening camping out for the sunset – San Francisco simply gets the best sunsets in winter.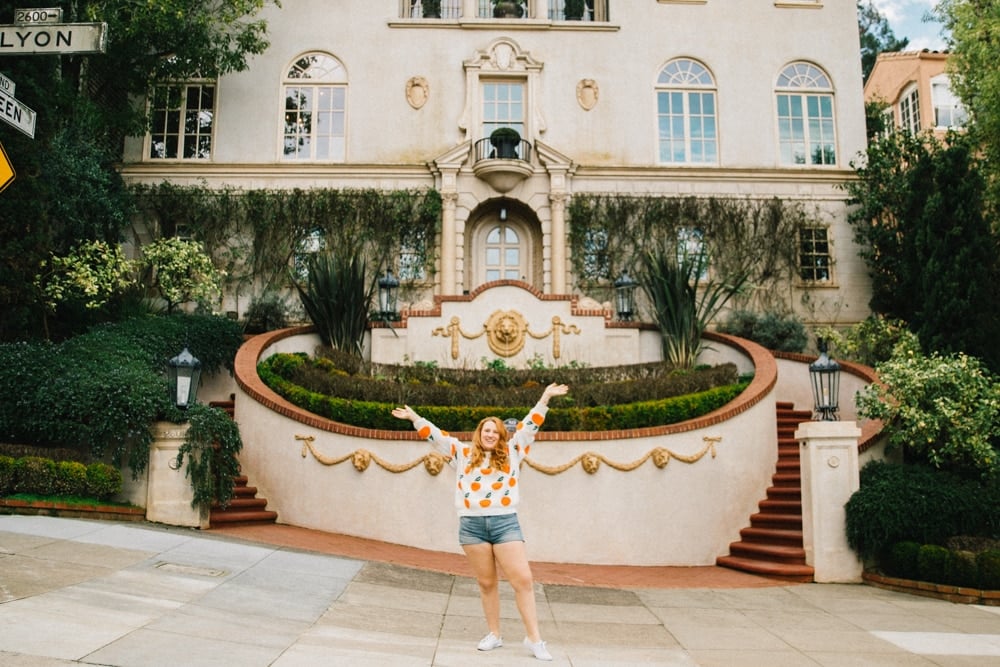 10. Napa Valley
For those that love a good wine tour with great people, Napa Valley is packed full of sweet wineries and a few excellent distilleries and taprooms to enjoy in the cool weather.
Winter is off season so that means it's easy to find hotels deals on luxury resorts and get seats at the most popular tasting rooms!
If it's your first time visiting Napa Valley, be sure to do your research on what you need to go before you go to Napa – most wineries don't accept walk-ins and there's lot of variety in pricing, so you'll need to find those in your price range.
Looking for luxury? Calistoga spa hot springs are famous. Many resorts and hotels offer mineral water tubs to pamper yourself with a warm mud bath and a relaxing massage. Our favorite is Calistoga Motor Lodge & Spa!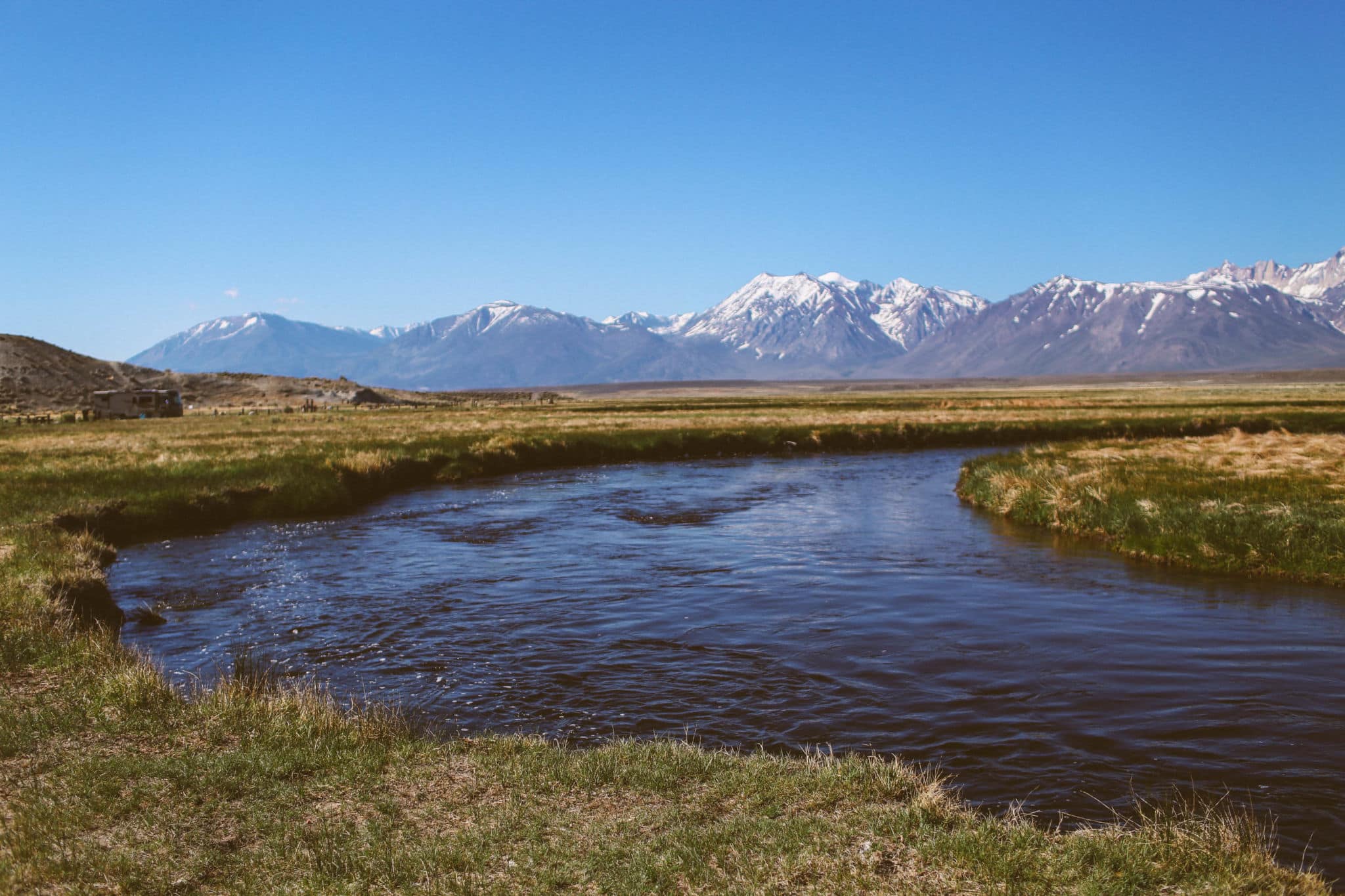 11. Mammoth Lakes
The many resorts in Mammoth Lakes offer an abundance of winter recreation: skiing, sledding, snowboarding, and even snowcat tours of the Mammoth Lakes Mountains.
Travel to the Village at Mammoth to discover a slice of small town life from local eateries to one of a kind boutiques.
And I can't go without mentioning the many hot springs in the area. Check out my Complete Guide to 4 Best Mammoth Lakes Hot Springs + Map for all the deets!
12. Tomales Bay
For my fellow foodies out there, Tomales Bay has some of the greatest oysters out there. Every year or so, we drive up to the Hog Island Oyster Company. for and afternoon shucking fresh oysters that were pulled from the bay waters.
A popular stop for those taking a weekend getaway from San Francisco, it's not only some of the best oysters I've had, but an overall amazing experience. I recommend you get a table and a grill for the whole afternoon!
Another great oyster spot is the Tomales Bay Oyster Company. They have been serving up great oysters for as long as they could crack them.
13. Big Sur
When you think about visiting California, you're likely to plan on visiting Big Sur. Hey, Big Little Lies made it even more popular than it already is and for good reason!
Big Sur is centrally located on the coast and it's a dang dreamy spot. You can camp at Ventana Campground (they have glamping tents, too ) or at Pfeiffer Big Sur State Park.
Both are a short distance to all of the popular spots like Bixby Bridge, Keyhole Rock and McWay Falls. And yes, it's warm enough to camp in the winter in Big Sur!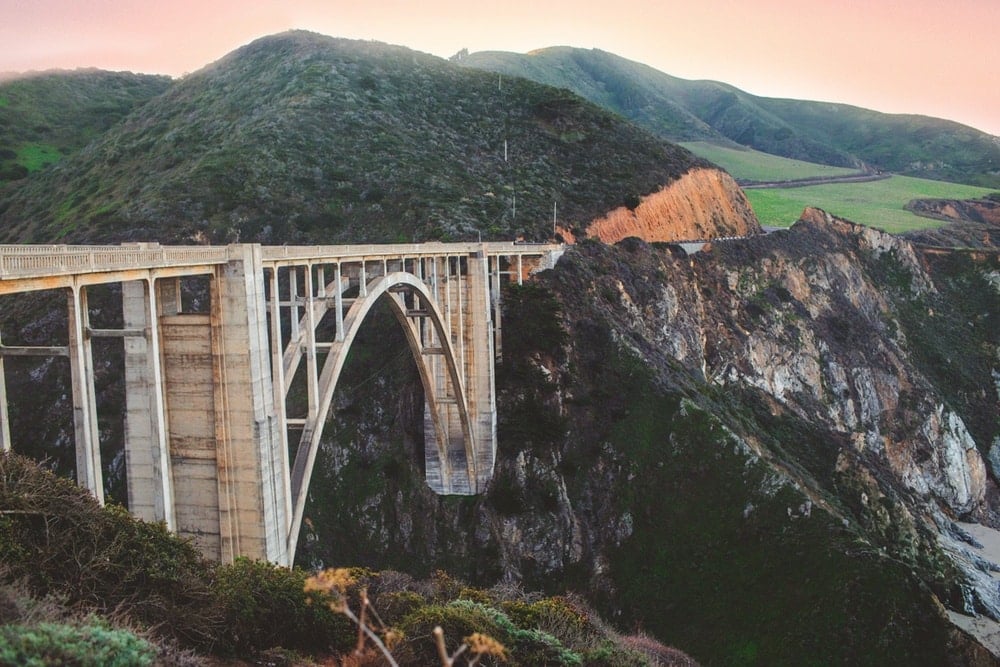 In late January, Big lush with greenery, flora and fauna (rain is common in December!). Making it the perfect time to visit Calla Lilly Valley to see the beautiful calla lilies in bloom.
Not to mention it's one of the best destinations for tons of hiking trail options and breathtaking views. If you're traveling to Big Sur later in the winter season (after February 10th to be specific), camping may get harder to find so have a hotel backup. You'll love to book a stay at the Tree Bone Resort – it has its own sushi bar and we're obsessed.
As popular as it is, Big Sur books up fast and far in advance! Great alternatives in the Central Coast of California are: Ragged Point, San Simeon (where
Hearst Castle
is!),
San Luis Obispo
or even
Santa Barbara
!
14. Death Valley National Park
Lucky enough, there are endless amounts of state and national parks for your California winter vacation. I've already mentioned a few, but the rest of this list is dedicated to them.
Death Valley is the largest national park in California, which means new sites every time you go. It can take people many visits to see all the top sights.
The park is so big that you can find yourself in desert-like vista of yellow and brown striped hills at Zabriskie Point or even in the lowest point in North America, Badwater Basin.
It's one of the best places to visit in California in February for the Death Valley's Dark Sky Festival. A weekend solely dedicated to expert-led stargazing!
15. Yosemite National Park
A quick search of "winter in Yosemite" will tell you just how magical it is. It's magical year-round of course (and one of my most favorite places in the world), but there's nothing like snow dusting the tops of beautiful mountain ranges.
That said, of course, there's a few road closures due to weather so keep that in mind when you're planning your trip! The park has its own historic Victorian hotel on site that you can stay in which offers rooms with character and minimizes the driving into the park on icy roads.
But there's also lots of places to stay near Yosemite Park entrances. On my most recent trip to Yosemite in early Winter (November) I stayed at Evergreen Lodge. This year the fall leaves popped off later than normal which was so nice.
If you're lucky, Yosemite Falls (one of the best waterfalls in the park) might still be flowing during your visit. It's always been pumping with water when I visit Yosemite in the winter.
Lastly, you may want to time your winter trip during Firefall, a natural occurrence when the sun hits Horseshoe Falls just right and makes it look like the waterfall is on fire. Photographers come from all over the world to visit this!
16. Sequoia & Kings Canyon National Park
I finally got a chance to visit the General Sherman Tree at Sequoia & Kings Canyon National Park a few winters ago. This tree is considered the world's largest tree by volume and is a bucket list stop in itself.
Besides the breathtaking sequoias that make you stop in awe – Sequoia National Park is home to some amazing trails you can use as cross country ski slopes or snowshoe if that's more your thing (trust me, you'll want one of these if you plan on being on trail. They get a lot of snow up there!)
If hitting the snowy trails isn't your ideal vacation, in the winter months, you can stay in the warm confines of your car with a self-guided driving tour of the park. Just follow the park's map of its best viewpoints, that way you can see all the spectacular sites without freezing your toes off.
It's all worth it to see the trees covered in snow. MAGIC. After a day in one of the parks, you'll want to book this cool glass house nearby so cozy up in.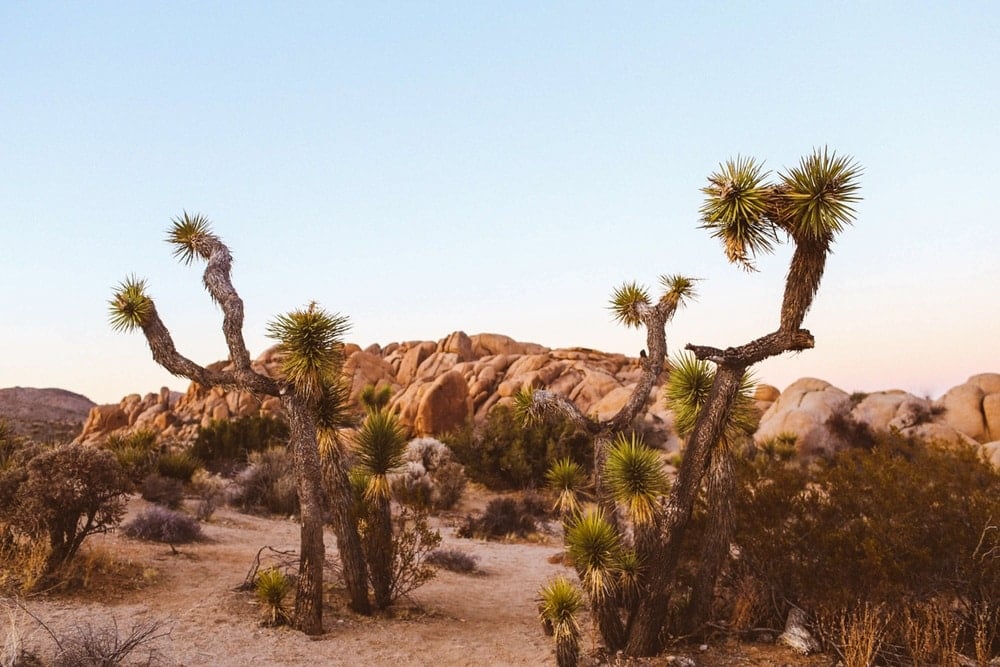 17. Joshua Tree National Park & Palm Springs
Winter in Joshua Tree and Palm Springs is a great time to beat the crowds of summer, and honestly probably a better time to avoid the extreme heat. Since Palm Springs and Joshue Tree are about a 45 minute drive from each other, I always visit both when in the area.
From a self-guided door tour to Indian Canyons just outside of town, Palm Springs is a great California winter getaway!
Then, visit Joshua Tree National Park for a day trip or weekend, and in these colder months, might even offer a glimpse of snow! (Still on my bucket list but I keep trying to spot it!)
As for the natural sites, they are like no other- Skull Rock, Cottonwood Springs, and Indian Cove are top notch.
And that's it for the best places to travel in California in winter! You can find everything from beaches to snow to wine tasting and flower hunting.
California is arguably one of the best places in the United States to travel in the winter since you get the best of both winter play and sunshine across the state. Gosh I love the West Coast.
Let me know in the comments where you're getting away this winter in California!