My husband and I started juicing last year in an effort to like, be better adults and *try* to eat a healthy breakfast sometimes. Also, Robin isn't the best at eating veggies and fruits. His favorite snacks are chips and nuts.
So we bought a juicer, started playing around with recipes and HOLY COW, I'm obsessed with homemade morning juices now. I'm also shocked about the amount of fresh stuff we can squeeze into a glass. Robin was kind enough to share his red, orange and green juice recipes with you. Keep reading!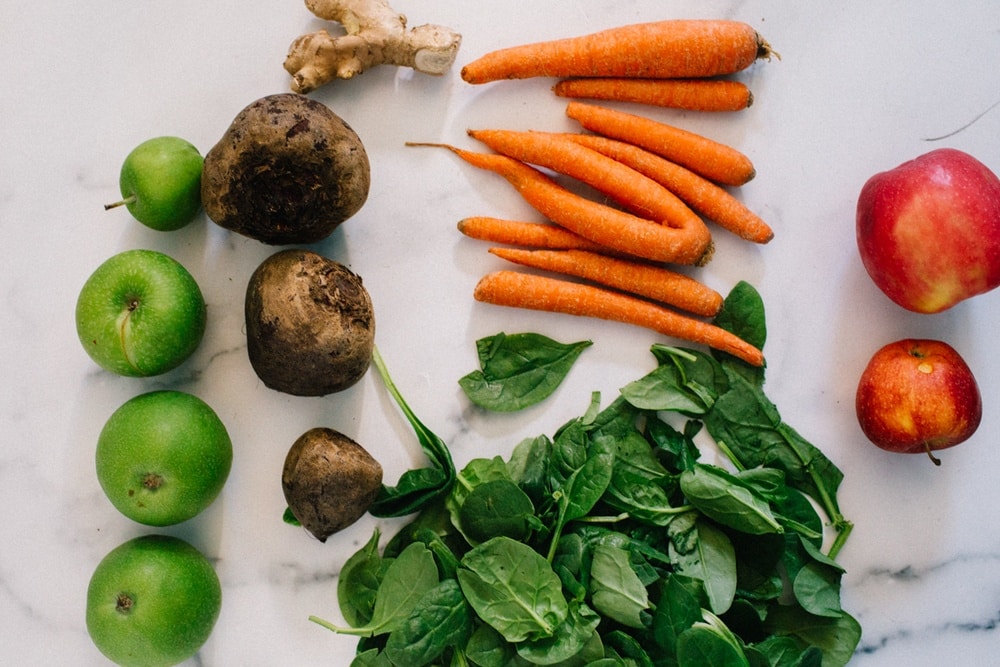 What Juicer Do You Use?
We use THIS juicer that's under $50 and fits well in our cupboard. So many juicers are pricey AF and/or huge and aren't tiny space friendly. It's a bit loud but hey, for $60 it works well and is easy to store. I'm a fan and it's great for breakfast juicing recipes.
What Are The Health Benefits For Juicing?
Here's the thing: there's no evidence to support the idea that juicing is more beneficial than just eating raw vegetables or fruits. But what I love about juice breakfast recipes is that I can pack in a TON of healthy things that I wouldn't probably eat raw over the day, plus mix in other powders like collagen.
Like, I'm always super impressed by just HOW much spinach Robin can fit into a morning juice recipe. I 100% would not have eaten that on my own let's say, for lunch or a snack.
Drinking a morning juice first thing after waking up is such a nice way to start the day, especially after a hangover. They're easy on the stomach, make me feel energized and hey, the fresh ingredients do support a healthy immune system and balanced diet. Plus, juicing at home saves tons of money compared to buying at a cafe for $9 a pop.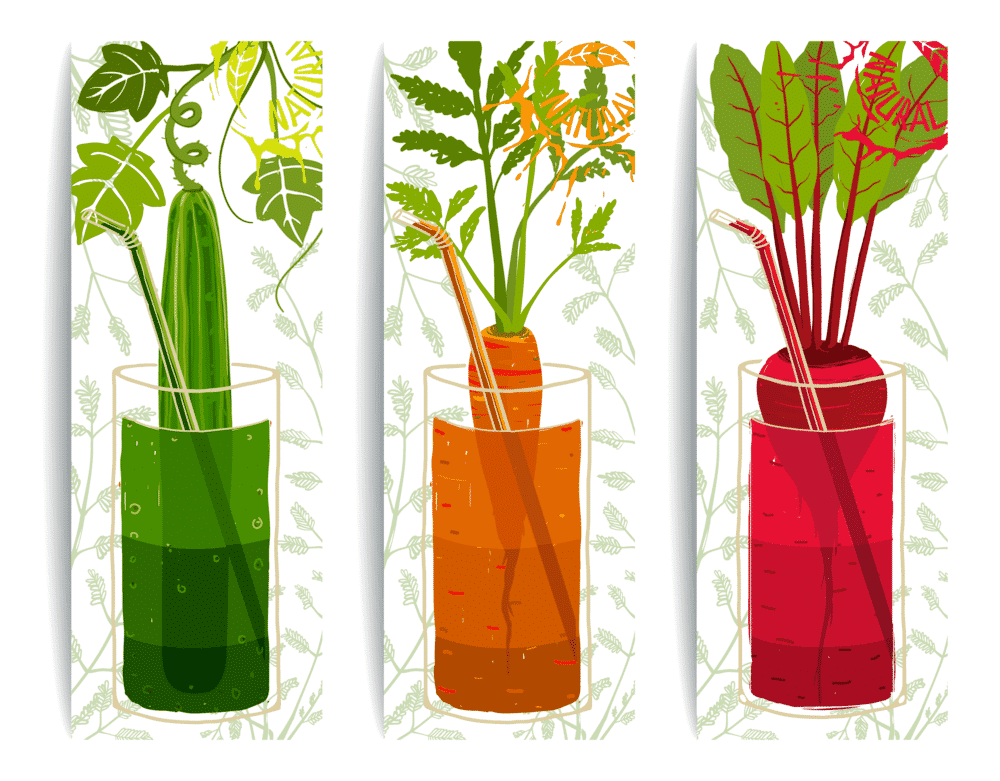 3 Morning Juice Recipes: Red, Orange & Green Juices You'll Love
Now onto the recipes! Robin will slightly vary the amounts of ingredients based on the size of the veggies or fruits, or what's in our fridge. There's absolutely room to play around with the amounts to taste. Just stick ingredients into the juicer and push down until everything is pressed and juiced. You can compost the skins.
Morning Green Juice Recipe
This green juice recipe has SO MUCH spinach. It's probably one of my favorite healthy recipes to make at home. And by that I mean Robin – he's the chef around here. This one is my go-to for when I haven't eaten a salad in a while and I know I need to eat more greens… but like, eating salads sucks. But this juice rocks.
Half bag spinach
2-3 cucumbers depending on size
1/4 bag Kale
4 red or green apples
3 inches fresh ginger root (more or less to taste)
Optional: 1 TB flavorless Care/of collagen or protein powder
Morning Red Juice Recipe
Beets are awesome veggies. They have tons of fiber, vitamin B9 and folate. But hot dang, cooked beets are.. challenging to pull off, to say the least. This morning breakfast juice has 3 large beets and I swear my body feels 100% more energized when I drink this. It's usually the one I drink when I'm hungover. (Oh, and in case you're new to the world of beets, they WILL turn your pee pink. Don't worry, you aren't dying ha!)
3 large raw Beets
2-3 Cucumbers
4 red apples
3-4 large Carrots
4 inches fresh ginger root
1 fresh lemon
Optional: 1 TB flavorless protein or collagen powder
Morning Orange Juice Recipe
Don't get me wrong, all of Robin's recipes are tasty AF but this one MMMMM YUM, it's the tastiest. The citrus and ginger flavors come together in a nice tangy kick that I love. I love to drink this one when I feel a cold coming on.
6-8 peeled clementines (or 3-4 oranges)
whole fresh ginger root
5 red apples
3 cucumbers
2-3 inches fresh turmeric root
Optional: 1 cup fresh pineapple chunks
Say No To Juice Cleansing
As a parting note: I don't support juice cleanses or any other toxic weight-loss diets disguised as "healthy living". I think homemade pressed juices like these have a fantastic place in your regular menu to help support the digestive system, get extra nutrients you may be missing and other health benefits. But – as a part of a balanced diet, not AS the diet. Please also eat solid food.
Repeat after me: FUCK DIET CULTURE.
I hope you enjoy these juices as much as we do!! Let me know if you try them.