It was 10:30pm on June 20th (almost) the longest day of the year and the sun was finally dipping over the water's horizon as we took one final stroll on the DFDS seaways deck before heading back to our commodore cabin for a final nightcap with the bubbly left in our room's fridge… this is not your average ferry.
We're living in Denmark for the summer and decided to take the ferry to Oslo instead of flying. But, it ended up being more like a mini-cruise, which I wasn't mad about. If you're thinking of taking the DFDS ferry, keep on reading for my experience and DFDS ferry review along with the best room types to book and other travel tips I wish I knew before we went.
DFDS Ferry Review: Our Mini Cruise From Copenhagen To Olso (Best Rooms + Tips!)
Possibly one of my favorite things about visiting Europe is just how dang good the transportation options are here if you don't own a car. We try to avoid airports if we can, and especially this summer (2022) when airports around the world are just one big chaotic mess. No. Thank. You.
DFDS Reviewed: Best (And Worst) Rooms To Book
So, when planning our weekend trip to Oslo and saw there was an overnight ferry option, we booked it. And, we decided to splurge on the nice suite with a private balcony, though you don't have to shell out for the fancy suite to have a good time (but it is worth it and I'll show you why!)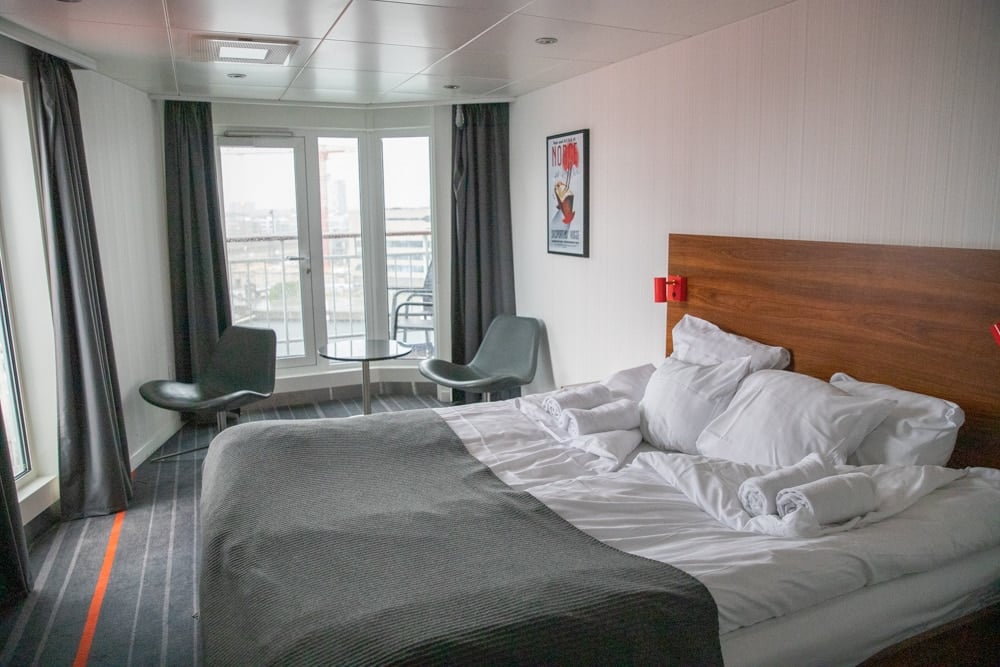 Is The Commodore Room With Balcony Worth It?
It's not every day that I'm living in Europe and taking overnight ferries to weekend adventures to Norway, so I decided to book Robin and me a nice room with a private balcony overlooking the water/route. Plus, as an American, my experience with ferries are cramped, tiny boats with maybe a small snack bar on board. I didn't want that vibe.
So, we booked the Commodore Room with Private Balcony, which includes a breakfast delivered to your room, lounge access, wifi, top-notch customer service, and a welcome bottle of bubbly in your fridge. The latter ended up being almost overkill, as the lounge is open 24/7 for first class guests and is fully stocked with beer, wine and Aperol Spritz makings, on top of water, sodas, snacks and coffee.
Pro-tip: If you book a Commodore room with lounge access, arrive at the ship early to take advantage of time onboard to enjoy drinks and snacks.
We lucked out and got a corner room near the door to the deck so we had two windows, tons of natural light and quick access to the top of the ferry for strolls (when we weren't using our private balcony!) As I mentioned, we sailed on almost the longest day of the year, so having that balcony was a luxury since we got to really soak up all the sunset views, and have a nice spot to drink coffee in the morning as the ship sailed into the Oslo Fjords.
Our room also came with a spacious bathroom with a shower and toiletries, chairs, a large bed, mini-fridge, closet, and a TV (though we couldn't find anything in English so we didn't use it.)
Soaking Up The Luxury Vibes
Our room opened up to the Commodore Lounge, so only guests up there have access. This means it was super peaceful and relaxing. We did explore the whole ship a few times for walks, and I was a little jolted as the energy on other levels. Lots of noise, staff, kids running around, people sprawling out on the floor or benches next to the windows just to see a view.
I loved coming back to our nice, large room, grabbing a drink, and reading in peace with ocean views outside our private window. But, if you are looking for a party vibe, the ship has that, too. There's a nightclub on board after all! (more on that later)
Book A Seaview or Premium Cabin
If splurging for the nicest room on board isn't for you, please do make sure to book a room with a Seaview or at the very least marked as Premium. The cheapest rooms on board have no windows and are on the lowest level of the boat under the car deck. It's noisier here and bumpier, and personally, I get a little seasick in places like that. I didn't get seasick at all on the upper levels – it's a very smooth ride up there!
The lower-cost rooms don't have access to the lounge with unlimited drinks, so plan on either bringing your own drinks onboard or buying them. They aren't the cheapest if you plan to buy them so if you are on a budget, do bring a bottle of wine or something.
The Copenhagen to Oslo ferry price for the lowest, cheapest rooms are around €210.00 for two people. Our nice cabin was about €450.00 for us two (including breakfast). Considering we drank a lot of Aperol spritz and had that breakfast, I think we only ended up spending about €100-150 more for the nice cabin. So, do your own math on how you like to travel and I think you'll be surprised by how you can actually maybe upgrade your ferry to Copenhagen or Oslo.
DFDS Food Reviews
All the restaurants on board have decent ratings, and of course, I was not able to visit them all on our single overnight, but I was very surprised by the buffet we had at 7 Seas. Just like DFDS isn't your average ferry, this wasn't your average buffet. There was endless options on meats, veggies, fresh loaves of bread, pasta dishes, smoked salmon, fresh fruit and tasty desserts plus so. much. more.
Pro-tip:
Reserve a table at the
7 Seas buffet
so you're guaranteed a spot to eat. They were turning people away when we visited since it was already full. You can pre-pay online so you don't even have to bring your wallet with you.
The other restaurant we had our eye on The Explorer Restaurant, which is a traditional restaurant that also offers course menus. It looks really good when we walked by and the next time I visit the ship, I'll go here for dinner!
Party At The Nightclub
As you probably have figured out, we're not clubbers and happily enjoyed our peaceful evening reading in our room with drinks, but there is a nightclub on the ship. If I were younger, or on this trip with girlfriends, I probably would have found myself at the club for at least a few drinks and dancing. So, if that's your thing, bring a party outfit.
How Long Are DFDS Trips?
This will depend on where you are going. Our overnight trip was about 17 hours. The Copenhagen Oslo ferry timetable does vary a bit but in general, they leave Denmark around 3pm and arrive in Norway around 10am. Some trips are multiple days (thus, the cruise aspect).
Where Does DFDS Sail?
This is a Danish based company so there are a lot of ferries out of the Scandi area, but the DFDS cruises have routes all over the Northern European area. They service The United Kingdom, Oslo, Copenhagen, Dover, Newcastle, Amsterdam, Calais and the Baltics.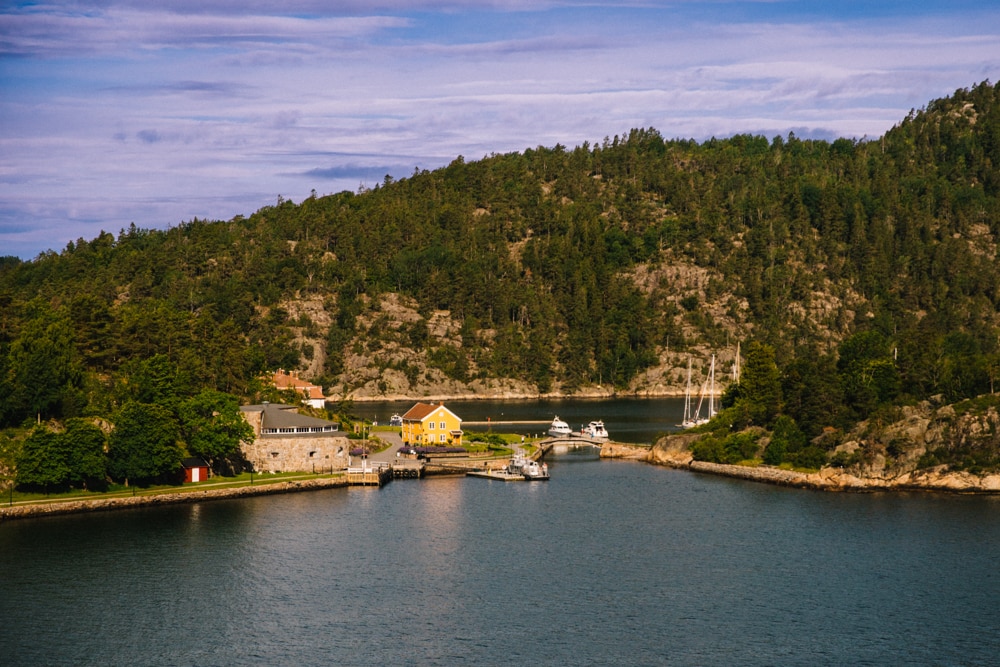 Which Room Should I Book?
I took a peak into an open doorway into one of the lower cabins with bunk beds and it was nice but not anything like the room we booked. I mean, it was a 4 bunk bed room with no windows and a small bathroom – it does the trick if you're on a budget or don't plan on spending much time in your room (like, if you're one of those nightclubbers!)
As married 30-somethings, we loved our suite with natural light, drinks and first class service. But honestly, you will have a great time onboard no matter which room you book. This really is like a cruise, not a ferry.
Can I Take A Car On The DFDS Ferry?
of course! This is a ferry after all, even though it feels like a cruise. You can buy a car ticket which is around 100 Euros and take your car with you. We don't have a car over here so we didn't need to go that route, but it's super easy to drive on the ship.
What Can I Do With Kids On The DFDS Ship?
Take them to the bubble zone! That's right, on top of a nightclub, the ferry also has an indoor pool and hot tub which is the perfect place to take bored children. Don't forget your swimsuit!
I hope my DFDS seaways review is helpful! Personally, I couldn't find a lot of third party content around the rooms and restaurants, so I felt like I was booking a little blind and ended up being surprised by a lot of things (in a good way.)