This is a Nazi fighting cocktail. Yes, you read the correctly. It also doubles as a hangover cure, too.
I found this recipe while working my way through the Around The World in 80 Cocktails book and it has such an interesting back story (plus is super tasty) I just had to share it with you all.
This Is A Nazi Fighting Cocktail: Suffering Bastard Cocktail Recipe + History
It was 1942 in Cairo, Egypt. A year earlier, Hitler sent troops to North Africa, led by General Erwin Rommel. By the end of 1942, the Nazis had cut off supply chains to the Allies and were quickly getting closer and closer to entering the city of Cairo.
A man named Joe Scialom lived in Cairo and worked as a hotel bartender. He came to work one day in desperate need of a hangover cure, but since supplies were low he had to create something new, and something that didn't use a lot of ingredients or spirits. Thus, the Suffering Bastard cocktail was born.
It has 2 oz gin (we like to keep our gin chilled in the fridge.) 1 oz bourbon or brandy, 2 dashes Angostura bitters, 1/5 oz lime juice cordial that's all shaken together with ice. Then poured into a glass, topped with ginger beer and an orange wedge and mint sprig garnish.
It's refreshing and sweet, but not too sugary. I can see on a hot North African day, this would hit the spot when you were hungover. This drink recipe quickly gained popularity amongst the British troops.
SO popular in fact, that this cocktail has a minor role in the battle of El Alamein (a key battle against Rommel's Nazi army that helped turn the tides and keep them from totally taking over North Africa.) The story goes that at the height of the battle of El Alamein, Joe Scialom got a telegram from the frontlines asking for 8 gallons of his Suffering Bastard cocktail.
Apparently, the British troops were all very hungover and needed it to fight. He quickly whipped up a big batch, filled every container he could find with the cocktail and sent it in a taxi to the frontlines. And did it work? Well, the Allies won that battle, so I like to think Joe Scialom and his Suffering Bastard were responsible for defeating the Nazis.
Regardless, this is a true Nazi fighting cocktail and it's tasty to boot. It's one of my newest favorite cocktail recipes.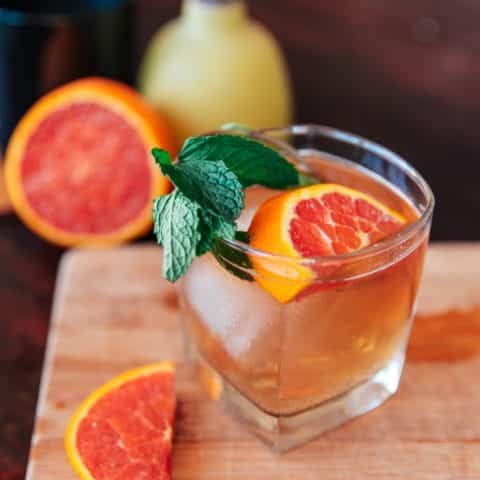 Suffering Bastard Cocktail Recipe
This is a Nazi fighting cocktail recipe called the Suffering Bastard from Cairo in World War II. It's also now a popular Tiki drink.
Ingredients
1 oz gin
1 oz bourbon or brandy
2 dashes of bitters (we love angostura bitters)
1/2 oz lime juice cordial
1 oz cold ginger beer
Orange wheel
Mint sprig to garnish
Ice
Instructions
How To Make The Suffering Bastard
Mix gin, bourbon, lime juice cordial and bitters into a cocktail shaker
Add ice and shake
Strain into a glass over ice and top with ginger beer
Garnish with an orange wheel and mint sprig
Notes
Chill the gin in your fridge ahead of time for a better cocktail
Recommended Products
As an Amazon Associate and member of other affiliate programs, I earn from qualifying purchases.
Other Cocktail Recipes You'll Love