Why do online plus size clothing stores kinda all… I hate to say it … suck?
As a body-positive blogger, I'm always on the hunt for cute clothing to share with you, and especially plus size and curvy-friendly outfits. I wear a size 12, which isn't plus-size, but so many of my readers are so I really get excited when I find a new store that offers either a great size-inclusive line or is entirely plus size fashion.
But, it's hard. It's hard for a size 12. I can't' tell you the number of times I discover a boutique clothing store from fellow influencers on Instagram only to realize they don't carry anything about size 8 LOLOLOL. And I know from constantly shopping from the eyes of my readers, that it's even harder for plus size. So many brands aren't size inclusive.
And once I actually do find a store that has a plus-size line, it's limited and the options in stock are just plain ugly. Curvy women like trendy clothing, too, but most stores think we only want vibrant floral dresses, leopard prints, tie dye, dumb graphic tees and in general, stuff my grandma would wear. Or, they'll use thin models to show off plus size items like this store does (excuse me?!)
So, i did a lot of digging and I found 5 online boutiques and stores that you may have not heard of who sell cute, trendy and good quality plus size outfits! I hope this helps you discover your new fave place to shop, girl!
Best Plus Size Boutiques & Stores
These are the stores that you'll want to put everything in your wishlist or cart right now.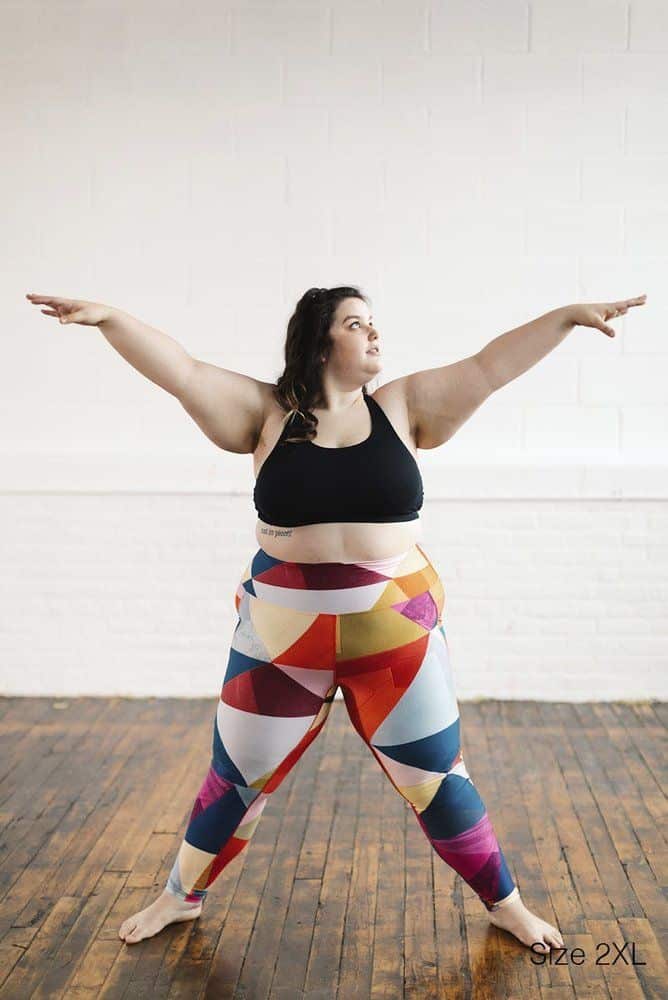 Superfit Hero
Sizes: S-5XL
Offers: Fitness Apparel
Shop here
Who else HATES how every single fitness apparel company only has thin models? Like, I want to see how those leggings look on my TIGHS and BUTT. Also, usually those leggings don't fit over my tights or my butt #curvy girl problems.
That's why I love Superfit Hero. Their motto is that fitness is for every body, and right now the hero image on their website is a plus-size model showing off her yoga moves. They have shorts, leggings, bras and tops that have been crafted to stay in place while working out, no matter your size or shape. Plus, they're like, really cute.
My favorite pieces are these colorful leggings, and these pocket shorts (because pockets make everything better!) BONUS – they have a Body PositiveFitness Map to help you find classes nearby that doesn't shame or promote diet culture, helping you work out in a positive space!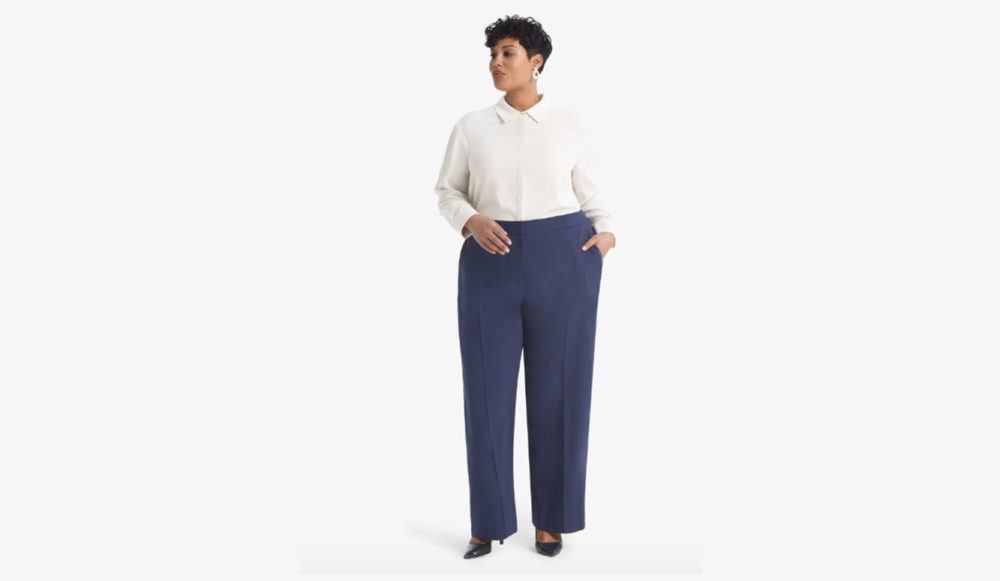 MM.LaFleur
Sizes: Small – 22W
Offers: Business attire
Shop here
Work in the office? Your professional style doesn't have to be a snooze fest (looking at you oversized blazers and stiff dress pants!) MM.LaFleur is all about their motto: When women succeed in the workplace, the world becomes a better place.
They aren't plus size exclusive, they carry standard sizes as well, but have an incredibly large selection of curvy and plus size office-approved clothing. From a pair of black trousers sure to help you nail that pitch to an array of cute plus size dresses that can take you from work right to happy hour, they have every woman's work attire needs on lockdown.
These are my favorite pieces.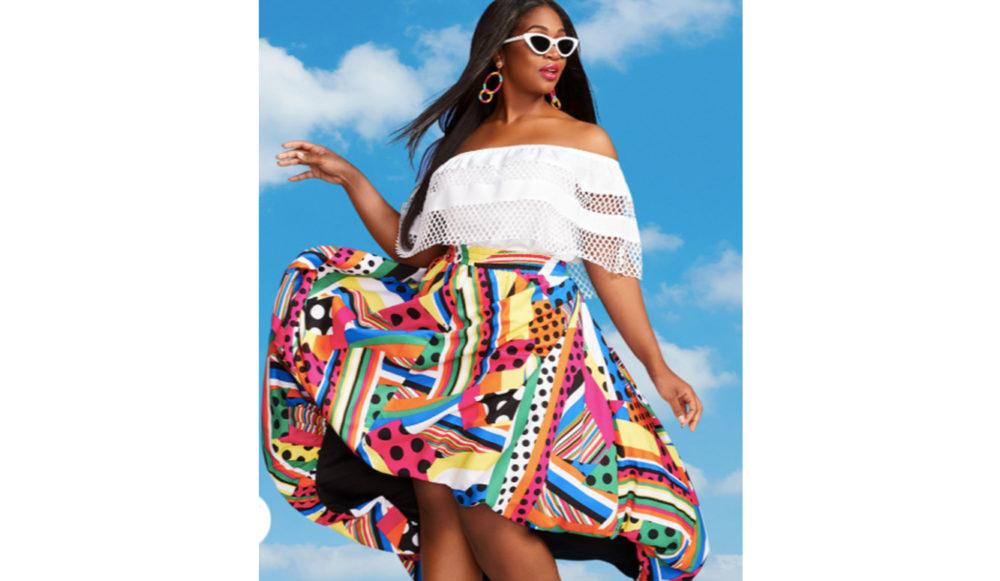 Ashley Stewart
Size: 10 – 36
Offers: General trendy styles
Shop now
On the hunt for stylish necklaces, earrings, bracelets, shoes, accessories, maxi dresses, tops and more? Ashely Stewart is a great one-stop-shop for trendy size sie and curvy styles at a good price point.
They only offer sizes 10+, so you know you'll be viewing models who look like you and have a non-confusion size chart. New arrivals are hitting the site all the time so you can quickly find the season's most popular style but in your size! They also have free shipping on orders over $99, a solid return policy, gift cards and sales all the time to help you stock your wardrobe.
They're known especially for their dresses that are designed to fit curvy bodies perfectly. These are my favorite items from Ashely Stewart right now.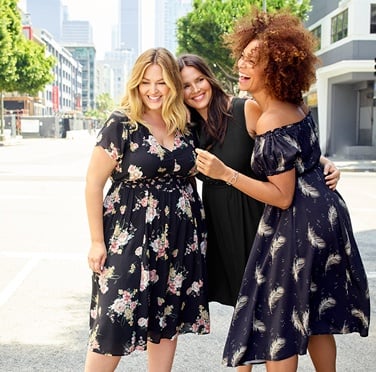 Torrid
Sizes: 10 – 20
Offers: General trendy styles & plus size swimwear
Shop here
Ok, so you may know about Torrid already because they are killing the size-inclusive style game. I really love how they start at 10 (Ashley Stewart does as well) because it can still be frustrating and hard to shop trendy style when you're in the middle size category. As I wrote about before, there are still so many times I can't actually fit into things offered by the popular stores. I'm too large for their XL but too small for plus size only boutiques.
Torrid is here for all us curvy gals. I've heard from readers that they have great swimsuits – I have yet to try but so many of you ladies swear by their suits! They also carry sexy intimates, which helps set Torrid apart from other plus size boutiques.
These are my favorite pieces from Torrid right now!

I hope you love these online plus size boutiques and this helps you find a brand new outfit to spark confidence and joy! Remember, all bodies and beautiful bodies and you are KILLING it girl!
Make sure to follow me on Instagram @thewhimsysoul for more body positive content. And sometimes my cat, because I think she's really really cute.