The lines of what is and isn't inclusive in fashion brands have been blurred for quite some time.
It's been a few weeks since Lena Dunham, an American actress known for her role on the HBO series Girls, announced her "clothing line" with 11 Honoré. This also means it's been a few weeks since shit hit the fan and everyone expressed how they felt about Dunham's decision to become a "fashion designer"—as New York Times put it.
The collection includes; a skirt, a shirt, a tank top, a dress and a blazer which range from $98-$298 with sizes 12-26. 11 Honoré is marketed as an inclusive line that honors women's "bodies, beauty and style" but it's problematic. We're going to chat about why in this post. I've also rounded up 10 clothing brands that *actually* offer clothes to fit fat bodies (bottom of the post.)
Lena Dunham's Line

Dunham & her 11 Honoré collaboration is just another example of the fashion industry uplifting voices that have no problem ignoring body privilege, exploiting the body positive movement while also getting it wrong and further contributing to the discrimination of fat people.
What Is Body Privilege Exactly?
Those who aren't familiar with the terms "straight-size" and "plus-size" might be wondering "what is plus-size?" Plus-size is anything bigger than XL. Of course, due to how vast the community is, some people might say anything bigger than XXL is plus-size. The important thing is to listen to fat people and not center your comfortability and body image issues during these discussions.
Fat people are being systematically oppressed due to their body size. They face a set of challenges in life that those who aren't fat can only dream about as their worst nightmares. Seriously, people act like being fat is the end of the world—it's not.
Those in plus-size and fat bodies are discriminated against daily. This ranges from small annoyances like not finding clothes in physical stores to life-threatening medical biases like being told to lose weight despite what one's symptoms are.
This discrimination becomes more dangerous for fat Black women as they have to deal with racial, gender and weight bias. As always I suggest doing your own research but read this article by Dr. Nataki Douglas to understand the racial disparities that affect Black women's health.
In this case, Dunham has privilege in the way her body is shaped, despite what she mentions in her interview. She's a size 16 which I have personally been at before, so I know what I'm saying when I say this; she possesses so much privilege in her body size. Clothes are still readily available for her—hell, she can fit into her own collection.
If Dunham actually cared about the plus-size community she is trying to appeal, she would've done something about the collection. Maybe include some sweatpants as a big middle finger to those who see fat people in sweatpants as lazy? I don't know, just a thought.
It's mentioned in the NYTimes article that "she's not a fan of current terms like 'plus', 'curve' or 'body positive'"—which is all fine and dandy. Dunham is entitled to her own opinion. However, that entitlement gets thrown out the window when she sits here and capitalizes off the same words and terms she loathes just to sell clothes.
All she does in her interview to promote her clothes is talk about common stereotypes plus-size people face and how much she's trying to love her own body. This is my personal opinion but, she very clearly has some body image issues—dare I say a fatphobic mindset. She shouldn't have been the spokesperson for anything plus-size.
There are so many other people who are already well-known within the plus-size community that could've and should've been chosen.
Dunham, like many others in today's society, doesn't understand that the body positivity movement has its roots in fat activism. Self-love and being body positive are two extremely different things that social media and the fashion industry has taken, diluted and combined. That's a (very long) conversation for later though.
The Daily Beast went on an hour-long Zoom call with six plus-size people where they discussed their own opinions of the launch. Something mentioned in The Daily Beast article that I want to bring attention to is the fact that Dunham was chosen to create this collection. Dunham literally doesn't even want to be in the plus-size community, the fact that she was chosen is a slap to so many people's faces. Kendra Austin wrote a piece for The Cut that highlights this issue.
Austin mentions how fat, Black women and women of color were the predominant voices fighting and paving the way for the plus-size fashion community. It was (and still is) fat, BIPOC women constantly uplifting and fighting for fat people and their right to be treated equally. Why are we letting someone like Dunham who hates herself and other fat bodies profit from them?
I could go on for thousands of words about how backwards Dunham is but that wouldn't be constructive. Instead, I'll shift the conversation to the fact that stopping at a size 26 is anything but inclusive.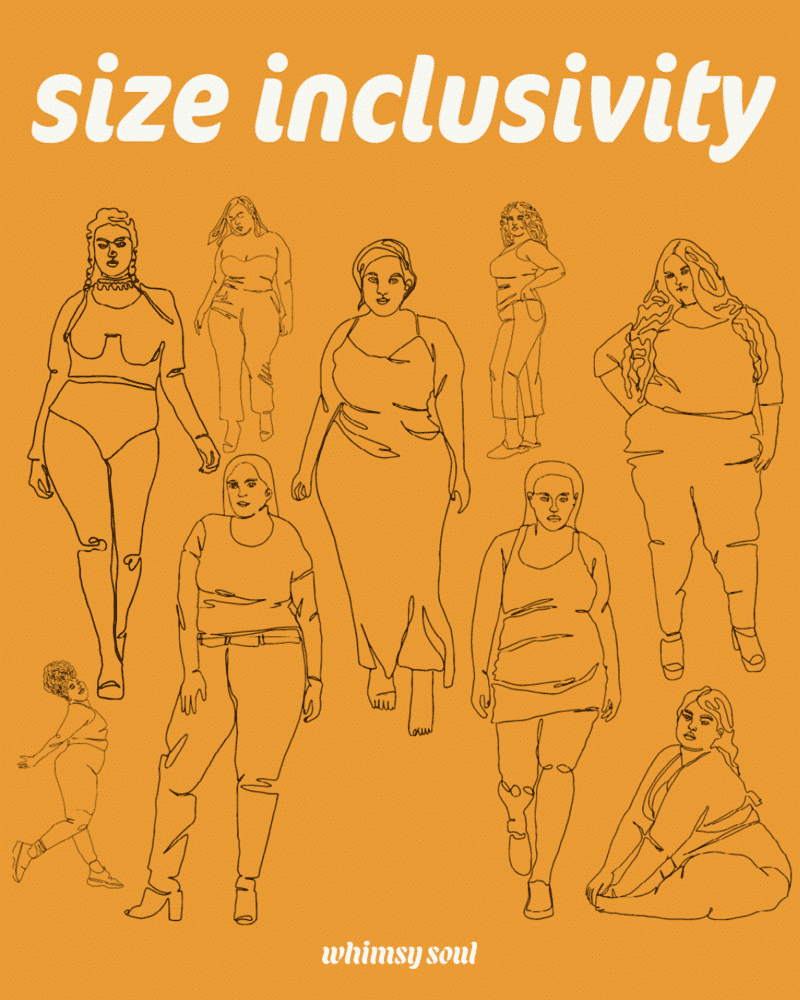 What Does Size-Inclusive Fashion Look Like?
Something about sizing that many people who aren't apart of the fat community often miss is that there are levels to fatness and privileges within each level. The first time I've ever heard of the fat spectrum was from The Fat Lip Podcast. Instead of seeing this spectrum as gatekeeping or a singular solid source, view it as a gateway to discuss privileges each fat person holds.
The fat spectrum, as far as my research has taken me, was originally created and publicly introduced by an online board—now known as The Fat Lip. This online board created the term "supersize" in reference to fat women; now known as superfat. However, they noticed that those who were bigger than a superfat were left out which is when the infinifat term was coined.

When we talk about size inclusivity, we have to make sure we take into account this spectrum. As you can see from the chart, a size 26 is barely a superfat. People who are a size 34 or bigger and have the money to drop on this collection? Well, they are shit out of luck.
11 Honoré prides themselves on having inclusive sizing, however this inclusiveness is limited to only those between sizes 12-24. As a society, we have already established that the majority of women are a size 16, like Dunham.
I can already hear some people saying, "8 sizes bigger than the average American woman, what more do you want Kerasa?" A lot.
This disadvantage fat bodies are experiencing often gets overlooked. If it's not completely ignored, brands and companies will simply have "extended sizing" on some of their products. Yet, even then, the selection of clothes is limited, forcing fat people to shop online, get clothes custom-made or tailored to fit their bodies.
Dunham's collection is one of many labels that's supposed to be for plus-size people, but actually is excluding and forcing more people to get custom-made clothes—if they can even afford the pieces in the first place.
The Fat Tax Explained
The pricing of this Dunham's collection brings up a just as big and important issue at hand. Even if clothing for plus sizes are available, the prices are so outrageously high that we end up spending more on one piece of clothing than a straight-size person would.
There are some brands that offer a "curve" section and are fairly cheap; but even then anyone who's bigger than a size 24 is out of luck. Shein, a popular (albeit unethical) fast-fashion brand, only goes up to size 22 in their plus-size section. Forever21's plus+curve section? Roughly stops at a size 20.
However, I will give a slight nod to everyone's favorite blackhole store, Target. Target offers plus-size clothing which can sometimes go up to size 30. Not to be a total pessimist in this situation but, come ON. The fashion industry is so messed up that I think a retail store that has clothing that goes up to a size 30 deserves a slight nod.
Clothes that are tailored for plus-size and fat people are often priced higher. This is something within the fat community to be known as "fat tax." The name was originally created to explain the surcharge places on "fattening foods." Over the years though, it's become something to explain how the fashion industry charges fat people more for clothes to fit their bodies.
While sometimes it's understandable why clothing is priced so high, it's completely different when the same tank top or underwear is priced 1-5 dollars higher for plus-size bodies than for straight-size bodies. It's something slight and not really noticeable if you aren't actively purchasing plus-size clothes.
An example of the Fat Tax in the wild is Auden, one of Target's clothing lines where you can purchase panties for a pretty good deal—5 for $20, if you're a size 16 or smaller. If any plus-size Auden underwear has a deal it's 3 for $18 and even then it stops at 30.
Auden Underwear Straigt vs Plus Size Prices

Fashion companies use the excuse of having to use more fabric to justify upping the prices of plus-size clothes. Having to use more fabric to complete a piece for a fat person isn't a viable excuse and it's actually quite laughable. If the amount of fabric determined the price of a piece of clothing, then the XS would be a lower price than the XLs, but they're always the same price. It's not until you breach size 16 or 18 that the cost of fabric seems to be a concern. That is the Fat Tax.
Despite the constant negativity and hatred fat bodies face, some companies are making conscious decisions to include all body types in their brand. I have compiled a list of size-inclusive clothing brands that fit plus-size and fat bodies. It's important to note that the brands I will be listing may or may not be ethical. This is not a list of ethical fashion brands or by any means a list of affordable brands. This list is by no means exhaustive; it's to serve as a guide to size-inclusive brands.
10 *Actual* Size Inclusive Fashion Brands To Shop
The best plus-size clothing brands you can shop that actually make cute size-inclusive clothing brands that fit plus-size and fat bodies.
Photo Credit: www.torrid.com
Sizes: 10-32 (up to Superfat)
Torrid's been the go-to store for all things plus-size since 2001. Over their 20 years of accommodating people's different bodies, they've had time to really hone in on different styles and selections for people. Their clothes range from Disney-inspired fashion patterns to comfortable lingerie and leggings. 
Photo Credit: www.eloquii.com
Sizes: 14-28 (up to Superfat)
In 2013 Eloquii was shut down but enough customers complained and asked for it to return so they did. From colorful prints to runway-inspired styles—cause let's be honest New York Fashion Week doesn't accommodate big bodies—this shop doesn't want anyone to hide in unflattering clothing. 
(Last seen on this blog here)
Photo Credit: girlfriendcollective.com
Sizes: 0-28 (up to Superfat)
While traditional sizes weren't found on the website, I compared the waist and hip measurements to Universal Standard's chart to get size 28. This company prides themselves on creating and producing ethically made activewear.
The Girlfriend Collective has even been tested and approved by Whimsy Soul's founder, Kara. Read her full feature here.
Photo Credit: simplebe.com
Sizes: 12-32 (up to Superfat)
While Simply Be has shut down their International Market (which affects us in the United States), there is still the UK branch. They've made it abundantly clear in their about section that having plus-sizes isn't a trend or fad. They are committed to bringing plus-size people comfortable fashion pieces that don't look like they're straight out of your grandmother's closet. 
Sizes: 10-32 (up to Superfat)
Originally I heard of Dia & Co as a subscription box service (which they still do!) However, this company is so much more than a place where you can get a subscription box. From jeans in multiple colors to maxi skirts that will make others do a double-take, this shop has a variety of pieces to choose from. 
Photo Credit: ashleystewart.com
Sizes: 10-36 (up to Infinifat)
Many fat people grow up having to hide their bodies or make themselves smaller so no one notices them. Ashley Stewart challenges all of these beliefs and habits with their clothing brand. 
Photo Credit: universalstandard.com
Sizes: 0-44 (up to Infinifat)
This company really should be taken as the universal standard when it comes to all things fashion. When brands and companies say "every body," this is what I expect to see. This brand isn't only tailored to plus-size people but to everybody, so you and your bestie can for sure match outfits even if y'all don't match bodies—no more "ugh if only I was your size!" 
Photo Credit: superfithero.com
Sizes: 12-42 (up to Infinifat)
Similar to Girlfriend Collective, Superfit Hero is all about athleisure wear. This company has made sure to test out even the smallest of details to provide the buyer with maximum comfortness. Have you ever gotten irritated because of your leggings waistband sliding everywhere? Superfit Hero has thought of that and taken it into consideration during production. 
Photo Credit: loudbodies.com
Sizes: sizes up to 42 (and is able to make custom clothes for people upon request) 
Loud Bodies cares about you and your body. Written right under the sizes of every piece is this statement, proving to its customers it cares about them; "If you don't find yourself among our sizing or are not sure which size would fit you best, get in touch with us for counseling and free of charge custom orders." 
Photo Credit: lanebryant.com
Sizes: 10-40 ( up to Infinifat)
Apart from Torrid, Lane Bryant has always been one of those "go-to" stores when looking for plus-size clothes. This brand started in 1904 with maternity designs. Since then, it's stayed committed to producing clothes that cater to plus-size and fat bodies. 
(Last seen on this blog here.)
I tried my best to find brands that go up to a size 40 but they were a lot harder to find than a size 26. I encourage everyone to start making notes of not only what sizes are available but also how much pieces are when looking through inclusive clothing brands.
Even if you find something in your size, question if someone who's bigger than you would be able to shop there. Small things like this and conversations within your circles are the beginning steps to making a huge difference in the fashion industry.
Speaking of which, Dunham isn't the beginning and surely isn't the end to the problems within the fashion industry, her collection was merely more logs to add to an ever-burning fire.