Wooohoo, you made it to my 72 Hours in Arizona and Nevada travel guide! If you are new here, it's important to know that I love the 3 day weekend trip. You can still pack a lot in, while cutting down on expenses and days off from work. So, sit back and enjoy this guide! As always, feel free to leave comments and question below.
So, we live in San Francisco and while it's usually pretty expense to get to MOST Of the country, it's always affordable to hop to SoCal, Washington, Oregon and Las Vegas. Instead of getting each other christmas gifts this past year, we decided to take one of our famous 3 day tips instead. I went online and saw that JetBlue was having a crazy good sale on flights to Las Vegas – we were able to snap 'em up for $150 for both of us roundtrip. A steal! We weren't looking for a weekend of gambling, so I googled how far it would take to drive to the Grand Canyon and it turns out it's just about 4 hours away (totally manacle), so we deduced we'll rent a car in Vegas and drive to Arizona. The key to a good 3 day trip is flexible and a good starting point!
---
SUNDAY
---
7am: We called really early and grabbed a 7am flight out of San Francisco. Turns out we were one of the last flights to leave for the morning before the airport shut down over bad weather! Fhew!
8:30am: Landed in Las Vegas! No rain! We took a shuttle to our car rental place….and then had to take another shuttle because it turns out I booked at Economy which is not in the email car rental hub. IT wasn't too big of a deal, but added an extra 30 minutes each way on our travel time, so if you rent a car in vegas, make surest's at the main center where 90% of all the car rental places are at. Will save you time and a headache!
10am: Got keys to our car rental and off we were to Seven Magic Mountains! I discovered these bad boys on Instagram and have been dying to visit them. You can read all about the Seven Magic Mountains right here in a previous post. Or don't read it and know that you MUST stop by when around Vegas – it's only a 20 minute drive south.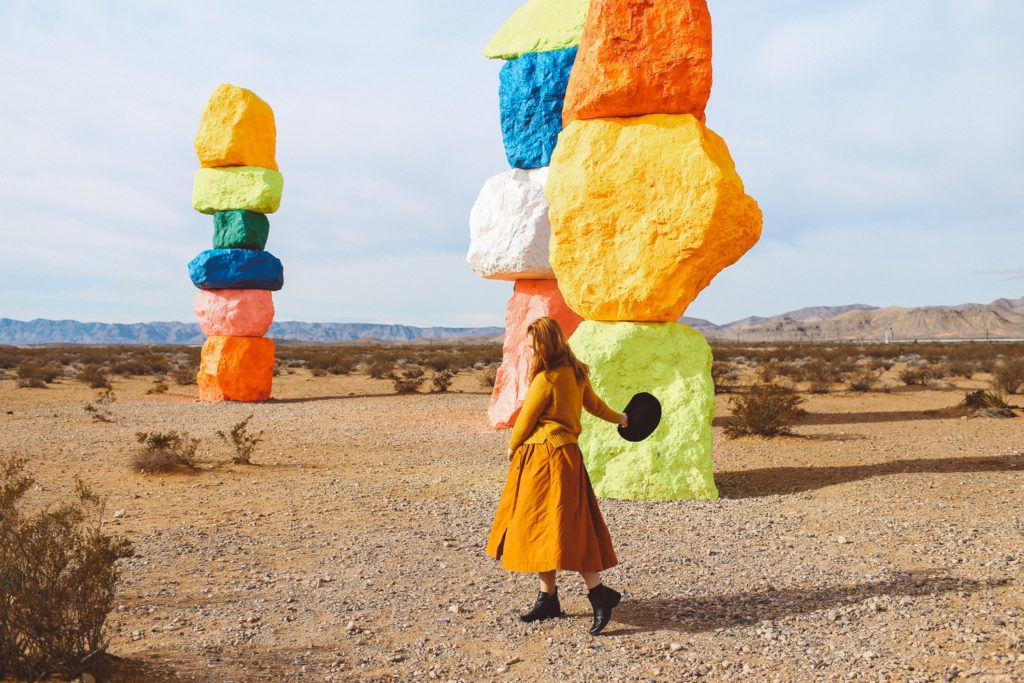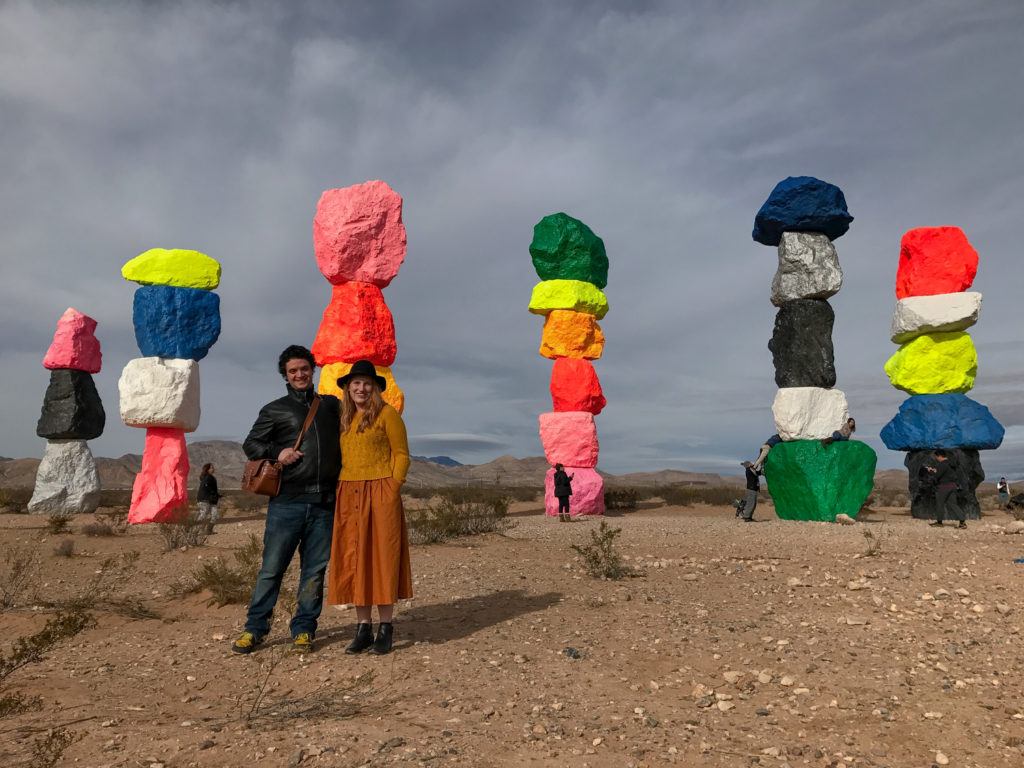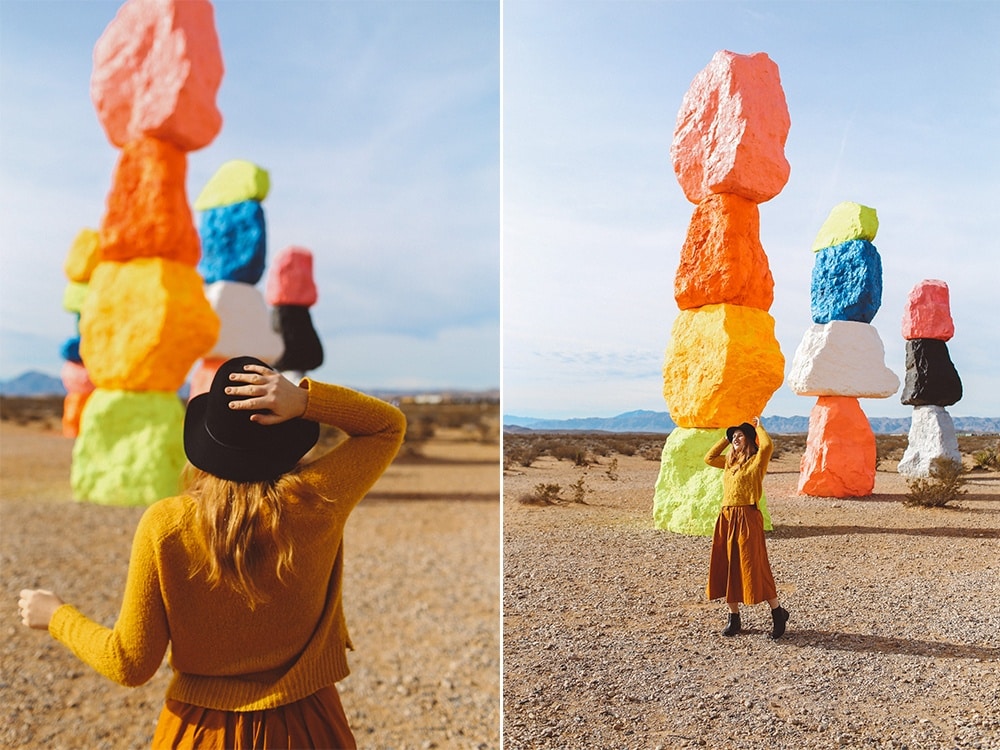 11am: After stopping by the art installation, we were off on our journey across Arizona to the Grand Canyon! Again, should have researched the car rental place a bit better because our car was old enough it didn't have a way to connect phones to the speakers (RIP all the podcasts I had downloaded to listen to) But since we haven't been to this area before, we had a pretty nice time just taking in the sites. Vegas is a quick drive to the Arizona boarder. The time zone situation is strange in Arizona (the state doesn't follow day lights savings but indian reservations do) so the time on our phones shaped back and forth a few times. We didn't stop anywhere but there were tons of picturesque scenes and a few little cute towns along aways, especially the closer you get to the canyon. Williams was one that someone recommended to me.
Robin and I both loved the drive through the Kebab National Forest north of Flagstaff which leads to the Grand Canyon. The elevation is pretty high here and the vegetation is different – more woodsy.
TRAVEL TIP: Make sure to drink lots of water to not feel sick due to the quick change in elevation.
3:30pm: By around 3:30pm Arizona time we were pulling up to the park entrance. It's $30 to enter, like most parks are. I still think we need to buy an annual pass, but that will probably never happen haha. We stayed at the El Tovar which wasn't the best place in the world, but great for a quick trip because it is right on the edge of the canyon rim. You can learn more about it here. We checked in right away and beelined to the rim to check it out.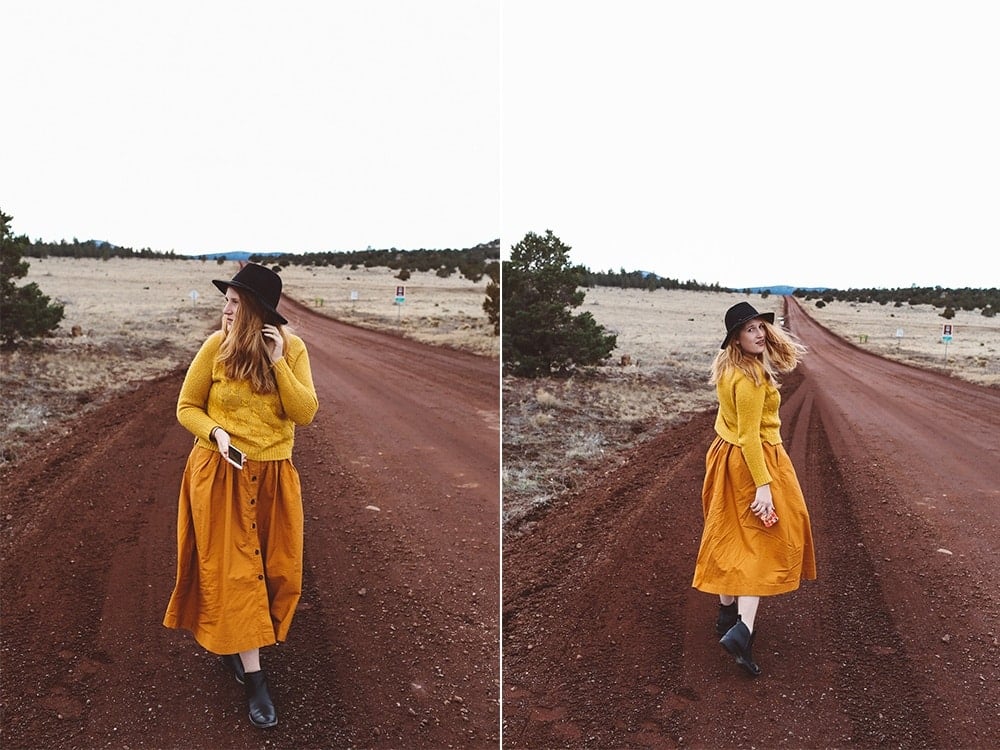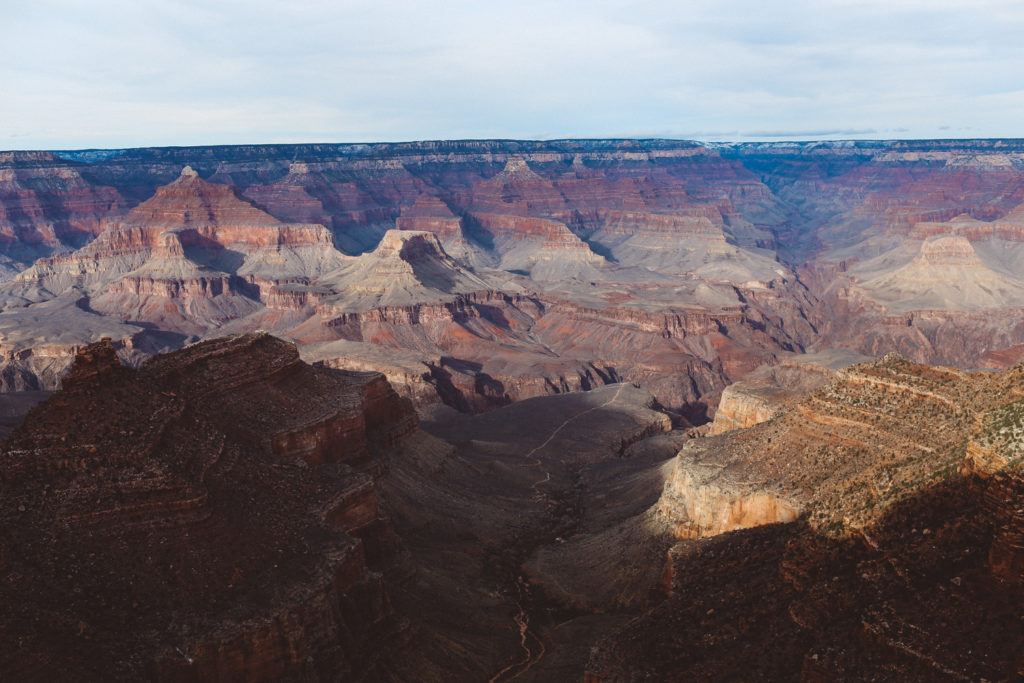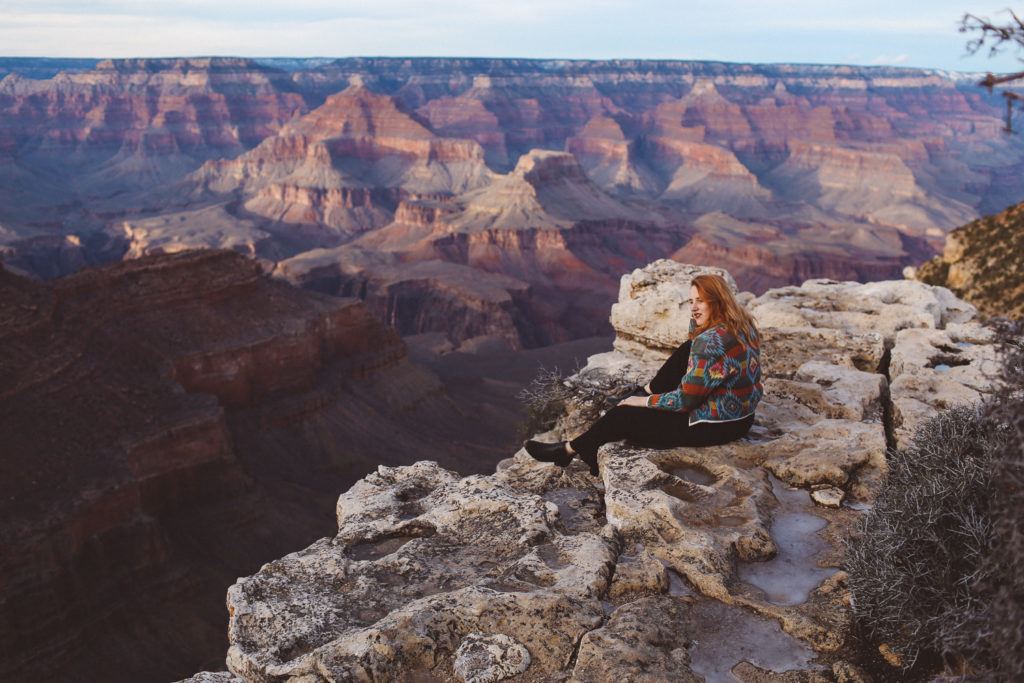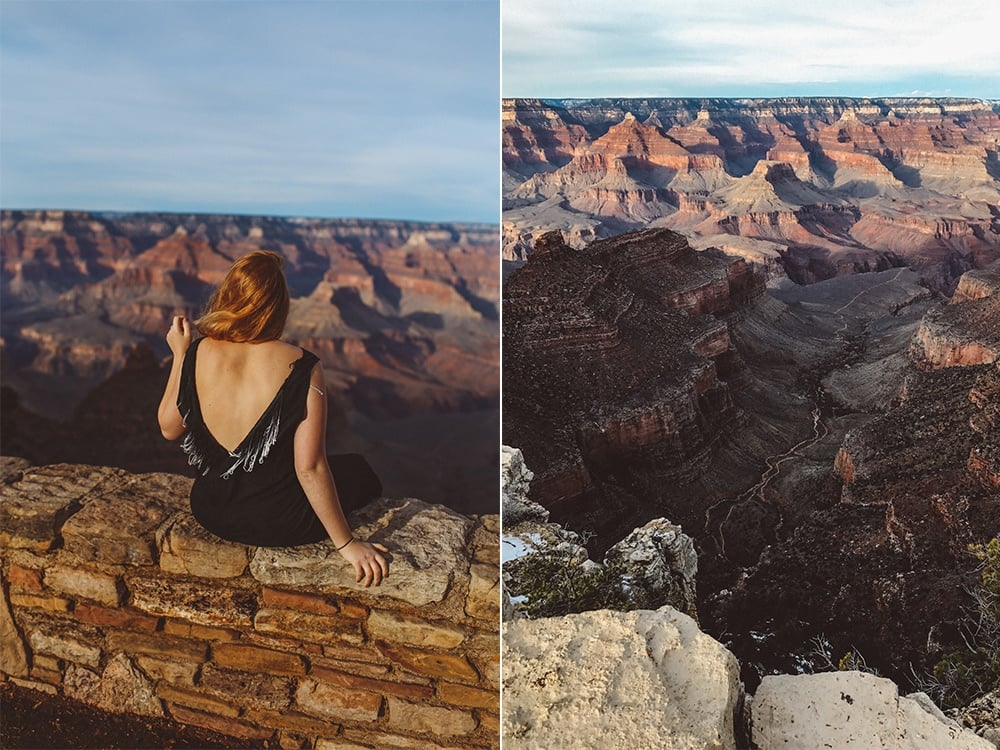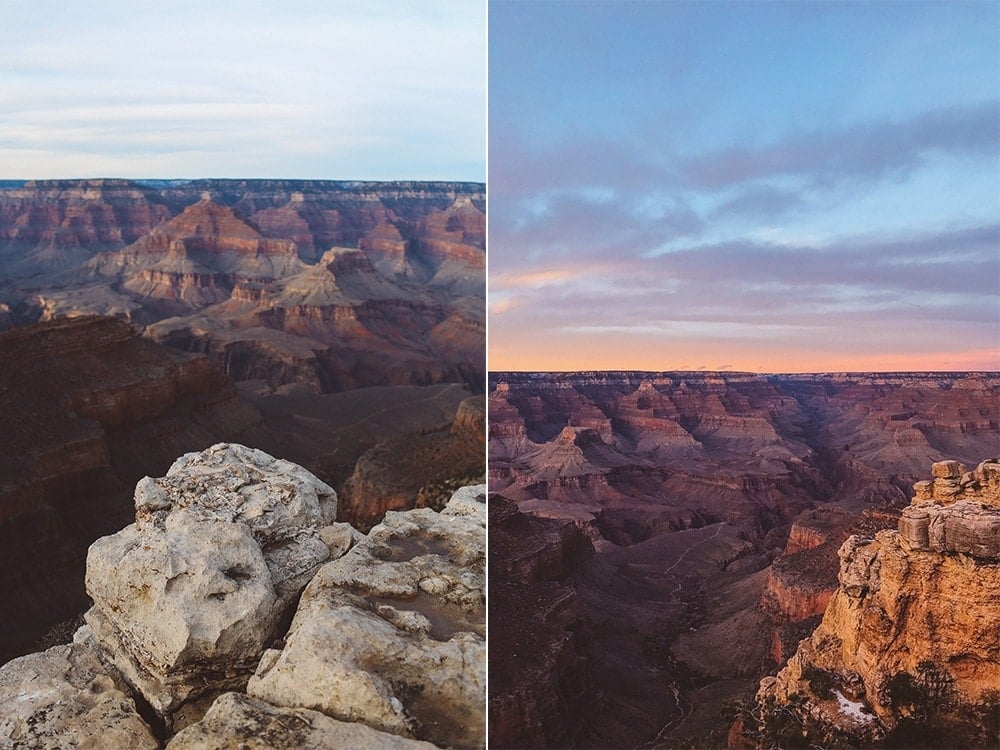 4pm: So, in the winter the North Rim is closed down and only the South Rim is open. I'd love to come back and spend a few days at the Canyon to really explore it, but I thought the South rim was a great first visit. It's chilly here in the winter and we were glad we brought jackets! To pros of visiting in the winter is there are far less tourists and we were able to enjoy a pretty empty and peaceful walk along the rim at golden hour. There are a lot of great lookout points to enjoy and snap photos from.
5:30pm: We were pretty freaking hungry, so we wrapped up our walk as the sky was turning the most beautiful shade of pink and headed to the Maswik to grab dinner at their pizza pub. This lodge was pretty crowded and one reason I was happy we stayed farther away from the people. The pizza here isn't the greatest, but we ate it all after a our long drive. This lodge also has a cafe if pizza for some reason isn't your thing. There isn't much in terms of dining within the park, so you can't be too picky.
7pm: After we were done, we headed back to our hotel. They had someone playing the guitar in the lobby, so we grabbed beers, our laptops and relaxed by the fire while listening to tunes. And then we were asleep by 9:30 for sure — we were so tired after getting up at 4am!
To do differently: I still am happy that we stayed a the El Tovar because we were only there one night and time management is key. BUT if you are visiting for longer, consider staying outside the park for a cheap and equally as nice of place. Also, if you are visiting in the summer or when daylight hours are longer, make sure you use up all the time outside!

---
MONDAY
---
7am: It was on my bucket rise to see a sunset and sunrise over the Grand Canyon, so we got up a but early and walked the whole 10 feet to the rim to watch it. The weather forecasted rain, but we were able to see the sky transition from black to pink before the raindrops drove us back inside fore breakfast.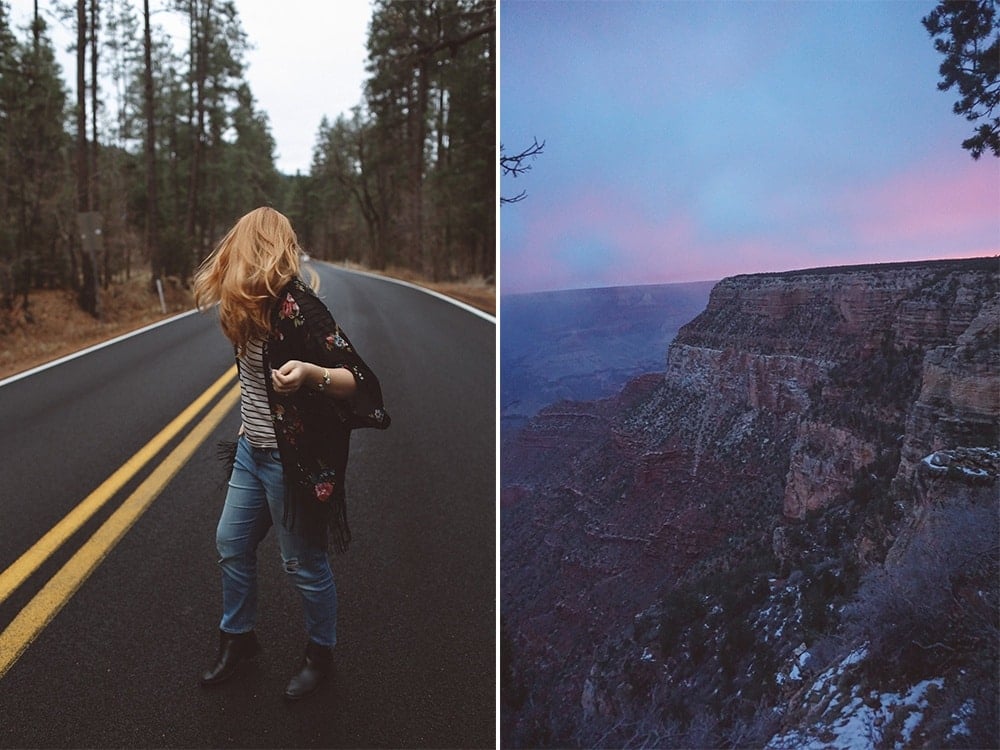 8am: We booked our room under a promo special which provided us free breakfast, so we enjoyed breakfast in bed while watching GMA and packing up for the next leg of our journey.
9am: Before we left, we jumped over to the Hopihouse, a museum and store filled with Native American artwork. It's really cool and a must see! I personally waited to buy a painting (I collect art while traveling) at a different town outside of the park because the prices felt a bit high, but they had a huge collection
Wait to buy art and souvenirs outside of the park where prices are lower.
9:30am: Our original plan was to do some light hiking this morning before heading to Sedona in the afternoon, but it was pouring rain, so we couldn't do that. We did swing by the visitor's center trying to find the famous glass bridge, but we think it must be at ht eNorth Rim because it sure wasn't there! (Or maybe we couldn't find it in the rain?) We got really wet, but it was still nice to see the Grand Canyon before we headed South to Sedona.
10:30am: It was about a 2 hour drive to get to Sedona, a charming town in the middle of Red Rock country. It was raining for most of the way, which bumped me out because rain on short trips really puts a damper on the day, Luckily, it started to turn to a mer drizzle the closer we got to Sedona. We were able to drive through Flagstaff and down among the Cocoon National Forest, which was really beautiful. We stopped along the way at a campground site to take a little walk and stretch our legs. It looked like a great place to come back to in the spring/summer when it was open.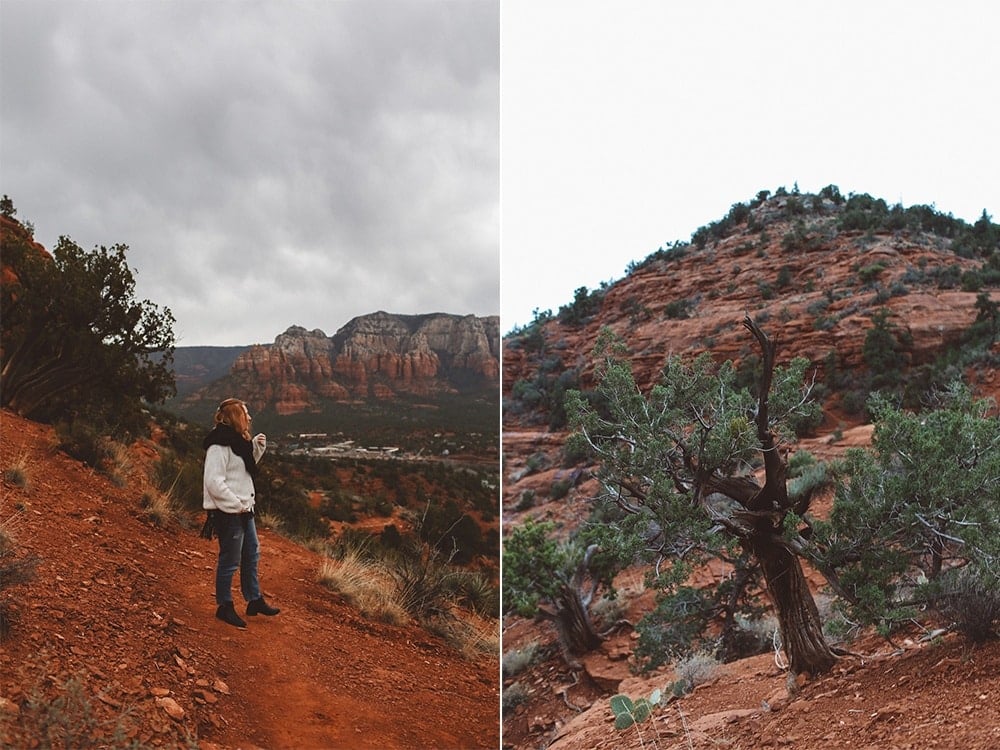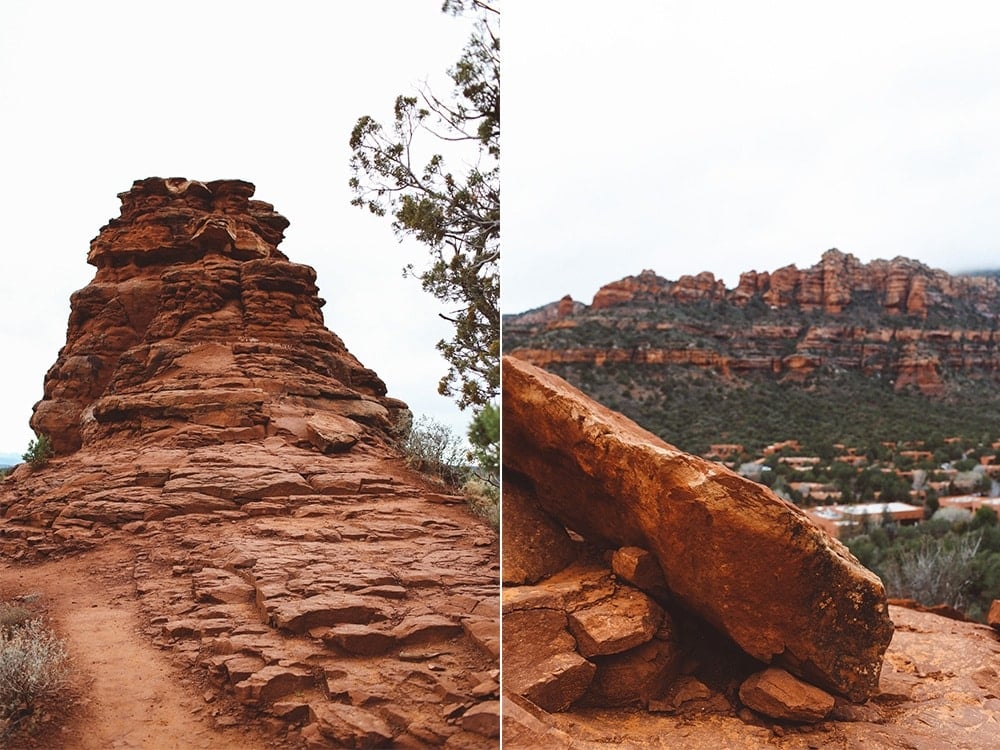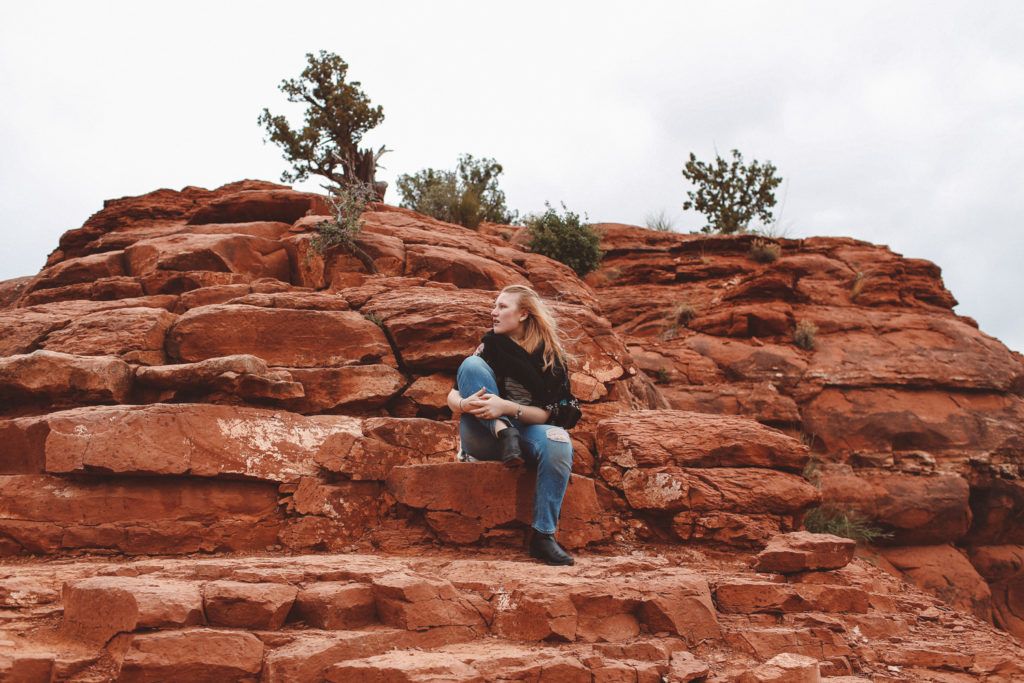 1pm: By now we had made it to Sedona! I loved coming out of the forest into the beautiful red rocks this part of the country is famous for. The clouds were still grey and angry at this point, but the rain had fallen back to periods of drizzle instead of full on storm mode, which was wonderful. We couldn't check into our hotel yet, so we took this time to drive down the main street of Sedona where you can find all the shops and out to the Airport Vortex, the easiest one to access.
TRAVEL TIP: the Airport Vortex is the easiest to visit, but probably also the most crowded. I really enjoyed the view here, so stop by early in the morning to beat the rush.
What's a vortex you ask? You can learn more right here, but the low-down is vortexes are though to be places where energy is stronger. Something about the way the red rocks form "vortexes", and people believe it to be a spiritual setting, a place to come to do yoga, meditate and find inner peace. Or, if you aren't ready to jump on that bandwagon, at the very least they are beautiful spots to hike to. We visited the Airport Vortex and the Boyton Canyon vortex the following day (more on that below) and I liked the airport vortex the best because was easy to get to, a fun little climb to the top rock and the view was amazing! I have a feeling this one is the most crowded during the summer – aka not the middle of the winter in the rain, so maybe head here early in the morning if you are visiting Sedona during high season?
1:30pm: Our luck rain out quickly with the rain, so we headed to a cute little coffee shop called Creekside Coffee on the edge of Sedona. I picked it because it has a great view of some Red Rocks, which made for a relaxing place to grab some hot cocoa, write a little and look up places to visit in Sedona. This little spot also had a wine tasting bar in it, if you wanted to try some local wine! We stayed here for about 45 minutes while waiting the worst of the rain out, then headed to the main street to check out some shops. I was on the hunt for something ~spiritual~ to bring back home!
2:15pm: The main street is very touristy and I imagine a little overwhelming in the summer, but it wasn't too crowded when we visited. There's crystal shops for days, some clothing stores, fudge and candy shops and other places selling touristy things. I picked up a book about Fairies for my mother (she loves em!) and at the Discount Crystal Shop I found a Himalayan Salt Candle Holder, which I brought home for our coffee table. We stuck an air plant in there instead of a candle. Quick note about this: we only brought carryon luggage and apparently when a semi-translucent piece of natural material is wrapped in a big ball of plastic and brought through security. It looks like a big ole' ball of cocaine on the TSA screens. They let us keep it after they did some drug tests, but i still thought it was really funny.
TRAVEL TIP: be prepared to have TSA pull you aside if you bring back crystal and stones from Sedona.
3:15pm: We headed to our hotel, the Amara Resort and Spa. You can read all about it right here. The Amara is part of the Kimpton hotel branch, and I love these places. They always have happy hours, really fun decor and amazingly nice staff. We checked into our courtyard facing room (the better side to have in this place) and quickly dropped off our stuff to have a look around. I adore the courtyard, which was fun color chairs, lawn games, fire pits and a hot tub and heated pool. We then relaxed a bit until 5pm when the daily happy hour begins!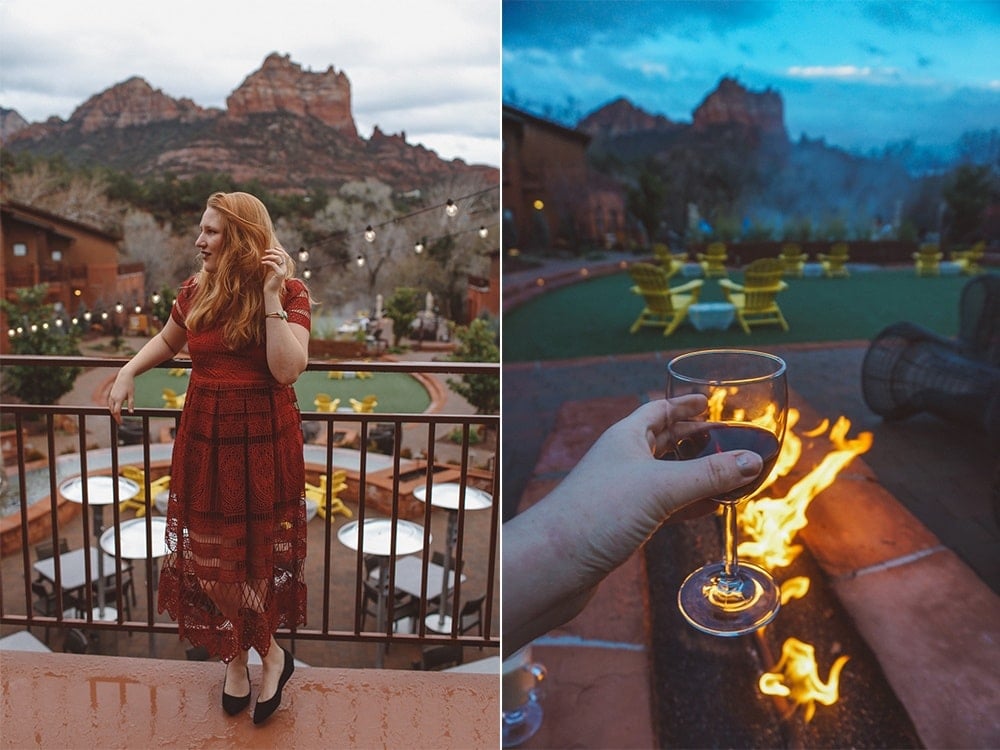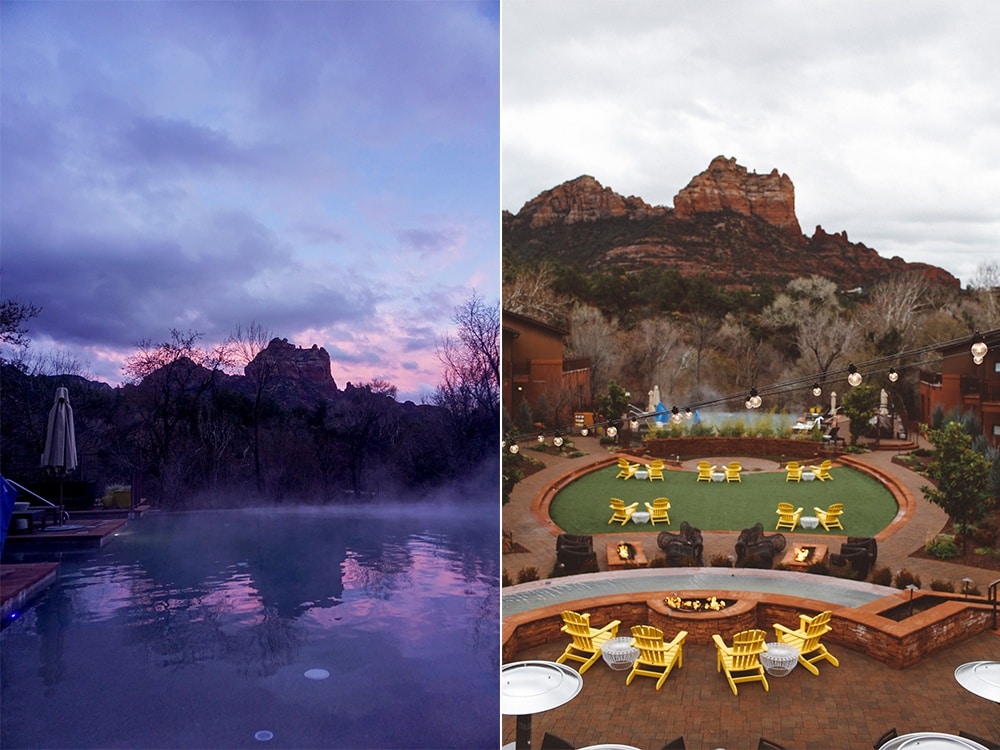 5pm: Happy hour! We brought our drinks out to the courtyard to sit by the fire and watch the sunset over the red rocks. I love dusk – when the sun is high enough you can still see, but low enough that string lights feel magical and there's a great energy in the air. We stayed until about 6pm, when Robin wanted to head back up to the room to watch the Packers play in the playoffs. Boys.
6pm: Football aka Kara looking at Instagram.
7pm: We had dinner reservations at the Salted Rock, the Amara's place, and WOW! I highly recommend dinning here at least once! They specialize in margaritas and we tried three different flavors. I ordered the quail, which I've never had before and blew me away. Robin had the steak. The place has fun decor and I wanted to steal some of the cute hanging plants for me own place, hehe.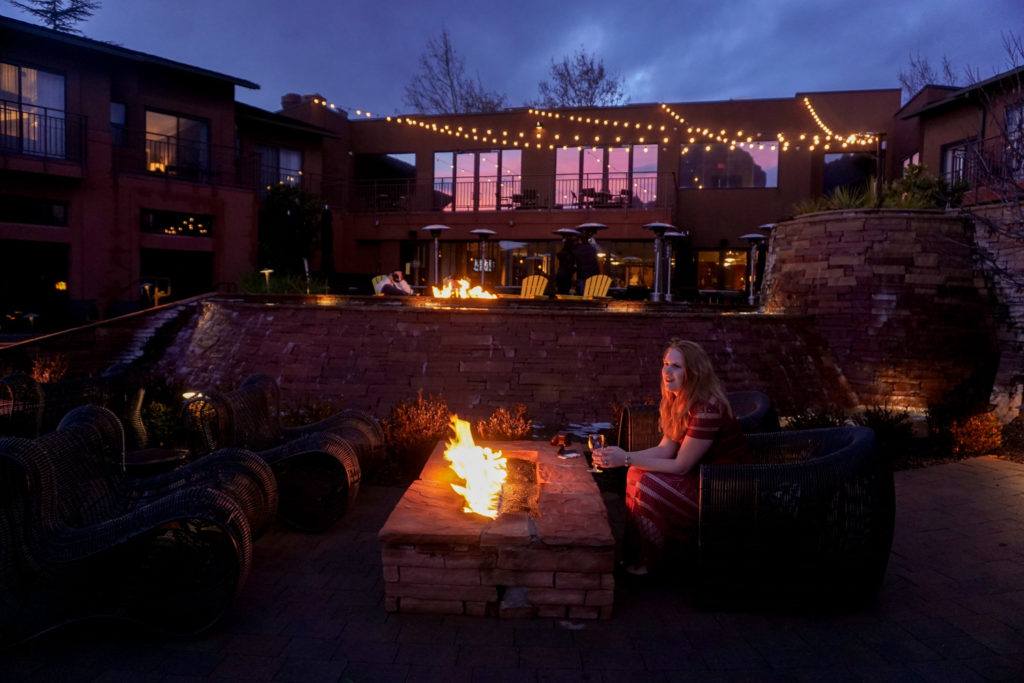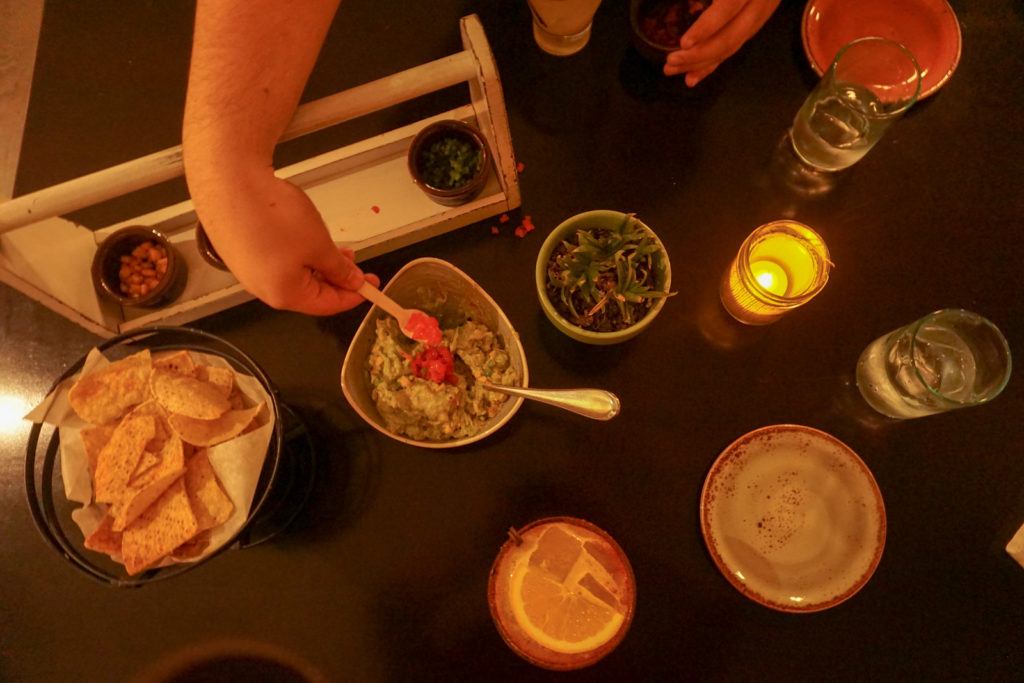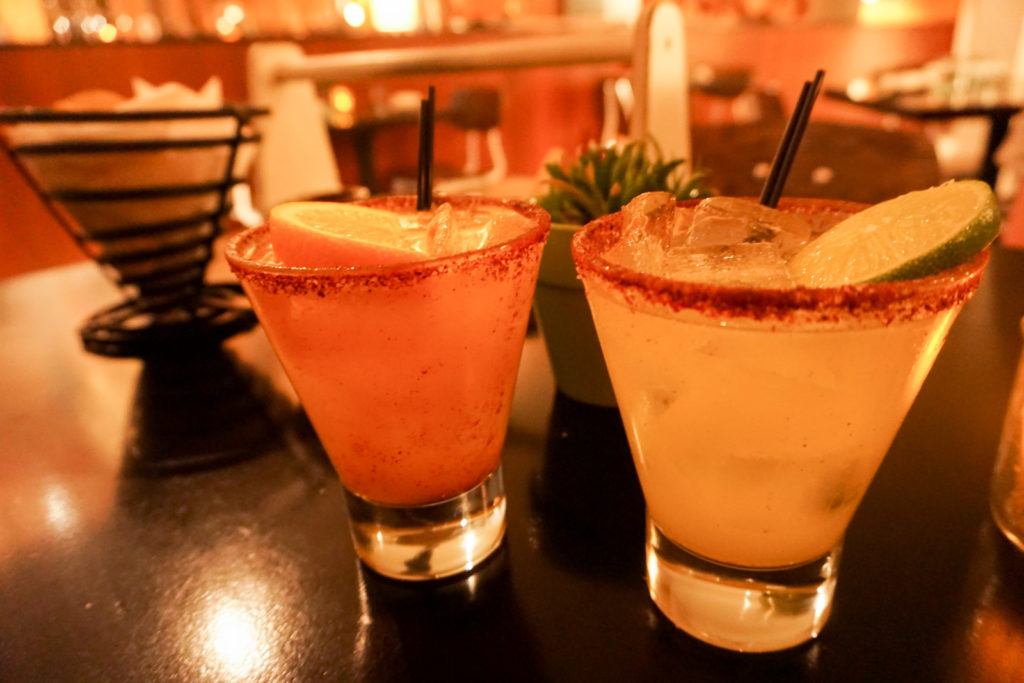 9pm: After such a long day, we both wanted to relax a little, so we changed into our swimsuits and headed down to the hot tub. Nobody was there, so we had the place to ourselves. By this time, the thick grey sky had parted a bit so we could see the moon and stars and the red rocks against the sky. It felt so relaxing to lean back in the hot water and watch the sky twinkle. The perfect ending to an adventurous day!

---
Monday
---
7am: We woke up early to grab a morning dip in the heated pool. We had a great time in there the night before and wanted to start the day off in a great way. Again, nobody was here so we had the place to ourselves! When you are traveling, I highly recommend getting up a little bit before everyone else so you can experience places and moments without a lot of there people there.
Travel Tip: wake up early to experience a totally relaxing dip in the pool!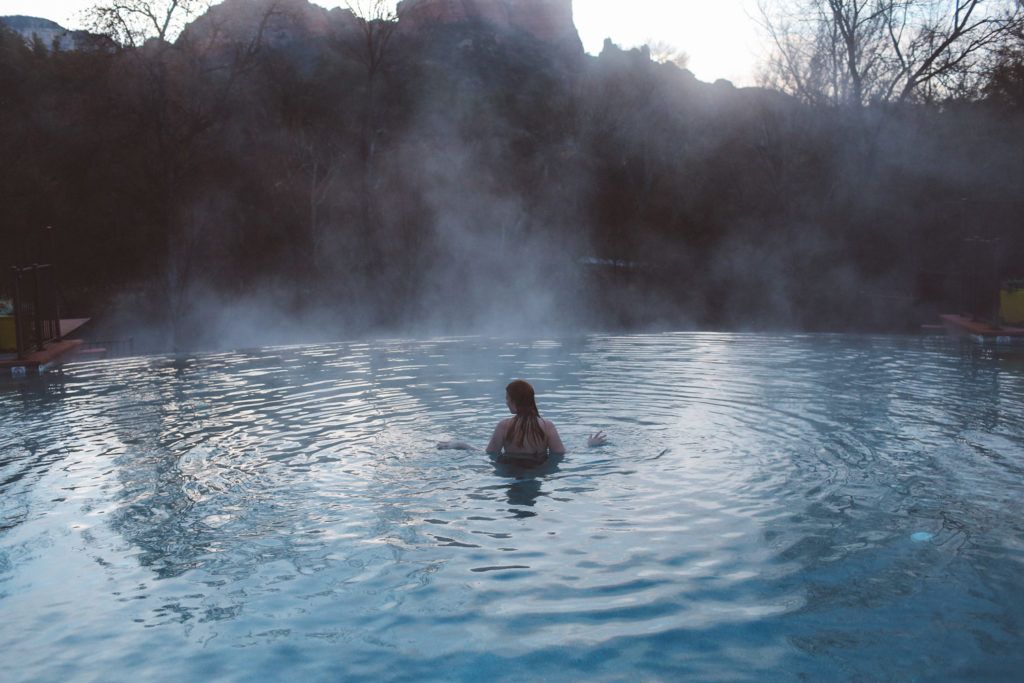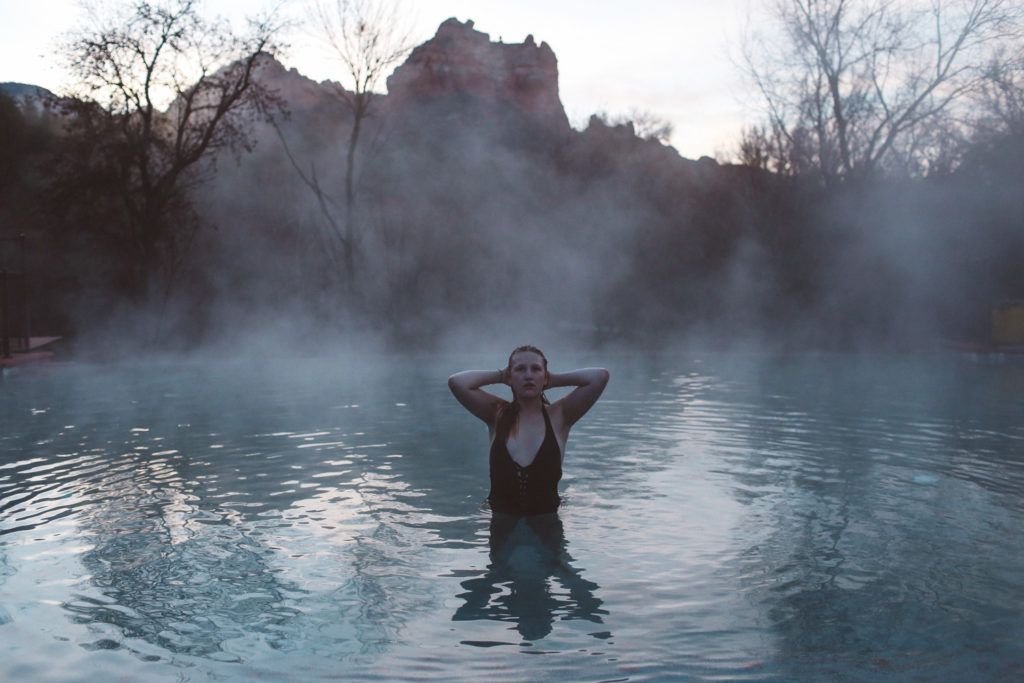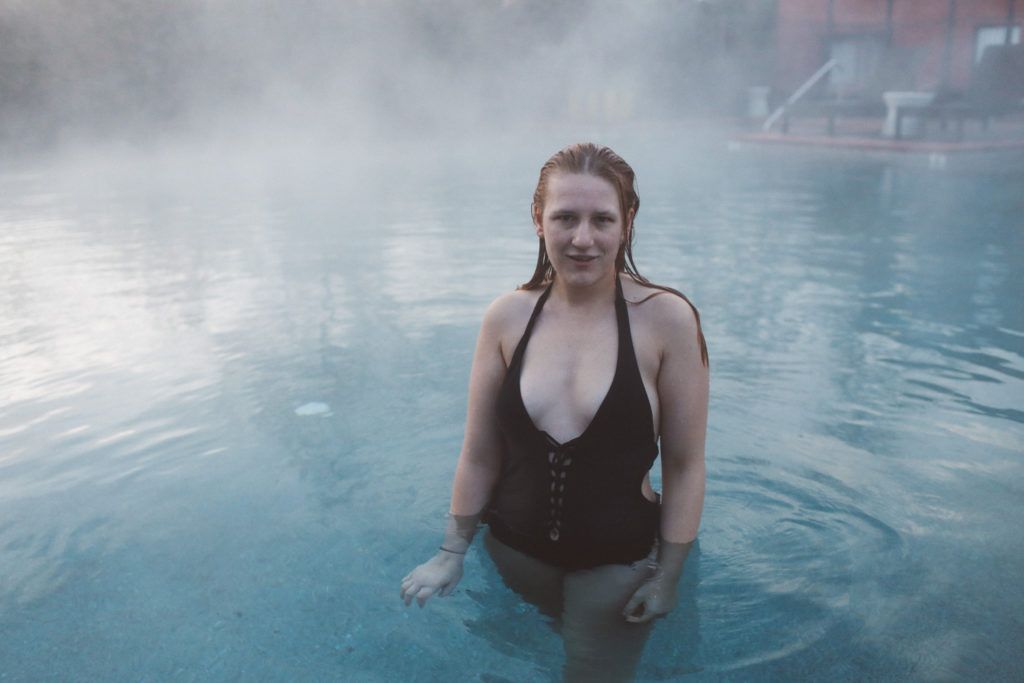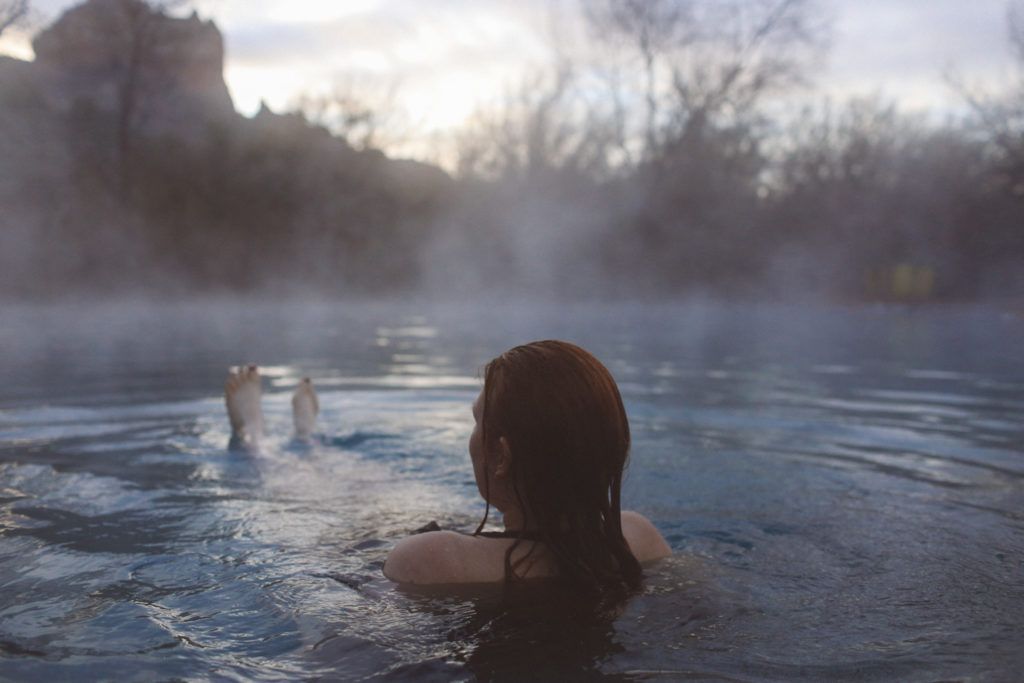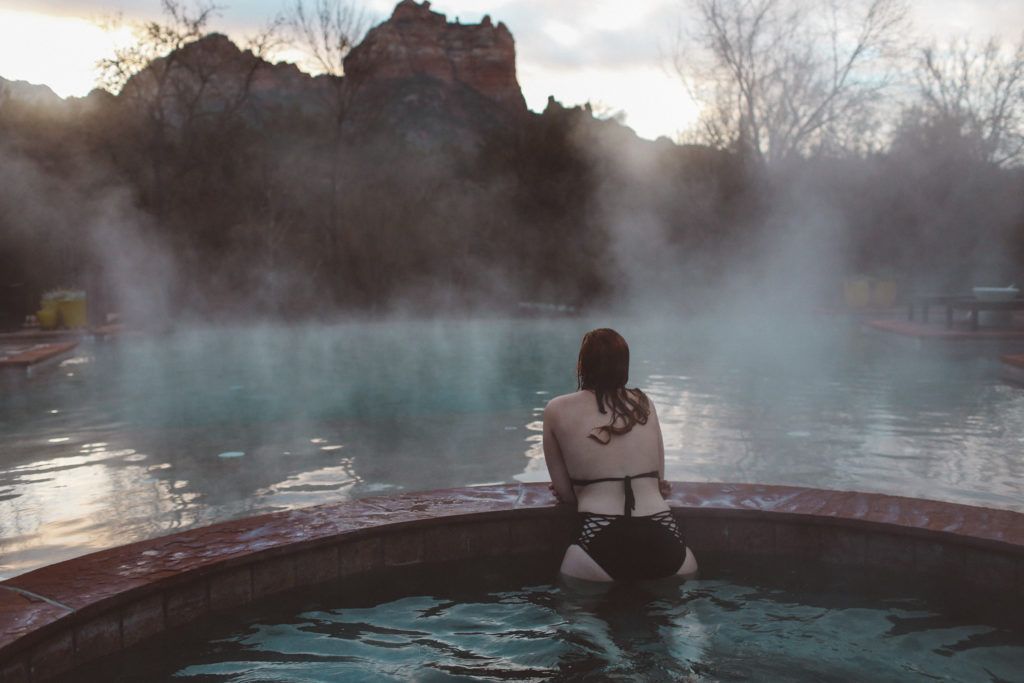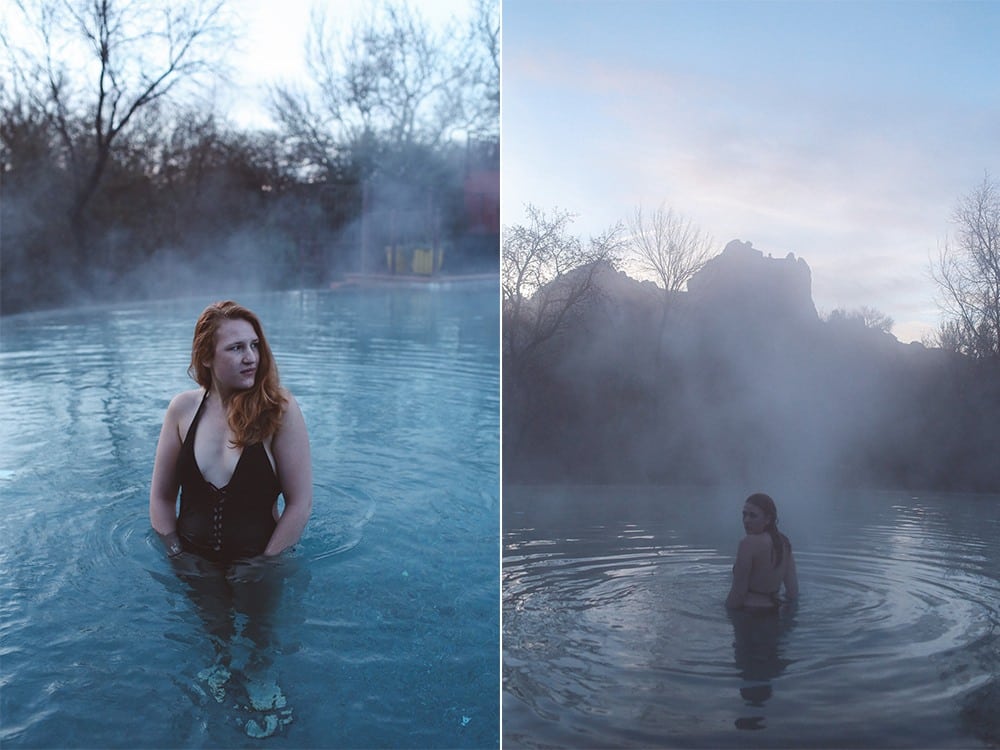 8:45am: We grabbed coffee in the lobby, checked out and headed to the Boynton Canyon Vortex outside of town. The maps all said it wasn't too hard of a hike, but I still wish we had grabbed some food beforehand. The elevation in this part of the state is around 6000 feet, so our bodies were really wiped at this point. That also made the hike feel harder than it actually is. Most of the way is a slow crawl up to the vortex, with the last part requiring a bit of a climb on rocks. BUT, its totally worth climbing up. You could see for miles and miles and we had the place to ourselves. This really made me wish we could stay longer to continue hiking at other spots. I just love climbing over rocks and weaving through cacti – such a different experience than the Wisconsin and Northern Californian woodlands I'm used to!
On our walk down from the vortex, we ran into this man who gave us each rocks shaped like hearts, telling us they were gifts from Mother Earth. I melted a little inside and was so happy we gave them to us – they are now displayed in our hallway and I'll cherish them forever. The little things – ya know?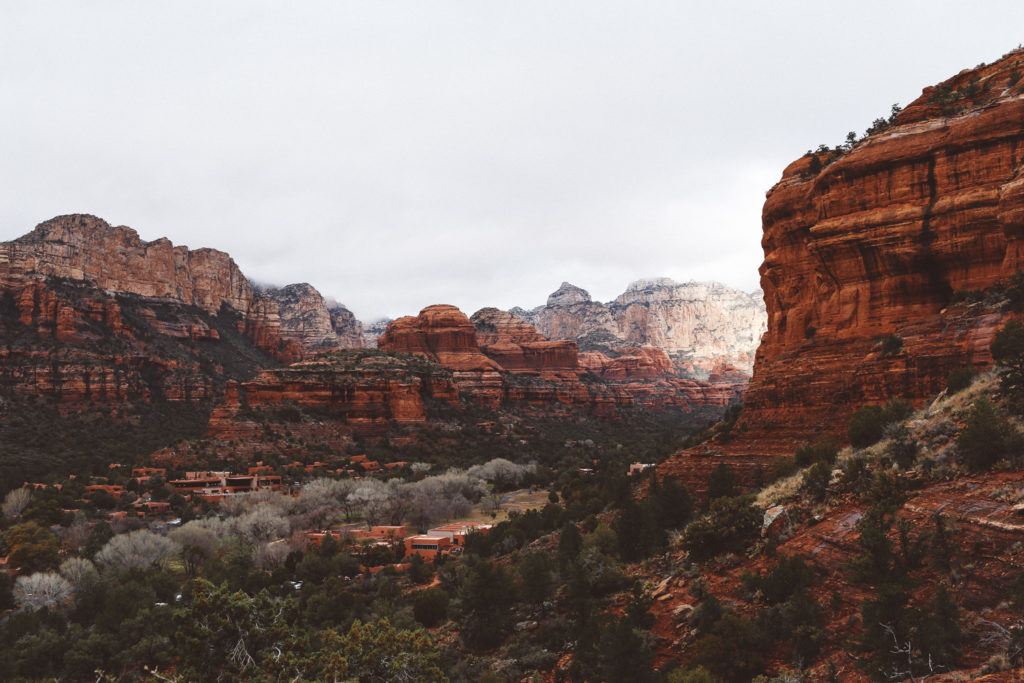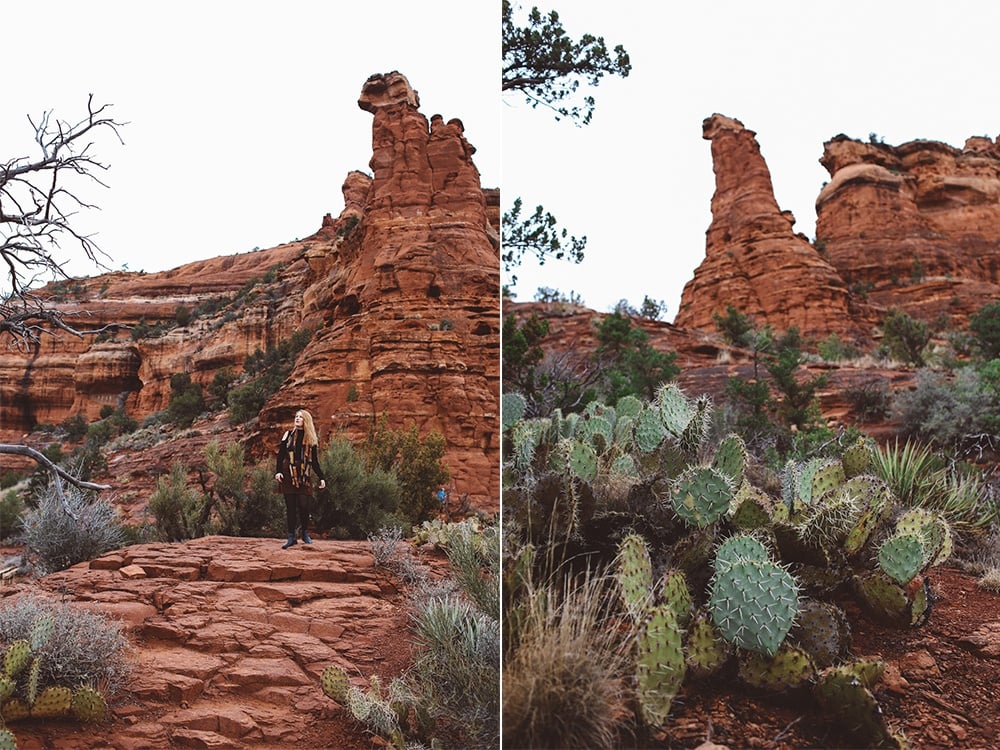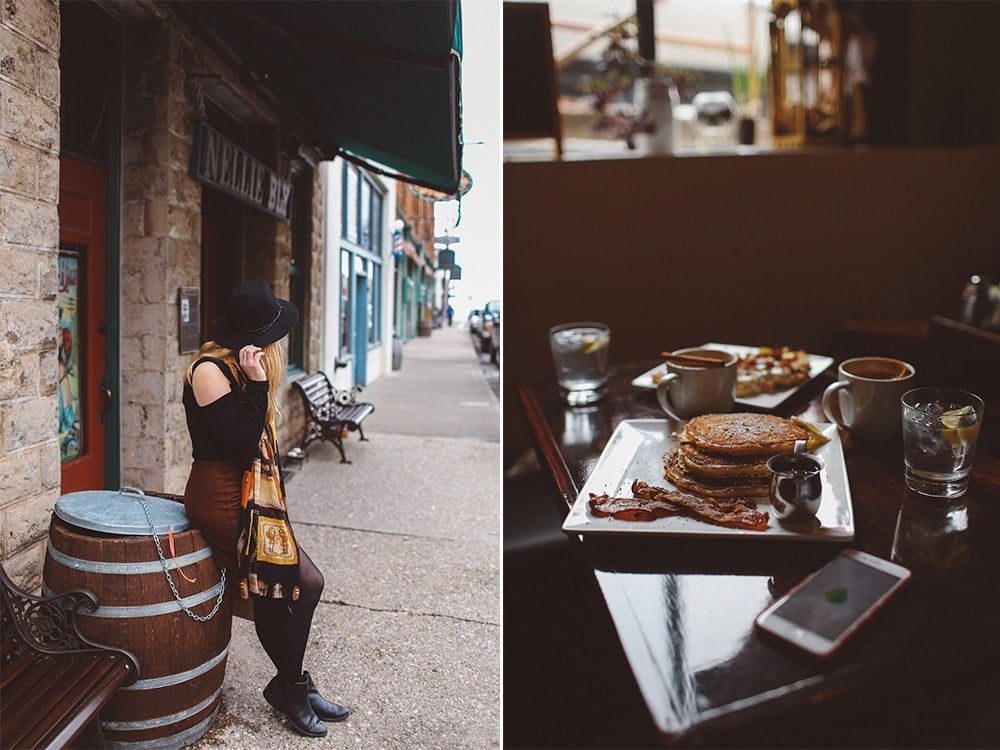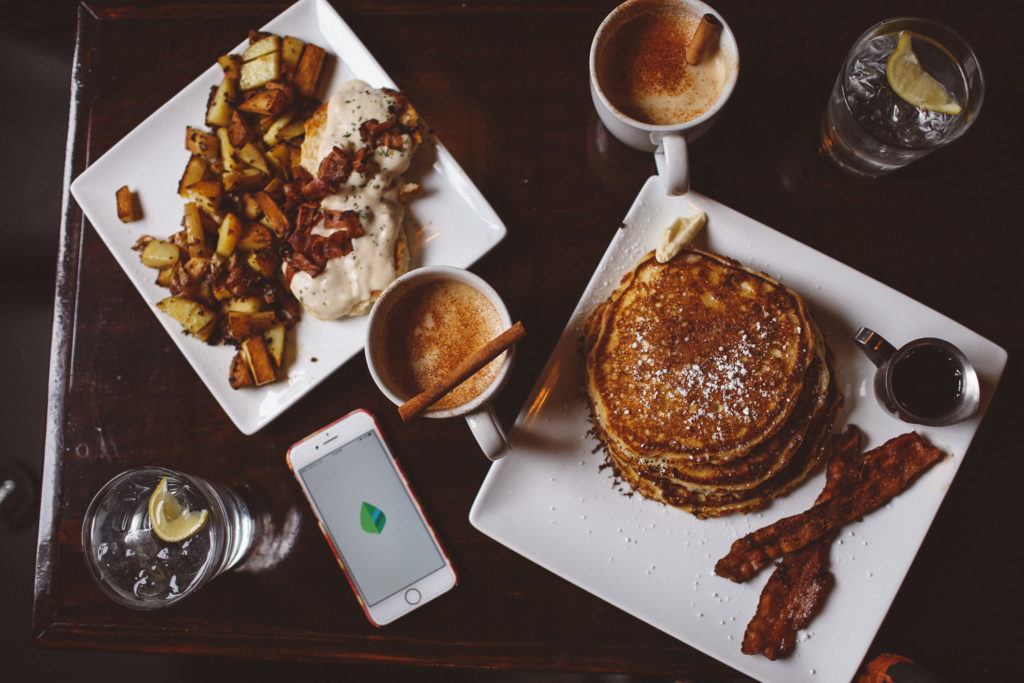 10:30am-Noon: By this time, we were back in the car on our way to Jerome, a cute mountain town we couldn't stop hearing about. We were both REALLY hungry at this point (for real, eat breakfast kids) but we maned up and waited until we made it to Jerome. This town is pretty small and sits on the side of a huge mountain. It used to be a mining town, so there is a lot of old world charm, great bites and artist studios. I loved it! We picked The Mine Cafe for breakfast. This place has charming mining decor and a fantastic menu. I had biscuits and gravy, robin had buttermilk pancakes. We both had an order of the hot apple cider and man, I'm glad we waited to have breakfast.
12:30pm: We took about a half hour to stretch our legs and take a walk around the town. It's small, butI still found a cute artist studio to by a painting. I collect art from everywhere we travel to.
1pm: Back in the car and on our way back to Las Vegas. It was around now that we remembered the time zone shift, which this time was on our side, so we gained an hour and didn't feel as rushed as we did before. The way back was different for most of the way, until we connected again with the highway that leads to Las Vegas.
4:30pm: Around this time we had made our way across Arizona, saw some great new sights and returned to Las Vegas. We wanted to take a quick look at the Stripe since neither of us has been, so we started on one side and drove down it. It's for sure smaller than I thought it would be, and everything is really crammed together, but it sure does look like a fun place to visit for a party! We will be coming back one day. What's your favorite hotel to stay at?
We both wanted to find the famous "Welcome To Las Vegas" sign and drove right by it by mistake! It faces away from the strip and you can't tell it's there is you are driving the other way. The parking lot has an entrance only one one side, so one u-turn later, we were in the little parking lot in front of it and waiting in line to take a photo. What made my night was the bridge. I noticed her int he parking lot but thought maybe she was there for a promotional photoshoot – there was another team there doing a shoot with a hot looking car. BUT, it turned out to be a wedding, with an elvis-impersonator as an officiant. I loved it! So Vegas but in a classier way. It sorta made me want to just grab Robin and run to a chapel… We didn't, but just saying! Anyways, this all went down about 10 feet to my left of that vegas photo.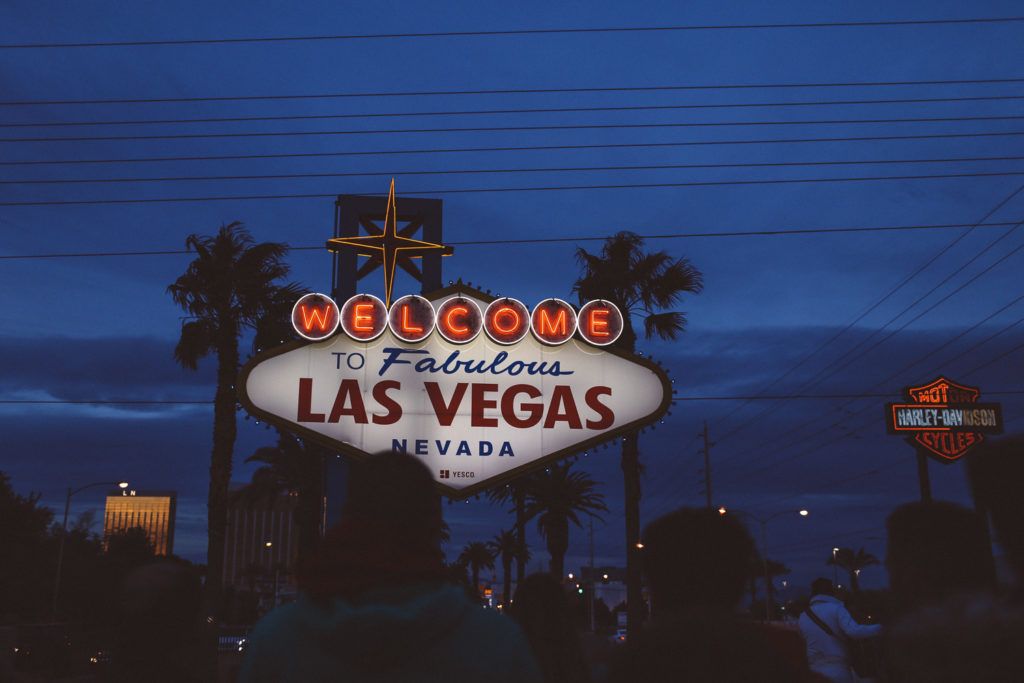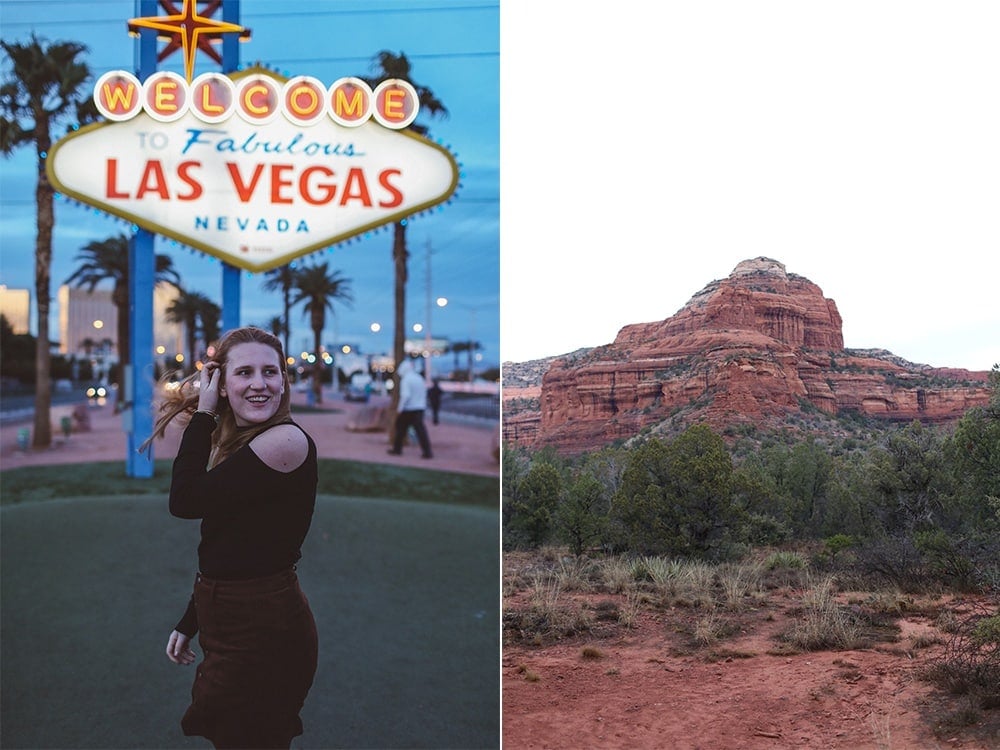 5:30pm: We returned our car and did our little rental shuttle to the actual car rental hub shuttle to the airport dance and checked into our flight. It was delayed (like flights always are coming into SFO for some reason). So, that was our 72 hours in Nevada and Arizona trip! Doing it all over, I would have liked it not to rain and to add at least one more day on the trip because I realllllly loved Sedona, but for a quick trip like it had to be, I felt like I saw as much as we could.

Let me know if you have any questions or comments to add below! Happy travels