Robin and I have been so busy renovating the inside of our new Whimsy Homes cabin (floors! decor! bathroom remodel! furniture!) that when it comes to landscape design for the yard, my mental bandwidth is completely depleted.
I have a few ideas, especially a specific look for a hot tub in the backyard, but I've been having a hard time explaining that vision to our contractor. And, for the rest of the yard, I've been stuck.
I have zero experience hardscaping an outdoor space, choosing house paint colors, picking out native plants and coming up with a beautiful backyard design.
So I outsourced it all to Yardzen and, well, I was shocked by how good this online landscape design service was. If you're thinking of using them for your yard, here's all the pros and cons of the design process along with my honest Yardzen view (aka, can you really design a yard online?)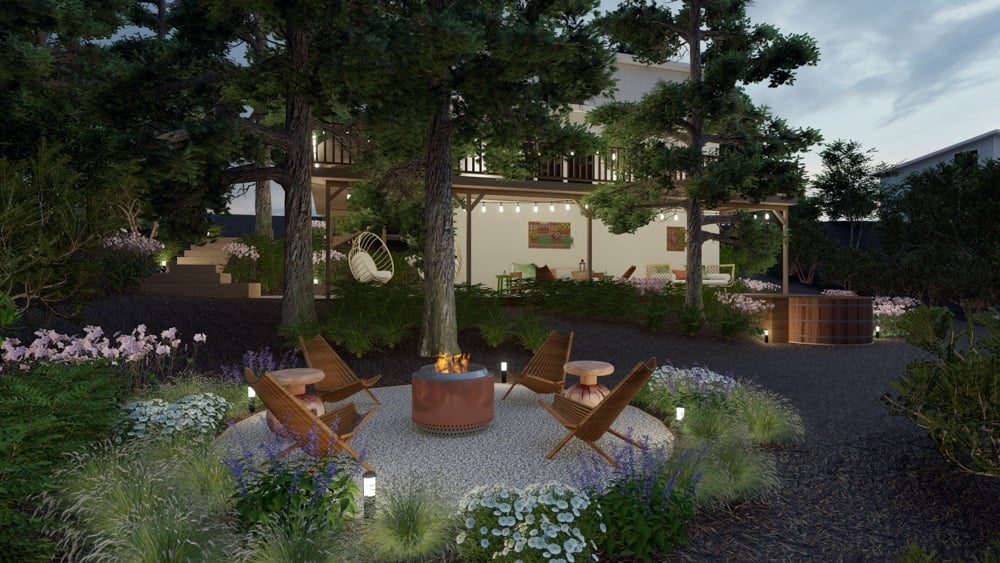 Yardzen Review: I Used An Online Landscape Design For Our Cabin (Here's What Happened)
In case you missed the news, we bought a cabin in Arnold, California! It's about 3 hours from the Bay Area tucked in the Sierra Nevadas.
She's got good bones but needs one hell of a glow-up, and I've been sharing all my inside DIY projects over on Instagram and TikTok.
But the cabin came with a huge deck and a good-sized yard that I have pretty much no idea what to do with. I've lived in San Francisco for 8 years and don't have a yard so approaching all things like game areas, lounge areas, plant lists and renderings to hand over to our contractor was stressing me out big time.
My strengths are painting and interior design, not thinking about roof materials or the best types of firepits.
Thankfully, I found Yardzen to do that all for me.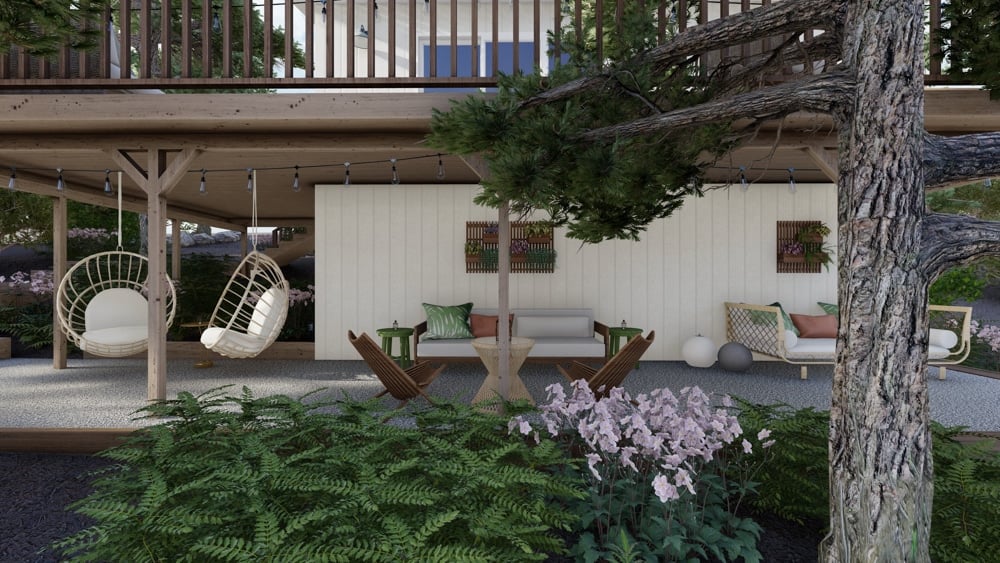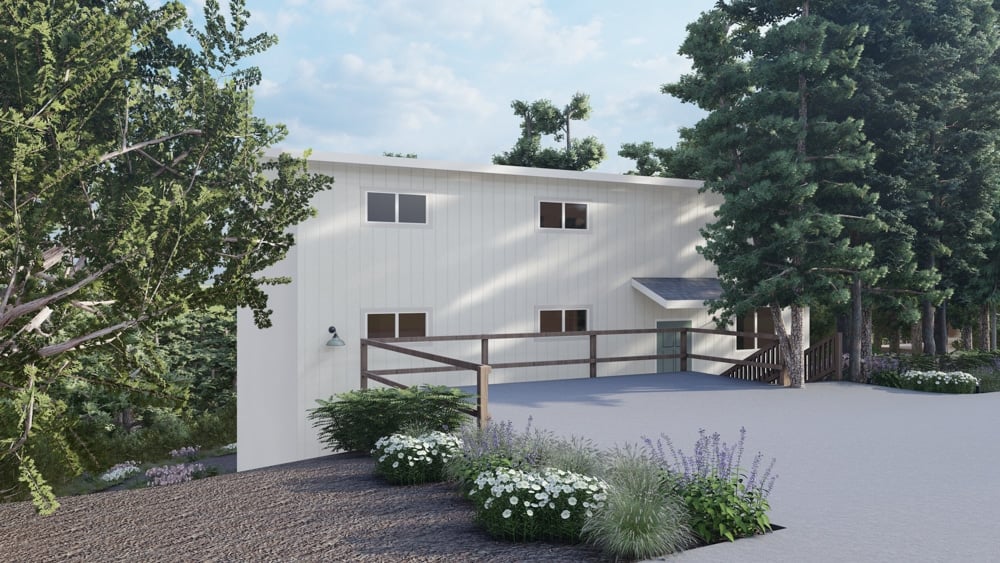 What Is Yardzen?
Wizards, maybe.
I spent the morning running around the outside of our cabin taking a ton of photos of the slopes, the lawn, the deck and uploaded it all to Yardzen portal and somehow they were able to take my photos and create an accurate house model (including all the wee little trees and random steps) perfectly.
See, wizards,
Yardzen Design is a bunch of talented online landscape designers who help you remotely concept a stunning backyard (or whole exterior house) plan. They'll do all the heavy lifting in terms of creative thinking, researching native plants, outdoor furniture shopping and even exterior lighting for you.
You upload a ton of photos, answer a survey and then they just run with it. Within a few weeks you'll get a finished online design that you can edit, and then once the finished projector is approved, you can hand off the plans to your landscape architect or they can even pair you with a local contractor.
Depending on what your home plans are, you may beed a landscape contractor who works with yards a lot, or you can get away with a standard contractor (or, sometimes, no contractor depending on what your outdoor living design is!)
$100 Off Yardzen Discount Code
Ok, before we get started, if you were interested in using Yardzen
I have a referral code. If you use THIS LINK you can get $100 off your package!
Using Yardzen: What To Expect When You Set Up Your Account
Ok, now onto how the process works! Full disclosure, you'll need a couple of hours to dedicate to setting up your account. I chipped away at my account over a couple of days.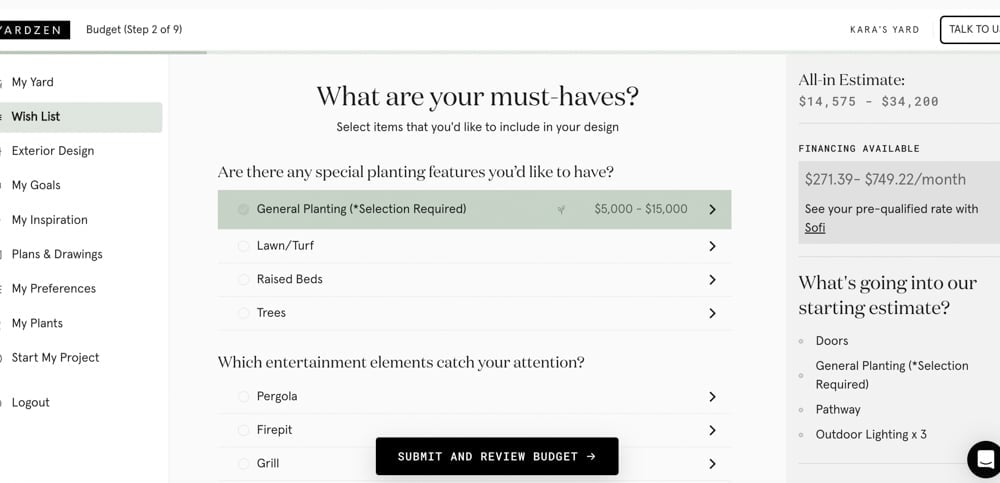 There's 8 steps to the Yardzen process with surveys, photos and videos needed for things like your front yard, slopes, wish list, color scheme preferences, budgets and more.
Take your time on this! This is your chance to brain-dump every little idea you've had and every bit of information your landscape designer will need to know.
Remember, they can't come to your property to see it in real life so they need to know if your south-facing yard is actually in the shade due to a neighbor's house, or if snow tends to drift all in one spot.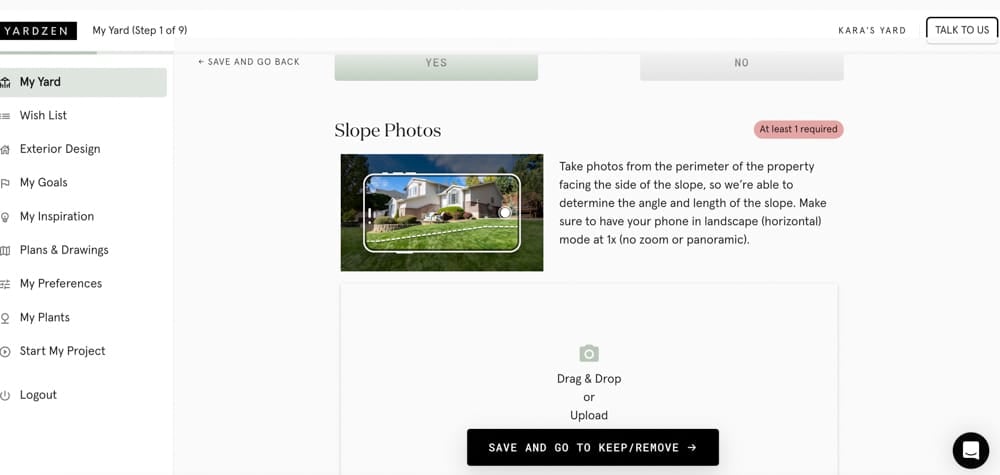 I was really impressed by this survey. They asked a ton of questions I haven't even thought about in regard to my exterior cabin design which proved to me that I made the right choice by outsourcing this to a professional.
Yardzen Steps:
Upload photos and videos: set aside an hour for this
Wish List: dream big here!
Exterior Design: set aside at least 25 mins to go over all the details
Goals: this is your time to mark specific needs (I talked about my hot tub vision!)
Inspiration: upload the houses you're lusting over
Plans & Drawings: If you already have plans or drawing made up, you can upload them here
Preferences: this is a fun quiz area to get to know your style and budget better
Plants: I knew I wanted drought-resistant and native plants so I told them in this area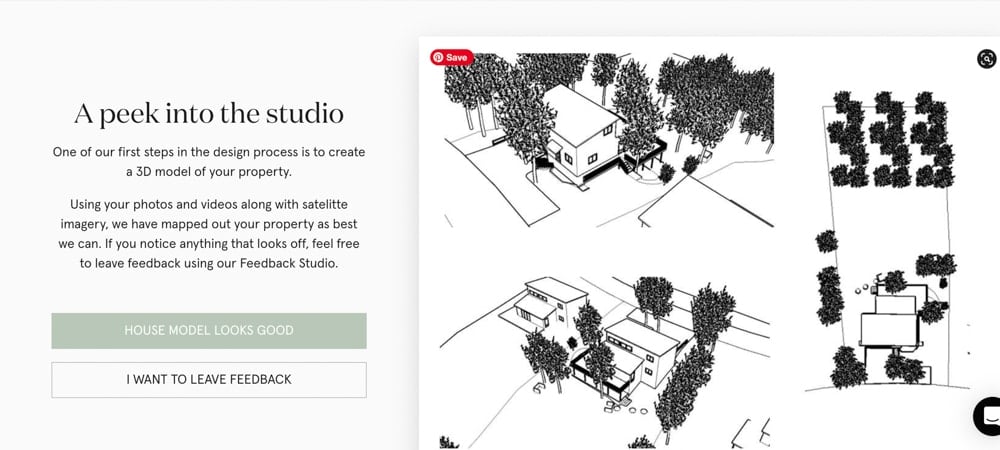 Getting Back Design Previews & Making Changes
I don't know why I assumed it would be a couple of months to get a backyard design in but the first rendering came back in just a few days!
You'll get 2 chances to make edits. First, your designer will make a 3D rendering of your house to make sure they got all the details correct. You can see mine above!
Then you approve the renderings (or make changes if needed). I added a couple of notes I forgot to share before, like a certain area where our propane fireplace vent came out of the wall.
Then you approve and your designer creates your whole concept!!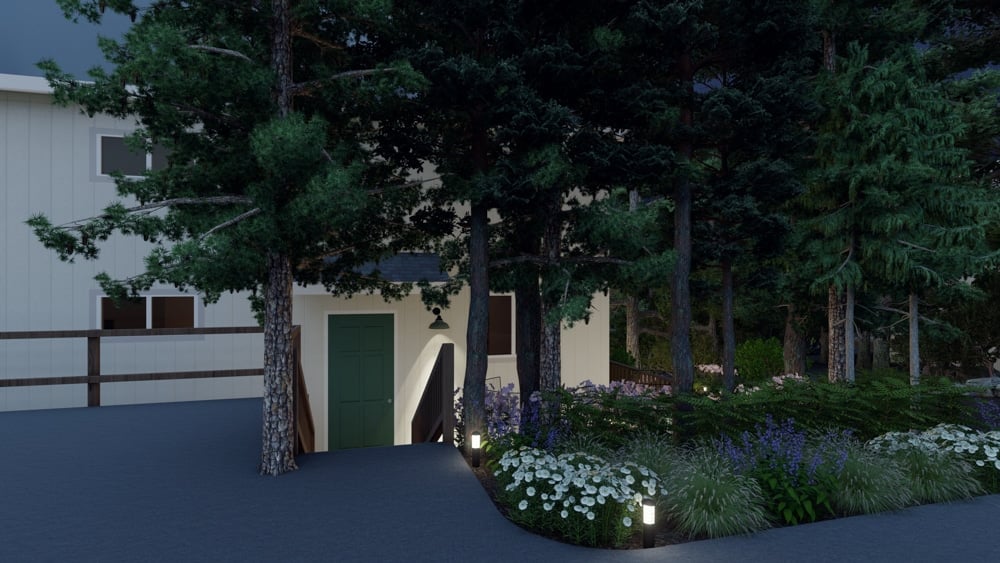 You will receive about 30-40 images of your design with day and nighttime concepts which I wasn't expecting but totally loved.
Then it's time for the 2nd check-in! I went through every image and made little notes on things I loved, things I wanted to change or what I had questions on.
I didn't change too much honestly. The major thing I noted for our designer was that we didn't want a firepit design since we're in the heart of wildfire country here in California and I just don't want to tempt fate.
I did put that in my survey so I asked for a different idea to be presented. Otherwise, I'm so happy with the design!
I was really struggling with my hot tub concept and my designer nailed that perfectly. He also presented ideas I never thought of, like plants on the wall or these cool egg chairs.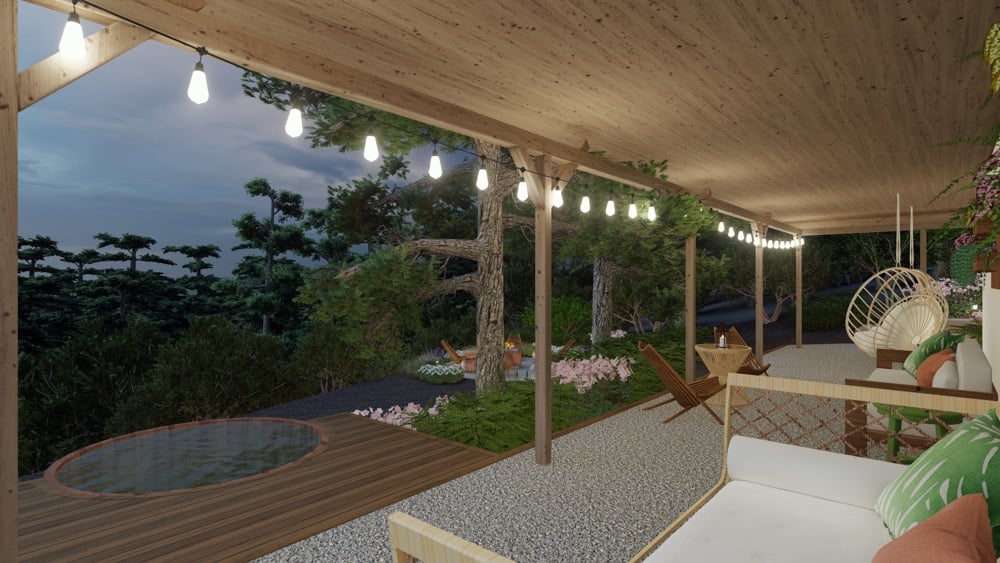 Basically, if you are worried you won't have enough chances to make notes or ask for changes, don't worry. They take you step by step along the process and you can ask for anything to be changed if it doesn't feel like "it".
The interactive review process is so easy and pressure-free. And, since you don't speak face to face with the designer, I felt more empowered to say I wanted changes.
Yardzen Cost & Best Packages To Choose
Yardzen offers:
When choosing to design my backyard online I went with the Outdoor Transformation package since I needed help with the whole house.
My designer tackled everything from our driveaway to the ugly side of the house I hate to the full backyard and even our deck! They also did house color and we had the option for roofing suggestions too, though I didn't ask for that since we already have roof repairs scheduled and we just don't need that.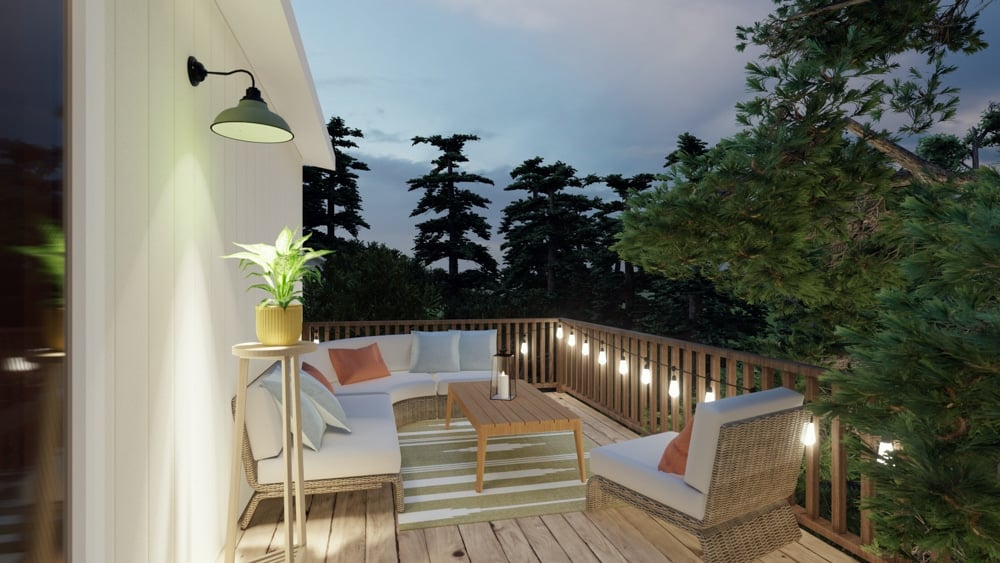 If you're on the fence about what package to get, I highly recommend the Outdoor Transformation to ensure your house matches and blends will with your yard. Why spend all this money on a beautiful yard if your actual house (color, doors, windows, etc) don't actually match the backyard?
But of course, there are smaller tier programs you can use if you loved the exterior of your house and you just wanted help with plants or a section of the yard.
Like, maybe you wanted to increase curb appeal of your house fast before you list it for sale? Their Curb Appeal package would be perfect!
And, landscaping increases property value a ton!! The Outdoor Transformation package is a couple grand but upgrading your yard can literally add tens of thousands of dollars to your property value so it's a great investment.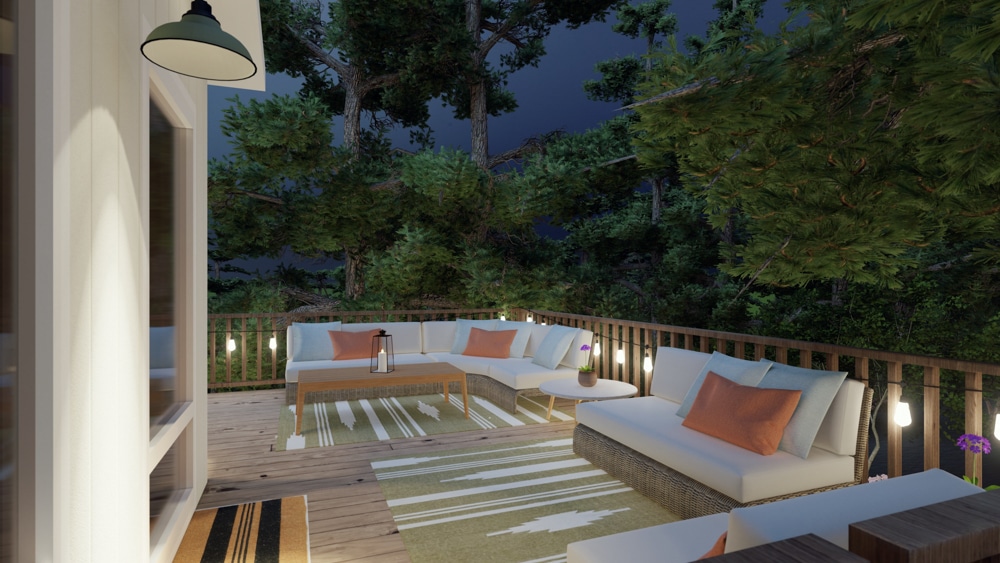 You Don't Have To Do Everything At Once
You don't have to do everything at once! Your Yardzen design doesn't expire or disappear.
The main reason I think you should opt for the Outdoor Transformation is because this is your chance to totally hand over creative control and let a professional dream big for you.
Sure, maybe you won't be able to afford all their ideas all at once but you can always chip away at your projects over a year or two, and with the Outdoor Transformation package you have the WHOLE plan and whole vision to work towards.
Personally, we'll probably be chipping away on some of the ideas. Buying a cabin and renovating the inside AND outside is expensive so we'll be executing the most important yard design portions this year and getting to the other areas later this year or next year.
Basically, hot tub is a priority but the front of the house isn't right now.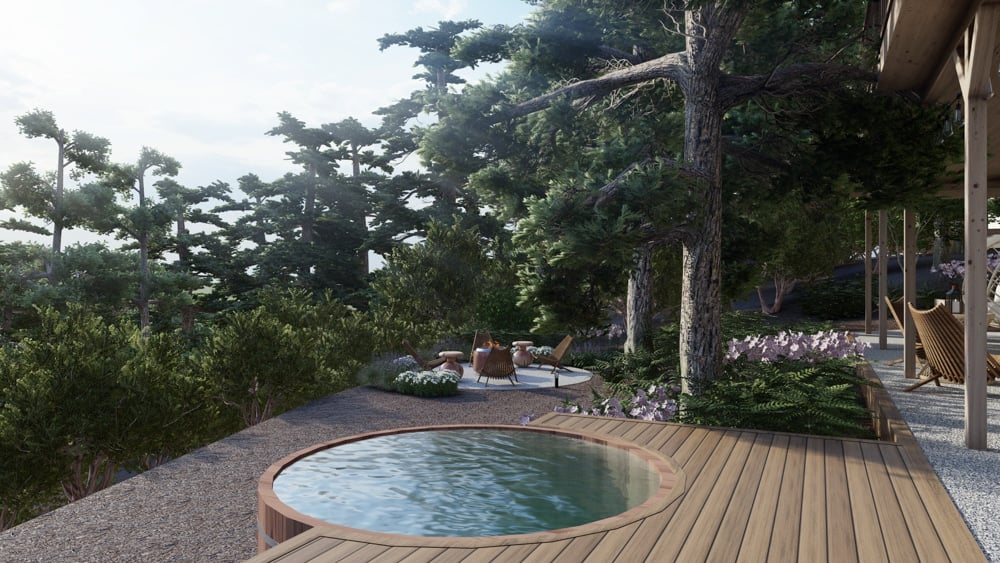 Hand Off Plans To Your Contractor
Lastly, you get pretty renderings but also actual plans for planting and construction so you can hand them off to a pro if you don't want to do everything yourself.
We'll be planting things ourselves but 100% not installing that hot tub or building a custom deck around it so handing the specific plans off if super handy.
Use The Shopping Guides
Another really cool feature is Yardzen gives you a full breakdown on all the products they used in your plans so you can shop them directly! I already plan on buying a few of those outdoor lights from that they recommend.
I really want a ton of solar-powered yard lights everywhere and was already dreading the research on that but thankfully Yardzen picked some out for me that are in my budget so they made it easy!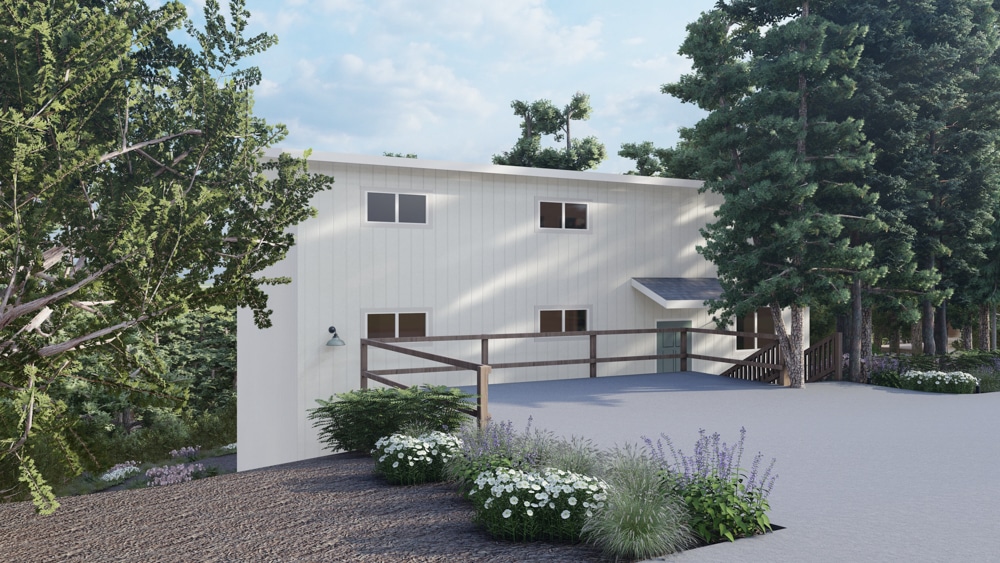 My Final Review On Yardzen Design (aka Is Yardzen Worth It?)
Well, if you can't tell I'm a big fan of Yardzen and I think Yardzen is worth it for backyard design.
I wasn't sure if someone could pull off landscape design plans online but my guy knocked it out of the park. I was stressed about having to design the inside and outside of the house and it feels great to have all that hard thinking done for me.
I also love that I can easily hand these plans over to my contractor. We love our contractor but he's a middle age man who lives in the mountains and I'm not sure saying "make it vibey" resonates, so now he has a visual to work off of.
If you hate your yard, or think it could be better, it's worth the investment to use Yardzen. You can see what's possible with your yard, slowly work on bringing the vision to life and then create something magical for you to use every day.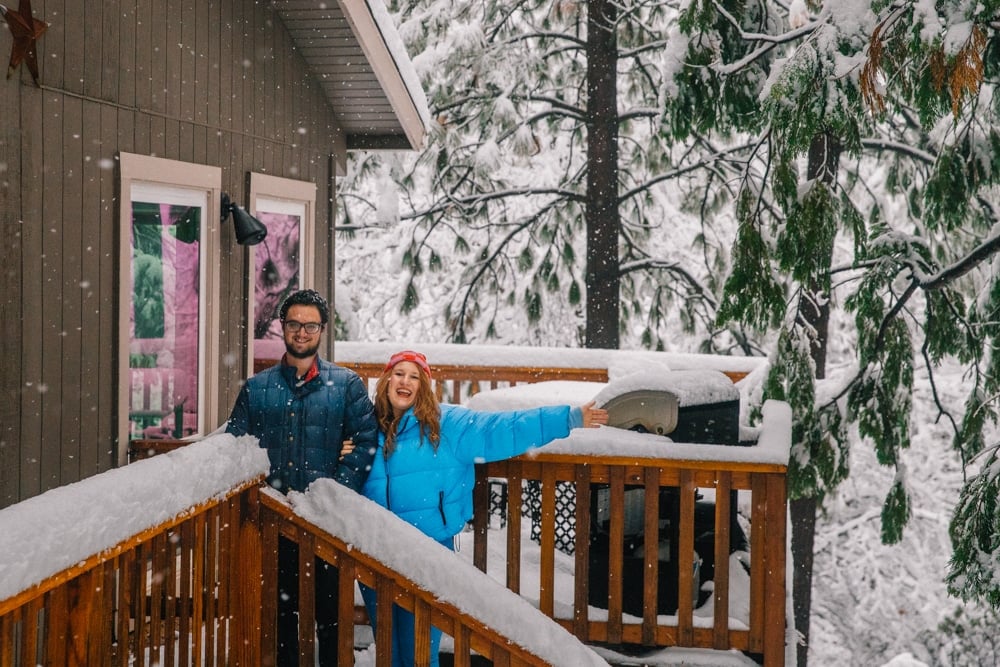 Our Final Cabin Yard Design
Well, that's coming!! We have the plans in and once the 6+ feet of snow that got dumped on the cabin during a historic winter storm/blizzard melts, we can get cracking on outside projects again.
I've already showed my Yardzen exterior design landscaping plan to our lovely local contractor so he knows exactly what to build when the snow melts. He was so impressed by how the plans looked! And I think thankful since I was doing a bad job at explaining to him how I wanted to hot tub to look.
I'll update this post with photos of our final backyard design when everything is executed!! I can't wait for that final Yardzen before and after the reveal (this insane snow needs to melt already!!)
Stay tuned….
Got your own Yardzen reviews to add? I would love to hear them below in the comments!