Seven Magic Mountains is my new favorite art exhibit. Art is all about whimsy and joy, everything this piece of artwork in the desert is for me. I know social media gets a lot of hate, but I personally love how it has opened the door (for me, at least) to discover these magical little places that I never would have heard about otherwise. I discovered Seven Magic Mountains on Instagram last year and fell in love with the art installation. I knew I had to visit it one day!
Seven Magic Mountains Las Vegas is a colorful series of 7 towers of rocks stacked upon each other that are placed our in the Nevada desert about 20 minutes outside the city. The artist Ugo Rondinone created this series (there's on in Miami, too!)
When Robin and I decided to book tickets to Las Vegas and then drive out to Arizona, I quickly googled Seven Magic Mountains and discovered that it wasn't too far out of our way. It's about 20 minutes South of Vegas and really easy to get to from the main strip, but is far enough out I probably wouldn't have stumbled upon it myself. I imagine that an Uber out there would probably be about $50 roundtrip, so not too bad if you split the ride between friends. We rented a car, so we drove.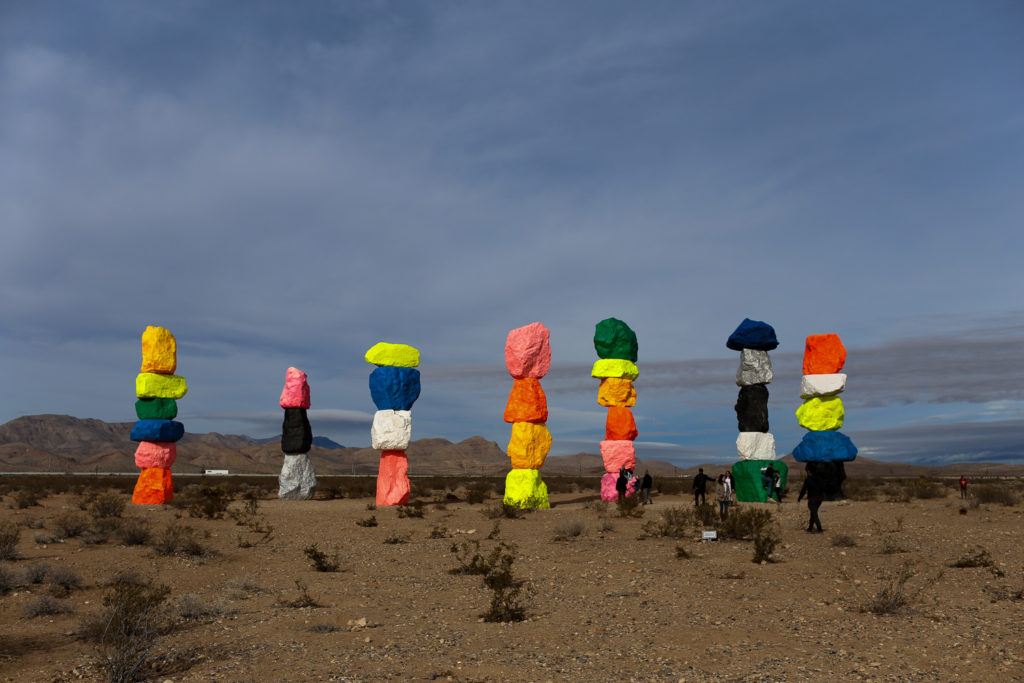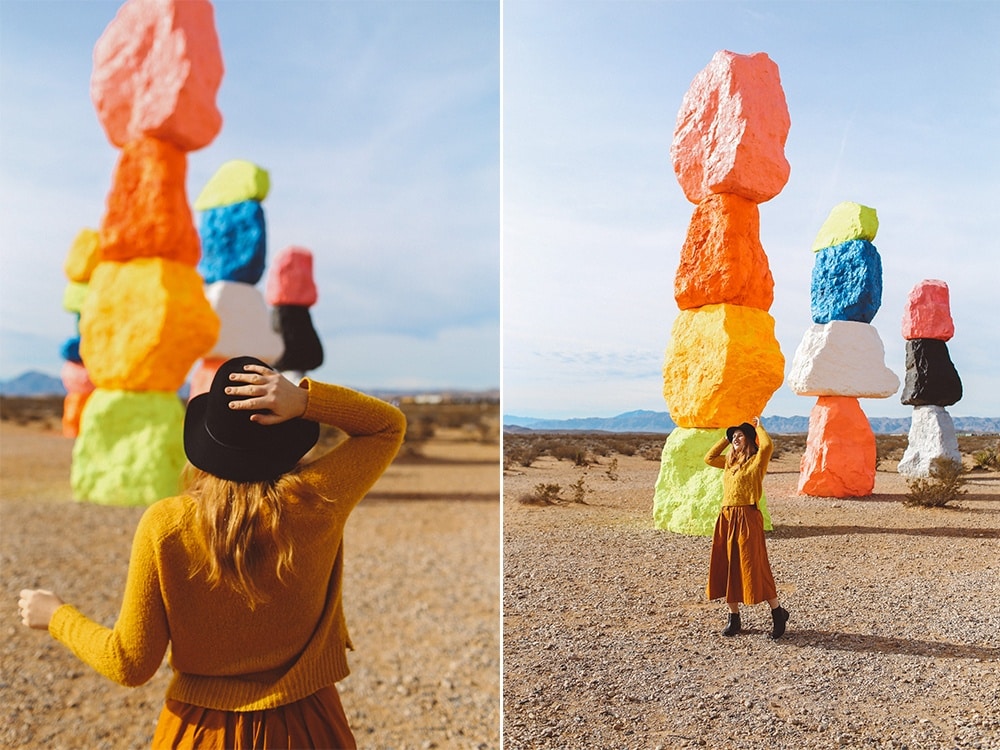 We arrived maybe around 10:30-11am on a Sunday, and I'd say there were about 20 people give or take there roaming about. There's a small parking lot about a 100 yards from the towers and it's an easy walk to the base of them. If I could visit again, I think I'd like to visit either for sunrise or sunset to witness brilliant views of colored sky against these colorful towers.
---
THINGS TO KNOW ABOUT 7 MAGIC MOUNTAINS BEFORE YOU GO
---
Seven Magic Mountains Meaning
In my opinion, they mean whatever you want. That's the point of art – it is processed differently by different people. That being said, the official website says "The location is physically and symbolically mid-way between the natural and the artificial: the natural is expressed by the mountain ranges, desert, and Jean Dry Lake backdrop, and the artificial is expressed by the highway and the constant flow of traffic between Los Angeles and Las Vegas."
Seven Magic Mountains end date
The Seven Magic Mountains closing date is unclear. The website at one point said it's a two-year project, but that was in Jan 2017 so who knows? It seems like donations are accepted and there's not a clear end date listd on the site. Regardless, makes sure you visit soon in case it's taken down!
Seven Magic Mountains cost
It is free to visit as it's a public piece of art. There is now seven magic mountains tour, just show up and enjoy!
Seven Magic Mountain Hours
Again, it's an open public piece of art in the middle of the desert. There are no tickets, gates or official hours. Come when you want.
Can I climb the rock?
When you visit, please DO NOT climb all over the towers or write on them. The Seven Magic Mountains have been terribly vandalized at points by shitty people. The colorful rocks are pieces of art – it's a public art installation, not a playground. You wouldn't visit a museum just to sit on a statue or draw a smile on the Mona Lisa. Be respectful.
Seven Magic Mountains Address
S Las Vegas Blvd, Las Vegas, NV 89054
From Las Vegas: Follow I-15 S to Sloan Rd (exit 25). Turn left (east) to Las Vegas Boulevard. Drive approximately 7 miles south on Las Vegas Blvd. and the artwork will appear on your left (east).
From Los Angeles: Drive north on I-15 to Jean, NV (exit 12). Turn right (east) on NV-161 toward Las Vegas Blvd. Drive approximately 5 miles north on Las Vegas Blvd. and the artwork will appear on your right (east).
Please park in the onsite parking lot. Street parking is discouraged. No public transportation is available to the installation site.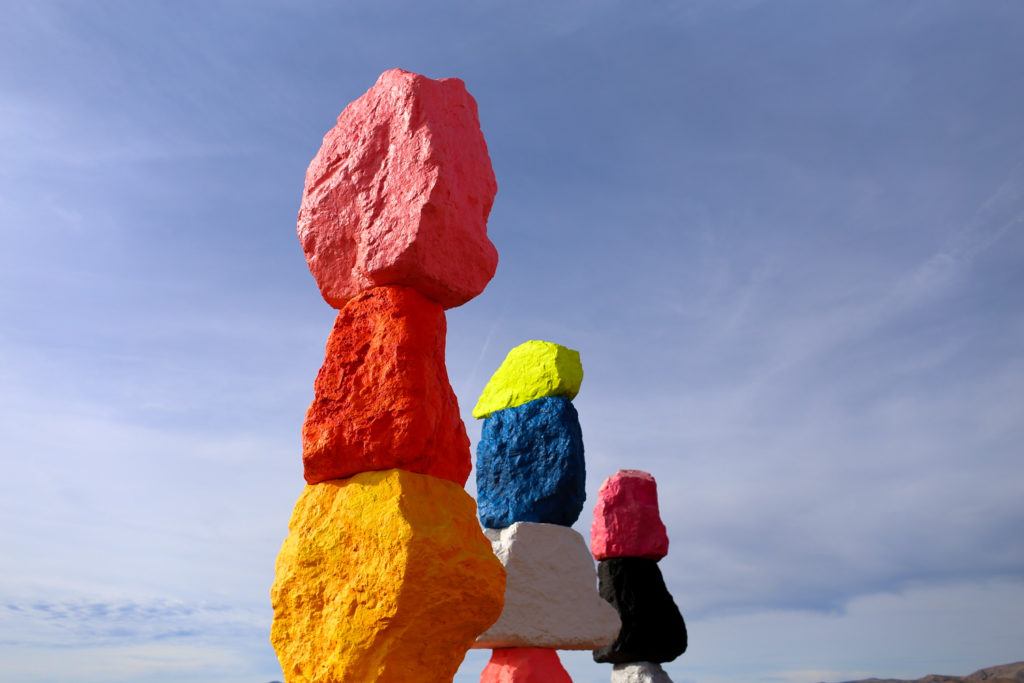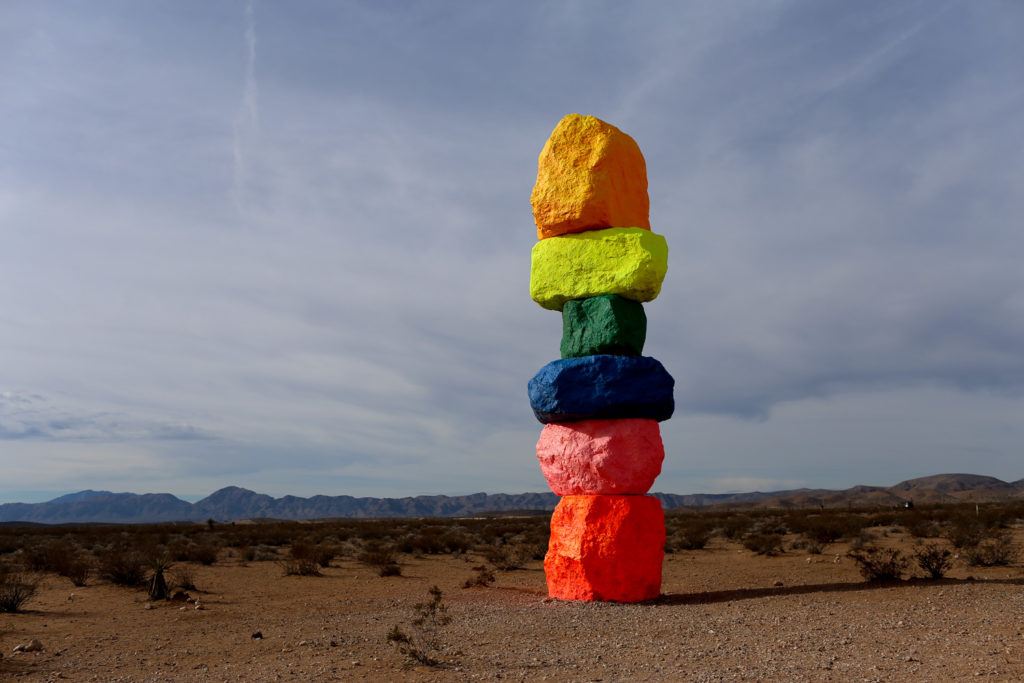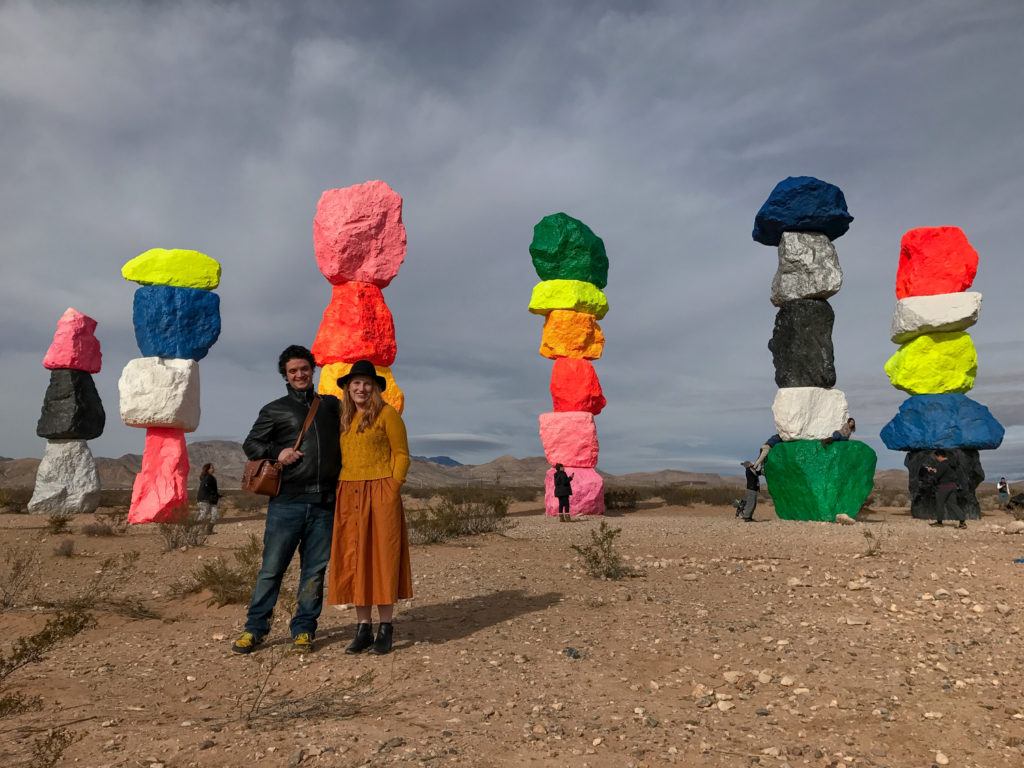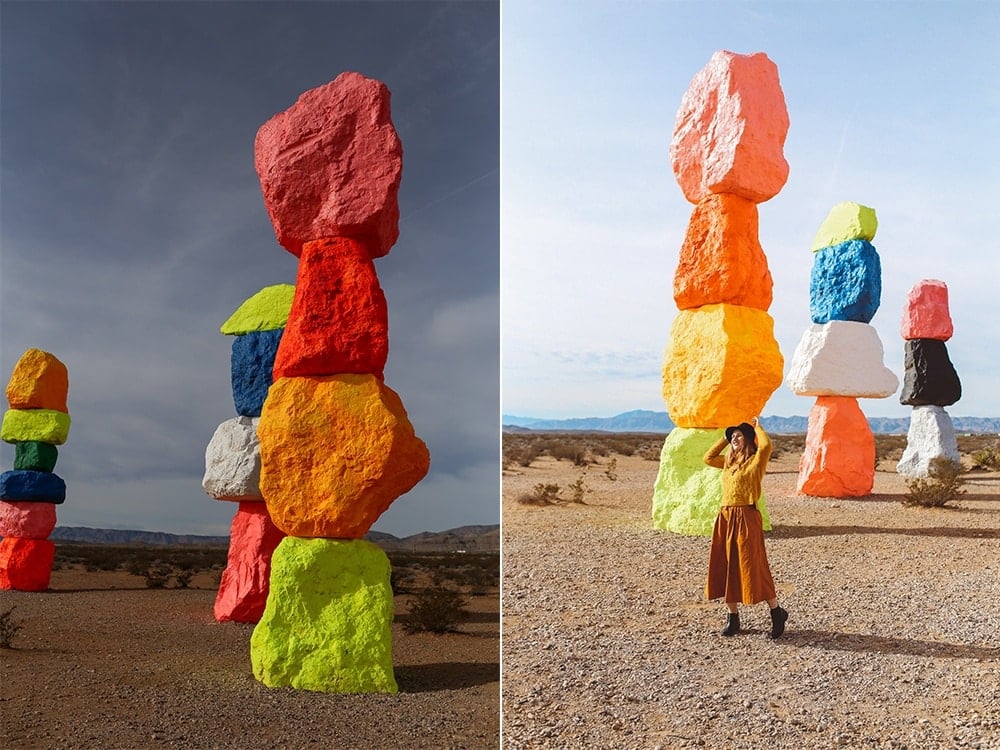 If you are looking for "rainbow rocks las vegas" for a cool Instagram photo or just a moment to connect with your creative self, the 7 Magic Mountains Las Vegas exhibit is a must-stop. These Las Vegas rocks are a true gem.