Holy moly, how is it almost May? I swear we were just celebrating Valentine's Day, I have no idea where time went! Robin and I got back from our Maui trip and had a lot of work to catch up on. We had just launched our new site + branding right before we left and ended up taking like, 102381298 photos in Hawaii, so we've been glued to our computers, as you probably have noticed on Instagram. But I have been enjoying looking at all the photos, especailly the ones of this pretty lilac dress you'll love!
This is another Gal Meets Glam dress and I think it's my favorite one yet due to the color and the movement. It was the perfect dress to wear to dinner at the Hyatt Maui in Hawaii. It just screams Springtime to me! It would also make a really great summer wedding guest dress.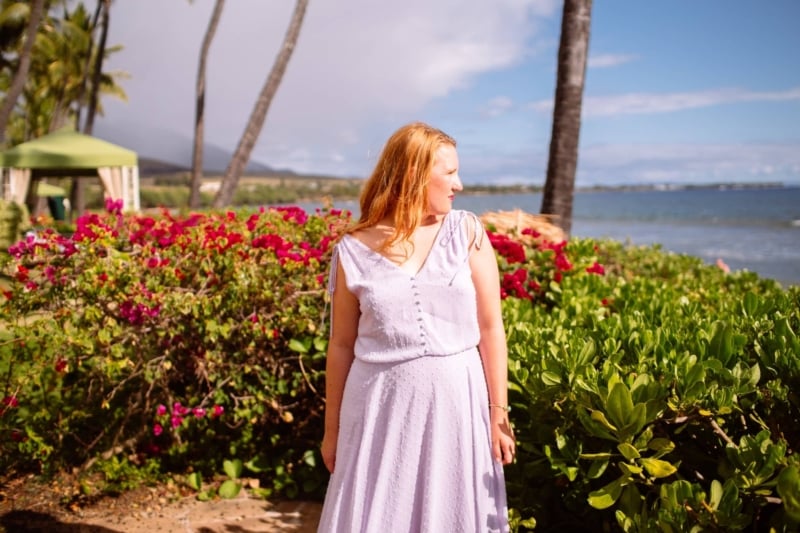 For this evening in Maui, I kept it simple with some colorful heels and a flower in my hair that I pulled from a lei. I kept my makeup really minimal as well because this was towards the end of our trip and I had developed a nice tan that did all the hard work for me when it came to makeup.
I didn't style the dress with a purse as we just had dinner downstairs from our hotel room, but I would pair it with a pretty purse like this one or this one.


Let's see, in the past weekish, I think I've edited about 2000 photos, 5+ videos, written at least 5 blog posts, answered a million emails and somehow managed to clean the apartment in between that time. We both got so behind work while launching the new site, it's been a scramble catching up but it's also been fun. I have so many exciting blog posts and photos to keep sharing with you this month!