On the hunt for the best apple picking in California?
Fall is around the corner & I'm craving all the fall things (apples, pumpkins, fall colors, oh my!) so I grabbed friends to visit the famous Apple Hill California region in the Sierra foothills. There's not a lot of places to go apple picking in the state and this is arguably the best region to visit to kick off the season!
Keep reading for my favorite Apple Hill California orchards, where to eat and other fun things to do in the area! Consider this your one-stop guide to Apple Hill!
Apple Hill California: Your Guide to Apple Picking, Things To Do & Tasty Desserts!
>> Got a question about Apple Hill that you need answered quickly? DM me on Instagram @thewhimsysoul and I'll be happy to help!
There are over 50 apple farms, along with countless other stops like wineries and restaurants, so one my first visit, I found it very confusing where to go and where to start off with. I ended up texting all my local-California native friends to get the inside scope but also discovered some gems along the way in person.
But before we go over my favorite orchards, here's some quick tips to make your experience better.
cell service is spotty up here but don't be shy, ask staff members for Apple Hill directions or tips if you can't pull up maps!
Bring cash! Many of the farms only take cash or have credit card minimums.
Bring your own water to stay hydrated (remember, it can get hot!)
Where is Apple Hill California?
Apple Hill is in Camino, California and also part of it stretches to the outskirts of Placerville. This is in the Sierra Nevada Foothills, about an hour East from Sacramento. If you keep driving an hour into the mountains, you'll hit South Lake Tahoe!
Want to spend the night and make a weekend getaway out of it? We slept at a friend's house in Sacramento, but I want to bring my husband back and stay at the Eden Vale Inn, a luxury B&B whose private hot tubs made me SWOON.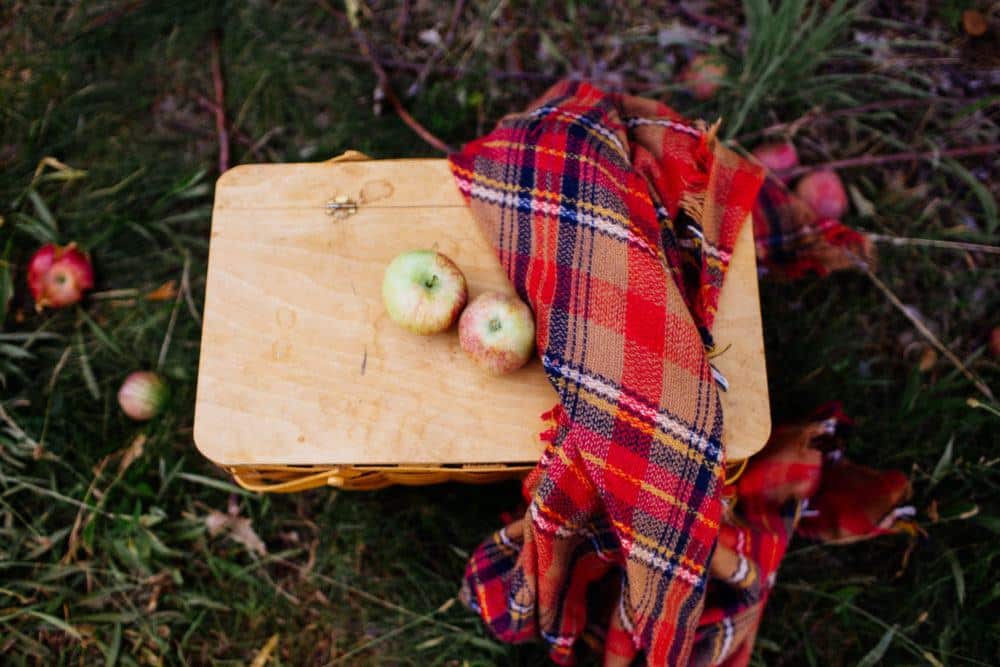 Best Time To Go To Apple Hill?
Apple picking season starts on Labor Day Weekend and goes until the end of September. In October there's pumpkin patches at some of the farms and a few also offer Christmas Tree cutting in December.
The best time to go to Apple Hill is mid-late September. Last year, I went on one of the very last days of the season and many of the apples were picked and/or too ripe for picking. This year, I went at the start of the season. We had fun, but it got to over 95 degrees that day!! Sweating while trying to get into the fall vibes wasn't exactly my cup of tea.
Also, if you can, Friday will be less crowded than Saturday and Sunday. Most farms and orchards won't be open Monday-Thursday. Apple hill hours are usually 10am-5pm as well, but always check the orchard's individual hours first!
The Best Apple Hill Orchards ( Apple Hill Season 2020)
There are a lot of apple hill farms (over 50!) You can grab an apple hill map from almost any of the orchards and you'll see just how many family farms are in the area. BUT, these are my recommended farms below.
It's easy to get around from place to place as most of the farms and ranches are all on the same road or just within a couple of minutes drive from each other. There's not an "apple hill road" per se, but it's very similar to Silverado Trail where everything is all next door to each other.
Larsen Apple Barn
Larsen Apple Barn is probably the most popular apple hill farm in the area. Their iconic red barn sits on a corner and it very inviting. In the main barn you can pick up crates of apples or watch machines sort them. In their Bake Shop, find deserts and baked goods. They also sell sandwiches here and are one of the only farms in the Apple Hill region that offers any sort of lunch menu!
Supposedly Larsen has oldest apple tree at age 140+
Goyette's North Canyon Ranch
This is my favorite place for u-pick apple picking! Many orchards don't let visitors u-pick, which is the most fun thing to do in Apple Hill! I love Goytette's (#21 on the map) because it's cute and the owners are really nice.
This is the farm we visited on my first year to apple hill. We arrived shortly before they closed at 5pm, but the owner still let us pick apples as our leisure. We had the whole place to ourselves! Plus, those apples were dang tasty!
– This year we went to Denver Dan's U Pick but the farm isn't as photogenic as Goytettes.
Delfino Farms
I heard such good things about Delfino, everyone seems to love it here! Sadly, they are one of the farms that is only fully open on the weekends. We stopped by Friday afternoon and the staff was making pies but that was about it. It felt pretty empty so we decided to move on.
When they are fully open, Delfino has animals, a winery and hard cider on top of apples and a nature trail you can walk. I'm told the apple pies here are fantastic (but they are pricey, around $25 for a pie so I decided I would just make my own pie at home with the apples we picked earlier that day.)
Restaurants in Apple Hill California (aka where to eat!)
It's surprisingly hard to find a meal in Apple Hill. Deserts and apple baked goods? Sure, you can find that almost everywhere. But lunch? A bit harder.
Larsen Baked Goods
As mentioned above, Larsen's baked good shop has sandwiches for $8.50 each! They weren't the most amazing sandwiches in the world but were pretty good and were just what we needed to fuel up.
Jack Russel Brewery
OMG I loved this place! Jack Russel has a brewery, meadery, winery and cider house all on-site. There's a huge patio with umbrellas so you can sit outside and enjoy the weather while having a drink. (Dogs are allowed, too!) They don't sell food but you can bring your own, so we jotted down the hill to Larsen and bought back sandwiches.
Try their fruit beers, like Blueberry Ales and make sure to sip some Mead!
Rainbow Orchard
Rainbow Orchard is famous of their hot apple cider donuts, which I will confirm are delicious That being said, we had a really jarring experience here and I was debating about even including Rainbow in this post.
The lady at the counter was so incredibly rude, I was really taken aback and I was *almost* at the point where I just said: "screw it, let's leave without our food." She apparently thought my little bit of cleavage on a hot 95-degree day was NOT appropriate and kept telling me "it was happening again" (as in skin is showing, I think??) and I had to "cover-up." I was traveling with my Hispanic friend Bri and while the lady was rude to both of us, Bri felt like she was getting racially profiled as the lady was giving her extra scowls.
Basically, we both felt like she as rude from the beginning, I also felt slut shammed and Bri also felt racially profiled. I checked on Yelp and it looks like we're not the only ones who have experienced really jarring customer service there. With that in mind, if you want to try their famous donuts (because they are good!) stop by just for one. Have $1.50 in cash ready for a donut, run in and get out of there before you get verbally abused.
Abel's Acres
I haven't been here personally since they were closed on that Friday, but my friend who has a little daughter says Abel's is a great stop for kids! They have a maze and animal rides along with standard apple hill baked goods and offerings. Plus, there's Terri's Country Cuisine & BBQ if you want to grab a filling lunch.
Boa Vista Orchards
Boa Vista Apple Hill is more like a market rather than a traditional orchard. They have sandwiches, fresh fruits, snacks, wines, ciders and more here. Come for a drink, for lunch or to pick up snacks to fuel your day!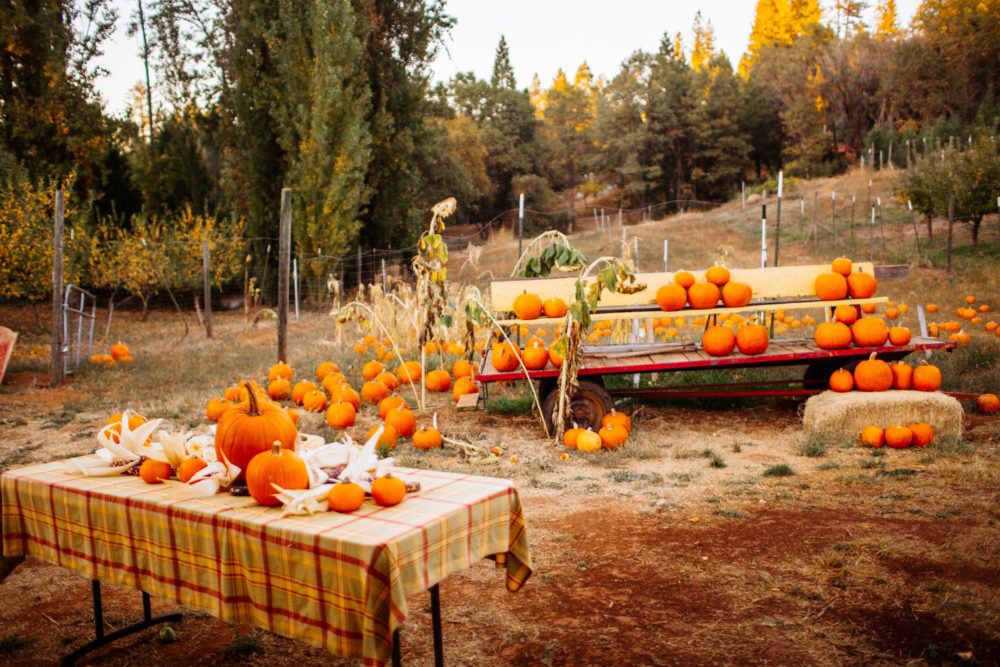 Things To Do in Apple Hill (Other Than Apple Picking!)
While Apples are the reason to come to apple hill, there are other fun things to do in the area!
Wine Tasting: Did you know Apple Hill has wineries? I had no idea it was a wine region! After we picked apples we quickly found ourselves at the brewery and wineries (hey, we don't have kids!) Tastings are so cheap here, not at all like the high prices I'm used to in Napa Valley. They average at $5 a tasting for 5 or 6 wines!
We stopped by Lava Cap and Boeger. Lava Cap has a huge patio and good views, plus a cute winery cat named Mr. Kitty! I really loved their Syrah and Sav Blanc. Boeger was also delightful – they make 30+ types of wine so everyone in your party will find something they like to drink! The outdoor area is also beautiful with a little pond and a historic house. I have a whole Apple Hill wine tasting guide here with more tips!
Hiking: Some orchards, like Delfino, offer nature trails for visitors to walk and hike! Bring some comfy shoes and stretch those legs between wine tastings.
Pumpkin Patch: After apple season, many of the farms open up their pumpkin patches for visitors to come to grab pumpkins in October! Most will also have things like corn mazes and hayrides around this time of year.
Christmas Trees: And of course, after apples and pumpkin seasons are over, the Christmas tree farms are open! Come cut down a tree and soak in all the holiday fun in Apple Hill!
I hope this helps you plan a great trip to Apple Hill! Even though it was hot out, I had such a fun time kicking off the fall season by picking apples. I also really loved finding out how adult-friendly with wineries and breweries this places is – it's not just for kids!
If you have any other tips to add, leave a comment below so everyone can see! Got questions? Leave a comment or DM me on Instagram @thewhimsysoul and I'll be happy to help!