Despite living in San Francisco for over a year, Robin and I still haven't walked the Golden Gate Bridge. Drive across it? Tons of times. But walking across it? Nope. So, on a sunny spring evening after work this week, we finally made it happen.
I was debating on driving there or taking the bus (the number 28 stops at the welcome center), because the parking lot is small. But, alas, we were feeling a little *lazy* so we ended up driving and only had to circle the parking lot a few times to find a spot. I think it helped that we visited on a random Tuesday evening during the off season. If you are trying to walk across the Golden Gate Bridge and aren't a local, I suggest taking the bus or a taxi there. It'll save you a headache. Note: if you're taking the 28, be careful which bus you get on. Both sides of the route stop in the same place, so ask your bus driver which direction he is heading to get on the correct one!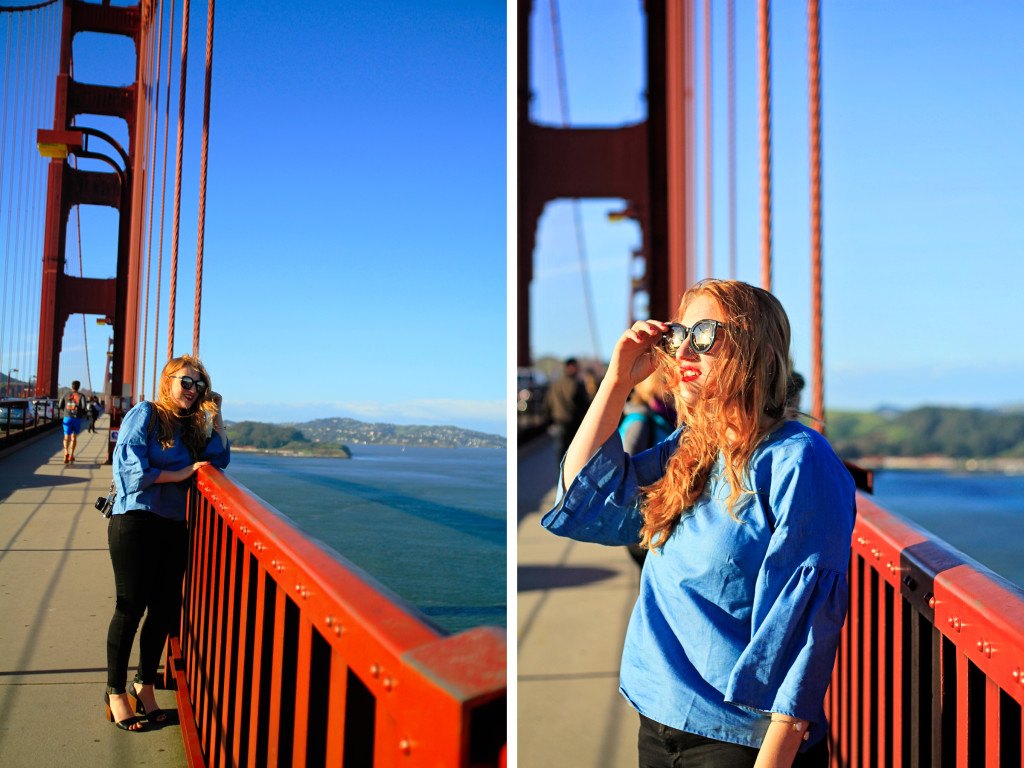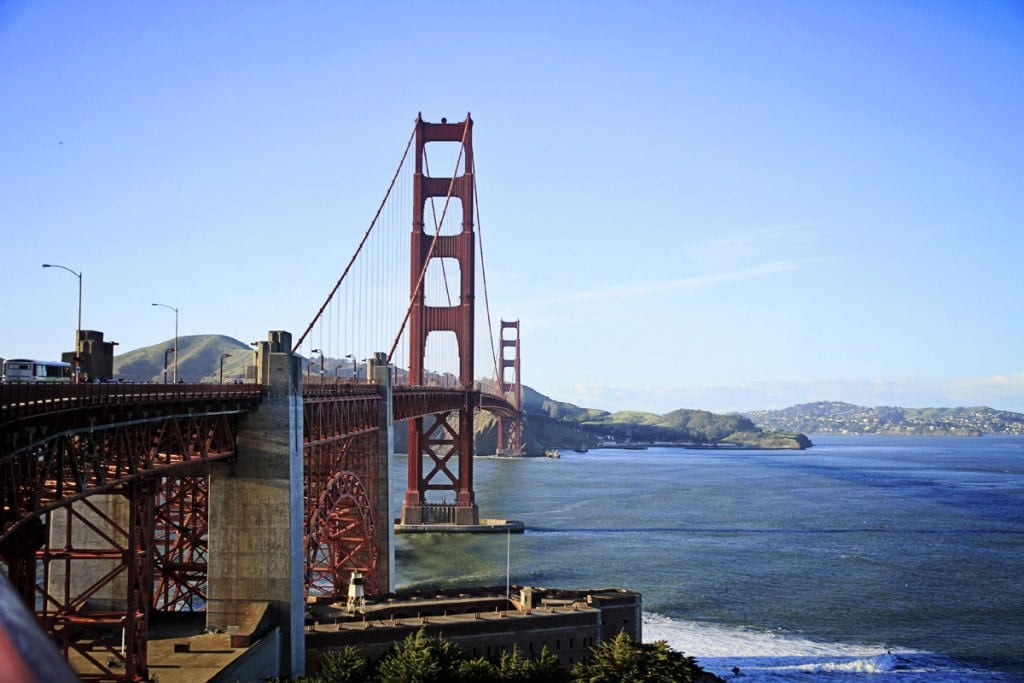 Shirt // Lombard & Fifth Pants // Forever21 Heels // Target Earrings + Bangle // Margaret Elizabeth Sunglasses // Shop Ditto (use code WHIMSYSOUL to get FREE sunglasses!)
I was SO excited to finally visiting the bridge up close. Like a giddy little kid. There's something about this bridge that just inspires awe in a person.The red paint against the blue waters, green hills and concrete skyline is too beautiful for words.A word of wise to visitors:it's always, ALWAYS windy at the bridge. The wind comes racing in off the water making the bridge chilly and windier than other parts of the city. When visiting, wear an extra layer, pull your hair up (see how great my hair looks in these photos? *sarcasm*) and tuck your hat away. I was wearing a hat this day but quickly put it in my purse because I didn't want it blowing off to Alcatraz.
A shoutout to Shop Lombard and Fifth, a local boutique where I found my bell sleeved blouse from. I'm just in love with these sleeves – the top is simple, but they add an element of fun to it, making this blouse a strong stand-alone piece. Today I paired it with black skinny jeans, my new black heels from Target, my Karen Walker sunnies from Shop Ditto and my black floppy hat (only pictured in a few photos!). I'm wearing jewelry from Margaret Elizabeth (big shock hehe. For those who are new, I work with Margaret Elizabeth and can't help but always bring home pieces for myself).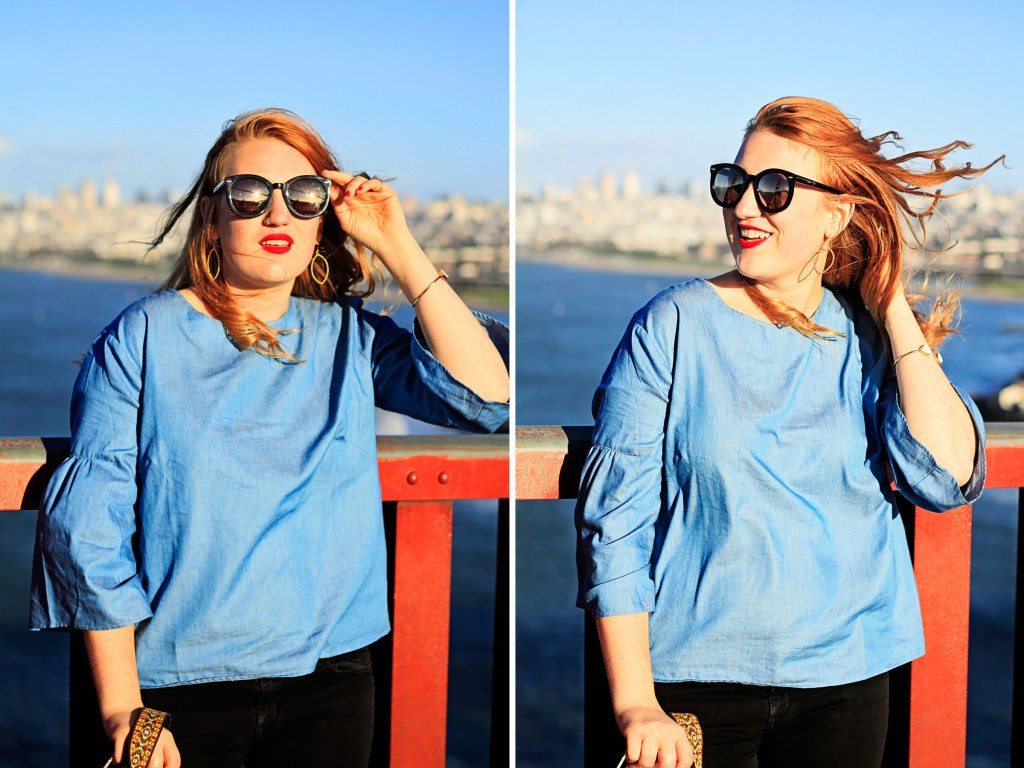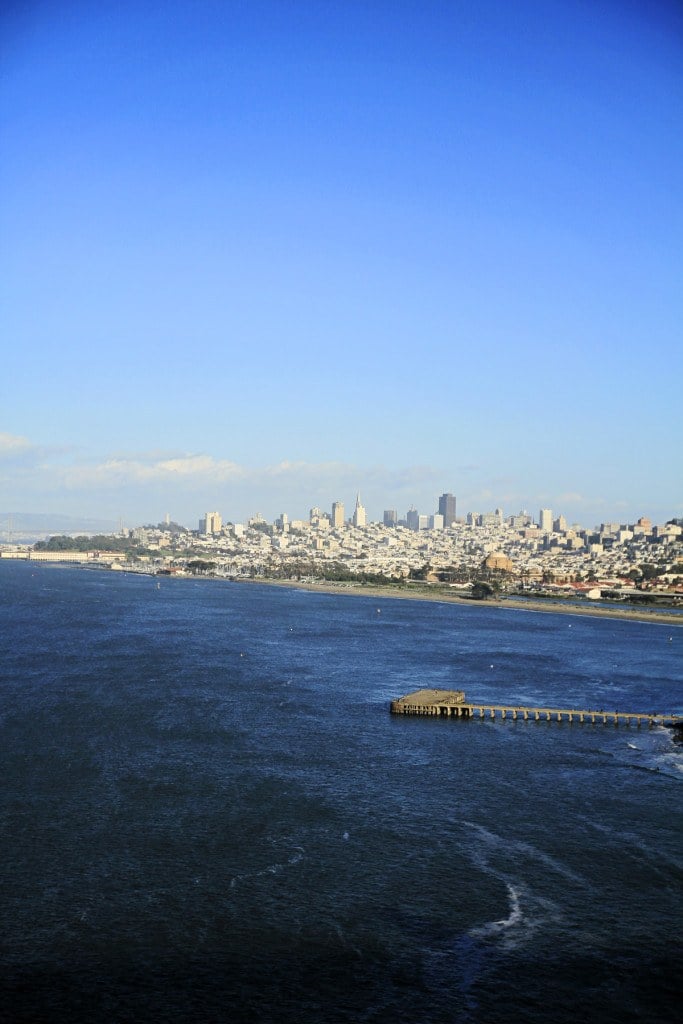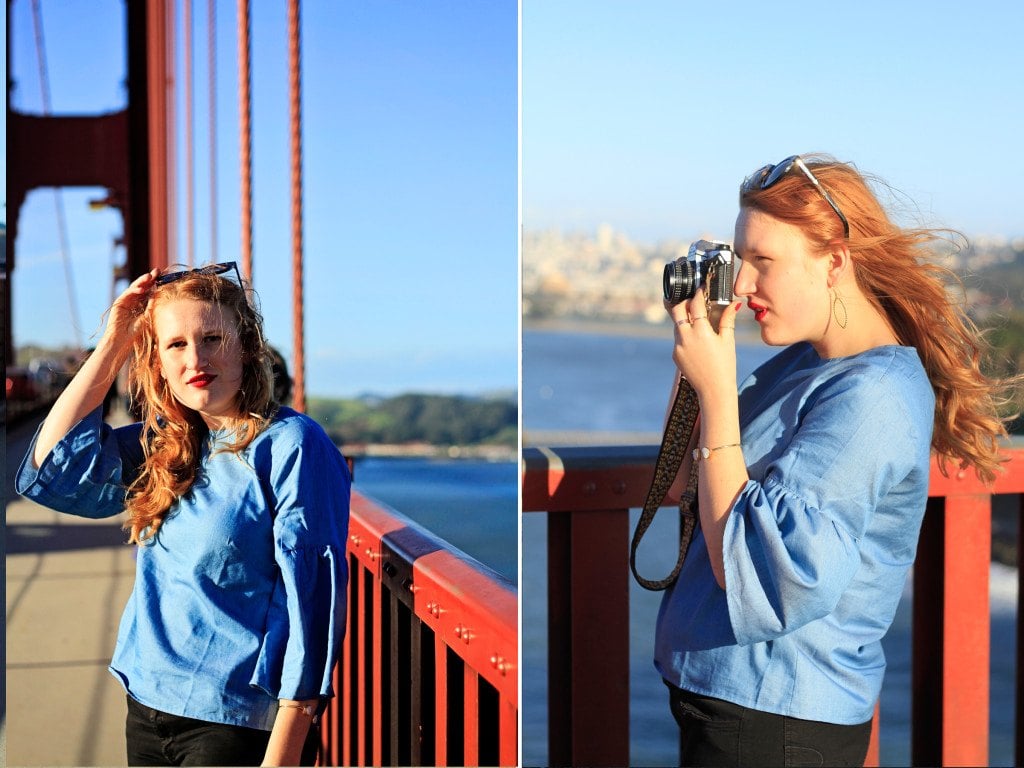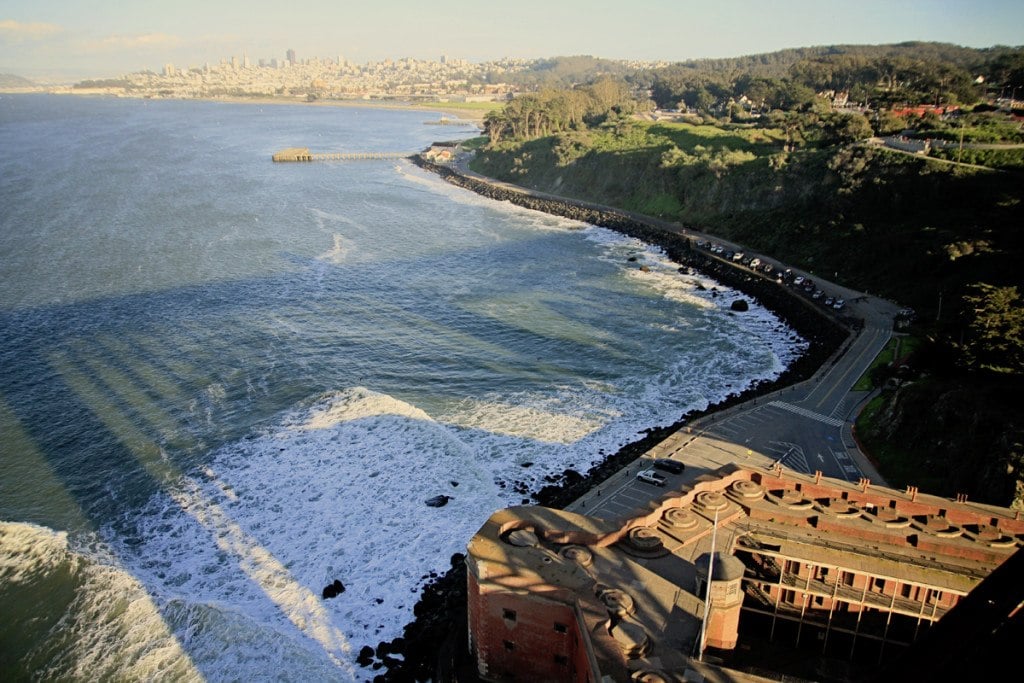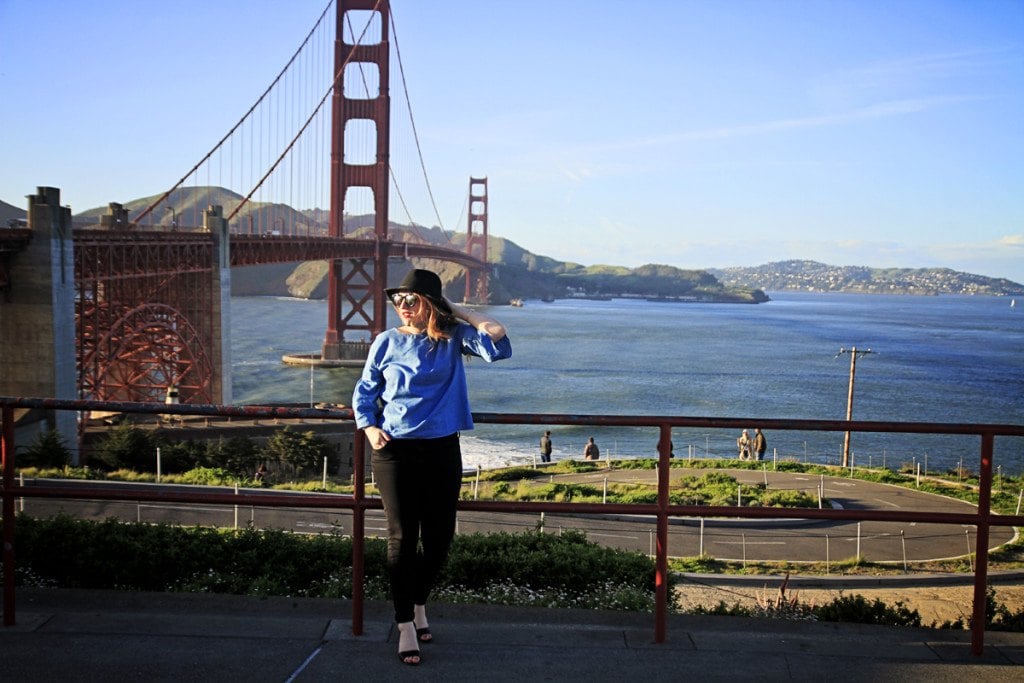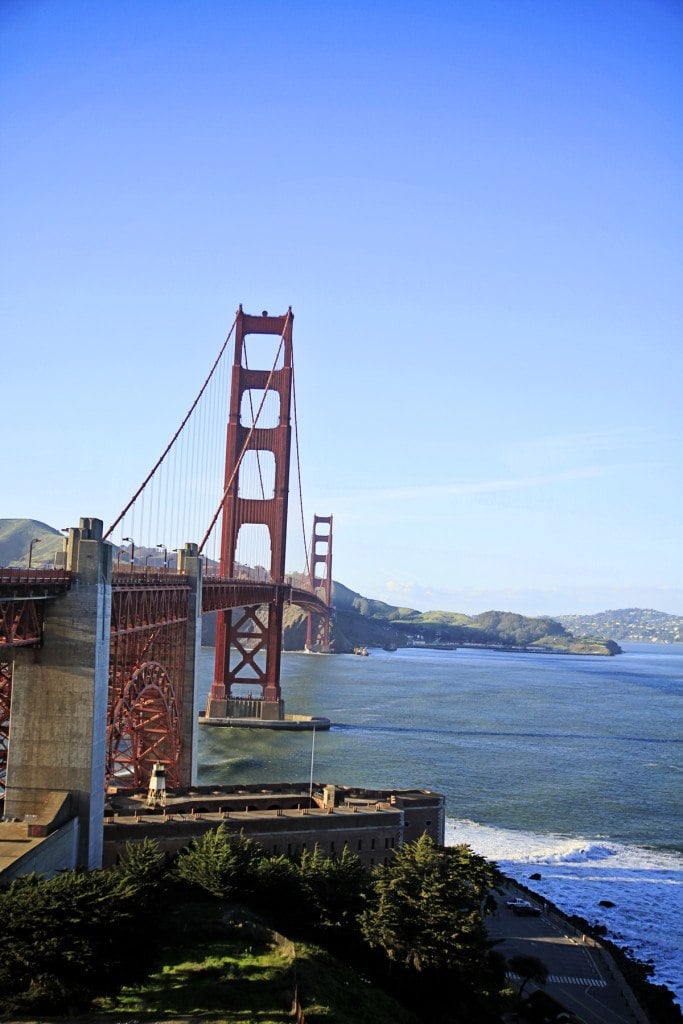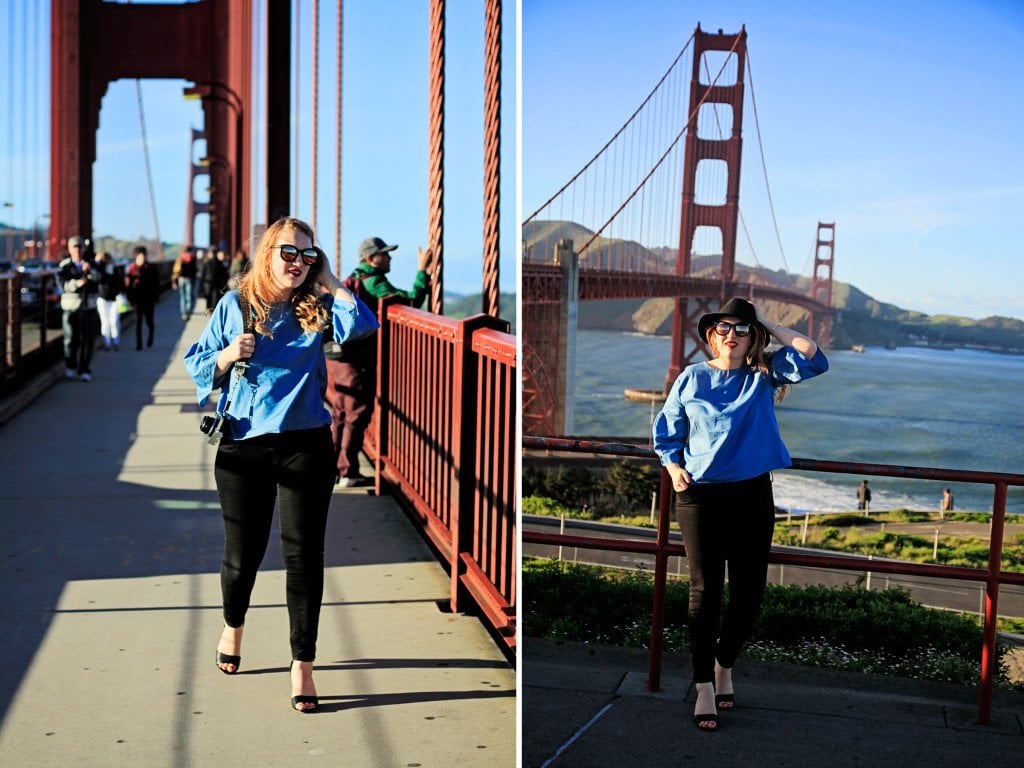 I made Robin vow that we'd go back again on a much warmer night and stay for the whole sunset. The view of the bay from the middle of the bridge is just wonderful. You can see everything from sailboats harbored in North Bay towns to Alcatraz, to Oakland peaking out in the distance and a sweeping view of the San Francisco skyline. I very much want to see the sunset over that view.
Next time I won't bring a hat.