I heard whispers of this brand new email marketing platform on Facebook groups here and there but I was hesitant.
I've done the Mailchimp and Converkit thing, both of which are expensive and not always user-friendly. As a blogger / small business owner, I need an affordable email marketing program that's also cute and matches my aesthetics.
So, when Flodesk got on my radar, I was super intrigued about these new features it supposedly has, and investigated. If you're considering switching to Flodesk, keep reading for my honest opinions about this company, what they do well, what they can work on and basically everything you need to know! Are they worth the switch? Or should you stick with a different service?
Flodesk Review 2022: Everything To Know About This Email Marketing Tool For Bloggers After 1 Year Of Use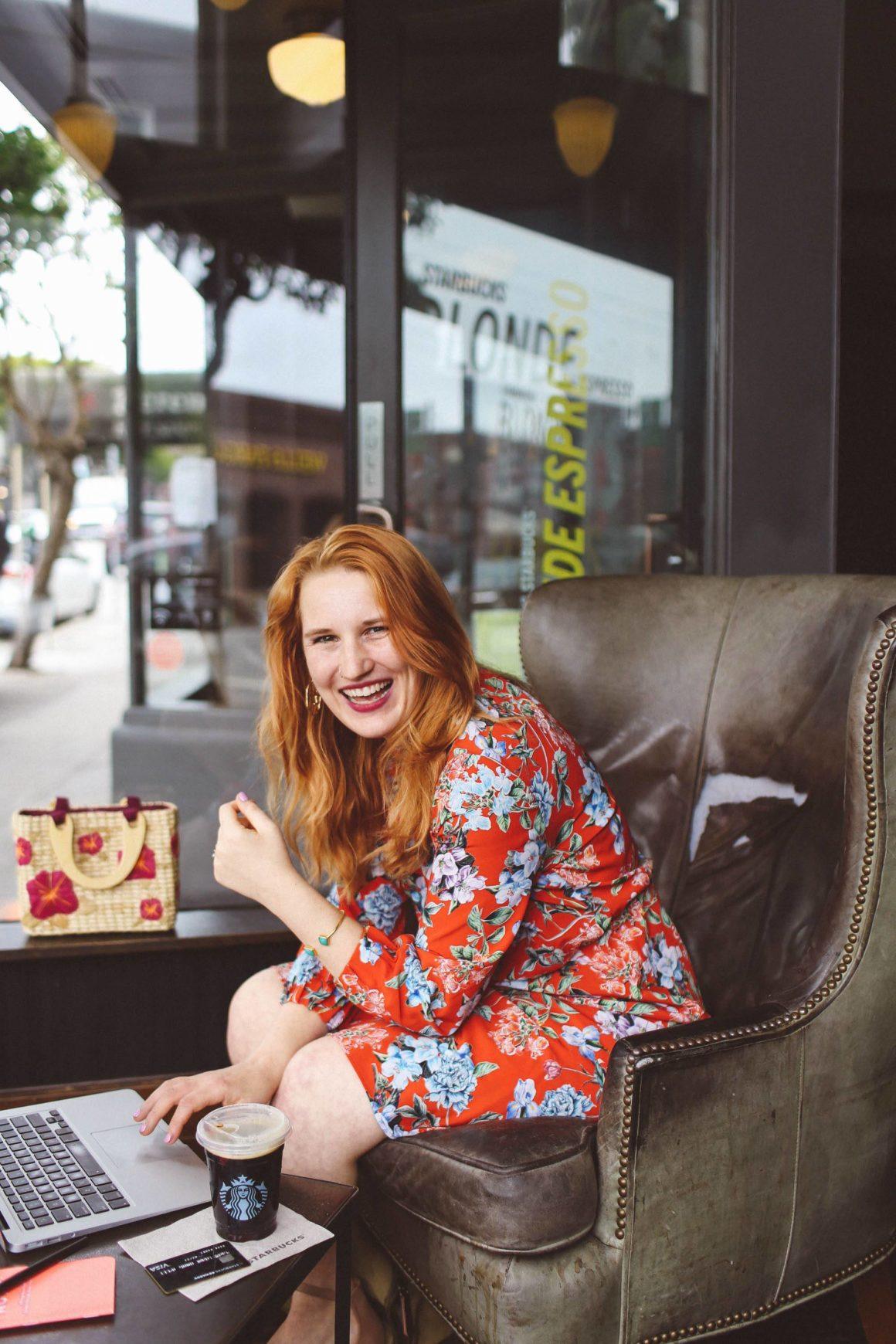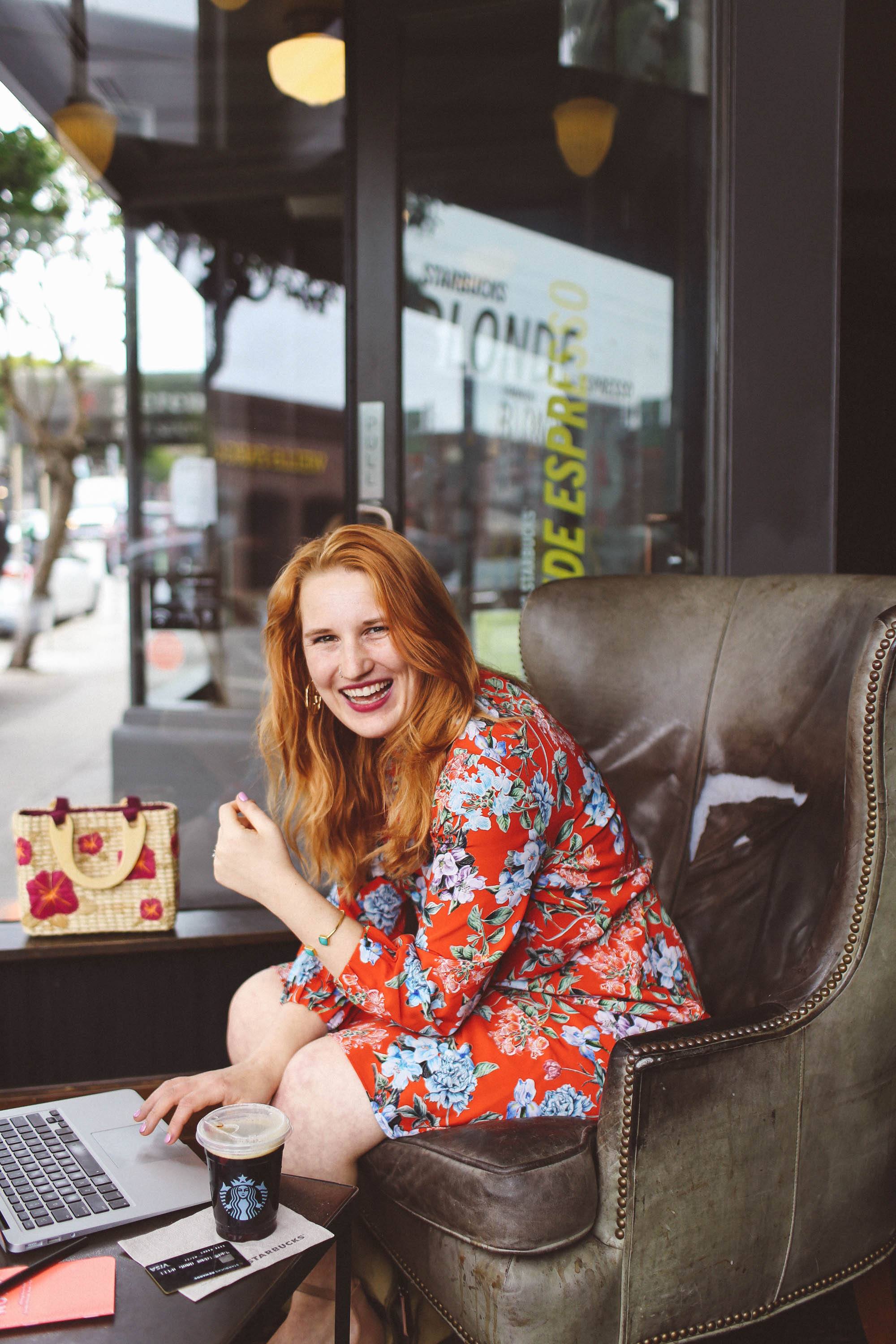 >> Got a question about Flodesk or blogging that you need answered quickly? DM me on Instagram @thewhimsysoul and I'll be happy to help!
HERE'S A FLODESK FORM IN ACTION FOR YOU TO SEE!
Ok, I'm going to spoil it: I'm a Flodesk fan and I'm really happy I switched and I'll tell you all the amazing things I love about them in this post. That being said, there are some annoying things I think they still have to work out which I will go over so you can be in the know. But first…
WANT A HUGE DISCOUNT CODE ON FLODESK?
Use THIS LINK RIGHT HERE to save 50% and get unlimited everything ( unlimited subscribers and emails!!) You can use that link to pay just $19 a month (instead of $38 a month) but I actually suggest going for the one-year subscription to save literally hundreds of dollars.
Why I Switched To Flodesk
AKA FLODESK VS MAILCHIMP & FLODESK VS CONVERTKIT
We'll talk about the good stuff first and the bad stuff second at the bottom of this post. So, why did I want to switch email marketing software in the first place?
I had my email list on Mailchimp for years but last year I decided to up my email marketing game and switched to Converkit after a friend's recommendations. I do think Converkit really nails automation flows, and I was keen on building out awesome flows to churn evergreen traffic and affiliate sales.
But dang, are Converkit emails UGLY! I was fed up with the lack of customer service on top of super high prices (I was paying close to $100 a month at one point, just for an email service! Not at all a practical price for small business owners.) So again, I was on the hunt for new email marketing services.
So I switched back to Mailchimp. Ahhh, it's been a wild ride for me.
I was doing ok for a while. I had a paid plan but so many of my contacts were old or not active, so I deleted a bunch to reduce my list size, with the intent of upgrading to the paid plan again once I grew my new list to a point where it made sense to pay.
But then, I suddenly realized that my Mailchimp account wouldn't let me schedule email campaigns anymore. Apparently, as a free user, I was stripped of the ability to schedule emails! No way was I manually logging in each Friday morning to hit "send". The larger your list is, the more you get charged with Mailchimp. They basically punish you for growing your list in that sense.
When realized I couldn't schedule out emails anymore on the free plan, it was time to find a new email service. They already were bothering me so I said F THAT SHIT Mailchimp and that day signed up for Flodesk.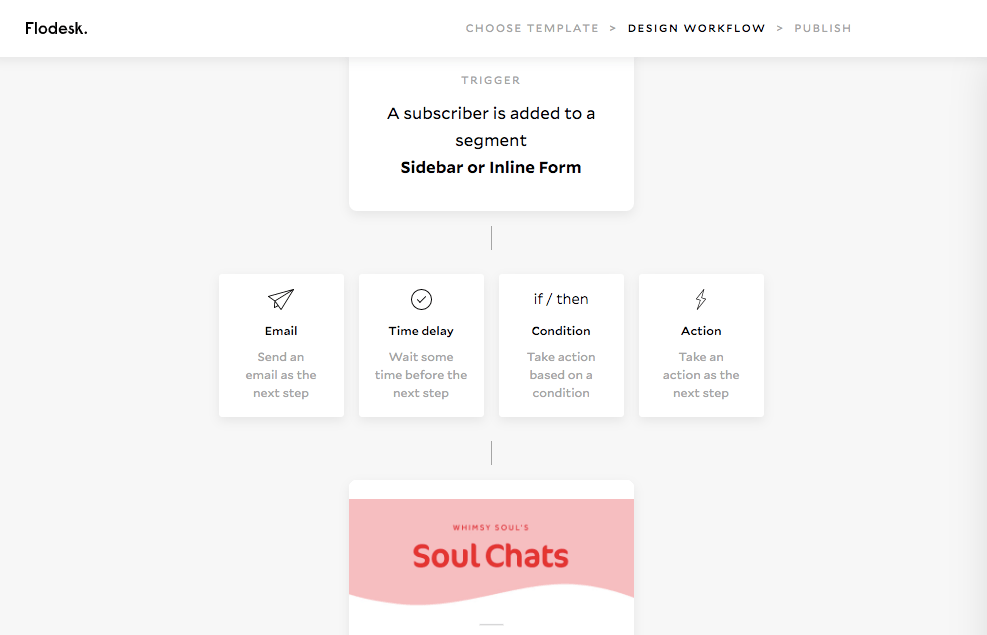 That was February 2019. But it took me weeks to actually send out an email. It wasn't until I had dinner with a friend who suddenly blurted out "have you tried Flodesk? My open rate doubled when I switched! I couldn't believe it!" I went home that night, started designing my templates and haven't looked back.
My favorite things about Flodesk email are that they are PRETTY emails! Like, so so pretty. But also, they have great open rates. I was really worried that the pretty emails would cause bounces or spam sends but that's not the case.
Flodesk has merged the power of Converkit with the UX of Mailchimp, but all at an affordable price.
I still need to finish designing my first welcome sequence. I'm writing this in the middle of Q4 which is the busiest time of year for our blog, so I'm drowning in Christmas campaigns but I have a map all written out and halfway complete. That's the second thing I really love about Flodesk: their automation are just as good Converkit's, but WAY EASIER to use.
Update 2021 – New Features!
Flodesk is constantly adding on new features to make its platform better. They just launched a way for subscribers to opt into different workflows or tags with a toggle button. I plan on using this to ask my readers if they want weekly emails or just monthly. It's genius.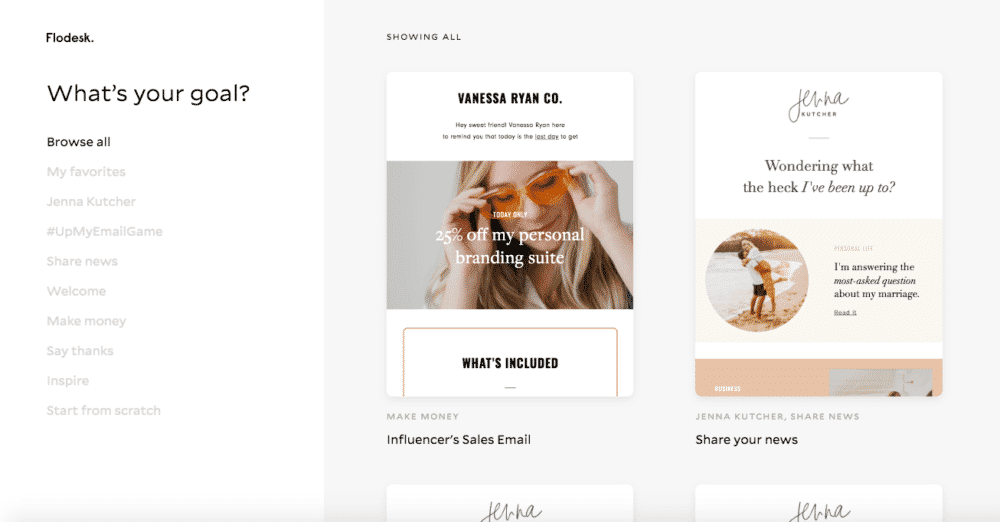 I Love Flodesk Landing Pages
Another fun perk of Flodesk is their landing pages, which I have used in the past for mini-campaigns. For instance, last year I did a Happiness Challenge with my social media followers and built a landing page to use on Instagram Stories to help drive new email addresses and subs.
Yes, other email service providers do offer landing pages but again, Flodesk is just so pretty it fits my brand standards.
What I DON'T Like About Flodesk
Overall, I'm happy with Flodesk but there are some kinks that still need to get sorted out. I've worked at startups in the past and I totally recognize they are a young company and are probably constantly updating their product.
The biggest annoyance I have is within their emails there are sometimes glitches. Like, a feature won't load correctly until I refresh the page or things load really, really slowly so it takes a long time to build forms.
My other pet peeve is the way they label some functions. For instance, I had scheduled an email and wanted to make a quick edit. For the life of me, I couldn't figure out how to pause the email and edit it. Upon clicking the "…" in the top corner, I didn't see and "edit" tab or a "pause tab".
I did reach out to customer service about my issue via their website and they got back to me within 2 hours so I was really impressed. Apparently, to edit my email, I had to press the button "cancel" which I think I makes for a confusing user experience, but I'm pretty sure they'll smooth those things out soon.
All in all, I was really impressed by an increase of 12% open rate on my first email after switching to Flodesk, the quick customer service, the price point and the pretty emails along with easy to use automations. I think I'll be a customer for the foreseeable future.
Pros And Cons Of Flodesk
Pros
Pretty emails
Not caps on subscribers
New features added all the time
Great customer support
Cons
Still new and working out kinks
Workflow tags aren't as easy to use as Convertkit
If you're a blogger or small business, I highly recommend you use Flodesk!
My ultimate thought after using Flodesk for years is they're awesome and I'm willing to wait out any Flodesk problems. They don't have a 7 day free trial, but your email marketing strategy is really important and worth the low price of $19 a month (that's like, a pair of shoes from Target or a glass of wine at happy hour. You got this!)
Don't forget to sign up
WITH THIS LINK
to get the discounted Flodesk pricing and unlimited everything!
Have you switched to Flodesk? Or, maybe you're on something else? I'd love to hear your opinions below! If you have questions, you can also put them below or DM me on Instagram @thewhimsysoul and I'll be happy to help.
Other posts you may like