Yes – that is a natural rock shaped like a skull. No photoshopping here, Skull Rock in Joshua Tree National Park California really does look like a giant face!!
On my very first visit to Joshua Tree years ago, we swung by Skull Rock right at sunset and I was shookith by how this rock looked like it was staring deep into my soul. I've seen rocks that look vaguely like faces in the past, but nothing that compares to the sheer awesomeness of this. Scrambling around the rocks and enjoying a stunning pink sunset is still one of my favorite memories from that trip.
How To Find Skull Rock Joshua Tree
It's easy! Joshua Tree National Park in general is pretty easy to navigate. Make sure to download maps offline while you have service in town (since there isn't any in the park) and just pop in your map to "Skull Rock". It'll navigate you right to Skull Rock, which is located on the main road, Park Boulevard.
There isn't a parking lot but rather large gravel areas on the side of the road that you can pull over and park on. But if the side areas are all full, you can park at the Jump Rocks Campground down the road and hike the Skull Rock Trail over to the rock.
Best Time Of Day To Visit Joshua Tree Skull Rock
Any time of day is going to be cool but I prefer arriving for Golden Hour and sunset. There's something about the way the desert evening light hits the rock. It really comes alive in the soft desert evening glow. Sunset is also the best time of day to take photos at this spot if you're planning on any type of photoshoot. Reds and whites pop the best against SKull Rock, so plan your outfit accordingly!
Shop my favorite desert outfits

If you want to spend all day in the park, I would do Arch Rock Joshua Tree Trail and the Cholla Cactus Garden in the morning, then have lunch and come back to the park for a later afternoon Skull Rock hike.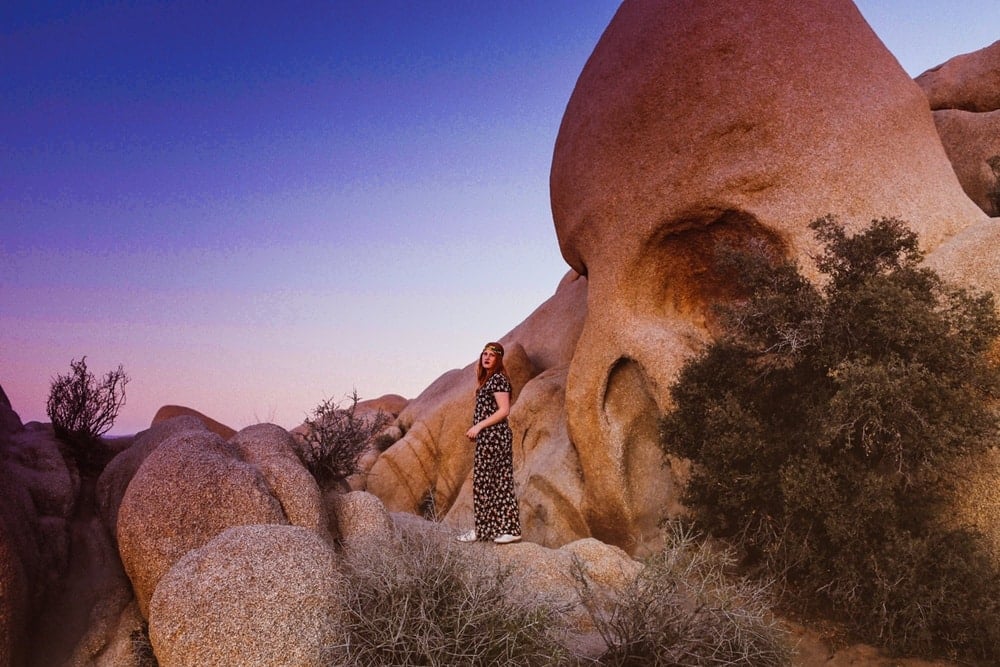 Skull Rock Nature Rail Loop
Most people just come to Skull Rock to soak up its magic and take photos, but there is actually a Skull Rock hike you can do!
Park at Jumbo Rocks Campground or at the Skull Rock parking area to start hiking. I prefer to just park at the rock. This hiking trail about 1.7 miles long takes you past cool rock formations, interpretive signs, and tons of cool desert flowers and cacti. Part of it is paved, so this is a great hike if you aren't experienced or are looking for something easy and quick on a hot day.
Pro Tip: wear sturdy leather hiking boots while exploring the Mojave Desert. I love this pair of boots! This landscape can easily F you up, especially the little Cholla Cactus balls that can pierce boots and stab your foot. Yes, I am speaking from experience here (on a previous visit I accidentally brushed up on one at the Cholla Cactus Garden and had needles in my feet for 2 months.)
Head To Next: Keys View Joshua Tree National Park
After scrambling around Skull Rock for Golden Hour, head to Keys View for sunset. I actually have been to Joshua Tree a few times before and totally missed this gorgeous lookout point in the past. It overlooks all of Coachella Valley, make sure to stay through dusk so you can catch all the twinkling Palm Springs city lights below.
Joshua Tree National Park is one of my favorite places in California. There is something about this part of the desert – it always feels ultra-relaxing and almost magical. It's the perfect place to retreat to when you need some spiritual healing, or just when you need to book an insanely cool house with your girls, get drunk and stargaze from hot tubs every evening *yass please*
And Skull Rock is my favorite quick stop in the park. Even if I don't plan on actually hiking during my Joshua Tree trip, I always make the pilgrimage into the park to see this gem at sunset.