This cocktail tastes like summer.
Like a hot day in the sun, one where you ate watermelon for an afternoon snack and have big plans of sitting on your porch all evening. Today in San Francisco the weather was gloomy, so I found sunshine in this Blueberry Green Tea Rosé Fizz.
Which, is super easy to make by the way. It sounds fancy and complicated but takes just a few minutes to whip together. We had a LOT of rosé wine from Trader Joes left over after our IGTV and I wanted to come up with a fun, new way to drink rosé. And this cocktail does the trick.
Here's the recipe: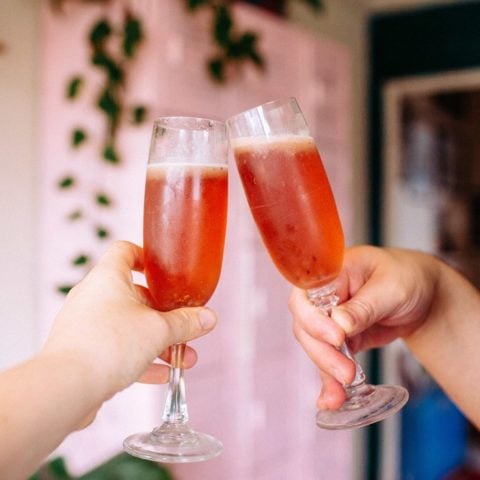 Blueberry Green Tea Rosé Fizz
This Rosé cocktail uses fresh blueberries, green tea and maple syrup for a fizz that tastes like summer.
Ingredients
1/2 cup blueberries
1 tablespoon maple syrup
1 fresh lime
1/2 cup unsweetened Green iced tea
Ice
Chilled Rosé
Instructions
Muddle the blueberries in your cocktail shaker.
Add the lime juice, maple syrup, ice and green tea. Shake well!
Strain the mixture into two champagne flutes. It should fill about half of each glass.
Fill the rest of the glass with your Rosé!
Recommended Products
As an Amazon Associate and member of other affiliate programs, I earn from qualifying purchases.