Looking to upgrade your shave with a new, trendy razor?
The hot new trend in the beauty and personal care space are razors, which I'm all here for. Two companies that I keep getting served ads on are Billie and Flamingo, so I decided to order from each, try them out and put them head to head to find out which razor is better. Keep reading for my honest (and unsponsored) Billie vs Flamingo review!
Billie Vs Flamingo Razors: Which One Is Better? ( I Tried Both – Here's My Honest Review)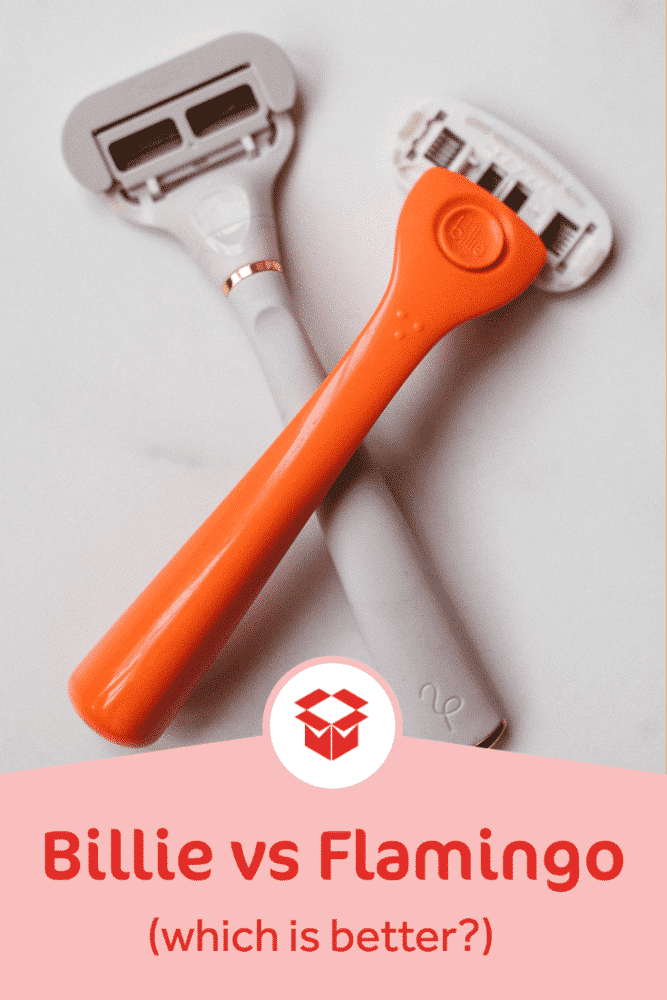 >> Got a question Billie vs Flamingo that you need answered quickly? DM me on Instagram @thewhimsysoul and I'll be happy to help!
But first….let's chat about
That Time I Got A Staph Infection From A Razor…
Gross, yes. But relevant to this post. This happened about 4 years ago when I visited home for Thanksgiving (I grew up in Wisconsin but live in San Francisco now.)
I forgot to pack razors but I found one that looked new in the back of the bathroom closet. I don't think it was actually unused, because I ended up getting a nasty staph infection under an armpit after using it.
I'll spare you the gross details, but this experience has scarred me into being super paranoid about razor blades. I ended up switching to disposable men's razors for a few years (they work just as well as the women's but are literally a few dollars cheaper. Gotta love that pink tax...)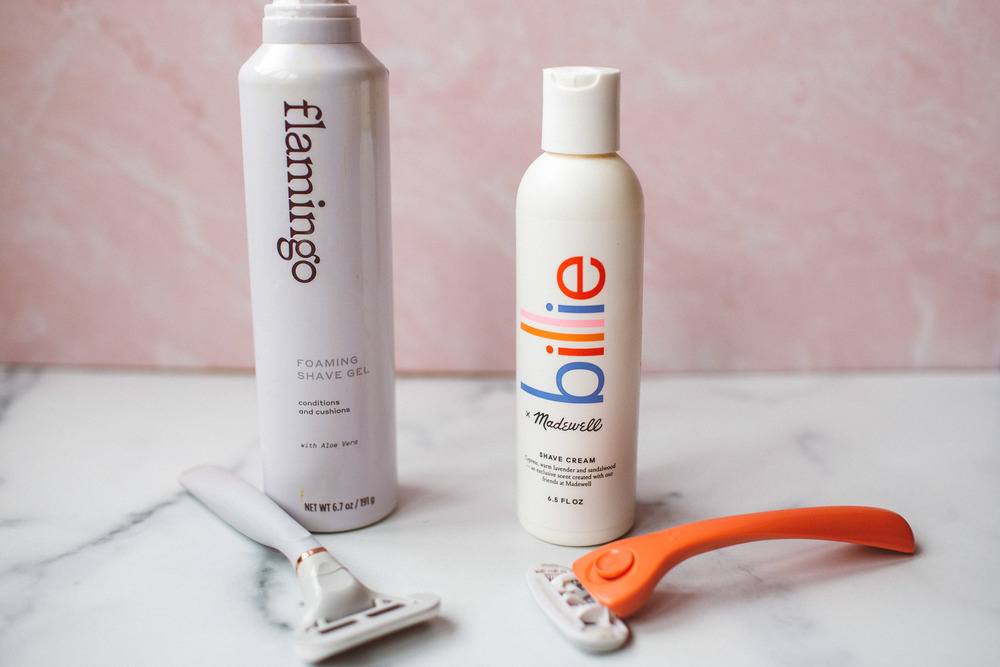 But disposable razors aren't nearly as good as reusable ones (like Venus razors.) I decided to finally upgrade my shaving routine and thought that a razor subscription service could be a really great option for someone like myself because the automatic shipments help remind me when it's time to swap out my razor blade. I'm not risking another staph infection!
So, I did some research and found Billie razors and Flamingo razors. They are both basically shave clubs for women, both offer a similar starter kit, both have additional personal care and beauty products. But, which razor is the best?
I ordered one of each to put them to the test for an honest, unsponsored test and I'm sharing my thoughts and the winner in this post! Keep on reading!
FLAMINGO RAZOR REVIEW
Let's start with taking a look at Flamingo Razors.
Flamingo razors can be bought on their website (that's where I ordered my starter kit) or in-store at Target or Walmart. Unlike Billie, Flamingo makes it easier to try out since you can find them in-store (don't have to wait for shipping) and they aren't a subscription service. I haven't seen Billie offered in store yet (though to be fair, I haven't been to many stores since quarantine started)
On top of razors, Flamingo also offers personal care products for women. This included in-grown spot treatments and something called Mons Mist, which is a spray for pubic hair. They also have body lotion and waxing kits!
BUT, I just tried out their razor and shaving cream for this post, so let's look at those specifically:
The Flamingo razor blade has 5 blades. I find this razor tugs more at my skin vs Billie razors (more on that later) but the shave is good.
Their razor has an ergonomic handle that comes in 4 color combos. I picked the Taro and Rose Gold, which looks more grey vs a subtle purple in real life than on photos. (I wish I bought the mint green color instead.)
The shaving cream comes in a large bottle and the cream reminds me of the shaving cream my dad used growing up. Think heavy foam, more of a traditional shaving cream scent, etc. I haven't used this kind of shaving cream for years as it's honestly not my favorite kind of cream.
(I love Creamo's Shave Cream, it's super silky and smooth and a little goes a LONG way. I've been using this shaving cream for years.) Flamingo's foam cream works well, though, it's just not my favorite kind.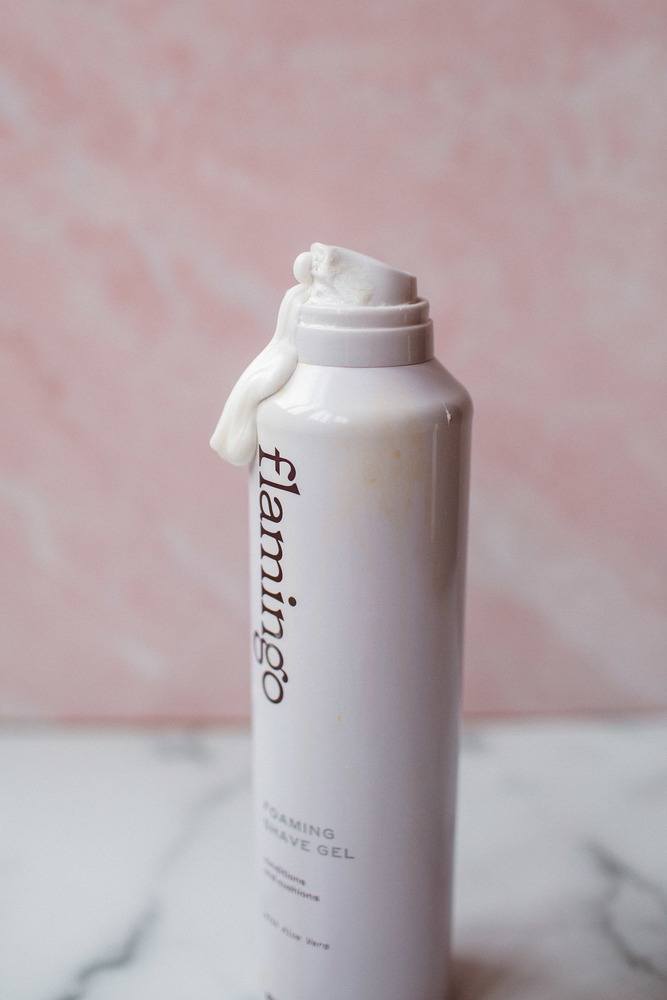 Flamingo's Customer Serice ROCKS
I was really blown away by Flamingo's customer service! Here's why: I ordered a starter kit from them and then a couple days later, quarantine was announced. We ship all packages to our UPS box since it's much safer (aka, packages get stolen all the time in our San Francisco apartment building, UG)
But I had shipped my Flamingo order to the UPS store and it was unclear if we would be able to access them at all. I didn't want to wait months for my order so I reached out to the customer service to see if I could get the address changed to our apartment.
The order already shipped out, but the agent sent out a new one, totally free of charge, to my apartment. We ended up being able to still access our UPS box after a few days, so I ended up with two Flamingo boxes. I know not all businesses would do that, especially during a pandemic, so I was super impressed but their customer service and that meant a lot to me.
BILLIE RAZOR REVIEW
Ok, now onto taking a look at Billie Razors!
You can't miss Billie's packaging. This colorful brand stands out and as a sucker for good branding (and color!) I was immediately drawn to them for their aesthetic. But of course, it matters most if the product works well.
And it does! I was really shocked to find that Billie razor blades don't pull at all during hair removal. The first time I used it I couldn't feel the blade tug at my skin, which has always happened to me with every other razor, ever.
I actually thought the blades weren't working! I even stopped in the middle of my shower to reach for a different razor since I was convinced the Billie razor wasn't working before I realized it was. And super well, the shave was very close and resulted in smooth underarms.
Their shaving cream is more expensive than Flamingo, but it lasts FOREVER. A little goes a long way. It's also very smooth and silky (not foamy) which I personally like.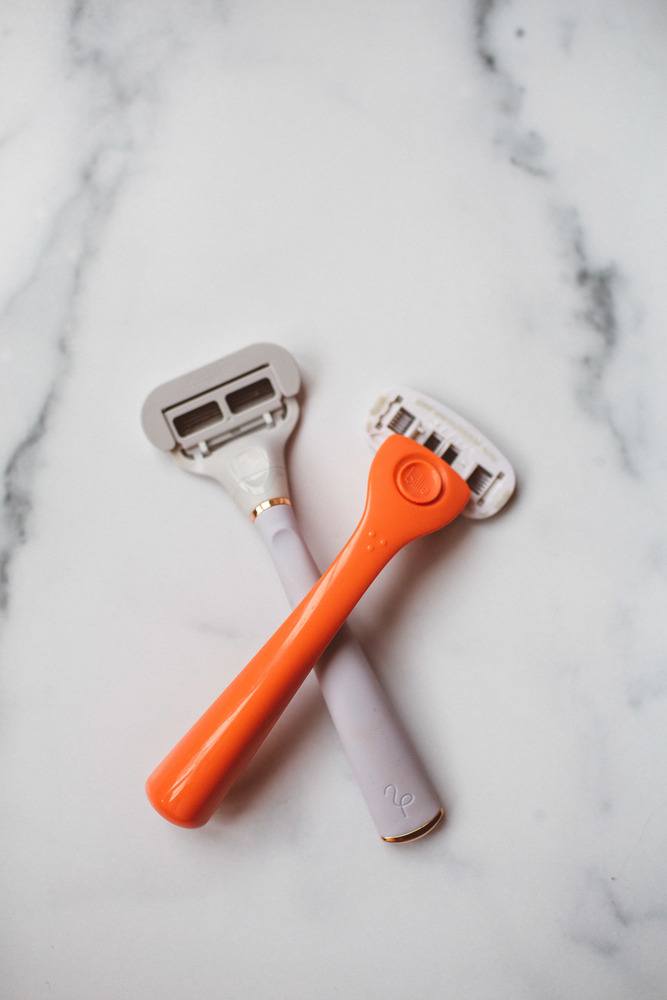 My starter kit came with a magnetic razor holder/ stand that's supposed to stick to your shower walk and hold your razor. Yeah, that doesn't work at all. At least not in my shower. So that was a bit disappointing.
Billie is a razor subscription service that automatically refills your blade cartridges once a month (or, whenever you set the shipment.) You can't, to my knowledge, find them in-store and I believe you can only order things on a subscription basis. Though, it's easy to cancel or delay shipments.
Unlike Flamingo which leans into women's personal care, Billie also offers beauty products like lip blame and dry shampoo. I'll be honest, I'm a bit confused by a razor company is selling lip balm and makeup wipes. I haven't tried them yet, so it may be the best lip balm in the world. If you've tried it, leave a comment below and let me know.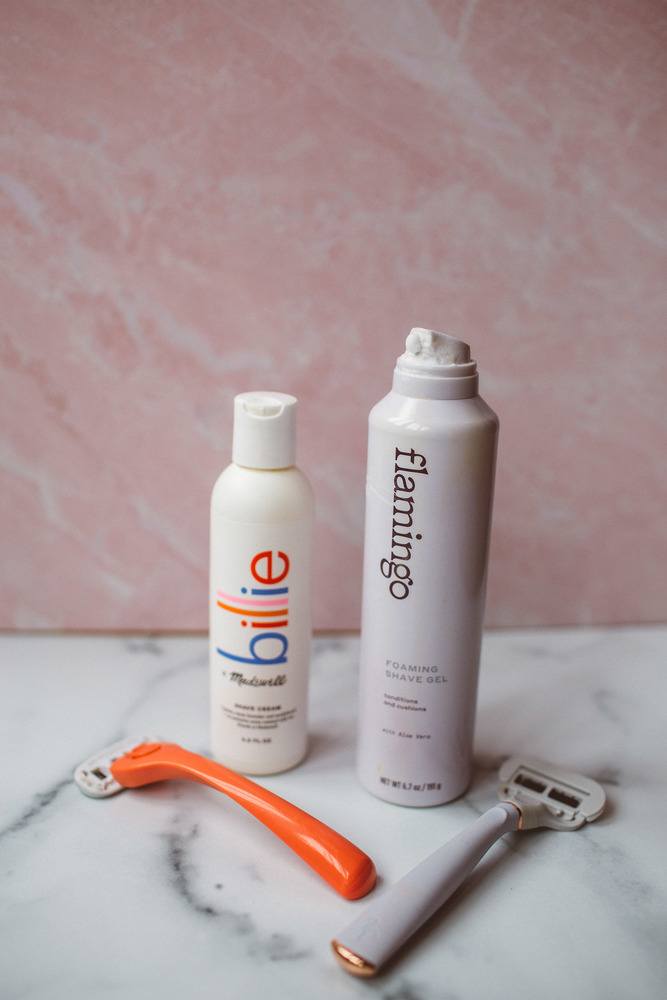 BILLIE VS FLAMINGO: WHICH WINS?
So, is Billie or Flamingo better? Honestly, this is the hardest "which is better" review I've had to do. But, I'm awarding Billie as the winner.
I love the branding (I'm such a sucker for cute branding) but more than packaging, I'm obsessed with their shave gel. It's so silky smooth! Flamingo's shaving cream is super traditional which I know some people prefer, so if you like that traditional foam shave cream, go with Flamingo instead.
I think Billie makes the best shaving cream on the market.
I also like how the Billie razor blades didn't pull body hair at all, which led to a much more enjoyable shaving experience. I usually can't feel a Billie razor on my skin at all, it's like magic! (I do like the razor handles on Flamingo better, though, but the blades are the most important part of a razor.)
That doesn't mean I think Flamingo is bad – I really liked them as well! I actually tucked my Flamingo razor into my suitcase so I can have a nice razor to use when we're on trips (we travel a few times a month – check out my travel guides here!)
I haven't yet been able to try out any of either brand's personal care or beauty products yet. I will say, I think Flamingo's personal care products make more sense coming from a razor company (vs a lip balm or dry shampoo as Billie offers.) Next up I'll be trying both the additional products out and will follow up with another post reviewing those!
Update 2021
I've been ordering Billie ever since writing this review in 2020 and I still love the razors!!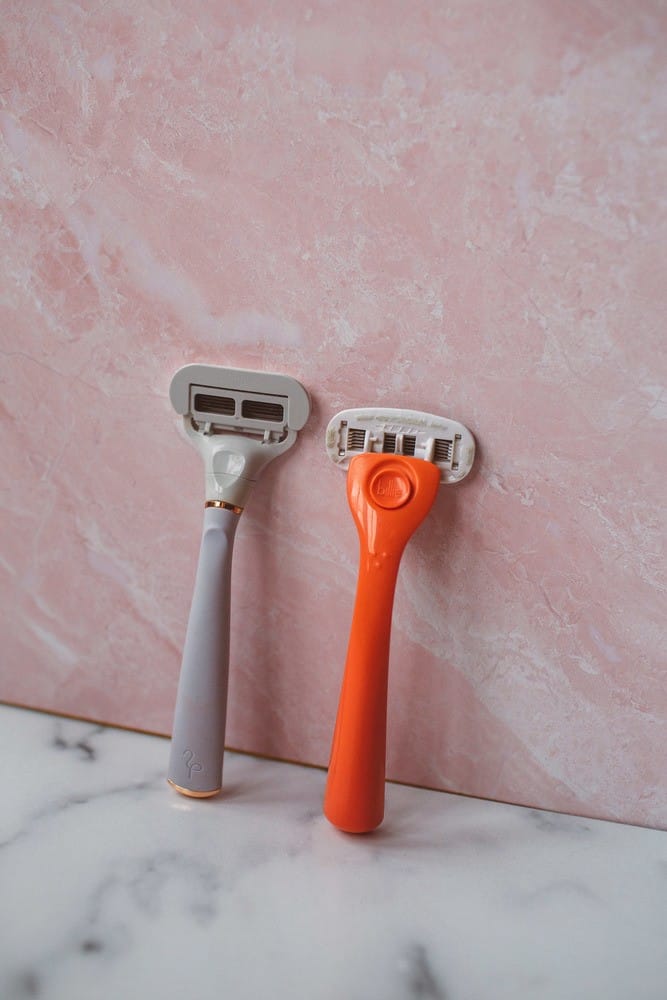 This was super close and honestly, at the end of the day, you can't go wrong with either club. I hope this post helped you understand what makes Bille razors and Flamingo razors different and help you decide which razor club to join.
If you have tried these, I've loved to know where you stand on the Billie vs. Flamingo debate! Leave a comment below. If you have any questions, drop them below in the comments or send me a DM on Instagram @thewhimsysoul.