Who doesn't love Loki? Sure, he's a power-obsessed, sneaky, murderous back-stabber… but he's also played by Tom Hiddleston. And if pop culture has taught me anything it's that any villain is redeemable if they're hot enough.
So I'm sure I'm not alone in my excitement for the new Loki TV series coming to Disney+.
*record scratch*
"Wait," you say. "Didn't Loki die in Infinity War? Like, for reals this time?"
Short answer: Yes. (As much as anyone can really be dead in a Marvel franchise.) Long answer…
Well, let's get into it! I've put together this handy refresher that will catch you up on everything you need to know before Loki drops on June 11.
What did Loki get up to in the first phases of the MCU? How can he headline a show if he's dead? And what's this Disney+ Loki series all about, anyway?
Read on to find out. And stay tuned for the post-credits scene—it's a Loki-inspired cocktail recipe worthy of the gods.
Loki 101: The God of Mischief and The MCU
Here's a quick recap of Loki's storyline throughout the Marvel Cinematic Universe:
Thor
Loki hatches a plot against his big brother, Thor, and takes his place on the throne of Asgard. Despite Loki's scheming, Thor returns from his exile on Earth stronger than ever and ends Loki's reign. Defeated, Loki falls into a big ol' hole in space. Oh, and it turns out Loki was adopted by their father, Odin, and is actually half-Frost Giant.
The Avengers
On orders from Thanos (that guy!), Loki acquires the Tesseract—a glowing blue cube that contains the Space Stone. The Space Stone is one of six all-powerful Infinity Stones that allows its user to control, well, space. So Loki opens a portal over New York City and unleashes an alien invasion (like villains do). The Avengers defeat Loki, and Odin imprisons him in the dungeons of Asgard as punishment.
Thor: The Dark World
Thor frees Loki so that they can fight off some Dark Elves together. Loki fakes his own death and then rules over Asgard disguised as Odin. Honestly, the less said about The Dark World, the better.
Thor: Ragnarok
Ragnarok is not only the best Thor film but also one of the best of the entire MCU (I would say "IMHO" but it's indisputable). Directed by Taika Waititi, Ragnarok is offbeat, quirky, and surprisingly heartfelt—I love it!
Thor uncovers Loki's ruse, and together, they seek out Odin just as he passes away. With Odin gone, his daughter, Hela (aka the Goddess of Death), escapes from banishment and wastes no time in wreaking havoc. (Like Thor says, "Families can be tough.")
Loki and Thor travel to another planet, battle the Hulk, grudgingly team up, and ultimately defeat Hela by unleashing armageddon on Asgard.
For the first time, Loki and Thor are truly united as brothers. Aw! What could possibly go wrong?
Avengers: Infinity War
Loki dies :((((((
After Thanos snaps poor Loki's neck, he goes on to eliminate half of all humanity using the Infinity Stones. And the Avengers simply won't stand for THAT.
Avengers: Endgame
Iron Man and Captain America travel back in time to the events of The Avengers to steal the Tesseract/Space Stone from Loki and return everyone who disappeared in "The Blip." But their plan goes awry and Loki uses the Tesseract to escape to ????
Well, we're not sure exactly where (or when) Loki's past self went. Which leads us to…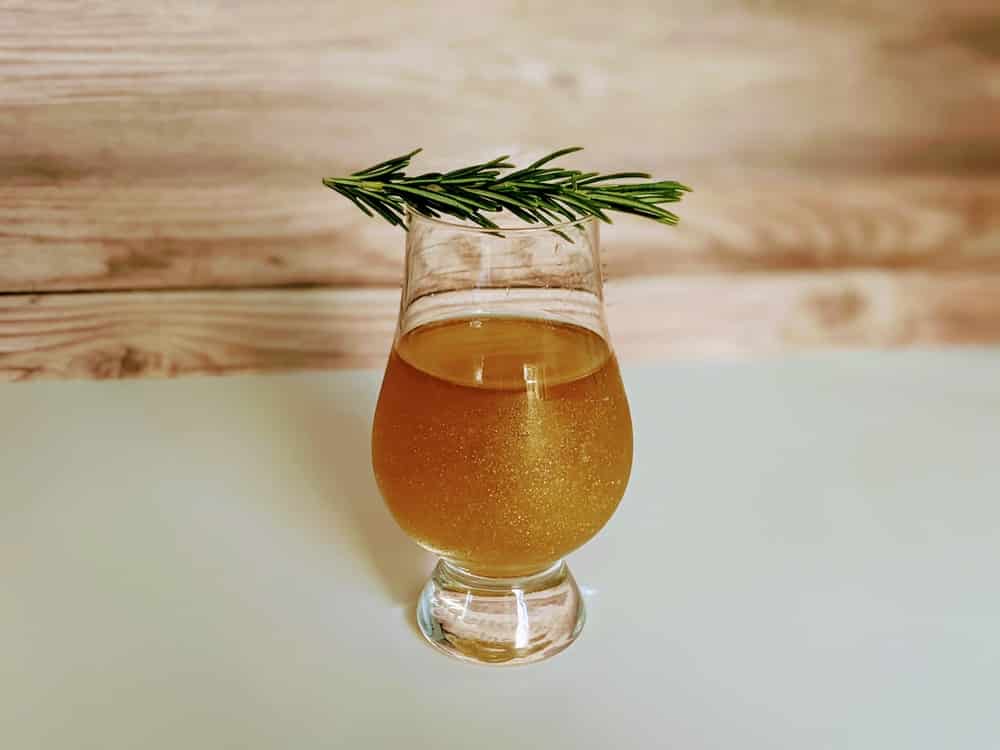 Loki TV Series on Disney+
What we do know from the Loki trailer is that our titular trickster god is caught up in wibbly-wobbly, timey-wimey shenanigans. His reality-altering use of the Tesseract put him on the Time Variance Authority's sh*t list. Now the TVA has recruited Loki to help them fix the proper flow of time.
From the looks of it, Loki is gleefully dipping into the wider Marvel Comics canon. The trailer gives a nod to the "Vote Loki" comic book series (in which Loki runs for president) and maybe even a glimpse of Lady Loki.
How to Make a Loki Libation
Unlike Thor's Asgardian liquor "not meant for mortal men," this Loki-inspired cocktail is a bit more subtle. But only a bit. I wanted to concoct an indulgent drink with luxe looks and complex layers, just like Loki himself.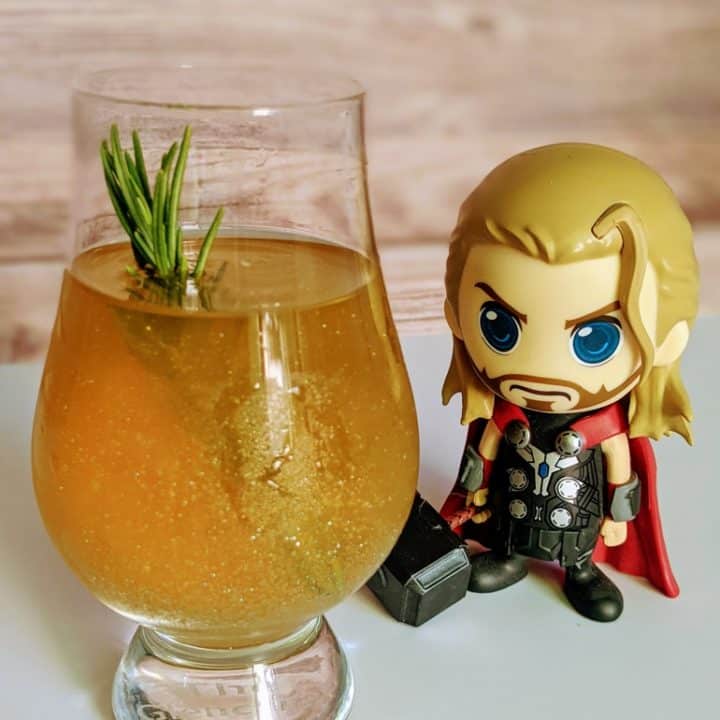 Bourbon'd With Glorious Purpose Loki Cocktail Recipe
Additional Time:
35 minutes
Total Time:
1 hour
10 minutes
Refined flavors meet dramatic flair à la Loki. This bold bourbon cocktail is both spicy and pungent, swirled with honeyed sweetness and herbal undertones.
Ingredients
1/2 shot (1 tbsp) white peppercorn & rosemary honey syrup
1/4 cup honey
1/4 cup water
1 tbsp dried rosemary
1 tbsp white peppercorns
fresh rosemary to garnish
Instructions
Make the infused honey syrup
Combine honey and water in a small saucepan over medium heat.
Whisk until honey is dissolved and slightly frothy (just below boiling).
Remove from heat.
Stir in dried rosemary and white peppercorns until well-incorporated.
Cool to room temperature (about 30 minutes), then strain.
Notes: This recipe makes more than needed but keeps well in the fridge in an airtight container. If you want even bolder flavors, lightly crush the ingredients and infuse for longer than 30 minutes. IMPORTANT: Always be sure to follow food safety guidelines when it comes to preserving honey (more info here).
Make Your Loki Cocktail
Make your honey-infused syrup.
Fill a cocktail shaker with ice, then add bourbon, Chartreuse, and honey syrup.
Shake until well-chilled.
Optional: Add a pinch or two of gold dust to the bottom of your glass.
Strain into the glass.
Garnish with fresh rosemary.
Notes
I get it—Chartreuse liqueur is a little weird (and expensive). Personally, I love its namesake green color, especially for a Loki cocktail, but a similar clear herbal liqueur or a few dashes of botanical bitters should do in a pinch.
And if you do want to zhuzh it up with a little gold dust (Loki insists), be sure to get a glitter that works in beverages. Otherwise it will just dissolve like poor Peter Parker caught in The Blip.
Recommended Products
As an Amazon Associate and member of other affiliate programs, I earn from qualifying purchases.
Nutrition Information:
Yield:

1
Serving Size:

1
Amount Per Serving:
Calories:

929
Total Fat:

1g
Saturated Fat:

0g
Trans Fat:

0g
Unsaturated Fat:

0g
Cholesterol:

0mg
Sodium:

63mg
Carbohydrates:

164g
Fiber:

4g
Sugar:

132g
Protein:

1g
That's it! This Loki drink recipe makes a pretty tasty tipple if I do say so myself. If Thor were here, he'd probably smash his glass to the floor with delight and demand, "Another!"
And what better way to enjoy the premiere of Loki than with a glass in hand? The Loki TV series starts streaming on Disney+ on June 11, so don't miss it!